It's Valentine's Day! Shout out to all my fellow singles who don't have to stress out about another American consumerist day. It's was two years ago today when Representative Bryce Edgmon (I – Dillingham) was re-elected Speaker of the House, in what many referred to as the Valentine's Day Massacre. Representative Louise Stutes (R – Kodiak) was elected Speaker of the House this week, though the House is far from organized.
A friendly message and reminder to all our readers, the Landmine is made possible by myself and a team of awesome Alaskans. It takes a lot of work to provide the content we do. I am now in Juneau for the session, which means paying rent for the place I'm staying at. If you enjoy the content we provide, please consider making a one time or recurring monthly donation. You can click here to donate. We have a donation system that makes it super easy. We would really appreciate  it. And thanks to everyone who has been supportive!
The Legislature
On Thursday (2/11/2021) the House voted 21-19 to elect Representative Stutes as Speaker of the House, preserving the Democrat led coalition. This broke a more than three week deadlock in the House. But the House is still far from functional or even organized. Representative Kelly Merrick (R – Eagle River) was the vote that got Stutes elected Speaker. But after the floor session Merrick left the building and turned her phone off, causing confusion if whether or not a majority was in place. Then, Merrick sent out a press release that said, "To be clear, I have not joined the Alaska House Coalition." This is where things started to get weird.
The House met the next day, but right before floor session it was announced that it would only be a technical session, meaning nothing of substance would get done. According to the Uniform Rules, after a presiding officer is elected the Committee on Committees must be formed the next day. That did not happen on Friday. The Committee on Committees, as ridiculous as it sounds, is very important. They choose the leadership positions position (rules chair, finance co-chairs, majority leader) and committee chairs. Normally all of this is worked out before a majority is formed. But it's clear they had none of this worked out. After the Friday floor session Stutes held a short press briefing with the media. She said she did not know she was going to be elected Speaker until right before the vote. If true, this demonstrates how crazy things are in the House. Not having a plan for something this important is unheard of. What is more likely is that Stutes knew this was going to happen. On Tuesday, I saw Merrick go into Representative Zack Fields (D – Anchorage) office for a meeting. On Friday I asked Fields if Stutes being elected Speaker was planned. He told me he did not want to discuss it. It's also not a secret that Stutes wanted to be Speaker.
Several House members tell me the Committee on Committees will be appointed tomorrow. It's unclear who will be on it. As Speaker, Stutes will be on it. Edgmon and Representative Chris Tuck (D – Anchorage) will likely be on it too as they have the most seniority. Will it include any House Republicans? At this point it's anyone's guess. And once they meet and decide all the positions, their report has to be adopted by the full body. That requires 21 votes. No one I spoke to in the legislature knows what will happen if the Committee on Committees report is not adopted. Several long time staff told me the scenario has never even been contemplated.
It's not clear what Merrick will do. And on Friday Representative Josiah Patkotak (I – Barrow) was meeting with House Republicans while they caucused. So it's not even clear where he is anymore. What is clear is Anchorage Democrats seemed to have pushed the Bush Caucus aside in order to get Stutes elected Speaker and preserve their majority. Patkotak's main reason for sticking with the Bush Caucus was to ensure rural Alaska was fairly represented. Now that Edgmon is no longer Speaker, Patkotak seems to be a free agent. Having covered and observed the legislature for years, I can say with a certainty that Edgmon was not part of this. Edgmon always thinks many steps ahead. He would not be part of something so ill conceived. Look for the things to get extremely loose in the House this week.
While the Senate is organized, they are far from normal. They debated a resolution on Friday (2/12/2021) that urged Governor Mike Dunleavy (R – Alaska) to issue a new Covid disaster declaration. This is something their own lawyers say is illegal. Because the House is not organized, and the Senate has not voted on the bill to extend the declaration, they decided a resolution was the next best thing. After much debate, it initially failed 10-7, but then Senator Tom Begich (D – Anchorage) switched his vote, getting the 11 votes needed. But it's just a non-binding resolution. Dunleavy said he would not issue a new declaration as it is the legislature's job to extend it. Dunleavy previously issued three new 30-day ones after his original one expired in November. His rationale then was the the legislature was not in session. Now they are. Today in a press conference he confirmed he will not be issuing a new declaration, but will work with his administration to make sure Covid is managed in the best way possible.
The Senate Judiciary Committee went off the rails again this week. During a Friday hearing on SB 14, a bill from Senator Mike Shower (R – Wasilla) that would change how judges are selected, it got weird. Senator Lora Reinbold (R – Eagle River), who chairs the Committee, ran it in a way that would make Joseph McCarthy proud. She asked Nancy Meade, the General Counsel for the Alaska Court System, her personal views about whether unborn children have the right to life. Meade, a state employee, refused to answer the inappropriate question. This was about a case Supreme Court case Reinbold brought up about parental consent for abortion. She then asked Meade if Judge Dani Crosby would come before the Committee to answer for her ruling about witness signatures for absentee ballots. Meade said that is not going to happen. Reinbold repeatedly questioned and mocked court decisions. Senators Shelley Hughes (R – Palmer) and Mike Shower (R – Wasilla) were happy to pile on. Nancy Meade has worked for the Court System for seventeen years. She has been general counsel for almost a decade. She is widely respected in the Capitol. Several people commented about the unprofessional way Meade was treated by the Committee. It seems anything is allowed in the "Caucus of Equals." Reinbold also said she will be holding a hearing on the "tremendous political activism in the courts." Reinbold also had several people teed up to testify in support of her views of the court. Shower said Meade and Susanne DiPietro, the Executive Director for the Alaska Judicial Council, were "circling the wagons," and, "this is a don't touch our empire." The irony is if a judge treated someone they way Reinbold and Shower treated Meade, they would be reprimanded. It's fair to discuss our system of selecting judges. But it's unfair to attack the courts, and in fact the Alaska Constitution, while doing so. Nancy Meade is a more patient person than most.
Other Happenings 
Juliana Melin, Governor Dunleavy's deputy legislative director, is leaving her job on March 1. She's not sure what her next job will be but she is sure she's heading to Mexico in March. Legend status. Best of luck, Juliana!
Carolyn Hall, Acting Anchorage Mayor Austin Quinn Davidson's communications director, will be leaving her job on April 2. She started on as former Anchorage Mayor Ethan Berkowitz' communications director last March, right before Covid. If anyone deserves a break, she does. Good luck, Carolyn!
Former Representative Jason Grenn will be starting as the new executive director for Alaskans for Better Elections on March 1. The group will be focusing on education Alaskans about the reforms passed with Ballot Measure 2. Grenn was involved with the group during the election. Congrats, Jason!
On the topic of Ballot Measure 2, I wanted to clarify something. Some people have told me they believe that if someone gets 50% plus 1 in the open primary, they will win the election and avoid the ranked choice runoff. I am told this is not the case. There will be a top 4 runoff regardless of performance in the open primary.
This Week's Loose Unit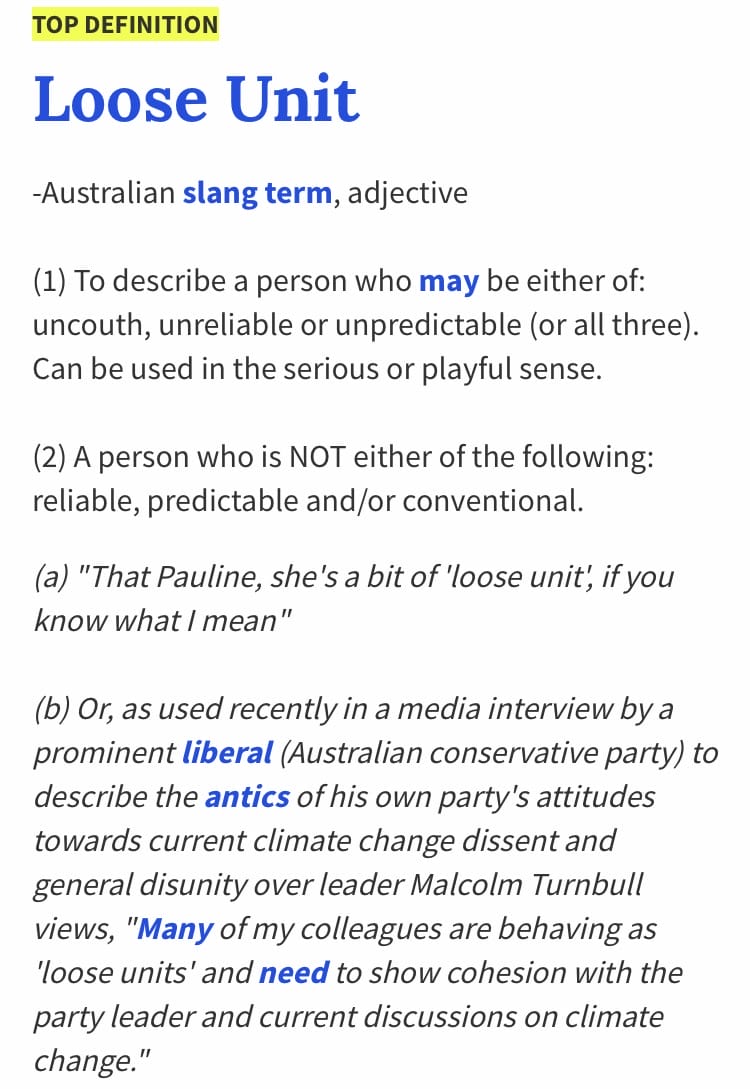 Kelly Merrick was a lock this week when she voted for Louise Stutes for Speaker and then bailed. But as is all too common, another development made choosing this week's Loose Unit a tough choice. After much deliberation, this week's Loose Unit is a tie between Kelly Merrick and now-former DPS Commissioner Amanda Price.
First, Kelly Merrick. Voting for Stutes for Speaker was not in itself loose. What happened afterward was. Taking a key vote to choose a Speaker of the House after weeks of deadlock is no small thing. She had to know that the media and the public would want to hear from her about her vote. Instead, she left the Capitol and turned her phone off. Very loose. Then she put out that press release saying she was not even part of the coalition. Super loose. Then the House Republicans send a letter to Dunleavy urging him to issue a new disaster declaration, and Merrick's name is on it! Maximum loose. Then she goes back to Eagle River and does not say a word about her vote all weekend. Classic Loose Unit.
Now, Amanda Price. On Friday rumors started swirling that Dunleavy accepted her resignation as DPS Commissioner. Not long after he sent out a press release confirming that was the case. Then Price, in what was only predictable, went full Loose Unit. Check out this Facebook post she made!
This is exactly like two years ago during her confirmation hearings when she was questioned about her job in the Walker administration. Nothing is her fault. She is always a victim of some conspiracy. One of the things Price did to end her job as DPS Commissioner was demote Colonel Doug Massie, head of the Wildlife Troopers. Massie was a big supporter of Dunleavy when he was running for governor in 2018. Also, and this is amazing, Massie publicly supported Price during her turbulent confirmation process. Recall when Price held a bizarre press conference on April 16, 2019 before her confirmation vote. It was basically a show of force from veteran law enforcement personnel to tell legislators how amazing she is. Price lacked the votes to be confirmed until right before the vote. Representative Laddie Shaw (R – Anchorage) gave a floor speech and said he felt, despite all of her issues, she would be a good commissioner. This got her the extra votes she needed to get confirmed. Anyhoo, Massie was at that press event. He spoke about how amazing Price was. He said, "I've been working with Commissioner Price now for about four months, and I have never seen in my 22 year law enforcement career the speed at which things are happening right now." You can watch his remarks here. I bet he was pretty impressed at the speed in which she was eliminated by Dunleavy. Demoting Massie and then attacking Dunleavy in a Facebook post after she got ousted. Classic Loose Unit move. Based on her past and general attitude, I'm surprised she made it two years.
The bingo card has been updated.
If you have a nomination for this week's Loose Unit, or if you have any political news, stories or gossip (or any old pics of politicians or public officials) please email me at jeff@alaskalandmine.com.