As week five of the legislative session is about to begin, the House is still unorganized. On a positive note, they broke the record this week for the most number of days without an organization. Congrats! Despite the House not having an organization, a lot happened this week in Juneau. Everyone is waiting for what is surely to be a blood bath on Wednesday when Governor Michael J. Dunleavy (R -Alaska) drops his budget. It's going to get real loose, folks.
If you have not heard, I am now in Juneau for the session. I arrived on Monday night. The faces of many legislators when I walked into committee meetings on Tuesday were priceless. So far one of the best perks of being here is having people recognize me at the bar and buy me drinks. I love it. Covering the legislature from Juneau compared to Anchorage is like night and day.
A friendly message and reminder to all our readers, the Landmine is made possible by myself and a team of awesome Alaskans. It takes a lot of work to provide the content we do. There are now additional costs that I have temporarily located to Juneau. If you enjoy the content we provide, please consider making a one time or recurring monthly donation. You can click here to donate via PayPal. We would really appreciate it!
The Governor
Governor Dunleavy made two major moves this week. First, his Health and Social Services Commissioner, Adam Crum, announced they will be turning over management of the Alaska Psychiatric Institute (API) to a private company based in Tennessee, Wellpath Recovery Solutions. Crum used emergency authority to award the no-bid contract. API has been plagued with problems for years. Maybe this company will improve things. But what is interesting is that Wellpath merged with a company called Correct Care Solutions in November. Correct Care has ties to the private prison company, GEO Group. And, wait for it, Donna Arduin, Dunleavy's budget director and self identified new Alaskan, used to serve on the board of Correctional Properties Trust, a real estate company founded by the GEO Group. This isn't the first time this conflict has been an issue. It got real loose in Florida when the FBI investigated the relationship between GEO Group and the former Florida Speaker of the House. I'm not sure "conflict of interest" is a term many on the third floor of the Capitol care about.
FBI Looks into Relationship between GEO Group and Former Florida House Speaker
Second, it was widely reported this week that Dunleavy is trying to remove Hollis French from the Alaska Oil and Gas Conservation Commission. French was appointed by Governor Walker in 2016. He was confirmed by the legislature. Commissioners are appointed to six year terms. Statutes require cause to remove a commissioner. A letter sent to French alleges he wasn't showing up to work and was "browbeating" his fellow commissioners. A hearing occurred this week in Anchorage. Dunleavy gets the final say. It seems like a targeted hit job to many.
At an impromptu House meeting this week, out of state budget director and self identified new Alaskan, Donna Arduin, kept saying things like "We in Alaska" and "Our budget" and "We here." She just moved here in December. Many legislators, including Representative Tammie Wilson (R – North Pole) are not amused with Arduin and did not hold back on their criticisms. Thankfully we have Alaska Twitter to deal with this. The "She doesn't even go here" scene from the movie Mean Girls basically sums up Arduin. Thanks to the awesome Landmine fan for sending me this.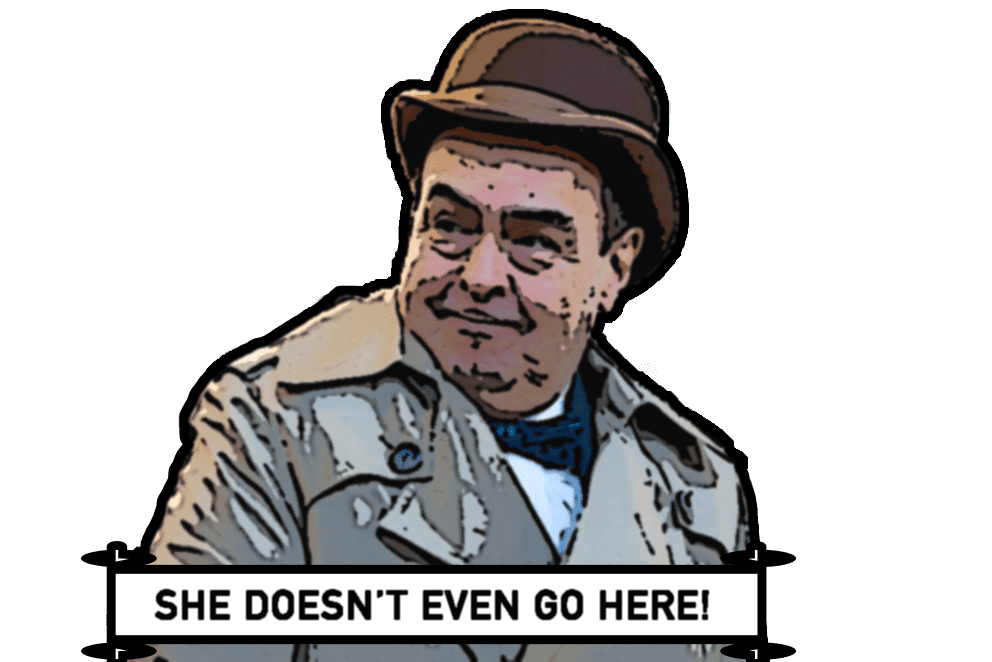 Speaking of Arduin, word is that when she was reviewing the State's finances, her mouth started watering when she came across the billion dollar Power Cost Equalization Endowment Fund. The fund is the second largest fund in Alaska after the Permanent Fund. The earnings from the fund offset high energy costs for people living in rural Alaska. Look for a nuclear level reaction from Senators Lyman Hoffman (D – Bethel) and Donny Olson (D – Golovin), and other rural legislators, if Dunleavy tries to tap into that fund.
The Legislature
The House continues to hold weird fake committee meetings while the Senate holds real ones. The Senate State Affairs Committee and the Senate Judiciary Committee heard Governor Dunleavy's proposed crime bills this week.
Senator Mike Shower (R – Wasilla) chairs the State Affairs Committee. He was rather quiet last year after being appointed to fill Dunleavy's Senate seat. He ain't being quiet no more. Dude is intense. Maybe his fighter pilot call sign, Dozer, meant bulldozer. It seems that repealing SB 91 is not as easy as it sounds. Many questions were raised by Senators about the practicality of a full repeal. Even Dunleavy's people admitted that there were some good parts.
During a hearing in the Senate Judiciary Committee on one of the crime bills, Senator Lora Reinbold (R -Eagle River) could be seen passing notes to Senator Shelley Hughes (R – Palmer) while a Dunleavy administration official was testifying on a crime bill. At one point Hughes abruptly called for an at ease, and took Reinbold in the hallway. It was weird. I really want to know what that note said, and what Hughes told her. It looked gangster.
This happened during public testimony during a Senate Judiciary Meeting on Saturday about one of Dunleavy's crime bills. How could Edie Grunwald not disclose that she is chair of the Parole Board. So strange.
Edie Grunwald now testifying over the phone. Very anti SB 91. Sounds like she just called up and didn't really prepare any testimony. She also failed to mention that Gov. Dunleavy appointed her as chair of the parole board… Seems like something to mention. Bizarre. #akleg

— The Alaska Landmine (@alaskalandmine) February 9, 2019
There might be a silver lining that former Representative Jason Grenn is not in Juneau anymore. Many legislators are very unhappy with him because of the ethics bill he got passed last year. According to this article from the AP:
The law bars legislators from taking or withholding official action or exerting official influence that could substantially hurt or help the financial interests of an immediate family member; the employer of a lawmaker or their immediate family; someone with whom a lawmaker is seeking employment; or someone from whom the lawmaker or an immediate family member has made more than $10,000 over the prior 12 months.
Many are concerned that they cannot meet with oil company executives, medical professionals, and other industries because of the bill. Look for some changes to be made this year.
Other Happenings
Former Representative Jason Grenn has landed a new gig. He was hired as the National Caucus Director for Unite America through the end of June. He will focus on exploring bi-partisan caucuses in State Houses and State Senates across the United States. Congrats, Jason. He's the perfect guy for the job.
Jonathan Taylor has left his job as Communications Director for the Department of Public Safety to take a job as an account manager with Yuit Communications. Congrats, Jonathan. I think you got out at the right time.
Begich is back! According to this Politico article, former Senator Mark Begich is returning to his job at the law and lobbying firm, Brownstein Hyatt Farber Schreck. Congrats, Mark. And stay out of that swamp!
Greg Knight, a reporter from KINY in Juneau, was spotted at the Sandpiper with Dunleavy Chief of Staff Tuckerman Babcock this week. Bizarre.
Representative George Rauscher (R – Sutton) wrote an op-ed this week about the proposed power sharing agreement in the House. He was in a group of eight House members exploring it. Not anymore! He said it was not workable and left the group.
Senator Lora Reinbold (R – Eagle River) reportedly let another staffer go this week. Representative Geran Tarr (D – Anchorage) also let a staffer go last week. Maybe they are competing with Senator Mia Costello (R – Anchorage) for the award for the highest staff turnover.
Cathy Mosher, president of the Valley Republican Women, was appointed to the Board of Direct-Entry Midwives by Governor Dunleavy. Apparently she was heard asking what midwives do at the Willow Community Center this week. The best people.
In a truly bizarre moment, Representative David Eastman (R – Wasilla) posted this pic on a recent blog post where he said Democrats refused to show up to a House floor session. Just one problem, the floor session that day was cancelled. Is this even real? Who poses for a picture of a fake meeting. I think these people are living in an alternate realty.
This Week's Loose Unit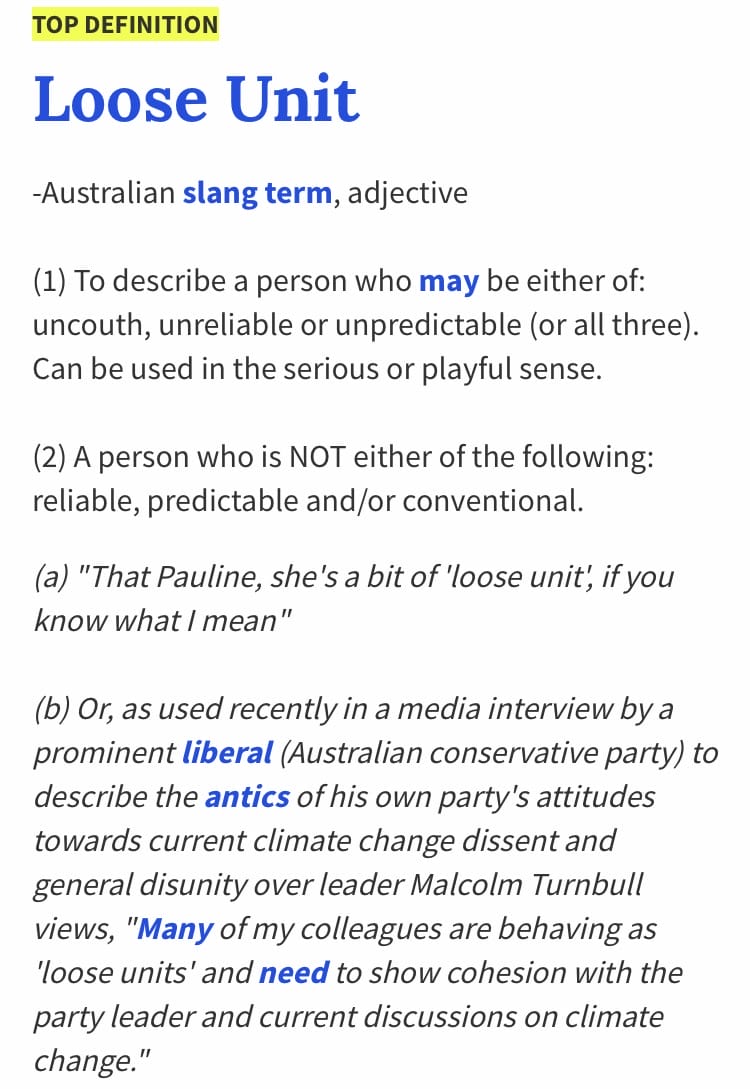 This was a tough week. Between former Bristol Palin stalker, Peter Paul Ferrero, being hired to work in the Capitol, to Representative Ben Carpenter (R – Nikiski) absolutely losing it during a meeting, to me "borrowing" a large State Seal after the Dunleavy Inaugural Gala (more on that later), it was not an easy choice. After careful consideration, this week's Loose Unit is Ben Carpenter.
During a fake House meeting, Representative Matt Claman (D – Anchorage) was speaking with Corrections Commissioner Nancy Dahlstrom. He expressed concern that she had not yet seen her department's budget. Carpenter, who was "chairing" the meeting, interrupted and told Claman, "Please be careful to not impugn the guests here." Claman said he did not think anyone was being impugned. Carpenter responded, "I believe you are." Claman went on, and then Carpenter interrupted him and said once the budget comes out they can have the discussion. Claman then calmly said he would finish his question and comment. This seemed to really trigger Carpenter. He said, "Excuse me. I think I am the chair and you are done!" Classic Loose Unit move. Claman was like, uh last time I checked we don't have any committee chairs.
Carpenter then lost it and said, "You are done. You are done!" Claman kept talking to Dahlstrom. Carpenter then said, "Representative, you will address your question to me!" So loose. Claman again told him, "Last I saw we have no committees." Carpenter the said, "We have an informational meeting that is being chaired by an individual." What the hell.
At this point it was getting so loose that Tammie Wilson called an at ease. The look on Dahlstrom's face, and the others testifying, was priceless. You can see the entire interaction here. it is extremely loose. I don't think Carpenter realizes that Claman chaired the House Judiciary Committee for the last legislature. Dude had to deal with Lora Reinbold, David Eastman, and Gabrielle LeDoux on that committee. After two years of that, Claman can be phased by nothing.
Bonus Loose Unit
Some of you may have seen this Facebook post by Rebecca Logan this week. I have a confession. It was me. I took the State Seal. But allow me to explain.

At the conclusion of the gala, I was walking out with some people. I saw these two very large State Seals printed on hard cardboard (Did Lieutenant Governor Kevin Meyer approve this?). I figured they were garbage. Alcohol may have been a factor in that decision. So I unsecured one from it's metal stand and walked out with it. It accompanied me to the bars and on my taxi ride home. Fellow bar patrons, and my taxi driver, were very amused and also confused by the large State Seal.
I woke up with this huge State Seal in my living room. At that point I realized I probably engaged in some poor decision making. I was just going to hang it in my garage. Then, on Monday I saw Rebecca's post… I was like, fuck. I contacted her and said I knew the location of the missing State Seal in question and I could arrange for its safe return. The only condition was no questions asked. She agreed, and I am happy to say the Seal has been returned, unharmed. Very loose.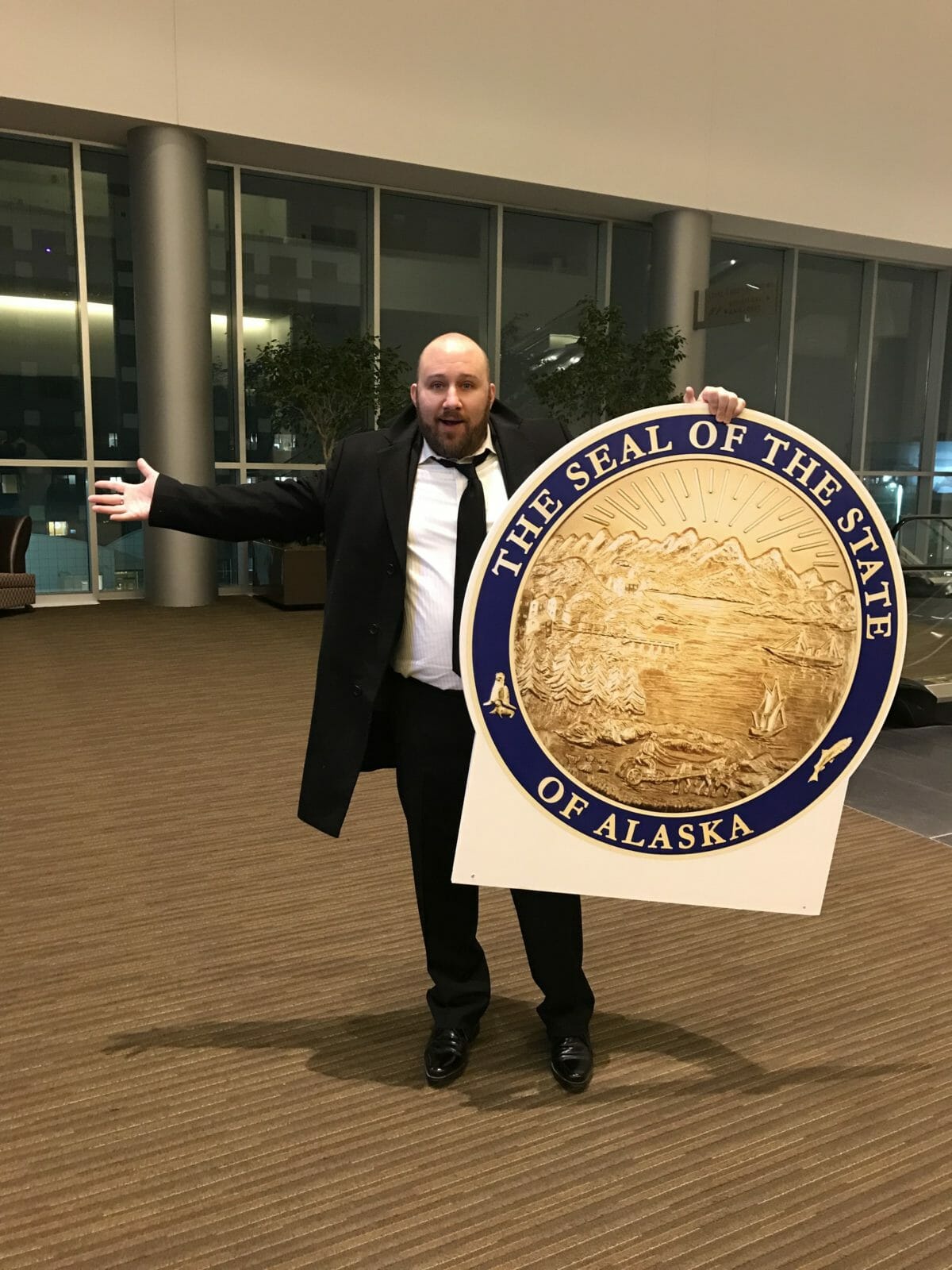 If you have a nomination for This Week's Loose Unit, or if you have any political news, stories or gossip (or any old pics of politicians or public officials) please email me at jeff@alaskalandmine.com.