It's already December. Thanksgiving has come and gone and Christmas and New Years will be here before we know it. The Alaska House remains narrowly divided with no clear organizational structure in sight. Governor Mike Dunleavy (R – Alaska) and his new Lieutenant Governor-elect Nancy Dahlstrom will be sworn in tomorrow at the Alaska Airlines Center in Anchorage. And some more politicos are on the move.
A friendly message and reminder to all our readers. The Landmine is made possible by myself and a team of awesome Alaskans. We worked hard on all of our election coverage. I will be headed back to Juneau again in January to report on the session. If you enjoy the content we provide, please consider making a one time or recurring monthly donation. You can click here to donate. We have a donation system that makes it super easy. We would really appreciate it. And thanks to everyone who has been supportive.
The Senate has organized, the House is another story
The following is an excerpt from this week's edition of the Alaska Political Report. You can click here for more information about the Political Report. A subscription is $1,299/year per organization. Discounted pricing is available for non-profits and government entities. Our coverage of the budget will start with the governor's proposed budget in mid-December and track everything in detail through the entire process. If you have any questions or would like to subscribe, please email jeff@akpoliticalreport.com.
Now that the ranked choice tabulation is finished and the election is certified, the Senate has organized but the House is once again narrowly divided between conservatives and progressives. As it currently sits, 21 Republicans, 14 Democrats, and five Independents have been elected. When you consider Kodiak Republican Rep. Louise Stutes, the current Speaker of the House, has been part of bipartisan coalitions since 2017, the House is effectively divided 20-20.
Two races are the subject of legal challenges and one will likely face a recount:
Wasilla Republican Rep. David Eastman is fighting a court case that claims he is ineligible to serve in the Legislature because of his membership in the Oath Keepers, whose leader was just convicted of sedition. This case will not be resolved until later this month, at the soonest. If Eastman is deemed ineligible, a judge has said Republican Stu Graham, the second place finisher, would be the winner.
Anchorage Democratic Rep.-elect Jennie Armstrong is facing a residency challenge that was filed today. If she is deemed ineligible, the court could either have GOP Gov. Mike Dunleavy choose a Democrat to replace her or declare Republican Liz Vazquez the winner.
After the ranked choice tabulation, Anchorage Republican Rep. Tom McKay leads Democrat Denny Wells by just seven votes. Wells can request a recount, which would be paid for by the state due to the margin. In 2018, the recount in the race between Republican Bart LeBon and Democrat Kathryn Dodge was not decided until early January 2019.
Regardless of the outcome of the Eastman race, a Republican would still hold the seat. But the other two scenarios are more complicated.
If Armstrong is deemed ineligible and the court orders Dunleavy to choose a Democratic replacement, that person would need to be confirmed by a majority of House Democrats. In 2019, when the House did not organize until a month into session, Sharon Jackson (who Dunleavy chose to replace Nancy Dahlstrom for an Eagle River House seat after Dahlstrom opted to be Corrections commissioner instead of serving in the House) faced challenges being seated because of the lack of organization. If Vazquez were deemed the winner, Republicans would pick up a seat.
The recount in the race between McKay and Wells – which has not been requested yet but will be by Monday – will be another barrier to organization as the outcome will be crucial in determining numbers.
The biggest wild card in all of this is Utqiagvik Independent Rep. Josiah Patkotak. First elected in 2020, Patkotak joined the bipartisan House coalition in 2021 after the House again failed to organize for nearly a month into session. But Patkotak, who strongly supports resource development, could decide to join the Republicans. Patkotak told the Political Report he has not yet decided what he will do. "I have to take a lot of things into consideration. For example, what my role would look like in a caucus and how the caucus views resource development," Patkotak said on a phone call from his home in Utqiagvik. Patkotak also cited the three races in question as a reason why it will be difficult for the House to organize.
After the 2018 and 2020 elections, the House did not organize until a month into session. It appears the same scenario is likely in the upcoming legislative session. Seven of the incoming 21 Republicans and 10 of the incoming 19 Democrats/independents have never served in the Legislature, though several have worked as staffers or served in local government. Both sides have members who have big disagreements on policy. If Eastman prevails, he will likely once again be a barrier to a Republican organization. And Eagle River Republican Rep.-elect Jamie Allard's combative behavior on the Anchorage Assembly will also make it hard to count on her as being a reliable member of a Republican majority.
We are closely following all of this and will provide updates they develop.
Other Happenings
Governor Mike Dunleavy and Nancy Dahlstrom will be sworn in tomorrow at 1 pm at the Alaska Airlines Center in Anchorage. According to the press release, "There will also be performances by the Alaska Native Heritage Center Dancers, the 11th Airborne Division Band, Stephen Holmstock, and members of the Pipeline Vocal Project." The Landmine will be there livestreaming the whole thing! You can watch on our Facebook page, YouTube channel, or Twitter page. Dunleavy is the first Alaska governor re-elected since Democrat Tony Knowles in 1998 and the first Republican governor re-elected since Jay Hammond in 1978.
Corey Mulder, a talented videographer and daughter of lobbyists Wendy Chamberlain and Eldon Mulder, is now working for Governor Dunleavy. Her new role is essentially his aide-de-camp, acting as an advisor who attends all of his meetings. Congrats, Corey! Only sad part is I doubt I will be seeing her anymore at one of my favorite Juneau spots, the Rainbow Swamp!
Anchorage Police Department Officer Gerard Asselin announced he will be retiring from APD effective December 30. He's been with APD for more than 25 years. He briefly served as deputy police chief under Mayor Dave Bronson. Congrats on retirement, Gerard!
Mark Begich held a holiday party at his Downtown Anchorage office on Thursday night. There were a lot of politicos and business people in attendance including his brother Senator Tom Begich (D – Anchorage), Anchorage School Board member Andy Holleman, Walter Featherly, Janice Park, Joe Balash, and many more. He definitely knows how to throw a party!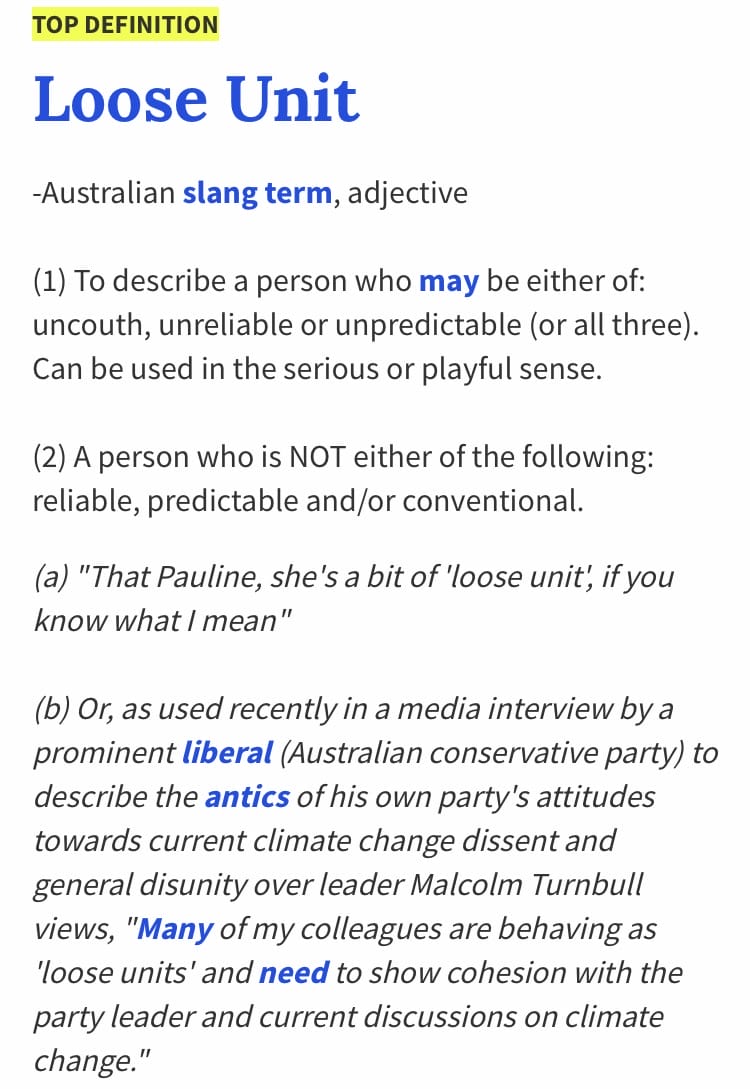 For this week's designee, we head to the Mat-Su Valley. This week's Loose Unit is the District 27 Alaska Republicans. Earlier this week they censured Senator David Wilson (R – Wasilla) for joining the new Senate bipartisan majority. A few dozen hyper partisan Valley activists are mad at Wilson for being the only Valley senator who will be on the finance committee and have a say in what happens in Juneau. Very loose. They don't seem to be aware or care that 5,133 people voted for Wilson in the first round or that after the retabulation he won by nearly 20 points.
They want Wilson to quit the majority or resign. Super loose. What they also seem to be unaware of is if he did quit the majority and join the minority, the minority would go from three to four members. According to the rules, to be a recognized minority in the Senate requires five members. So they are demanding he give up his seat on the finance committee so he can hang out with the two other Valley senators plus the North Pole senator and do literally nothing. This is a maximum loose demand. Suzanne Downing and others are particularly triggered by Wilson's smart choice. They are the ones who always say elections matter. Classic Loose Units.
If you have a nomination for this week's Loose Unit, or if you have any political news, stories or gossip (or any old pics of politicians or public officials) please email me at jeff@alaskalandmine.com.