2020 is just a few weeks away! And the next legislative session is just a little over a month from beginning. The budget that Governor Mike Dunleavy (R – Alaska) rolled out this week ensures legislators will have plenty on their plate during session.
A friendly message and reminder to all our readers, the Landmine is made possible by myself and a team of awesome Alaskans. It takes a lot of work to provide the content we do. If you enjoy the content we provide, please consider making a one time or recurring monthly donation. You can click here to donate. We have a new donation system setup that makes it super easy. We would really appreciate it. And thanks to everyone who has been supportive!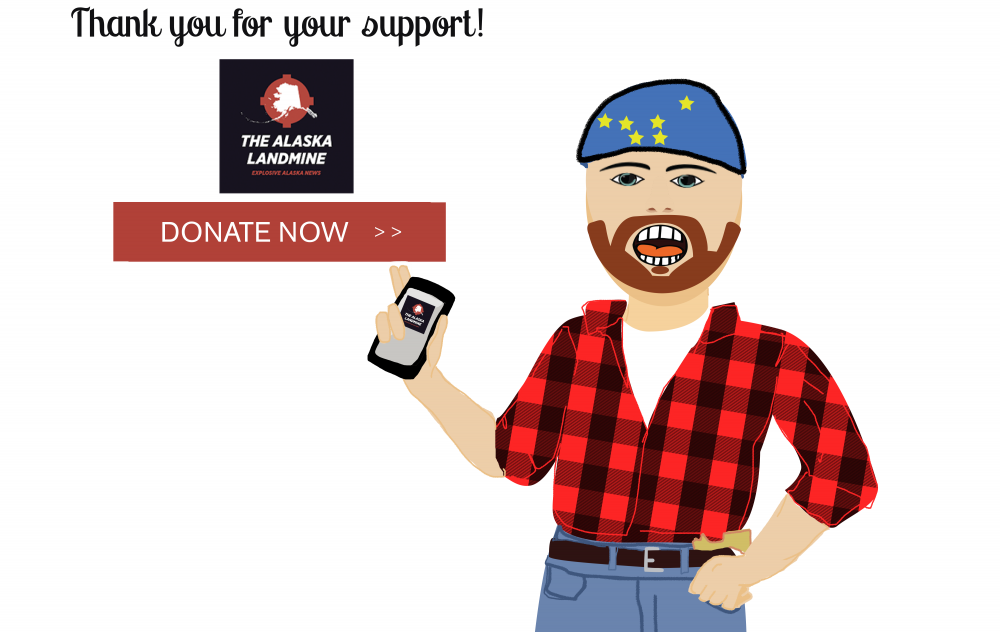 Budget Rollout
Governor Dunleavy rolled out his budget this week in Juneau. The huge proposed cuts and the shifting of local taxes to the State in his first budget were absent in this one. Spending remains basically the same and, of course, it includes a full PFD, which he is suggesting paying for by draining the Constitutional Budget Reserve (CBR). At its peak the CBR had over $16 billion in it. Years of deficit spending since 2012 has taken it down to around $2 billion. Using $1.5 billion from it to pay a more than $3,000 PFD would only leave around $500 million left. The Legislature is not going to go along with this because it is irresponsible. Dunleavy is forcing the Legislature to make the tough decisions about the budget and PFD. I assume it is so he can blame them when there is yet another year of the PFD being below the statutory formula. It is not all that different than when the Senate sent the House a budget last year that included a full PFD. We all saw how that turned out. This kind of leadership will only result in more fighting between the governor and legislature and continue to anger and confuse the public.
Campbell Lake Update
If you didn't see our latest article on Campbell Lake, check it out here. The State of Alaska and Municipality of Anchorage issued a joint statement affirming that Campbell Lake is in fact a public lake. This came a little over two months after our feature article, "The bizarre story of Campbell Lake, the private lake that isn't" was published. It is pretty wild to think that the public was led to believe that Campbell Lake was a private lake and prevented from using it for six decades. The question of access still remains. The public access easements are currently undeveloped and unusable. It can be accessed via Campbell Creek but getting out, in summer, is the problem. In the winter if the creek is frozen you can walk or ski in and out. It will be interesting to see what the future holds for public access to the lake. A big shoutout to Paxson Woelber and everyone who contributed to making this series possible.
Other Happenings
Arctic Slope Regional Corporation (ASRC) announced this week that they are dropping their membership in the Alaska Federation of Natives (AFN). They did not say much in their statement. Some speculate that the decision was in part due to AFN's stance on climate change.
Whoa. The Alaska Regional corporation that represents shareholders from the oil-rich North Slope, whaling villages & Utqiagvik is breaking with the Alaska Federation of Natives. pic.twitter.com/6OLTy1IrbF

— Kyle Hopkins (@kylehopkinsAK) December 14, 2019
KTUU reporter Blake Essig has been hired by CNN to be a Tokyo based correspondent. Congrats, Blake! I am coming to visit sometime so we can have some Kirin and Sake!
Sources confirm that KTVA has let go of longtime reporters Steve Quinn and Rhonda McBride. I'm not sure when their last day will be. Quinn is one of the best Capitol reporters. He has a ton of institutional knowledge and knows Juneau better than almost anyone. I got to know him well last year when I was in Juneau. He's a professional and widely respected by legislators and his colleagues. McBride has been reporting in Alaska since 1988. She hosts the popular show Frontiers. I'm not sure if KTVA is just giving up on reporting the news or just can't afford to keep them. Either way, what a loss for Alaska. They are two of the best people in the business.
Senator Mike Shower (R – Wasilla) going full Eagle Exit!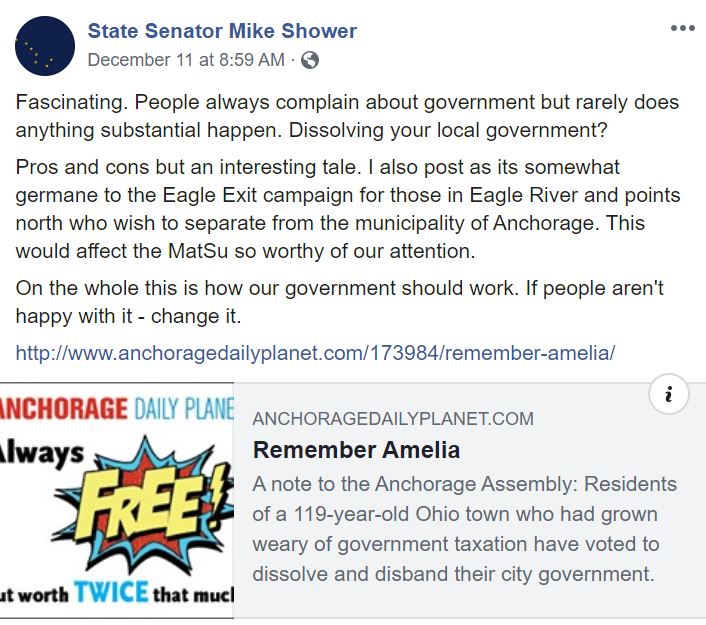 Check out what the President of APU got his staff for Christmas. The book is "White Fragility: Why It's So Hard for White People to Talk About Racism." That is woke!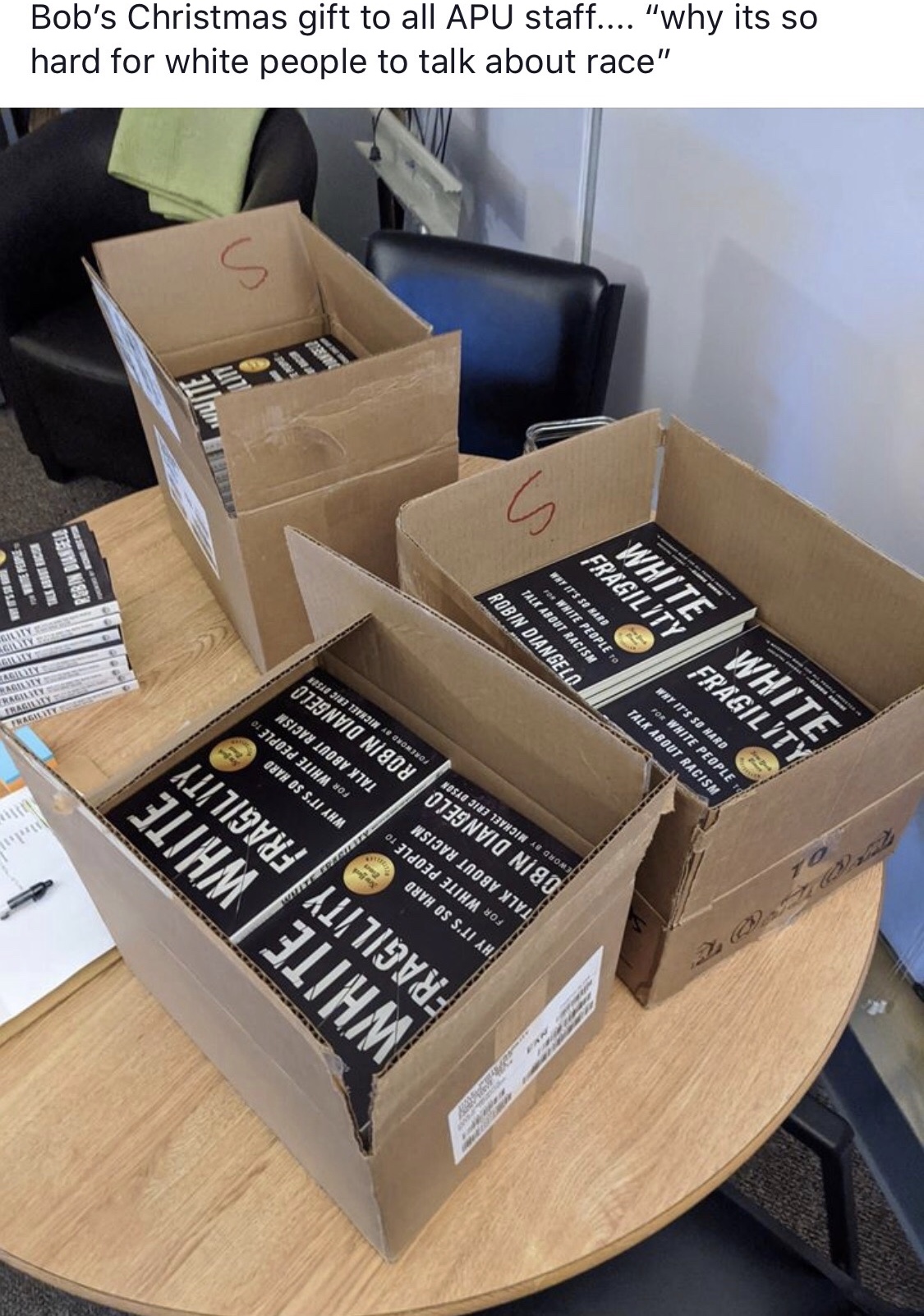 The group Defend Alaska is targeting Representatives Sara Rasmussen (R – Anchorage), Laddie Shaw (R – Anchorage), Lance Pruitt (R – Anchorage) and Sarah Vance (R – Homer). The only one currently with a serious opponent is Pruitt. Liz Snyder is running against him again. He barely beat her last year.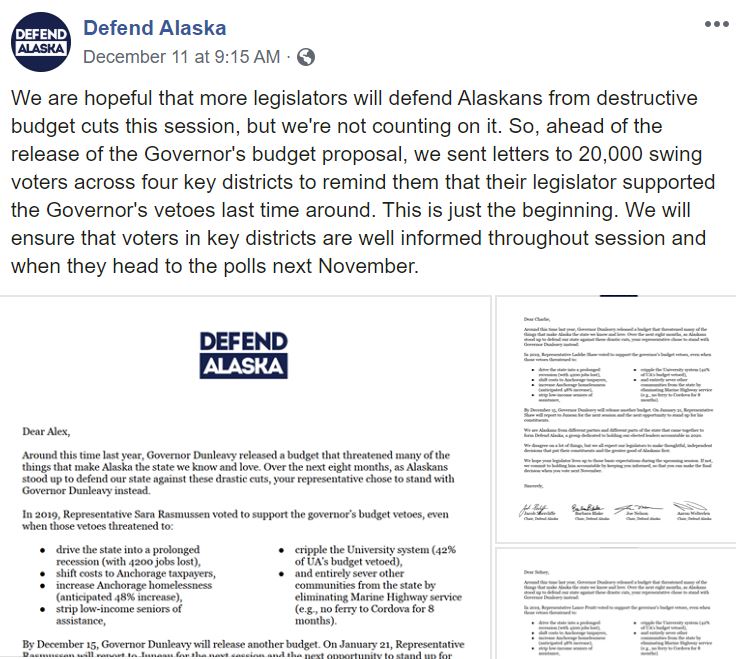 The police were called this week to the Anchorage LIO. Apparently a man was being super rude and aggressive to the staff of several legislators. As one staffer told me, "He was definitely behaving like a Loose Unit!" The incident was handled and no one was hurt. Imagine how loose it's going to be during the next election.
Anyone need anything shipped to Juneau? Dan, just don't go full Wes Keller lol.
Former Rep. and current DNR Comms guy Dan Saddler doing a little side hustle – Saddler's Moving Service lol. Overheard: "Dan, we have some boxes that need to go to Juneau. Please don't open or look in them." #akleg pic.twitter.com/semCHYGC9L

— The Alaska Landmine (@alaskalandmine) December 10, 2019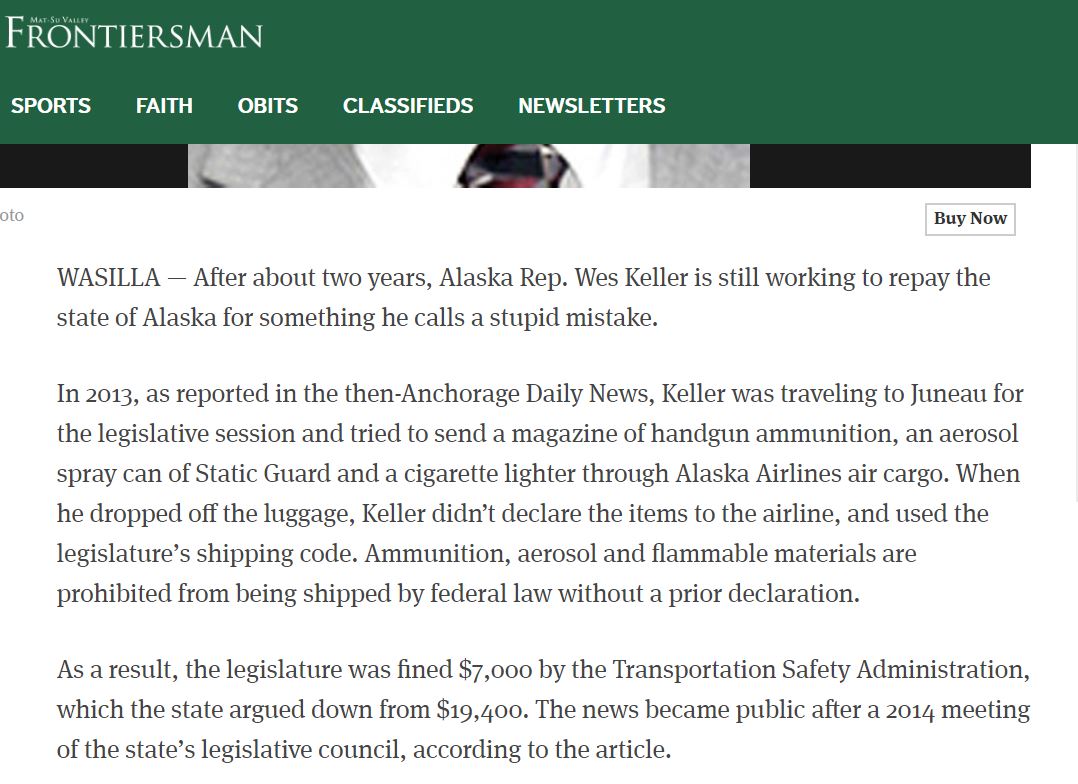 Propagandist Suzanne Downing is at it again with yet another low. Good on Senator Jesse Kiehl (D – Juneau) for calling her out for her bullshit. It says a lot about the people who support and enable her.
Don't forget, the Roast of Jeff Landfield will be held next Saturday night at the Matanuska Brewing Company in Anchorage. Here is a link to the Facebook event. Hope to see everyone there. It's gonna be lit!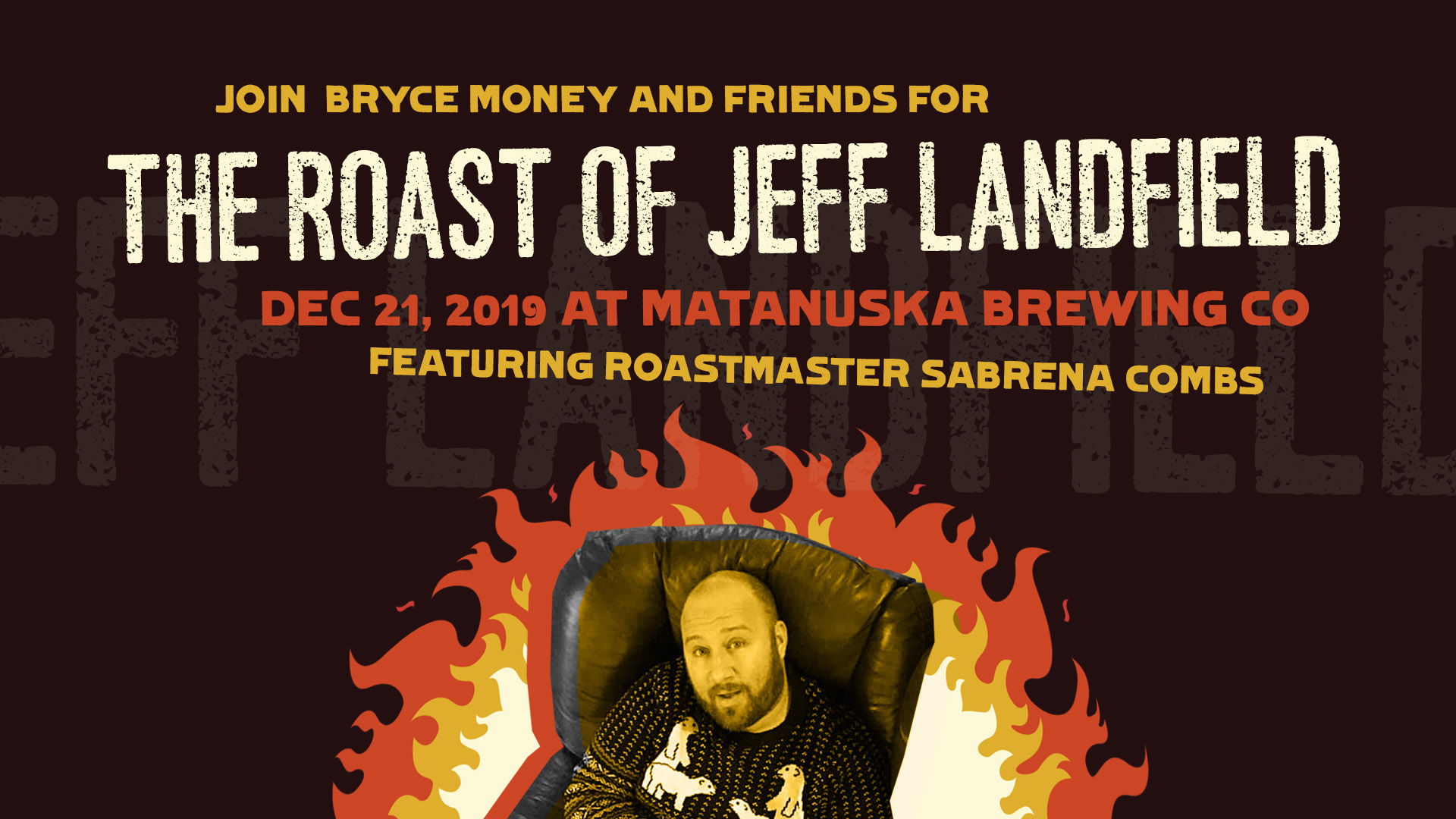 This Week's Loose Unit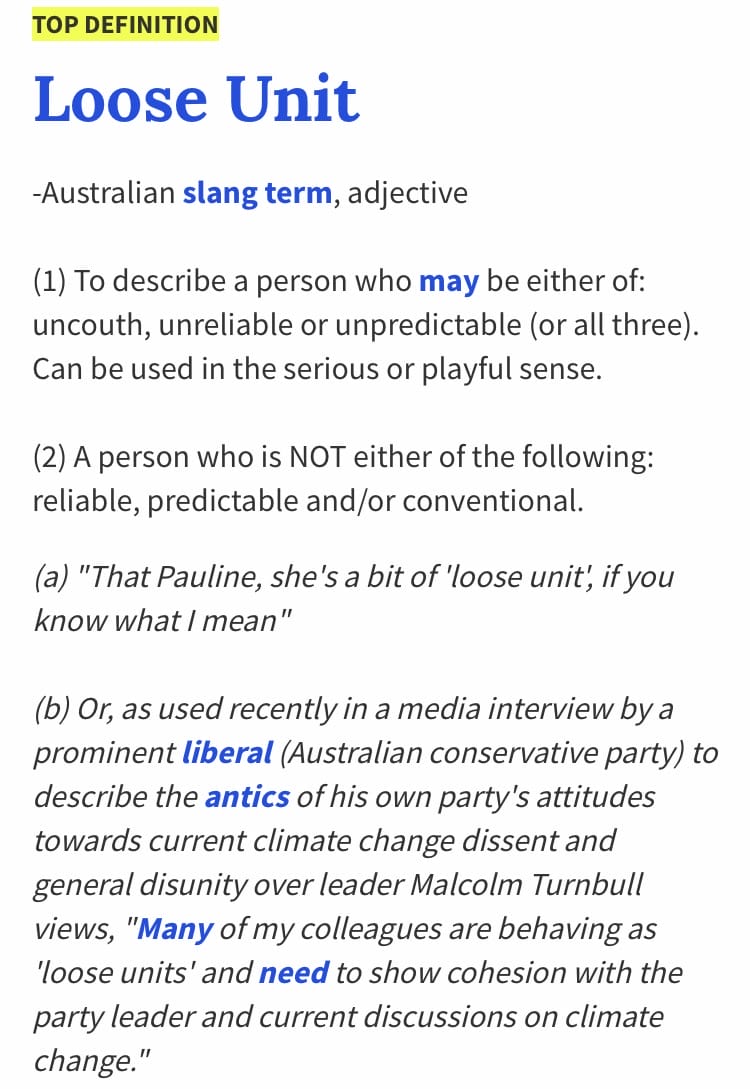 This week was a no brainer. This week's Loose Unit is Governor Mike Dunleavy. Dunleavy rolled out his budget this week. It is customary for the governor to give legislators a preview of the budget so they know what's coming. Dunleavy's staff set up four separate meetings with members of all four caucuses (minorities and majorities in each body) to do just that. However, what transpired in these budget preview meetings was very loose. The meetings included his chief of staff, a senior advisor, and acting OMB Director to preview the budget. The meeting went as follows:
Chief of Staff Ben Stevens: Thanks for calling in. Here's the governor.
Governor Dunleavy: The budget comes out at 2 pm. Looking forward to working with you all.
Meeting over.
Talk about loose. Several members broke previous meetings or engagements to attend the meeting with Dunleavy. Needless to say everyone was surprised and frustrated by Dunleavy telling them what they already knew and giving them zero information about the budget. And he was just getting started. During the press conference on Wednesday it got even looser. After Dunleavy spoke a bit about the budget he answered a few questions and then left due to a prior engagement. He bailed 12 minutes into the press conference. So loose. His staff and commissioners stood in the room looking dazed and confused. Acting Revenue Commissioner Mike Barnhill looked like someone had a gun to his head. Commissioners Jason Brune and Adam Crum looked like they just heard ebola was in Alaska. Super loose.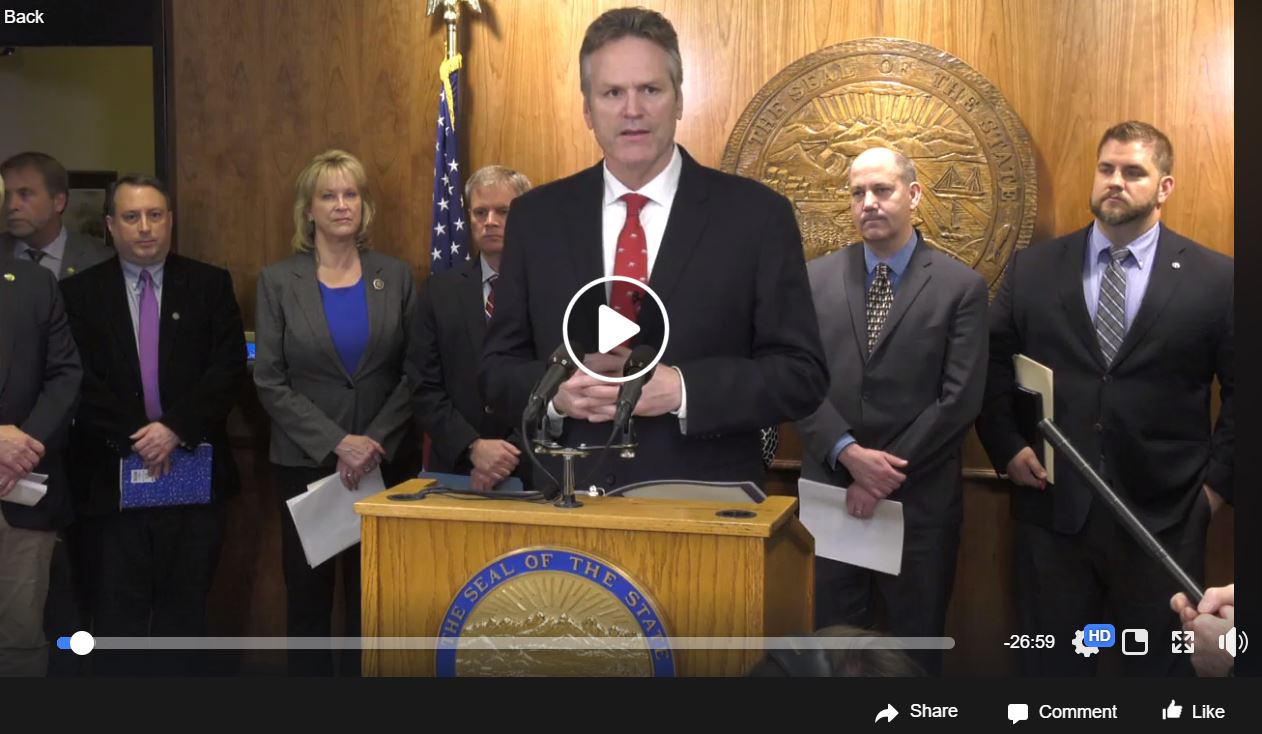 After Dunleavy left reporters continued to ask questions. They asked questions to an empty podium. After a question was asked everyone kind of just looked at each other until someone decided to answer. It was very awkward and very loose. The happiest man in Alaska during all of this was former Revenue Commissioner Bruce Tangeman, who recently resigned. He must have seen all of this coming. I imagine he was watching from his couch with an reaction similar to this. Talk about loose. If this is a preview for what's to come next year, I may need to start a daily Loose Unit.
And it gets better. Dunleavy left the press conference to go to D.C. He is speaking at an event for the Heritage Foundation tomorrow about our budget. He left a press conference about our budget to go to D.C. to talk about our budget. That is loose! Word is he is also meeting with Secretary of Education Betsy DeVos. You can't make this stuff up.
If you have a nomination for this week's Loose Unit, or if you have any political news, stories or gossip (or any old pics of politicians or public officials) please email me at [email protected]