2020 will be behind us in a few weeks. Thank God for that. The big news this week was Governor Mike Dunleavy's (R – Alaska) budget announcement. He is again proposing big dividends, which would require overdrawing the Earnings Reserve of the Permanent Fund. The House and Senate have yet to organize majorities. It's been almost six weeks since the general election. With Christmas and New Years fast approaching, we will likely enter 2021 with no majorities established in the legislature.
A friendly message and reminder to all our readers, the Landmine is made possible by myself and a team of awesome Alaskans. It takes a lot of work to provide the content we do. If you enjoy the content we provide, please consider making a one time or recurring monthly donation. You can click here to donate. We have a donation system that makes it super easy. We would really appreciate  it. And thanks to everyone who has been supportive!
The Budget
Governor Dunleavy unveiled his proposed budget on Friday afternoon. Nothing like a Friday to deliver bad news. Dunleavy is proposing a full PFD for next year as well as a nearly $2,000 supplemental PFD for this year. That $5,000 would cost over $3 billion. To give context, the current state operating budget is around $4.5 billion. The last two years the legislature has not appropriated the dividend that Dunleavy asked for. There is no reason to believe it will be any different next year. Dunleavy also proposed changing the dividend formula to 50% of money that comes out of the Permanent Fund for government. This would require legislative approval. That's more likely to happen than them approving mega dividends.He also wants an advisory vote of the people. But even in a 50/50 scenario, the state would still face a big deficit. More revenues would be needed. Here is one thing Brad Keithley had to say about the budget.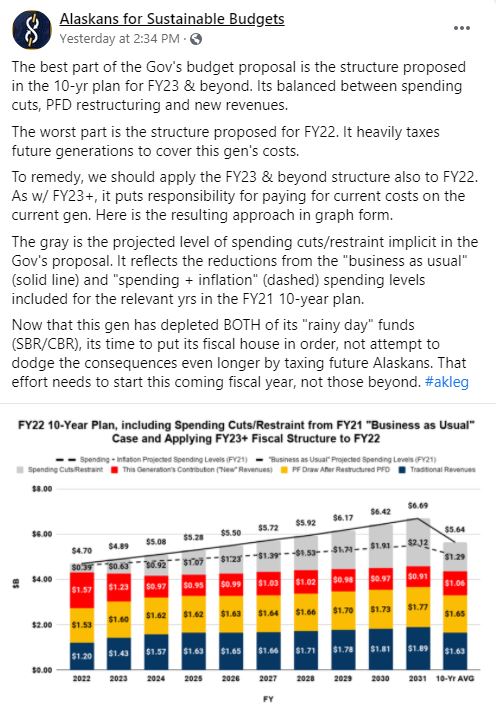 In scenario 5 (Balanced Approach) of the Office of Management and Budget 10-year plan, new taxes are part of the balanced solution. The budget also proposes a $300-350 million infrastructure bond. This would require a vote of the people and, if approved, would take a few years to get out. Dunleavy is proposing a special election this spring. This ADN article provides additional information about the budget.
Other Happenings 
Senate Republicans met again this week to try and organize. They are still far apart on the dividend and a binding rule on the budget. There are 13 Republicans and 7 Democrats. I give it a greater chance than not that some type of coalition forms. This week Representative Louise Stutes (R – Kodiak) announced she would be sticking with the 19 Democrats and Independents. This leaves the House split at 20/20. Even if the Republicans had 21 a majority would be extremely unlikely. Republicans in the House are also divided on key issues and there are only a few who have ever been in a majority. A coalition will also likely form in the House. The only question is who will be in leadership roles.
Representative Lance Pruitt (R – Anchorage) is suing over his 11 vote loss to Democrat Liz Snyder. The lawsuit says the state did not provide adequate notice when moving a polling location and calls into question the decision of the court to allow absentee ballots to be returned without a witness signature.
The North Pacific Fishery Management Council voted 10-0 with one abstention this week to shut down commercial fishing in the federal waters of Cook Inlet. The decision is seen as a win for personal and sport fishermen but a blow to commercial driftnet fishermen. This ADN article provides more detail.
Sources report the Redistricting Board plans to hire Peter Torkelson as their executive director. Several people applied for this position. The board is responsible for redrawing Alaska's legislative districts, which occurs every ten years with the census. Normally the census comes out in spring and 90 days later they come out with preliminary maps. But because of Covid the census may not be complete until summer. So we may not see preliminary maps until next fall. This will impact candidates who plan to run in 2022, the first election with the new districts.
The Department of Transportation and Public Facilities is considering charging utilities for use of their right-of-way. The utilities are strongly fighting it.
Acting Anchorage Austin Quinn-Davidson will be giving a State of the City address tomorrow at a meeting of the Anchorage Chamber of Commerce. It will via Zoom. You can click here to register.
Some wackos were circulating these pictures on Facebook claiming Quinn-Davidson, who recently tested positive for Covid, was out shopping with a police escort. Several people sent them to me convinced it was her. I confirmed it was not her and posted about it. The reason I posted it was to inform people it wasn't her. The reason there were police in the pictures was for the annual Shop with a Cop, Shop with a Firefighter event. We have some real crazy people in Anchorage. Here is a story from last year about the annual event.
Have been sent these pics by several people. They are saying Acting Mayor Quinn Davidson was out shopping today. Have confirmed it's not her and that she has not left her house since testing positive for Covid. It does kind of look like her though lol pic.twitter.com/NGR1DDVXao

— The Alaska Landmine (@alaskalandmine) December 10, 2020
A meeting of the Senate Health and Social Services Committee on Covid vaccinations was interrupted by a guy who got loose. He was wrestled to the ground and removed from the LIO! It's the same guy who pals around with Dustin Darden at Anchorage Assembly meetings.
Residents of Resolution Point testified at a meeting of the Anchorage Assembly this week about public access to Campbell Lake. They wanted to know if the municipality plans to develop proper public access and if not, if residents can develop it themselves. The Assembly voted unanimously to send the question to the Community and Economic Development Committee. The municipal attorney stated several times that the position of the municipality and state that Campbell Lake remains that Campbell Lake is a public lake with public access.
This Week's Loose Unit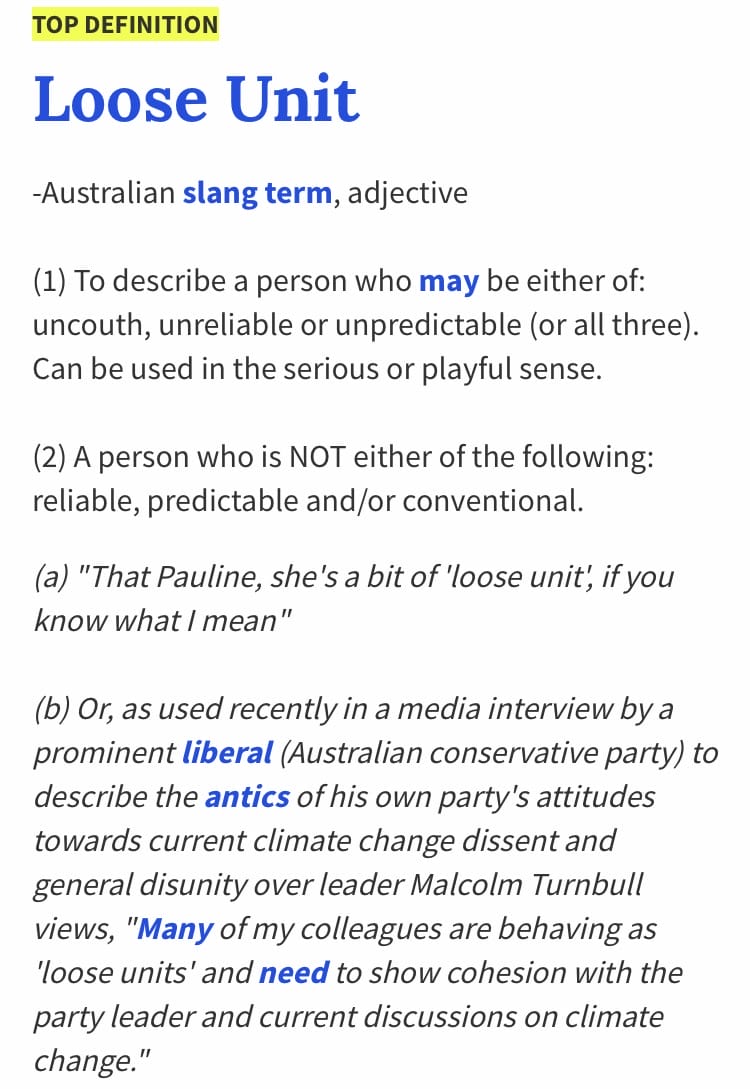 This week's Loose Unit was a no brainer. This week's Loose Unit is a tie between Representatives Sarah Vance (R – Homer), Ben Carpenter (R – Nikiski), and Representative-elect Ron Gillham. All three sent a letter to Governor Dunleavy encouraging him to join the now-dismissed Texas election lawsuit. Calling for the state to join a lawsuit that could potentially invalidate their elections, that they all won, is super loose. Not to mention these so called states' rights advocates supporting a lawsuit that would allow states to use the federal government to interfere with the business of other states. Classic Loose Units.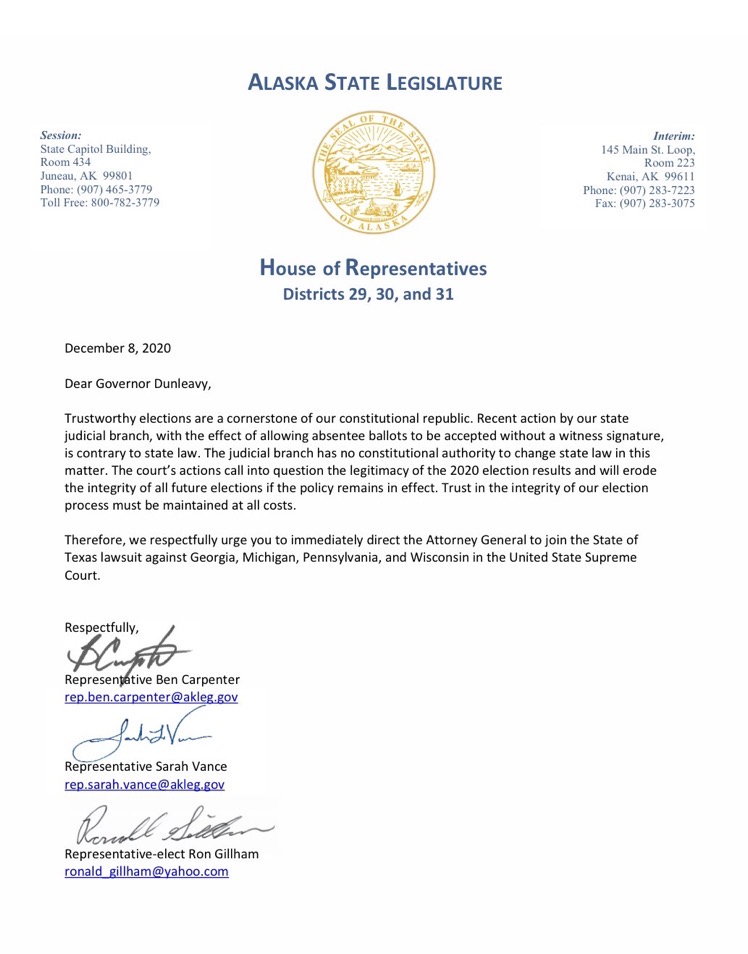 Dunleavy, another states' rights advocate, ended up taking their advice and joining the lawsuit on December 10. Well, kind of. It seems the state did not file the correct motion to actually join the lawsuit. But that's a moot point. Because the next day the Supreme Court dismissed the lawsuit. Talk about loose. And, as Senator Bill Wielechowski (D – Anchorage) so eloquently pointed out:
The irony of Gov Dunleavy joining the lawsuit to overturn the presidential election is that his Administration did exactly what the lawsuit claims is unconstitutional

— Bill Wielechowski (@wielechowski) December 11, 2020
Too many Republicans have lost their damn minds.
If you have a nomination for this week's Loose Unit, or if you have any political news, stories or gossip (or any old pics of politicians or public officials) please email me at jeff@alaskalandmine.com.