It's already August. Summer is really flying by. The upcoming April Anchorage mayoral race is starting to heat up with some more campaign kickoff events scheduled, as well as some coordinated efforts to go after the only Democrat in the race. Governor Mike Dunleavy (R – Alaska) signed another bill into law this week at the Tanana Valley State Fair. Environmental Conservation Commissioner Jason Brune announced he is resigning this week after more than four years on the job. And several legislative staffers are on the move.
A friendly message and reminder to all our readers. The Landmine is made possible by myself and a team of awesome Alaskans. I recently got back from Juneau for my fifth session in a row reporting on the Legislature. If you enjoy the content we provide, please consider making a one time or recurring monthly donation. You can click here to donate. We have a donation system that makes it super easy. We would really appreciate it. And thanks to everyone who has been supportive!
Anchorage Mayoral Race Action
Chris Tuck, the only Democrat so far in the Anchorage mayoral race, is holding his campaign kickoff event Tuesday night at Firetap on O'Malley. He's got some big Democrats listed as co-hosts including Anchorage Senators Bill Wielechowski, Löki Tobin, Elvi Gray Jackson and Anchorage Representatives Cliff Groh and Andy Josephson. Tuck's entrance into the race has angered some Democrats progressives who are supporting independent Suzanne LaFrance (see this week's Loose Unit).
Anchorage Mayor Dave Bronson is holding his campaign kickoff event next week at Keith Manternach's hangar. He has some big name Republicans listed, namely Governor Mike Dunleavy and Senator Dan Sullivan, as well as several Anchorage (and Valley) legislators. Kind of bizarre that Niki Tshibaka is on there. Guess they made up! And no Amy Demboski. Bronson has been a lot more active on social media lately. He's probably come to the realization that it's going to be extremely difficult to get re-elected.
Legislative Staff Shuffle
Several legislative staff are on the move:
Katie McCall is moving from Representative Frank Tomaszewski's (R – Fairbanks) office to Representative Dan Saddler's (R – Eagle River) office.
Buddy Whitt is moving from Representative Kevin McCabe's (R – Big Lake) office to Representative Laddie Shaw's (R – Anchorage) office. Josh Walton left Shaw's office to run Nick Begich's congressional campaign.
Rose Larson, who worked for Tomaszewski's office during session, is now with Representative Jamie Allard's (R – Eagle River) office. God help her.
Nate Graham, a longtime legislative staffer who came back to the Legislature after running the Gara/Cook gubernatorial campaign last year, has moved to Seattle. He will be missed. I wish him all the best. My man is legend status.
Other Happenings
Governor Dunleavy signed Senate Bill 119 into law on Saturday at the Tanana Valley State Fair. The bill, sponsored by Senator Robb Myers (R – North Pole) provides for easier access to state ID cards for inmates when they are released from jail. Representative Andrew Gray (D – Anchorage) sponsored the House version of the bill. It passed the Legislature unanimously.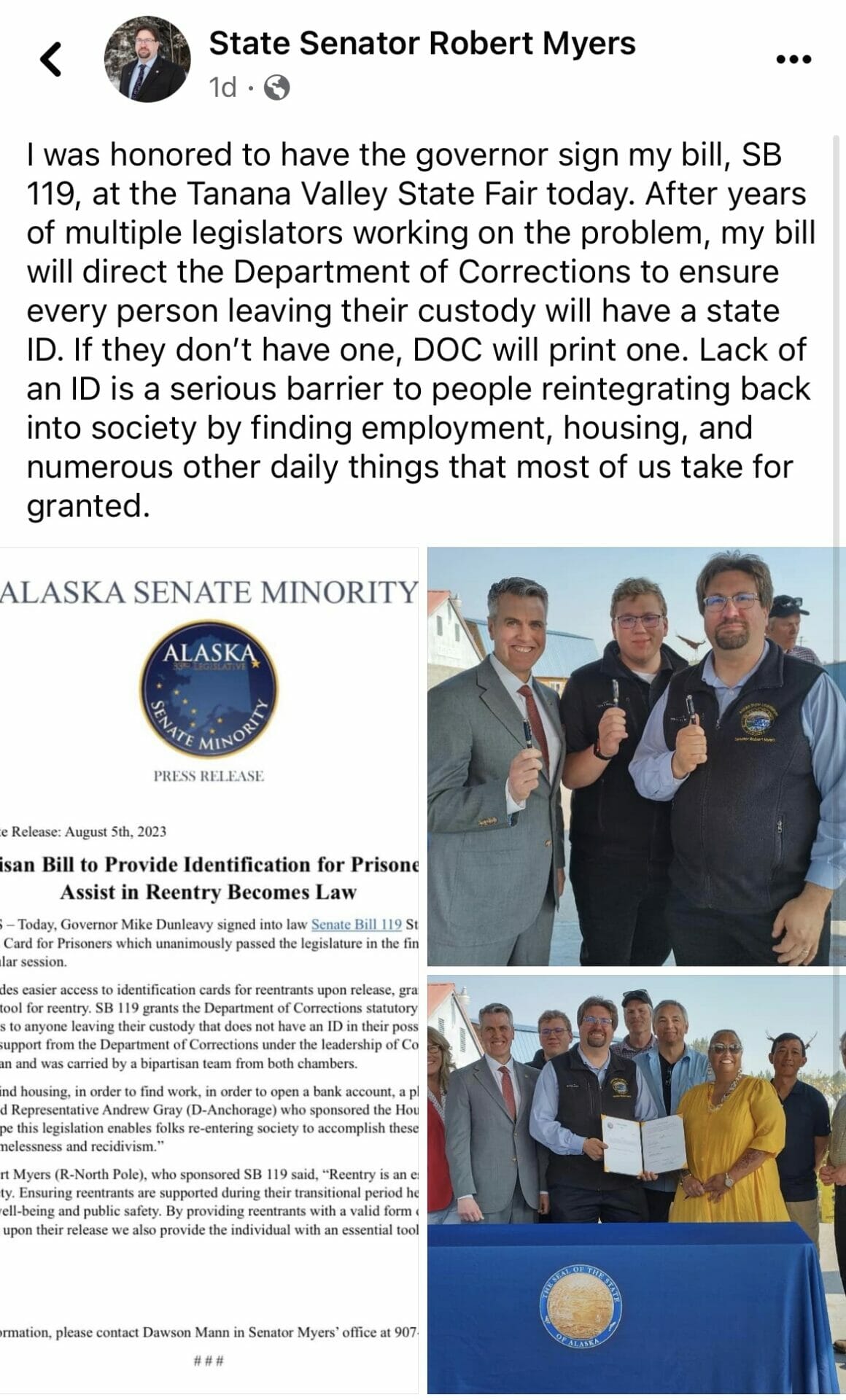 Environmental Commissioner Jason Brune announced his resignation this week. Brune, who is currently lieutenant governor successor (third in line), has been in the position since Dunleavy was first elected in 2018. He's one of the few originally Dunleavy appointees still in the same role. His last day is August 20. Brune says he is leaving to purser opportunities in the private sector. Brune made headlines in June when he sent a scathing BDSM-themed letter to EPA Administrator Michael Regan. Deputy Commissioner Emma Pokon will serve as acting commissioner until a permanent replacement is found.
Tuckerman Babcock unexpectedly resigned from the University of Alaska Board of Regents this week. Dunleavy appointed him in May after the Legislature rejected Bethany Marcum. Terms on the board are eight years. Babcock would have been able to serve until at least next session when a confirmation vote would take place.
The annual Waterfall Charity Fishing Event the Murkowski family hosts near Ketchikan for breast cancer awareness and detection was held this weekend. The event draws heavy political and business hitters who pay thousands of dollars to attend. Sources say they raised around a quarter of a million dollars. Some of the attendees included Senator Lisa Murkowski (R – Alaska), Senator Bert Stedman (R – Sitka), Representative Dan Ortiz (I – Ketchikan), Commissioner Julie Sande, lobbyists Kris Knauss and Sam Kito, Tara Sweeney, Caroline Schultz, and Andrew Lundquist (all from ConocoPhillips), former BP Alaska President John Minge, Hans Neidig from Exxon, and many others. I will get there one day!
A surprise birthday party was held for former Representative Mel Gillis on Monday at Little Italy in Anchorage. Several legislators, Mayor Bronson, and friends of Gillis attended. Gillis, who turned 80, is still an active hunting guide. He moved to Alaska in 1965 and has lived the quintessential Alaska life.
This Week's Loose Unit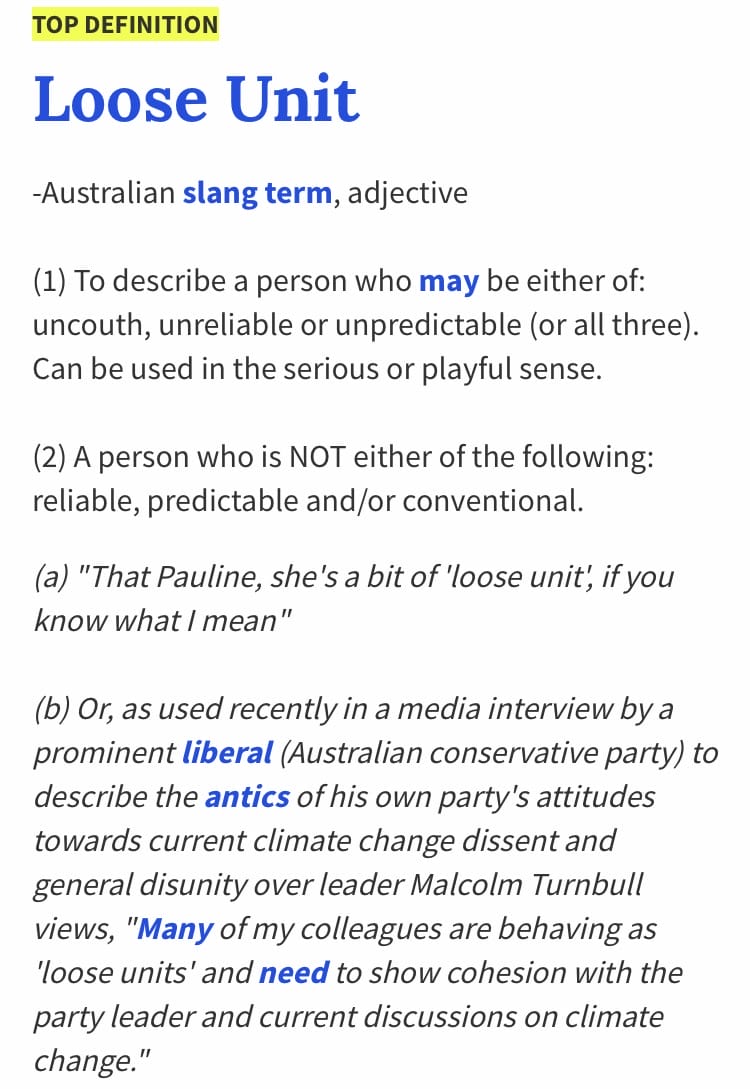 This week's designee became clear on Friday. This week's Loose Unit is Anchorage attorney and political operative Scott Kendall. On Friday the Anchorage Daily News published an op-ed from Kendall, "Anchorage needs new leadership, but Chris Tuck is unqualified to be mayor." Kendall has joined a group of some Democrats and progressives who have decided Suzanne LaFrance is the ordained one, and are stopping at nothing to attack Tuck.
One of Kendall's attacks against Tuck is his pro-life stance. Ignoring that the Anchorage mayor has zero to do with abortion, Kendall was chief of staff to, wait for it, Mr. pro-life Bill Walker! Maximum loose. Kendall, taking a page out of the left's playbook, also insinuated Tuck is a misogynist. This is unfortunately what the left does to a man they don't like who is challenging a woman they like. Ignore their positions, attack them personally. Robert Hockema, an Anchorage political consultant who worked on Representative Cliff Groh's (D – Anchorage) campaign last year, has jumped on this one too. The loosest part about all this is none of these people had a problem with Tuck, a former House majority and minority leader who served in the House from 2009-2023, until he decided to run for mayor. Classic Loose Unit behavior.
If you have a nomination for this week's Loose Unit, or if you have any political news, stories or gossip (or any old pics of politicians or public officials) please email me at jeff@alaskalandmine.com.