It's already August! Which means the August 21 primary is just a little over two weeks away. Many candidates are making the final push to get their message out to the voters before the primary. Expect things to really heat up after the primary.
Drama in South Anchorage
In a bizarre installment of the never ending sign war saga, a video was posted on Facebook of house candidate Albert Fogle taking down a Ross Bieling 4X8 sign. Bieling is not even running in that district, he is running for the next house district over. The person filming the video was Fogle's primary opponent, Joe Riggs. How convenient. What the video leaves out is that the sign had been placed on Fogle's private property by Bieling. Fogle asked him to take down the sign and he refused, so Fogle disassembled the sign.
Bieling has a history of putting his signs wherever he wants and is not much for asking for permission. The whole thing feels like a setup. Bieling is lucky it was not on my property. I would have given him 24 hours to remove it. After that I would have doused it in gasoline and torched the fucker. Bieling has a history of loose behavior. Therefore the Landmine is endorsing his primary opponent, Representative Jennifer Johnston (R – Anchorage). The choice for District 28 is clear.
Then everyone's favorite gay basher Jim Minnery sent out an email attacking Albert Fogle for being gay. In the email Minnery said Alaska Family Action is an "issues-based organization." It actually said that. HAHAHA! Minnery had to send a follow up email because one of his main points, that Fogle told the Anchorage Republican Women's Club that he was not married, was not true. He also stated in the email that there is not a candidate in the race from another party, so it is even more important to point this out because the winner of the primary will be the next legislator. In fact, there is a Democrat in that race. Jim Minnery claiming things that aren't true, who would have guessed that. The good news is that after the email got around, Fogle got a bunch of donations.
Other Happenings
A loyal Landmine reader sent us this blog post from Zack Fields. The article is about a ski trip he took to Japan. It includes an interesting part about the Australians he encountered. Fields is running in the Democratic primary for the house seat that Representative Les Gara (D – Anchorage) is retiring from. He was not a fan of the Aussies he encountered. One thing he wrote was, "I will never understand why anyone approved building an international airport for that penal colony that European powers so wisely located on the opposite side of the civilized world." It's a good thing there aren't a lot of Aussie voters in Downtown Anchorage because Fields definitely lost the Aussie vote. Damn. Here is a link to the full article, the Aussie hating part is below. I would recommend that Fields reads "The Fatal Shore" for some insight into the convicts sent to Australia. The book details the history of English transportation to Australia. It was predominately poor people, including many children, who stole things like bread to survive.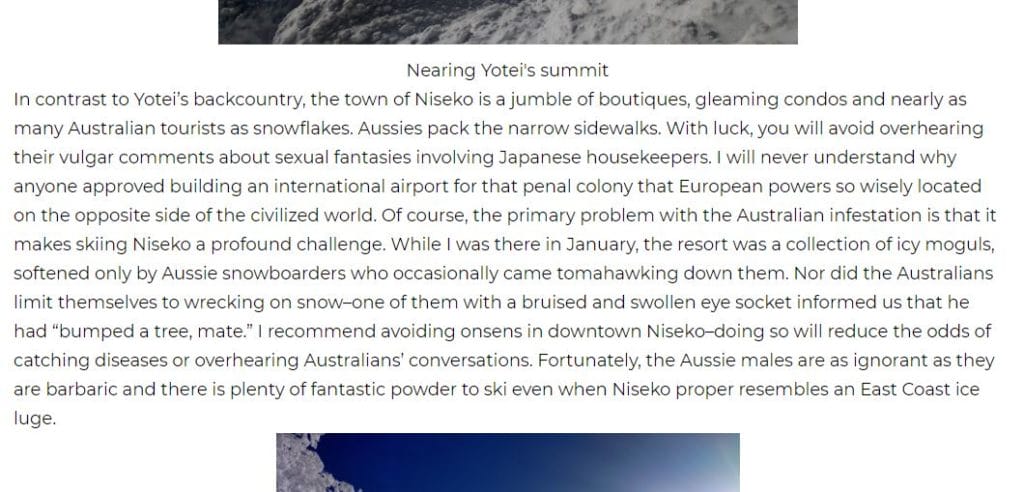 Representative Chuck Kopp's (R – Anchorage) primary opponent, Stephen Duplantis, posted an extremely low energy ad attacking Kopp for not wanting to repeal SB 91. He also attacks Kopp for being endorsed by unions like the Anchorage Police Department Employees Association. Stephen, I'm not sure going after the police union is the wisest move in South Anchorage lol. You can see the video here.
Someone named John Schuelke filed an Alaska Public Offices Commission (APOC) complaint against house candidate Forrest McDonald. He alleged that McDonald did not have a paid for by on some portal for donations. As far as APOC complaints go, that is pretty weak. And APOC agreed. They dismissed the complaint. I wouldn't be surprised that his primary opponent, Connie Dougherty, had something to do with this. You can see their letter below:
Schuelke v. McDonald Rejection Letter
Geri Fox is transitioning out of her role as Director of the Pretrial Enforcement Division. According to the Alaska Department of Corrections, she is leaving to finish her Ph.D. Commissioner Dean Williams has appointed Jason Whetsell as Acting Director. Whetsell, a lifelong Alaskan, previously served as an investigator for DOC's Professional Conduct Unit and spent 22 years as a police officer in Alaska. Fox's last day is September 7.
Governor Bill Walker's Deputy Chief of Staff, Grace Jang, had a rough week. While on a work trip in Philadelphia, Jang was struck in the leg by a rogue skateboard while walking around Thomas Paine Park. She suffered a broken bone in her leg. No word whether or not any Mike Dunleavy or Mark Begich agents were seen in the park during the skateboard incident.
There was a forum in the Valley this week for candidates for governor and lieutenant governor. I was not able to attend but apparently it was rather unexciting. A few interesting morsels from some attendees:
1) Debra Call, the only Democratic candidate for lieutenant governor, addressed the crowd in her Native language. As one attendee put it, "Know your audience."
2) Edie Grunwald, Republican candidate for lieutenant governor, made it quite clear to everyone she's a retired colonel in the National Guard. Edie, we know. It's in all of your campaign materials.
3) Mead Treadwell, Republican candidate for governor, kept referring to himself as a "freedom fighter." Bizarre. Does he think he's part of the Contras or something?
Former Governor Sean Parnell endorsed Senator Kevin Meyer (R – Alaska) for lieutenant governor this week. Meyer is running against five other Republicans in the Republican primary. Polling is reported to show him in the lead with Edie Grunwald in second place. Grunwald was not happy with the endorsement. She posted this on her campaign Facebook page. The post seems to have been taken down. Yeah for screen shots! When BREAKING is in all caps you know it's serious!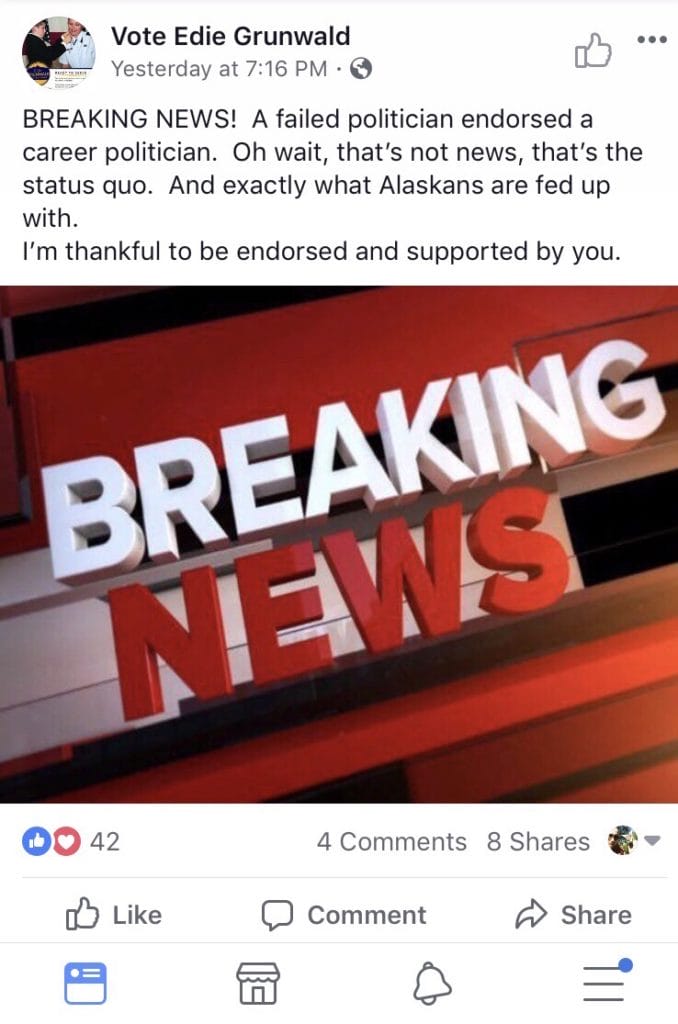 This Week's Loose Unit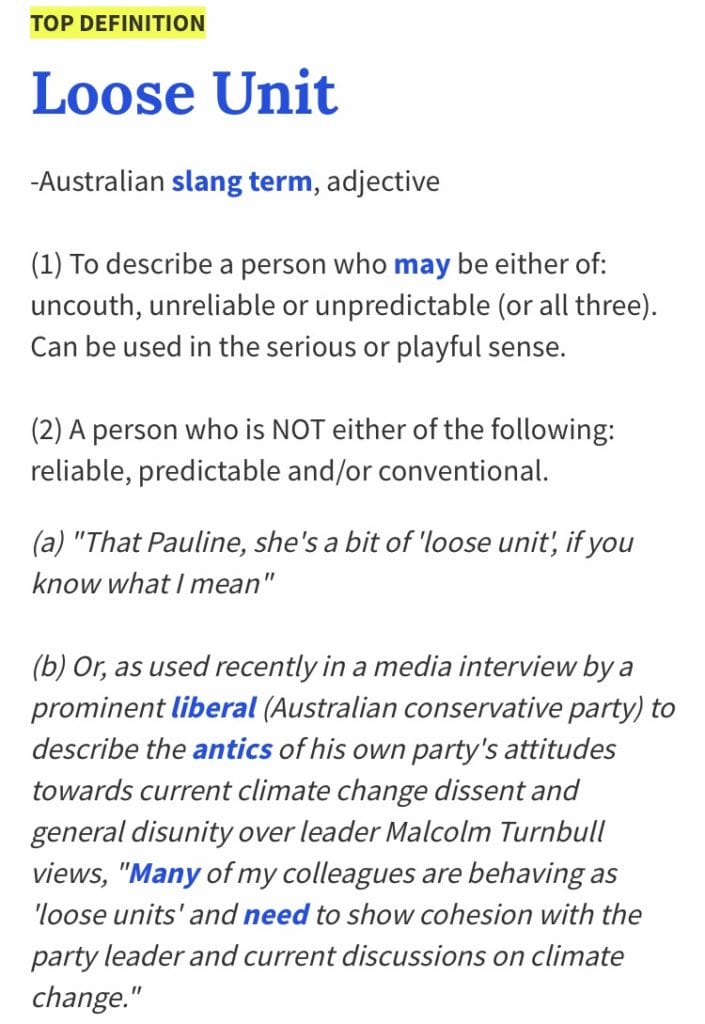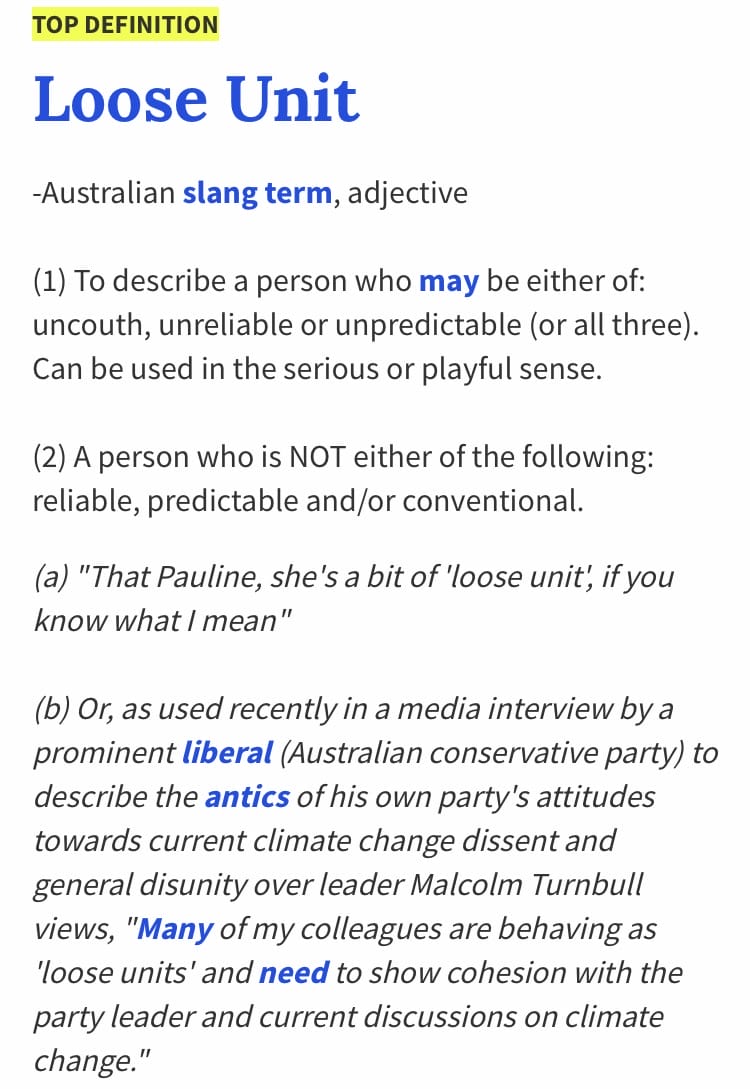 As usual, there were multiple deserving candidates this week but a submission from a Landmine reader made the choice clear. This week's Loose Unit is Anand Dubey. Dubey has run for office a few times and now works as some kind of 21st century political consultant. He has a history of loose behavior that we will go into later. What earned him the Loose Unit designation this week was a Facebook post he made about a candidate he is working for. Anand blocked me on Facebook last year after he threatened to sue me (still waiting, Anand) for the Landmine's coverage of Senator David Wilson (R – Wasilla). Luckily, other people have Facebook and were thoughtful enough to send this on over. Check out this post he made about two candidates running for senate.
When Bob Griffin asked him if he was taking money from Senator Mike Shower's (R – Wasilla) primary opponent he made some weird comment about not disclosing his clients and a non-disclosure agreement. So loose. Unfortunately for Anand, APOC does disclose this stuff. According to the recent APOC filing of Shower's primary opponent, Randall Kowalke, he paid Anand's company over $13,000! Classic Loose Unit. Wilson was also a client of his. Maybe Anand's services include attacking people on social media for saying things his clients don't like.
Anand also got loose this week with a tweet about me. I anticipate the Twitter block one hour after this column goes up. Check this out: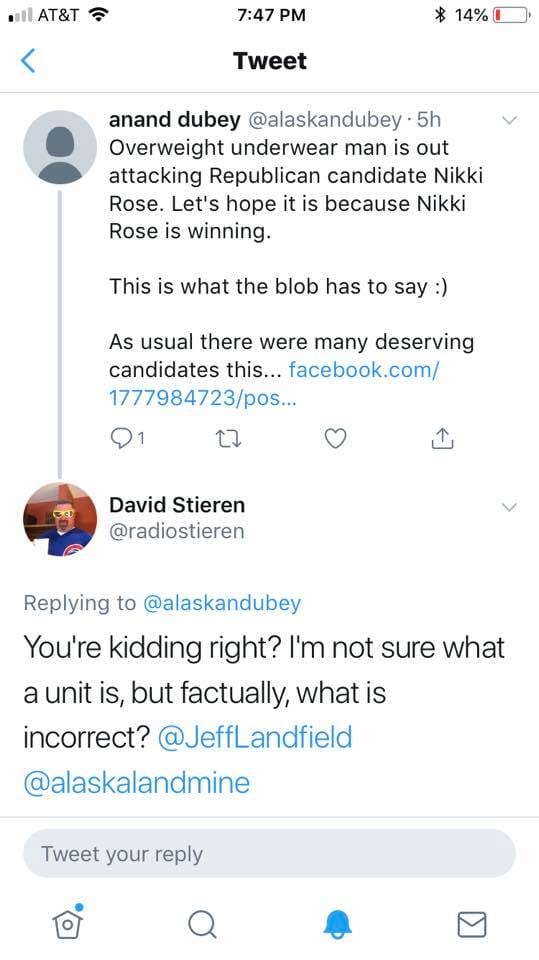 While Anand beats me in the who weighs less category, I got him in the who has more ethics category. Earlier I mentioned his history of loose behavior. Years ago Anand was the head of Enterprise Technology Services (ETS) for the State of Alaska. Basically the head of IT for the State. I used to work in IT for many years so I know a lot of people in the IT community. One of them told me a story that demonstrates just how much of a Loose Unit Anand is. During his time as head of ETS a friend of mine had a meeting with the owner of an IT company at Moose's Tooth. When he arrived the person he was meeting brought someone else, it was Anand. The person introduced Anand as a co-owner of his company. My friend asked Anand, "Aren't you the Anand in charge of ETS for Alaska?" Anand said yes. During the meeting the two of them offered my buddy a job at their company. They said one of the areas of focus would be the State of Alaska. Anand indicated that it's a real untapped market. My friend immediately asked, "Isn't it a conflict of interest for you to be trying to hire me to sell IT services to the State of Alaska from a company you are part owner of." Anand responded by saying, "Not at all." Classic Loose Unit.
Anand, if you are going to threaten to sue me again, I hope you follow through this time. Would be so much fun deposing you!
If you have a nomination for This Week's Loose Unit, or if you have any political news, stories or gossip (or any old pics of politicians or public officials) please email me at jeff@alaskalandmine.com.