Believe it or not it's almost September. Winter is just around the corner. The November 3 general election is just over two months away. After the roller coaster of the primary day results versus absentee results, a few incumbents survived while most of the ones who lost on Election Day have lost. The deadline to withdraw from the general election and for a political party to replace a candidate is tomorrow at 5 pm.
A friendly message and reminder to all our readers, the Landmine is made possible by myself and a team of awesome Alaskans. It takes a lot of work to provide the content we do. If you enjoy the content we provide, please consider making a one time or recurring monthly donation. You can click here to donate. We have a donation system that makes it super easy. We would really appreciate it. And thanks to everyone who has been supportive!
Primary Results
After all the absentee results were counted, a few incumbent Republicans reversed their Election Day losses. Senators Gary Stevens (R – Kodiak) and Natasha von Imhof (R – Anchorage) were both saved by absentee votes. Senator John Coghill (R – North Pole) ended up losing to challenger Robb Myers by 16 votes. The result is seven Republican incumbents lost reelection. They include Coghill, Senator Cathy Giessel (R – Anchorage), Representatives Mark Neuman (R – Big Lake), Sharon Jackson (R – Eagle River), Gabrielle LeDoux (R – Anchorage), Chuck Kopp (R – Anchorage), and Jennifer Johnston (R – Anchorage). The legislature, especially the House, is going to be absolutely lit next year.
Tomorrow is the deadline for candidates to withdraw from the general election. It is also the deadline for political parties to replace them. Stephany Jeffers withdrew from Senate District F. She ran as an Independent in the Democratic primary. The Alaska Democratic Party is replacing her with former Palmer Mayor Jim Cooper. He will face Senator Shelley Hughes (R – Palmer) and Libertarian Gavin Christensen in November. This ADN article breaks down other races where people have dropped or are considering dropping. Full disclosure, I am running as an Independent in Senate District L. The Democrat in my race has done no campaigning and raised almost no money since she filed in late May. If she decides to stay in the race, I will withdraw. Unfortunately, I just do not see a path forward in a 3-way race against an extremely well funded von Imhof.
Other Happenings
Another conservative, Dave Bronson, jumped into the Anchorage mayoral race this week. At this rate that race could end up having 10-15 candidates. In Anchorage, if no one receives at least 45% on the first round, there is a runoff with the top two.
The Legislative Budget and Audit Committee announced this week that they hired Alexei Painter as the new Director of the Division of Legislative Finance. Congrats, Alexei! I gotta say, he is one cool cat. He replaces Pat Pitney, who was recently hired to head the University of Alaska. According to the press release:
Painter returns to the Legislative Finance Division after briefly serving as a Policy Analyst with the Alaska Office of Management and Budget. During Painter's more than five years with the Legislative Finance Division, he served as a Fiscal Analyst, Senior Fiscal Analyst, and Capital Budget Coordinator. In addition to his work for the State of Alaska, Painter co-owns a small bookstore in Juneau. Painter's previous work experience includes serving as an economist at the Alaska Department of Revenue and a legislative aide. Painter holds a bachelor's degree in history from George Washington University and a master's degree in public policy from the University of California Berkeley.
Check out this bizarre push poll against Representative Mel Gillis (R – Anchorage). It was sent to us by someone in his district. They edited out their responses. The woman calling would not say who paid for it. She cannot even pronounce his opponent's name correctly. It's also obvious the woman asking the questions has no idea what she is doing. Campaign season is here! Full disclosure, I am a deputy treasurer for Gillis and have been helping on his campaign.
The Alaska AFL-CIO announced this week that they endorsed Al Gross and Alyse Galvin. The Galvin endorsement comes as a surprise as the AFL-CIO has supported Congressman Don Young (R – Alaska) for who knows how long. Someone told me a long time ago, "In politics friends come and go but enemies accumulate." Lots of truth to that.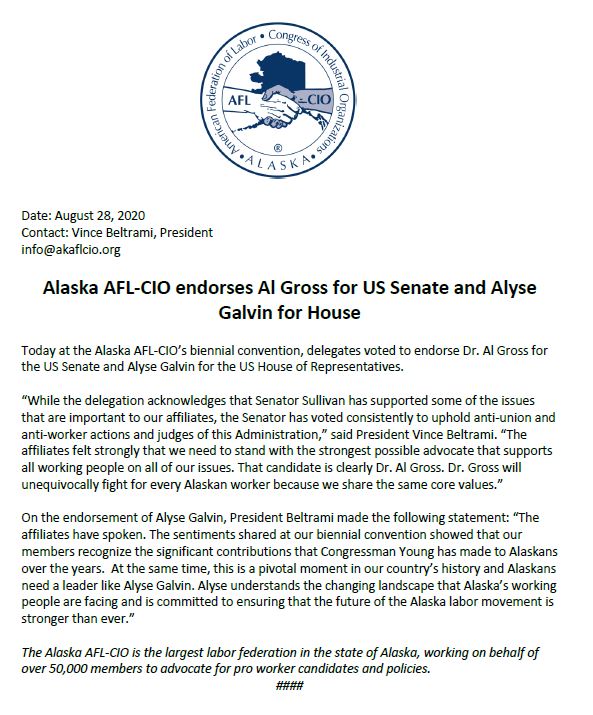 Speaking of Don Young. Check out this pic of him with Congresswoman Tulsi Gabbard (D – Hawaii). Gabbard was in Alaska this week doing a military exercise.
And speaking of Alyse Galvin. If you have not seen her new ad, you have to check it out. Summary, she has never been able to hold down a job in her life. You have to wonder the thought process of how that ad came about. Someone had to come up with it, then someone had to agree it was a good idea, then it had to be filmed, and then after all that, they still agreed it was a good idea to put it out there. Very loose. As one Landmine fan told me, "At least it's better than the one where she talks about hearing her dad break her mom's arm. I can't tell you how much I enjoyed explaining to my 8-year-old what domestic violence is at the dinner table."
Here is something worth listening to. Senator Lora Reinbold (R – Eagle River) talking to Dan Fagan about the federal COVID money. If you did not know who she was, you would surely think she was a crazy caller. It gets very loose. Hint, Fagan is not Michael Dukes. Good luck getting through the nearly eight minutes.
Check out this mailer against Al Gross sent out by the Alaska Republican Party. Nancy Pelosi, Chuck Schumer, and AOC. Now that's a hat trick! Thanks to the person who sent to us. Please keep sending us those political mailers!
This Week's Loose Unit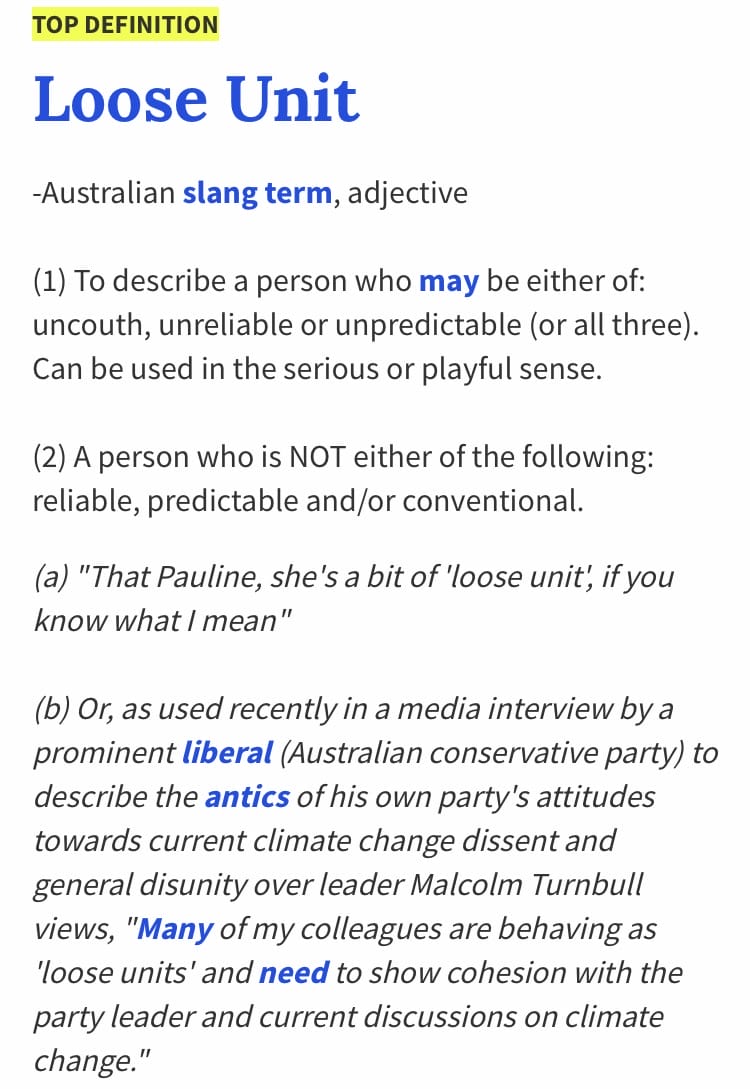 Some weeks it's real easy. This was one of those weeks. This week's Loose Unit is Kevin Clarkson. Unless you have been under a rock or in a place with no internet connection the last week, then you know that Clarkson resigned as attorney general this week. This week the ADN published an article that detailed hundreds of text messages that Clarkson sent to a junior state employee in March. Some of them are very loose. He repeatedly invited her to his house for wine and he really loves the kissy face emoji. Super loose. Ignoring that Clarkson is married (don't forget the letter to President Trump from Governor Dunleavy asking to help with her immigration issue) he is also very religious. It's always the religious ones. Classic Loose Unit scenario. What's even more loose is that Clarkson was coming off a 30-day suspension without pay. So it looks like he was set to come back to work if not for the story. Since the ADN story came out every major media outlet in the country has picked up the story. Alaska, always loose. The scorehard has been updated.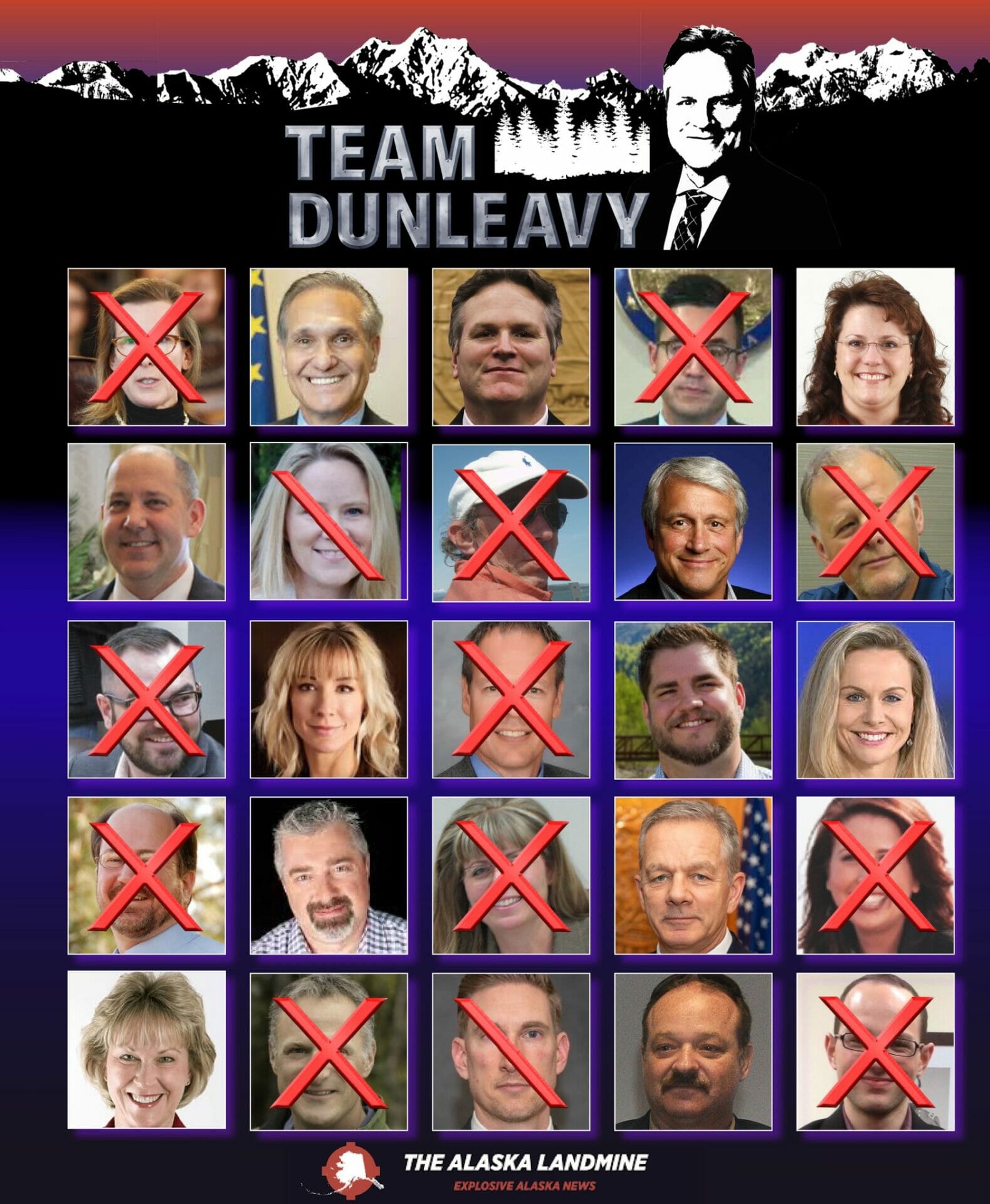 If you have a nomination for this week's Loose Unit, or if you have any political news, stories or gossip (or any old pics of politicians or public officials) please email me at jeff@alaskalandmine.com.