The primary has come and gone, though absentee ballots are still coming in. There were a few big surprises, mostly in State Senate races. But the biggest surprise was Senator Lisa Murkowski's (R – Alaska) strong performance among a field of 19 candidates. We won't know the results of the U.S. House special ranked choice general election until August 31, but the likelihood is Republican Sarah Palin will serve out the rest of the late Don Young's term.
A friendly message and reminder to all our readers. The Landmine is made possible by myself and a team of awesome Alaskans. We are working hard to provide in-depth election coverage for all of the ongoing races. If you enjoy the content we provide, please consider making a one time or recurring monthly donation. You can click here to donate. We have a donation system that makes it super easy. We would really appreciate it. And thanks to everyone who has been supportive!
Post Primary Analysis
First, I want to thank our sponsors, panelists, guests, and amazing team that made our election night coverage possible. If you missed it you can watch it here. We will be providing live coverage for the November general election too! And we should have a big announcement regarding that soon. Stay tuned.
Most of the big primary surprises were in State Senate races. But the biggest surprise was Democratic U.S. Senate candidate Pat Chesbro getting just over 6% of the vote with 98% of precincts in. Lisa Murkowski is at 44.18% and Republican Kelly Tshibaka is at 39.18%. I assumed Chesbro would get 10-15% of the vote as the Alaska Democratic Party's candidate. But it appears that a lot of Democrats decided to skip to the end of the movie and just vote for Murkowski. Republican Buzz Kelley, a totally unknown candidate who raised no money and is running to the right of Tshibaka (if you can believe that), is in fourth place at 2.22%. See this week's Loose Unit for more on that.
Keep in mind primary voters tend to be more polarized and in Alaska tend to be more conservative. The November general will be a much higher turnout with more moderate voters.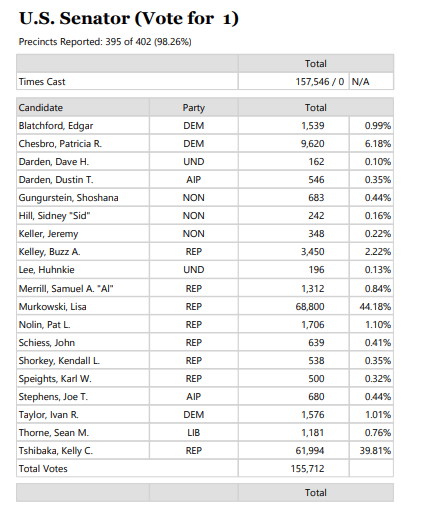 The special ranked choice general election for U.S. House won't be determined until August 31, when all the ballots have been received. The Division of Elections does not want to retabulate the votes until all the ballots are in. Which makes sense but is also frustrating for the public. Sarah Palin should easily pull ahead of Democrat Mary Peltola once Republican Nick Begich's second choice votes are recycled. For the regular November general, Republican Tara Sweeney will also be on the ranked choice ballot, which will make the race more interesting.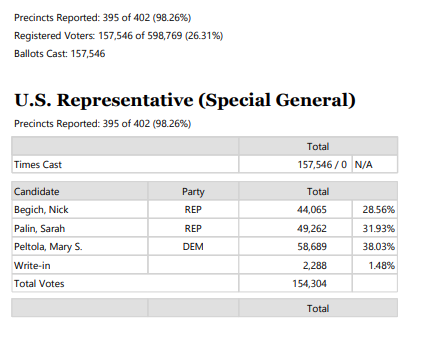 Governor Mike Dunleavy (R – Alaska) and his running mate Nancy Dahlstrom are currently at 41.76%, almost as much as the Independent ticket of Bill Walker and Heidi Drygas and the Democratic ticket of Les Gara and Jessica Cook combined. Republican Charlie Pierce and his running mate Edie Grunwald are just under 7%. Dunleavy appears to be on a smooth path to re-election, but there are more than two months left until the general and a lot can happen between now and then. For Walker/Drygas to win, they would need to pick up some of Pierce/Grunwald second choice votes and every Gara/Cook second choice vote, which will be a difficult task. And regarding Kenai Peninsula Borough Mayor Charlie Pierce, there has been a ton of chatter about a potential big scandal on the Kenai Peninsula involving him. I am not yet comfortable reporting what I know but it appears to be legitimate. I am working on getting someone to confirm it, but have not yet been able to.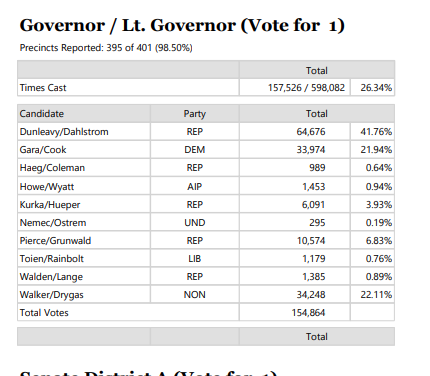 Here are some of the surprising results for State Senate races:
Senator Gary Stevens (R – Kodiak), who has two Republican primary opponents, has over 61% of the vote. He should easily win in November on the first round of voting.
Senator Roger Holland (R – Anchorage) is in third place with just over 31% of the vote in a three-way race. Former Senator Cathy Giessel, who Holland defeated in the 2020 Republican primary, is in first place with more than 36% of the vote, while perennial Democratic candidate Roselynn Cacy has just over 32%. It looks like Giessel is poised to make a big comeback.
Senator Mia Costello (R – Anchorage) is is losing to Representative Matt Claman (D – Anchorage) by 176 votes with almost 10,000 votes cast. This is going to be a big race to watch. Claman is positioned to defeat Costello.
Anchorage Assembly member Forrest Dunbar has more than 48% of the vote in a four-way race for the open East Anchorage Senate seat. Representative Geran Tarr (D – Anchorage) is below 15% and Republican Andrew Satterfield is at 33%. Democrat Drew Cason, who only has 3.4%, announced he is withdrawing from the race. The withdrawal deadline for the general is September 5. Dunbar should easily win this race.
Representative Kelly Merrick (R – Eagle River) is at almost 53% in the four-way Republican race for the open Eagle River Senate seat. Representative Ken McCarty (R – Eagle River) has just under 29%, and the two other Republicans have 18% combined. Merrick is in a very good position. Anchorage Assembly member and House candidate Jamie Allard is losing her shit!
Senator Mike Shower (R – Wasilla) is losing by 6.5 points to Republican Doug Massie, a first time candidate. Shower, who has been melting down on Facebook and the radio since Tuesday night, is in trouble.
Senator Scott Kawasaki (D – Fairbanks) is ahead of Fairbanks Mayor Jim Matherly, a Republican, by 2 points. Republican Alex Jafre is under 7%. This will be another race to watch.
The Senate is going to look a lot different next year. There will likely be a majority coalition.
Here are some of the surprising results for State House races:
House Speaker Louise Stutes (R – Kodiak) is beating her Republican opponent Benjamin Vincent by a nearly 2-1 margin. She should easily win re-election.
Representative Sarah Vance (R – Homer) is at almost 55% in a three-way race with two Independents. Louie Flora, who has had a lot of progressive backing, has just over 37%. Vance is in good shape.
Representative Ron Gillham (R – Soldotna) is losing by 12 points to his Republican challenger Justin Ruffridge. Gillham, who was elected in 2020, is likely done.
Republican Julie Coulombe has more than 45% in the three-way race for the open South Anchorage House seat. Perennial Republican candidate Ross Bieling has 18%, while Independent Walter Featherly has at 36%. Coulombe is well positioned to win in November.
Representative Andy Josephson (D – Anchorage) is down by almost 3.5 points to Republican Kathy Henslee. Alaska Independence Party candiate Tim Huit is at 6.5%. This will be an interesting race because there will be more moderate voters in November. Most of the district is new to Josephson due to redistricting. Henslee lost to Reprersentive Chris Tuck (D – Anchorage) in 2020 and to Assembly member Meg Zaletel in April, so she has name ID in the district. This will be a race to watch.
Representatives Zack Fields (D – Anchorage) and Harriet Drummond (D – Anchorage), who were paired with redistricting, are in a neck and neck race. With 3,010 votes, Fields is up by just 34 votes. This will be a race to watch!
Representative David Nelson (R – Anchorage) has just below 42%, while his two Democratic opponents have more than 58% combined. Democrat Cliff Groh is in second place at just under 37%. Nelson is in a bad spot.
Republican Forrest Wolfe has 49% while Democrat Donna Mears is just below 46% for one of the open East Anchorage House seats. Independent Ian Sharrock, who has 5%, has told people he will withdraw. This will be another race to watch.
Democrat Ted Eischeid has just over 41% for another open East Anchorage House seat, but his two Republican opponents have more than 58% combined. Stanley Wright is just below 36% while Lisa Simpson is below 23%. This will be another race to watch.
Representative David Eastman (R – Wasilla) has over 52% in a three way race with two other Republicans. He is in good shape for re-election.
Steve Menard is in first place in a four-way Republican race with over 34% of the vote. Mat-Su Borough Assembly member Jesse Sumner is in second with just under 32%. The other two Republicans have more than 33% combined. This will be a really interesting race with ranked choice voting.
Democrat Ashley Carrick has almost 40% in the only legislative primary race with more than four people. This is an open seat because Representative Adam Wool (D – Anchorage) is not seeking re-election. Carrick was a staffer for Wool. Republican Kevin McKinley has just under 29% while Independent Tim Parker has more than 17%. Carrick is in good shape.
The House is also going to look a lot different next year. A handful of races will determine if the Republicans will take control or if a majority coalition will stay intact.
Other Happenings 
Mike Anderson is now working for Governor Dunleavy as a special assistant to deal with criminal justice issues. Congrats, Mike! Anderson previously served as communications director for Senator Dan Sullivan (R – Alaska) and recently was a law clerk for the Superior court.
The new ASD superintendent is off to a rough start. Dude needs some media training. And the school bus debacle is totally unacceptable. The first job of the school district is to make sure the kids can get to school. What an absolute joke. I am not usually a fan of recalls but in this case I think the entire Anchorage School Board needs to go.
This Week's Loose Unit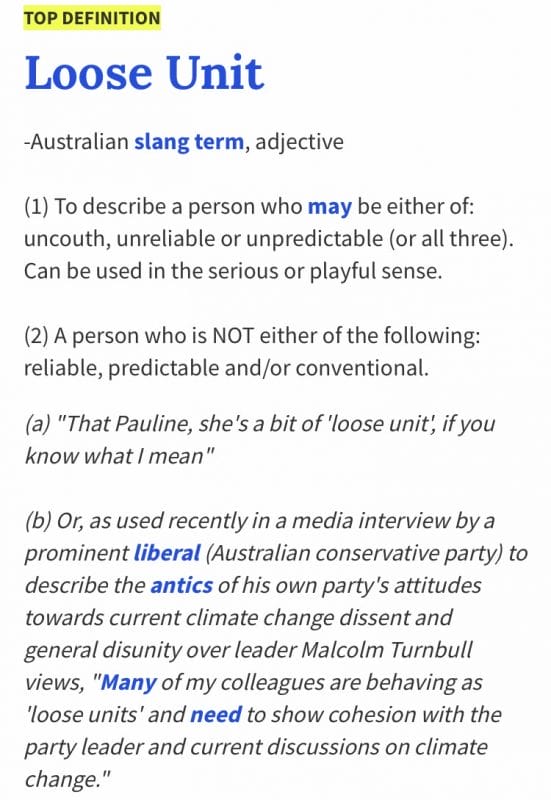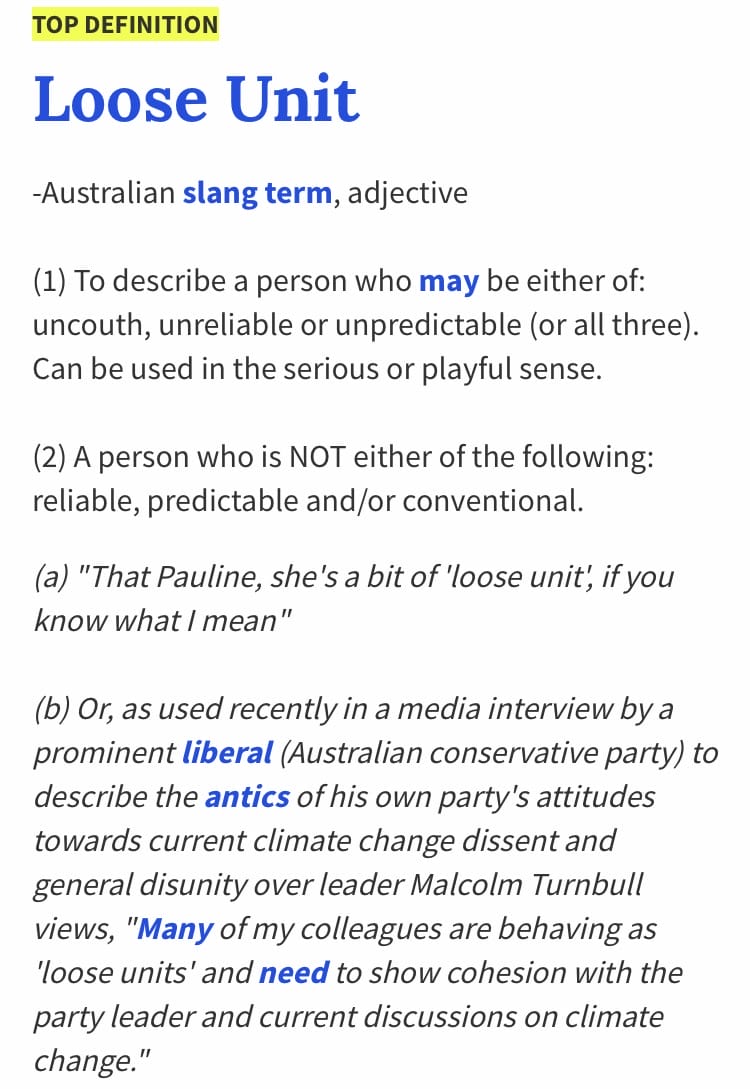 This week's designee is a real no brainer. This week's Loose Unit is Republican U.S. Senate candidate Kelly Tshibaka, more specifically her campaign, Kelly for Alaska. Tshibaka's entire campaign has been Kelly for Alaska, presumably because her last name is hard to pronounce. Anyhoo, I guess no one at her campaign noticed Republican Buzz Kelley was also running for the U.S. Senate. Truth be told the guy was not even on my radar. I was looking at Independent Shoshana Gungurstein or Libertarian Sean Thorne and even Huhnkie Lee or Dustin Darden for fourth place. If someone would have told me Buzz Kelley's name last week it would not have registered. But it definitely registered with at least 3,450 voters! The way ballots work is last name then first name. So the ballot read "Kelley, Buzz" and "Tshibaka, Kelly." Kelley was first before Buzz! Super loose. This Buzz guy is a character. He's raised no money and only has a dozen signs up. Tshibaka, on the other hand, spent millions on a campaign labeled simply Kelly for Alaska. Classic Loose Unit behavior. This ADN article about Buzz Kelley is worth reading. And check out this screenshot from his website. Very loose! The U.S. Senate race is going to be lit with Buzz Kelley in the mix. Thanks for this, ranked choice voting!
If you have a nomination for this week's Loose Unit, or if you have any political news, stories or gossip (or any old pics of politicians or public officials) please email me at jeff@alaskalandmine.com.