The 2018 primary election is just two days away! We invite everyone to attend Election Central at the Dena'ina Center from 7 pm to midnight. We are partnering with the Anchorage Daily News to hold Election Central as the State is no longer doing it. There will be live coverage, results on the big screen, a DJ and a bar! Hope to see everyone there.
The upcoming election means political mailers, lots of political mailers. I want to thank all of you who sent me pictures of the mailers you received. I tried to include as many as I could. Some are good, some are bad, some are ridiculous, and some are very loose. Here are the mailers we have received along with some Landmine commentary. Oh, and a pro tip to candidates and political groups who aren't aware – there is something called targeting when you send mail. Learn it.
House District 20
Cliff Groh is a legend. Zack Fields and Elias Rojas are engaging in a who has more endorsements contest.
House District 9
So, weird thing here is Jim Colver is not endorsed by the NRA this time, Representative George Rauscher (R – Sutton) is. Alaska Right to Life is keeping it loose and doubling down on likening Rauscher (R – Sutton) to Hitler. And the Laborers have a very funny and eye catching mailer against Rauscher.
Senate District M
Representative Chris Birch (R – Anchorage) with a standard positive mailer. And a very weird mailer from Representative David Eastman's (R – Wasilla) Alaska Conservative Leadership PAC. There is going after people, and then there is going after people in your caucus. Savage.
District 26
So here is something very despicable. Joe Riggs sent out this mailer to very Republican households pointing out that Albert Fogle is gay. Make no mistake, this is a hit piece and an attack on Fogle and his family. But get this. Riggs used to tend bar for many years at the popular gay bar Mad Myrna's. The Landmine obtained this pic of Riggs at Myrna's from back in the day. Those frosted tips tho! A person who knew Riggs well back then described him as "very conservatively dressed" in this photo compared to his normal, very limited attire while bartending. I don't think Riggs is anti-gay or homophobic, I think he is willing to stoop to disgusting tactics to win an election. Which in a lot of ways is worse.
Here is a quote from Alaska GOP Chairman Tuckerman Babcock sent me regarding the mailer, "The Joe Riggs mailer attacking Albert Fogle is a largely non-issue based hit piece that is really just a cheap personal attack. I am very disappointed in Joe Riggs' campaign tactics."
District 27
Don Jones is really not a fan of Representative Lance Pruitt (R – Anchorage).
District 28
Very boring mailer from Ross Bieling. Bieling is not someone who cares much for facts. Representative Jennifer Johnston (R – Anchorage) got a B from the Chamber, not an F.
Eagle River
Check out these weird and high energy mailers from the Eagle River house and senate races. That hat on Reinbold tho.
District 23
Gotta give it to Forrest McDonald on his mailers. Very eye catching. Not sure why Connie! thinks adding the exclamation mark is a good idea. Maybe she talked to Jeb! about it.
District 25
Josh Revak with an awesome mailer. Representative Charisse Millett (R – Anchorage) with a good front side but the back side is way too wordy. Tick tock.
Full disclosure, I am the Chair of an IE, Let's Back Revak, that is supporting Josh Revak for State House.
Senate District O
Nice pic of Senator Peter Micciche (R – Soldotna) but damn Peter, what's with that chainsaw??? He won't jeopardize his family or yours, but if shit goes down he does have that massive chainsaw. Bizarre.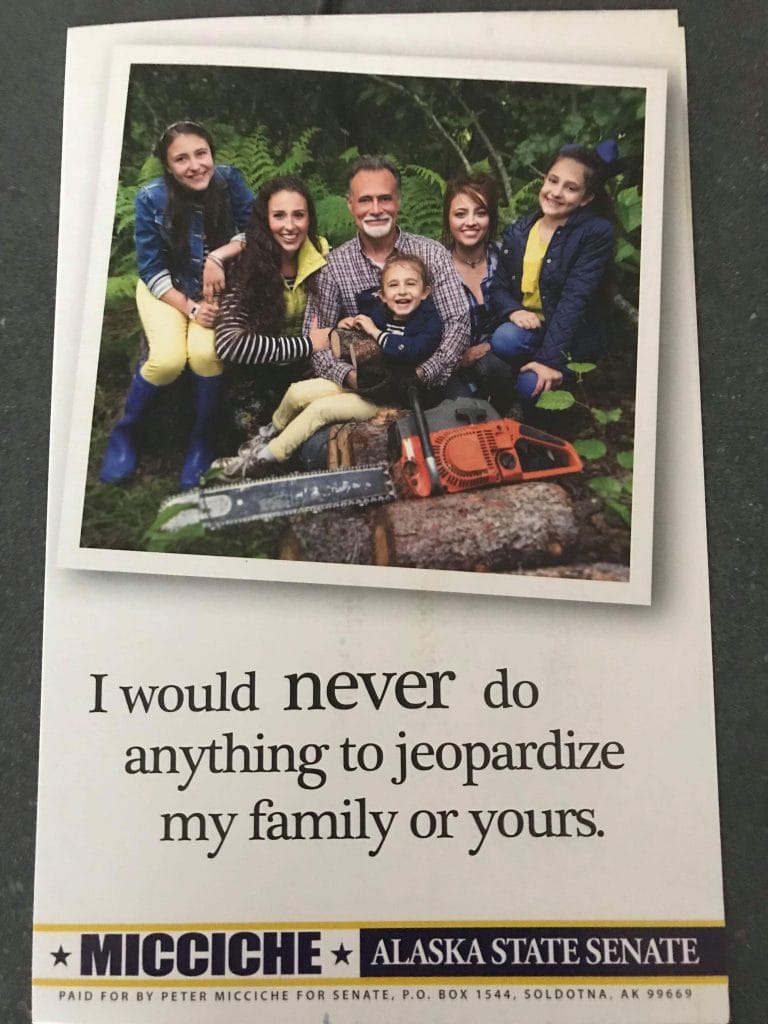 Governor and Lieutenant Governor
A mailer from the Dunleavy showing Mike Dunleavy on a mule with a gun. And a very standard mailer from Senator Kevin Meyer (R – Anchorage) showing his Sean Parnell endorsement.
This Week's Loose Unit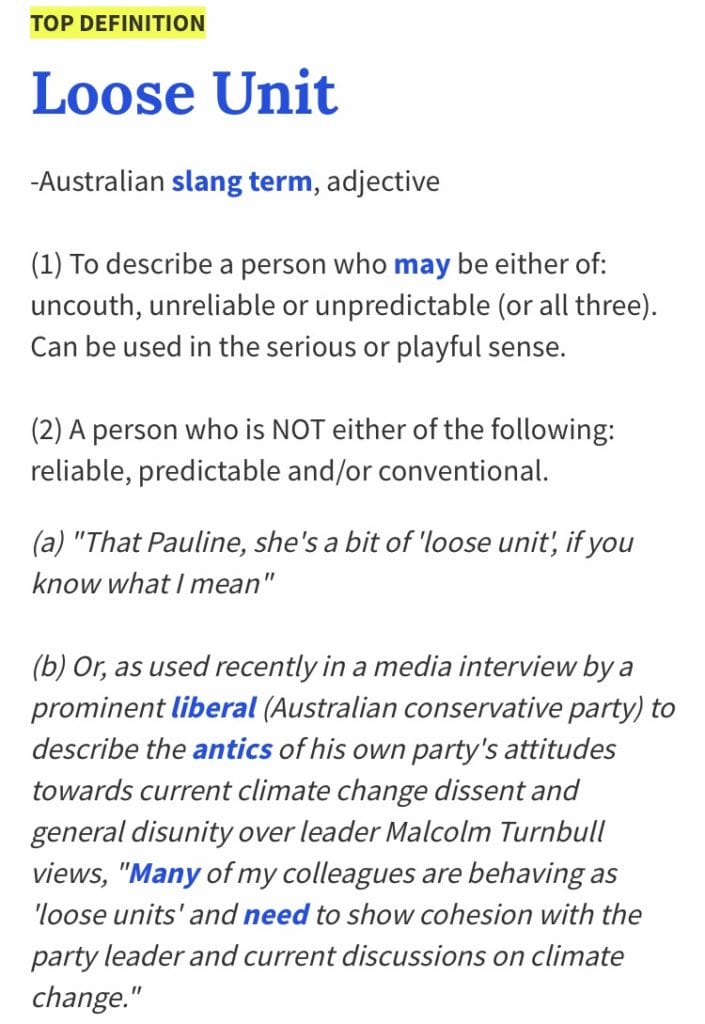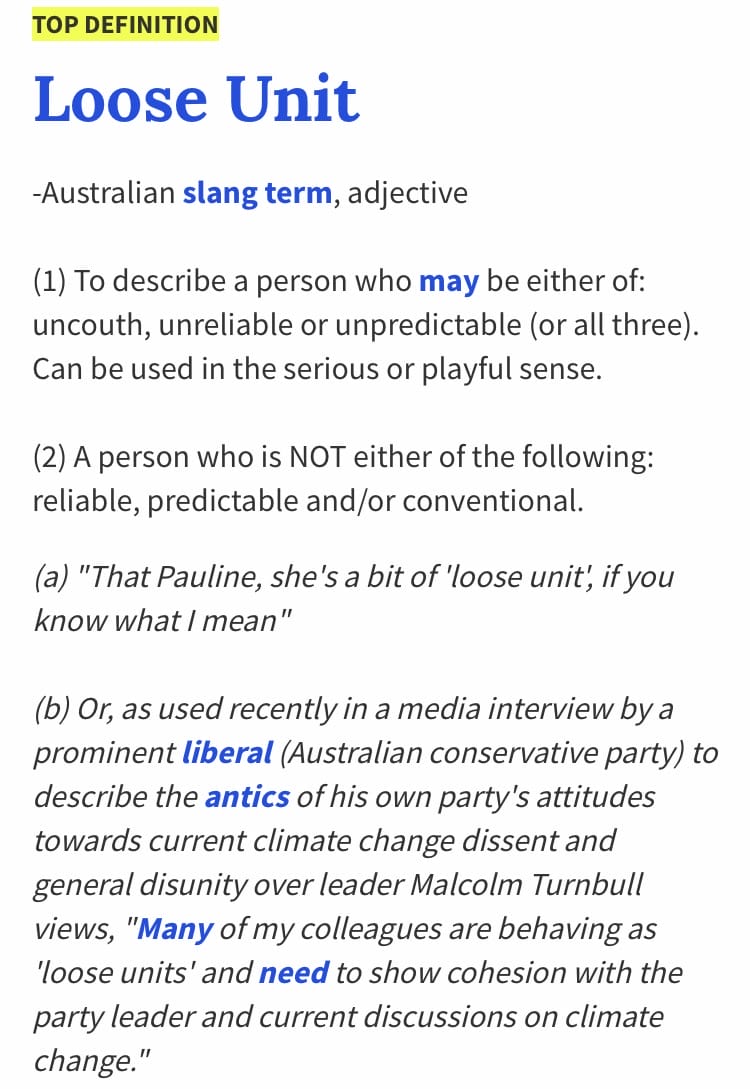 I need to start with a correction and apology from last week. Last week the Loose Unit was Representative Lance Pruitt (R – Anchorage) for rolling up to a Don Jones event at Krispy Kreme with his crew. Well, turns out Lance was not a Loose Unit at all. Lance and Don had both reserved the spot weeks before, unbeknownst to either one of them. Lance reserved with the owner and Don reserved with the manager. I confirmed this with Krispy Kreme. I have to give Lance a big shout out here. He called me to clarify what happened and was extremely cool about the whole thing. I know a lot of other legislators who would have lost their mind in the same situation.
Some weeks are easy, and then some weeks are a no brainer. This week's Loose Unit is State Senate candidate Bekah Halat. Halat filed last minute to run for the senate against Representative Chris Birch (R – Anchorage) in the Republican primary. This surprised a lot of people. She was hitting the doors and getting up signs, and then it all fell apart this week. She and her husband have been charged by the State of Alaska for food stamp fraud, which is a felony. According to the charging document, an anonymous tipster alerted the state after hearing about her campaign. So loose. The charging document also shows the Halat's had income and bank accounts they did not disclose. They said they did not disclose the accounts, with over $30,000 in them, because they don't use the money. When the investigator asked if she could go withdraw the money she said, "I suppose." Very loose.
On the same day the charges were filed, the Anchorage Press ran a story titled, "Bekah Halat: a fresh voice rocking the Republican primary." As one Landmine reader commented, "She definitely is a new kind of Republican."
Once all the media started reporting on this, things only got worse. She told KTVA, "I have been straightforward and honest, even when it upsets my attorney." Damn. She told the ADN, "Boy, have I learned a lot in the last 74 days! People have learned a lot about me, but there's a lot more they have to learn if they think I'm going to just curl up in a ball and let someone else represent me and my district through attacking my family." Next level.
Her campaign then sent out this letter from a supporter, saying she is being attacked and the way she is being portrayed is completely false. Very loose.
Bekah and her husband will appear in court on August 24, just three days after the primary. This is about as loose as it gets.
If you have a nomination for This Week's Loose Unit, or if you have any political news, stories or gossip (or any old pics of politicians or public officials) please email me at jeff@alaskalandmine.com.