As the sun shines around Southcentral Alaska (sorry Southeast) we are all trying hard to enjoy the tail end of summer. The 2020 primary election is just two days away! Make sure to tune into our virtual Election Central Tuesday night to see commentary, results, and interviews with candidates. Here is a special invite from a true legend. Also, look out for an article tomorrow to read the Landmine's primary picks for the primary.
A friendly message and reminder to all our readers, the Landmine is made possible by myself and a team of awesome Alaskans. It takes a lot of work to provide the content we do. If you enjoy the content we provide, please consider making a one time or recurring monthly donation. You can click here to donate. We have a donation system that makes it super easy. We would really appreciate it. And thanks to everyone who has been supportive!
More Mail!
Mailers continue to hit mailboxes ahead of the primary. The race between Lynn Gattis and Christopher Kurka in the District 7 Republican primary is getting pretty nasty. Several mailers, from both the candidates and third party groups, hit late this week. Here is what one person had to say about it: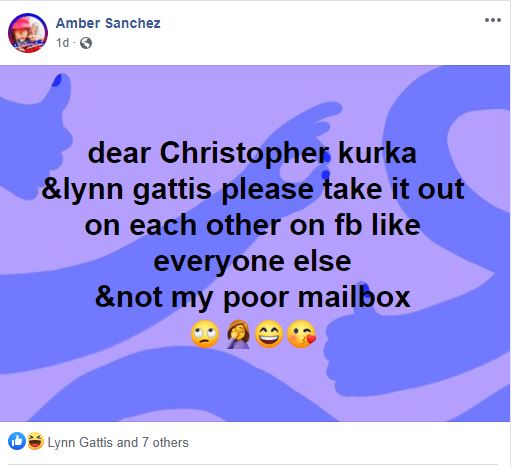 Check these suckers out!
The race between Representative Chuck Kopp (R – Anchorage) and Tom McKay in the District 24 Republican primary is also seeing a lot of mail. One from McKay is weird. He sent out a mailer where he says his opponents were going to smear him with an assault charge from 2002. He said he was protecting his then 15-year-old daughter from an "older man." It was a 17-year-old boy who was harassing her. I don't blame him for defending his daughter but no one brought this up until he did. Tom, look up the Streisand effect. There have also been mailers from third party groups as well as a flyer at the door for Kopp with no paid for by disclaimer. Getting loose in 24!
The Republican primary in Senate District N between Senator Cathy Giessel (R – Anchorage) and challenger Roger Holland is also heating up. This is one of the races everyone is watching. Giessel hits Holland in a mailer by saying he has never voted in an Alaska primary election or attended a community council meeting. Holland has Representative Laddie Shaw (R – Anchorage), who is still angry he was not confirmed to the Senate. Shaw also needs to see a tailor for that jacket.
Other Happenings
If you missed the hatchet job by "reporter" and wannabe lobbyist Dorene Lorenz, and her accomplices Suzanne Downing and Mike Porcaro, you can see my response here. Some people truly have no shame.
The Campbell Lake saga only continues to get better, that is if you live on or have property on Campbell Lake. The vacant lot where the fence was built in order to establish a storm drainage easement also just got some lovely landscaping. All of this was paid for by the Municipality of Anchorage. The fence cost almost $30,000. I'm sure the landscaping was around $20,000. Keep in mind the Muni and State have both said they have no money to establish proper public access on the public access easements. Must be nice to live on that lake!
1/3 In addition to the new fence on Campbell Lake, paid for by Municipality of Anchorage, there has also been some lovely grass and trees installed, also paid for by the Muni. This was part of a deal to establish a storm drainage easement on the vacant lot next to the lot pic.twitter.com/G3ZYN0WHFf

— The Alaska Landmine (@alaskalandmine) August 16, 2020
A few people have told me this post was about cancel culture. It's not. It was about holding a person accountable who is the executive director of an organization that represents Alaska State Troopers and other law enforcement groups around the state. It's fair to ask what the Troopers think about the executive director of their union openly violating the law and bragging about it.
Wonder if the State Troopers endorse this kind of behavior from their executive director and a former legislator? A call to their office today for a comment was unanswered. #akleg pic.twitter.com/JKnHh9HLeF

— The Alaska Landmine (@alaskalandmine) August 14, 2020
It gets better. Charisse couldn't help herself. When you know you did something incredibly stupid I guess you have no choice other then to resort to the 'he doesn't like women' argument. I'm sure she's still mad about her primary a few years ago. I don't blame her. Losing by 15 points to a first time candidate must really suck. Oh, and check out that comment from Amanda Price! Thanks for reading, Amanda. More on her later.
Check out this savage Facebook post and ad from Senator Bert Stedman (R – Sitka). Apparently Donna Arduin endorsed his primary opponent Michael Sheldon. That is loose! Sheldon is a full PFD forever, full PFD payback, and no taxes guy. That's also known as the pie in the sky or totally outside of reality platform. Imagine being a candidate in Southeast Alaska and getting endorsed by Donna Arduin…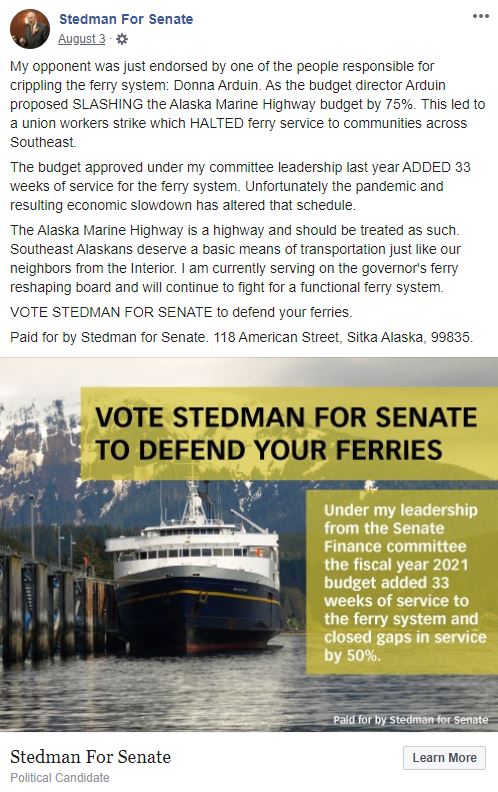 You know it's loose when Elias Rojas is quoting Tuckerman Babcock in ad against Representative Gabrielle LeDoux (R – Anchorage). Check out these ads! The goal of the group is likely to see LeDoux defeated in her primary so they will have a better chance of getting the Democrat elected in the general.
I'm just going to leave this ad here. Senator Mike Shower (R – Wasilla) should talk to Representative George Rauscher (R – Sutton) about his BDSM Free Zone sign.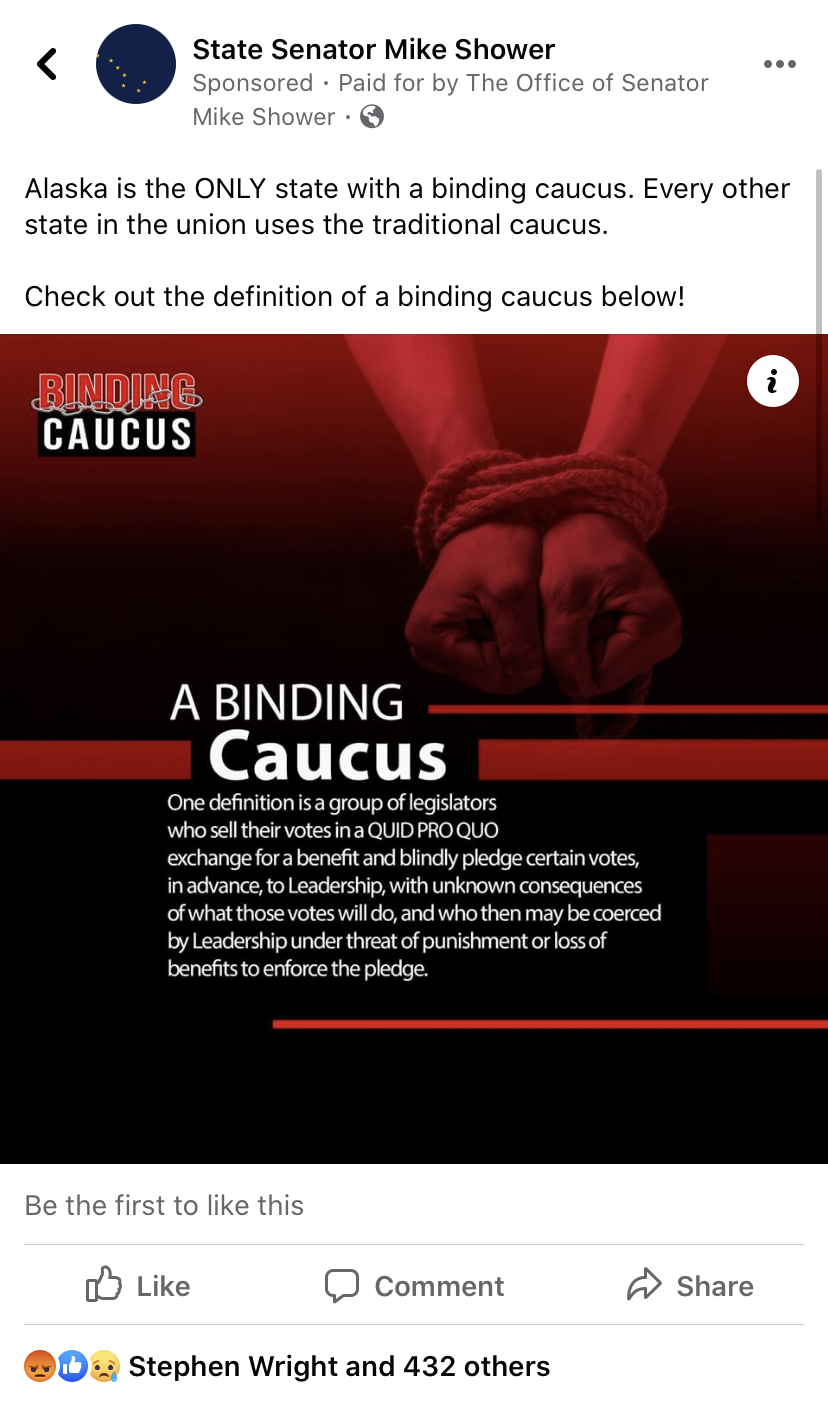 Here is a clever idea if you are a candidate who also happens to be a legislator. Run ads from your office about state issues during an election. Representative Ben Carpenter (R – Nikiski) doesn't have a primary but he does have a serious radio voice! Start at 20 seconds.
This Week's Loose Unit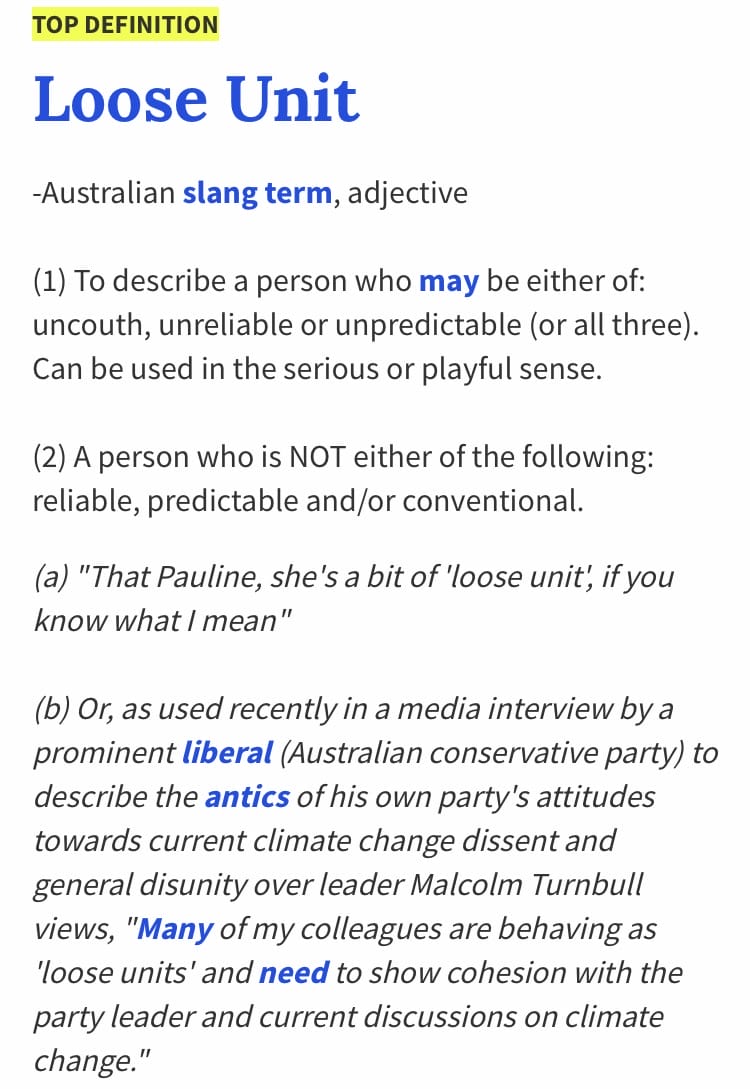 Candidate Leslie Becker was in the running this week for her "apology" for her prayers about Native people and alcoholism. But a development on Thursday made this week's designee clear. This week's Loose Unit is Commissioner Amanda Price. On Thursday Price made a Facebook post announcing that she was endorsing Roger Holland, James Kaufman, and Tom McKay. Here is where it gets loose. Even though Price said she was on personal leave, that does not change that she is the head of the Department of Public Safety. As a commissioner she is openly opposing incumbent legislators who are all in leadership positions. Super loose. Imagine Price trying to get a meeting with any of them if they win. Also, she says "Here's just a few reasons why the incumbents have not earned my vote." According to the voter file, and I am not making this up, Price lives on Snow Flake Drive in District 28, which is where Holland and Kaufman are running. Is she also voting for McKay in District 24? Very loose. I asked several politicos who have been around for a long time if they have ever heard of a commissioner openly endorsing opponents of incumbents, specifically ones in leadership positions. No one recalled that ever happening. Classic Loose Unit move. One even told me, "Price better be the Loose Unit this week!" What's even looser is Price, who is the head of Public Safety, endorsed McKay, a guy with an assault conviction, over Representative Chuck Kopp, a former police officer. Loose!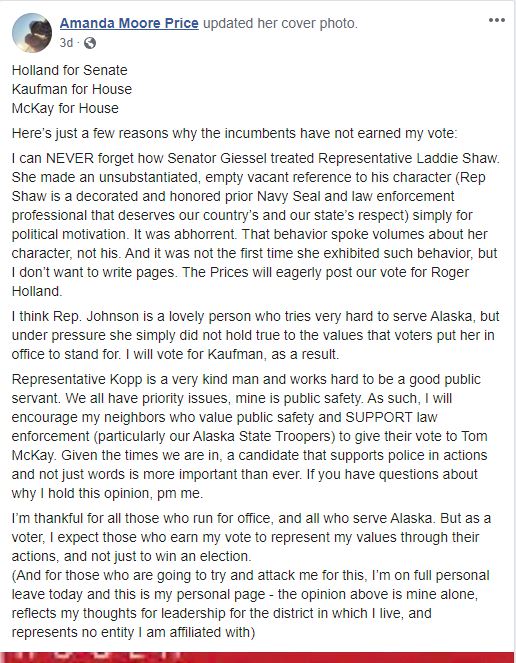 Oh, and remember the Charisse Millett post above? Price's comment is super loose considering the Public Safety Employees Association, which Millett runs, endorsed Kopp over McKay. Talk about a Loose Unit!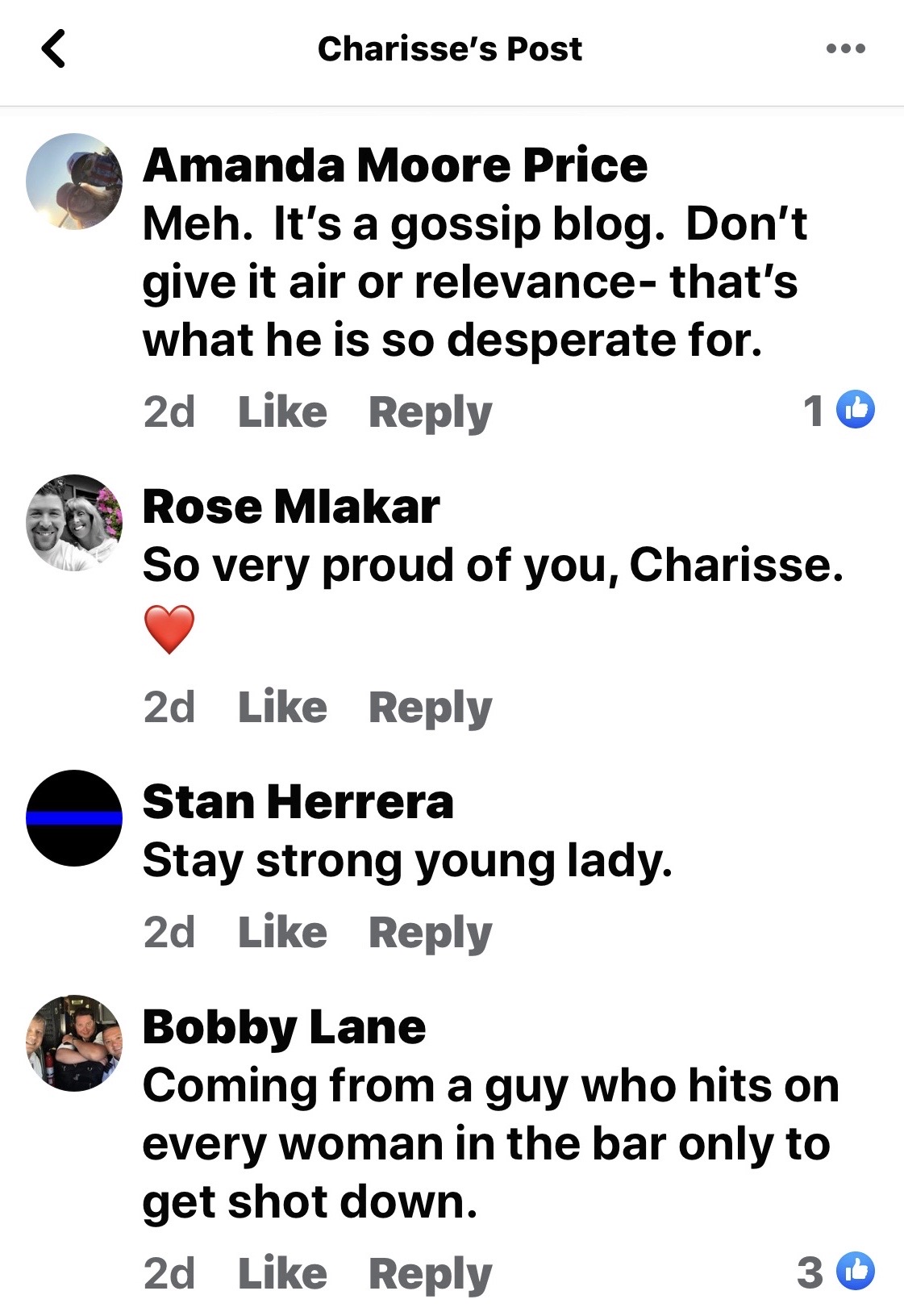 If you have a nomination for this week's Loose Unit, or if you have any political news, stories or gossip (or any old pics of politicians or public officials) please email me at jeff@alaskalandmine.com.