It was a busy week in Alaska politics. Legislators are heading to Juneau this weekend for the third special session, which convenes tomorrow at 2 pm. There seems to be little agreement, or communication, between Governor Mike Dunleavy (R – Alaska) and the Legislature on what will happen. On Friday, Governor Dunleavy filed a letter of intent for reelection. And a court ruling this week determined the Power Cost Equalization (PCE) fund is not subject to the yearly sweep.
A friendly message and reminder to all our readers, the Landmine is made possible by myself and a team of awesome Alaskans. It takes a lot of work to provide the content we do. If you enjoy the content we provide, please consider making a one time or recurring monthly donation. You can click here to donate. We have a donation system that makes it super easy. We would really appreciate it. And thanks to everyone who has been supportive!
The Next Special Session
If you missed it, here is a link to my interview with Senators Shelley Hughes (R – Palmer) and Bill Wielechowski (D – Anchorage) on the next special session. There is little agreement on what will happen. Dunleavy wants legislators to take up his proposed constitutional amendment on the Permanent Fund and PCE. Many legislators want to deal with the reverse sweep and dividend, but that requires an appropriation bill from Dunleavy as he called the special session. Dunleavy's office provided the following comment when asked if he plans to introduce an appropriation bill:
The Governor is taking a phased approach to the special session that begins on August 16. He wants a policy decision on the PFD and the permanent fund first. The budget issues can be addressed at the appropriate time by adding an appropriation bill to the call of the special session.
It's clear that unless the Legislature takes some action on his constitutional amendment, he will not let them deal with the reverse sweep or dividend. Keep in mind, Dunleavy vetoed the $525 dividend after the $1,100 amount failed to pass the Legislature because of the 3/4 vote fail (the $1,100 dividend was tied to the reverse sweep and CBR draw, which requires a 3/4 vote). Some other legislators would prefer to do nothing and blame the zero dividend and collapse of WWAMI and other programs on Dunleavy and his Republican allies. A constitutional amendment requires a 2/3 vote of each body (14 Senate, 27 House). They were barely able to pass a budget in both bodies. The fiscal plan working group has yet to produce a comprehensive fiscal plan. And even if they do, it needs to go through the regular legislative process. The fact the PCE is now off the table for the sweep will take some pressure off the Legislature to take immediate action. Senator Bert Stedman (R – Alaska) told the Alaska Political Report:
It's going to be hard to get three quarters of the Legislature to show up. This could end up being a colossal waste of time and money because there is no reasonable, successful path forward.
If there is not agreement by the end of the week on how to proceed, the Legislature will likely just gavel out. However, both bodies need to gavel out in order to end the session. So, there is a potential of one body wanting to leave and the other one not wanting to leave. Alternatively, the Legislature could call their own special session to deal with the reverse sweep and dividend, but that requires 40 legislators agreeing to do so. Which goes back to the same 2/3 problem discussed above. I put the odds of anything significant happening during the special session at very low.
Other Happenings 
Greg Knight, a former reporter for KINY in Juneau and former legislative staffer, had a rough week. His hometown of Greenville, CA burned to the ground in the Dixie Fire that is raging in California. His mother also passed away this weekend (unrelated to the fire). He started a GoFundMe to raise money to go to Greenville and help rebuild. If you want to donate to Greg, you can click here for the link to the GoFundMe. I know he would appreciate it.
The annual Waterfall fundraiser for breast cancer took place this weekend on Prince of Wales Island. They reportedly raised over $200,000. Notable people in attendance were Erec Isaacson from ConocoPhillips, Darlene Gates from Exxon, lobbyists Kris Knauss and Jim Lottsfeldt, and many people from the business community. Senator Lisa Murkowski (R – Alaska), who normally attends, was unable to attend due to work on the infrastructure bill in D.C.
Governor Dunleavy filed for reelection this week. He made the announcement during an interview with Alaska Public Media reporter Nat Herz. You can listen to that here. Dunleavy said he plans to run with his Lieutenant Governor Kevin Meyer (R – Alaska), but did not seem super enthusiastic about it. So far the only other person to file to run for governor is Libertarian Billy Toien. Former Democratic Representative Les Gara said he has been exploring a run, but has yet to file. There has also been talk for weeks that former Governor Bill Walker will jump into the race. That would be lit!
If you did not see, we are making a sequel to our 2019 film on homelessness "This is Anchorage." We have already started filming. We are relying on donations from you to make this film. It quickly became clear that the people in the homelessness industry have no interest in supporting something where they do not control the narrative. We would greatly appreciate your support. You can donate here. And a big thanks to everyone who has already donated!
I'm not sure how I missed this August 2 fiscal working group testimony from Juneau Libertarian Matthew Maxiner. He starts out struggling to figure out what he wants to say, but eventually figured it out. But check out his mask! "Fuck Biden and Fuck Harris." You can watch his testimony here.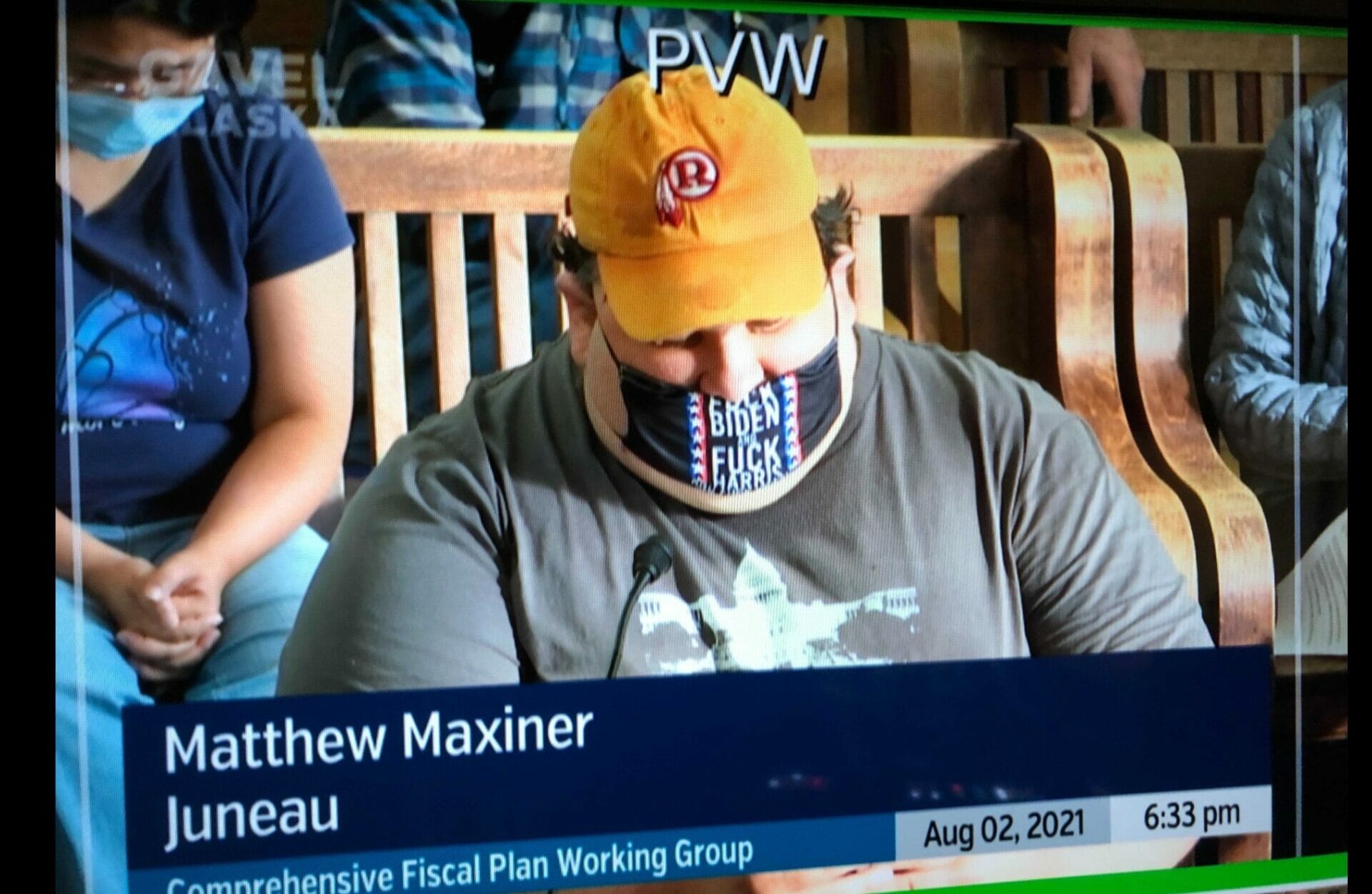 It's been over three months since I submitted a records request to the Governor's Office about communications related to John Moller's fast and quiet exit in May. Repeated inquiries have resulted in nothing. It's clear that they are hoping whatever happened will be brushed under the rug and forgotten about. Moller was a campaign co-chair for Dunleavy in 2018 and a transition team co-chair after Dunleavy won. He had worked for Dunleavy as a rural advisor since the beginning. Moller was also quietly replaced as state co-chair of the Denali Commission in June. Why are they being so secretive about this?

This Week's Loose Unit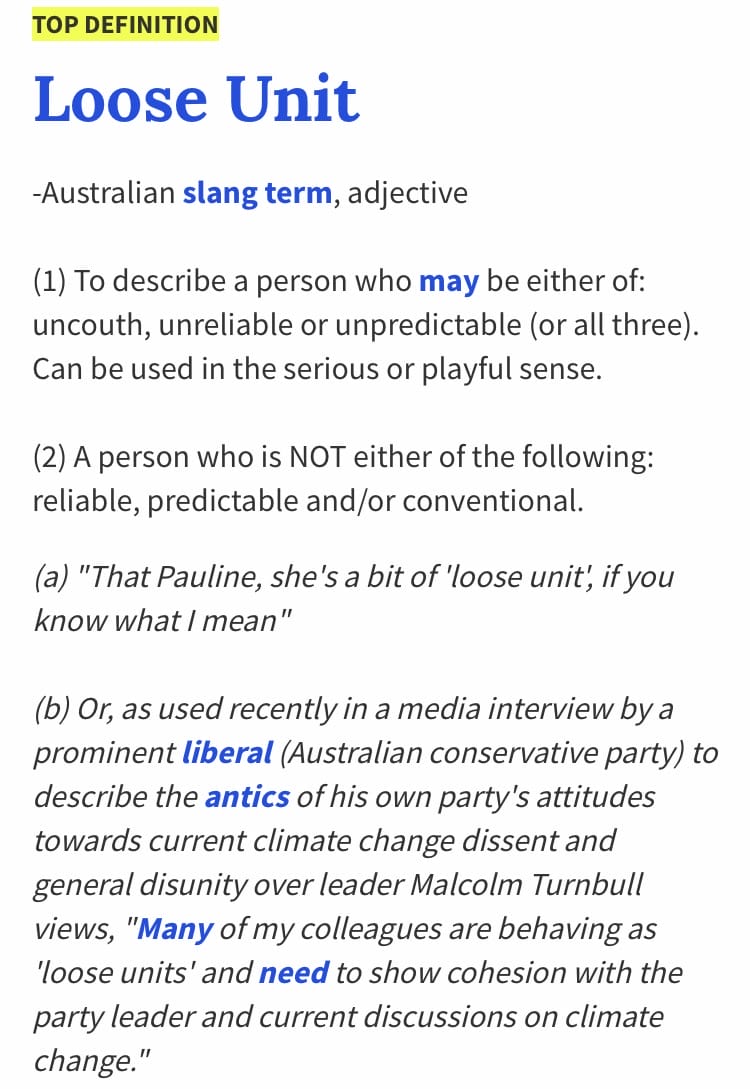 This is another no brainer week. This week's Loose Unit is Representative David Eastman. Eastman attended Mike Lindell's (the MyPillow guy) cyber symposium, or pillow fight, in South Dakota this week. It's not clear if he used state funds like he did when he attended the Arizona audit, but regardless it's really loose. Eastman was even featured on One America News while speaking at the event. Super loose.
He also made this loose post about the apparent "algorithm" Lindell's team discovered. So, according to Lindell, Trump won Alaska but he should actually won by a lot more! At one point one of the organizers even tried to get Lindell off the stage after he went off about getting kicked out of the Republican Governor's Convention. Check it out here (starts at 9:10). Dude says, "Mike, I got something I want to show you off stage." Lindell refuses and then goes off! Very loose.
While this is funny and entertaining, it's also bizarre that so many people believe this nonsense about the election being fixed. There are fifty states with fifty unconnected election systems. And most of the elections are run independently at the local level. The idea that there is some massive voter fraud is laughable.
If you have a nomination for this week's Loose Unit, or if you have any political news, stories or gossip (or any old pics of politicians or public officials) please email me at jeff@alaskalandmine.com.