The August 21 primary is only nine days away. We are very happy to announce that we are partnering with the Anchorage Daily News to host Election Central for the primary! The Division of Elections is not doing it this year, so we got you. It will be from 7 pm to midnight at the Dena'ina Center. There will be a bar, live election results on the big screen, and live coverage and interviews on Facebook Live. Everyone is invited!
Many legislative races will be decided in the primary and we will finally know who the Republican ticket for governor and lieutenant governor will be. Mike Dunleavy will likely win the gubernatorial primary, but with six Republicans running for lieutenant governor in the primary, it could be anyone's race. The Landmine predicts Senator Kevin Meyer (R – Anchorage) will be the winner. I'm sure Dunleavy and his supporters are thrilled…
Speaking of Mike Dunleavy, he held the opening of his campaign headquarters in Anchorage yesterday (8/11/2018). It was attended by a lot of Republicans including Assemblymember Amy Demboski, Anchorage School Board Member Dave Donley, Young Republicans President Ryan McKee, Dunleavy's former primary opponent Scott Hawkins (who withdrew from the election), and many others. Oddly enough the Dunleavy campaign headquarters is literally right next door to the headquarters for the Dunleavy independent expenditure (IE), Dunleavy for Alaska. The IE is financed mostly by Dunleavy's brother, Francis, who lives in Texas, and Bob Penney. Actual Mike Dunleavy campaign – if you need a guy to advise you on optics, let me know! Here is a Facebook Live I did showing the two headquarters:
Mike Dunleavy campaign HQ opening. It's located very closer to the other Dunleavy group…

Posted by The Alaska Landmine on Saturday, August 11, 2018
Don Young Making the Rounds
Congressman Don Young (R – Alaska) held a fundraiser this week at Enstar. A lot of prominent business people were in attendance. Young gave a classic Don Young speech that had the entire room both paying attention and laughing at the same time. For a guy in his eighties he sure knows how to keep it high energy. After his remarks he took questions. That was the best part. He really seems to love answering questions. When asked a question about Russia, Young sad he was more worried about China. He added he's not a big fan of Robert Mueller because, and I did not know this, Mueller led the charge against Ted Stevens. Good reason not to be a fan. When asked if he is taking his opponent seriously he said, "I take every opponent seriously," and proceeded to tell an awesome story about a guy who ran against him many years ago. It was the filing deadline and Young had no opponent. Apparently someone in a bar in Juneau said, "I'll give any son of a bitch $100 to run against Young." Someone agreed, and they went to the Court House to file. He did nothing else until the election and, according to Young, got 38% of the vote. He said since then, people have said if a guy can get 38% with $100 what can I get with a million!
At the end, David Gottstein gave an impassioned speech about how much he supports Don Young. He said that he's a lifelong Democrat but supports Young all the way and ended with, "Keep doing what you do for Alaska." Young thanked him and joked, "Did the media get that?" To which Curtis Thayer responded, "Landfield is the closest thing we got." I love it.
Later in the week Young held a fundraiser at former Governor Bill Sheffield's Turnagain home. Talk about a spread! Hey Democrats – you really need up your fundraiser food game. The prime rib was amazing. Lots of prominent business people, politicians, and candidates were in attendance. It would take an entire page to list everyone. As Sheffield and Young stood in the sunken living room to thank everyone for coming, there was something surreal about the large charcoal portraits of Franklin Roosevelt and Harry Truman hanging behind them.
Things got a bit interesting for me. After a very awkward interaction with someone I will not name, I went to the bathroom. As I opened the door, the entire door handle assembly came apart and slammed on the floor! This included both sides of the door handle and a very fancy washer. The whole thing probably weighed five pounds. If you have been to Sheffield's house you know that door handle was not cheap. Someone else wanted to use the bathroom, so we took turns watching the door for each other before I set out to find Sheffield and inform him of the broken door handle. At the time, Sheffield and Young were addressing the crowd. What I soon discovered was that someone had become locked in the bathroom and could not get out! The screaming and beating on the door was replicated throughout the evening. Someone said they almost kicked down the door. Believe me when I tell you this, that would not be easy. That is one solid wood door. Word about my breaking the door handle spread fast. I finally managed to find Sheffield and told him what happened. He informed me it had broken before. Thank god. As State House candidate Sara Rasmussen put it, "Jeff, you are the Loose Unit this week." Pretty much.
Other Happenings
Senator Natasha von Imhof (R – Alaska) held a fundraiser at her Campbell Lake home for candidate for lieutenant governor Kevin Meyer this week. I guess my invite got lost in the mail. Apparently it was VERY high level and VERY high net worth. I'm sure Kevin raised a few bucks.
Former Representative and current house candidate Liz Vazquez posted something very bizarre this week on her campaign Facebook page – a picture of a report card for her and her primary opponent, Sara Rasmussen. Normally that wouldn't be a big deal except in this case the report card came from Vazquez herself! YESSSSS. It's noteworthy that she gave Rasmussen a C- but only gave herself an A, not an A+. Very loose.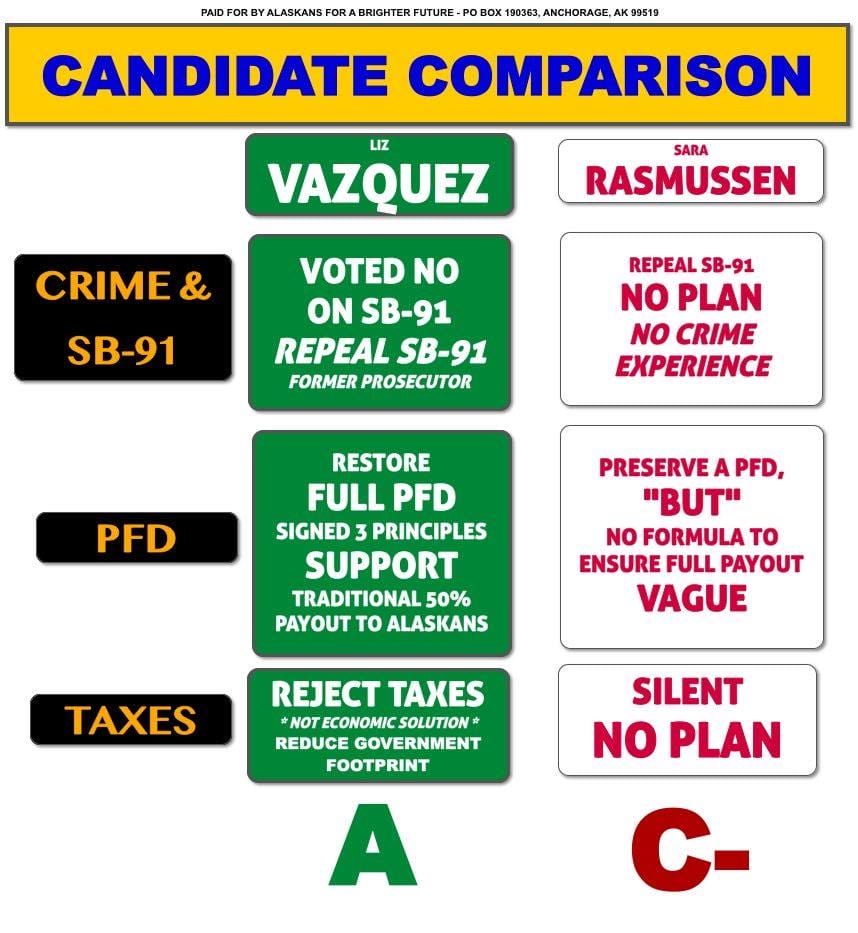 Legislative Council met this week at the Anchorage LIO. You know, the shitty Wells Fargo building on Minnesota and Northern Lights they bought for over $12 million after the scandal and debacle with the Downtown Anchorage LIO they blew millions on. Well, it seems they were just getting started. They approved another nearly million dollars for demolition and design, among other things, for part of the building. Just like the old days! What's another million. Here is the document that details the work and costs.
Dmitri Shein and Alyse Galvin, both running for Congress in the Democratic primary, each have some unique and dedicated supporters. Check out this thread where Julie Olsen, Finance Chair for Shein's campaign, is bragging about how RT, Russia Today, wants to interview Shein. RT is a media outlet funded by the Russian government. Shein is originally from Russia. Not sure that is the best look. #Collusion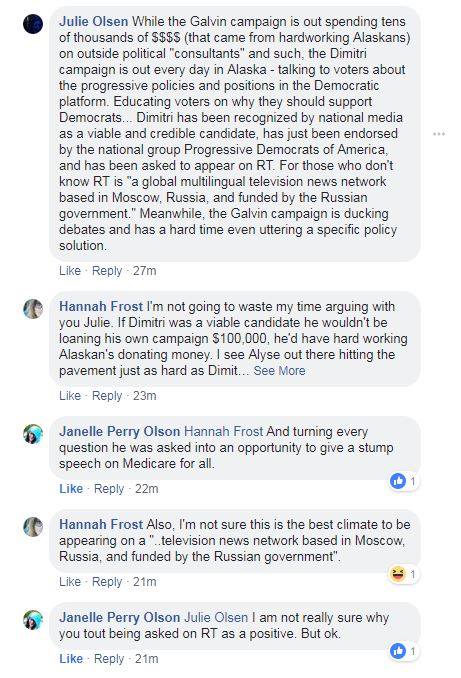 Remember a few weeks ago when Erika McConnell, the Director the Alcohol & Marijuana Control Office, earned the Loose Unit designation because she recommended they deny the recreational site license to the Anchorage Ski Club for the Arctic Valley Ski Area? Well there has been a development. Check out this group of people who sent a letter in support of their license. It seems McConnell is the only person not supporting the license. Someone needs a drink.
I'm sure everyone heard about the guy who stole the Alaska Airlines plane in Seattle, went joyriding, did a barrel roll, and then crashed and died. Extremely bizarre. What is even more bizarre is the audio between him and the air traffic controllers. Check this out. He starts by saying, "I've played some video games before so I know what I am doing a little bit." Damn
The District 13 and 14 Republicans held a debate in Eagle River this week at the Eagle River Ale House between candidates for both Eagle River house seats and the senate seat. It was something else. The Landmine was on site for the debate. We will have the video of the debate up soon. Some of the highlights included:
A question about how we can reduce promiscuity.
Eugene Harnett answering a question from his opponent, Jamie Allard, about him being indecisive by saying, "I'm a Libra." Her response included, "I'm an Aquarius."
Lora Reinbold hitting Dan Saddler hard on his SB 91 vote. Saddler stood up to respond and patted her on the shoulder, Reinbold's husband immediately said from the crowd, "Hands off, buddy!"
Instead of asking their opponents questions, many of them asked people running in other races questions. Jamie Allard, house candidate, asked Lora Reinbold, senate candidate, why she endorsed her. Craig Christensen, candidate for house, asked Dan Saddler, candidate for senate, a question about the PFD. He responded to Saddler by saying, "I wish I was still running against you!"
Kelly Merrick and Nancy Dahlstrom did not attend. Probably a wise move on their part.
This Week's Loose Unit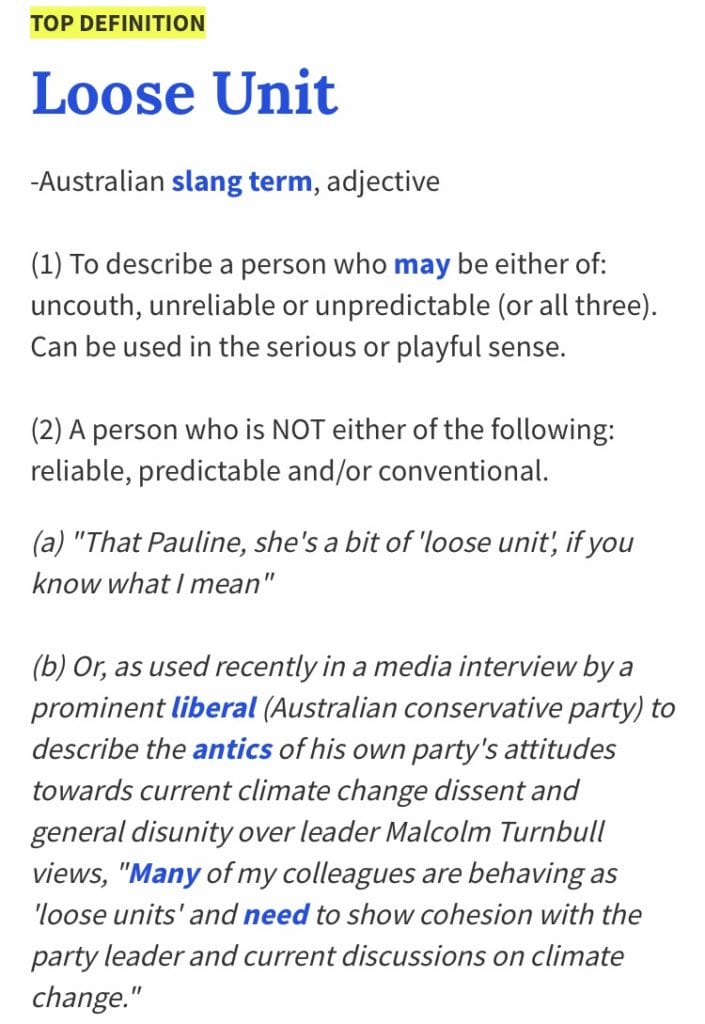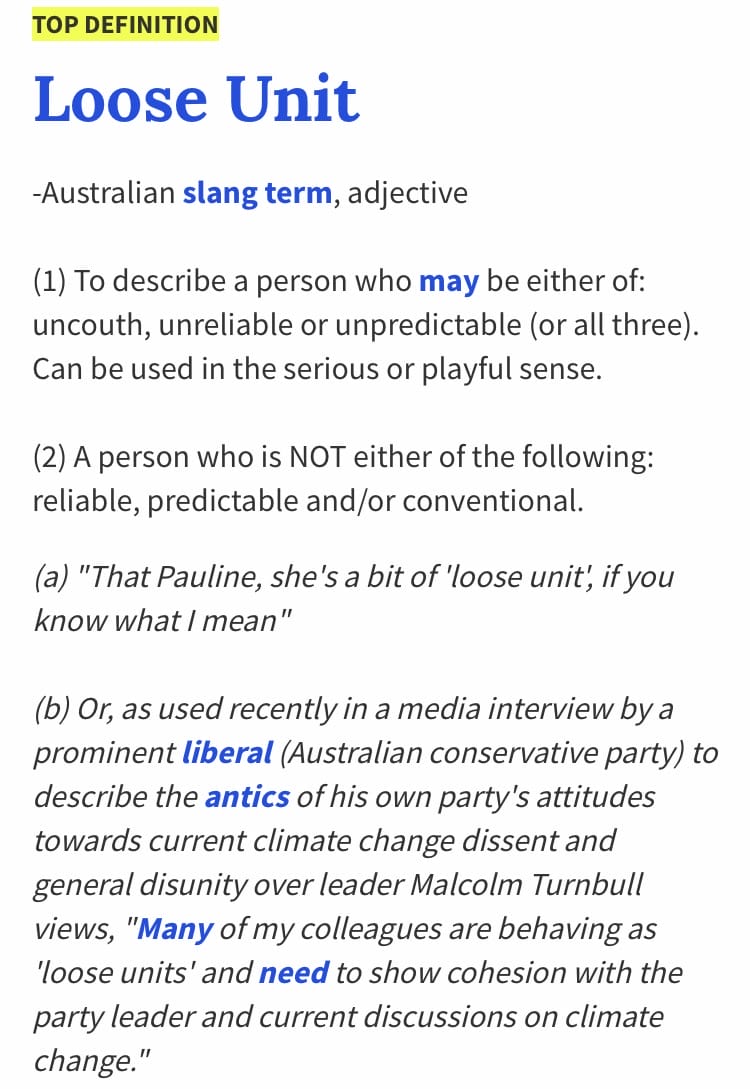 Campaigns can be tough and stressful. Sometimes they make otherwise rational people do irrational things. This brings us to this week's Loose Unit. This week's Loose Unit is Representative Lance Pruitt (R – Anchorage). Lance had an interesting Saturday (8/11/2018) morning. His primary opponent, Don Jones, held an event at the Krispy Kreme on Muldoon. Nice, Don! Pruitt decided it was a good idea to roll up to the event, five deep, with a posse and some signs. Talk about loose! He initially walked inside and sat down, looking kind of sad and defeated. He then moved outside with his posse. Best part, we have pics!
One of the people he is with appears to be his father-in-law. There is loose, and then there is showing up to your opponent's fundraiser loose, when you are the incumbent. Too bad Dave Stieren is no longer around. He could have advised him against doing this. Are you ok, Lance?
Update:
Representative Pruitt contacted me and told me that he also had an event scheduled at Krispy Kreme, and sent out a mailer inviting people on July 31. But there is no mention of the event on Pruitt's Facebook page until yesterday. Don Jones says he had also scheduled his event at Krispy Kreme a few weeks back. This is either an extremely unlikely coincidence or I've been had. There's a chance Don Jones is actually the Loose Unit, or that maybe I am the Loose Unit, or that it, in fact, may be Pruitt. But we can no longer definitively say that Pruitt is the Loose Unit for this week. Regardless, we can say for sure that the GOP in District 27 is very loose. More to follow.
If you have a nomination for This Week's Loose Unit, or if you have any political news, stories or gossip (or any old pics of politicians or public officials) please email me at jeff@alaskalandmine.com.