I apologize for the late posting of the column this week. Last night was legislative skits and let's just say I stayed out a bit past my bedtime. If you were there you know how funny it was. If you weren't, I suggest you go next year and see for yourself. A big shout out to all the staff that make the skits possible. You all did a great job. But the fun is not going to last. The House is about to start debating the operating budget this week and the Senate Finance Committee is looking at a bill that changes the dividend formula. Here we go.
A friendly message and reminder to all our readers, the Landmine is made possible by myself and a team of awesome Alaskans. It takes a lot of work to provide the content we do. There are now additional costs that I have temporarily located to Juneau. If you enjoy the content we provide, please consider making a one time or recurring monthly donation. You can click here to donate via PayPal. We would really appreciate it! And thanks to everyone who has been supportive.
The Governor 
It's been a pretty quiet week for Big Mike. I didn't see him at skits last night, although a lot of his staff were in attendance. Maybe he was busy managing his office's social media ads. They are running Facebook ads to promote a spending cap. Definitely some irony there.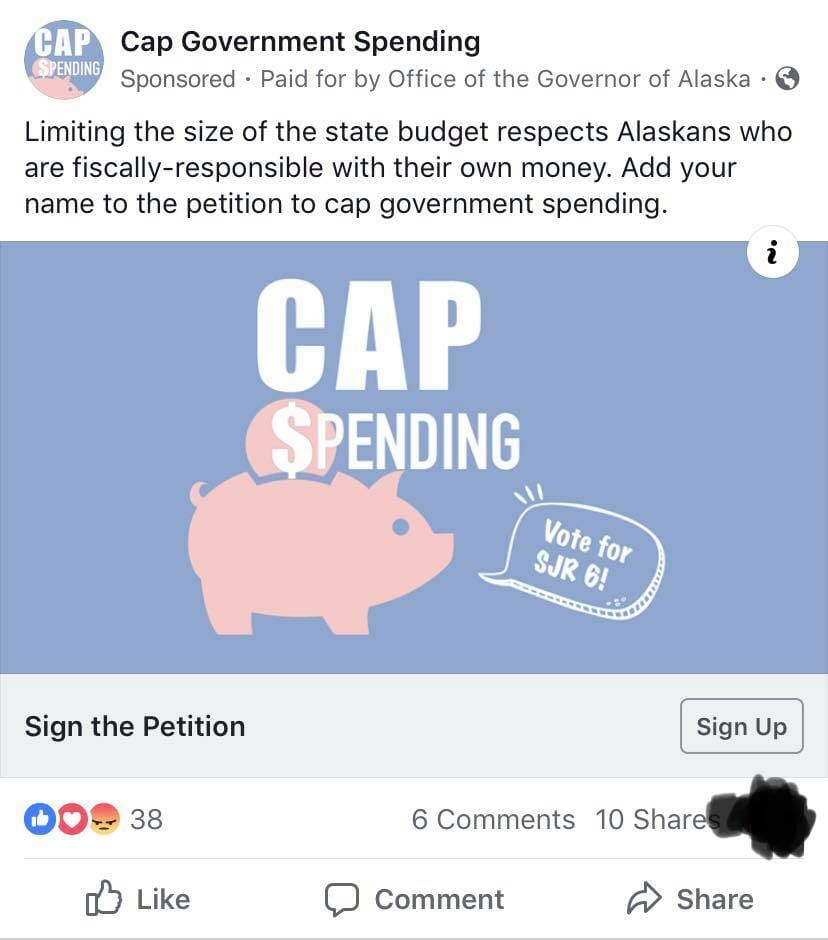 A good source informs me that Governor Michael J. Dunleavy (R – Alaska) is planning to call a special session and hold it in, wait for it, the Valley! It will likely be to deal with his proposed constitutional amendments, which don't look to be gaining much traction in the legislature. My bet is the legislature passes a budget by mid-May and sends it to Dunleavy. After everyone gets home he brings out the veto pen and then calls a special session. A session at Wasilla Middle School could get real loose.
Governor Dunleavy did sign a bill into law this week. His first ever! It was a bill for $141 million of disaster funding for the November 30 earthquake. It passed the legislature unanimously. Mike, can I get one of those pens?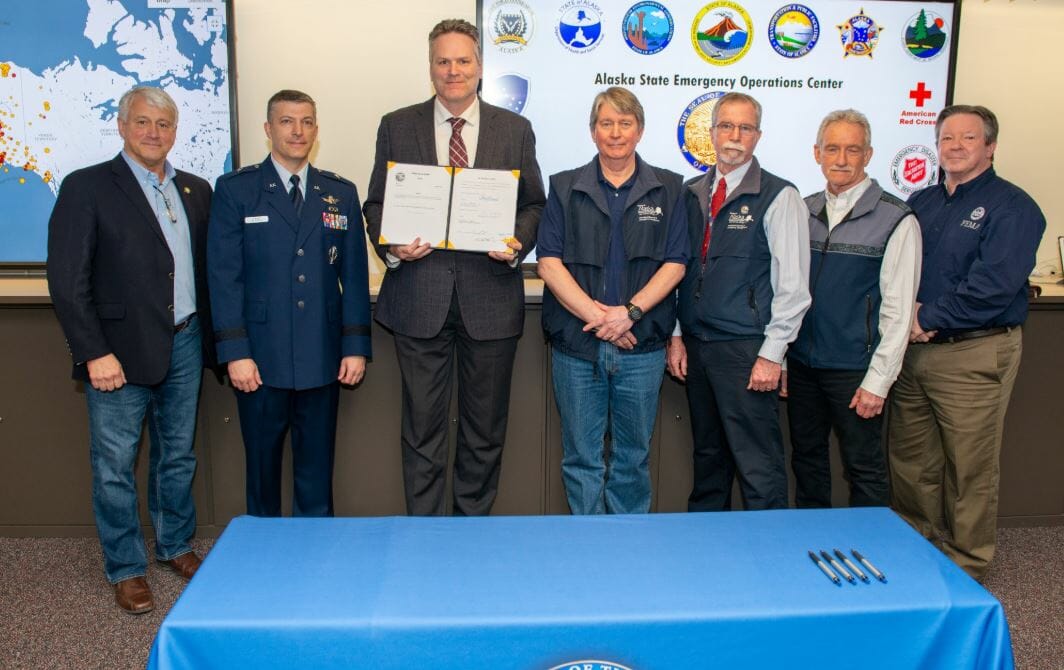 Earlier this week I posted a story about Lieutenant Governor Kevin Meyer (R – Alaska) being fined over $12,000 from the Alaska Public Offices Commission (APOC) for failing to make several 24 hour contribution reports. Meyer has since sent APOC documentation that showed the contributions were made outside the 24 hour reporting period and APOC has withdrawn the fines. Time to party! Here is the link to the letter informing him the fines were withdrawn. And here is a pic of Meyer and former Representative Lynn Gattis at skits last night. He's pumped those fines were withdrawn.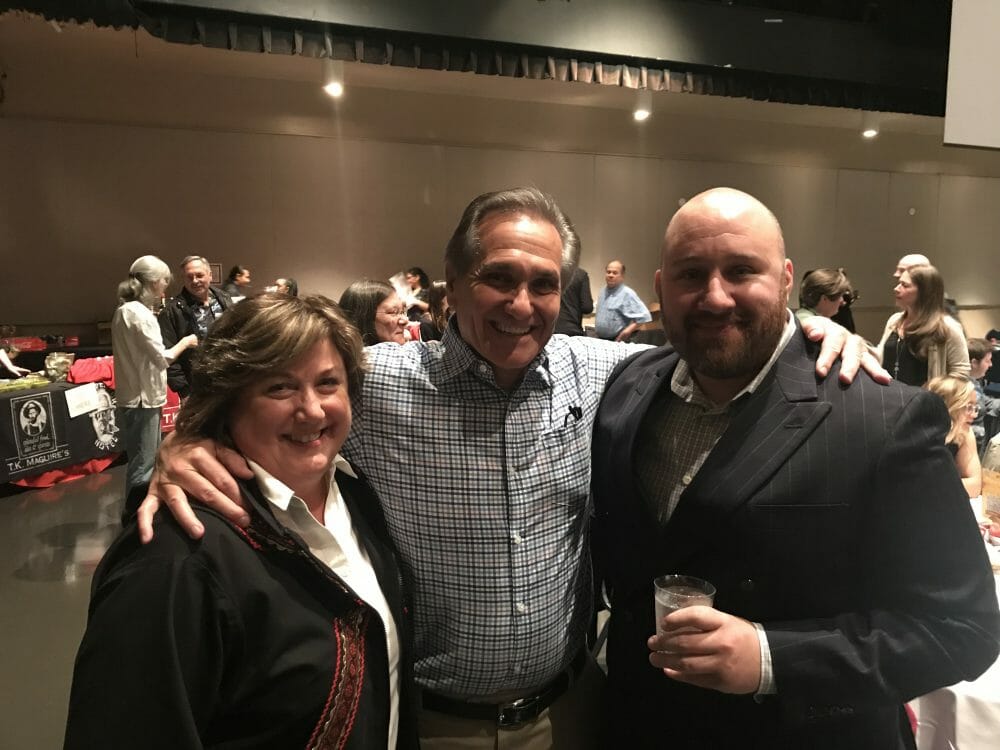 Deputy Attorney General Robert Henderson submitted his resignation this week. Attorney General Kevin Clarkson has named John Skidmore the new Deputy Attorney General and Paul Miovas the new Criminal Division Director.

This comes days after Quinlan Steiner, the head public defender for the State, also announced his resignation. Steiner was recently the focus of a controversial decision by Chief of Staff Tuckerman Babcock to deny his travel to Juneau to testify on crime bills. Word is Babcock did not want him talking to legislators because, you know, he's really smart and has a sound understanding of crime laws and legislation. My guess is he said "fuck this" and bailed. You can't really blame him. The Judicial Council will now start the process of interviewing candidates for the job. They will then send names to Governor Dunleavy to pick from. The pick will need to be confirmed by the legislature.
Margaret Brodie, the head of the Division of Healthcare Services for the Department of Health and Social Services, was let go this week. Her job was to manage Medicaid, Health Care Facility Licensing, and Certification. Her departure comes not long after the Dunleavy administration announced they want to turn Medicaid funding into a block grant. If approved, we would be the first state to do so. Many in the healthcare industry were unhappy Brodie was let go.
The Legislature
The House Finance Committee debated a litany of amendments on the operating budget this week. Because of the makeup of the Committee, that includes several Republicans who are part of the House Majority coalition, many of the votes were surprising. One example was to eliminate school bond debt reimbursement. They ultimately passed an operating budget with $257 million in cuts, WAY less than what Dunleavy proposed in his budget. It also uses some of the dividend to fill the deficit. Debate on the operating budget in the House starts tomorrow. Look for that to get real loose.
The Co-Chairs of the Senate Finance Committee, Senators Bert Stedman (R – Sitka) and Natasha von Imhof (R – Anchorage) introduced a bill to change the formula that determines the dividend. Rather than use the old formula, that is based on the performance of the permanent fund. This bill changes it to simply use half of the POMV draw, passed last year, for dividends and the other half for government services. It will be interesting to see where this goes in the legislature. Don't count on Governor Dunleavy signing it into law though.
Speaking of Stedman and von Imhof, if you missed these thug life videos, here you go. You're welcome.
Amanda Price, Governor Dunleavy's pick as Commissioner for the Department of Public Safety, had another confirmation hearing this week before the House State Affairs Committee. It started off kind of awkward. She was asked if she would be willing to be sworn in. She said no because other commissioners were not asked to. Weird. Why would someone say no to that? One interesting admission from Price was that she was let go by the Walker administration. Which is the opposite of what she told the Senate Finance Committee. Another very interesting part of the hearing was the very direct line of questioning from Representative Sarah Vance (R – Homer). She doesn't seem to be a fan of Price. Vance asked her about her lack of any public safety experience and even asked her why she was wearing a badge. She also asked her about rumors swirling about Price when she was working for the campaigns of Mike Dunleavy and Edie Grunwald.
Word is the Committee is going to subpoena former Governor Walker Chief of Staff, Scott Kendall, to testify to the Committee about Price. Price was asked to waive any obligation Kendall may have under the Personnel Act. She said she didn't need to do that. Check out the letter (click here) Kendall sent to Representative Zack Fields (D – Anchorage).
It sounds like a joint session of the legislature to vote on all of Dunleavy's commissioner picks, as well as people he has named to boards and commissions, will be sometime during the week of the 15th. Look for that one to be very lengthy and VERY entertaining.
Other Happenings
For some bizarre reason someone put Brandon Brefczynski's head on a bunch of sticks at skits last night. Very weird but also kind of awesome.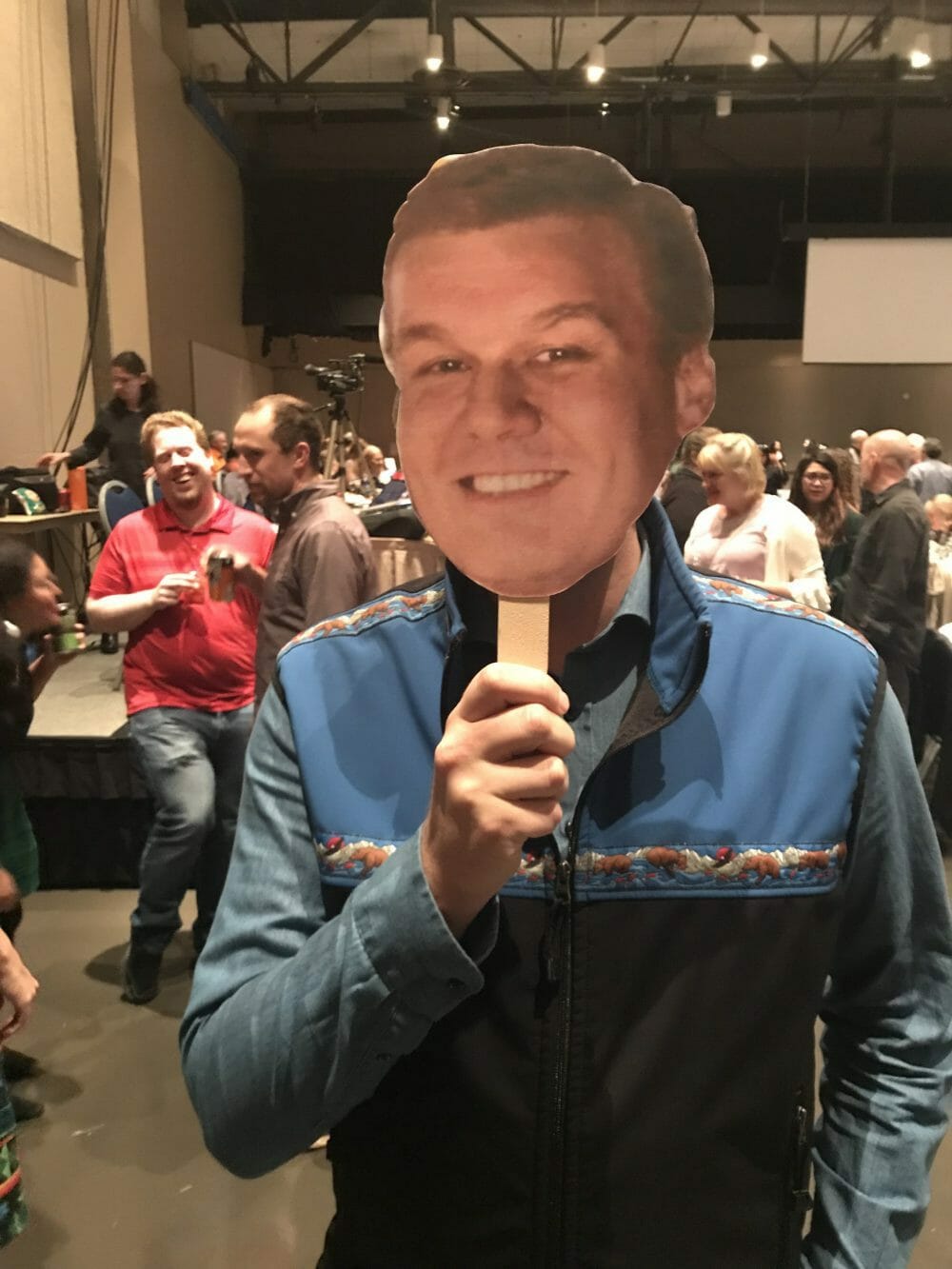 Former Governor Bill Walker has taken a job at Brena, Bell, and Walker. Well, now it's Walker. Before it was Brean, Bell, and Clarkson. The Clarkson is Kevin Clarkson, Dunleavy's Attorney General pick. Politics definitely makes for strange bedfellows. This Nat Herz story provides more detail.
Legislative staffer Patrick Fitzgerald is leaving the legislature to take a job at an Anchorage law firm. Patrick has been working for Representative Laddie Shaw (R – Anchorage) this session. He previously worked for Representative Harriet Drummond (D – Anchorage). Patrick is a very cool and a high energy guy! He will be missed by many in the building. I will personally miss his aggressive suits that make him look like some kind of mob money collector. All the best to him in his new endeavour.
The North Slope Borough is shaking things up with their lobbyists. They have cancelled the contracts for Sam Kito and John Bitney and replaced them with Reggie Joule and Christine Hess. Heather Brakes and Ashley Reed were unaffected. North Slope Borough folks, you guys should hire me too!

Marti Buscaglia, the Executive Director for the Human Rights Commission, was suspended for 15 days without pay this week by the Commission. This stems from a note she left on the back of her State business card on a truck with a "Black Rifles Matter" bumper sticker. As bad as her using her State business card, what is much worse is the follow up email she sent from her State email account to the building owner. The person with the bumper sticker has a plumbing and heating business and was doing work in the building. In the email she inferred the owner was a racist and tried to get him fired. A 15 day suspension is a bullshit consequence for what she did.
Check out this post from the Alaska Policy Forum. Awesome stock photo choice. Do they have a coke habit? Or maybe it's a Koch habit! Love that C-note in the middle, but the dollar bill is just bad form.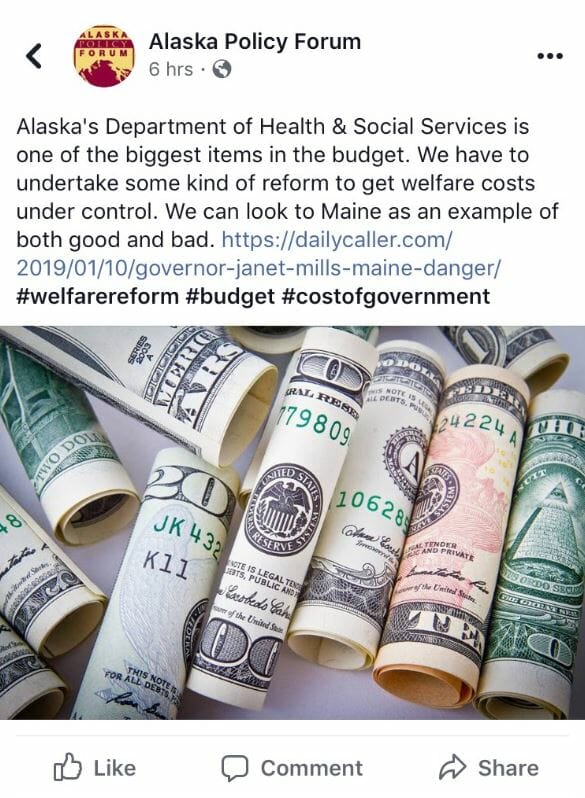 The Anchorage Clerk's office has posted another unofficial count for the recent election. Turnout is up to almost 28%. None of the results have changed since the first posting on election day. Click here to see the recent results.
This Week's Loose Unit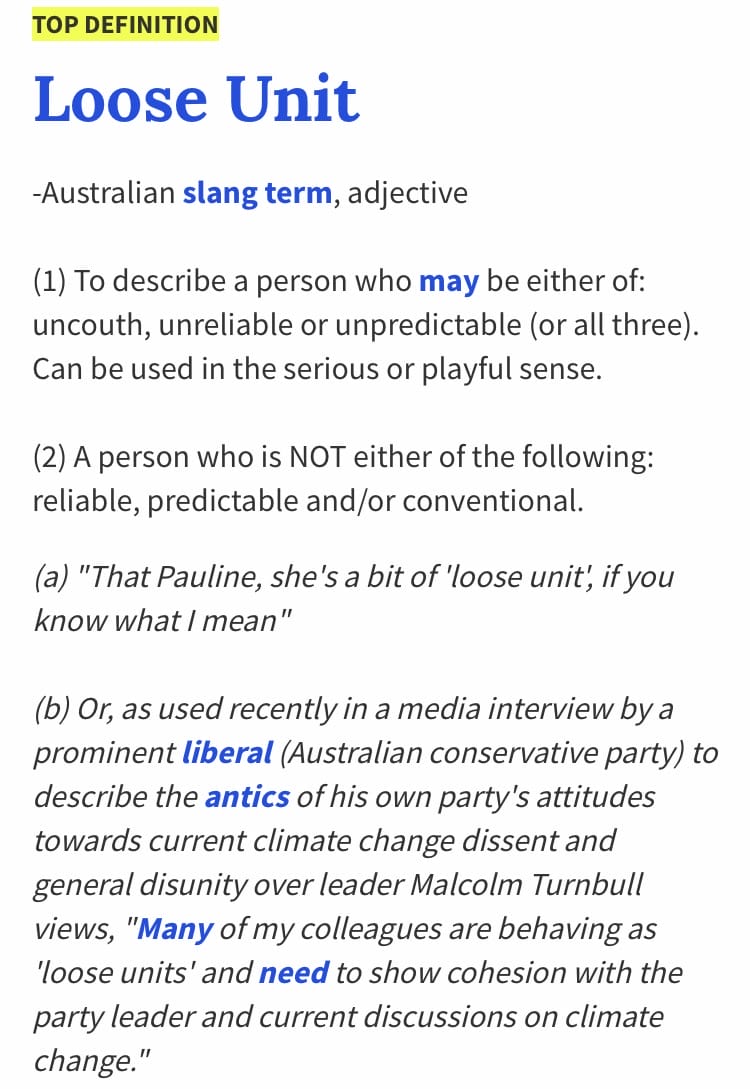 This week was not nearly as loose as others. Maybe people are starting to behave. Wait, no way. There is always at least one weekly Loose Unit in Alaska politics. For this week, we go back to one of our standard go-to Loose Units. This week's Loose Unit is Representative David Eastman (R -Wasilla). Eastman was the sole vote against a citation honoring a former staffer, Adam Berg, who passed away last year. Speaker Bryce Edgmon (I – Dillingham) gave a very emotional tribute to Berg, who used to work for Edgmon. Eastman objected to the citation, but choose not to speak to it. Probably a smart move after the emotional and touching words from Edgmon. He was then the only vote against the citation. Very loose! You can watch the entire thing here.
If you have a nomination for This Week's Loose Unit, or if you have any political news, stories or gossip (or any old pics of politicians or public officials) please email me at jeff@alaskalandmine.com.