Happy Easter and the end of Passover to all my Christian and Jewish readers. It's April! Which means technically spring should be approaching, although it doesn't quite feel like that yet. The Senate went on an Easter break that started on Thursday (4/1/2021). They will be back this Wednesday. The Anchorage municipal election concludes on Tuesday night, when we will have a good idea of who the next mayor will be.
A friendly message and reminder to all our readers, the Landmine is made possible by myself and a team of awesome Alaskans. It takes a lot of work to provide the content we do. I am now in Juneau for the session, which means paying rent for the place I'm staying at. If you enjoy the content we provide, please consider making a one time or recurring monthly donation. You can click here to donate. We have a donation system that makes it super easy. We would really appreciate  it. And thanks to everyone who has been supportive!
Anchorage Election
The Anchorage municipal election will conclude on Tuesday. The big ticket is the mayoral race, where there are 15 candidates on the ballot. Six are running actual races. This is the second vote-by-mail election for Anchorage mayor. The first was in 2018. There are no Assembly seats up (every three years it's a mayoral race, the other two years are Assembly races). However, Assemblymember Felix Rivera is facing a recall. Four of the seven Anchorage School Board seats are on the ballot. And there also 11 bond propositions.
We are again doing an Election Central event! It will be broadcast on Facebook Live and YouTube. We have a great panel and some great guests lined up. Click on the image below for more info about the event.
If no mayoral candidate gets 45%, there will be a runoff with the top two candidates. This last happened in 2015, where Ethan Berkowitz beat Amy Demboski in the runoff. With six candidates running real campaigns (nine others are on the ballot but have not raised money), and no incumbent on the ballot, it is very unlikely anyone will reach the 45% threshold. So who will be the top two? Progressive Anchorage Assemblymember Forrest Dunbar will definitely be in the top two. He will almost certainly be the top vote getter. He has outraised his opponents and is well known. The other two progressives, Bill Falsey and George Martinez, have raised money and run campaigns, but Dunbar has massively outraised and outspent them. In fact, Dunbar has raised nearly $370,000, which is over $130,000 more than what Falsey and Martinez have raised combined.
Falsey and Martinez have never run for office in Anchorage. Dunbar unsuccessfully challenged Congressman Don Young (R – Alaska) in 2014 and has twice been elected to the Anchorage Assembly. While Falsey got a lot of media attention as city manager during the 2018 earthquake and Covid, his ties to former Mayor Ethan Berkowitz do not help. Martinez, who also worked for Berkowitz, is essentially an unknown in the race.
Now the conservatives. Mike Robbins has raised the most, over $280,000. Although a significant portion of that is his own money. This includes a recent $25,000 campaign contribution on March 26, which violates campaign laws. Candidates can only give themselves up to $5,000 30 days before the election. Dave Bronson has raised just under $260,000. And Bill Evans has raised a little over $125,000. Bronson unsuccessfully challenged then-Anchorage Assemblymember Elvi Gray-Jackson in 2011. Evans served one term on the Anchorage Assembly from 2014-2017. Robbins, who has run radio stations in Anchorage, has never run for office.
Bronson seems to have the momentum. He has the support of the far right conservatives and the Save Anchorage crowd. Evans has the support of many business conservatives, including former Mayor Dan Sullivan. But his campaign has struggled to find a base larger than that. Robbins has some support but for the most part is just running a lot of radio ads telling people how amazing he is. A lot of conservatives in Anchorage are frustrated with the Assembly, homelessness, and how the city has handled Covid. The question is how many will vote? So far turnout is well below what it was in 2018, the last mayoral election. While there is not as large of a fundraising disparity between the three conservatives as the three progressives, it seems that Bronson has the momentum and advantage.
I predict Dunbar and Bronson will advance to the runoff. I voted for Bill Evans and was hoping he would make it to the runoff. A Dunbar vs. Evans runoff would be a real race. It would be about ideas. Dunbar vs. Bronson will ensure Dunbar wins. Bronson has surrounded himself with far right and controversial conservatives like Bernadette Wilson and Anchorage Assemblymember Jamie Allard. He has demonstrated a lack of understanding about how municipal government works. Just like Amy Demboski in 2015 and Rebecca Logan in 2018, far right conservatives are capped at 40% in Anchorage. Bronson may be able to pull 45% against Dunbar in a runoff due to voter frustration, but beating Dunbar is highly improbable. Don't forget, Joe Biden beat Donald Trump in Anchorage in November.
Other Happenings 
It was a pretty quiet week in Juneau. Representative Sara Rasmussen (R – Anchorage) introduced House Bill 157, a bill that would close a loophole in the statues that has allowed Recall Dunleavy, and the groups opposing it, to not disclose any of their donors. She even referenced the Landmine in her press release!
Mouhcine Guettabi, an economist from the Institute of Social and Economic Research, presented to the Senate Finance Committee this week. It appeared he was wearing a bathrobe, but he replied that it's a sweater. You decide!
Gina Ritacco has come on board as campaign manager for conservative U.S. Senate candidate Kelly Tshibaka. Ritacco left her role as Governor Mike Dunleavy's (R – Alaska) director of boards and commissions.
Check out this bizarre YouTube ad where Sarah Palin reveals a "Lucrative Investment Secret AND The No. 1 U.S. Stock to Own." Guaranteed 20%! They even have an American flag on a tv in the background later in the video!
This Week's Loose Unit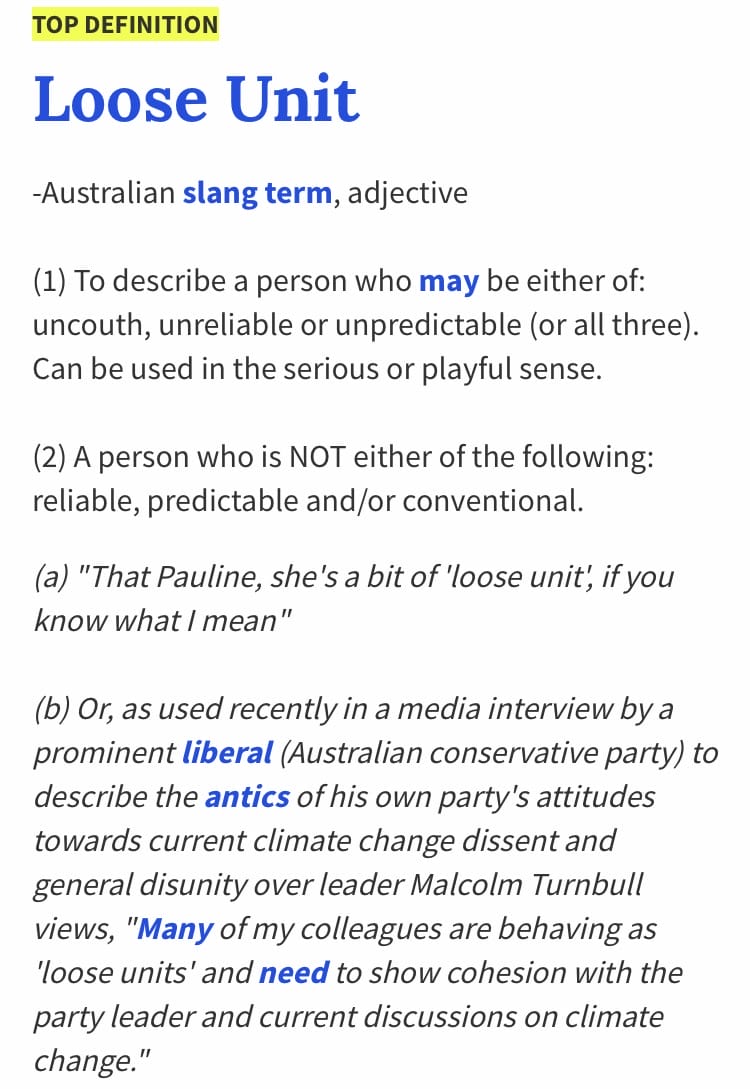 This week's designee was a no brainer. This week's Loose Unit is the Anchorage Press. On Thursday an Anchorage Press article appeared titled, "Documents: Downing filed for PFD and claims residence in Florida." It was by the Blue Alaskan, an anonymous progressive who is scared to put their name on what they write. My guess is it's John Aronno, who has close ties to the Anchorage Press. I digress. Anyhoo, they thought they had a real scoop! As someone who admittedly can't stand Suzanne Downing, even I admit the Press' obsession with her is disturbing. But in what can only be described as super loose, all their research was wrong. Downing made a simple post confirming that she did not apply for a PFD. Talk about loose!
Update: John Aronno says he is not the Blue Alaskan.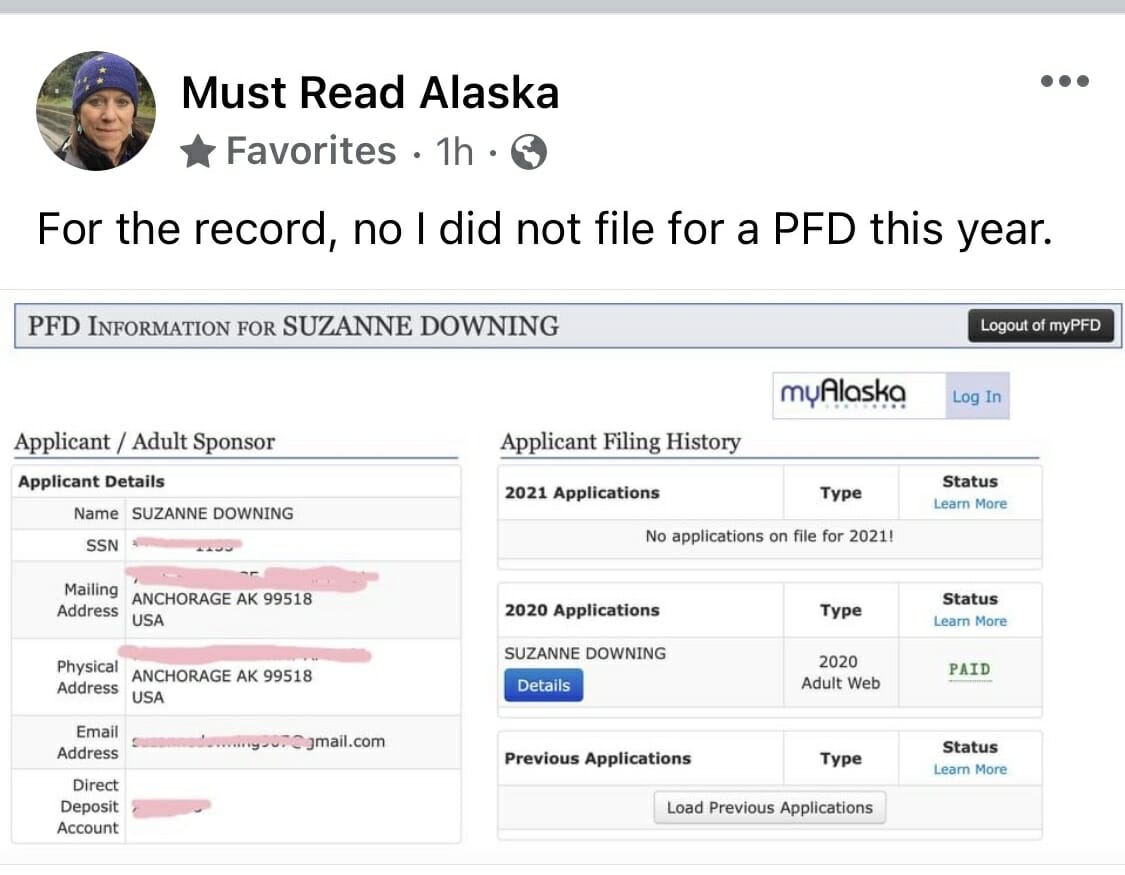 Not long after the Press/Blue Alaskan (probably John Aronno), pulled the article with no explanation. Classic Loose Unit. It just redirected to this: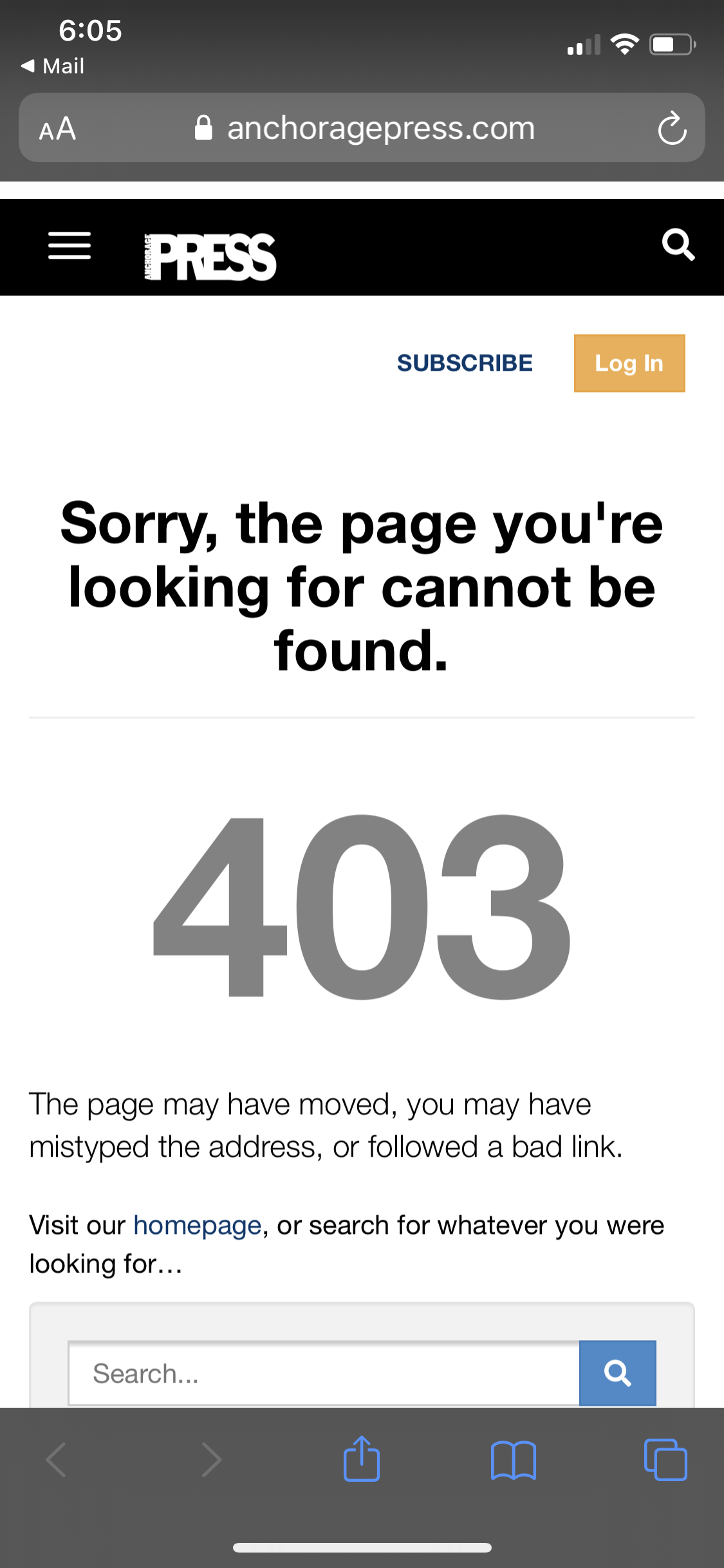 The next day the article reappeared, but with a new title. Now it read, "Downing now officially a full-time resident of Florida; did not file for 2021 PFD." It leads with a correction, and goes on to talk about a home she bought in Florida and a property tax exemption. What riveting journalism! Very loose.
If you have a nomination for this week's Loose Unit, or if you have any political news, stories or gossip (or any old pics of politicians or public officials) please email me at jeff@alaskalandmine.com.