With just over two weeks left in the legislative session, there's still no clear end game in sight. A bizarre press conference with Governor Mike Dunleavy (R – Alaska) and legislative leadership this week demonstrated that fact. As session winds up, a hearing in the Senate Finance Committee tomorrow on the oil tax bill, and the controversial 404 primacy issue, has drawn the heads of most of the trade groups, which I jokingly refer to the "resource cabal," to Juneau. Legislative skits were held this weekend. I attended last night. Major shout out to all the staff who put on an amazing show!
A friendly message and reminder to all our readers. The Landmine is made possible by myself and a team of awesome Alaskans. I am back in Juneau for the fifth session in a row to report on the Legislature. If you enjoy the content we provide, please consider making a one time or recurring monthly donation. You can click here to donate. We have a donation system that makes it super easy. We would really appreciate it. And thanks to everyone who has been supportive!
No-deal news conference exposes lack of pact on Alaska's fiscal plan
The following is an excerpt from this week's edition of the Alaska Political Report. You can click here for more information about the Political Report. A subscription is $1,299/year per organization. Discounted pricing is available for non-profits and government entities. Our coverage of the budget starts with the governor's proposed budget in mid-December and we track everything in detail through the entire process. If you have any questions or would like to subscribe, please email jeff@akpoliticalreport.com.
GOP Gov. Mike Dunleavy held a news conference Thursday afternoon with House and Senate leadership on the long-discussed topic of a fiscal plan — but the event made clear only that huge obstacles persist that are stopping lawmakers from reaching a grand fiscal bargain.
Leaders from both the House and Senate spoke at Dunleavy's event. And while there was broad agreement that something needs to be done to stabilize Alaska's fiscal situation, there was no agreement on the details.
Alaska has more than enough money to pay for ongoing government services, to pay residents super-sized dividends, or to boost schools funding that's lagged for years. But it can't do all three without spending substantial amounts from its dwindling savings accounts, which means that lawmakers have been hotly debating ideas like dividend reductions, levying higher or new taxes, denying schools a budget increase or various combinations of all three.
Anchorage independent Rep. Calvin Schrage, the House minority leader, summed up the situation aptly: "If you were to ask legislators how you solve this, you'll get a different answer from each and every one of them."
Neil Steininger, the director of Dunleavy's Office of Management and Budget, presented different financial scenarios using a spreadsheet on a big screen TV. Dunleavy directed him to show different outlooks depending on the size of the dividend lawmakers want to pay, and how much in taxes they're willing to levy.
Dunleavy said he favors a low and broad state sales tax. While Nikiski Republican Rep. Ben Carpenter, who was also present, has his own sales tax bill in the House, the measure has not even moved out of the Ways and Means Committee that Carpenter himself chairs.
Anchorage Democratic Sen. Bill Wielechowski, a member of his chamber's leadership, has his own bill to reduce Alaska's per-barrel oil tax credit, and to levy taxes on S-corps — but that legislation is stuck in the Senate Finance Committee.
A Senate Finance Committee-sponsored bill, meanwhile, would make more money available for government programs by changing the Permanent Fund dividend formula — making 25% of spending available for dividends and 75% available for government programs, with a provision to change the split to 50/50 if more revenues are raised. But that measure is in limbo in the Senate Rules Committee, and some members of the House majority have said dropping the dividend payment below a 50/50 split is unacceptable. (That bill was heard on the Senate floor on Friday and will be debated tomorrow.) 
The Senate Finance Committee's current version of the operating budget includes a 25/75 dividend, and a one-time, $175 million increase in per-student schools spending.
Less than three weeks remain until the constitutional session limit of 121 days.
Sitka Republican Sen. Bert Stedman, one of his chamber's finance committee co-chairs, told the Political Report that the House and Senate will try to work out their differences in a conference committee.
But, he added, "because we would need an additional $880 million to pay a 50/50 dividend, and there's no agreement on how to pay for that, a special session is likely."
Scenarios to get out of town 
With no budget deal in sight, there are several scenarios on how session will end, or won't end… First, here are some relevant facts:
The Alaska Constitution sets the regular session at 121 days, which is May 17 this year. The constitution allows for a ten day extension, but that requires a two-thirds vote of each body (27 House, 14 Senate).
The House version of the operating budget has a 50/50 dividend (approximately $2,600 per person), but they failed to garner the 30 votes needed to spend money from the Constitutional Budget Reserve, leaving a $400 million unfilled deficit. The Senate has been clear they do not support using the CBR to pay for a larger dividend. The Senate's budget currently has a 25/75 dividend (approximately $1,300 per person).
The new fiscal year begins on July 1, meaning a budget needs to be passed and enacted by then to avoid a government shutdown.
Per the constitution, a special session can be called by the governor or two-thirds of the Legislature.
Per the constitution, laws go into effect 90 days after being enacted unless two-thirds of each body vote for a sooner date.
Here are some of scenarios on how things will play out:
The Senate sends the operating budget back to the House with a 25/75 dividend and a one-time increase of $175 million for student spending. The House fails to concur, resulting in a conference committee. They try and work out the differences between their two budgets – which are really only the dividend amount, increasing education spending, and 404 primacy. The problem with a conference committee is everyone already knows the main problem is the dividend. They are still far apart as the House wants a 50/50 dividend and the Senate is set on a 25/75 dividend. It's hard to say exactly how this scenario would play out. And whatever came out of a conference committee would be subject to veto by Dunleavy. And there's no telling what the will do or what he really wants.
The Senate, realizing that a conference committee is pointless, waits to send the operating budget back to the House until just before adjournment. They load it up with the capital budget and try to buy off enough House members with capital projects to get a concurrence vote, which requires 21 House members. The budget the Senate sends over would not require a CBR vote, so it would just need 21 votes to pass and be balanced. While this scenario is possible, it would only happen with the support of all 16 members of the House minority and five majority members. This would blow up the majority and the effective date vote for the budget would probably fail, causing an issue with the budget being effective on the start of the new fiscal year on July 1. Some argue the government could keep functioning until the budget went into effect in 90 days, but it's never happened and the constitution is clear on when laws go into effect. The matter would probably end up in the courts. And this would still be subject to veto by Dunleavy.
A conference committee or concurrence vote fails to produce a budget. The Legislature is forced to adjourn without a budget being passed. Dunleavy calls a special session, probably starting on June 1 to give people a break. They continue to negotiate so they can pass a budget before July 1.
A conference committee or concurrence vote fails to produce a budget. The Legislature votes to extend 10 days and continues to negotiate. This is unlikely as a lot of people already have plans to leave after May 17 and housing is a serious problem.
If they do vote to extend 10 days or if a special session is called, the only people that really need to be in Juneau are the finance co-chairs and a few others. So everyone else could go home and come back to vote if a deal is made. They could hold technical sessions in the meantime. 
Other Happenings
Senate Bill 107, the bill that changes the Permanent Fund Dividend formula to 25/75 with a revenue trigger to move to 50/50, is on the Senate floor tomorrow. There will probably be an amendment to undo what the Senate Finance Committee did – increase the trigger to $1.3 billion in new revenue with a minimum CBR balance of $3.5 billion – and return it to just $900 million in new revenue. If it passes the Senate, several House members say it's DOA. The problem is many of them want a 50/50 dividend but don't want to pay for it.
Shareen Crosby, who worked as a legislative staffer for former Senator Natasha von Imhof and then went to work for McKinley Capital, is going to work for Governor Dunleavy as the head of the infrastructure office. Congrats, Shareen! She really needs to insist her title be "infrastructure czar."
Does Representative Ben Carpenter (R – Nikiski) have something to tell us…
This Week's Loose Unit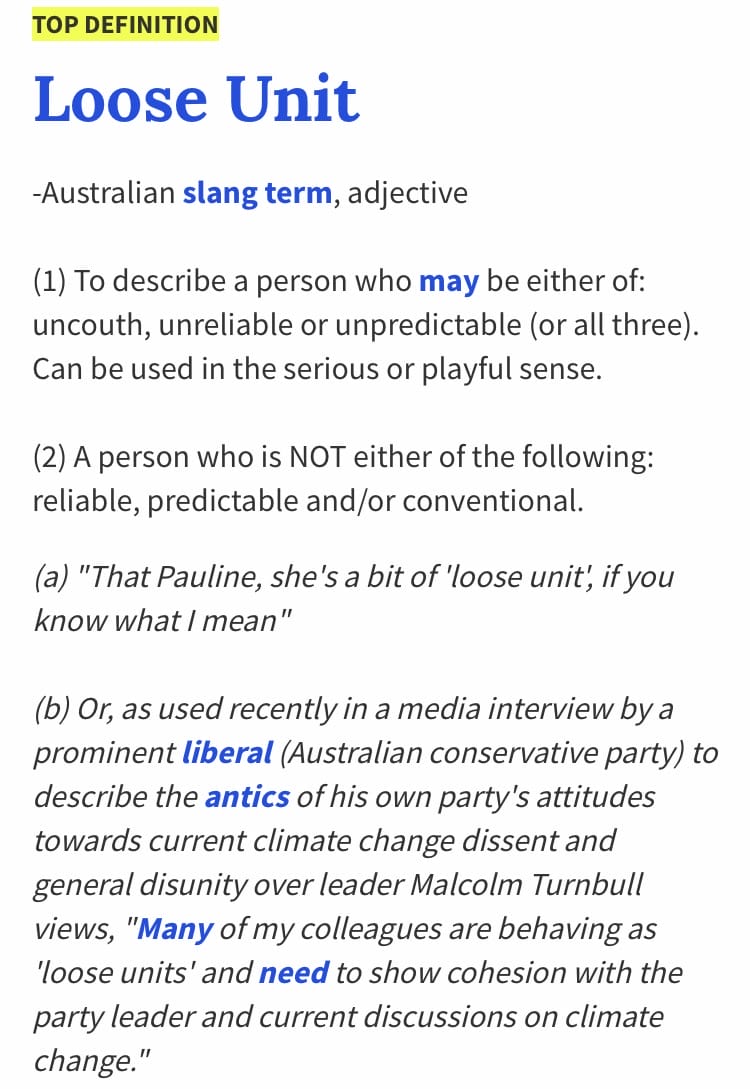 This was a tough week. Between two Campbell Lake homeowners filing a lawsuit in federal court that claims the section line easements for public access are "fictitious," to the bizarre joint press conference with Governor Dunleavy and legislative leadership that announced nothing, to an extremely loose letter from Dave Nyman – one of the wealthy Girdwood NIMBYs who misled community councils to stop the proposed Holtan Hills housing development – in response to being caught red handed, there were a lot of deserving candidates this week. But despite all of that, one person definitely earned Loose Unit status this week. And it's someone none of us can forget. This week's Loose Unit is former Senator Lora Reinbold.
This week, Reinbold filed a lawsuit in federal court against Alaska Airlines, and 15 of their employees, for $97.5 million. Yes, $97.5 million! Maximum loose. Reinbold is representing herself against the airline, who banned her when she was a senator for refusing to follow mask protocols. Now if you know me at all you know I was extremely outspoken about the dumb mask mandate shit. But that was unfortunately what the federal government did then. The airline, a private company, has the right to refuse service to anyone, especially people who refuse to follow the law. Conservatries are supposed to believe in that principal. Reinbold is also claiming she has a mystery medical condition that made breathing through a mask difficult. Classic Loose Unit behavior. This should be entertaining to watch.
If you have a nomination for this week's Loose Unit, or if you have any political news, stories or gossip (or any old pics of politicians or public officials) please email me at jeff@alaskalandmine.com.