Today was an amazing day in Juneau! As May approaches, the legislature has less than a month before the constitutional 121-day session limit is up. Senator Lora Reinbold (R – Alaska) was banned by Alaska Airlines for continued refusal to wear a mask and other loose behavior. She came back to Juneau today on the ferry. And ballots started going out this week for the Anchorage mayoral runoff election.
A friendly message and reminder to all our readers, the Landmine is made possible by myself and a team of awesome Alaskans. It takes a lot of work to provide the content we do. I am now in Juneau for the session, which means paying rent for the place I'm staying at. If you enjoy the content we provide, please consider making a one time or recurring monthly donation. You can click here to donate. We have a donation system that makes it super easy. We would really appreciate it. And thanks to everyone who has been supportive!
The Legislature
The House Finance Committee finally rolled out the budget on Friday (4/23/2021). Amendments will be heard this week. Sources in the Senate say the Finance subcommittees will finally start doing closeouts this week. So what next? The biggest factor is the $1.5 billion Alaska is set to receive under the American Rescue Plan Act (ARPA). Governor Mike Dunleavy (R – Alaska) has laid out his initial plan for how he wants to see the money spent, though the legislature will have the final say. Most legislators do not want to give Dunleavy the ability to appropriate the money like they did with the CARES Act money last year through the Legislative Budget and Audit Committee. The federal guidelines for ARPA do not come out until early May.
As I have explained before, if the legislature cannot finish by day-121, they have an option to extend ten days. But that requires a 2/3 vote of each body (14 in the Senate, 27 in the House). The House likely does not have the votes for that. Alternatively, Dunleavy has one hour to call them back immediately after the second body adjourns. If he waits more than an hour, it has to be 30 days, which is mid-June. It is possible the legislature could pass a budget without a PFD or a reverse sweep provision, causing disruption to many state programs. The reverse sweep requires a 3/4 vote of each body (15 in the Senate, 30 in the House). And there has been little to no talk in the legislature about the PFD this session. This scenario, especially no PFD or a small PFD, will likely trigger Dunleavy calling them back right away into a special session. If he does this he will be able to set the agenda. They could also call themselves into a special session but that requires 2/3 of all legislators (40 of 60), which is also not likely. The combination of the ARPA funds and the desire to leave Juneau may be just enough to allow the legislature to agree on an adjournment package, but I am not holding my breath.
Things got a bit weird this week during a meeting of the Senate State Affairs Committee. Senator Mike Shower (R – Wasilla) is still trying to get his election reform bill out of the Committee, which he chairs. After some changes to the bill, there was another hearing this week as well as public testimony. While discussing an amendment Senator Scott Kawasaki (D – Fairbanks) stated, "I didn't offer up an amendment. I didn't have a way to polish this turd." Which Shower did not appreciate. This prompted Senator Tom Begich (D – Anchorage), the Minority Leader, to issue an apology on the floor, which was pretty weird.
Here's the comment Sen. Kawasaki made yesterday in the Senate State Affairs Committee that Sen. Begich apologized for today. "I didn't offer up an amendment. I didn't have a way to polish this turd," in reference to Sen. Shower's election bill. Loose! #akleg pic.twitter.com/Z52I3GEVum

— The Alaska Landmine (@alaskalandmine) April 23, 2021
Other Happenings
Sarah Gallagher, the public information officer for the Department of Corrections and sister to Deputy Chief of Staff Tyson Gallagher, has accepted a job as the public information officer for the Department of Corrections in Tennessee. Congrats, Sarah! It's going to be hot this summer.
The Imperial Bar in Juneau opened up on Friday. It was nice seeing so many familiar faces. That crunchwrap was amazing! And there was actually cabs downtown this weekend. Things appear to be returning to normal in Juneau.
Donald Trump Jr. was spotted in Alaska last week on a flight to Nome. He was going on a hunting trip near White Mountain. Love how that dude travels solo on Alaska Airlines and takes selfies with random Alaskans.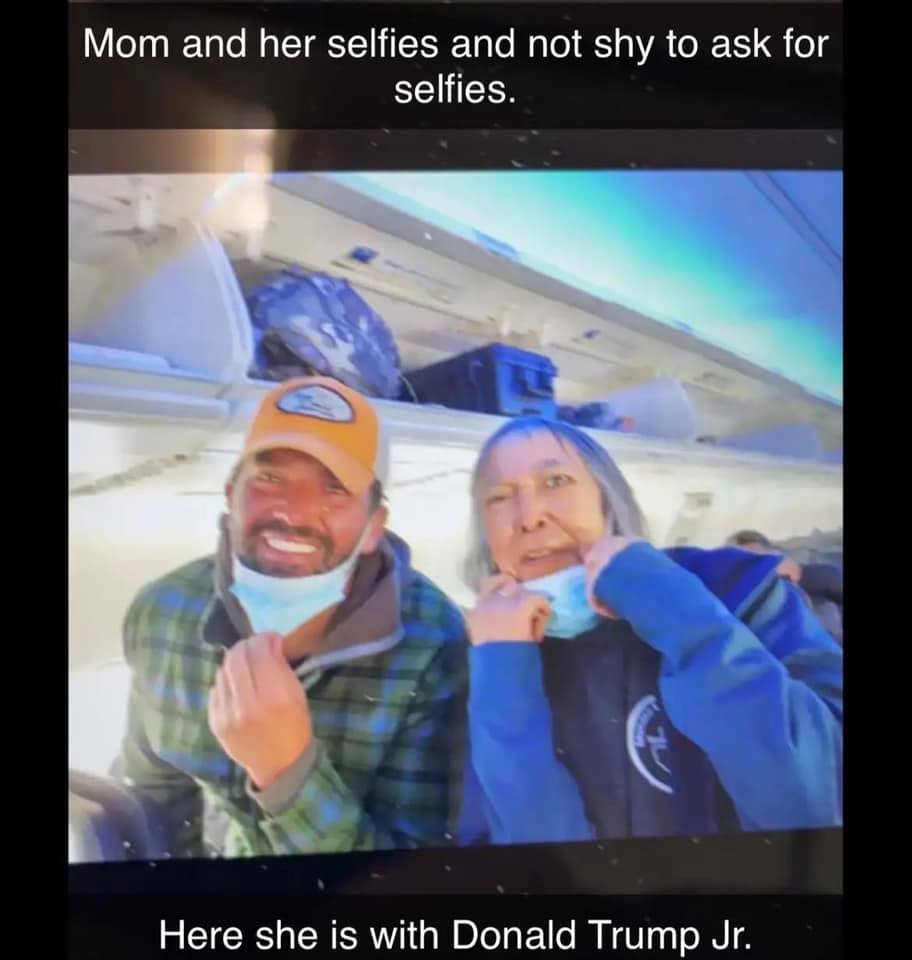 Ballots started going out in the mail this week for the Anchorage mayoral runoff between Dave Bronson and Assemblymember Forrest Dunbar. The election concludes on May 11. Both candidates have been racking up endorsements and raising money. There are also several active independent expenditures groups involved in the race. Look for a lot of money to be spent between now and the end of the election.
This Week's Loose Unit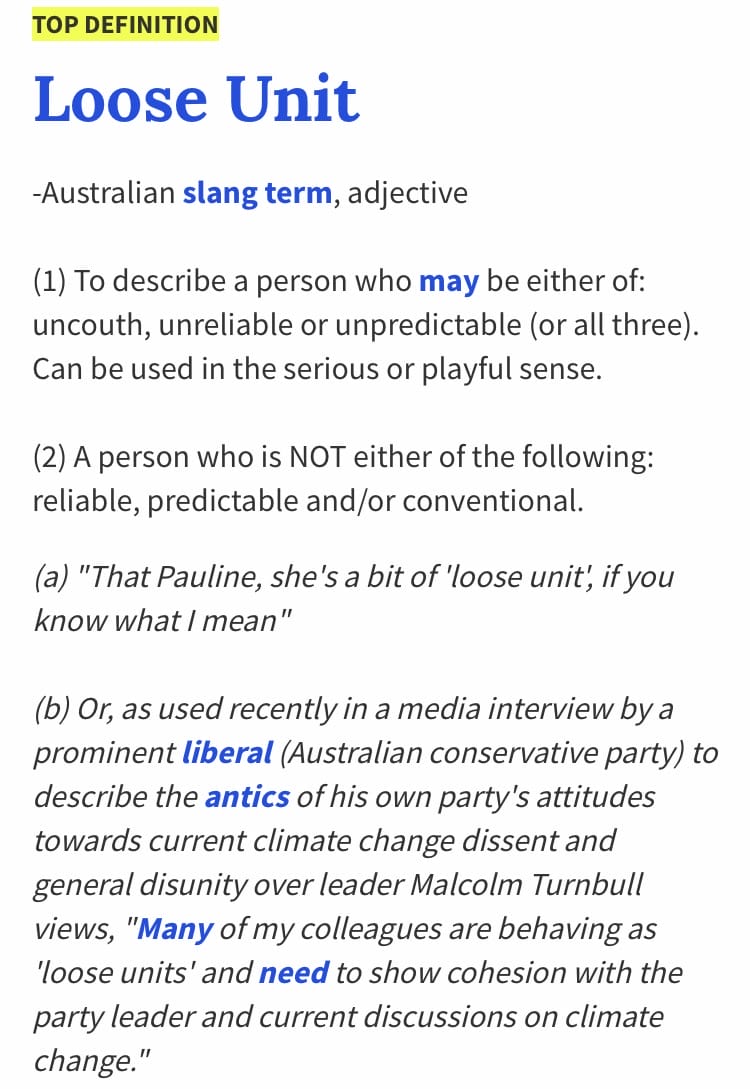 At this point I think I just need to make Senator Lora Reinbold an honorary lifetime Loose Unit. There is just not enough space. After being removed as chair of the Senate Judiciary Committee this week, one would have thought that would be enough for her. But in classic Reinbold fashion, she was banned from Alaska Airlines yesterday for refusing to wear a mask and being caught on video going full Karen at the Juneau airport. Thanks to the person who sent me the video!
But Reinbold is not the only Loose Unit this week. Senate leadership ties. On Monday, the Senate Committee on Committees held a 1 minute and 27 second meeting Soviet style meeting that removed Reinbold as chair of the Senate Judiciary Committee. Zero explanation was given. The meeting was so fast I was not even able to finish my tweet about it before it was over. Super loose. The Senate later adopted the report 17-1, with Reinbold being the sole no vote. Again, no explanation was given to the public. Senate President Peter Micciche (R – Soldotna) went on the Dan Fagan and Michael Dukes shows later in the week, after Reinbold went scorched earth on Micciche and her other colleagues. Very loose. Micciche again would not give a reason why she was removed, but rather made some obscure sports analogies about getting Reinbold back in net and back on the field. He said she could be chair again if she improved. Classic Loose Unit. Granted this was before the Alaska Airlines ban.
I don't know if Micciche is a masochist or just fearful of Reinbold's supporters, but it should be real simple to explain why she was removed. And what is even more loose, after all of this and all that she has said and done to her colleagues in the Senate Majority, she is still part of it and still vice chair of Legislative Council. Talk about loose! Oh, and for some icing on the cake. The story about Reinbold getting banned from Alaska Airlines is on the front page of Reddit.
If you have a nomination for this week's Loose Unit, or if you have any political news, stories or gossip (or any old pics of politicians or public officials) please email me at jeff@alaskalandmine.com.