Spring is in the air all over Alaska! There's just over three weeks left until the constitutional session limit and the Senate has not yet passed the budget. Things in Juneau will start heating up soon. The Alaska Republican Party (ARP) held their convention this weekend in Fairbanks. I was escorted out of the congressional candidate forum Saturday morning by ARP Chair Ann Brown's goons. She would have done well in the Soviet Union. And thanks to the geniuses behind Recall Dunleavy, three progressive members of the Palmer City Council were recalled this week.
A friendly message and reminder to all our readers. The Landmine is made possible by myself and a team of awesome Alaskans. It takes a lot of work to provide the content we do. I am back in Juneau to report on the Legislature. Living in Juneau for session is not cheap. If you enjoy the content we provide, please consider making a one time or recurring monthly donation. You can click here to donate. We have a donation system that makes it super easy. We would really appreciate it. And thanks to everyone who has been supportive!
Operating budget making its way through Senate
The following is an excerpt from this week's edition (4/21/2022) of the Alaska Political Report. You can click here for more information about the Alaska Political Report. A subscription is $1,299/year per organization. Discounted pricing is available for non-profits and government entities. We will be providing extensive election coverage this year in addition to our session coverage. If you have any questions or would like to subscribe, please email jeff@akpoliticalreport.com.
We're tracking the Senate Finance Committee's work on the operating budget, and plan to have a more complete breakdown soon. Earlier this week, the finance committee adopted a committee substitute for their version of the budget. They heard amendments for the House version today. Some noteworthy items include:
The committee substitute includes a provision that all oil revenue over $100/barrel will be deposited into the Permanent Fund.
The committee voted down an amendment from Anchorage Democratic Sen. Bill Wielechowski for a full statutory dividend — roughly $4,300 — on a 4-3 vote.
The committee passed out Senate Bill 199, which addresses the dividend amount. Under the legislation, there would be a 50/50 PFD this year — approximately $2,600 — and then the dividend would go to a 25/75 split of the POMV transfer, where 25% would go to dividends and 75% would go to government. But the bill includes a conditional provision that if "the commissioner of revenue and the director of legislative finance jointly agree that revenue measures anticipated to generate at least $800 million of new annually recurring general fund revenue, when compared to annual revenue generated from the statutes as they read on June 30, 2022," a 50/50 dividend would be triggered. In sum: Significant taxes would result in a higher PFD.
Sitka Republican Sen. Bert Stedman, who co-chairs the committee, told us that members are still working out some issues with the budget. It is scheduled to be heard again Wednesday at the committee. He also told us his goal is to get out of Juneau a few days before the constitutional 121-day limit of May 18. If the committee passes out the budget next week, it would not be debated in the Senate until the following week. If the Senate passes the budget the week after next, that would leave a few weeks for them to work out the differences with the House through a conference committee.
Alaska Republican Party Convention 
The Alaska Republican Party held their biennial convention this weekend in Fairbanks at the Westmark Hotel. Hundreds of delegates and Republican officials from around the state showed up. These included Senator Dan Sullivan (R – Alaska), Governor Mike Dunleavy (R – Alaska), Senate President Peter Micciche (R – Soldotna), and House Speaker Louise Stutes (R – Kodiak). Stutes – who is seen as a traitor by many Republicans for joining with mostly Democrats, a few independents, and Representative Kelly Merrick (R – Eagle River) to form a majority – was not introduced at the convention even though she was in the room. Seems like a great strategy of getting her to work with them next year… The Republicans also barred Merrick from participating in the convention and charged her to attend.
The banquet Friday night featured Senator Sullivan, who gave a pretty long speech, Ronna Romney McDaniel, the chair of the Republican National Committee, and Congressman Brian Mast (R – Florida). Shout out to Craig Campbell for calling Ann Brown's goons off me and letting me stand outside the banquet room to listen to the speeches. Campbell was vice-chair of the ARP but did not run for re-election. He was replaced by Mike Robbins, who ran unopposed. Campbell has always been nice to me and treated me with respect. The same cannot be said for Ann Brown, whose leadership style can best be described as tyrannical. Truth and honesty are not traits Brown seems to be familiar with. She was easily re-elected chair at the convention. Donald Handeland, who lives in Eagle River, challenged her but only garnered 27% of the vote.
Saturday morning featured a kind of debate with the five leading Republican candidates in the special congressional election: Senator Josh Revak (R – Anchorage), former Governor Sarah Palin, former Senator John Coghill, Tara Sweeney, and Nick Begich. I came to observe but Ann Brown's Soviet style minders removed me. I will add, I had emailed her about a press credential and sent her a follow-up text, both of which went unanswered. The ARP's mouthpiece Suzanne Downing was welcomed at the convention and given free rein. She live streamed the debate, which allowed for easy viewing. Most of the candidates went after Begich, who was endorsed by the ARP on Thursday. He had asked for the endorsement at the previous central committee meeting in March, but the other candidates saw it as an unfair and coordinated advantage. A motion on Saturday to endorse all of the candidates at the debate was narrowly defeated. So Begich is the only candidate with the ARP endorsement. Revak went after Begich for voting for Ethan Berkowitz for mayor in 2015 and Mark Begich for Senate in 2014. Sweeny took a shot at Palin, stating, "I'm a Ted Stevens Republican, not a Ted Nugent Republican." Palin is a friend of Nugent and looked at bringing him to the convention. But the hotel was sold out and party types were against it. After, candidates spoke to the press in a separate room (I was allowed in there thanks to Fairbanks Republican Cheryl Markwood). Palin told me she was surprised by the comment. She told me, "I'm a Ted Nugent Republican, and a Kid Rock Republican, and a Jay Hammond Republican."
Dunleavy spoke at yesterday's lunch. A lot of his speech focused on national issues. It appears he thinks is his path to winning re-election is focusing on very divisive national issues rather than state issues. It will be interesting to see how his opponents respond to that. There was speculation Dunleavy would announce his running mate at the lunch, but he did not. He later told ADN reporter Nat Herz he will make the announcement in a week. The ARP also voted to endorse Republican gubernatorial candidate Charlie Pierce and his running mate Edie Grunwald. This means they have now endorsed Dunleavy and Pierce. Party on. Representative Christopher Kurka (R – Wasilla), who is also running for governor, had a booth at the convention with a #FireAnneZink petition.
Other Happenings
Suzanne Downing's attacks on Josh Revak and promotion of Nick Begich continue. I'm sure she is supporting Begich because she believes in him, not because she is getting paid to. But her attacks on Revak have a deeper explanation. Before she started going after Revak and Palin and any Republican that is not named Nick Begich, she set her sights on the late Don Young. Begich filed to run against Young when he was still alive and running. Downing's attacks on Young angered and frustrated many of Don Young's longtime supporters, including Art Hackney. Downing had rented office space from Hackney. But after the vicious attacks on Young, and then Revak, Hackney did not want her around his office anymore. Revak previously worked for Young and was a co-chair of his campaign. Hackney is a supporter of Revak. So, not surprisingly, Hackney told her to pack up and leave. She did not take that well. During her subsequent meltdown, she told Hackney her top priority will be to destroy Josh Revak. And now she's out for revenge. Remember that next time you see her attack Josh Revak, a Purple Heart recipient who fought for his country in Iraq.
Several people have pointed out to me that the Blue Alaskan published an article in which they state they will soon reveal themselves. In the article, they refence my $1,000 reward and ask that it be donated to Identity Inc. and the Anti-Defamation League. First, I'll say that I believe this stunt to be misdirection. My investigation has led me to believe there is an organized group behind the Blue Alaskan, not one person. It appears, in order to deflect from the others involved, they are willing to put someone out there as the face to protect the group. One person who seems to be a likely player in the group is Anna Brawley. Brawley sits on the Budget Advisory Commission and regularly attends Assembly and other municipal meetings. She is friends on Facebook with dozens of progressive leaders in Anchorage. She wrote an ADN op-ed last year calling on readers to vote for progressives in the mayoral election. A credible eyewitness reported seeing Brawley take action that immediately ended up on the Blue Alaskan's social media. If she is associated with the Blue Alaskan, which my investigation has led me to believe is a high probability, protecting her would make sense. I will be interested to see who comes forward and what actual evidence, if any, they offer that proves they are a part of the Blue Alaskan network.
Senator Dan Sullivan addressed a joint session of the Alaska Legislature on Tuesday (4/19/2021). You can watch it here.
Anchorage Mayor Dave Bronson was in Juneau this week. He is going full court press on trying to secure funding for the Alaska Port. He released a pretty hard hitting video this week laying out what would happen if the port goes down and how costs will go up if the city has to rely on private financing.
Sources report Elwood Brehmer is leaving the Alaska Journal of Commerce after almost ten years as a reporter. Best of luck on your next endeavor, Elwood.
This Week's Loose Unit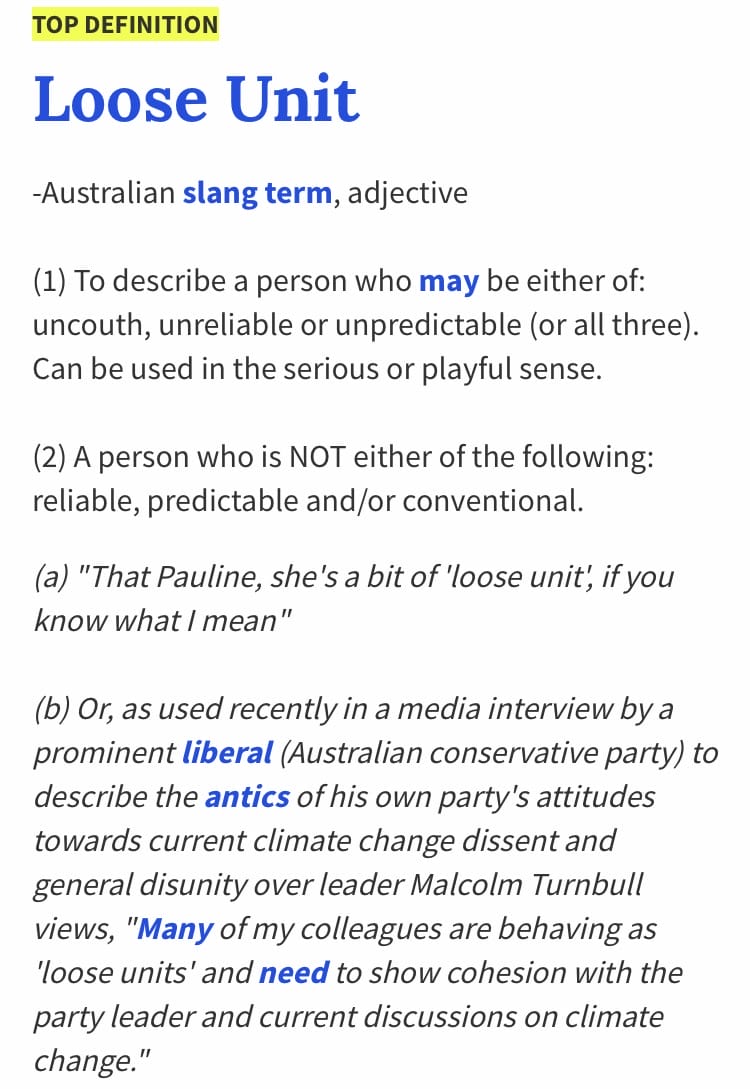 This week's designee is a bit of a throwback, but nonetheless relevant. This week's Loose Unit is al the people behind Recall Dunleavy. This week, three progressive members of the Palmer City Council were recalled after a ridiculous recall petition was approved for their membership in a closed Facebook group. The members are Sabrena Combs, Brian Daniels, and Jill Valerius. The highly partisan people behind the Palmer recall, including two real wackos named Cindy Hudgins and Jackie Goforth, took a play right of the Recall Dunleavy playbook. They claimed the council members presence in the Facebook group Mat-Su Mom's for Social Justice was a violation of the Open Meetings Act. I guarantee Cindy Hudgins and Jackie Goforth had never heard of the Open Meetings Act before this recall. They just found a dumb reason to get a recall petition going against progressive politicians they didn't like. You see, after the Recall Dunleavy people went all the way to the fucking Supreme Court with their recall nonsense, the door was opened for recalls on demand. I predicted this back in 2019, but supporters of Recall Dunleavy said I was wrong. They believed their cause was righteous and would not have any repercussions. Hyper loose. Remember the recall attempts against Anchorage Assembly members Felix Rivera and Meg Zaletel? Another predictable, wasteful, and expensive result of Recall Dunleavy.  And the ironic thing is the success of the recall had little to do with the Facebook group. It had to do with the idiotic decision of the Greater Palmer Chamber of Commerce in March to change the name of Colony Days to the Braided River Festival. The backlash was fierce, and the Chamber soon changed the name back. But the damage was done. Voters conflated the Chamber's dumb decision with the recall against the Palmer council members. And with a 20% turnout, they were recalled. Nice work, Recall Dunleavy! You successfully contributed to the recall of three progressives in Palmer. About as loose as it gets.
If you have a nomination for this week's Loose Unit, or if you have any political news, stories or gossip (or any old pics of politicians or public officials) please email me at jeff@alaskalandmine.com.