It's almost day 100 of the legislative session, which means just over three weeks remains until the constitutional 121-day limit. After a delay, the House finally passed the operating budget on Monday (4/17/2023) and sent it to the Senate. There is no concrete plan between the House, Senate, and Governor Mike Dunleavy (R – Alaska) on how to get out of town. And they don't seem close to putting one together. But despite that, the sun has been out in Anchorage and Juneau and everyone can agree they do not want to be in Juneau for a summer special session. That usually trumps political ideologies. So there may be hope!
A friendly message and reminder to all our readers. The Landmine is made possible by myself and a team of awesome Alaskans. I am back in Juneau for the fifth session in a row to report on the Legislature. If you enjoy the content we provide, please consider making a one time or recurring monthly donation. You can click here to donate. We have a donation system that makes it super easy. We would really appreciate it. And thanks to everyone who has been supportive!
As session clock ticks down, the Legislature has no clear end game in sight
The following is an excerpt from this week's edition of the Alaska Political Report. You can click here for more information about the Political Report. A subscription is $1,299/year per organization. Discounted pricing is available for non-profits and government entities. Our coverage of the budget starts with the governor's proposed budget in mid-December and we track everything in detail through the entire process. If you have any questions or would like to subscribe, please email jeff@akpoliticalreport.com.
With just over three weeks left until the constitutional session limit of 121 days, there is no plan between the mostly-Republican House majority, the bipartisan Senate majority and GOP Gov. Mike Dunleavy to get out of town. But an array of proposals are swirling that could help balance Alaska's budget — from reduced Permanent Fund dividends to taxes to spending from savings.
The primary problem is that the House and Senate remain far apart on three essential issues: the size of the Permanent Fund dividend, use of the Constitutional Budget Reserve savings account, and new revenues to fill an expected budget hole.
On top of that, Dunleavy has not made any public comments on the budget or dividend in a full month — since a press conference on the Spring Revenue Forecast — and even those comments were vague.
While Dunleavy has not spoken publicly on the budget, he has been engaging with legislators — a notable break from the early years of his first term, when lawmakers complained that he was trying to score political points more than build effective working relationships.
On Tuesday, Dunleavy met separately with members of the House and Senate in the gym in the Terry Miller Building behind the Capitol. The meetings were not open to the public or media, but we spoke to several legislators who attended.
In the meetings, Dunleavy's chief of staff, Tyson Gallagher, and Budget Director Neil Steininger presented different budget scenarios on an Excel spreadsheet. Inputs included different revenue options and the size of the dividend. But Dunleavy did not indicate a preference for a precise plan — only that he seemed to favor a sales tax.
During a Senate majority press conference yesterday, Kodiak Republican Senate President Gary Stevens said that Dunleavy wants the Legislature to consider a 2% sales tax, which is estimated to raise $450-900 million, depending on exemptions. But in response to a question from Anchorage Daily News reporter Sean Maguire, Stevens said the tax was one idea that Dunleavy wants lawmakers to consider — but acknowledged he has not said that publicly.
Sitka Republican Sen. Bert Stedman, co-chair of the Senate Finance Committee, told the Political Report that he appreciated the presentation — though he added that it lacked the detail of the budget information shared at his own committee meetings.
"The issue is not the math," he said. "It's the inputs."
One of those inputs is the size of the dividend. Dunleavy proposed a full statutory dividend with his initial budget plan, but the House reduced that to a 50/50 PFD.
Even with that reduction, the House budget would still pay a dividend of $2,700 a person, and still run at a substantial deficit based on the Spring Revenue Forecast. And the majority failed to get the three-fourths vote needed to fill that deficit using savings from the Constitutional Budget Reserve, leaving a $400 million gap.
The Senate, which now has the operating budget, seems set on a smaller, 25/75 dividend — roughly equal to $1,350 a person. The majority of the Senate Finance Committee — and likely even the entire Senate — do not support raising or creating taxes, or using the CBR, in order to pay a larger dividend. Even the House majority, whose dividend would cost some $1.7 billion, does not seem to have the appetite for any revenue measures.
Nikiski Republican Rep. Ben Carpenter, who chairs the House Ways and Means Committee, introduced a sales tax bill last month. But it has yet to move out of that committee for consideration at the finance committee — where its passage is far from guaranteed. Even if Dunleavy introduces his own sales tax bill, the odds of it getting through both legislative chambers, this late in the session, are low.
There is one scenario that could speed things up. The Senate could send the operating budget back to the House with a reduced dividend and a one-time increase in student spending that does not rely on a draw on the CBR, eliminating the need for a three-fourths vote. The House could then vote to agree to those changes, avoiding a conference committee.
All 16 minority members would likely vote for that — which means only five members of the majority would be required to get to the needed 21 for concurrence. This scenario could lead to a finalized budget — but it would also wreak havoc on the House majority, as most of its members would likely oppose the smaller dividend proposal.
That scenario, or even a compromise budget from a conference committee with a reduced dividend from the House proposal, could be fully or partially vetoed by Dunleavy. And he has not made clear what he will do if that happens.
The Political Report spoke to Dunleavy — who has avoided the press for a month — at the Anchorage airport Tuesday night, but he shared little about his strategy. When asked what he would do if the Legislature sent him a budget with a dividend lower than 50/50, he said, "That would be sad, wouldn't it?" But he would not elaborate. Asked if he plans on introducing a sales tax, he said, "They say a lot of things, don't they?" When asked if a dividend lower than the House's 50/50 plan would be a non-starter, he said, "We'll see what happens.
With no clear agreement between the House and Senate, and the ambiguity from Dunleavy, numerous possibilities exist to get out of town, including a special session. One dynamic working in favor of a smooth(ish) adjournment: All the key factions, from the governor's office to the House and Senate majority and minority caucuses, are talking, and legislative leaders appear to have functional working relationships with the governor.
We are watching things closely and will report on any developments as we learn them.
Other Happenings 
A big shout out to all my friends and family who came to the Alaska Journal of Commerce Top 40 Under 40 event on Friday night at the Captain Cook. And also a big shout out to the other 39 people who were honored this year. Governor Dunleavy and Senator Dan Sullivan (R – Alaska) both made remarks. Legend level status for Sullivan saying, "The ultimate loose unit!" after giving me a mention during his remarks. Lieutenant Governor Nancy Dahlstrom (R – Alaska) was also in attendance as well as several legislators. It was an awesome night!
So thankful to all my friends and family who came to the @AlaskaJournal Top 40 Under 40 event last night to support me. My parents flew up from New Mexico!

A big thanks to everyone who nominated me and all the people in my life who helped me achieve success. And way to go to… pic.twitter.com/r5hzV3kOfz

— Jeff Landfield (@JeffLandfield) April 23, 2023
Senate Bill 107, a bill that changes the Permanent Fund Dividend formula to a 25/75 dividend with the option to pay a 50/50 if enough new revenue is raised, passed out of the Senate Finance Committee this week. It is now in the Senate Rules Committee, meaning it could go to the floor for a vote. This Landmine article explains a rare public fight in the Senate Finance Committee about changing the revenue numbers required to pay a 50/50 dividend. In a 4-3 vote, Senator Bert Stedman (R – Sitka) was able to get the amount raised from $900 million to $1.3 billion, plus a minimum CBR balance of $3.5 billion. But if it goes to the floor, look for Senator Lyman Hoffman (D – Bethel) to try to get the number back to $900 million. If the bill does pass the Senate, it's unlikely the House will pass it. But it does put the House and Dunleavy in an awkward position – they want a 50/50 dividend but don't seem keen on raising revenue to pay for it. If the Senate passes the bill, it essentially puts the House and Dunleavy in a check-mate situation.
House Bill 105, Dunleavy's bill about sex education, has yet another hearing for invited and public testimony tomorrow morning at 8 am in the House Education Committee. Let's see if Representative Jamie Allard (R – Eagle River) can finally get her people out! And speaking of Allard, one of her two staffers quit this week after he finally had enough. Kudos to him for lasting as long as he did. It could not have been easy.
This Week's Loose Unit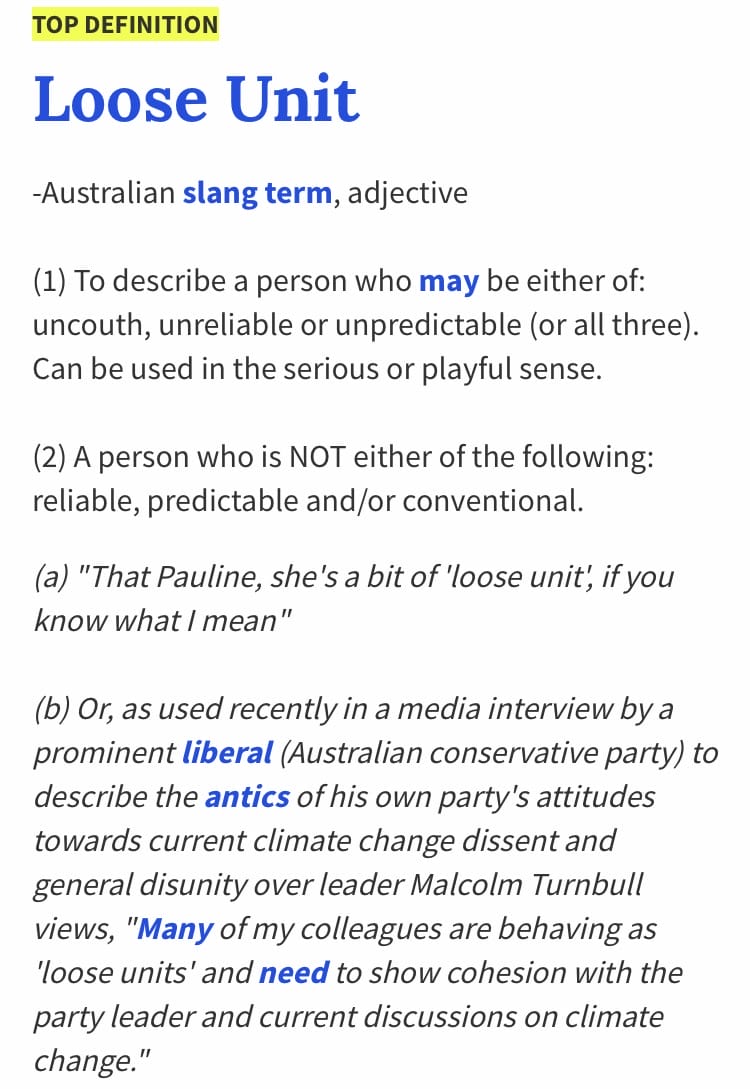 In the more than five years the Loose Unit has been around, there are a very few number of people I thought would never be the Loose Unit. One of those people proved me wrong this week. This week's Loose Unit is Representative Andi Story (D – Juneau). Story is one of the nicest people you will ever meet. If I ever saw her yell or get mad, I'm not sure what I would do.
But during the vote on the budget, Story embraced her inner Loose Unit. After the budget passed and the CBR draw failed, it was time for the effective date vote. Per the Alaska Constitution, bills are effective 90 days after being passed unless two-thirds of each body agree to a sooner date. In the House, that is 27 votes. Two years ago, House Republicans decided to play fast and loose with the effective date vote. Because the fiscal year starts on July 1, any budget passed after April 1 needs an effective date vote. It eventually got resolved days before a potential government shutdown. No one really knew what would have happened as this situation was so loose it was unprecedented.
Anyhoo, when the vote for the effective date happened, it got exactly 27 votes. But when the representatives had the opportunity to change their vote, Story switched from yes to no – killing the effective date vote! You can watch the vote here. This is definitely classic Loose Unit behavior. But Andi Story doing it makes it that much better. We would expect this kind of loose behavior from a lot of people, but not Story. I actually respect the fuck 'em attitude. The effective date issue can get fixed in a concurrence vote or after a conference committee. But it's pretty loose the House sent the Senate a budget with an unfilled deficit and without a proper effective date.
If you have a nomination for this week's Loose Unit, or if you have any political news, stories or gossip (or any old pics of politicians or public officials) please email me at jeff@alaskalandmine.com.