It's day 90 of the legislative session and neither the House nor Senate have passes an operating or capital budget. The House punted the operating budget all week, but it looks like they may finally take it up tomorrow. Folk Fest was in full swing this week in Juneau. There was no shortage of the aroma of marijuana around town. Several people were stuck in Juneau while flights were grounded due to the volcanic eruption in Kamchatka, Russia. And Juneau's first cruise ship of the season is due in tomorrow!
A friendly message and reminder to all our readers. The Landmine is made possible by myself and a team of awesome Alaskans. I am back in Juneau for the fifth session in a row to report on the Legislature. If you enjoy the content we provide, please consider making a one time or recurring monthly donation. You can click here to donate. We have a donation system that makes it super easy. We would really appreciate it. And thanks to everyone who has been supportive!
As Senate inches forward, budget stalls in the House
The following is an excerpt from this week's edition of the Alaska Political Report. You can click here for more information about the Political Report. A subscription is $1,299/year per organization. Discounted pricing is available for non-profits and government entities. Our coverage of the budget starts with the governor's proposed budget in mid-December and we track everything in detail through the entire process. If you have any questions or would like to subscribe, please email jeff@akpoliticalreport.com.
In the first two months of this year's legislative session, Alaska's budget process looked to be on track to finish smoothly. But now, there are signs of new tensions around the Permanent Fund dividend and deficit spending that could send the House, Senate and governor into gridlock.
The House majority opted to not take up the operating budget during its floor session Wednesday. After finishing amendments last Thursday, the bill was moved to third and final reading. Several members were not present Monday after the Easter holiday, so the bill was moved to Wednesday's calendar. It is now calendared for Friday's floor session, but it's far from clear if members will pass it then, or if it will even be taken up. When we spoke to several members of House leadership about what the plan is, their answers were vague.
Also on Wednesday, the three finance committee co-chairs from each chamber, plus the Senate president and House speaker, met to discuss the budget.
Our reporting indicates that the mostly-Republican House majority's main concern is that if they pass their operating budget and send it to the Senate, the Senate will hold all of the Legislature's appropriation bills, including the capital budget, as well.
House leaders want to make sure that the Senate will send them the capital budget once the House passes the operating budget. As we reported in last week's edition, the House majority fears that if the Senate holds all the appropriation bills, they could send the House a "turducken" — the capital, supplemental and operating budgets all merged into one document. This would force the House to take a yes or no vote on all three budgets at once — preventing them from writing their own capital budget that could be merged with the Senate version during the typical end-of-session negotiations. Senate leadership has said they have no plans to cook up a turducken — but there is not a great deal of trust between the leaders of the two chambers.
Another factor is GOP Gov. Mike Dunleavy. Even if the House and Senate reach a budget deal, the governor has veto power. Ideally, he would be part of any deal that is made. Another meeting is set for Friday morning with Dunleavy, the three finance committee co-chairs from each body and the House speaker and Senate president, where budget matters are expected to be discussed. But as the days tick off without movement toward a compromise, talk has been building about a special session — an outcome many legislators want to avoid, especially the ones with kids and jobs.
Any deal that could be reached will likely hinge on the amount of the dividend. The House majority approved a 50/50 dividend — meaning that Permanent Fund revenues are split evenly between government spending and the PFD — which would allocate around $1.7 billion for PFDs. This was a major concession for many majority Republicans, who support spending the bulk of the Permanent Fund revenues, or roughly $2.5 billion for a statutory PFD. Going below the 50/50 amount is unacceptable to several members of the House majority. But the conversation in the Senate is centered on an even smaller, 25/75 dividend — with just $850 million going toward PFDs.
Bethel Democratic Sen. Lyman Hoffman, one of his chamber's finance committee's co-chairs, supports Senate Bill 107. That legislation would set the 25/75 dividend in state law, but the PFD could increase to a 50/50 split if lawmakers approve a way to generate $900 million in new revenue by 2036. The bill was scheduled for a hearing Wednesday in the Senate Finance Committee, but the hearing was canceled. Sitka Republican Sen. Bert Stedman, another finance co-chair, had an amendment to boost the new revenue requirement to $1.3 billion, in a shorter period of time. Stedman likely had the four votes needed to pass the amendment in the seven-member committee, and Hoffman was out of town. Given that the committee is divided on the proposal, they opted to cancel the meeting to avoid a public squabble. They are attempting to negotiate a compromise before the bill is heard.
Other tensions between the House and Senate persist over the Constitutional Budget Reserve — Alaska's last significant savings account. Based on the recent Spring Revenue Forecast, the House budget balances the budget with a large draw on the CBR, which holds just over $2 billion. Senate leadership does not want to use savings in order to pay a large dividend.
At this point the big takeaway is that while there are several big-picture plans and ideas floating around that could lead to a major compromise and adjournment, there's still no agreement on a unified plan. Based on multiple conversations we have had with House leadership, it is unlikely that that chamber will pass the budget tomorrow. Instead, look for a final vote next week.
We are tracking all of this closely and will provide updates as needed, including a detailed breakdown of the changes made to the operating budget on the House floor once it passes. We will also have a breakdown of all the Senate finance subcommittee closeouts, once those are finished.
Other Happenings 
Sources report ConocoPhillips hired Tara Sweeney as their new VP of external affairs. She replaces Ben Stevens, who tragically passed away last year. Sweeney unsuccessfully ran for the late Don Young's seat last year. She previously served as Assistant Secretary of the Interior for Indian Affairs in the Trump administration.
The Senate Finance Committee introduced a committee substitute for Senator Bill Wielechowski's (D – Anchorage) oil tax bill this week. The committee substitute leaves in the S-corp tax provision and reduction of the per barrel credit but removed the complex ring fencing provision. Even if it passes the Senate, it has a bleak outlook in the House.
The Senate Finance Committee also heard Senator Löki Tobin's (D – Anchorage) bill to increase the Base Student Allocation. Senator Bert Stedman (R – Sitka), one of the finance co-chairs, made it clear that adding obligations to the budget need to be met with a way to pay for them.
The Senate Finance Committee is hearing Sen. Tobin's bill to raise the Base Student Allocation. Sen. Stedman, "I know this is an Education Committee bill but this is the Finance Committee, and somebody's gotta pay the bills." #akleg

— The Alaska Landmine (@alaskalandmine) April 13, 2023
Former Senate President Gene Therriault has been spotted a lot in the Capitol this session. He is not a registered lobbyist but has been meeting with legislators on a naturopath bill and on the food bank in Fairbanks.
This Week's Loose Unit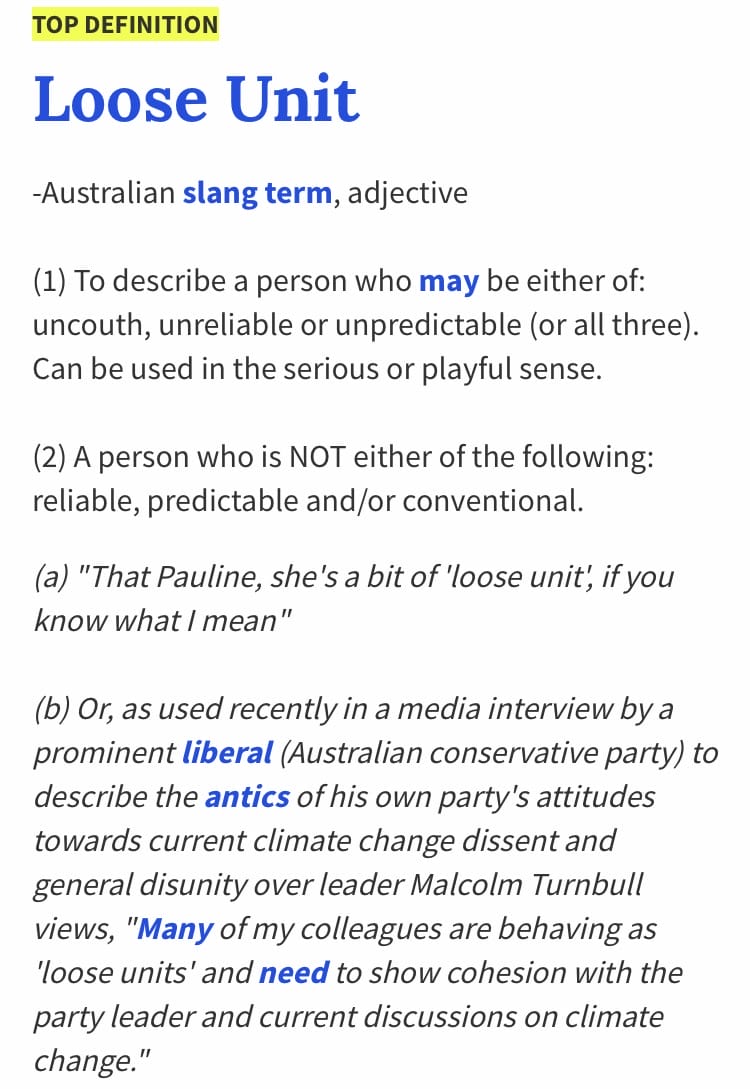 As session goes, it was a pretty quiet week for loose behavior. Legislators were coming off the Easter weekend so things were not as busy as normal. And that is the crux of this week's designee. This week's Loose Unit is the Legislature and Governor Mike Dunleavy (R – Alaska). It's day 90 of session and no budget has passed the House or Senate. There is a statute that says the session should be 90 days. It is rarely followed but yet it remains on the books. That by itself is loose.
But with just 30 days left until the constitutional limit, there is no clear end in sight. And there has been no real communication from Dunleavy or legislative leaders on what the plan is. The House version of the operating budget, which they have yet to pass, includes a 50/50 dividend and a substantial deficit. The Senate seems to be moving toward a 25/75 dividend, but even they have disagreements on how to get there. The lack of communication makes it apparent that no one really knows what is going on. And worst of all is Dunleavy. I have spoken to legislators from all the caucuses. He seems to be telling everyone what they want to hear, yet is not communicating with the public. It's easy to tell people in private meetings something. It's different telling it to the public.
Based on conversations I've had, Dunleavy seems open to a sales tax and raising oil taxes to pay a 50/50 dividend (remember he used to want FULL PFD!). But in the past he has repeatedly said any tax increase needs to be approved by the voters. In any case he won't say publicly what he wants to it's really anyone's guess. And don't forget Dunleavy's healthy proposed budget that the House Republican-led majority left essentially intact minus the reduction to a 50/50 dividend from a full statutory dividend.
This is what happens when no one is in charge or willing to stand up and lead. This state has big problems that require big solutions to fix – the biggest being the dividend. But with no one stepping up to lead, we are left where we have been for the last seven years. In addition to being loose, it's also depressing.
If you have a nomination for this week's Loose Unit, or if you have any political news, stories or gossip (or any old pics of politicians or public officials) please email me at jeff@alaskalandmine.com.