Governor Michael J. Dunleavy (R – Alaska) named Amanda Price his Commissioner of the Department of Public Safety in December, right after he took office. Price had previously worked as deputy campaign manager on his campaign for governor, but left to manage Edie Grunwald's campaign for lieutenant governor. After she was named Commissioner, I was contacted by multiple people that expressed a variety of concerns with her appointment.
One claim was that she had taken credit for work that was not hers while working for former Governor Bill Walker. Price worked as a special assistant on crime policy and prevention before being let go (she claims she quit). The allegation, from multiple sources, was that she had sent out emails on criminal justice reform and suicide prevention. The emails included white papers that she claimed were her work. It was later discovered that the white papers were in fact not her work.
I decided to submit a records request in order to see if the allegations were true. And if so, determine if she actually put her name on the work or if she just took credit in the text of the email. On January 30, 2019, I sent the following request to Angela Hull, Director of Correspondence and Constituent Relations for Governor Dunleavy.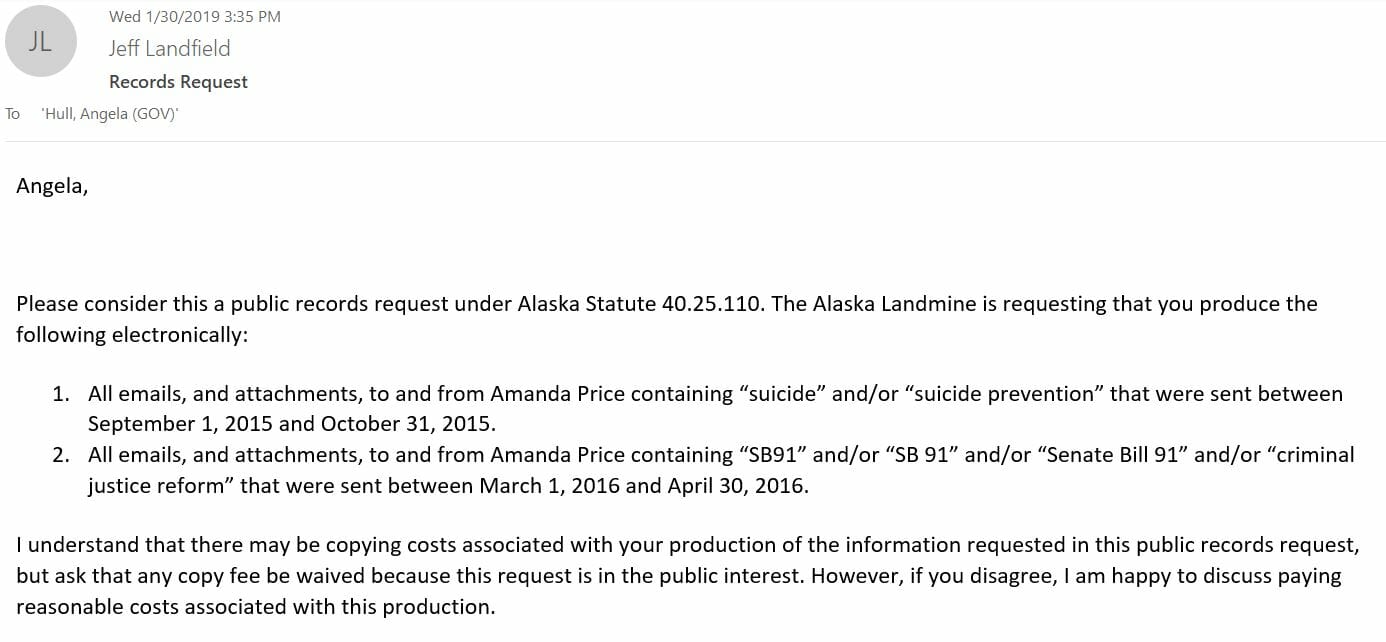 Alaska Administrative Code 96.325, Response to request; time limits, states that agencies have ten working days to respond to a records request. They either must provide the information, advise the requestor that the information is non-disclosable, or ask for an extension. It has been over two months since I sent the request and I still have not received the emails.
Hull responded with this after I sent the request:

I immediately responded, "Yes, please send me a cost estimate." I did not receive a response. On February 20, almost three weeks after the initial request, I sent a follow-up email saying, "What is the status on this?" No response. On February 25, I sent another follow-up email saying, "Can you please provide me with an update on this? I made the request on January 30." No response. On March 4, I sent yet another follow-up email saying, "Any update on this? It's been over a month since I sent it." Finally, she sent me this reply on March 5: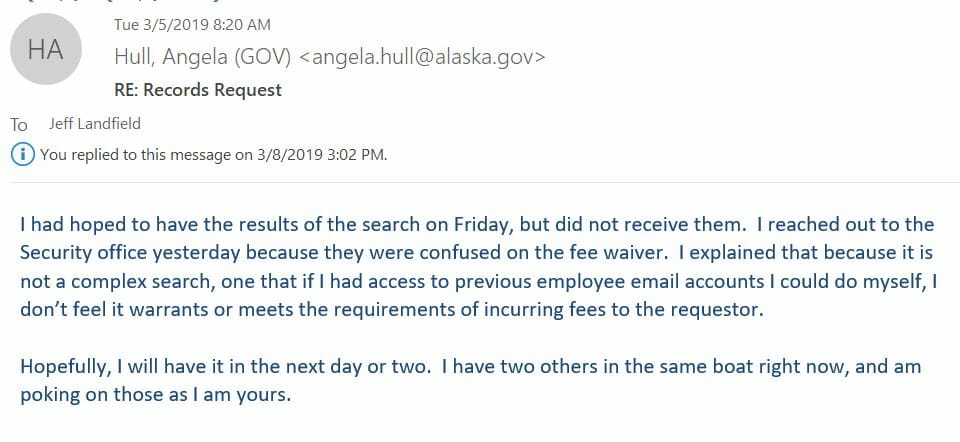 Then, on March 8, she sent me this email: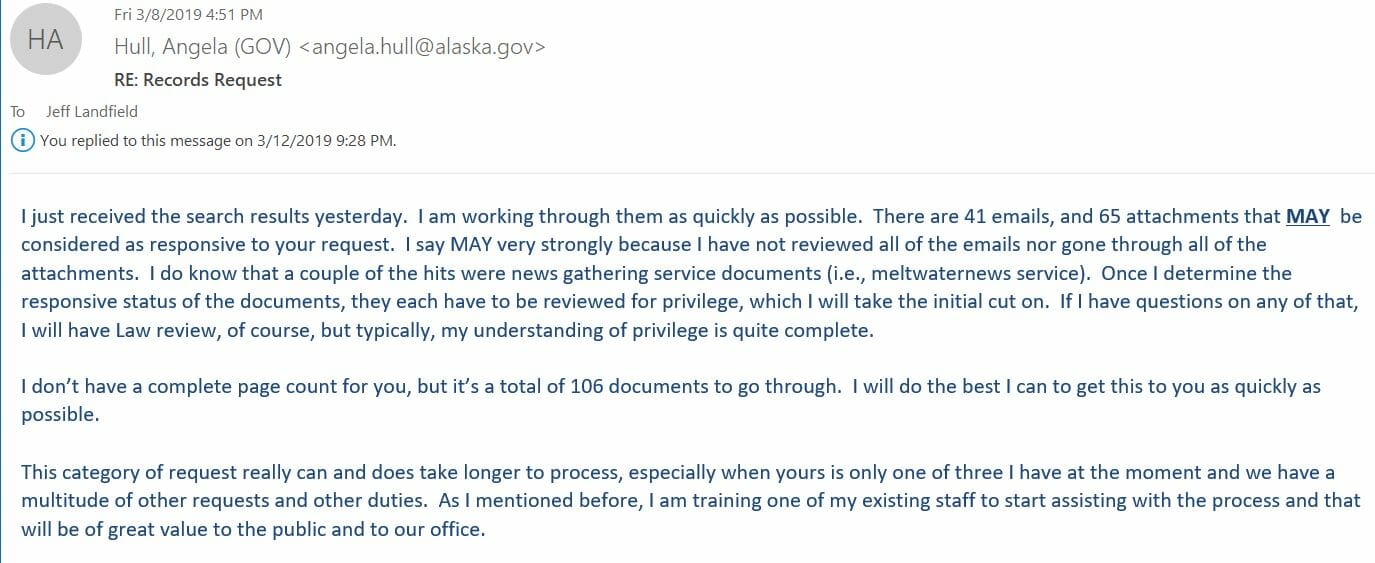 On March 12, I sent this email: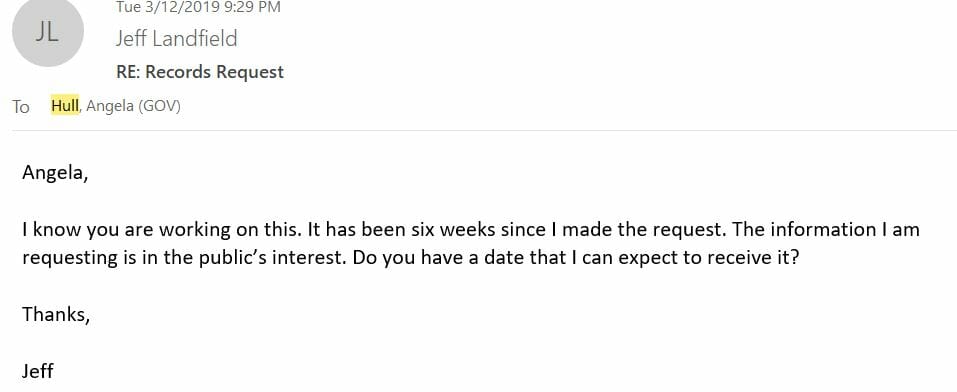 I received this response the next day:

At this point I started to really wonder what was going on. I don't know whether Hull is withholding the records or is being directed to stonewall me, though I suspect the latter.
On March 15, she sent me this email:

And finally, on March 21, she sent me this email:

I have not heard back from her since this email. Plagiarizing is a serious offense, especially when you are going to be the head cop in Alaska. The Dunleavy administration is not only violating the law on response to records requests, it seems they are just refusing to release the requested records. On March 8, she told me she should have the records in, "a day or two."
This is not the only issue Price faces. Multiple sources have reported that she is not able to pass a background check due to credit issues and a 2018 home foreclosure. The reason credit is a factor in passing a background check for law enforcement positions, as well as many other jobs in government, is to determine if someone is susceptible to bribery or blackmail.
Price would be the first Commissioner of the Department of Public Safety with no prior law enforcement experience. She did work as the executive director for Standing Together Against Rape (STAR). But her most recent work was deputy campaign manager for Mike Dunleavy and then campaign manager for Edie Grunwald.
The commissioner of the Department of Public Safety is a powerful and important position, especially considering the current crime problems we face. The public deserves to know if Price plagiarized someone else's work. The public deserves to know if she failed to pass a background check, and if so, why.
Price is scheduled for another confirmation hearing this Thursday before the House State Affairs Committee. Governor Dunleavy's appointees will be voted on at an upcoming joint session of the legislature. It has yet to be scheduled but it sounds like it will be in the next few weeks. My guess is the administration does not plan on releasing the records until after the confirmation vote.