On a chilly fall evening, we turned off of the Parks Highway onto Willow Station Road, crossed the railroad tracks, and pulled up to the Willow Trading Post. The Trading Post sits on fifteen wooded acres in the sprawling semi-rural community of Willow, Alaska. Amenities include cabins, an RV park and a restaurant and bar. The main structure, surrounded by birch trees and overlooking Gene Lake, appears to have been cobbled together at various times and unified with a cheery blue paint job. Overall, the scene feels a little ramshackle but also undeniably picturesque. In other words, classic Willow.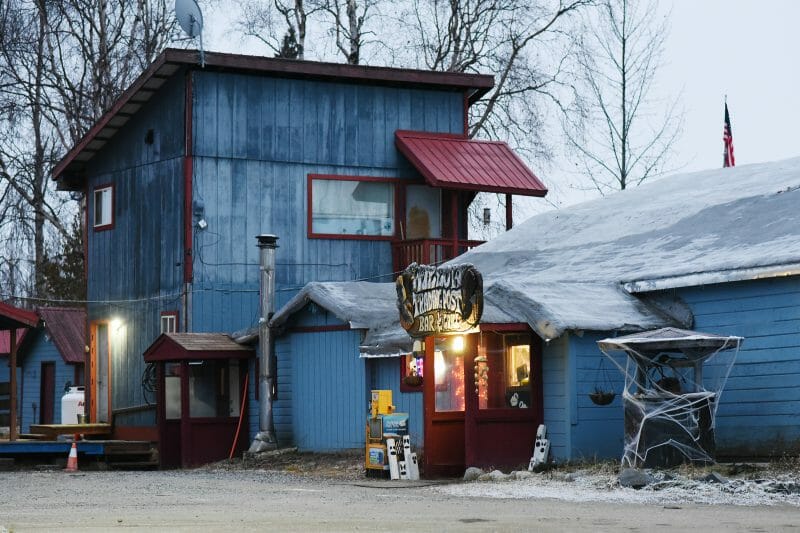 The Willow Trading Post
As we walked toward the door, a man on his way out yelled as he climbed into a monstrous pickup, "Make them look good! They've made me a lot of money with crypto."
Inside, the bar and grill area was rustic, cozy and warm. Ashley, one of the owners, poured beers and whiskey for a couple passers-by. Her husband, Russell, joined us later. Their wife, Kayla joined us after that. The three of them are in a "throuple," a relationship that involves three people instead of two. They purchased the Willow Trading Post last November and have been running it since. Asked about how they made the purchase, Russell jokingly told us, "This place was one hundred percent bought with whore money."
In 2014, Russell, now 41, and his wife Ashley, now 35, moved to Anchorage from North Carolina. Russell told us he had wanted to move to Alaska ever since 2000, when an Army recruiter in Florida, where he and Ashley grew up, showed him pictures of the state. After Russell left the Army, Ashley told him they could finally make the move. They arrived in Alaska in February of 2014 with their two children.
Russell got a job with the Alaska Department of Public Safety working in IT security. About a year later, the family moved to Dillingham, where Russell was hired as the IT manager for the hospital. Ashley worked in the lab. They did not stay in Dillingham long and moved back to Anchorage in 2016. Ashley was pregnant with their third child and living in Dillingham was expensive. Anchorage was a better place for Russell to look for another job.
One day during the summer of 2016, Russell and Ashley decided to perform in a live adult webcam session as a couple. They said they had watched adult cams before on a website called Chaturbate and decided to try it out. Chaturbate and similar services work like a chat room with video. Performers broadcast live and often interact with viewers, who can pay money to remotely direct or interact with the performance. Some of the top "cam girls" and other webcam performers can make thousands of dollars per session.
Ashley said she went through a verification process on Chaturbate before they went live so that they would be permitted to accept money from their performance. They didn't know what to expect, she told us, and were astonished to make $700 their first night. Excited by the potential for a newfound income stream, Russell and Ashley decided to continue "camming." It became so lucrative that they built a studio in their Anchorage home, and began flying up well-known adult stars from out-of-state to participate with them. Russell and Ashley would book the performers and fly them to Alaska for big Friday and Saturday night shows. There are rigorous testing requirements for sextually transmitted infections (STI) in the adult entertainment industry, Ashley told us, in order to ensure performer safety. Lauren Phillips, Katie Kush, and Jill Cassidy were among their most well-known guests. The popularity of their camming channel snowballed, and they were able to bring in more money, more exposure, and more guest performers. Russell started going by the moniker Smassh. Ashley started going by AKgingersnaps.
During this time, Russell got a lead on a job with the National Oceanic and Atmospheric Administration (NOAA) in Juneau. He said he really wanted the job and was excited to move to Juneau. However, then-president Donald Trump enacted a hiring freeze on new federal employment and it was unclear when he would even be able to start. So he and Ashley kept web camming while waiting for the job to reopen. By now they were starting to win adult entertainment industry awards.
To grow the business and create more revenue, Russell and Ashley said they opened up their studio and started employing other cam performers. This is when they met Kayla, who goes by Lana Mars in the adult entertainment industry. All three of them say that they fell in love the first time they met in 2017, and have been a throuple since. Kayla, now 23, was 19 when she met Russell and Ashley. She is originally from the village of Tyonek but moved to Anchorage as a child. Unlike Russell and Ashley, Kayla crossed over into mainstream work in the adult entertainment industry, where she has appeared in adult films and been nominated for multiple industry awards. She told us that those in the industry do not always know what to make of her Alaska Native ethnicity and sometimes label her as Latino or Black in clips, but that it doesn't bother her. She told us she is proud of her ancestry and feels connected to Alaska Native culture. Some family members struggled to accept both her career in adult entertainment and her participation in a throuple relationship, she said, but they have gradually come to respect her choices.
The three plan on having a marriage ceremony in the future, though it will be entirely ceremonial. Throuple marriages, like other "poly" relationships, are not legally recognized by state or federal government. Russell said that the current plan is for Kayla to walk down the aisle to him and Ashley.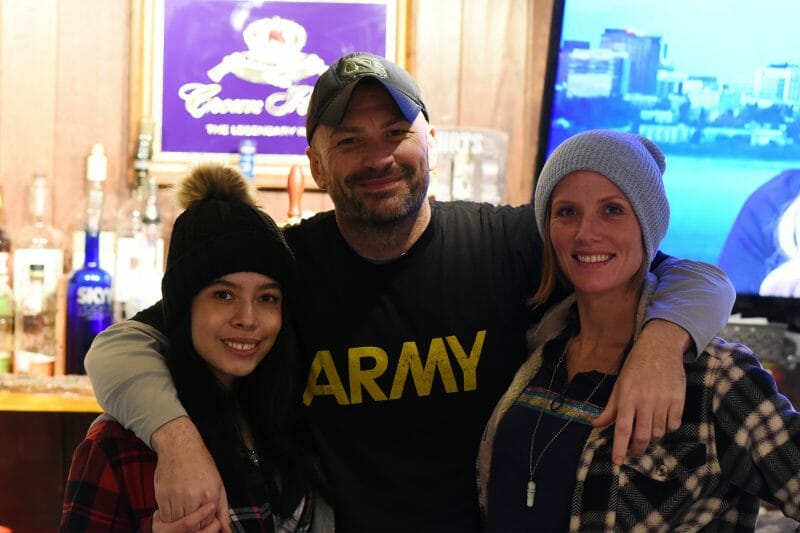 Kayla, Russell, and Ashley
Eventually, they started posting their content on popular adult sites like Pornhub, ManyVids, and OnlyFans. Unlike live-only platforms, these websites allow content creators to upload content that can be viewed indefinitely. Content creators earn royalties based on the viewership of their content or from user subscriptions. Russel and Ashley told us that about 20% of their income now comes from these sites.
As their adult careers and income grew, the throuple decided to buy an RV and travel around the state. Russell later told us via text, "We bought the RV in May 2020. I think June 1 was our first official homeless day." They traveled around the state during the pandemic doing classic tourist activities and continuing to make adult videos, some of which were made in the outdoors. One day they visited the Ranch House Lodge, located in Tolsona, Alaska. After talking to the owner, Ashley said she fell in love with the idea of buying a lodge. Not long after, they parked their RV at the Willow Creek Resort. While out on an Argo they stumbled upon the Willow Trading Post. It was closed at the time, but when they stopped by again several weeks later it was open and they asked whether it might for sale. They were told it had been on the market for years. After some negotiation they made an offer, which was accepted. The business license shows Russell and Ashley 50/50 owners. Russell told us they have a written agreement with Kayla for equal ownership.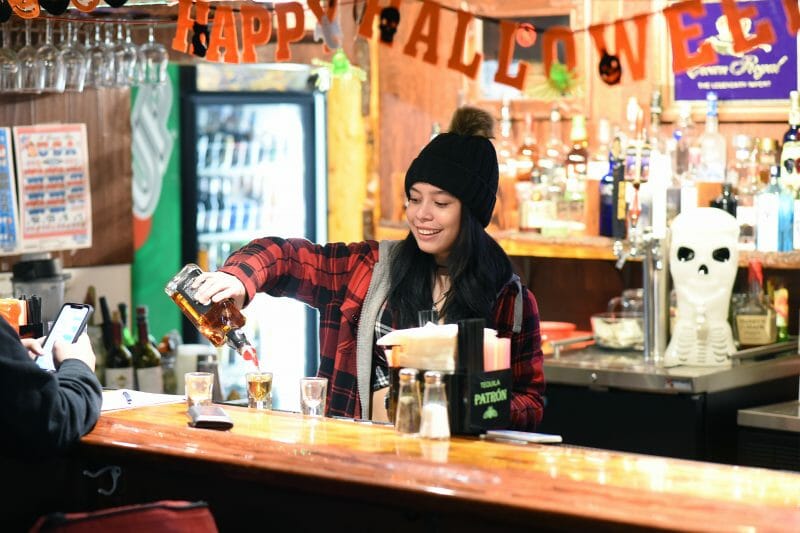 Kayla pours shots
They immediately set about improving the business. They simplified the menu and started making much of the food, including the dressings, on-site. Russell told us that they were particularly proud of their chicken tenders, which are wrapped in a homemade panko breading. Curious, we ordered them. They were excellent.
Since they started running the lodge, Russell said, he has lost 60 pounds due to a combination of the work and stress. Surprisingly, he told us, his weight loss seemed to coincide with a reduction in income from camming videos. Russell said he was confused about why their fans weren't paying as much as before. When he started asking, he said, "A lot of them told me they prefer the dad bod."
Willow is located in one of the most conservative districts in Alaska. In 2020, nearly 72% of the district voted for Donald Trump. The town is represented in the Legislature by Senator Mike Shower (R – Wasilla) and Representative David Eastman (R – Wasilla). Eastman has introduced resolutions in the past regarding the alleged dangers of pornography, and was also once photographed wearing a shirt reading "porn kills." Russell, Ashley, and Kayla said they had never heard of Eastman and have been transparent about their lifestyle since buying the business. "We don't tell everyone when they walk in that we are porn stars. But we are open about it on social media and if people ask, we tell them," Ashley said.
While conducting our interview, an older man listening in at the bar commented that he didn't want to hear any more about the throuple's adult content–he wanted to join in. Ashley laughed politely.
Not long after, another man at the end of the bar rang the bell and bought everyone a drink.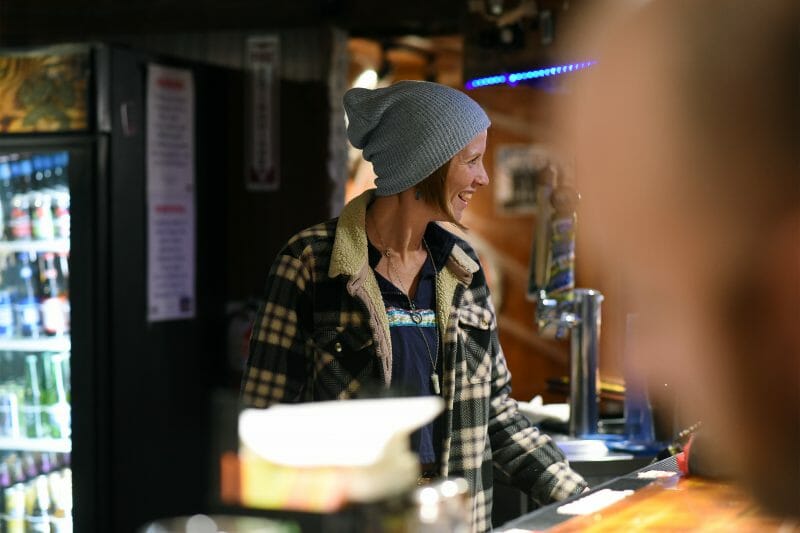 Ashley tends the bar
Ashley said the throuple has received some negative comments and attacks on social media. But she added that for every negative comment there are multiple positive comments from patrons and friends in their defense. Russell told us some people pay them for their adult work with cryptocurrency, and though they always "cash out" they have learned a lot about it and sometimes act as unofficial cryptocurrency advisors for friends. Some, they told us, have done extremely well by following their advice.
They are still making adult content, they told us, but lately they have been focused on custom video requests from their fans. Some will send them scripts or ideas and pay the throuple to act them out. Videos that can be uploaded to adult entertainment sites later cost less, while videos created for exclusive use can cost much more. Rates for conventional sex acts start at $10/minute, with a ten minute minimum. Add-ons, they told us–"use your imagination"–cost more.
The throuple said they plan on spending the winter improving the Willow Trading Post for next summer's tourism season. Russell said they are planning on adding a cannabis business to the site. Russell and Ashley are also raising their three children, ages 13, 11, and 5. Kayla says she's a co-mom to the three kids. Russell and Ashley told us that they do not hide what they do from their kids, but they do tell them which search terms to avoid using on Google.
At the end of the day, they told us, they recognize that their lifestyle and careers might seem unusual but do not see themselves as much different from anyone else. They consider themselves sex workers and are comfortable with who they are and what they do.
"We know a lot of porn stars," Ashley said, "They're just like everyone else. They have families, houses, pets, things like that. They are happy to go on set during the day and then go home and kick their feet up on the couch like everyone else."