Welcome to this edition of the Alaska Stalker, a lighthearted round up of the best and worst of Alaska's social media landscape.
***
If you enjoy the Alaska Stalker, please consider supporting working moms like me by sending in hot tips, overheards, and spotted ins. You can reach me at akstalker@alaskalandmine.com. As always, thanks for reading.
***
The leaves are starting to change, there's a chill in the air, and my inbox is filling up with press releases. Must be fall in Alaska. Former Governor Bill Walker is a bit out of practice. Posting a press release straight from Microsoft Word is a rookie mistake! Check out all those red wavy lines. His poor running mate. Heidi Drygas hasn't even made Bill's "add to dictionary" list yet.

***
They are starting to get the message out. I'll let you decide whose mistep is more embarrassing. Dave doesn't even have a toddler to blame his rogue likes on.

***
It seems Heidi has decided on a campaign uniform. It's no yellow blazer, but it will definitely help with her name recognition. 🤣

***
Then there's gubernatorial candidate Les Gara. I received not one but TWO email corrections to his most recent press release. Imagine if Les was governor and he released the PFD amount only to correct it. Twice! I mean, I guess that's better than having no PFD to release at all… 🤷

* #1* 🤦‍♀️🤦‍♀️

* #2 * 🤦‍♀️🤦‍♀️🤦‍♀️

***
At least Les has finally developed a good sense of humor about it.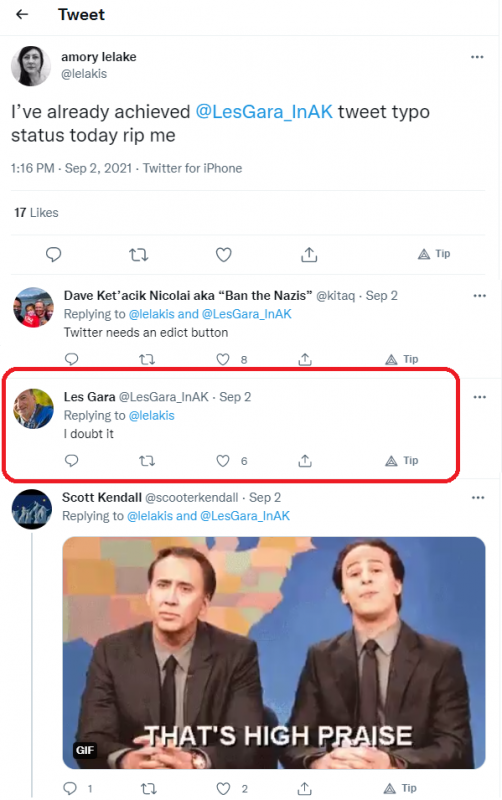 ***
While his competitors were busy making boo boos, Gov. Dunleavy spent a totally normal day petting baby goats with Rep. Geran Tarr at the Alaska State Fair. Probably drank some raw milk right after. No big deal.

***
GOAT.

***
Not going to lie, I prefer the goats to Peter's chickens. 🙉🥴 Peter, whyyy???

***
We've reached the point where our legislators just blatantly make fun of and call each other names on social media. Cool, cool.

***
Or like tweets where other people do the name calling. Happy to help, Ivy!

***
Sometimes they try to disguise it by cleverly using the "full of sh*t" background on Facebook.

***
Rep. Rasmussen is always full of surprises. Now she's inviting folks who angrily call her office to save their best insults just for her. Sounds like a really fun job. Can't wait to see what happens next, everyone!

***
Okay, time to bee positive. Sen. Wilson did it again! Big buzz around his award winning honey this year. Congrats! 🍯🐝🥈🥈

***
There's a lot to unpack here… First off, Gov. Dunleavy pulls the lone unmasked guy in the room move. But then, Sen. Elvi absolutely CRUSHES the governor's hand with that power handshake. Just look at the intensity in that second photo. Wow.

***
I don't post a lot of Sen. Reinbold stuff because… Well… Everyone else does non-stop. But I didn't see this post get a lot of attention. It should. In fact, it was several prominent Republicans who brought it to my attention. Hydroxy/Ivermectin controversy aside, (I believe Bob Lester!) telling people what dosage of drugs to take when they get sick is way over the line. Even for Lora. Remember when our legislators didn't pretend to be doctors? Those were the days.

***
I know he's new, but does Sen. Holland still not know where the bathrooms are or something? 🙃

***
Oh look, Rep. McCabe updated his profile picture. Cute!

***
"Good-looking, stylish and well-connected, Hopkins and Miller soon became Fairbanks' most visible "It Couple," and their glamourous Dec. 31, 2019 wedding was the event of the season." Daaaaaaang. Someone needs to send Grier some sweatpants ASAP. But seriously, cutest piece I've read in awhile. You can't fake happiness.

***
Could you imagine if one of our legislators won the $49,000 for getting vaccinated? I mean, Geran winning would be funny but I hope the simulation loves us enough to have Sen. Natasha von Imhof win.
Neighbors-Do you want to win $49,000? Now is your chance-if you get vaccinated you can enter this contest to win. Already vaccinated? You can win too. The last week is 4 those of us that were previously vaccinated. I'm going to enter and you should too! https://t.co/YQDdoKw81r

— Rep. Geran Tarr (@RepGeranTarr) September 3, 2021
***
I can't stop laughing! Rep. Harriet Drummond via her official Twitter account needs urgent help sliding into Andrew Halcro's DMs. ☠️☠️☠️

***
Not many things are more sacred than a secret berry picking spot, and it looks like Anchorage Assemblymember Austin Quinn-Davidson has found a bountiful one. A cautionary tale to politicos: don't post photos of your berry picking spot on social media with the horizon in the background. 🫐📍🧐

***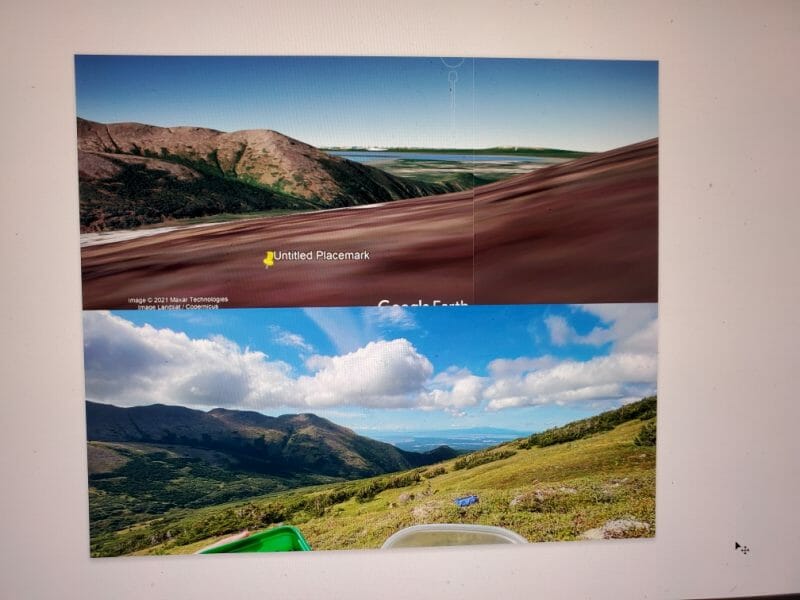 ***
Why is he so bad at this? Using year old unwashed "dusty" bags from the trunk of your car isn't a winning visual. 🤢

***
Business owners seem prepared and stoked for the bag ban to go back into effect. Dang, Mr. Prime Beef!!!

***
Yes, the whole Forrest going to a work group while sick and then visiting a senior center is old news. (Hazards of having a bi-monthly column. Trying to fix that soon!) I did find it interesting that Forrest cared enough about the story to admit he was sick on Twitter, explain that while he was sick he was COVID negative, and then attack Assemblymember Jamie Allard for her weird crochet protest mask. What he didn't care about was that he was out and about while sick, which is a big CDC/human decency no no, and he never apologized for it. Says a lot.

***
I love learning about the new candidates running for office all over Alaska. Check out Jubilee – <3 that name! She's running to make sure the Valley doesn't turn into Anchorage. So good. I'm digging it almost as much as the Extra Tough gal.

***
And then there's Stalker goldmine Patricia "there are thousands of children's bones buried below the White House" Silva." According to her mailer she cannot wait to teach CRT to the city of Fairbank. (See below) And remember to send me those mailers, folks!

***
I guess we finally know which account is the official account. Thanks for the follow, Mayor Bronson.

***
Overheard at McGivneys in downtown Juneau: A slightly tipsy Rep. LeBon railing against the House Republicans for not supporting a CBR vote to fund oil tax credits.
***
Overheard in Anchorage: "My Facebook feed has gotten about 40% less angry since Libby Bakalar got that hedgehog." 🦔
***
Spotted at the Alaska State Fair getting cuddly with some baby goats: Gov. Mike Dunleavy, Sen. Shelley Hughes, Rep. Geran Tarr, Rep. Laddie Shaw, and Rep. Mike Cronk. Totes.
***
Overheard: Candidate for U.S. Senate, Hunkie Lee, calling into a meeting to tell everyone he's running for Senate and that Pebble Mine won't kill a single salmon. Pinky promise.
***
Spotted at the front desk in the Atwood Building headed to the governor's floor: former U.S. Senator Mark Begich.
***
Overheard on the Dan Fagan Show: First time caller Christopher Constant? 🤯
***
Overheard at the Alaska State Fair: "I'm not sure who loves the fair more: Palmer Deputy Mayor Sabrena Combs or U.S. Senate candidate Kelly Tshibaka. I think Kelly's been here every day!"
***
Overheard in Anchorage: "How much you wanna bet Dustin Darden's 1776 Facebook group has more than 5 FBI members?"
***
Spotted walking out of Wells Fargo on C Street: Anchorage Fire Chief Doug Schrage. 🔥🔥🔥
***
Spotted on top of Flat Top: No American flag! Come home soon, Laddie!

***
The Alaska Stalker was born and raised in Alaska. She lives bear free in South Anchorage with her husband and three kids four and under. She is not Jeff Landfield.