Welcome to this week's edition of The Alaska Stalker, a lighthearted round up of the best and worst of Alaska's social media landscape. Have you sent us a hot tip yet? Email us at akstalker@alaskalandmine.com and, as always, thanks for reading.
---
Republican candidate for Governor, Mike Dunleavy, received the mother of all endorsements this week. Love 'em or hate 'em, it doesn't get more high level than this.

Taking a page out of the POTUS playbook, Portugal. The Man, counter punched by flexing their Alaska cred on the heels of their endorsement of Democratic candidate Mark Begich.
I only mention Portugal. The Man because, according to ADN, an endorsement by the sitting president of the United States is on the same level as the endorsement of a former local Alaska rock band. ¯\_(ツ)_/¯
---
The two gubernatorial candidates rushed to Twitter to brag about their respective highest level endorsements.

---
And then Secretary Hillary Clinton weighed in. #ShesWithMark. I looked all over Senator Begich's Twitter and could find nary a retweet or even a like. ? Poor, poor Hillary. She was just trying to help.

---
Someone wasn't too happy about the Portugal. The Man endorsement. Too bad for Senator Representative Reinbold – she missed a great show. We love it when homegrown kids make it big, no matter their politics. From Bristol to Jewel, or Trajan Langdon to Portugal. The Man, we are fans of them all!
---
Running for Governor sure has its perks. Mark even got to go backstage!
---
Speaking of backstage, we heard Portugal. The Man finally received their Alaska legislative citation for winning a Grammy. Remember that from back in May?
See who introduced that citation? Uh oh. Poor Representative Grenn has had a stretch of bad luck. First, "staunch Democrat" Dustin Darden doesn't drop out. Then, fellow Independent Governor Bill Walker does. Kind of. And then, he finally gets to present a nice legislative citation to a group of hometown heroes and right before it happens, they cause a big stir by endorsing Begich. It's okay Jason: they say bad things only come in threes!
---
From all of us at the Alaska Landmine, Happy Halloween! ??? To get in the spirit, let's take a look at some of our favorite spooky holiday themed posts from the last week:
---
Will Governor Walker be dressing up as a lame duck? Ba dum ching!
---
I beheld the wretch — the miserable monster whom I had created. FRANKENSIGN!
---
Errmygourd!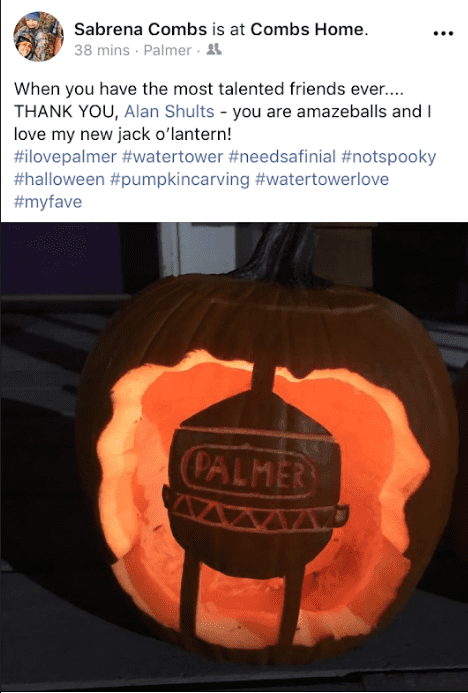 ---
The cutest little PFD defender.
---
We were concerned that Senator Micciche might use his trusty chainsaw to carve jack-o-lanterns. Happy to note he recommends the modest Bosch jigsaw for all your carving needs.
---
The Anchorage Republican Women's Club shared this random gif of Honey Boo Boo juggling mini pumpkins with no context or caption. ? We *think* they were trying to share someone's recent Facebook shout out to some hard working ladies and just epically failed. Or maybe they really like Honey Boo Boo?
---
While we were disappointed to hear she wasn't wearing our fav yellow blazer and qiviut scarf combo at today's meet and greet breakfast, we were glad that Congressional candidate Alyse Galvin chose a holiday appropriate jaunty orange and black striped scarf. We hear the homemade waffles were ?
---
And now for the scariest one of all, Mayor of Fairbanks, Jim Matherly's "Mayor 4 eva" tattoo. IS THAT REAL?! We're screaming!!! ???
---
Did anyone else see this hidden gem from Senator Bill Wielechowski? We almost included it in our Halloween round up. You know, because of all those skeletons. Maybe next time, Bill!
---
Only 55 days until Christmas! To make it easy on Santa, we've started our very own "Naughty List." Don't forget to send us your recommendations.
First up: these awful people.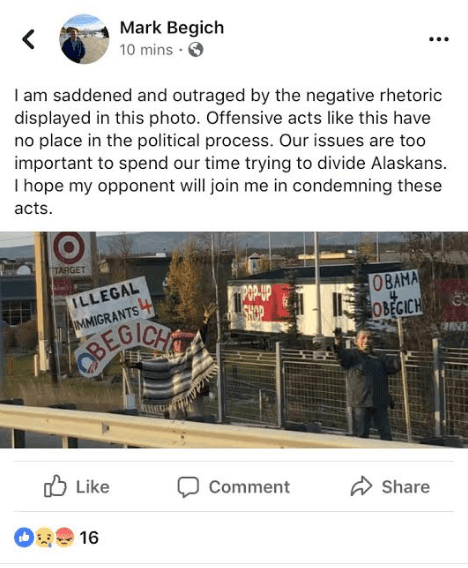 Although she has since taken it down, we have to call out Representative Harriet Anagnostis Drummond for this post. Harriet, what were you thinking? Beyond the pale.
---
---
Unite Alaska for Walker Mallott for their ad (which we won't link to) politicizing the tragic death of Bree Moore. Bree's parents, Butch and Cindi Moore, asked Unite Alaska to add a disclaimer, plainly stating the Moores were not affiliated with the group or the ad. That didn't happen.
---
Glad to see Governor Bill Walker is still attending to important state business, like advocating how we should all be arguing over which of the new "I voted" stickers is best. For the record, the original sticker is best. #TeamTraditionalAlaskaSticker fo lyfe. If you care to weigh in, this thread (shout out to @Spifffy) is ?  https://twitter.com/spifffy/status/1057068561053569025

---
There's been some discussion that candidate for House, Sara Hannan, might have borrowed her campaign sign logo from House Tully of Game of Thrones.
Anyone else see a resemblance? If Sara is a Tully, what does that make her opponent, Independent Chris Dimond?
---
This isn't the only Game of Thrones connection to hit Alaska politics. Don't forget author George R. R. Martin's doppelgänger, Representative Paul Seaton, is running for reelection in District 31.
---
No matter who wins this election season, winter is coming. In southcentral Alaska it came Sunday. Let's hope it only lasts about 6 months and not 6+ years!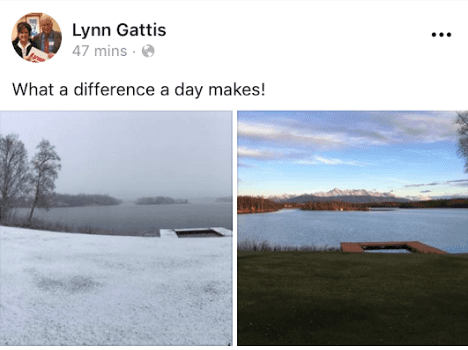 ---
The Stalker's Representative, Jennifer Johnston, enjoyed the fresh snow with family. What would it take for her to build a snowman with another little constituent a few streets over?
---
Not to be outdone, Jennifer's opponent, candidate for house Amber Lee, walked door-to-door with costumes and treats during winter's first storm.
---
Representative Ivy Spohnholz, channeling our great postal employees, also braved the elements to go door-to-door. Way to go ladies! ? Seems like the guys stayed at home.
---
Maybe we should blame the start of winter on snow temptress Assemblymember Christopher Constant and his Facebook post goading Mother Nature. Back when I was a kid, it always snowed before Halloween. Glad things are getting back to normal around these parts.
---
Congratulations to Representative Geran Tarr for becoming the first Alaskan honored with a "Women In Politics Making a Difference Award" by the National Conference of State Legislatures.
Congratulations, and a copy editor, are also due to Senator Shelley Hughes for her Woman of Distinction award via the Mat-Su Frontiersman. (TBH, we could use a copy editor, too!)
---
Who memed it better? The Dunleavy IE?
Or team Begich?
---
This might be our favorite election post so far! So many layers of cleverness. Cheers to you, Pat!
---
What's up with the Mi ? ? sign in this photo? Not sure Senator Miccichi needs anything other than his name (and maybe an "I'm sorry") on his signs.
In the spirit of fairness, we designed a custom sign for write-in opponent Ron Gillham. We think this could really take off on the Kenai.
---
Morning conservative radio talk show host, Rick Rydell, in his element at a GOP rally. Is that part of a "Trump endorsed" sign I see stuck to the Standing Tall for Mike Dunleavy pop up? That was quick.
---
Speaking of standing tall, it's no secret former (and about to be future?) Representative Nancy Dahlstrom is tall. But Holy Paul Bunyan! I guess I need to meet her in person because I had NO IDEA she was that tall. If you've ever met Senator Mike Dunleavy you know what I mean.
---
If you're wondering about Assemblymember Amy Demboski's handshake reference at the beginning of the previous post, here you go: Governor Walker's press secretary, Austin Baird was the object of a detailed handshake critique from the Assemblywoman. Austin's retort to Amy proved to be much stronger than his handshake. He's not wrong. All the precincts but one agreed!

And, thanks for reading, Austin! xoxo
---
We were very confused to see the recent Anchorage Assembly vote on the APD headquarters passed 10 to 1, with all members voting. We assumed (correctly) that Assemblymember Amy Demboski was the lone no vote. But, after seeing this photo on Facebook that night, we had to check how it was possible that all Assembly members were able to vote.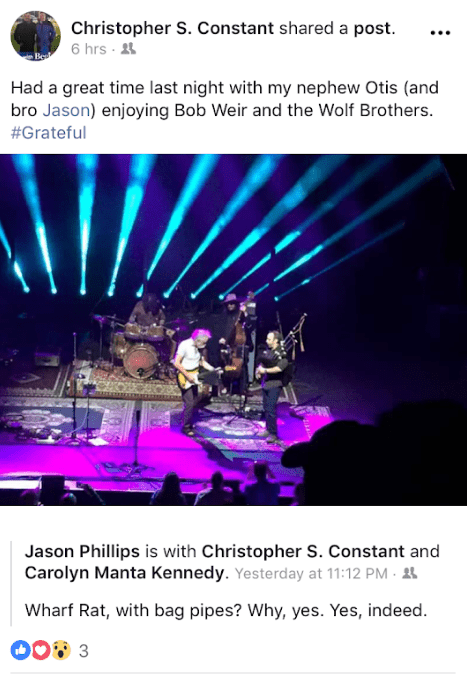 Looks like Assemblymember Christopher Constant called in to make the vote from a Grateful Dead concert in Seattle. Now that's dedication. The best part? We're told he was there with his 16-year-old musician nephew. What a rad uncle.
---
"Deep Tweets by Representative DeLena Johnson"
---
LADDIE THE LEGEND. Photos like this are why the Alaska Stalker exists. Let's see if both these badass vets can ride over the finish line. Laddie, where's my ride?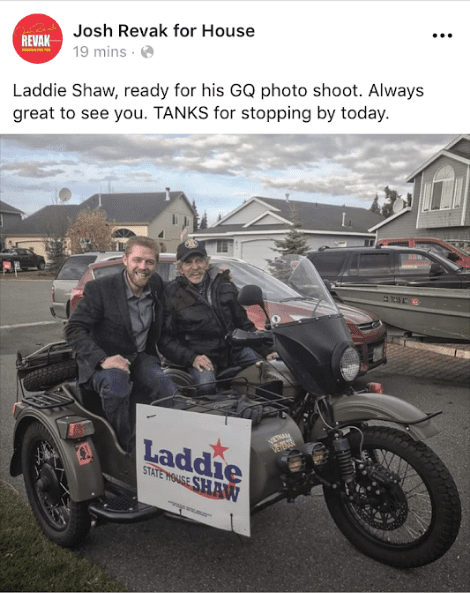 ---
Speaking of Veterans running for office, have you seen this video from Democratic candidate for Senate, Oliver Schiess posted on the Alaska Democrats Facebook page? I bet it raised some eyebrows. He's an Eagle River Democrat, alright!
I am Oliver Schiess and I am running for the Alaska State Senate. I am a Marine Corps combat veteran and I am running to represent every single person in our district and will work with every other lawmaker, regardless of party to move our state forward. This November 6th (or before) I would be honored to have your vote. #oliverforstatesenate #sendthemarinetojuneau

Posted by Oliver for State Senate on Monday, October 29, 2018
---
We admittedly don't know much about Fairbanks politics, but can candidate for House, Bart LeBon, please win his race? He's hilarious and has some of THE BEST social media we've seen. Good luck, Bart! And, sorry about your Dodgers. Maybe 2018 will be *your* year instead.

---
Can we all just admit the jig is up with the whole "independent" thing?
---
They can't all be gems. What does this even mean?

---
Good catch, Ben. We've also noticed Senator Mark Begich recycling and reusing campaign footage from his senate campaign this election season. Gotta keep those environmentalists happy!

---
Just a friendly Stalker reminder that our favorite place online, Alaska Twitter, is pretty much a far left echo chamber. With the lone @radiostieren shouting into the abyss. The proof is in the poll. We don't mind. Alaska Twitter folks have the best jokes, and even better scoops. It's almost like they're mostly journalists or something. ?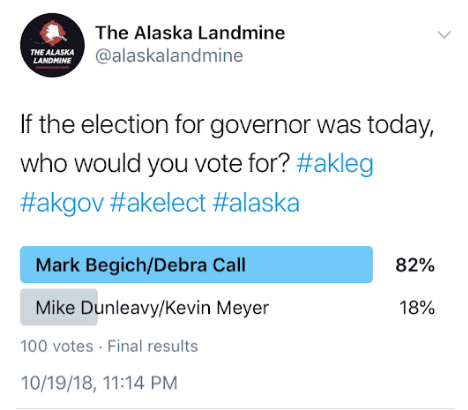 Join Anchorage Daily News, GCI, Dittman Research, and The Alaska Landmine at Election Central for the General Election on November 6, 2018. The party starts at 7pm at the Egan Center. This is a 21+ event and is open to the public with free entry. If you can't make it, don't forget to watch our high energy live stream on Facebook!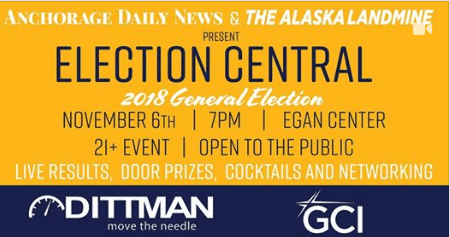 ---
Welcome home, Bob. Alaska wasn't Alaska without you. <3
---
Overheard on the airwaves:
Rick Rydell: Do you have a Facebook page or campaign page?
Republican nominee for Lt. Governor, Kevin Meyer: No. I don't. But you can go to mikedunleavy.com……
Is Kevin in time out? He's not even allowed to carry his own signs! #freeKevin
---
Overheard on the airwaves:
Rick Rydell: Hope to see you all this Sunday at the Republican party's Chili Feed. It will be as close to a gas line as we've ever been. ?
---
Overheard at the office:
Middle aged woman business manager: "I read the Alaska Landmine's Sunday Minefield column every Monday to see who the Loose Unit is!"
---
Overheard at the Kobuk (which is partly owned by Mark Begich's wife, Deborah Bonito!)
Kobuk Employee: Nice Hat!
Tipster in email: I didn't have the heart to tell him it was a Dunleavy for Governor hat.
---
Spotted in:
Ashley Reed and Amanda Coyne at Crostinis. ?
---
Anchorage Mayor Ethan Berkowitz at SEATAC, flying back to Anchorage.
---
Senator Bill Wielechowski serving (no, seriously) Cale Green at the Dunleavy for Alaska IE headquarters.
---
Congressional Candidate Alyse Galvin driving her RV in Midtown on the first snow day of the year.
---
A new Representative Jason Green 4 X 8 was spotted downtown this morning on I Street, amidst dozens of Yes on 1, Mark Begich, and Zack Fields signs. I'm sure he's thrilled.
---
The Pruitt "pick me" up outside of the PAC during Book of Mormon…                                
---
That will do it for us this week folks. Don't forget to send your favorite social media and online goofs, gaffs, memes, dust-ups, "Overheard in Alaska," "Spotted in Alaska," or whatever else you got to akstalker@alaskalandmine.com Our DMs are always open. Remember: pics or it didn't happen!
---
The Alaska Stalker was born and raised in Alaska, and lives in South Anchorage with her husband, daughter, and baby on the way. She is not Jeff Landfield.