Welcome to this edition of the Alaska Stalker, a lighthearted round up of the best and worst of Alaska's social media landscape.
***
If you enjoy the Alaska Stalker, please consider supporting working moms like me by sending in hot tips, overheards, and spotted ins. You can reach me at akstalker@alaskalandmine.com. As always, thanks for reading.
***
Another failed recall attempt is in the books! A warm Stalker congratulations to Anchorage Assembly member Meg Zaletel. It wasn't even close. As some readers noticed, I posted a couple photos on the Stalker Facebook page of a maskless Meg sitting at a brewery last week. While I understand it's a ridiculous nitpick, that is also the point. Meg is the one setting the rules for the people of Anchorage; it is only fair that she follow those rules precisely. This isn't hard. I mean, look at her Facebook cover photo.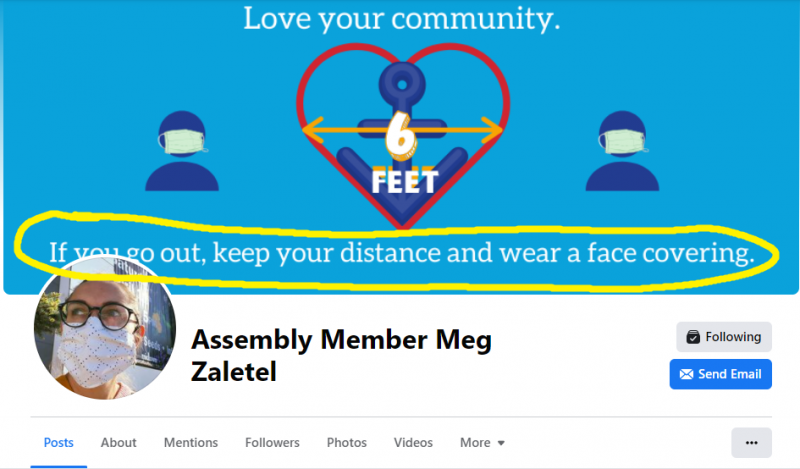 ***
I don't see a lot of distance or any face coverings in the below photo, taken at a recent sign waving event. Yes, it's outside. I get that. But it's contradictory to what Meg is telling others to do. If it isn't an issue then why did Rep. Tarr add that *masks removed briefly for the photo* disclaimer? This kind of stuff grinds my gears!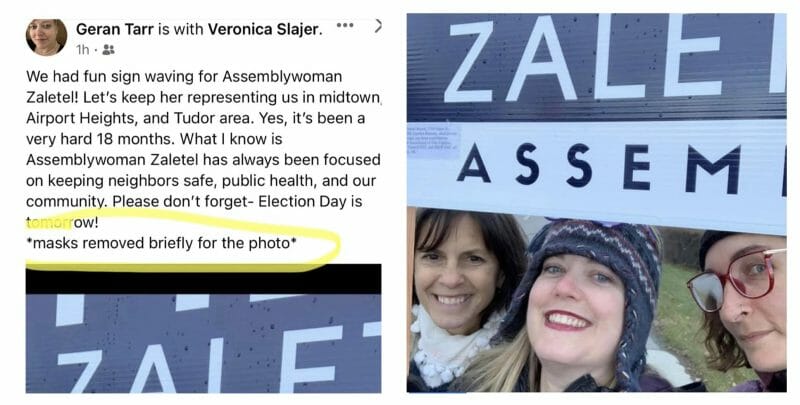 ***
It's human nature to want to be able to bend and break the rules yourself and then admonish others that disregard similar rules. Or to pontificate about how, if only you could do it over again, you'd be safer. I get that. Just look at Anchorage Assembly member Christopher Constant lamenting about being "too close" to others at the movie theatre the other day while watching Dune. Dune is over 2.5 hours long. If it was actually too close for comfort he could have gotten up, left and watched the rest at home. But he didn't. He just said he would next time. Cool, cool.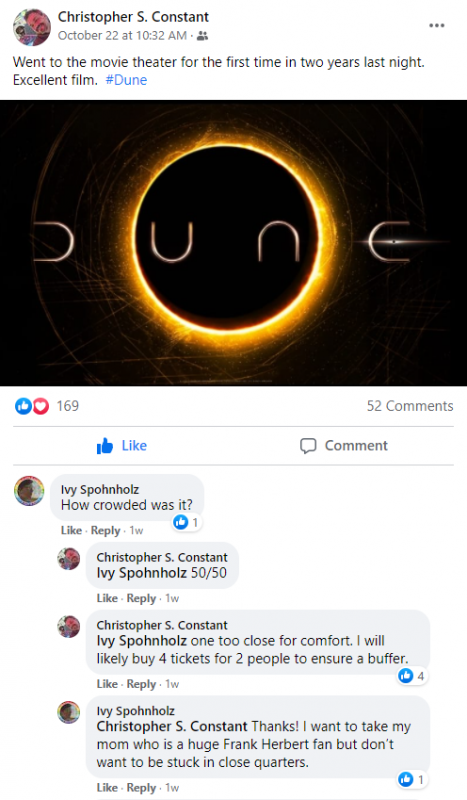 ***
Of all people, I have to give it to Assembly member Forrest Dunbar. He seems to be committed to following "the rules" and I sincerely appreciate that. Forrest may be standing a little close to others in this pic, but he is dutifully wearing his mask and staying outside.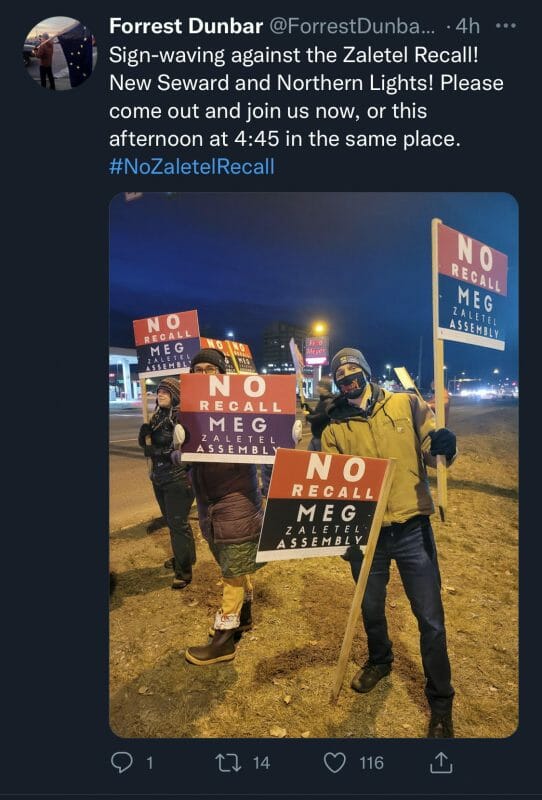 ***
While he did go to work sick awhile back (VERY BAD!) he's not sitting maskless right next to people outside of his household at local establishments. Forrest only orders take out.

***
And, most importantly, Forrest watched Dune at home. That is sacrifice. 💯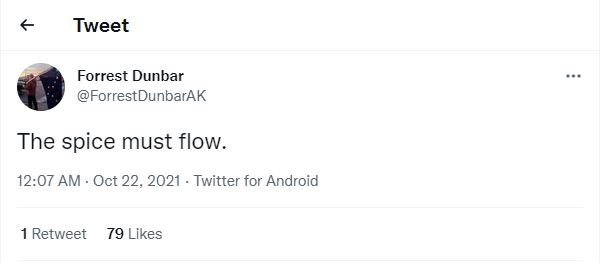 ***
However, I am gravely concerned about Assembly member John Weddleton. Not only has he really let himself go during the pandemic, I am haunted regarding his COVID safety protocols. Can one catch the virus from consuming human flesh?! I've never seen such blatant disregard for human life. I'm going to need Dr. Zink to weigh in on the risk of zombie spread in Anchorage over Halloween weekend. STAT.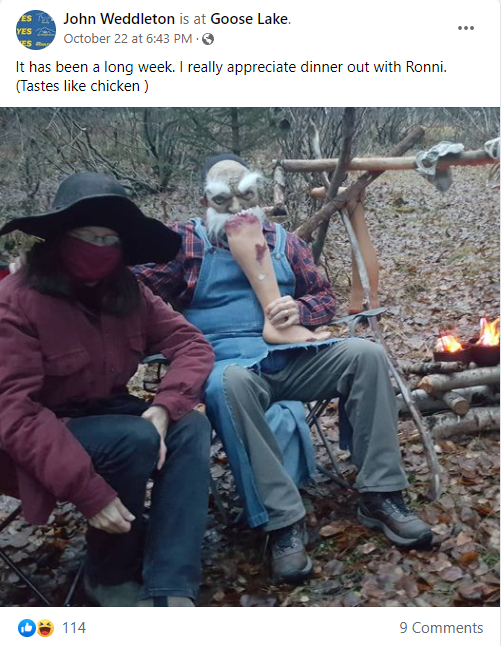 ***
I know the Mayor's Office has an online forum to report offenders of the mask mandate. I feel like the Municipality could save a lot of time and money if they just outsourced this to the good Karens over at the Anchorage Businesses that Wear Masks Facebook group. They are already compiling lists of non-compliant businesses and even emailing base commanders photos of service members breaking the EO. They have it DOWN.

***
Let's wind down the muni coverage with a photo of Jamie Allard's BFF. I think we can all agree José is one cute doggo. You know, I think dogs might even transcend politics. 🐾🐶❤️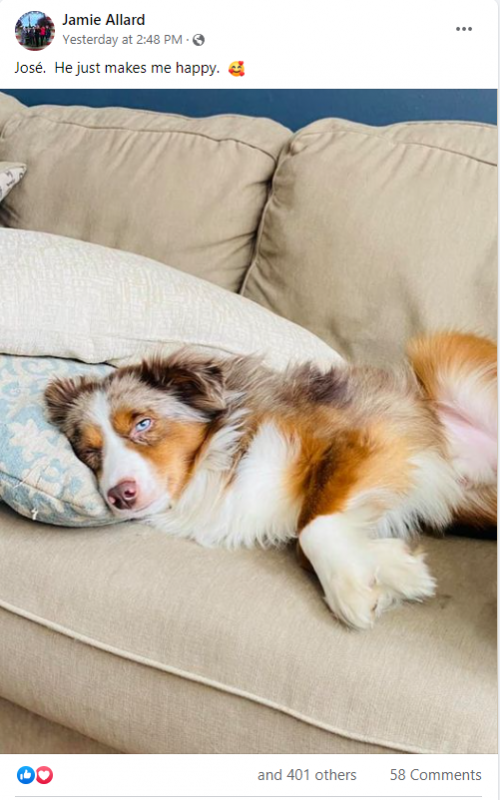 ***
Okay, I take it back. WHAT IS THIS??? I'm sure Tito hates China, Biden and inflation like the very good boy he is, but please… MAKE IT STOP. 🙈 Now we know who taught Dunleavy how to roll over and play dead.

***
It's…. It's interactive. I can't.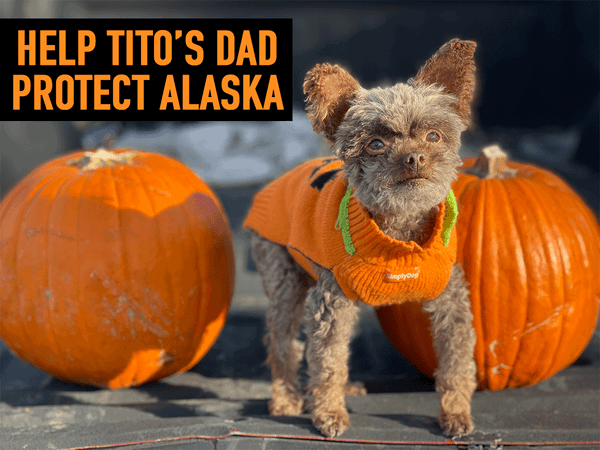 ***
Did you see Jeff upped the pot to $1,000 to find out who the Blue Alaskan is? A lot of progressive folks on Alaska Twitter have a huge problem with Jeff's current quest. Very fun to watch. But, as usual, I am having trouble keeping up with their rules.
***
Doxing is bad, right? 🤔 (I had to add in all the black myself). This awesome persona blasted Amy's personal info all over Alaska Twitter. Notable accounts such as Anchorage Action and Shannyn Moore liked the post, which got over 50 likes! And if you don't think @AKroadweed is a big deal within Alaska Twitter circles, let me just say that while I was typing this column both Assembly members Constant and Dunbar retweeted them.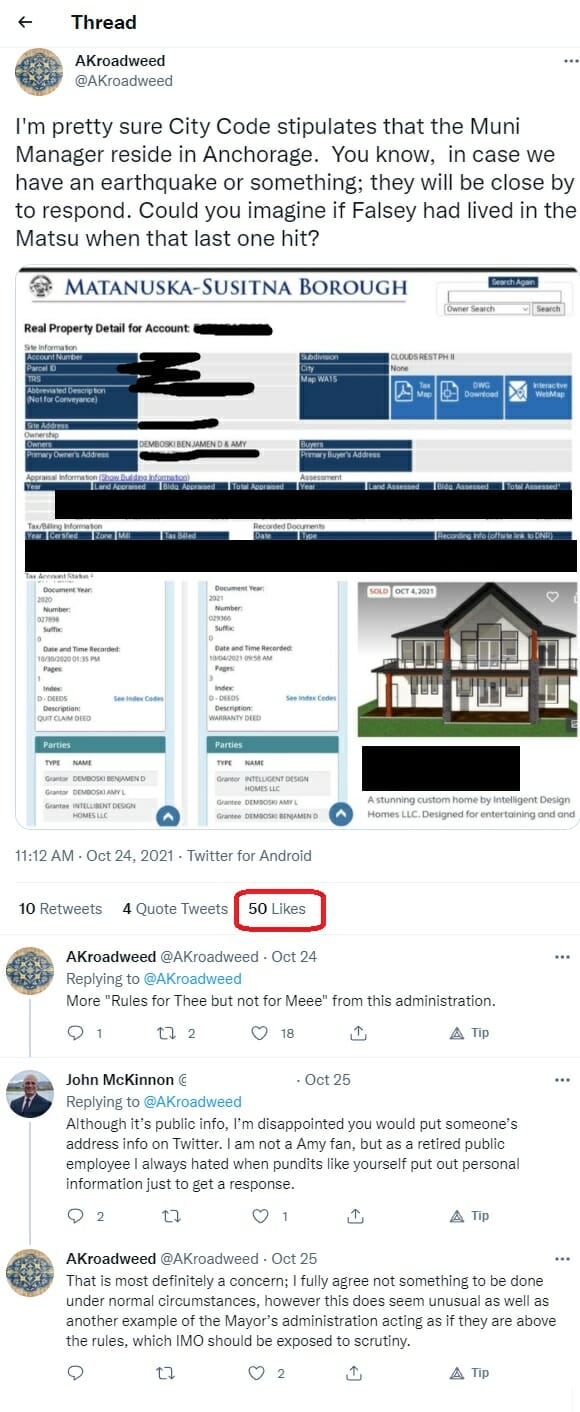 ***
What about threats of violence? Is that okay now? It's so hard to keep everything straight! 🤡🤡🤡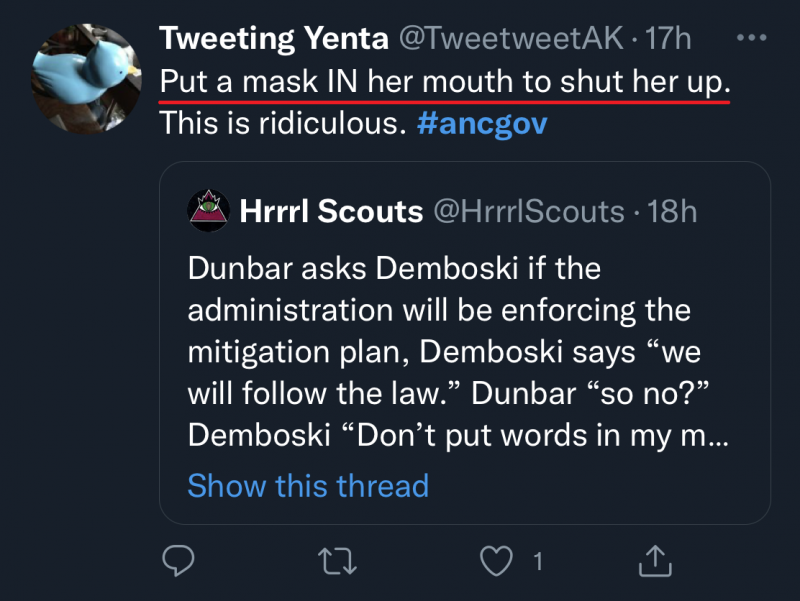 ***
Now let's check in with the legislature who just wrapped up the one billionth special session. Hey DeLena, I know you may have some differences with the guy, but that's not the nicest thing to call the Governor. 🙃 Seriously though, pics or it didn't happen!

***
Things have gotten so toxic in Alaska politics these days, elected officials can't even sell their stuff on Facebook Marketplace without someone complaining about the PFD and making bizarre foot size jokes. Leave Peter alone!

***
If only someone could go back in time to 2006 to tell Rep. Andy Josephson some day he would happily and publicly donate money to Dick Cheney's Republican daughter's reelection campaign. The look on his face!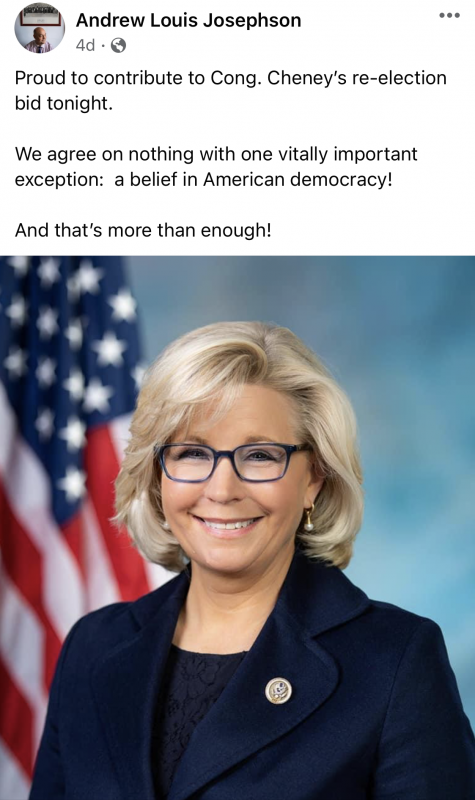 ***
How much wood could a Mike Cronk chuck if a Mike Cronk had more wood?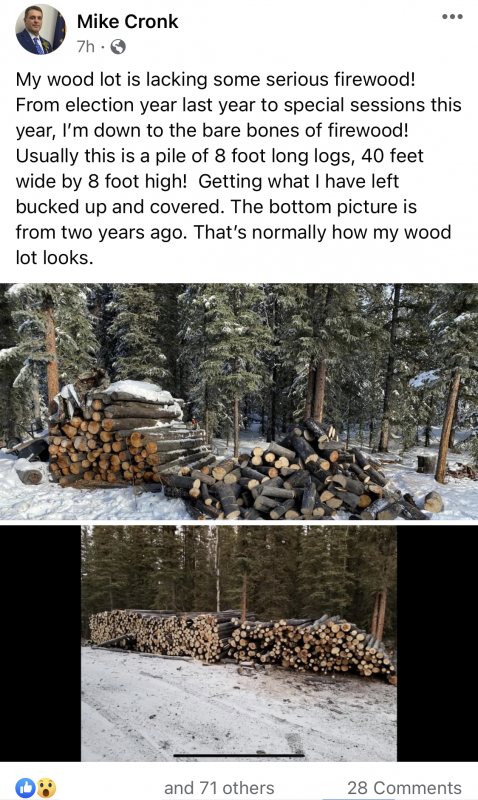 ***
She's baaaack! Glad to see Sen. Lora Reinbold has recovered from COVID-19. I am excited to hear about Lora's "modified beliefs." 😉😉😉 For those of you who may need a refresher…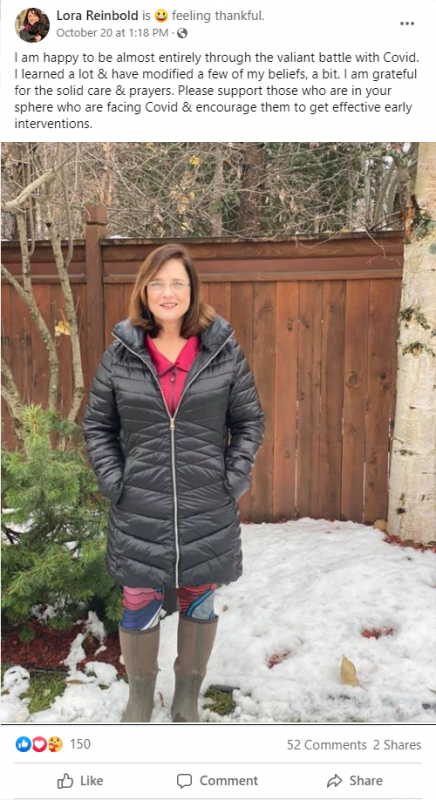 ***
I got to give it to Sen. Scott Kawasaki. Not everyone could pull off a cutesy photo standing next to a statue his buddies wanted to bulldoze last week.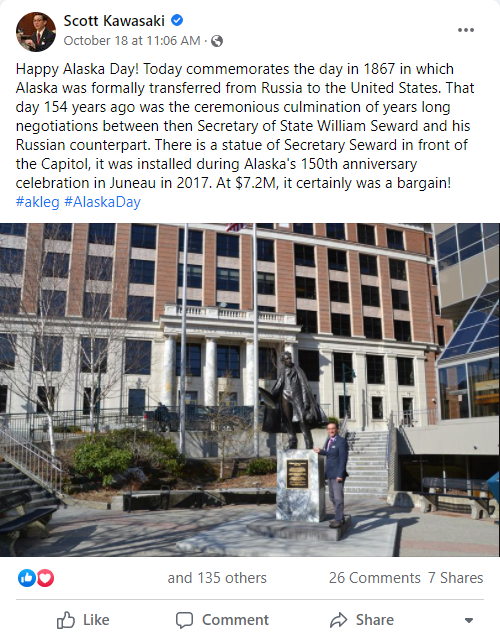 ***
Scott has had a rough week or two both on social media and in real life. Did you see that sugar momma comment on Twitter tho??? 🙈
***
But my favorite addition to this week's political landscape has to be the juxtaposition between these two Interior senators.
First we have what appears to be an Instagram Influencer – wait, that's just Senator Scott Kawasaki – do a full runway walk down the newly opened University Avenue Bridge. Hair blowing in the wind, embordered Carhartt jacket stiff from never being worn. And the lighting? Perfect. Scott knows his angles. 💁‍♂️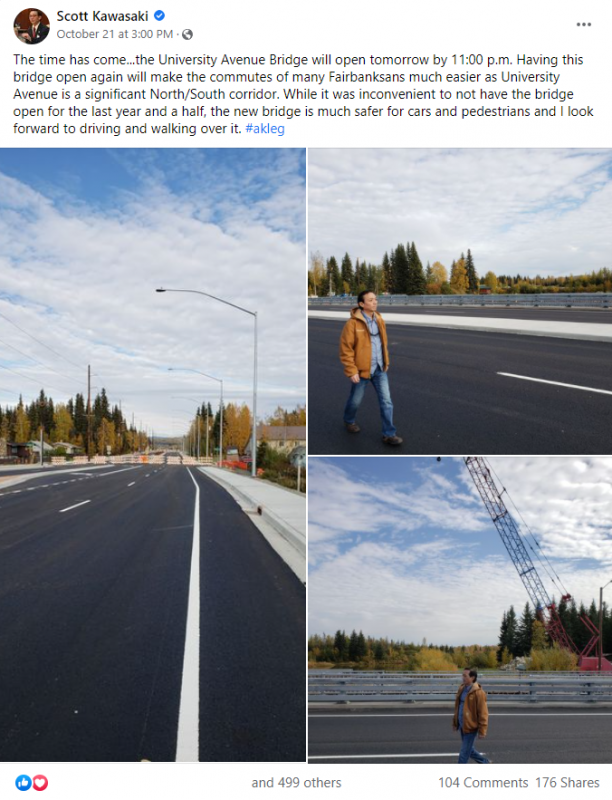 ***
Then we have Sen. Robb Myers. You can definitely tell Robb wears his Carhartts to work! He doesn't just stop by the reopening, he drives his freaking big rig there. Robb stops to take one selfie, and won't find out until later the lighting isn't right. He posts it anyway. Robb poses with Gov. Dunleavy, whispering a dad joke into his ear to make him smile. Man of the people! I hope he thought twice about giving Scott a ride home! 😬🍻

***
I was all excited to do a "tell me you're running for office without telling me you're running for office" bit with this post, but then Nick Begich had to go and ruin it by actually announcing he's running for office!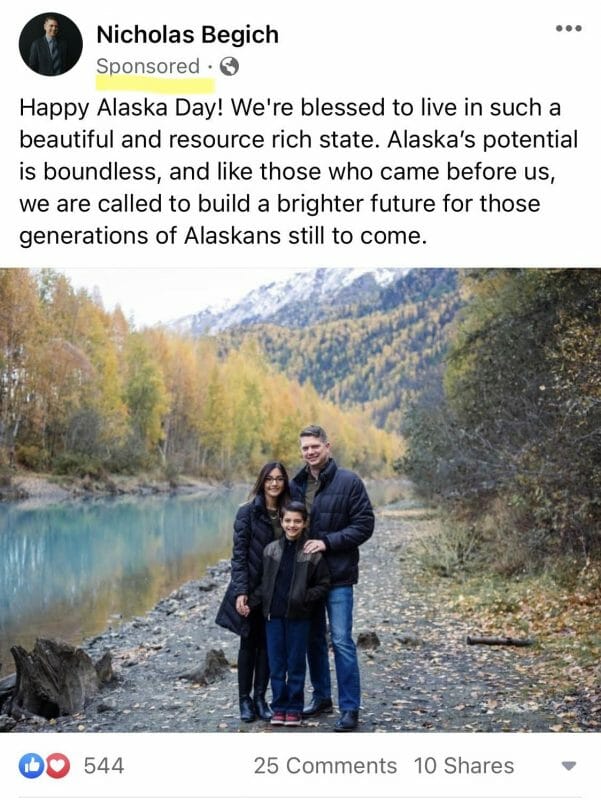 ***
Did you see AFN's recent contest raising awareness about the Alaska Redistricting Board's public hearings? Top prize is this beautiful handmade green kuspuk. Wait a minute, that outfit looks familiar…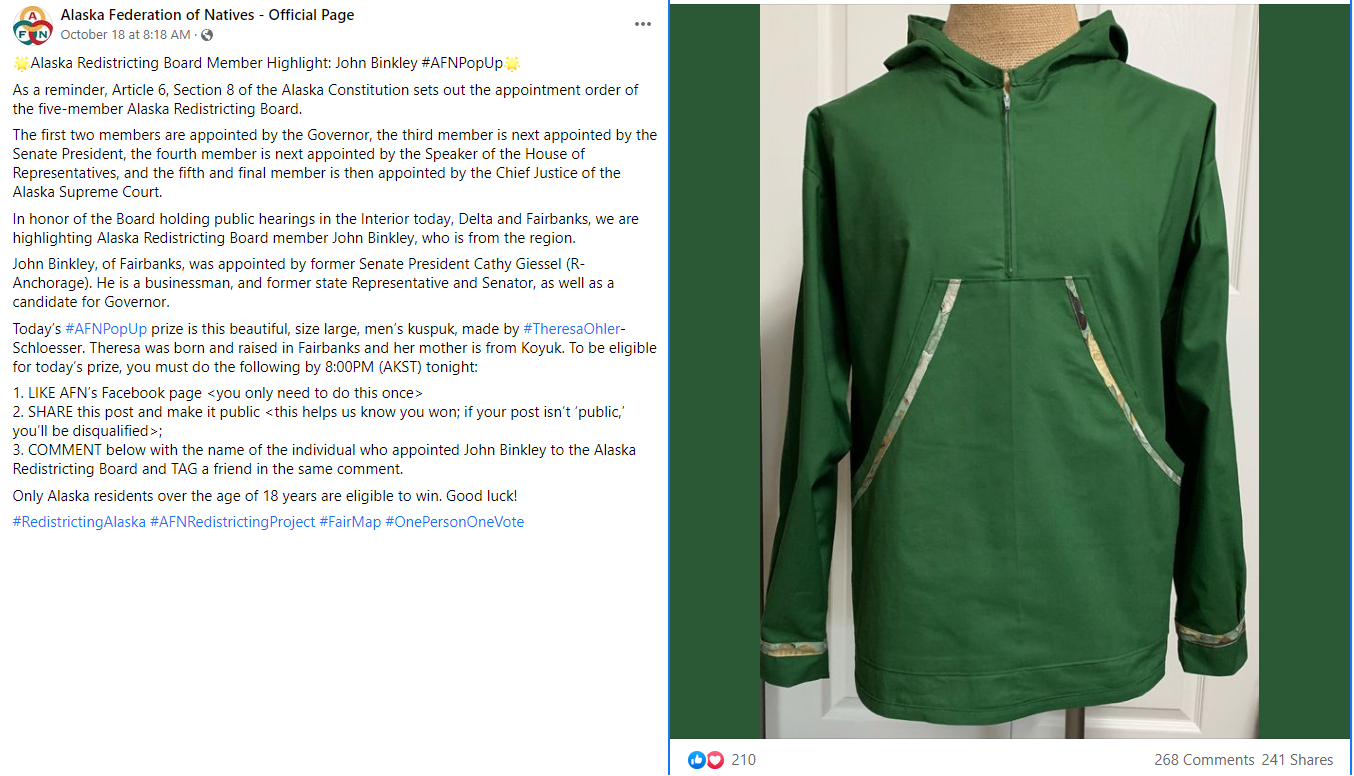 😳 On second thought, DO NOT ENTER THAT CONTEST!!!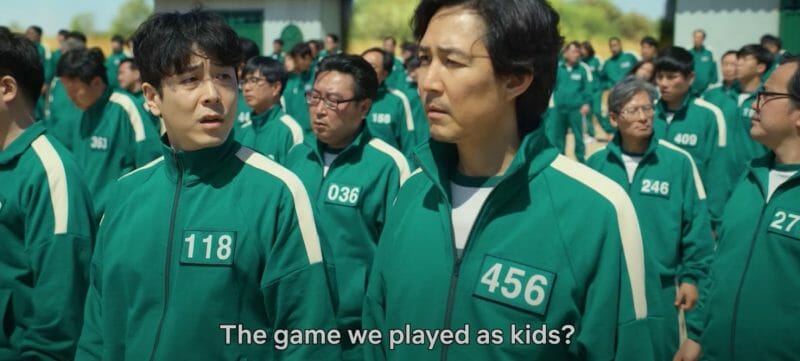 ***
Spotted on Nextdoor:

***
Overheard in Anchorage: "I can't wait for all the people who were against the Felix and Meg recalls to come out HARD for the impending Bronson recall. These things are so dumb."
***
Overheard at a longtime small business in Anchorage:
Young retail worker on the phone with management: I don't know what to do! A customer comes in and sees someone not wearing a mask and yells, "I'm leaving! They're not wearing masks," Then another customer comes in and sees everyone wearing masks and yells, "I'm leaving! They're wearing masks!" It's been like this all day."
***
Spotted at the Captain Cook: Hillary Swank filming her new ADN inspired newsroom show.
***
Sent via Stalkermail: "Man, I like Dunleavy but I do not like Tito Dunleavy. Whoever sent out that text message needs to be fired."
***
The Alaska Stalker was born and raised in Alaska. She lives in South Anchorage with her husband and three kids four and under. She is not Jeff Landfield.