Welcome to this edition of the Alaska Stalker, a lighthearted round up of the best and worst of Alaska's social media landscape.
***
If you enjoy the Alaska Stalker, please consider supporting working moms like me by sending in hot tips, screencaps, overheards, and spotted ins. You can reach me at akstalker@alaskalandmine.com. As always, thanks for reading.
***
Take me back to October 18th. It was above 30 degrees! There were leaves on the trees! 🍂🍃

***
And now there's snow. What a difference a couple days can make. Isn't that right, Jennie? 🤭
***
It's official: winter is here to stay. So long, farewell, auf wiedersehen, goodbye to my favorite campaign RV. 💛

***
A scant ten days before the election and folks aren't moosin' around.

***
 Are the moose okay??? So many Moose vs. sign rampages this year.
***
I guess the moose heard about Elon's deal going through because, for better or worse, they are TWITTERPATED.

***
Let's see, we have habitual moose in the Valley, horn-mad as well as humping moose in West Anchorage and hangry moose in South Anchorage.

***
If you prefer passive moose watching, might I suggest checking out Hilary Swank's new show, Alaska Daily. I hear the Alaska Landmine has a fab new columnist doing episode-by-episode recaps.

***
Halloween is just around the corner, but I want to take a moment to recognize Alaska Day. Check out this amazing photo from the Alaska National Guard featuring Senate candidate John Cunningham. What a shot of a guy who doesn't have a shot! 📷🤩

***
🐐

***
Bootiful! 🕷️💀🎃
***
Did Lyn Franks just cancel herself? A shame. I really enjoyed all the spooktacular puns on this fundraiser flyer.

***
Speaking of tricks, did you hear about the District 12 debacle? House candidate Jay "Forrest" McDonald ordered an anti-Calvin Schrage straight-to-voicemail robocall to voters in his district. Only one problem: Jay did the math wrong and it went out at 5:00 IN THE MORNING!!! 🤦‍♀️ Here's a screencap of the voicemail transcription from my favorite District 12 family. 5:11AM. Luckily she had her phone on silent. This super voter told me, "First I was pissed at Calvin. Then I was pissed at Jay. Now I'm pissed at both of them."

***
The wife received the anti-Schrage voicemail. While the husband, who didn't even get a call, got a real-Schrage apology text. Poor Calvin. Imagine waking up only to find your opponent robocalled your entire district at 5:00am with a recording of your voice.  Can you imagine???

***
I'm sure Calvin was sending apology texts and making calls all day. His fraud alert post on Facebook didn't get a lot of traction. Hopefully there are a lot of Millennials in his district just like me who don't have or ever check voicemail.

***
It was such a screw up Jay publicly apologized. This is hands down one of the loosest things to happen this election cycle.

***
I thought the Jay/Calvin fiasco would top the list of down right dirty tricks. Then I saw Rep. DeLena Johnson's post. Look at her, slinging that mud in our faces. Diabolical!


***
I am shook. I thought for sure anyone who rocks a truly impressive mustache, frequently sports a jean on jean ensemble and posts impromptu dancing videos with his lovely wife would be a strong believer in the body positive movement. I think House candidate Cliff Groh needs a reminder that feeling beautiful has nothing to do with what you look like. All bodies are good bodies. Cliff, we love you and your belly just the way they are!

***
I also want to give a shout out to the junk in Sen. Robb Myers' trunk. Stunning and brave to post an unphotoshopped and unfiltered photo. 🍑✊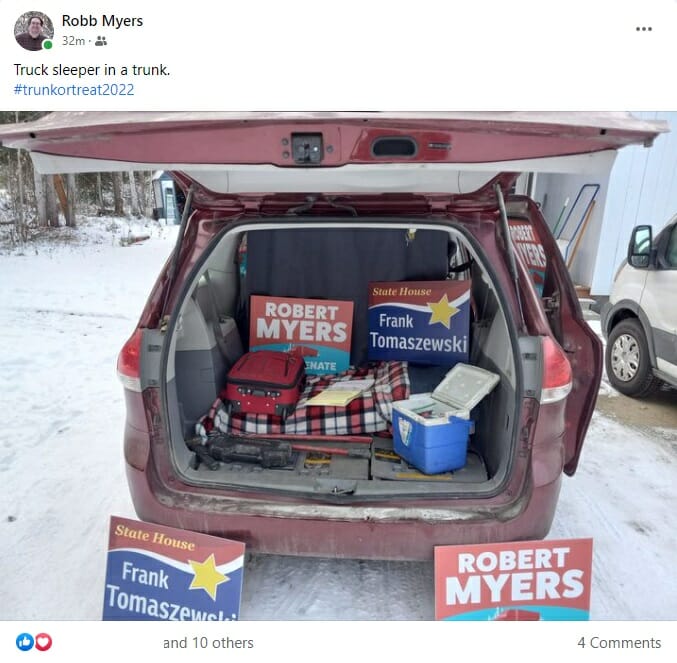 ***
I finally understand the genesis of Steve Menard's campaign logo: it's a throwback, family style. I just have one question about "the more things change…the more things stay the same."

***
Can *some* things change? Please, Steve, tell us you've changed just a little. 🙏 The fact that this is an actual and factual ad against the front runner for a State House seat is absolutely bananas.

***
It's time for the last sign report until after the election. Rep. Harriet Drummond and Sen. Elvi Gray-Jackson are the latest victims of vandals.

***
Apparently the first snow left several sign casualties.

***
Hopefully Sen. Roger Holland's stolen truck wasn't responsible for any of the sign shenanigans. Floyd Hall found it, natch.

***
This is SAVAGE.

***
The last couple weeks of election season are always a free for all. Comment sections are poppin' off. I mean, they're not wrong… 🌶️🌶️🌶️

***
Lisa's publicly voting Democrat. #girlpower

***
And, Sen. Scott Kawasaki has completed his transformation into a Murkowski hugging, NRA loving Republican.

***
Will it be enough? This race is going to be a nail biter.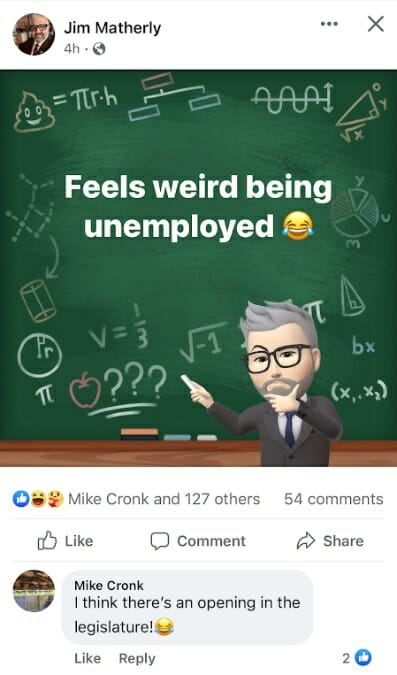 ***
Shots fired!!! Ouch!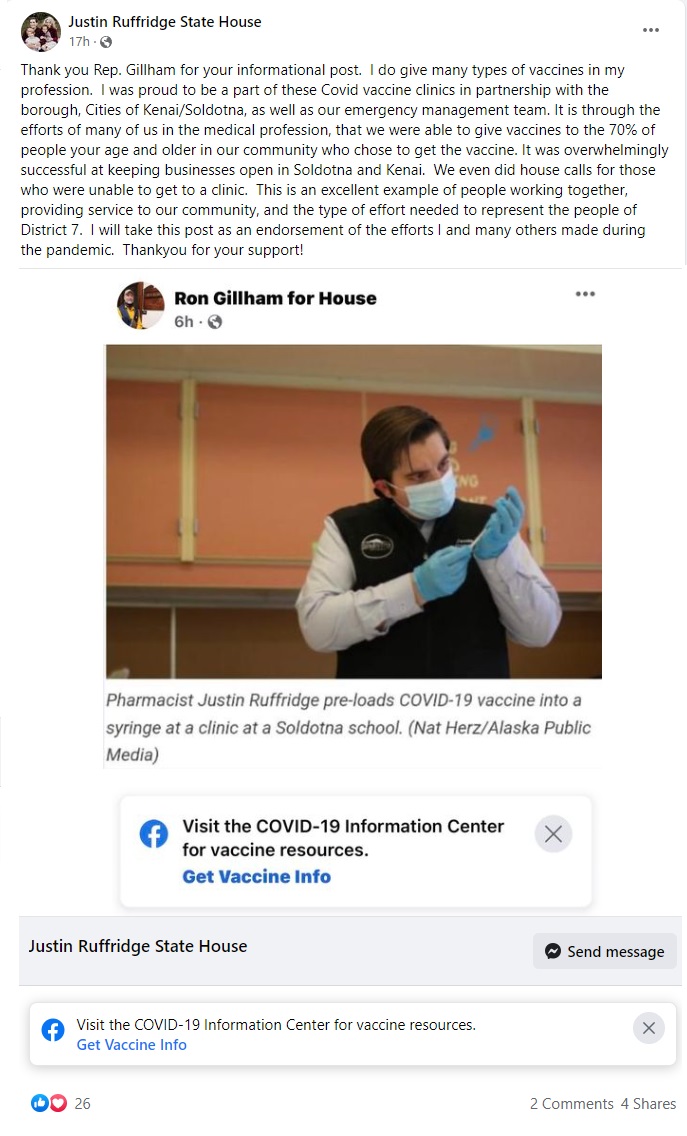 ***
I think we can safely assume Sen. Bert Stedman or Rep. Bryce Edgmon would not understand this post without a lot of assistance. It's going to be wild watching a new generation take over Juneau this year. I am here for it!

***
Jennie isn't the only Taylor fan. AFL-CIO President Joelle Hall loves to express her dark side through music. I agree, Joelle – Karma slays.

***
Sometimes I think, despite all our differences, California born Forrest Dunbar and I could be friends. We share a common love for Star Trek, 90's era Sierra computer games and Redwall. Still…. Nahhh.

***
Here are two faces we're likely to see in Juneau as representatives next year. Genevieve Mina has been a Stalker favorite this entire election cycle, while CJ McCormick is running unopposed in House District 38.

***
Or is he… 🧐

***
Did you see the eleventh hour ad put out by the Walker/Gara campaigns? They are (finally) fully embracing ranked choice voting as their strategy to win. Think "rank the red" but on steroids. If ranked choice voting is here to stay, campaigning as a united front with an opponent will be the new normal. Will it work?
***
Can someone please explain to Les what ableism is? 😳

***
Oh wait, I bet he edited it. Yup. Only took him two days…

***
I was worried I wouldn't hear from Tito Dunleavy again before the election was over. Whewww. Hound me any time, Tito!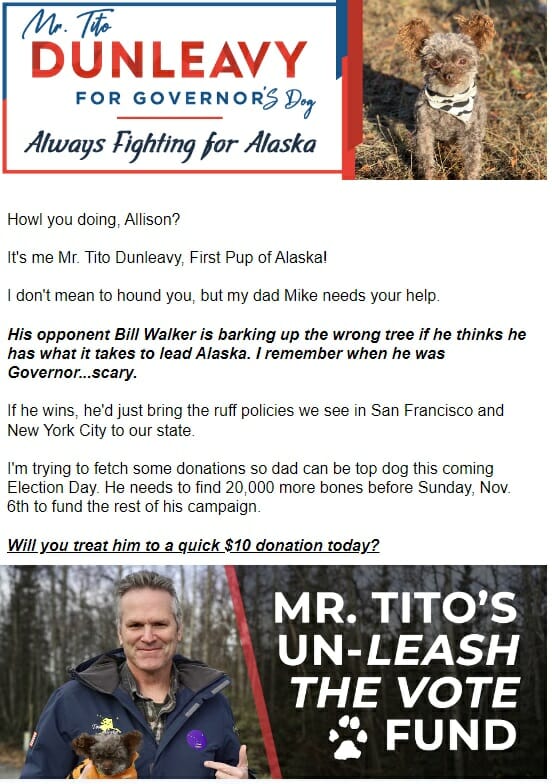 ***
Whoever decided not to bring back the graphic of Tito posing in an orange sweater with pumpkins should be ashamed of themselves.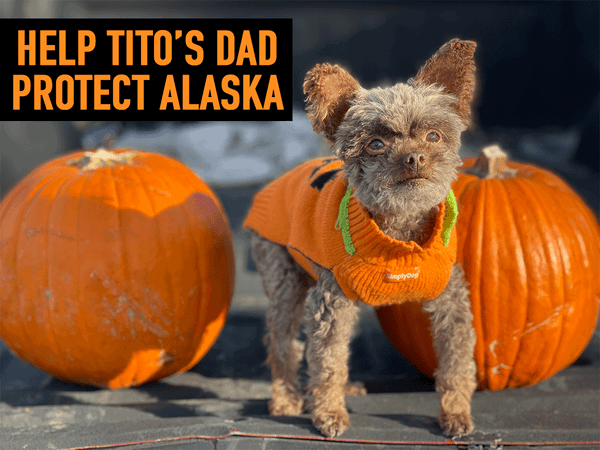 ***
I know to be on the look out for Republican extremists like forner Vice President Mike Pence, former talk-show host Dave Stieren and my current Rep. Laddie Shaw. But, who is Mike Revak? He must be pretty dangerous if I've never even heard of him.

***
The hedgehog is ranking Nick Begich second. 👀 Also, paging Löki Tobin, this spiny mammal got your name wrong!

***
Come on, Caroline. Don't be stingy. We need a little more info!
***
Overheard on the radio: A Kathy Henslee ad referring to Andy Josephson as "woke."
***
Overheard at AFN: "I was team Sarah until the moment Don Young's daughter gave Mary his bolo tie at AFN. I gotta go with my girl Mary now."
***
Overheard in Downtown Anchorage: "Mary has BFE: big fish energy."
***
Overheard at Darwin's Theory: Tyler Ivanoff telling Rep. Neal Foster he shouldn't be running because he's a homosexual. Neal responding, "Actually, I'm not but let's keep things positive." Eventually Tyler started crying, for unknown reasons, gave Neal a hug and ran away. Note: Tyler is running against him.
***
Overheard: Former legislative staffer: "I don't care if Forrest Wolfe wins. I will never refer to him as Representative Wolfe.*
*Said in a joking way, but also a little serious.
***
Overheard: "The government really needs to solve the PFD issue so that Brad Keithley will stop talking about it ALL THE TIME."
***
Spotted after getting some Kelly Tshibaka lightsabers: Mia Costello driving down Jewel Lake Rd.
***
Spotted at Costco: Laddie Shaw in a yellow coat. I almost mistook him for Alyse!
***
Sent to the Stalker: "I want to meet the person who's like I only got four mailers from Lisa today so I'm not voting for her. Oh look a fifth! Now she has my vote!"
***
The Alaska Stalker was born and raised in Alaska. She lives in South Anchorage with her husband and three kids five and under. She is not Jeff Landfield.