Welcome to this week's edition of the Alaska Stalker, a lighthearted round up of the best and worst of Alaska's social media landscape.
***
If you enjoy the Alaska Stalker, please consider supporting working moms like me by sending in hot tips, overheards, and spotted ins. You can reach me at akstalker@alaskalandmine.com. As always, thanks for reading.
***
Wow. Even Sen. Lisa Murkowski told herself to go take a hike. That's impressive.

***
I wonder what they talked about… 🤔
We're Hiring – Be part of Alaska's COVID-19 response!
Positions are available for nurses, contact tracers, administrative assistance, data entry and more.https://t.co/qL4YgXGB63

— Anne Zink (@annezinkmd) October 27, 2020
***
Don't forget, Halloween is this weekend.  While some politicians got tricked…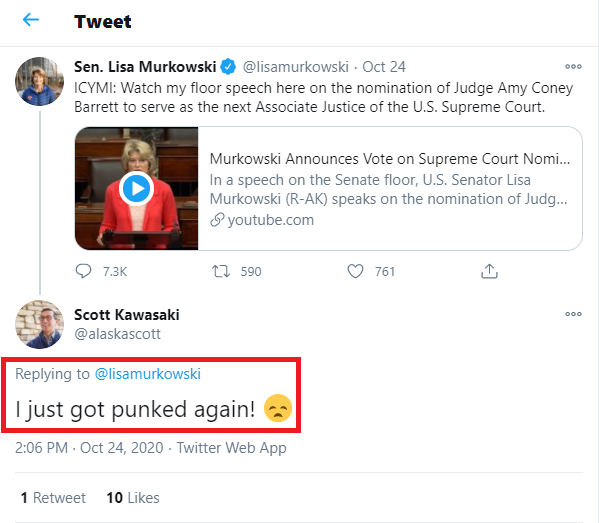 ***
Others are leaving treats. 🧡🖤🧡🖤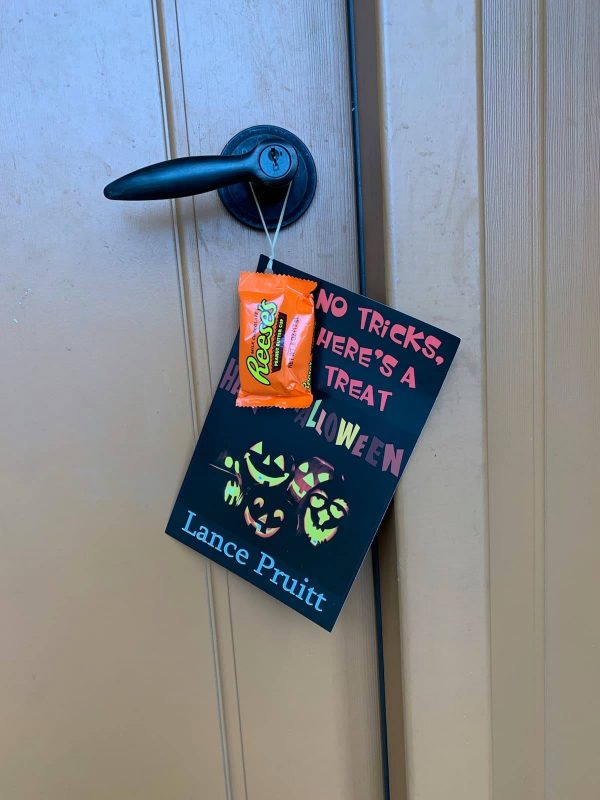 ***
But the sweetest treat a politician can receive is running unopposed. Just ask Rep. Harriet Anagnostis Drummond. Congratulations, Harriet!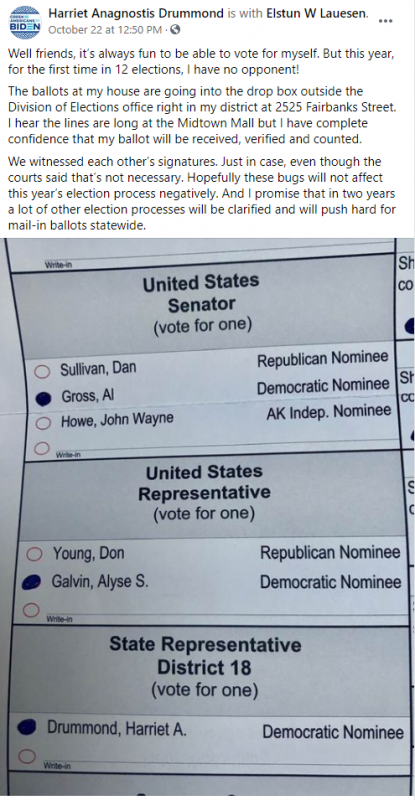 ***
We're headed into the home stretch. This next week is going to be a doozy. One loyal Stalker reader received 17 pieces of mail today. Yikes! A thankful Stalker shout out to Rep. Geran Tarr for upping her puppy content to get us by. 😍🐶🐾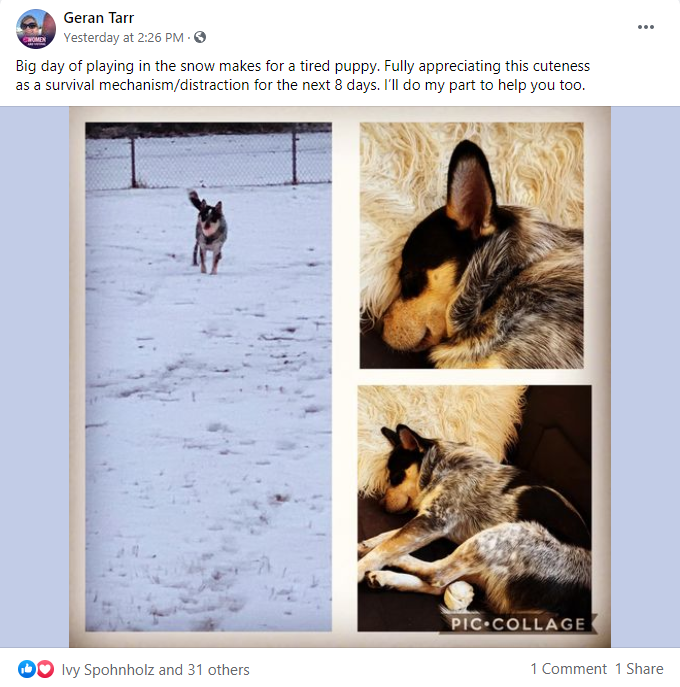 ***
It's true. I am guilty of focusing too much on the presidential election. However, I take umbrage to Connie's! assessment. I pay enough attention at the local level to know she lost her race. Twice.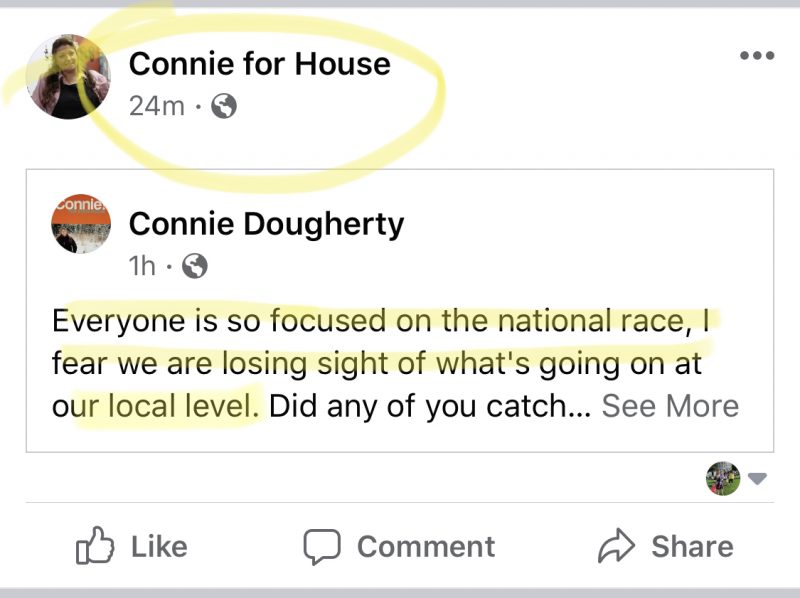 ***
While I was vibing with Dr. Al Gross' big dad jeans energy at the Alaska Public Media/KTUU U.S. Senate debate, this look has me concerned. Did the Bear Dr. join the Boogaloo Boys?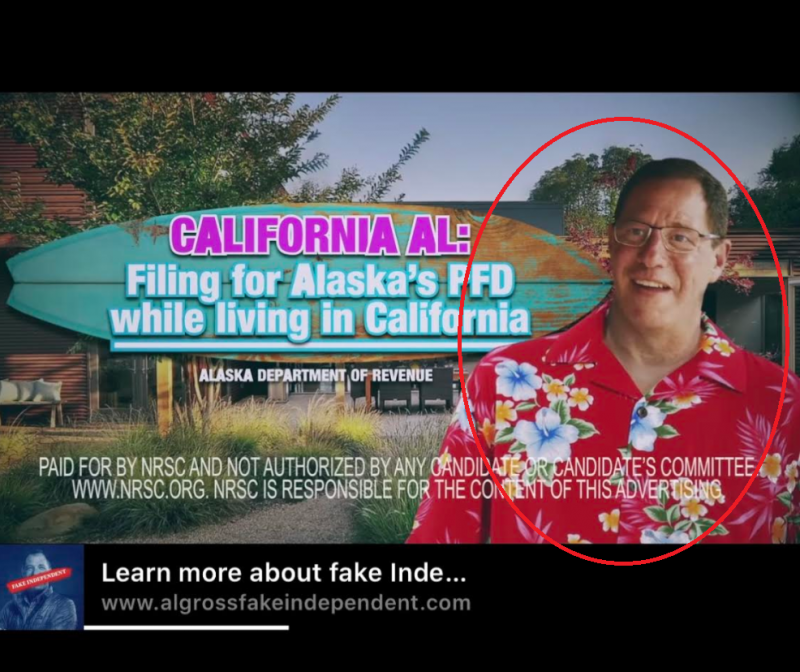 ***
Al isn't having the best week. First he stepped in it at a Fairbanks debate (see our overheards below). Then he legit caused a paper shortage at the print shops. Folks are getting multiple mailers from the Gross campaign and independent groups every DAY. And, it doesn't stop there. Even his supporters are sick of it. Check out progressive Juneau Assemblymember Carole Triem's Twitter tirade against Al's barrage of texts, calls, and mailers. You could almost call it gross negligence? Ba dum ching! That clap back against Jake Metcalf tho. Carole is 🔥🔥🔥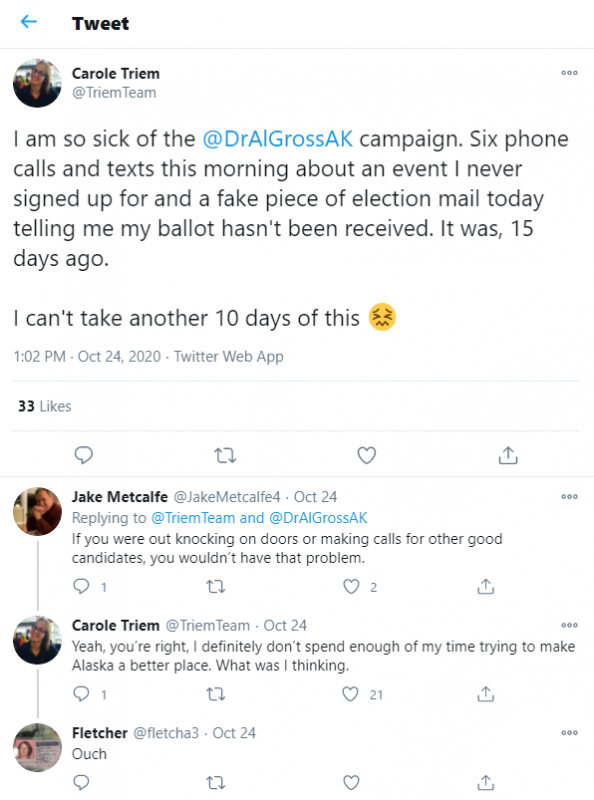 ***
Senate District N and House District 28 were recently treated to a double feature attack mailer. Roger Holland and James Kaufman, running for Senate and House respectively, get the full carpetbagger treatment. Wait, why is there a gator at Roger's feet? Ahhh. Louisiana. The beads should have given it away. Congrats to whoever designed this one – I actually read it!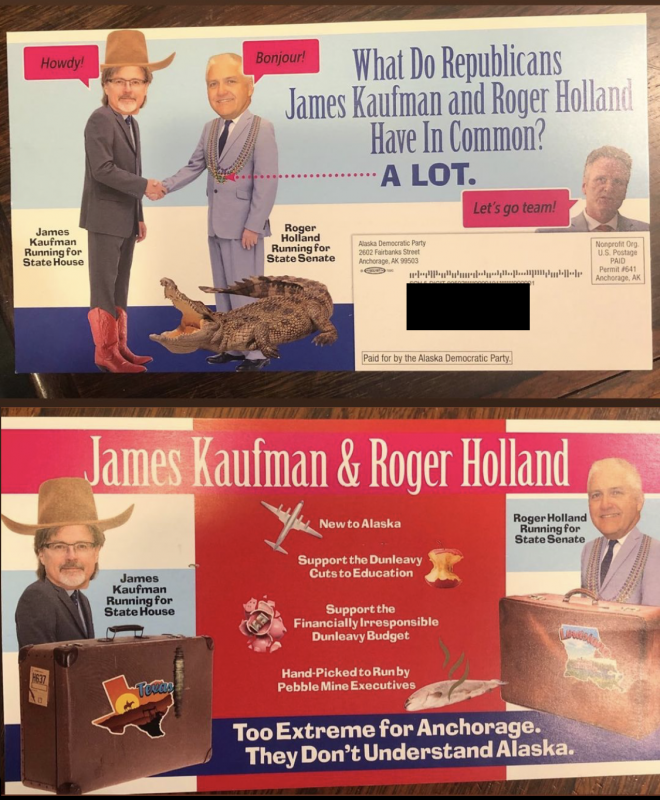 ***
Also in District 28, candidate for House Suzanne LaFrance was on the same flier as Congressman Don Young and Sen. Dan Sullivan. Let's go, team! Seems totally legit. 🙄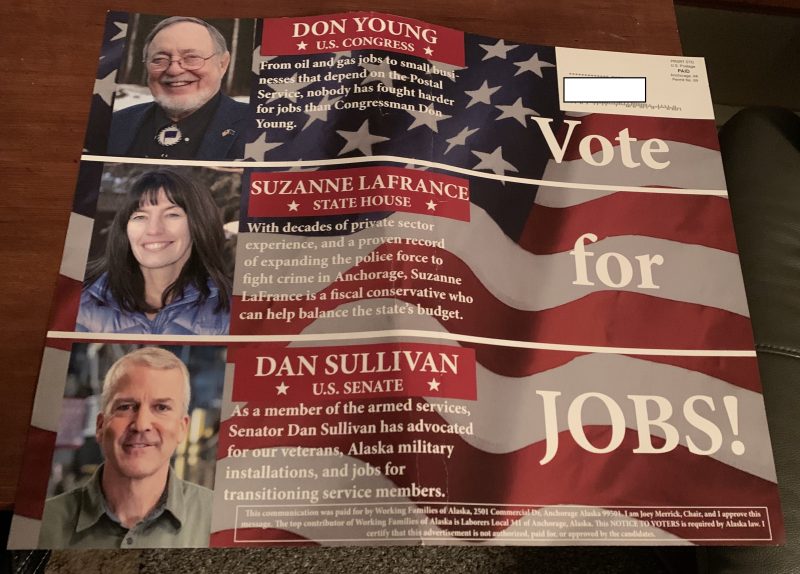 ***
Poor Kathy Henslee. It's bad enough she's running against the one and only "Christ" for House District 23.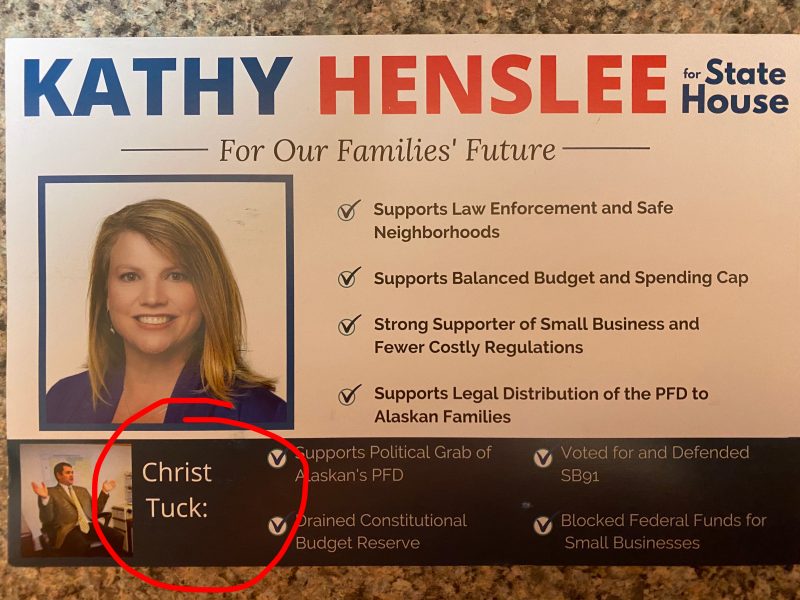 ***
But then her car gets stolen and SB91 isn't even a campaign issue anymore. Interesting campaign page share. We can only hope Floyd Hall lives in her district.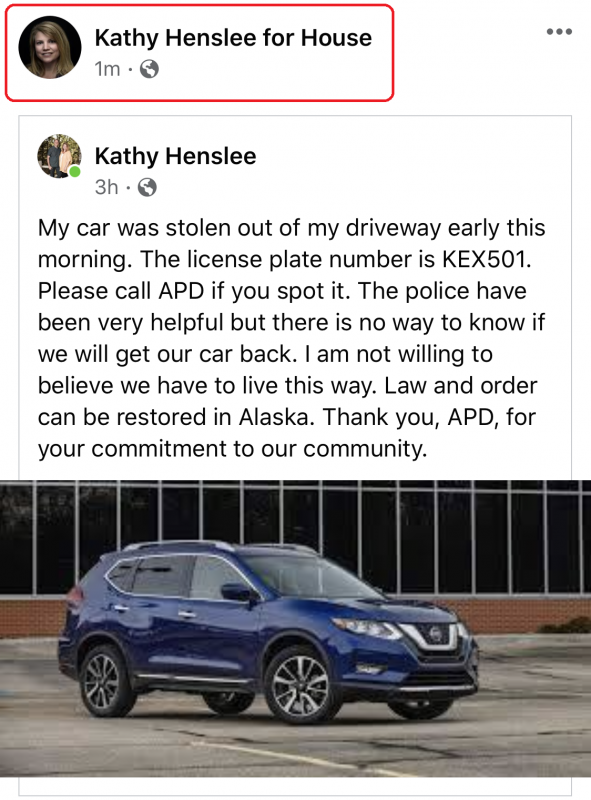 ***
UPDATE: The car was found by… Scott Floyd. Wait, what? Are there two crime fighting Floyds in town or did Kathy make another name related typo? Glad Christine Hill was able to get to the bottom of this mystery for me.

***
Okay, we have to discuss Rep. Sara Rasmussen's Tweet. You know, the "hot tub Tweet." If you don't know what I'm talking about, Landmine Editor-in-Chief, Jeff Landfield, somehow ended up in her hot tub during a party last weekend. Sara thought it would be a good idea to take a photo of it (a week before the election) and post it on her official Rep. Twitter page. 😬🤦‍♀️ Very stateswomanly.
I don't even know why she has Twitter as approximately 90% of her followers are NOT fans. Sara, I know you deleted this post, but you should really delete your account. Thank you to everyone who sent this to me before she took it down. It was only up for about 5 minutes. 👀 Good work!

***
Alaska Twitter had A LOT to say about the hot tub pic. I didn't know Selena changed her name to Karen.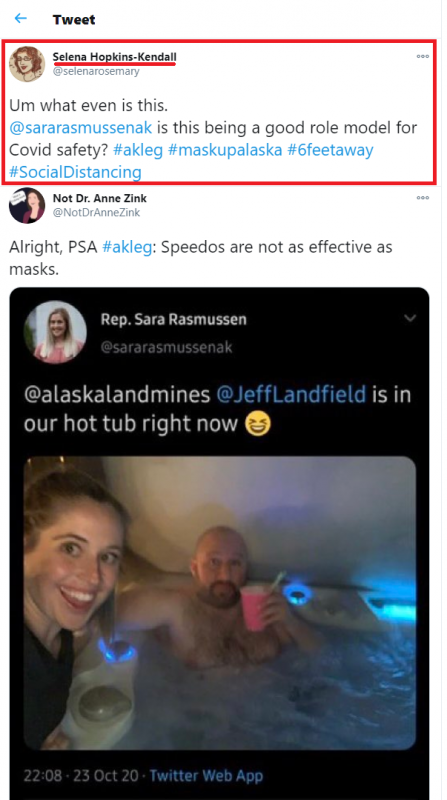 ***
But it was Chief of Mean Girls Staff to Bryce Edgmon, Amory Lelake, who left a mark. Ouch.
***
I really hope all candidates for office and public officials heed Amory's call. I mean, just look…
🤡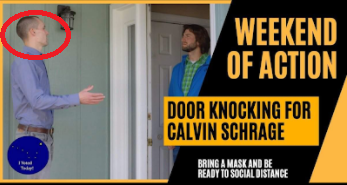 ***
🤡🤡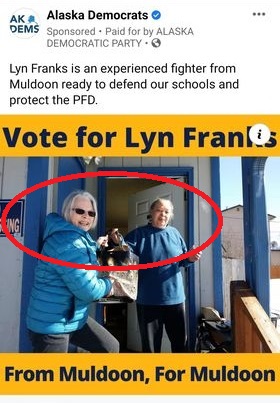 ***
🤡🤡🤡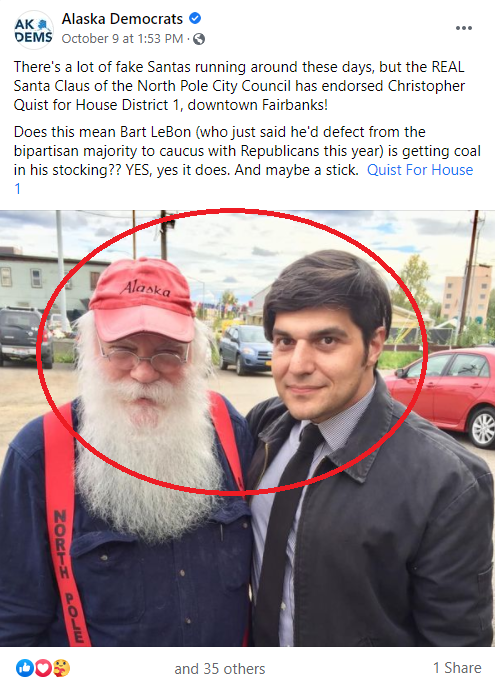 ***
Glad to see Sen. Tom Begich is finding some balance during these times, and a way to safely perform. This feels almost normal.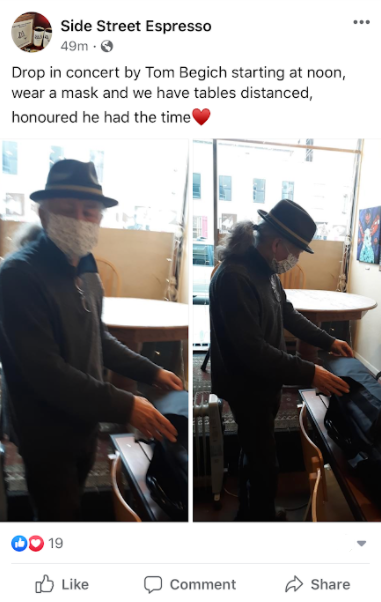 ***
If you think Sara's hot tub photo is bad, wait until you see Sen. Peter Micciche's shower pics. Warning, this is NSFW.
*
*
*
*
*
*
*
*
(NSFW = New Shower For Wife)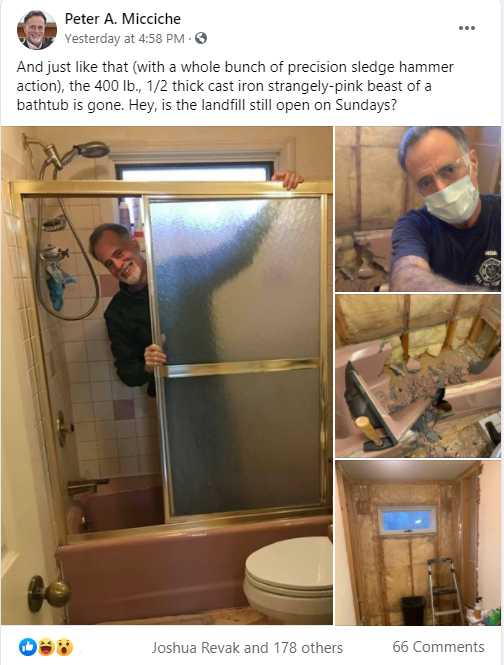 ***
A friendly Stalker reminder to always look both ways before you brunch. This town – no this state – is just too damn small. Oh to know who Chris called first for a full debrief. 👀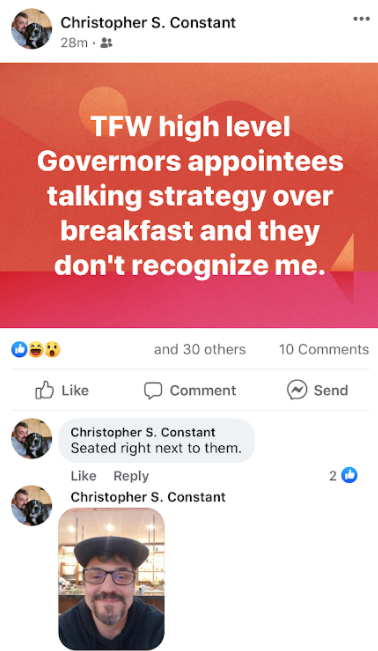 ***
After 2 weeks of multiple health screens and asking everyone to quarantine, I surprised my closest inner circle with a trip to a private island where we could pretend things were normal just for a brief moment in time. pic.twitter.com/3BvjZgvyq3

— Forrest Dunbar (@ForrestDunbarAK) October 28, 2020
***
Meanwhile on the Kenai… Mayor Pierce! Does the fun really start after 50? 🙈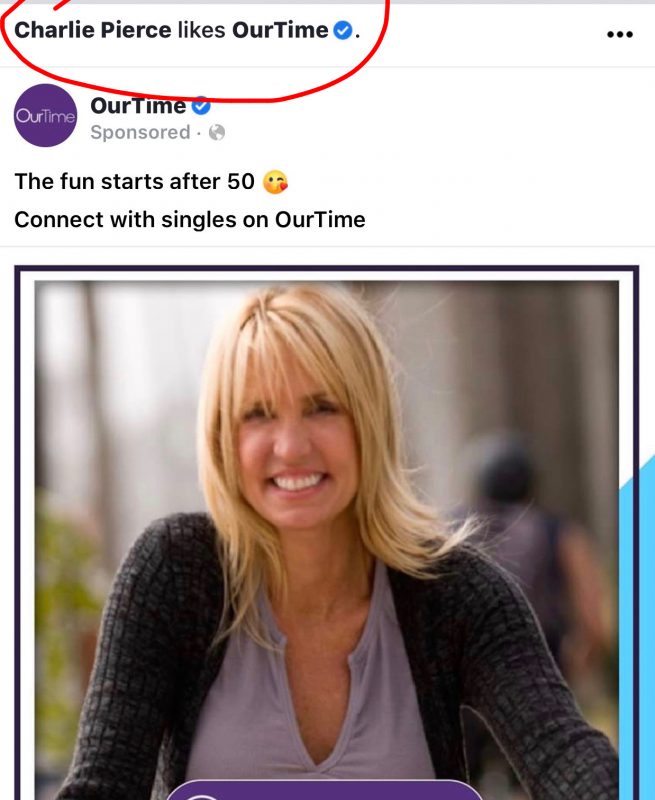 ***
Of course there's a Trump/Pence sign.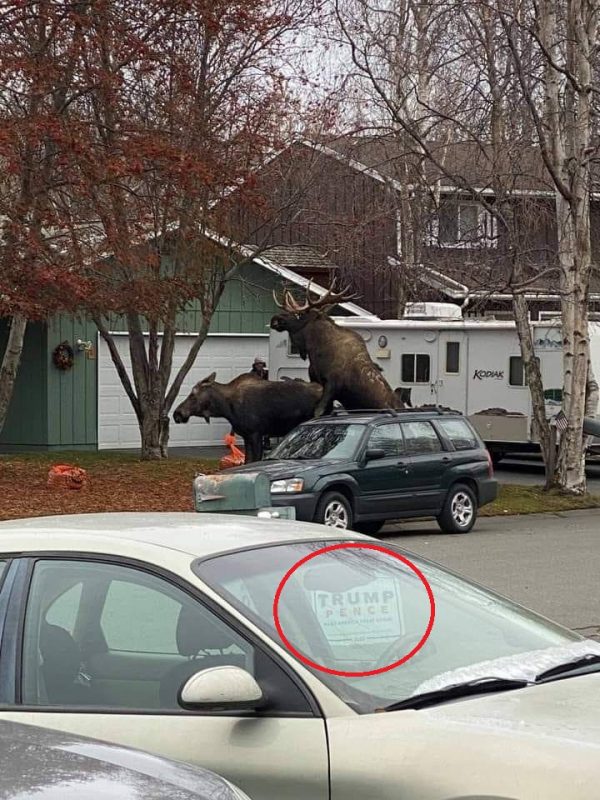 ***
I have so many questions… I thought Q Anon was supposed to get rid of all the pedos. How is PEDO even allowed?
*Thank you for all the emails. I've since learned the Q is for que and it's a common Spanish phrase. But, this is a political blog and I'll be "trusting the plan" as "the storm is upon us." Q forever.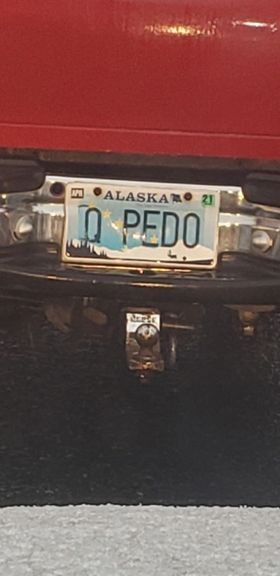 ***
Spotted at the Loussac Library:
Someone trying to return their official election ballot for the real national grown up election into the cardboard box decorated with cartoon characters for their "Books Get our Vote" program, where children get to vote for a book character. LOL! Don't worry – a staff member caught them in time and gave the directions to the nearest official ballot box.
***
Overheard in Anchorage:
"Hey honey, why did we get an Alaska Mill and Feed ad?"
"Huh? Oh, the lady in the overalls? that's Liz Snyder. She's running for House."
***
Overheard in Fairbanks at a U.S. Senate debate:
Sen. Dan Sullivan: "Do you supports statehood for D.C. and Puerto Rico?" Dr. Al Gross: "No, because it's bad for Alaska."
Sen. Dan Sullivan: reads lengthy quote from Zoom fundraiser where Al says the exact opposite.
Awkward! Shouldn't he know by now that Zooms aren't private. 🤦
***
Overheard at the Alaska Public Media/KTUU Congressional debate:
Alyse Galvin yelling "WE'RE CIVIL!" over Congressman Don Young right after he called her "Alice." What a mess.
***
Overheard in Anchorage: "I think about Josh Revak's dog ad a lot. It makes me really uncomfortable."
***
Overheard in Anchorage:
"I really love that Sara hot tub Tweet. She does things sometimes that make me go Sara, WTF are you thinking. But in a fun way."
***
The Alaska Stalker was born and raised in Alaska. She lives amongst the bears in South Anchorage with her husband, daughter, son, and newborn. She is not Jeff Landfield.