Welcome to this week's edition of The Alaska Stalker, a lighthearted round up of the best and worst of Alaska's social media landscape. Have you sent us a hot tip yet? Email us at [email protected] and, as always, thanks for reading.
---
The Stalker was also traveling, and without cell service, for most of last week. I have to say, Les had the right idea. Last week was one of the least stressful, low key weeks I've had so far this year. And I was traveling with a toddler!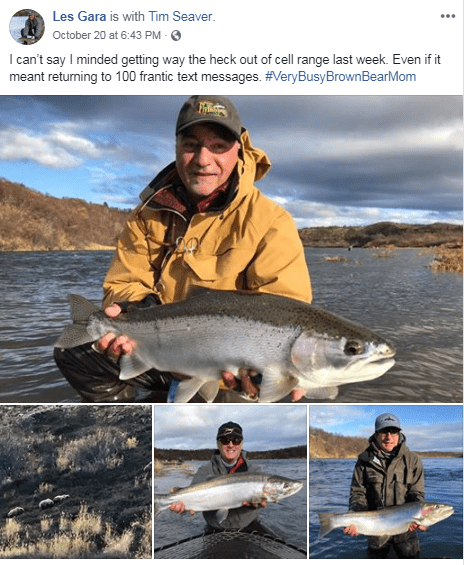 ---
Now let's get on to the good stuff…
Governor Walker took some time to read one of our favorite children's books, "If You Give a Moose a Muffin" to the students at Seward Elementary. No word on when Walker's book, "If You Take a PFD from an Alaskan" will hit stores.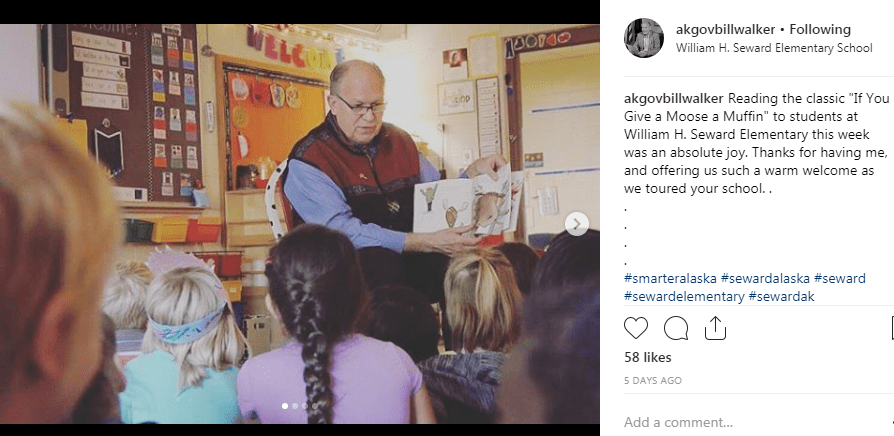 ---
With less than two weeks to go, people aren't wasting any time making the change from Walker to another candidate Begich. Honestly, the best part of this photo is that this house used to belong to my Grandparents. ??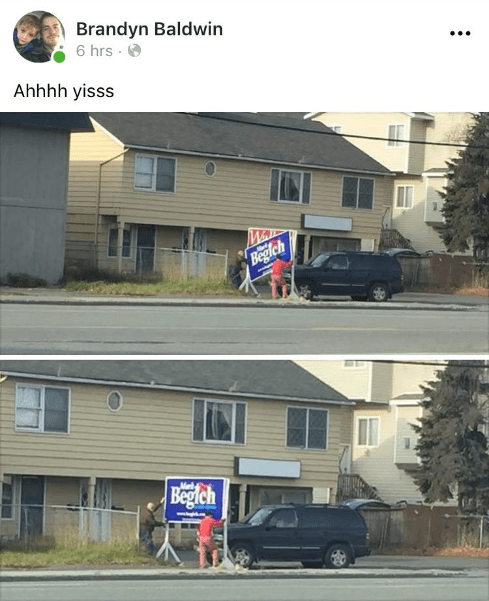 ---
The good folks over at Side Street Espresso had a Mark Begich for Governor "Steady on Course" latte special this week. I can't wait for the Alyse special!

---
Looks like the cannabis industry gives Begich high marks. After all, you can't spell expand health care without THC. Now if they can only remember to go vote…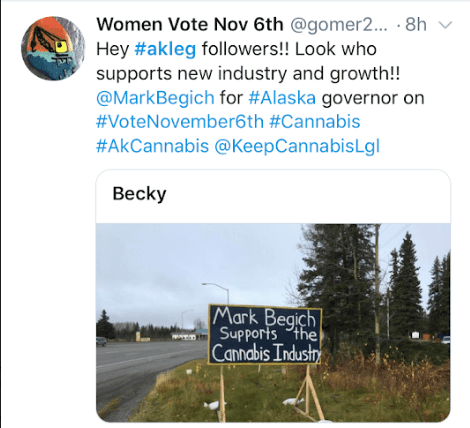 ---
What the heck is Mike Dunleavy wearing over his dress shirt and tie? Wait, is Prometheus Mike now a Log Cabin Republican? ?
---
Assemblymember Forrest Dunbar made a bold prediction re: #WheresMike after Governor Walker suspended his campaign.

---
Forrest was wrong.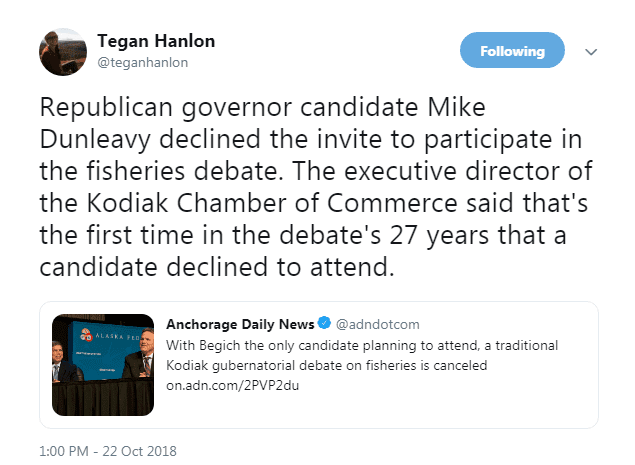 ---
But enough about #WheresMike, we want to know #WheresKevin? He hasn't updated his Lt. Governor Facebook page since the day after the primary. Kevin, are you okay?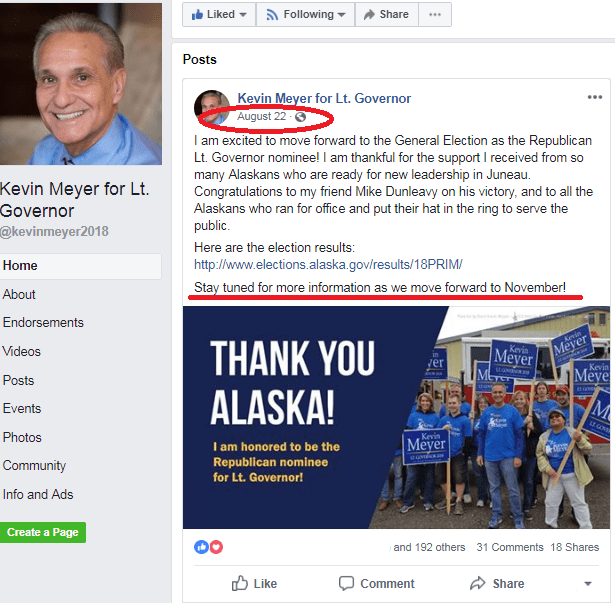 ---
And Elizabeth Medicine Crow launched a write-in campaign: Valerie Davidson for Governor, and Barbara Blake for Lt. Governor.
2018 is shaping up to be the year of the write-in. The question is, will any of them be successful? ¯\_(ツ)_/¯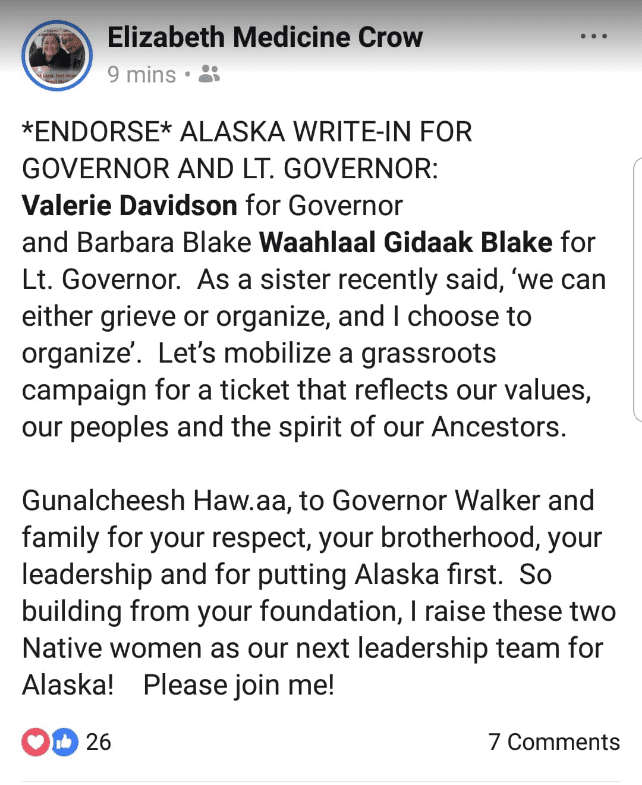 ---
Speaking of our current Lt. Governor, Valerie Davidson, did you see this part of her keynote speech at AFN on why she wears a qaspeq to work every day? Brilliant! You can watch this clip and other highlights on her Twitter feed.
---
Now that Walker's out, Begich has been focusing his attacks on Dunleavy. Senator Begich posted this video on his Facebook Tuesday morning.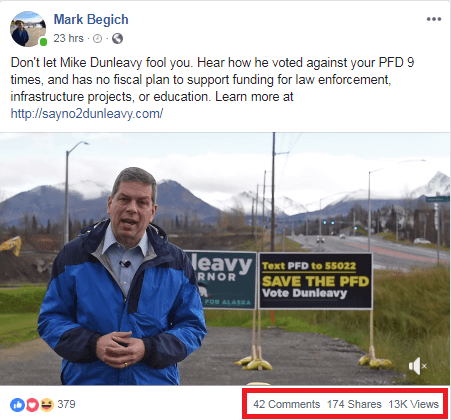 ---
It took the Dunleavy PAC meme kings a couple hours to put together a clever rebuttal video (screen cap below). Wait, is that Landmine Editor-In-Chief Jeff Landfield in the middle? Who wants to bet that's the only photo of Mike and Bill W together. Troll level: expert.

---
What they didn't count on was Senator Bill Wielechowski firing off an epic Facebook rant as soon as he saw the video. Look at that engagement! It was about 5 paragraphs too long for me, so I didn't actually read it. If anyone wants to give me a TLDR in the comments, that would be appreciated!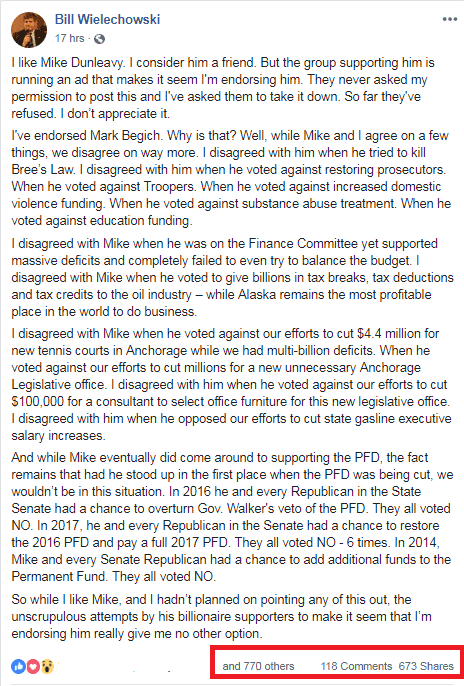 ---
Halloween is next week, and folks are starting to get in on the holiday fun! Don't forget to send us any politically Halloween themed social media finds.
Dankorage is sporting a Christmas wreath (too early, guys!) and some lovely Halloween decorations at their midtown Meowijuana shop.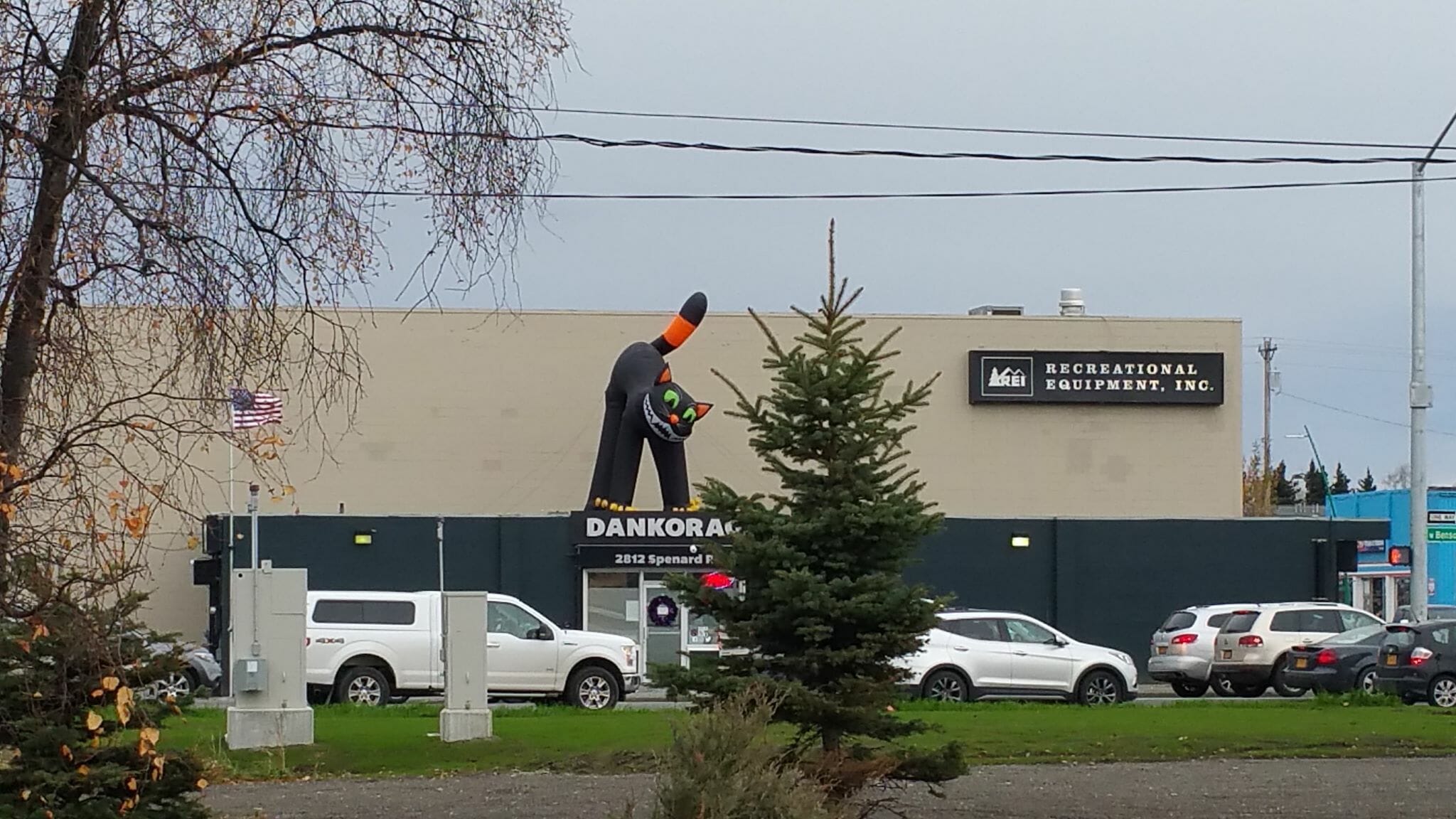 ---
Depending on what side you're on, we have a feeling more than a couple neighbors think these yard sign displays are a horror show. Gives a whole new meaning to the phrase NIMBY.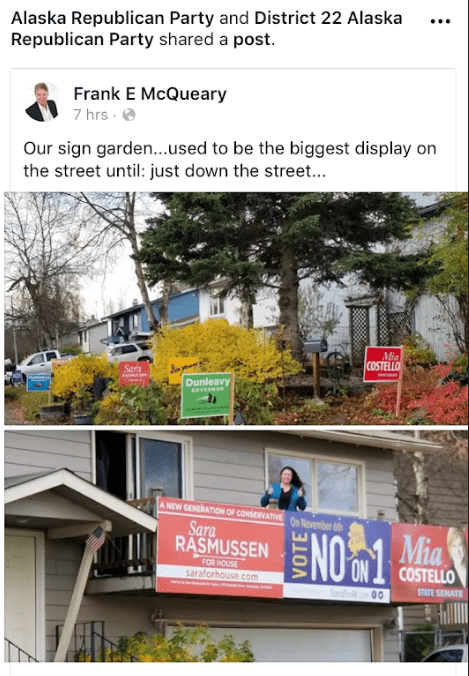 ---
We are loving candidate for House Chris Dimond's son, Gavin, and his homemade Freddie Mercury Costume. Not going to lie, at first glance we thought it was a photo of Congressional Candidate, Alyse Galvin, and her fav yellow blazer.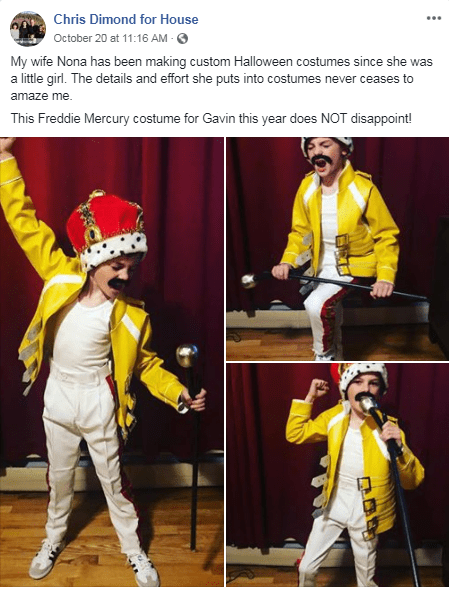 Speaking of Alyse…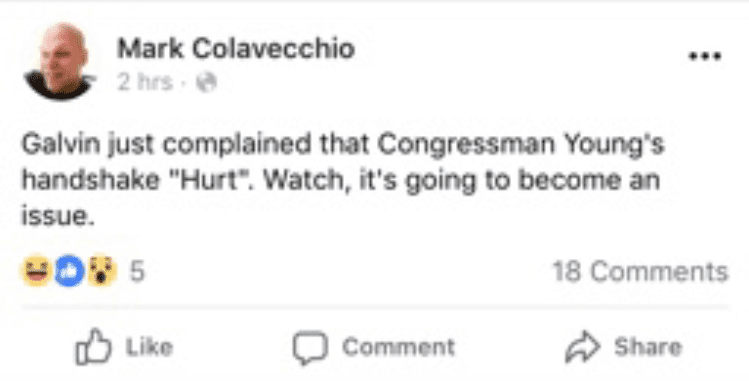 Mark was right. Handshakegate is a bonafide thing. ?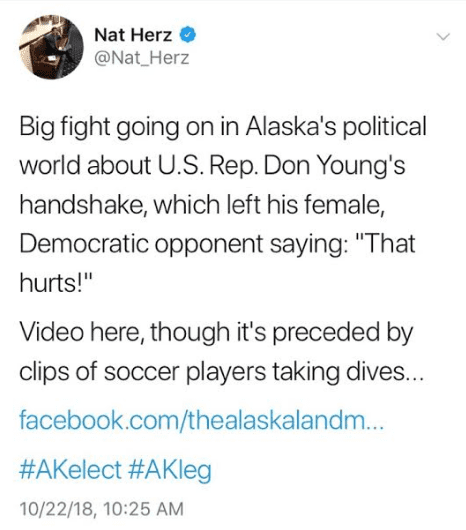 Watch the Alaska Landmine video here:
Is Alyse Galvin running for Congress or trying out for a soccer team?

Posted by The Alaska Landmine on Friday, October 19, 2018
---
Some folks, like Communications Director for the Alaska Democratic Party, Jeanne Devon, rushed to Alyse's defense.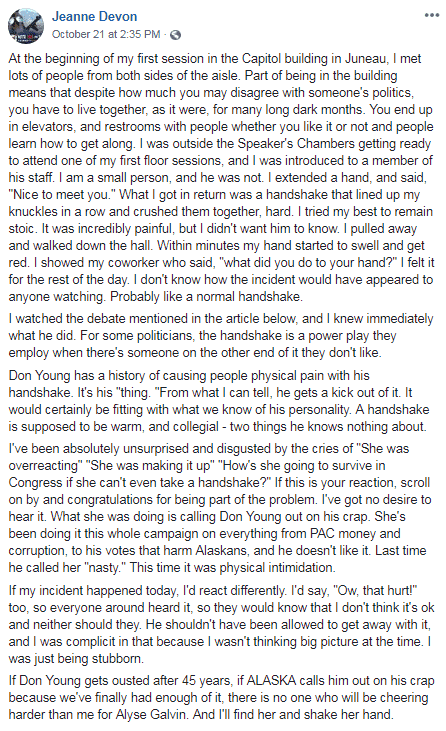 ---
Someone even reported the incident (via Twitter) as assault to the Troopers!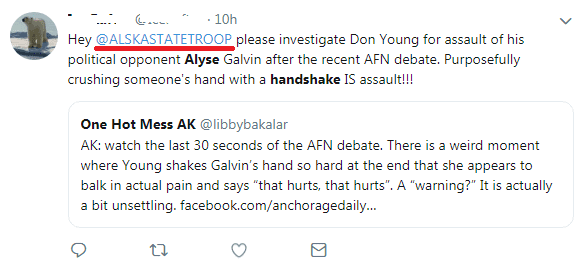 Wait a minute… Not sure that account is legit.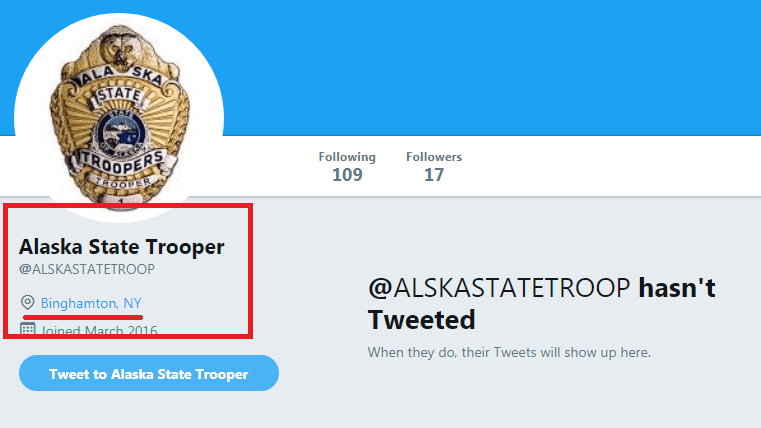 ---
While others, like Assemblymember Amy Demboski came out pro Don. Check out that random Austin Baird burn. Ouch. That one might hurt more than Don's handshake!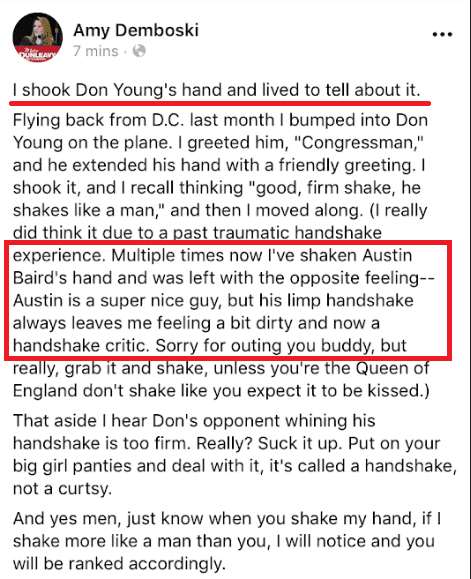 ---
Have you seen the series of spoof "ads" featuring Alyse "driving" her RV around? I can't not post them. They are bizarre. And VERY TRIGGERING funny. Are the Dunleavy PAC meme kings about to be dethroned?
Video 1:
Video 2: Update: Did Facebook take the video down?! Nooooooooo! We will update once we know more.
As Congressman Young says, "if it walks like a duck and talks like a duck, it's a duck". If it's policies are liberal, if everything it says is liberal, she might be a liberal. Don't be fooled by Mark Begich or Alyse Galvin, two Democrats, birds of a feather stick together!

Posted by John Anderson on Wednesday, October 24, 2018
---
If you see cameras in District 22 this week it might be candidate for House, Sara Rasmussen, shooting a documentary on women running for office for the first time during the mid-terms.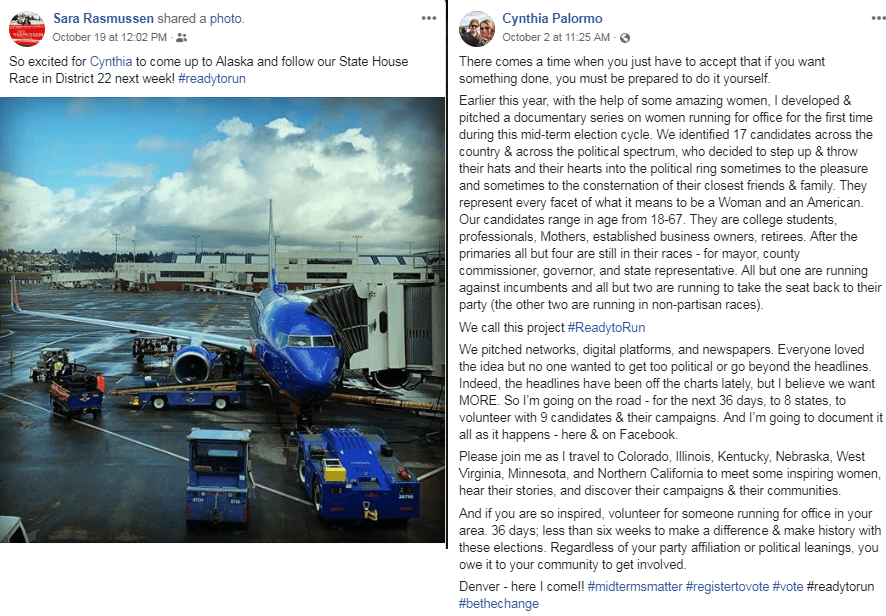 ---
Does Joseph Lurtsema run the ARWC's social media too? What does this even mean?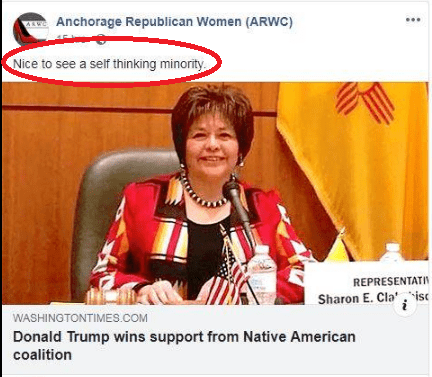 ---
Is it just me or does this GCI AFN ad look like it's communist Russian propaganda?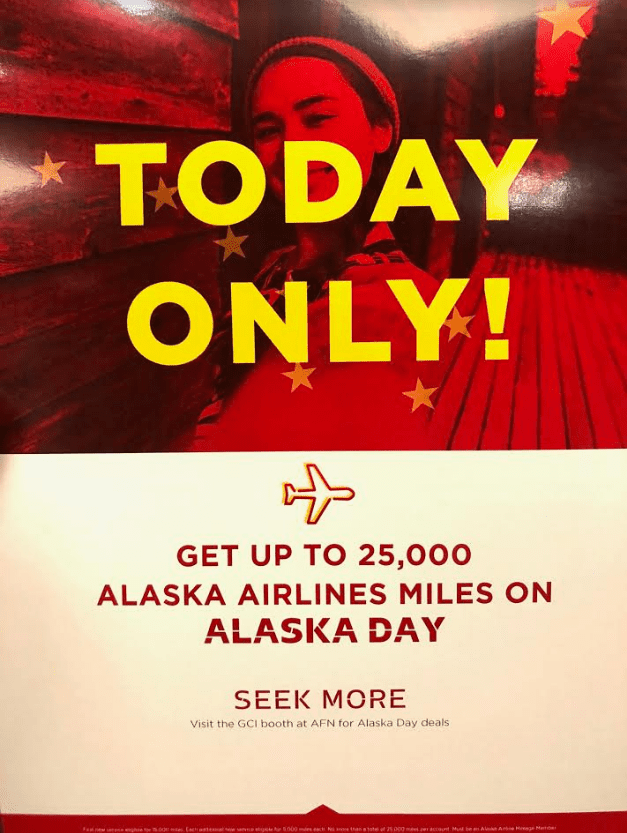 ---
No on 1 is on fleek! Campaign Manager for Stand for Alaska, Kati Capozzi, wins for most creative marketing strategy for a ballot measure. All while supporting a local business!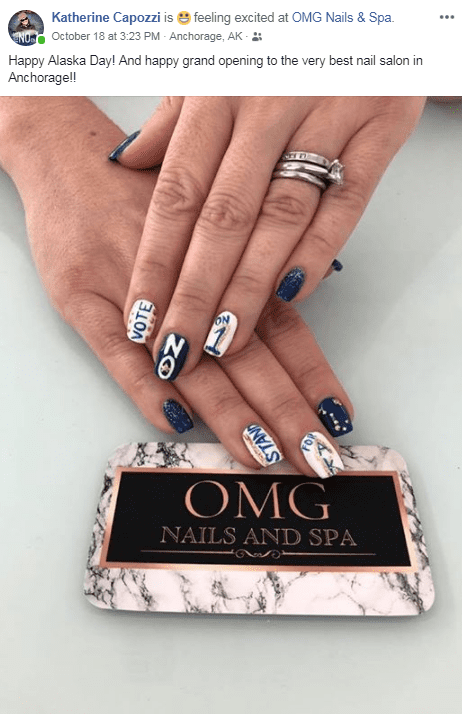 Thanks for reading, Kati!

---
While he may not be interesting enough to tell his own story at Arctic Entries, Representative Matt Claman presented some much deserved love to the local non-profit earlier this week. If you've never been, you should definitely check it out.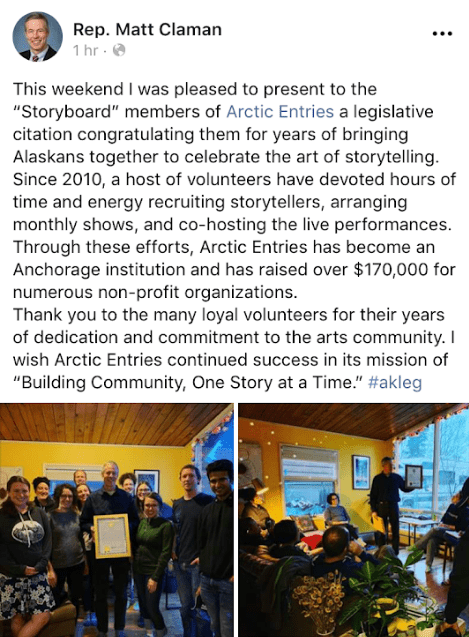 ---
Eric. No.
---
Congratulations to Mark Foster who was selected to replace Bettye Davis on the Anchorage School Board. And a friendly Stalker shout out to Anchorage School Board Member Alisha Hilde for her top notch Instagram that keeps me informed. Wait… DAVID NEES MADE THE FINAL 7???
---
Looks closer… Wait again… Did David Nees really wear a Make America Great Again Hat (or is it a Make Alaska Great Again hat?) to his interview for Anchorage School Board? I'm dying. ???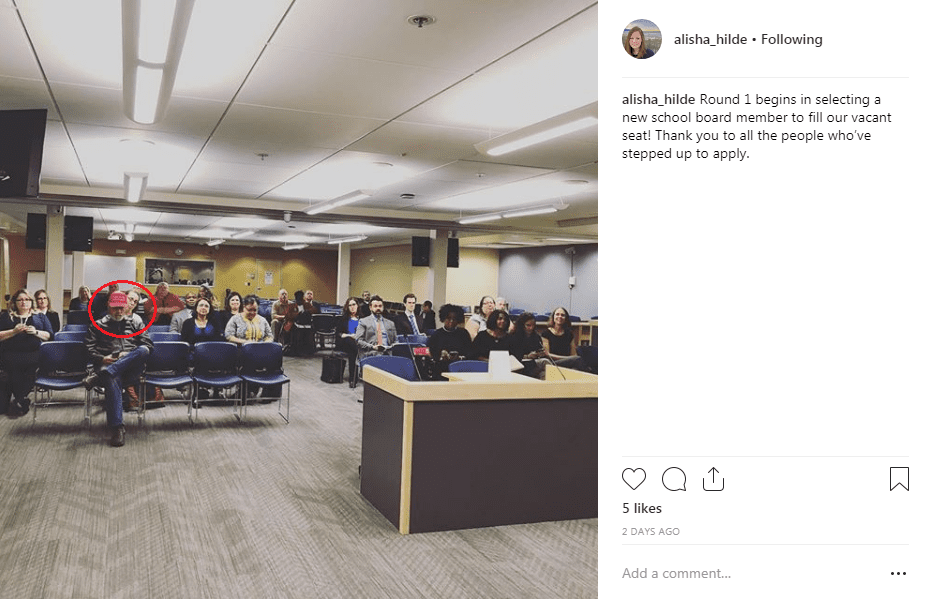 ---
One more Hildegram gem – the West/Romig Library had their grand re-opening last week! I am glad to see the project, which was part of a $58 million maintenance and construction projects bond, was completed. I am always watchful of these projects. As a Service High School grad, I saw first hand what happens (or doesn't happen) when bonds pass but the money is spent on something else.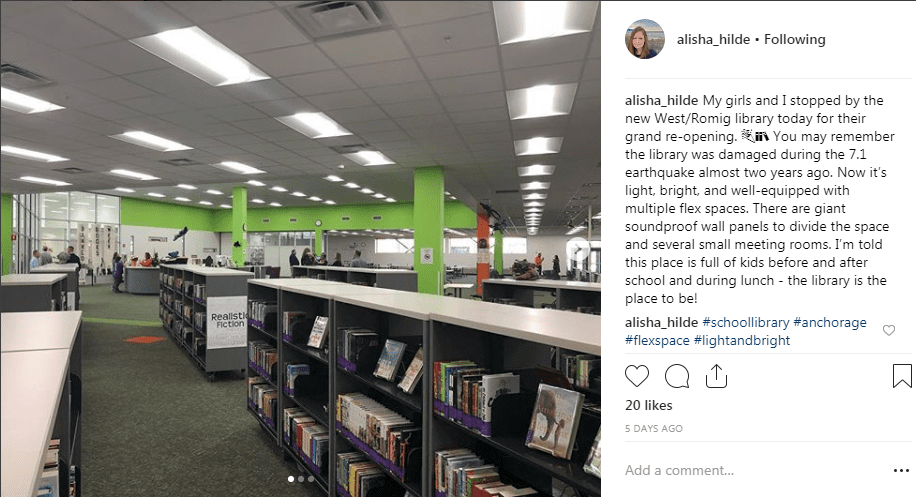 ---
Assemblymember John Weddleton is a wise man. Stay tuned folks! #foreshadowing

---
Rumors:
First son Eric Trump is thinking of buying property in Kenai? IDK about this one, but the source was pretty credible as far as these things go. AKA more evidence than an Anchorage Press article.
---
Overheard in Anchorage:
"I wonder if President Trump will come to Alaska to stump for Dunleavy now that Walker's out?"
---
If you write in Prometheus do you think it will count as a vote for Dunleavy?
---
Overheard at AFN:
Jeff Landfield to Mike Dunleavy: "What up Prometheus!"
---
Overheard at a recent Federation of Community Councils meeting:
"Anchorage needs 600-700 sworn officers." "Property taxes are staying flat." and "If Ballot Measures 1 passes it will have no impact on Municipal operations." Some gems from Mayor of Anchorage, Ethan Berkowitz.
---
"This is a private meeting and there are no photos allowed!" Anti-Development Sand Lake Community Council President Nikki Rose at a public meeting, with two Anchorage Assemblymembers, several muni employees, and SLCC members re: the Dimond and Arlene rezone. Say cheese, Nikki! Oh, maybe Nikki and Felix should become friends!

"You're gonna force me to shoot somebody!" Concerned resident talking to developers at the same public Sand Lake Community Council Dimond and Arlene rezone meeting. #Loose
---
Overheard on the airwaves:
Caller to Representative Adam Wool: "You're not one of those morons that believes wood smoke is harmful are you?"
---
Spotted in:
Republican candidate for Governor, Mike Dunleavy, walking out of Anchorage Concert Association's Book of Mormon. Apparently, Mike and his wife walked out during the rousing number "Hasa Diga Eebowai" or, "F you God."
For those of you who don't know, Book of Mormon is a musical comedy by the creators of South Park that makes fun of Mormons and is jam-packed with foul language.
Anchorage Mayor Ethan Berkowitz attended Book of Mormon on the same night, but he stayed for the whole thing. When asked if he was enjoying the show he "grunt laughed" in reply.
---
Governor and First Lady Walker on a flight to Hawaii yesterday. Seated in first class! Somegovernor don't gotta fly coach no more.
---
Spotted at the "Hmong Community Meets Mark Begich" event in East Anchorage:
Democratic Candidate for House, Lyn Franks, and party crasher/opponent, Representative Gabrielle LeDoux. Not awkward at all. ???
---
Spotted on TV:
Someone send N.C.I.S. a Yes on 1 sticker ASAP!
---
That will do it for us this week folks. Don't forget to send your favorite social media and online goofs, gaffs, memes, dust-ups, "Overheard in Alaska," "Spotted in Alaska," or whatever else you got to [email protected] Our DMs are always open. Remember: pics or it didn't happen!
---
The Alaska Stalker was born and raised in Alaska, and lives in South Anchorage with her husband, daughter, and baby on the way. She is not Jeff Landfield.