Welcome to this edition of the Alaska Stalker, a lighthearted round up of the best and worst of Alaska's social media landscape.
***
If you enjoy the Alaska Stalker, please consider supporting working moms like me by sending in hot tips, overheards, and spotted ins. You can reach me at akstalker@alaskalandmine.com. As always, thanks for reading.
***
I can't be the only one who is still exhausted, right? The Anchorage Assembly meetings on a mask ordinance were watched statewide, and then became national news. As you know, the Landmine livestreamed the meetings. Even Assemblymembers tuned in. Hi, Kameron! 👋
***

***
Covering the Assembly is a rough gig. Jeff Landfield attended every meeting and, unlike some folks there, he actually seemed to enjoy it. While Jeff loves a vanilla latte, I know of something we would appreciate even more.
***
After days of emotional testimony and an endless stream of emails, here's Forrest's main take away. Neat. 🤡🤡🤡

***
I thought for sure the whole "Assemblymember Chris Constant skips in-person Assembly meeting to party in Vegas" would be his most shocking moment. But then Chris revealed he doesn't know what "Let's go Brandon" means. C'mom, man! 🤦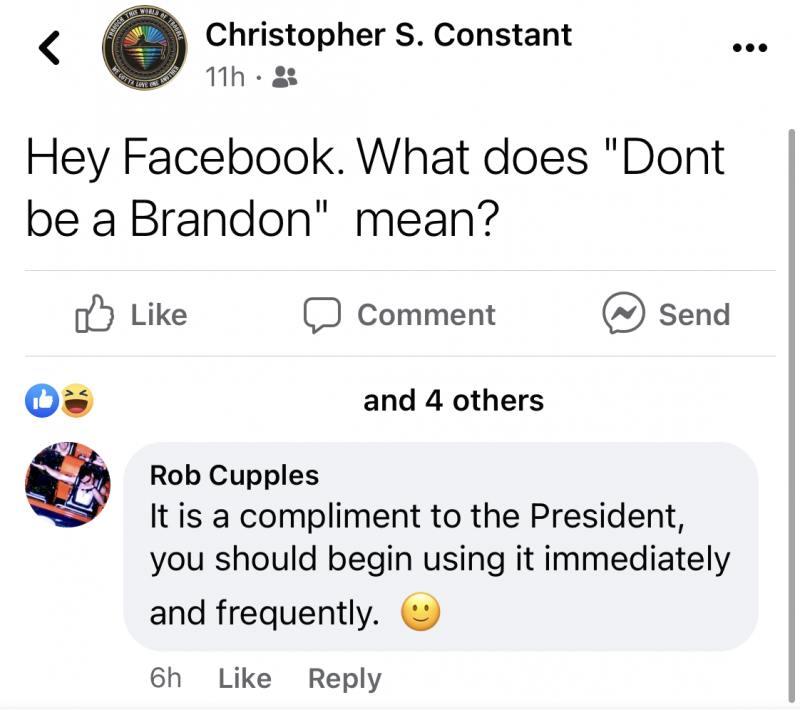 ***
Chris has been a bit out of touch all week. Usually his Facebook posts get anywhere from a couple dozen to hundreds of likes and comments. This post got… five. Perhaps it's just a coincidence, but I think most of us know what he was really trying to do here. IYKYK. RIP. 🙏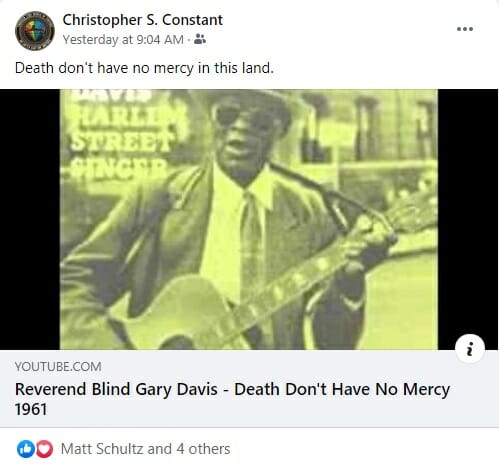 ***
I appreciate Assemblymember Kameron Perez-Verdia trying to get everyone back on track by posting a video of Lady Gaga saying kindness is the thing that brings us all together. It worked about as well as that lady who sang Christiana Aguilera's "Change" as part of her testimony. He's taken his time but Kameron has started to find his voice – right before he's up for re-election. Shocking! 🤣

***
I'd like to report a murder. ☠️☠️☠️ Daaaaaang! I've got to give it to Assemblymember Jamie Allard here – girl has the receipts!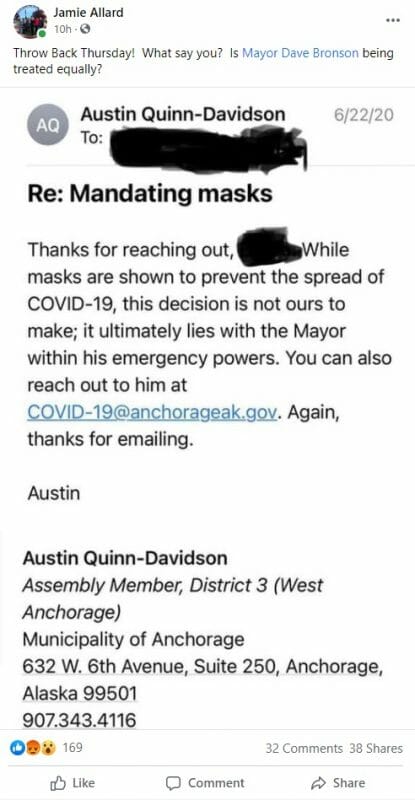 ***
While I'm still trying to figure out all the rules for Anchorage's mask mandate, don't get me started on what the rules might be in Ketchikan! All I see is a middle aged unmasked politician standing, outside, next to young healthy masked athletes. Someone please explain it to me! 🤯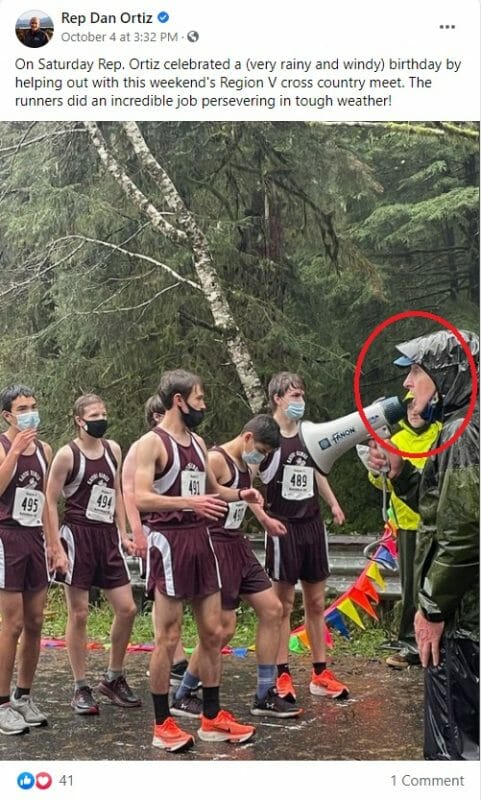 ***
Oh yeah, it was PFD week. Funny how the third rail of Alaska politics is second fiddle to angry people fighting over masks. Got to give a shout out to Sen. Bill Wielechowski for taking the Dunleavy administration to task after they promised our PFDs on a holiday.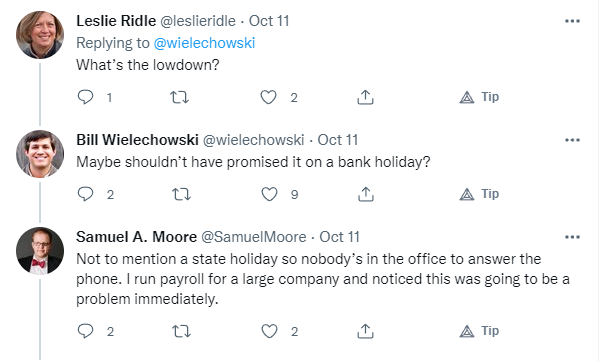 ***
Rep. Sarah Vance shared the most cringe worthy (albeit realistic) PFD meme.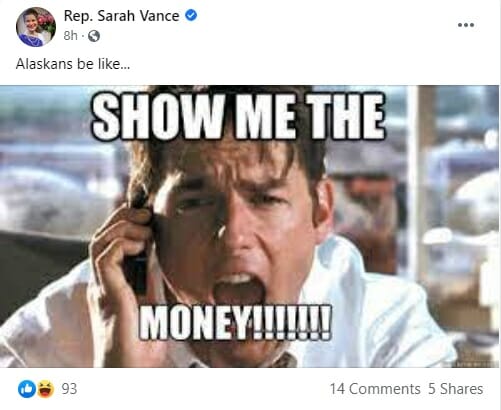 ***
But, Rep. McCabe had my favorite PFD post. OMG KEVIN IS A STALKER FANBOI?!!?!?!? Although if Kevin thinks I post the truth he must be new here. I just post what ya'll politicians and politicos say. The interpretation is always up for debate.

***
What Sen. Sullivan said. Congratulations to Rep. Patkotak and crew. 🐋

***
We are fortunate to live in such a beautiful place. Thanks for the reminder, Rep. Cronk.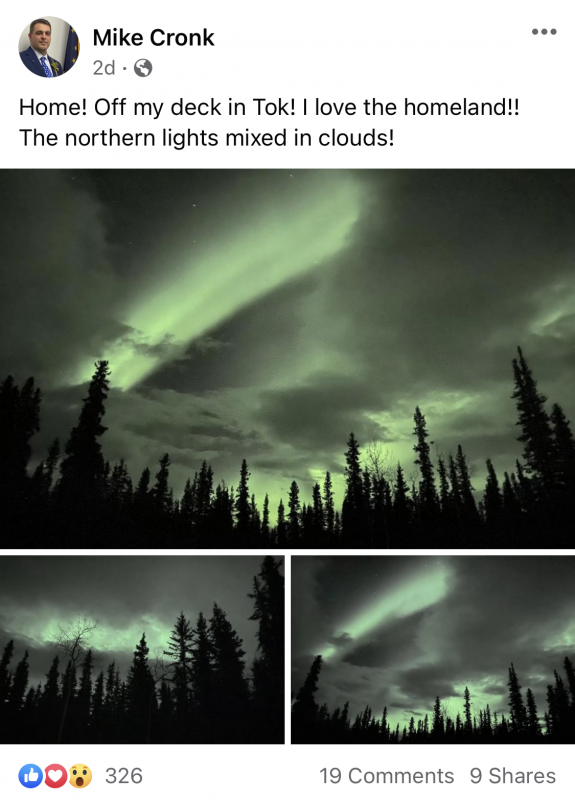 ***
More dad jokes during committee hearings, please!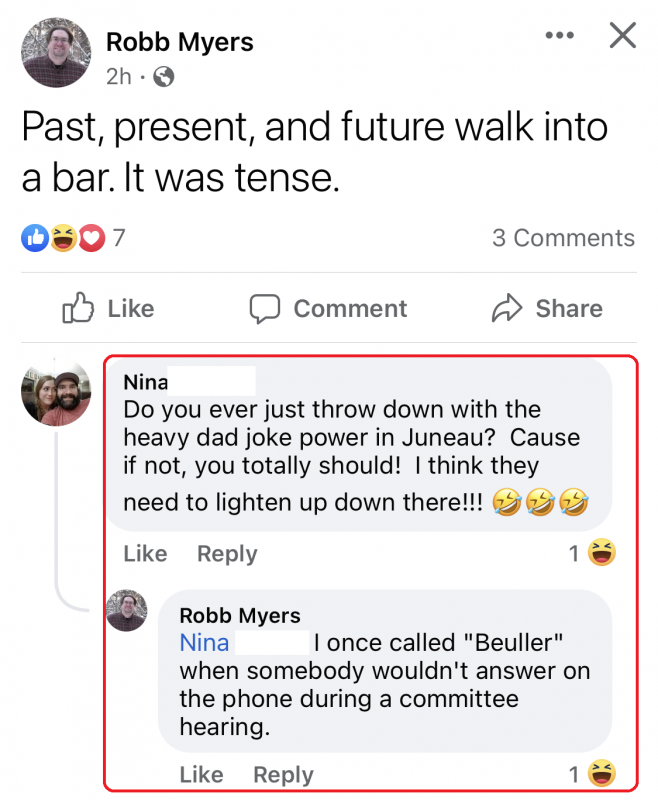 ***
LOL at Sen. Holland's signature!

***
How it started:                      How it's going: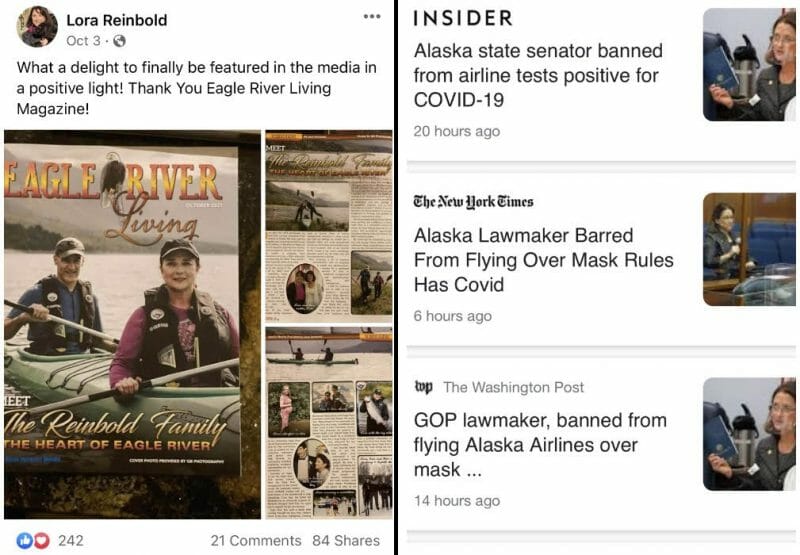 ***
I've been looking forward to the new cast of characters joining us post election. An old favorite returns!

***
I'm excited former Rep. and newly elected City Councilwoman, Colleen Sullivan-Leonard, is back in politics! I've missed sharing her feed. Niiiiice lead, Colleen! 😂🙈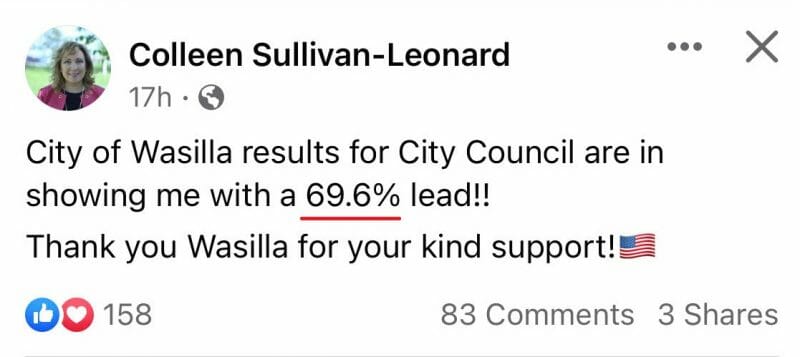 ***
While I'm not surprised, I can't believe the simulation loves us enough for Twitter activist and write-in candidate, Will Muldoon, to be elected to Juneau School Board.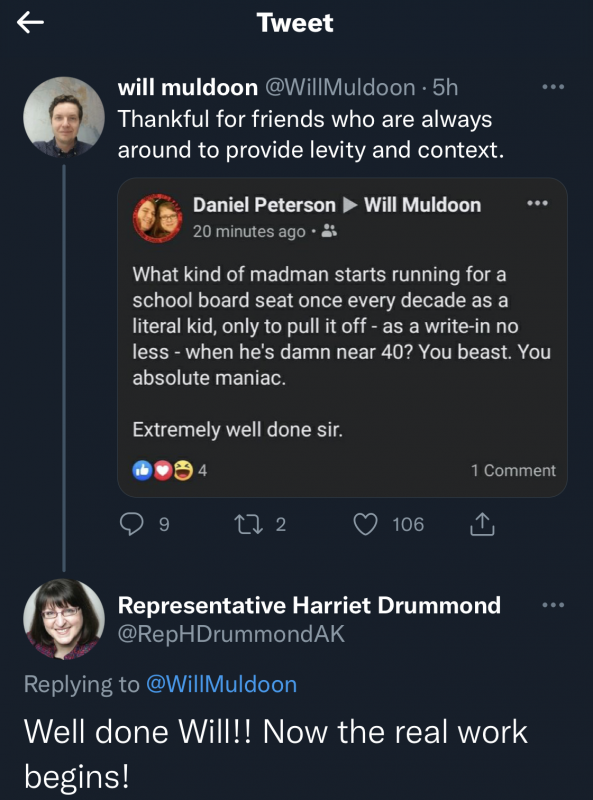 ***
Looks like I have a lot of new ladies to follow on social media this week. 👀💅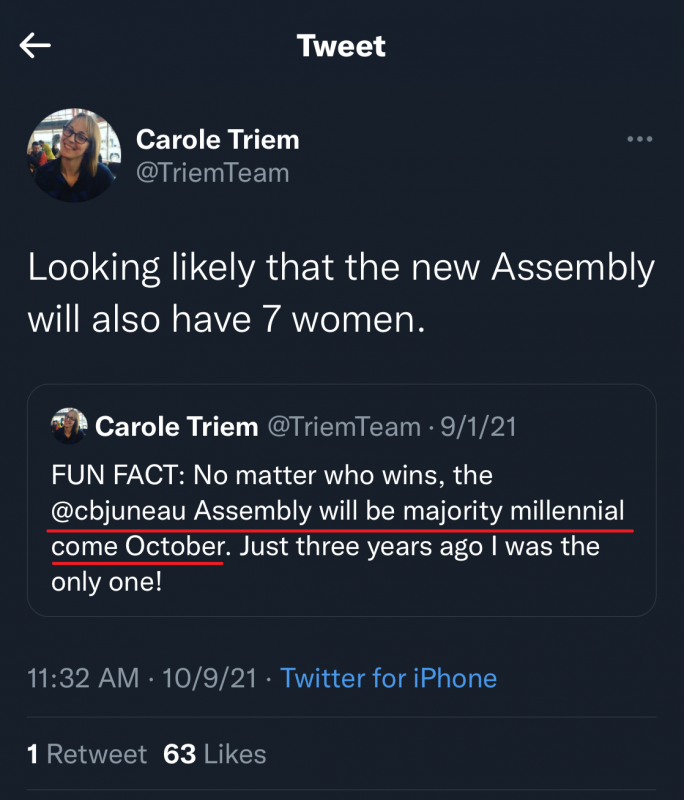 ***
You may think this is the best ad for school board to come out of the Valley this year, but you'd be wrong.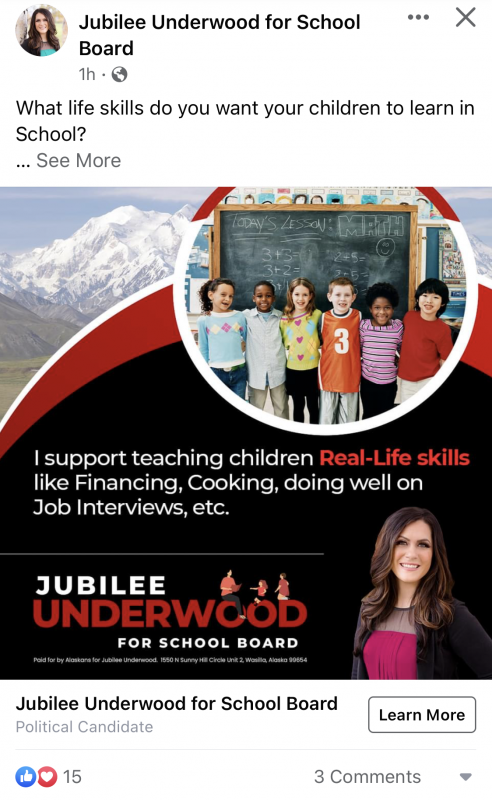 ***
It's not even close.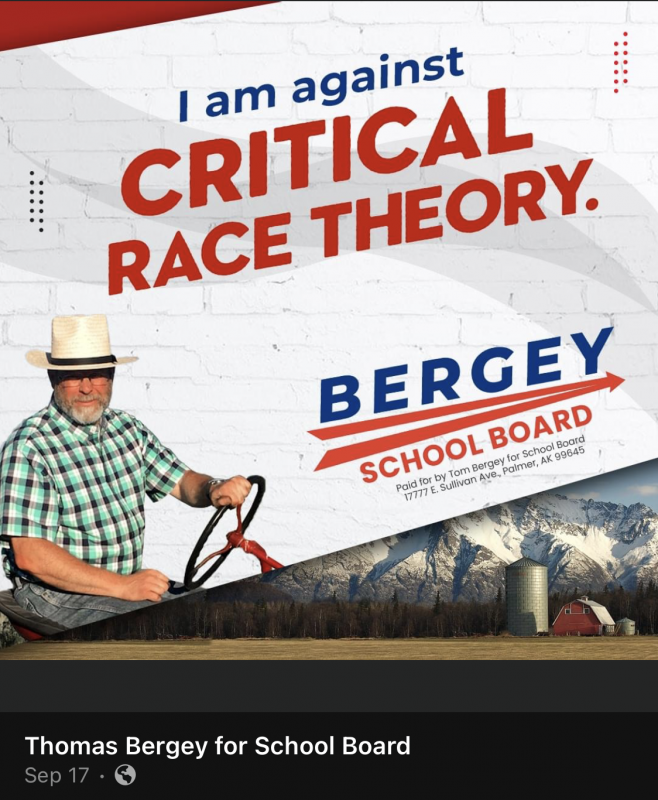 ***
Speaking of school board, Anchorage School Board Member Andy Holleman recently shared an old post of retired APD detective Glen Klinkhart about the importance of having APD officers in our schools. Glen writes, "is it news when something bad does not occur?" A great point, and I'm glad he shared this story. But, I'm pretty sure when something bad happens it doesn't make the news either. I can't be the only one who heard about multiple fist and knife fights breaking out simultaneously at Bettye Davis High School a few weeks ago. That bizarre email from Superintendent Bishop a few days later lamenting on the increase in outbursts, physical altercations and violence in high schools, middle schools, and ELEMENTARY SCHOOLS didn't help. What is going on?

***
At least the Anchorage School Board has better AV skills than the Assembly. Just don't get arrested by the FBI for attending!

***
Wow! I didn't know Bill Walker's running mate for Lt. Gov. Heidi Drygas was so passionate about folks who are afraid of being fired for not taking the vaccine. 🙃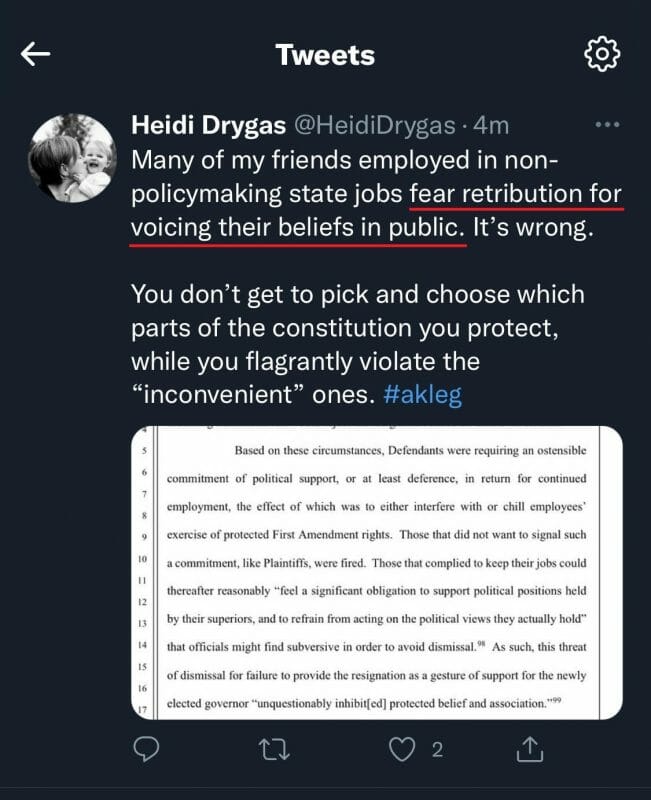 ***
I am living for all the Walker/Les/it needs to be a woman infighting! Check out the comments on a recent Eric Croft post. The post listed several well known women (Val, Heidi, Elvi, Austin, Tiffany, Ivy, etc.) that Eric wished would run for governor. Alas, he deleted the post before I snagged it, but the comments are 🔥🔥🔥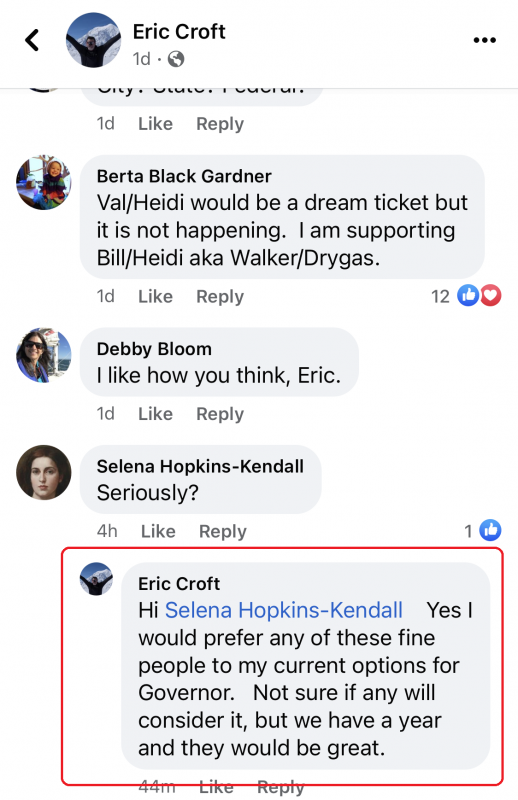 ***
Things are also heating up on Twitter. 👀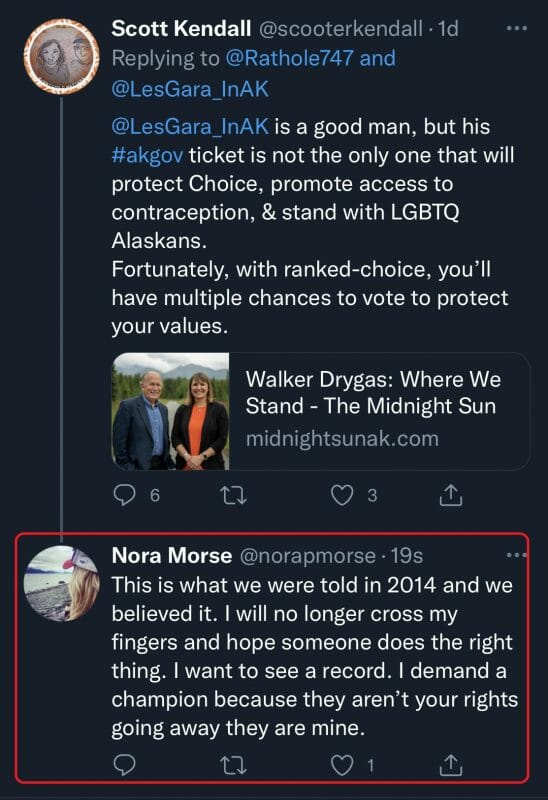 ***
Anyone else cracking up at the idea of Nat Herz infiltrating the Save Anchorage Facebook group?
Nat: "Hello fellow patriots, first time poster. I write for something called the Energy Desk, which means I actually report on state and local politics. Can we argue about masks and Ivermectin, on the records please? Oh wait, it just snowed, gtg skiing. Ttyl."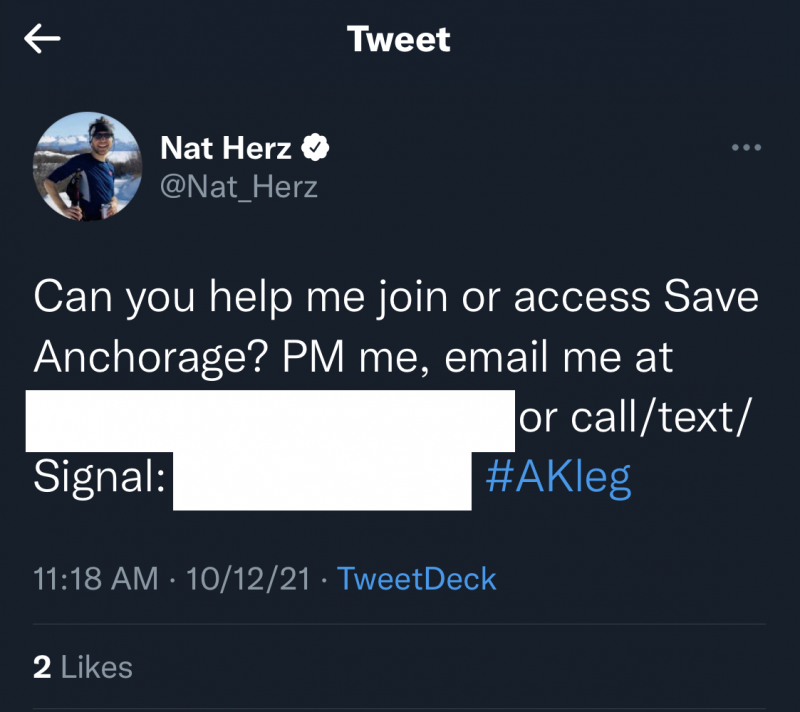 ***
Did you see Human Events podcast host and new right Twitter hero, Jack Posobiec, tweet about the whole Alaska Airlines Gadsden flag debacle?
***
Jack seems to be pretty plugged in to Alaska these days.👀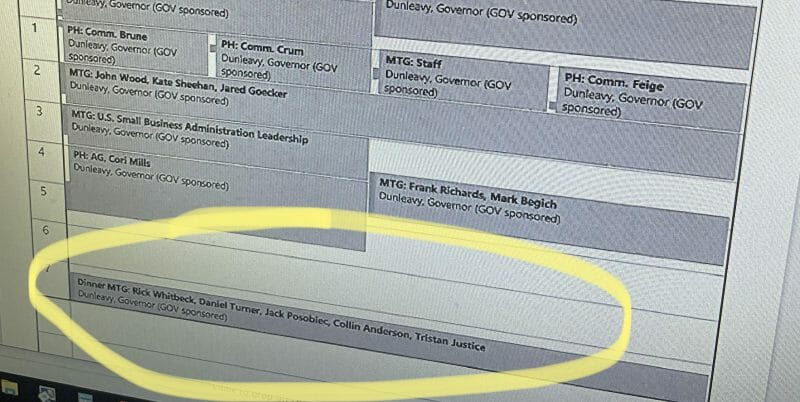 ***
Congressman Don Young got ACTIVATED after seeing Guy Fieri was in Anchorage. Don, not going to lie, I'd love your moose stew recipe. 👩‍🍳
***
Spotted at Walmart (pre-COVID diagnosis): Sen. Lora Reinbold asking the front door attendant for disinfectant wipes to wipe down her buggy.
***
Spotted on Twitter: 😮

***
Overheard in Anchorage: "Did we ever find out who mailed that grenade paperweight to themselves at the freaking Capitol? My guess is that it was Heath. Or Forrest."
***
Overheard in Anchorage: "Switched from Squid Games to the Anchorage Assembly meeting. Barely noticed."
***
Overheard in Anchorage:
"Lisa Murkowski $1.07M Raised $158K Spent $3.24M COH
Kelly Tshibaka $465K Raised $447K Spent $294K COH
That burn rate is pretty embarrassing."
***
Spotted at the Senate floor session: Peter and Jesse. That's it. Thanks for being there you two!
***
Overheard in Juneau: "I forgot there was a special session going on and I work in the legislature."
***
Overheard in Anchorage: "This is my first time getting a PFD. It's pretty great. What's everyone so mad about?" 🤑
***
Overheard at outside of Tuesday's regular Assembly meeting. According to Danyelle Kymp, Anchorage has a lot of problems.
***
Spotted on Facebook: LOL! Just wait until he ups it to $1,000!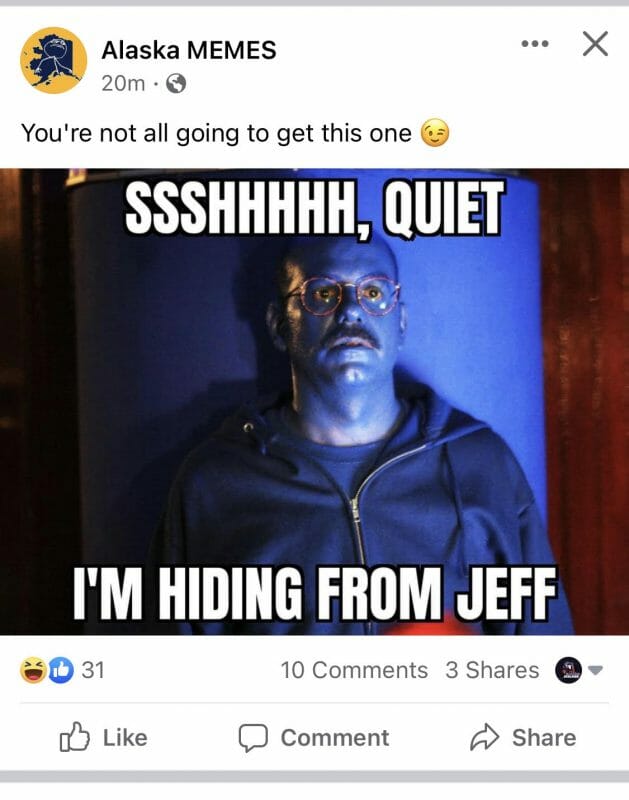 ***
The Alaska Stalker was born and raised in Alaska. She lives in South Anchorage with her husband and three kids four and under. She is not Jeff Landfield.