Welcome to this week's edition of the Alaska Stalker, a lighthearted roundup of the best and worst of Alaska's social media landscape and political gossip.
***
If you enjoy the Alaska Stalker, please consider supporting working moms like me by sending in hot tips, overheards, and spotted ins. You can reach me at akstalker@alaskalandmine.com. As always, thanks for reading.
***
A warm Stalker thank you to all the tipsters who have sent in Halloween themed social media posts from local politicos. Keep 'em coming! Our favorite this week was the Democratic Socialists of America – Anchorage, AK chapter embracing the Twitter tradition of changing Twitter handles to a "spooky" version for Halloween. The DEMONcratic Anchorage DSA – sounds even scarier than socialism!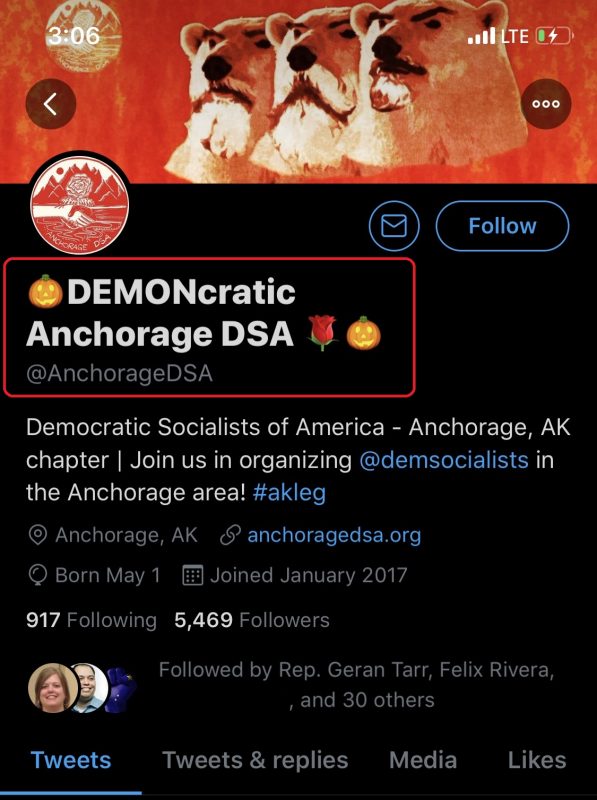 ***
It's just an idea, but how much more do you think candidate for house, Liz Synder, could raise if she hosted a "non family-friendly" pumpkin painting fundraiser? I'd go to that.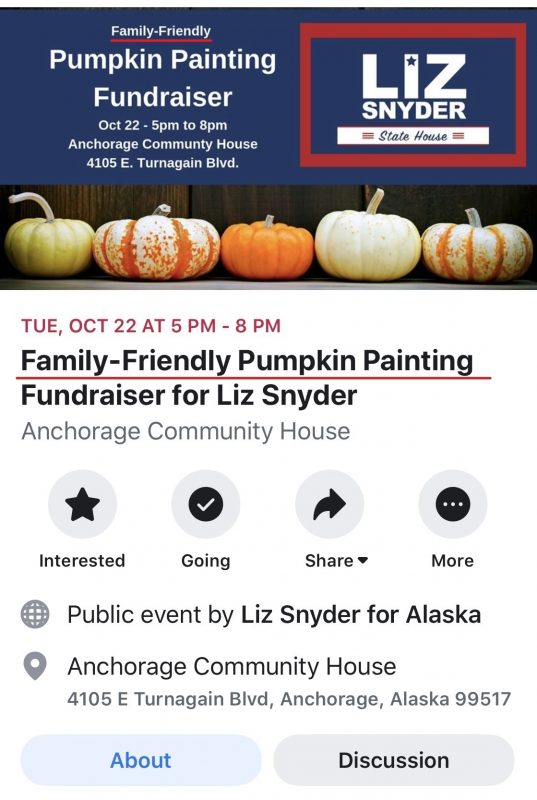 I never miss an installment of Pat Race's political comics. This week featured the ghost of Jay Hammond. Enjoy!
***
Newly elected Ketchikan Borough Assemblymember, Austin Otos, tapped into this Alaskan's deepest darkest fears. *Shudder*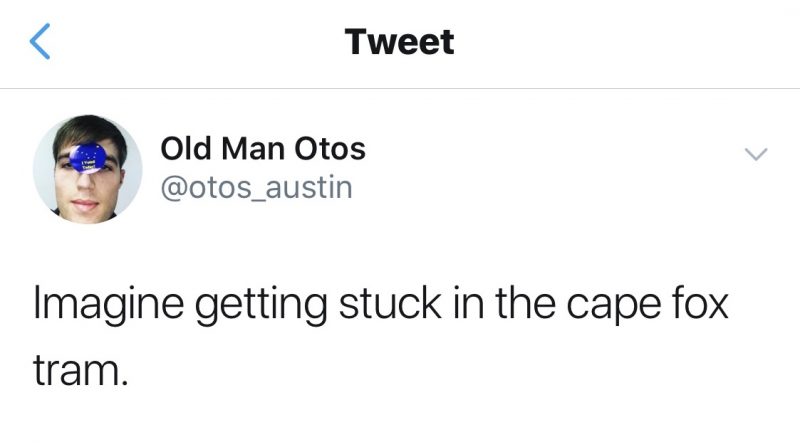 ***
Hat tip to Sen. Elvi Gray-Jackson and Rep. Tiffany Zulkosky for sponsoring legislation that permanently establishes November as Alaska Native Heritage Month.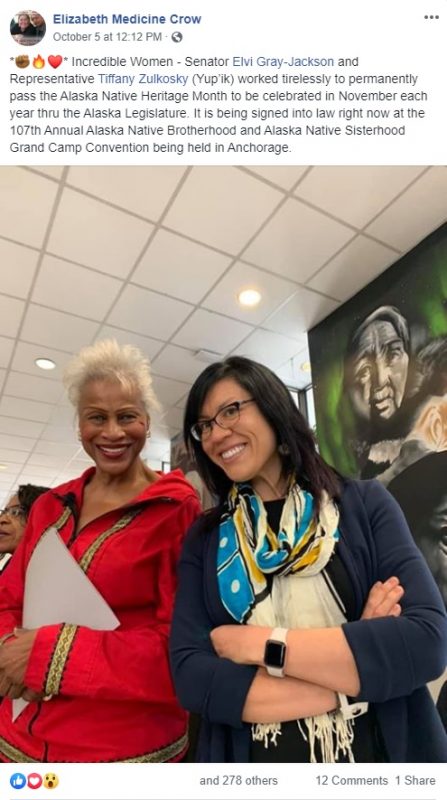 ***
Gov. Mike Dunleavy signed the bill into law during a meeting of the Alaska Native Brotherhood/Alaska Native Sisterhood Grand Camp. Looking good, Governor!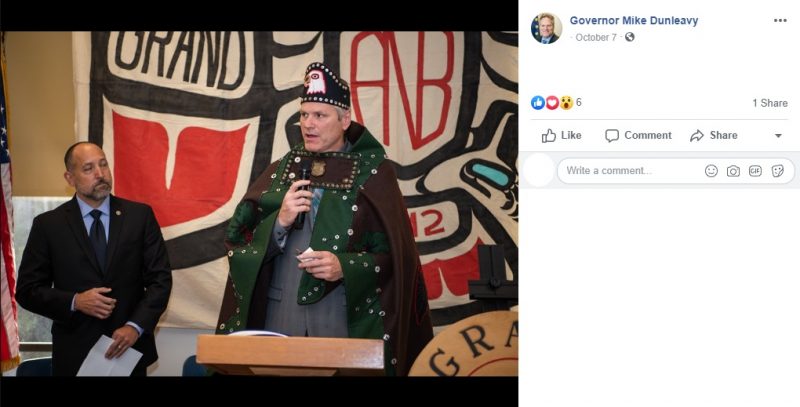 ***
While things on the recall front have calmed down a bit, the Stand Tall Alaska folks have come out with "Make Alaska Great Again" hats. These look vaguely familiar… ?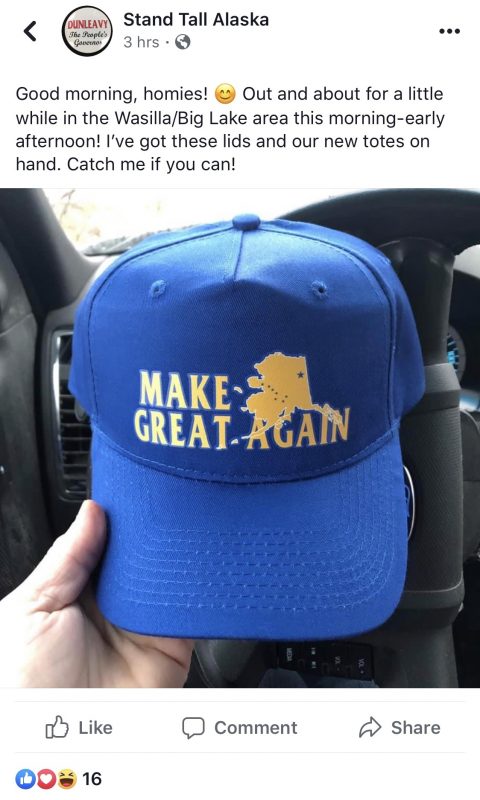 ***
Oh.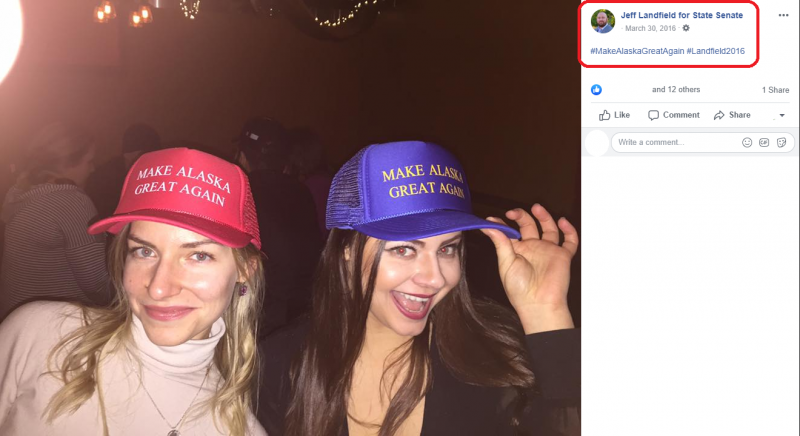 ***
Senate President Cathy Giessel had a fundraiser set for October 7th at the Enstar Building. The Midnight Sun Republican Women's Club advertised the event on their Facebook page with disastrous results. The majority of the reactions were "angry" or "laughs."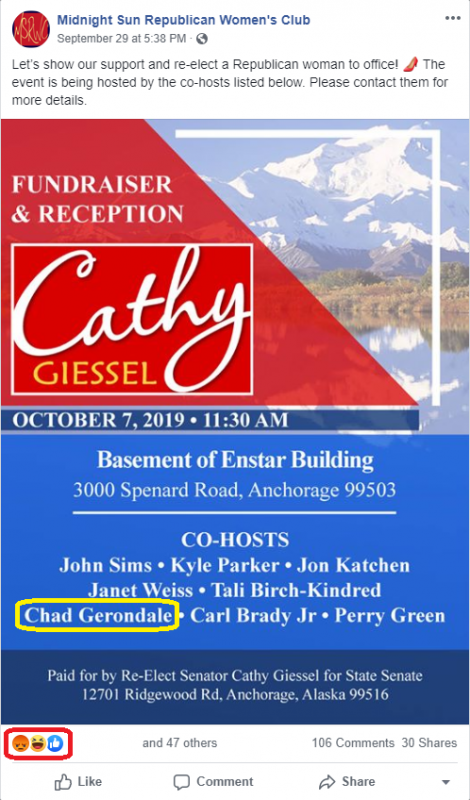 ***
Almost all of the 106 comments were negative. And then there was the curious matter of the "meat for heat" guy…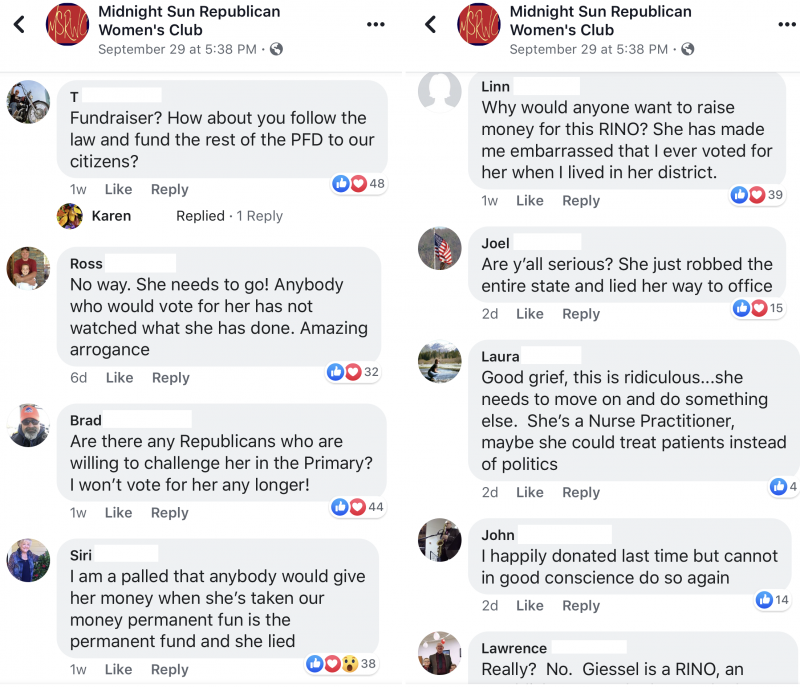 ***
Chad Gerondale, who you may recognize as the infamous "meat for heat guy," noticed his name on the invite after it started getting negative attention on social media. The problem is, he never gave his consent to be a co-host and is pretty ticked off – both at Cathy for "breaking promises and law breaking" and at being listed.

***
If that wasn't bad enough, a PFD protest happened to be scheduled on the same day, just blocks away from the fundraiser. A tipster shared with me that several self proclaimed "PFD Defenders" marched from the LIO to Enstar (the location of the fundraiser).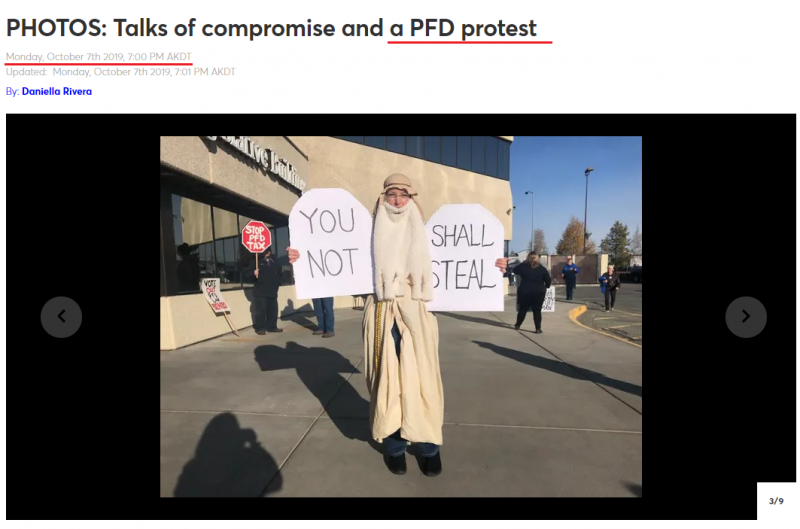 ***
I guess the heat got too hot for Sen. Giessel, and she ended up cancelling her fundraiser. According to a couple sources she still raised about $9,000. I think Cathy will be just fine. Still though, when uber-Republican Cathy Giessel is sharing ADN editorials by Cliff Groh on her official Facebook page you start to wonder… Maybe we do live in a simulation after all?

***
Congressman Don Young congratulated local talk radio host, Dave Stieren, on his new gig with the Dunleavy administration. Yes, it's true, the afternoon drive home is going to sound a lot different in about a week.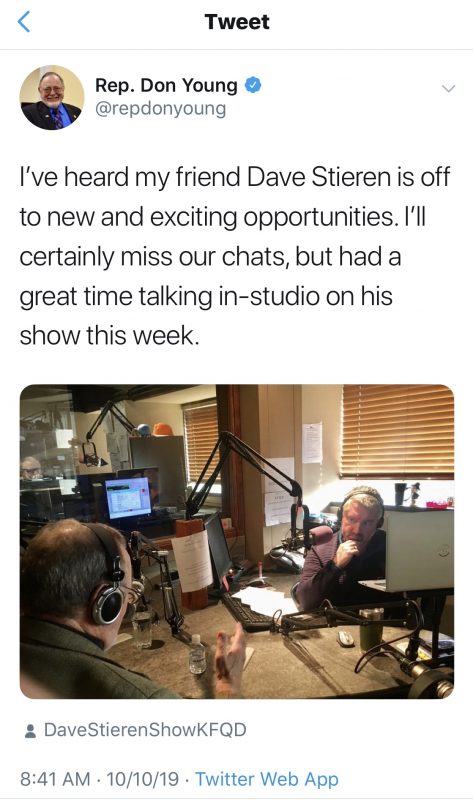 ***
Only the second conservative talk radio host to join the administration? ? Not quite. Who could forget The Amy Demboski Show on KVNT?!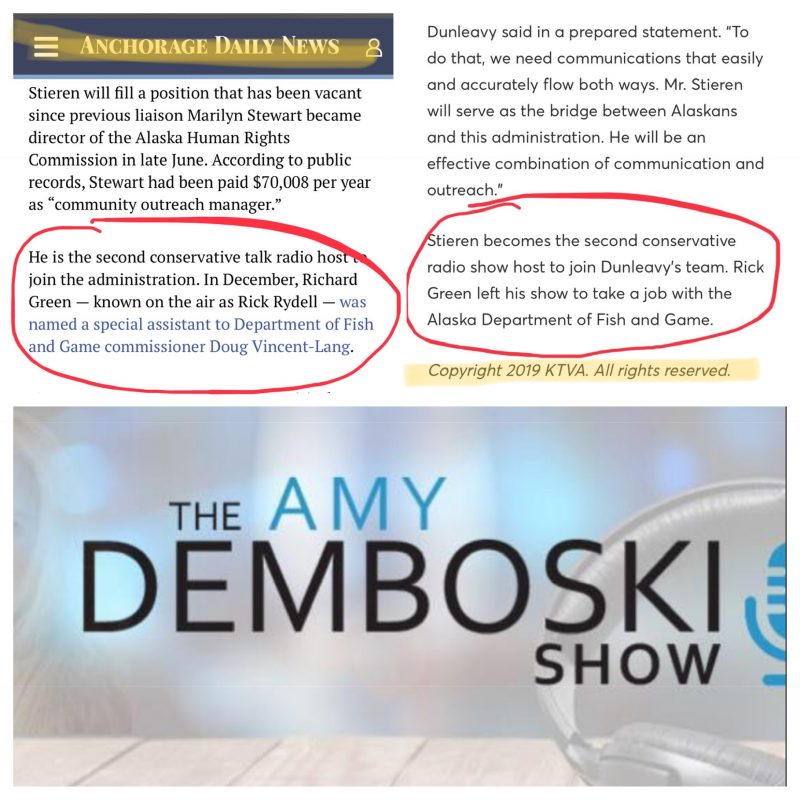 ***
While Dave has a lot of haters (click here, here and especially here) he doesn't seem to mind. His show was a must listen for conservative politicos, a guilty pleasure for many moderates and liberals, and just good entertainment for regular non-political folks who tuned in for the Star Wars jokes and to find out what was going on in their town. I hope Dave continues to provide the Stalker with high quality content. I'll be watching. ?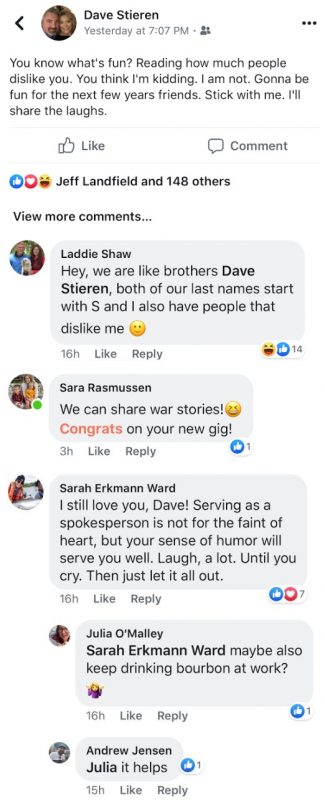 ***
A gang of turkeys on loose in Homer? Has anyone seen Sen. Peter Micciche, Rep. Sarah Vance, or Rep. Ben Carpenter lately? ????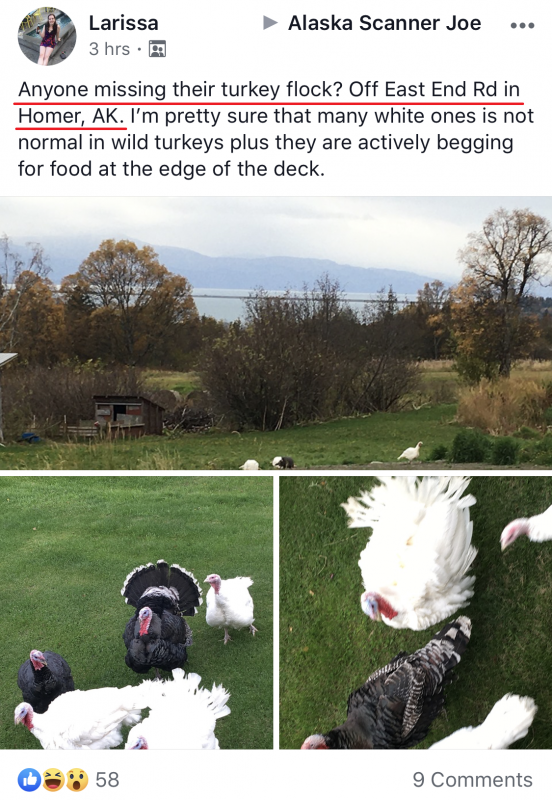 ***
Rep. Rasmussen is looking for housing for only 90 days? LOL!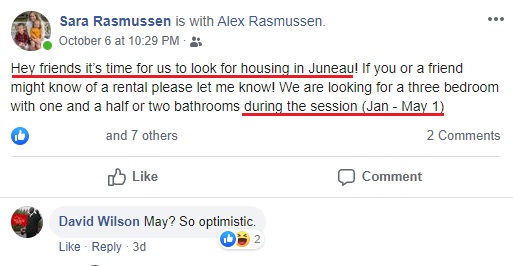 ***
Awwww. Sen. Scott Kawasaki takes good care of his mom when he's in town. I bet she's one of the few people who doesn't mind when session lasts longer than 90 days.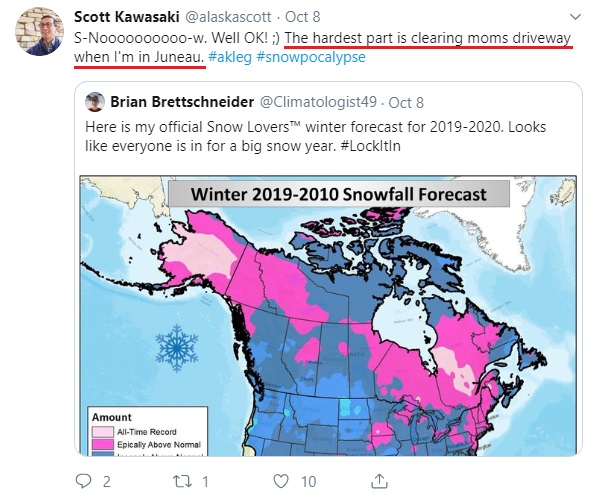 ***
Yikes! Someone really needs to tell Rep. Jonathan Kreiss-Tomkins he shouldn't use the c-word. It you need a wokesplination, click here.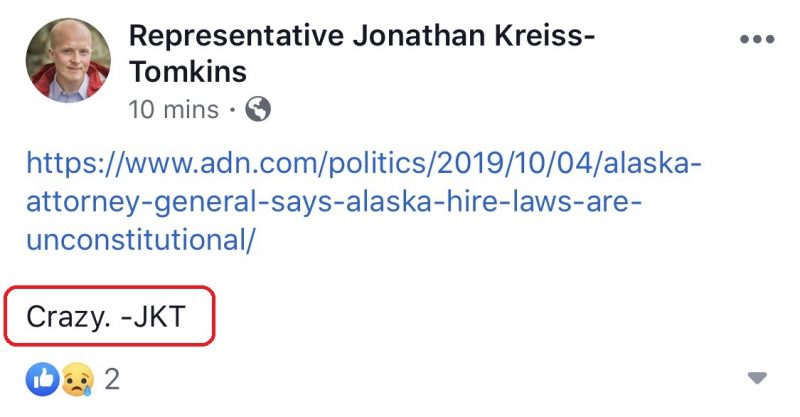 ***
I am loving the Municipality of Anchorage Clerk's Office

#

knowyourassembly 

trivia week. So far I've learned that Forrest Dunbar uses "The Simpsons" as a guide to life, Felix Rivera plays the viola, and Fred Dyson was a pile buck. I also completely adore fellow trivia nerd and Anchorage School Board Member, Alisha Hilde's enthusiasm.

***
But I think the Clerk's office made a mistake. I have never seen this woman before in my life… ?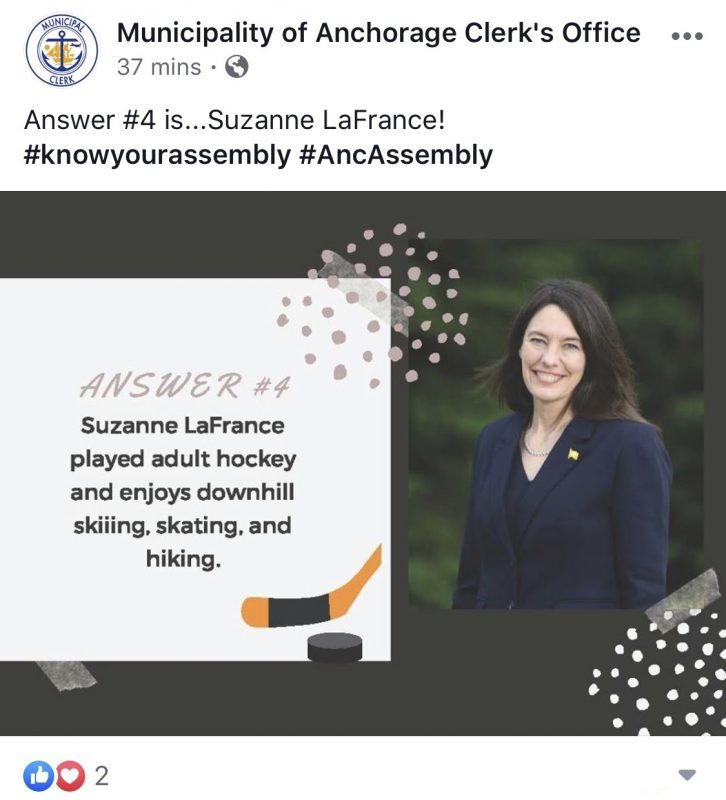 ***
Happy to see Assemblymember Crystal Kennedy is going to start providing the Stalker with content. Finally! Looking forward to more Facebook updates.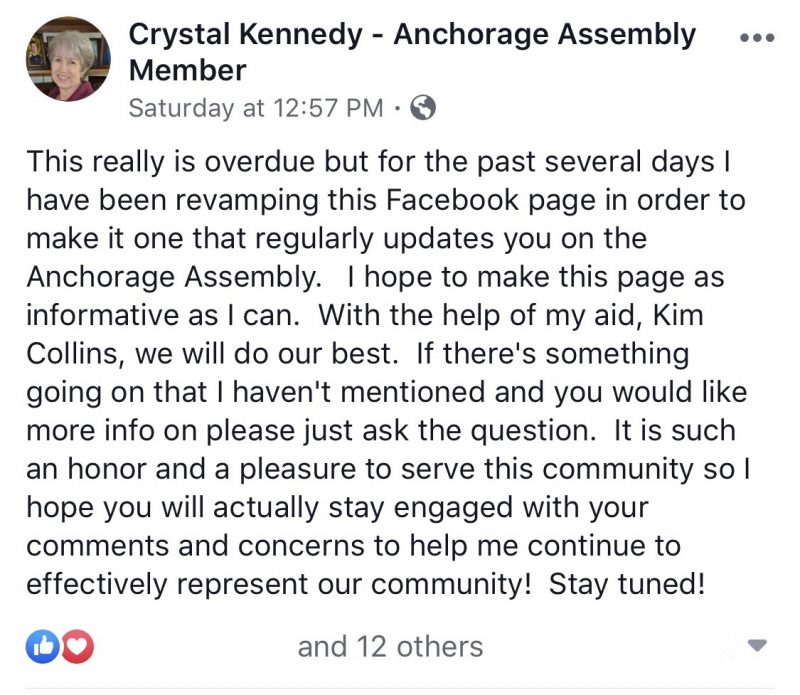 ***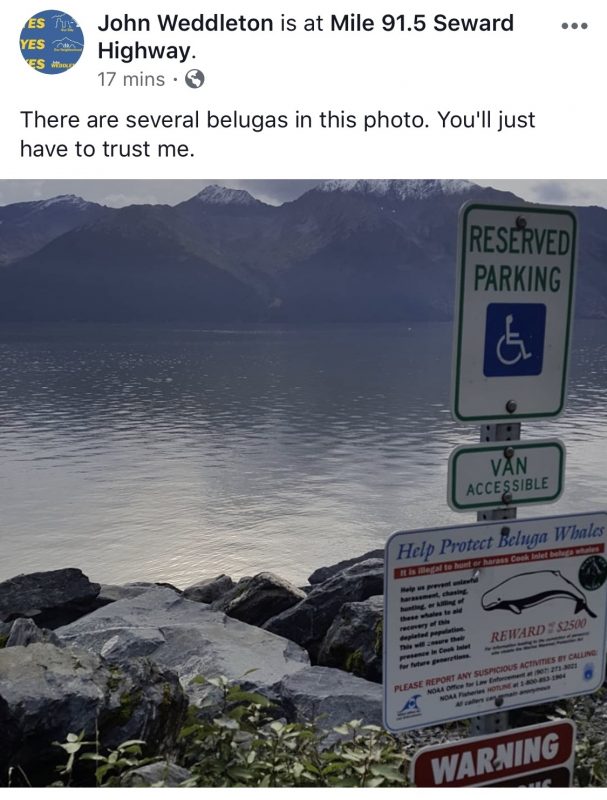 ***
In case you missed it, Anchorage Assemblymember Forrest Dunbar has officially filed to run for Mayor. A lot of folks seem pretty excited.
A brief announcement about the 2021 Mayoral Election! #MunicipalityOfAnchorage

Posted by Forrest Dunbar on Sunday, October 6, 2019
***
I was intrigued. But then I saw this. Come on, Forrest. Was Kirk born in Des Moines? Did Sisko learn to cook in Baton Rouge? Was the first warp-capable spacecraft launched from a disused nuclear missile silo in *Helena*? Unacceptable. You've lost my vote.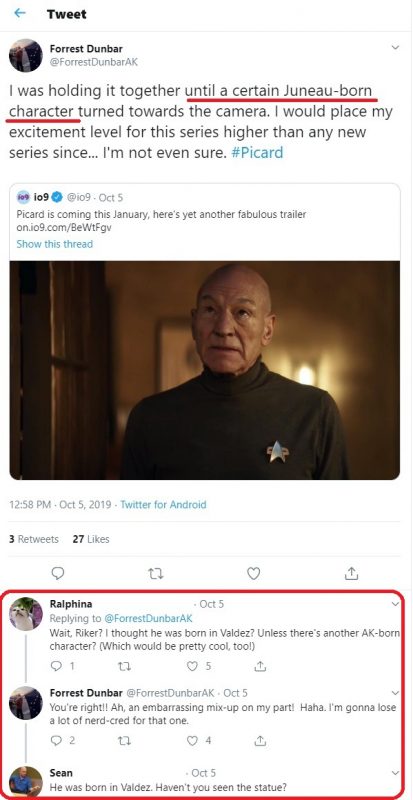 ***
It's okay, Forrest. We all make mistakes. Some are bigger than others. Ouch. ?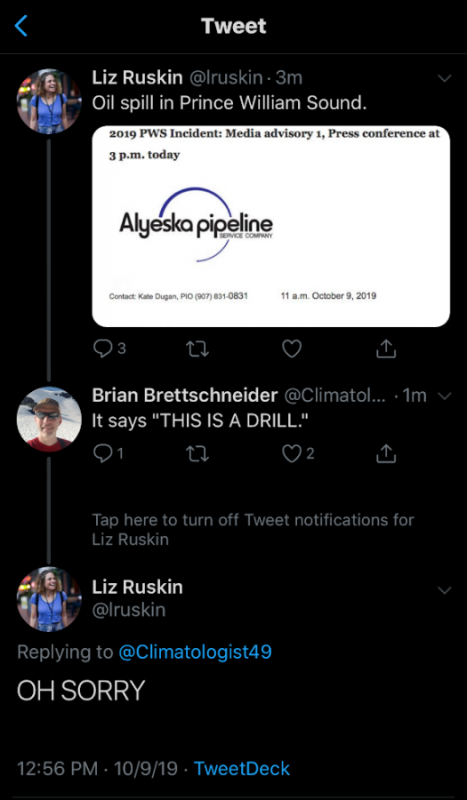 ***
Spotted at Carrs Aurora Village Oaken Keg: Iditarod champion, Jeff King.
You can also find Jeff in the pages of Search and Destroy: Inside the Campaign against Brett Kavanaugh, by Ryan Lovelace.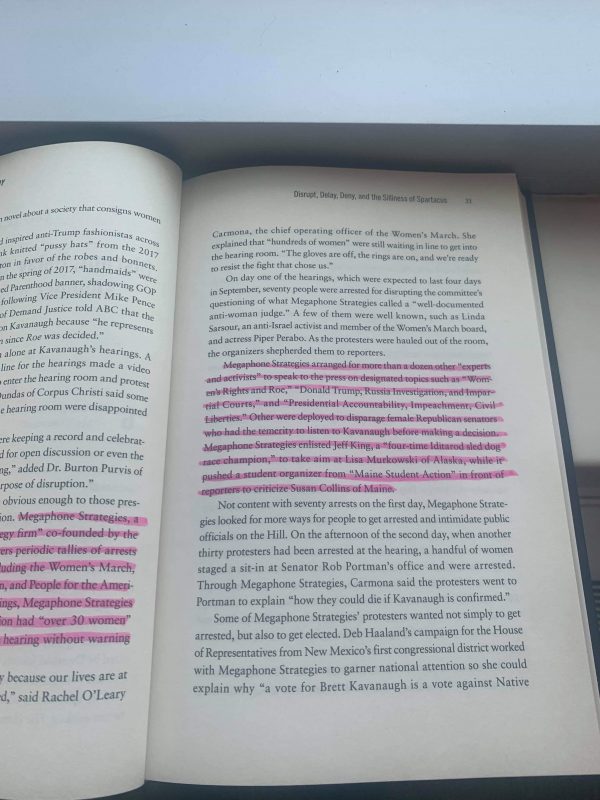 ***
Spotted jogging down G St.: State Economist Neal Fried wearing khaki pants. No bow tie.
***
Spotted at Bear Tooth: Jason Brune drinking a marg and waiting for take out.
***
Spotted at Black Cup: Alyse Galvin wearing a saffron jacket. ?
***
Also spotted at Black Cup: Former Anchorage Mayor Dan Sullivan having an intense discussion with Aubrey Wieber, the new ADN city beat reporter, with a copy of "State of the City" report in his hand.
***
Spotted in the air, Juneau to Anchorage: Gov. Mike Dunleavy and Chief of Staff Ben Stevens in first class. Rumor is Ben traded seats with someone so he could sit next to the Governor. That's cute.
***
Overheard during a tour of the Anchorage International Airport:
Department of Transportation person: "There's a 20 year wait for float plane spots on Lake Hood."
Department of Commerce person: "Is there anywhere else they can park?"
Gov. Dunleavy: "What about Campbell Lake? It is public after all." ?
***
The Alaska Stalker was born and raised in Alaska, and lives in South Anchorage with her husband, daughter, and son. She is not Jeff Landfield.