Welcome to this edition of the Alaska Stalker, a lighthearted round up of the best and worst of Alaska's social media landscape.
***
If you enjoy the Alaska Stalker, please consider supporting working moms like me by sending in hot tips, screencaps, overheards, and spotted ins. You can reach me at akstalker@alaskalandmine.com. As always, thanks for reading.
***
It's fall, y'all. House candidate Alyse Galvin noted the change in seasons with a heartfelt message. Peep those boots – her signature yellow, natch.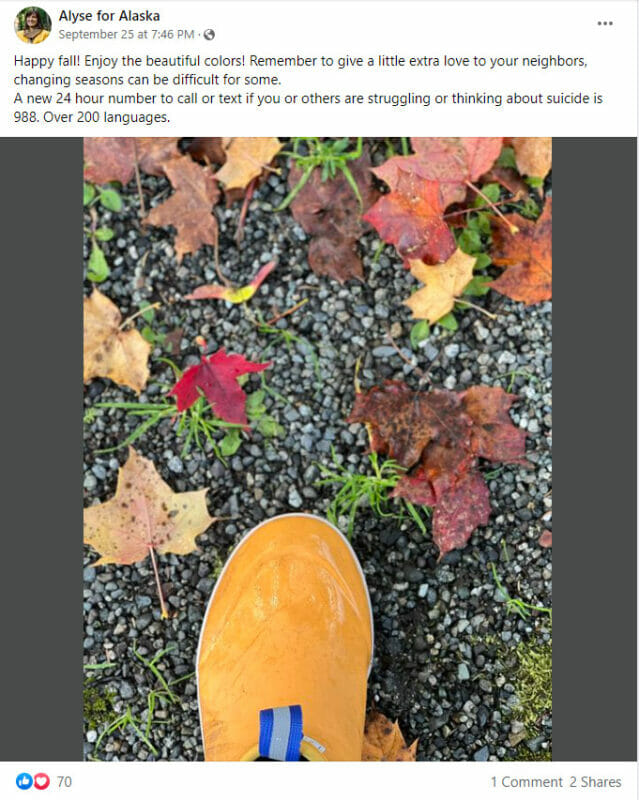 ***
House candidate Ted Eischeid has been growing his campaign all summer, and looking forward to harvesting some votes in a few weeks. Hopefully he doesn't loose too many during the first frost.
***
Depending on who you are, Anchorage Assembly member Jamie Allard is either welcoming fall BIGLY or skipping straight to Halloween. 🎃😱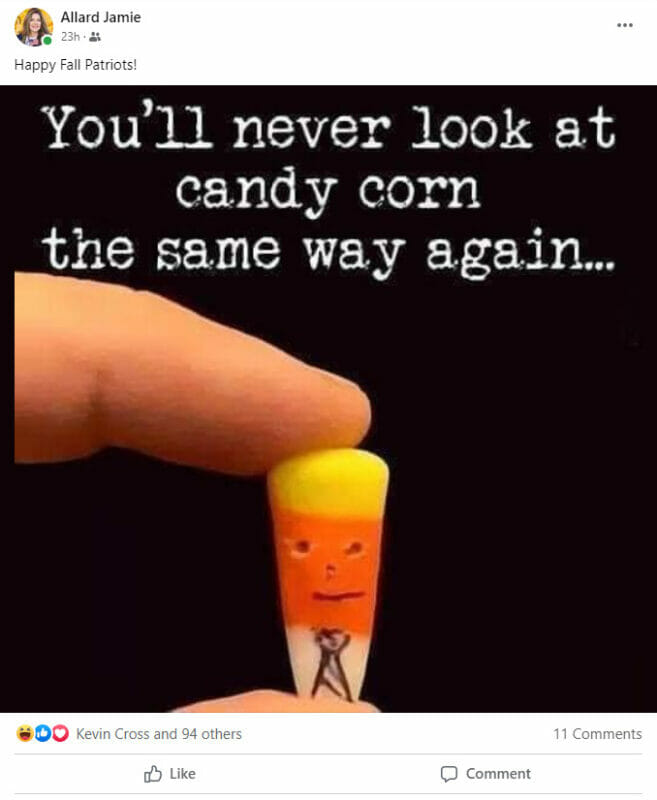 ***
You think Halloween on October 1st is bad, House candidate Stanley Wright went full Christmas! 🎄🎅 Who doesn't love Christmas Cantata? Glad this Anchorage tradition is back!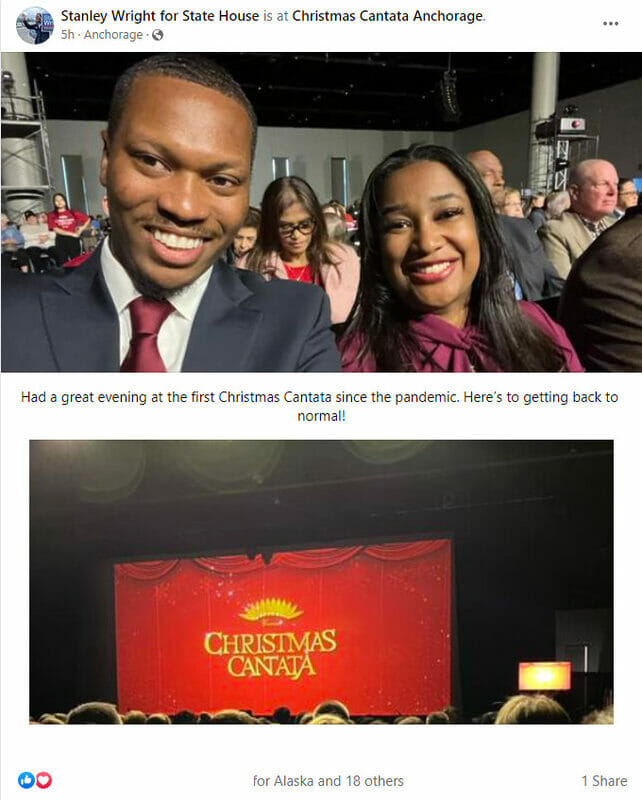 ***
There's now less than 40 days until the election, and the Stalker wholeheartedly accepts House candidate Jennie Armstrong's apology. I don't know about you, but I've received more texts from "candidates" this election than ever before.
41 days until the election! 🗳 If you get a text from us, please know we are focused on being value-driven & only reaching out to share key dates (like when early voting begins). I know a lot of y'all know this info but we want to make sure EVERYONE has what they need to vote! pic.twitter.com/bhn0vTicsv

— Jennie Armstrong (@JennieForAlaska) September 28, 2022
***
Can Jennie have a private chat with Rep. Mary Peltola. You know, maybe ask her to cool it a little. I've lost count how many texts I received from my new buddy Mary over the past couple weeks. At first it was cool getting fish pics from my Congresswoman.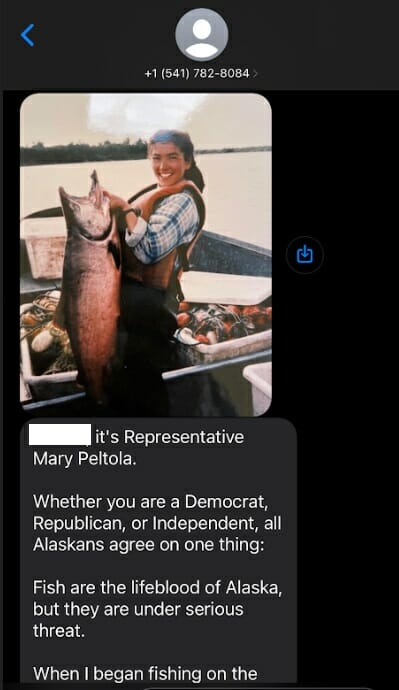 ***
Then I was upset that my friend got the Mark Hamill text and I didn't. Mary came through and I finally received it a couple days later. I guess the positive girl power campaign truce is over — pretty sure Luke Skywalker calling Sarah Palin the Dark Side is as negative as it gets.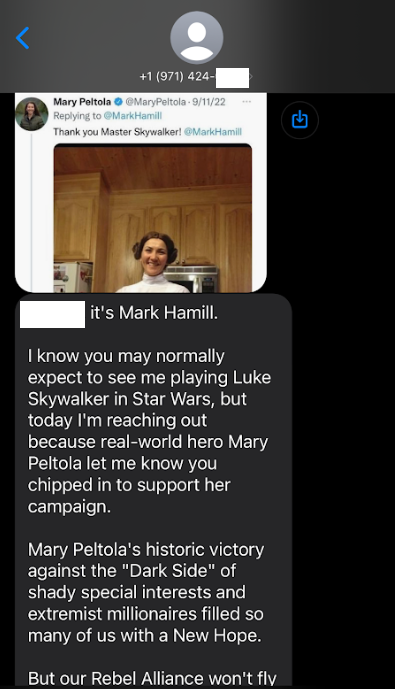 ***
But now Mary's sending me five paragraph essays and 🙅‍♀️🙅‍♀️🙅‍♀️ I hope she gives us all the weekend off.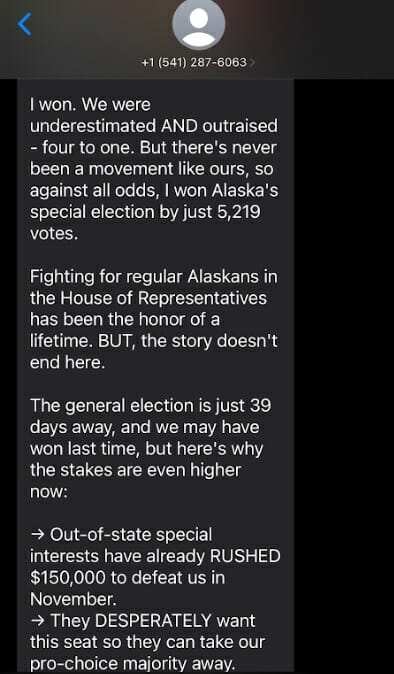 ***
And where is Darth Sarah Palin? She was last spotted sitting sans entourage at the "Shall there be a Constitutional Convention?" debate rehashing her glory days on Instagram.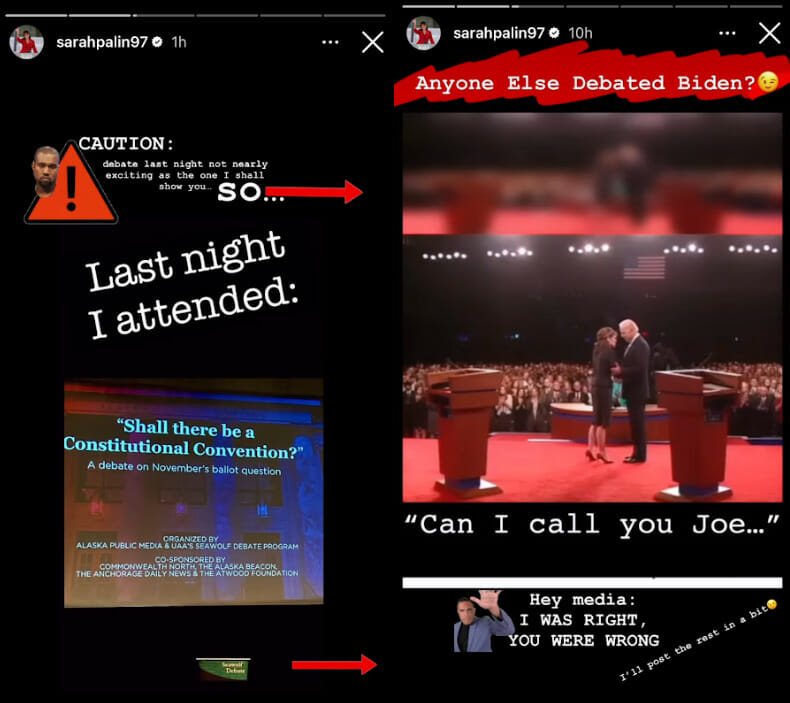 ***
Sen. Lisa Murkowski's fridge is 100% on brand. Not surprised it's covered in photos, Alaska themed magnets and other mementos. The Moose Crossing sign is a classic.

***
I've been a little concerned about Kelly Tshibaka's hair extensions. They've been getting longer and longer in every campaign photo, and it's bordering on "you're in a cult, call your dad" status.

***
Then I realized Kelly's in Dallas, Texas this weekend for a big fundraiser for her and Arizona Senate candidate Blake Masters. I hope we get to see picture of Texas Kelly, complete with cowboy boots and teased hair. You know what they say — the higher the hair, the closer to God!

***
I have bad news. The vandalism of campaign signs continue to plague candidates this election cycle. Look at what this hoodlum did at Rep. Ivy Spohnholz's house. Ivy was not amoosed. She may need a new Walker/Drygas sign after this rampage.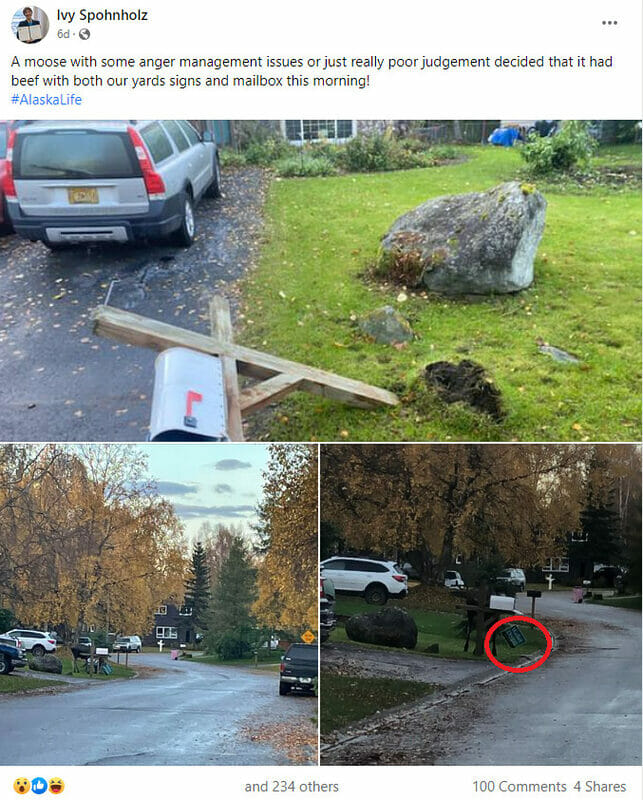 ***
While we will never know the whole story, I think a lovers quarrel is likely. She doesn't deserve him anyway. 💁‍♀️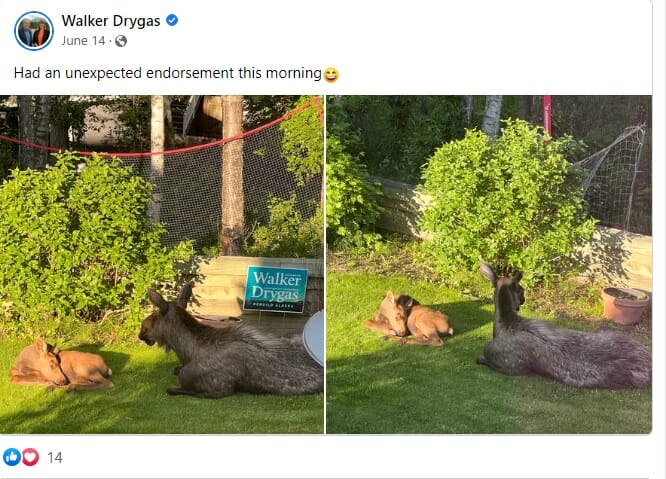 ***
It finally hit me. Sen. Lora Reinbold won't be in the Legislature next year. I guess it's sunk in for her, too because she's selling her Alaska Airlines banned me van.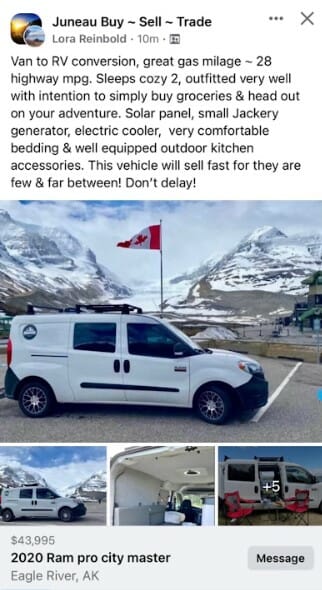 ***
Rep. Josiah Patkotak is also selling wares on Facebook. "Racked and ready to go eskimo" is quite the sales pitch!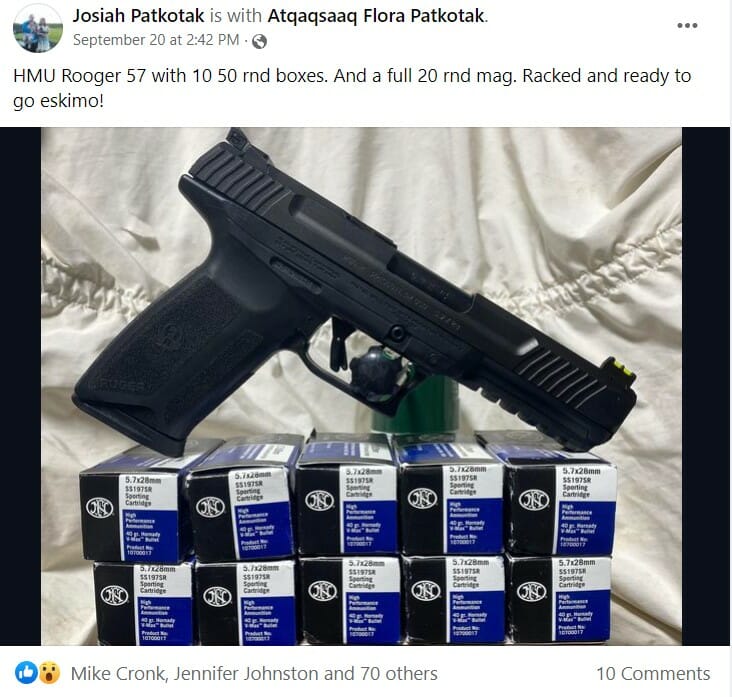 ***
Sen. Roger Holland's truck was stolen in south Anchorage this week. I'm assuming he took his giant "Roger for Senate" sign out of the truck bed before he took it in for repairs, otherwise it should be easy to spot. I hear Floyd Hall is on the case. Fingers crossed that Roger gets it back, and it's good condition, ASAP.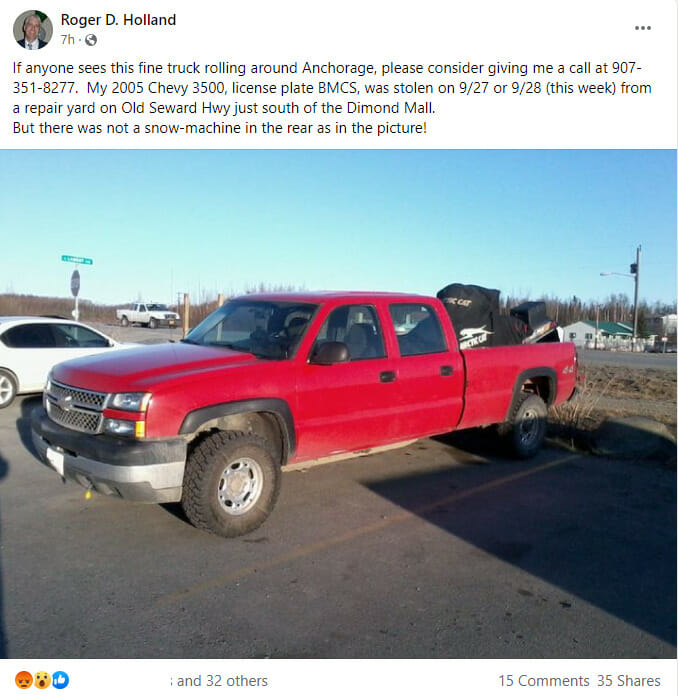 ***
Wait a minute…. DID FORMER SENATOR CATHY GIESSEL STEAL SEN. HOLLAND'S TRUCK?! 👀

***
The Stalker would like to issue a rare formal apology. With the high number of new faces and competitive races, it's been a wild ride getting to know all the candidates. I thought I knew who the front runners were but even a Stalker makes mistakes. I apologize to Genevieve Mina (holding the pink sign) and Andrew Gray (holding the blue sign). I had you two mixed up! Silly me. 🤪

***
While she may cry fowl, House candidate Rebecca Himschoot just missed the mark for best door knock of the week.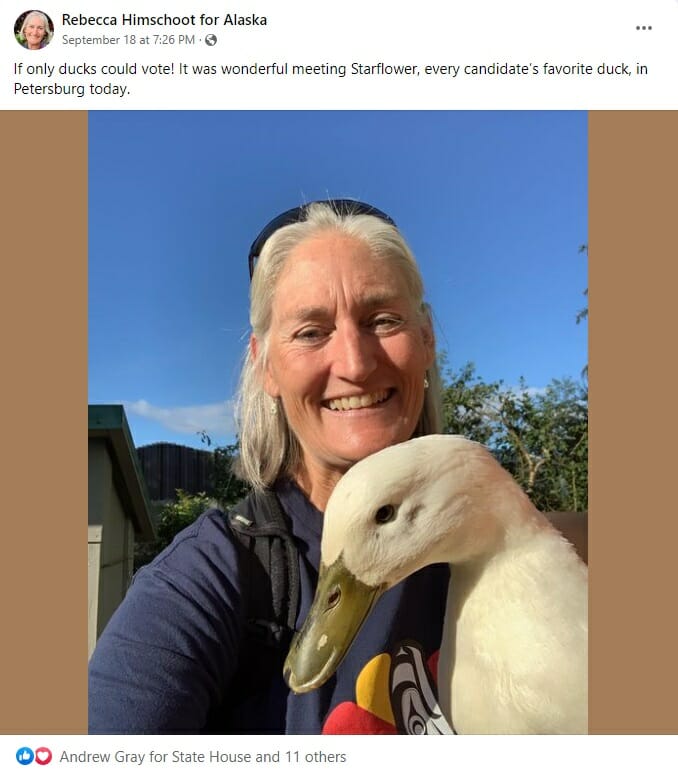 ***
The honor of best door knock of the week goes to Rep. Harriet Drummond and Star the reindeer's butt. Perhaps next time she can get the coveted Star Selfie.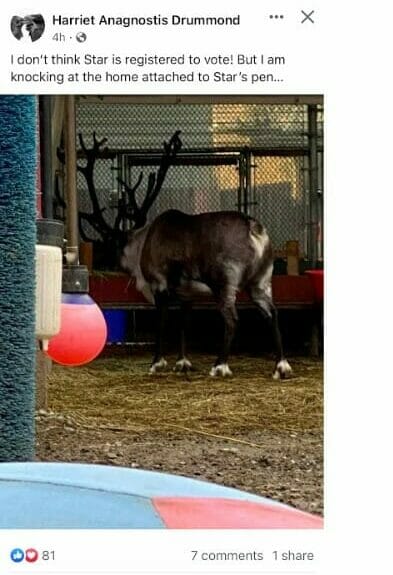 ***
I dunno folks. I think I prefer fancy Walter T. Featherly to plain old Walt "man of the people" Featherly. Bring back the parka!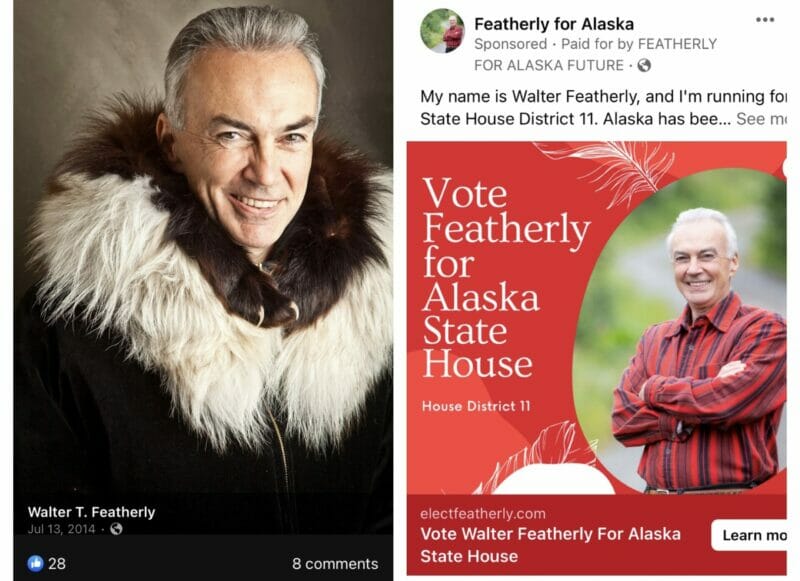 ***
"It has been a pretty hectic campaign and has cost more than anticipated" = I didn't think I'd have to campaign and now I'm losing.

***
Are you ready to laugh? Who in tarnation approved this monstrosity masterpiece? You have Grier's aggressive chest out stance, and what the hell is Andy even leaning on? And look at his arm! For once in his life Calvin looks like the most normal one of the bunch! 🤣🤣 #photoshopfail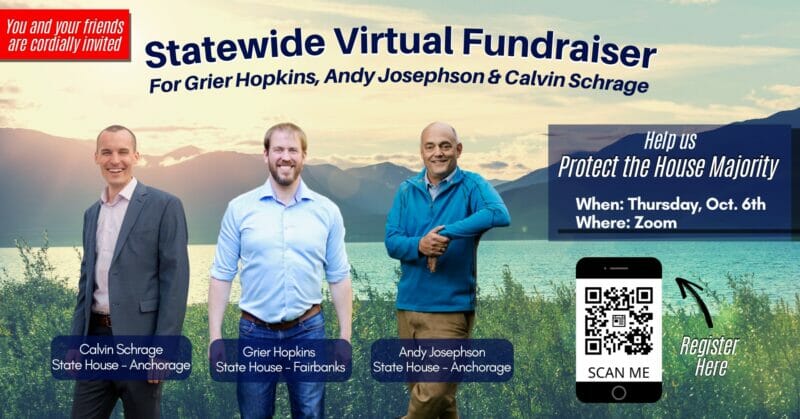 ***
I get it. Fundraising mailers are hard. You have to walk the fine line of keeping it interesting while not getting too weird. The perfect campaign fundraiser mailer does not exis……. 😮🤩😍 EXCELLENT!!!

***
Check out Rep. McCarty's recent mailer. Epic fail.
✅ Terrible graphics/almost unreadable
✅ Unclear who his opponent is
✅ Mixes up Rep. Omar and Rep. Ocasio-Cortez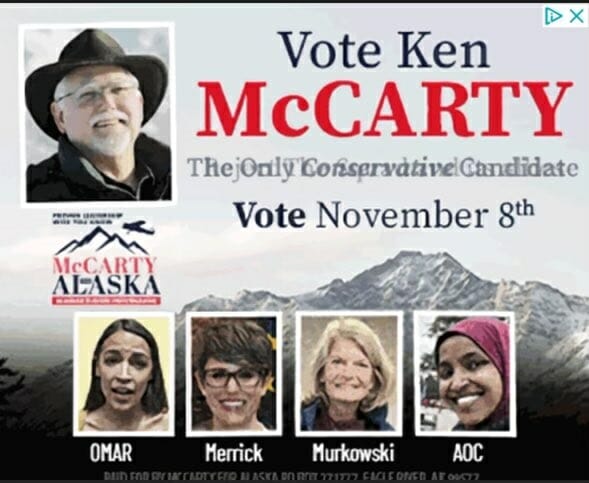 ***
OMG!!! Check out that Sassy Massie cameo in this Rep. Andy Josephson mailer.
P.S. I would love to know who Andy is talking about when he mentions "extremists on both sides." I wasn't aware there were any left-wing progressive extremists in our community. Since it's a matter of public safety, I'm sure he won't mind letting us know who these people or organizations are ASAP. 🧐

***
I watched this video of Forrest Dunbar shaving, so now you have to see it, too. Click here for the full reel. While it's not bad for his first time, Forrest has lots of catching up to do to match Kathy the Queen of Reels Henslee.

***
The TikTok algorithm strikes again.
***
After House candidate Lyn Franks let the dogs out, she pulled a Jennifer Sonne on Facebook. Sounds like just the rhetoric we need in Juneau to get things done!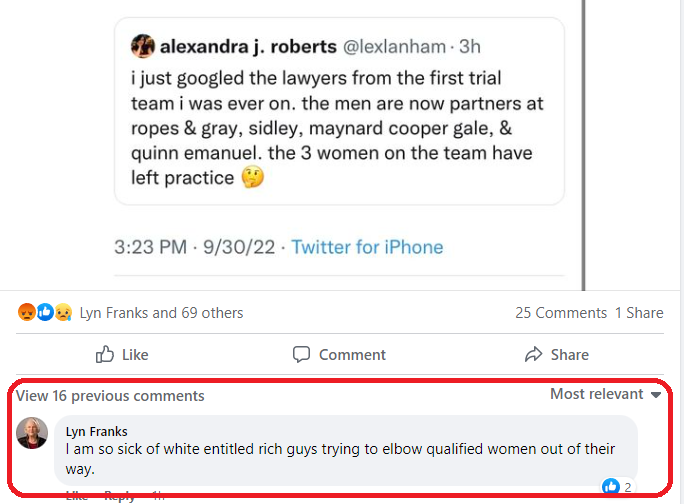 ***
I haven't checked in with the Anchorage Assembly in a while. Has the disfunction ended? Are people starting to get along? Looks like the answer is a resounding NO.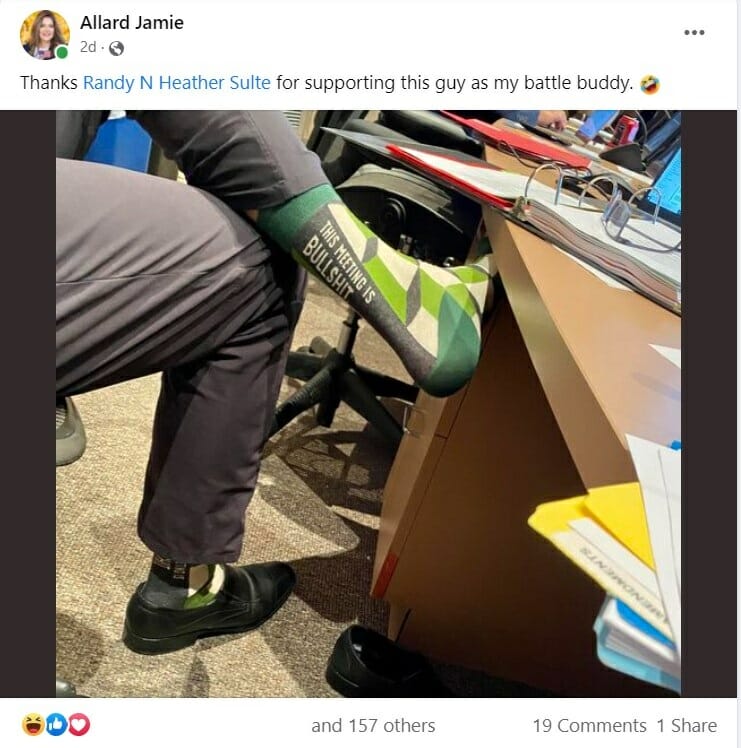 ***
Speaking of Assembly member Sulte… Wait, what?

***
Assembly member Chris Constant pulled a rookie move and went to Costco on PFD week. My thoughts and prayers, as worthless as he thinks they may be, are with him during this difficult time. 🙏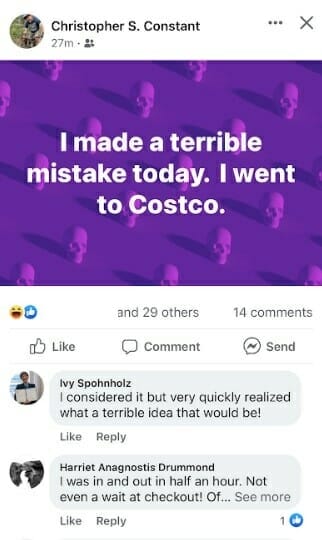 ***
It takes a lot to surprise me. Check out the Anchorage Library giving a positive shout out and a share to Anchorage Mayor Dave Bronson. WOW. 🤯

***
Spotted at the Legislative Budget & Audit Committee meeting and the only person wearing a mask: Rep. Andy Josephson
***
Spotted at the constitutional convention debate: Rep Spohnholz, Andrew Gray, and former House Speaker John Harris sitting next to to former Gov. Sarah Palin.
***
Spotted in midtown between C and A streets: A sea of political signs, and a Christmas Cantata sign for good measure. #thatssoanchorage
***
Spotted going door-to-door on his motorcycle: Sen. Roger Holland. Is a side car motorcycle a requirement to hold office in South Anchorage? HE IS COPYING LADDIE!
   
***
Several tipsters wrote in concerned about Alyse Galvin at the recent Anchorage Chamber of Commerce luncheon.
"I'm having blazer confusion. That's not the normal yellow…."
"Too harsh. Need more gold tones, Galvin."
"Bring back the blazer!!!"

***
The Alaska Stalker was born and raised in Alaska. She lives in South Anchorage with her husband and three kids five and under. She is not Jeff Landfield.