Welcome to this week's edition of the Alaska Stalker, a lighthearted roundup of the best and worst of Alaska's social media landscape and political gossip.
***
If you enjoy the Alaska Stalker, please consider supporting working moms like me by sending in hot tips, overheards, and spotted ins. You can reach me at [email protected] As always, thanks for reading.
***
October has arrived and things are getting spooooky! I'm a sucker for Halloween-themed social media posts. Please send anything notable my way via owl post or email at [email protected]

***
For example, check out this amazing Halloween meets local politics display in District 16. ???

***
It's also cold and flu season. A warm Stalker thank you to Vice President of the Sand Lake Community Council, former Rep. Liz Vazquez, for the reminder to get our flu shots. Or something like that… ¯\_(ツ)_/¯

***
Sen. Lisa Murkowski posted a collage of her celebrating National Drink Beer Day with a pint (or five) at some of Alaska's best microbreweries around the State. Nice of Lisa to support local breweries, especially with another "no fun" proposal fight heating up between brewers and the Alcohol Beverage Control Board.

***
Wait a minute… Lisa, did you send this?! ???

***
As is tradition, Alaska's First Lady Rose Dunleavy hosted the annual First Lady Tea, benefiting Best Beginnings. This lovely event is always well attended by women and girls of all ages and hat styles. ???

***
While I was glad to see the event raised over $34,000 for Alaska's Imagination Library, what stood out is what I didn't see. A thank you email from Best Beginnings fails to give a tip of the hat to the First Lady — no mention or photos of Rose anywhere. Weak tea, indeed. ☕

***
I have to hand it to Gov. Mike Dunleavy for finally addressing this important matter head on. I mean, I thought media relations were improving since Rich Mauer left KTUU, but I guess not. ?

***
After Rep. Laddie Shaw was rejected by Senate Republicans to fill the District M Senate seat, Gov. Mike Dunleavy went "off list" with another BOGO and chose Rep. Josh Revak. Give it to Laddie to point out the obvious.

***
Former Mat-Su Assemblymember, Randall Kowalke, who former Gov. Walker picked "off list" to fill District E, weighed in on what is certainly a unique perspective.

***
For those who've forgotten, this is what Dunleavy had to say about Walker selecting Kowalke for his Senate seat in 2018. As almost everything in politics, this situation is same-same but different. Still tho… ?

***
While Senate President Cathy Giessel has been silent so far about the Revak appointment, she did post this photo of her chopping down trees on her official Senate page. Weird flex but ok Cathy.

***
While there is clearly some Republican infighting going on, the MSRW Club is standing with Cathy and hosting a fundraiser for her next week. That co-host tho. ?

***
In an interesting turn of events, both Congressman Young and Sen. Dan Sullivan have come out to bat for Josh. That's not entirely insignificant.

***
No matter how it all shakes out, Josh is a pretty good guy and I'm sad to see him mixed up in such a complicated and tumultuous political appointment. If you don't know him that well, get better acquainted by checking out one of the most entertaining campaign ads to come out of last cycle. Love him or hate him, don't fear the Revak.
***
All of these antics has Rep. Ben Carpenter begging for a reality TV show based in Juneau.

***
Ask and ye shall receive. Coming January 2020. ?
Here's a sneak peek at a project we have been working on with Jensen Hall Creative and Miles Baker for the last several months. Join us at our 1 Milliion Cups presentation this Wednesday at 9 am at the Writer's Block in Spenard to learn more.

Posted by The Alaska Landmine on Monday, September 30, 2019
***
#couplegoals ❤️

***
Please spread the word: Rep. Sarah Vance is searching for full-time models based in Homer. ? While he lives a bit outside the target area, I encourage Elstun to apply. Just look at that American Gothic inspired blue steel pose above. Flawless. ?

***
One Hot Mess blogger, Libby Bakalar, posted one of her ubiquitous social media fashion takes. The Gap fall 2002 collection was a good year. Kudos to Libby for still being able to fit into hers after 17 years. I'm not so lucky. But it was comments by Sen. Jesse Kiehl and Rep. Harriet Drummond that made me laugh. For the record, the Stalker is pro work uniforms and anti-Harrysplaining.

***
Rep. Kelly Merrick was busted in Eagle River for "Miss Behaving." Lock her up!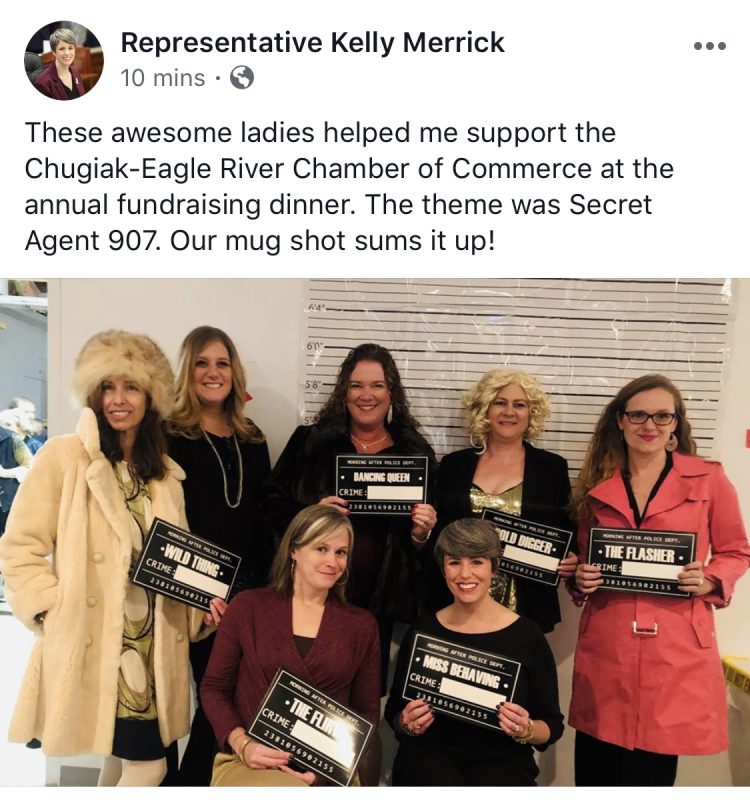 ***
Spenard may have lost its palm tree, but there's a new landmark in town. Mayor Ethan Berkowitz posted this tribute to two of Alaska's greatest treasures: Spenard and Spam.

***
Assemblymember Forrest Dunbar had no heat for days. We agree with @AlaskaSnob, "That's a long time to go without heat." Doesn't he have a cat?! Can someone please check on poor Katalla? ?

***
I'm glad someone is giving her the attention she needs. ??

***
This on-the-job byline mishap from longtime Alaska journalist Kris Capps is even better than the Elizabeth Harball debacle. P.S. congrats on the new gig, Elizabeth!

***
Uh oh. John Aronno should probably rethink this tweet. Perhaps, "Make sure to grab this week's copy of the @anchoragepress,

be sure to ask for consent before hugging a union worker

, and don't stay at the Hilton." That like by Ivy tho… ?

***
Ladies and gentleman, may I present Communications Director for DNR, Dan Saddler. Last I checked, this post was still on his Facebook page. ?

***
Spotted at Steam Dot this week:
Rep. Ivy Spohnholz and local businesswoman Deborah Bonito.
Former Senator Anna Mackinnon with Rep. Johnston Staffer Erin Shine. You know Erin, the one with the amazing hair. ?
Friend of the Landmine, and Treasurer for the Sand Lake Community Council, David Nees. Hi, Mr. Nees, and thanks for reading!
***
Spotted at Whale's Tail in the Captain Cook: GCI's Tyson Gallagher and Staff to Gov. Dunleavy, Jordan Schilling.
***
Spotted at the Bush Company: A high level media personality. Don't worry, your secret is safe with me and Cherokee Savage.
***
Overheard in Anchorage: "I'm more qualified for the commissioner seat on the Alaska Oil and Gas Conservation Commission than Jeremy Price, and I'm definitely not qualified."
***
The Alaska Stalker was born and raised in Alaska, and lives in South Anchorage with her husband, daughter, and son. She is not Jeff Landfield.