Welcome to this week's edition of the Alaska Stalker, a lighthearted round up of the best and worst of Alaska's social media landscape.
***
If you enjoy the Alaska Stalker, please consider supporting working moms like me by sending in hot tips, overheards, and spotted ins. You can reach me at akstalker@alaskalandmine.com. As always, thanks for reading.
***
Halloween is over and Rep. Laddie Shaw's sliding into November like…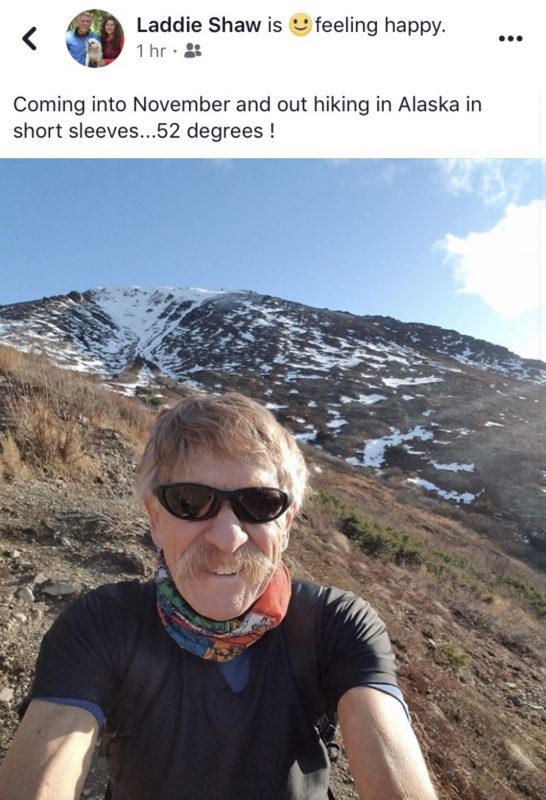 ***
This is going to take a bit of getting used to. Warm Stalker congratulations to newly confirmed Senator Josh Revak.

***
The social media site Nextdoor is commonly referred to as a cesspool of overreaction. Take this next post with a grain of salt. Still tho… Who is #4??? One tipster speculated, "It's gotta be the wife!"

***
I agree with KTUU's Sean Maguire. It would be much easier to figure out which senator has "dark brown-reddish hair" if all the photos were uniform. ?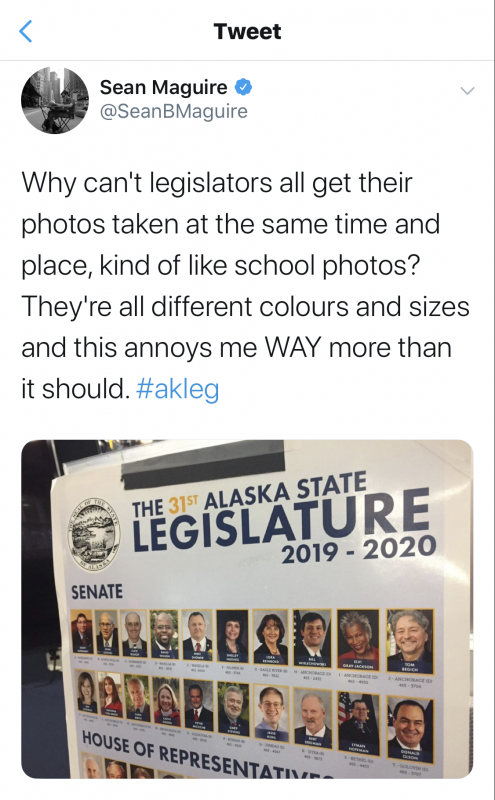 ***
Tsk tsk tsk Sen. Scott Kawasaki. According to the State of Alaska Fish & Game Wildlife Viewing Ethics, it's our responsibility to let animals eat their natural foods. Sharing your sandwich may get animals hooked on handouts; it may even harm their digestive systems or Rep. Neal Foster.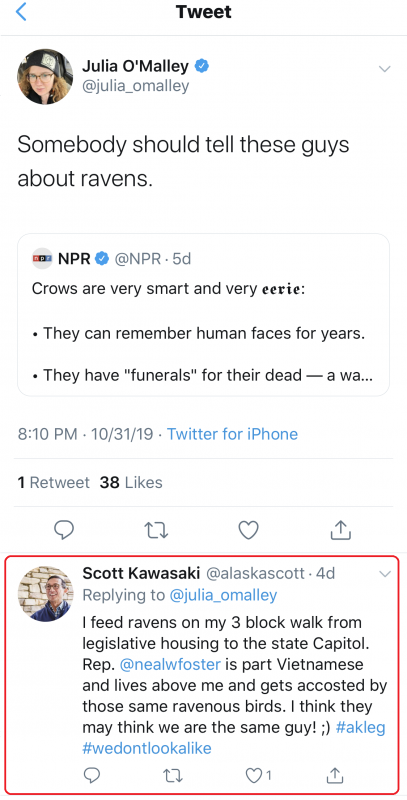 ***
Sen. Peter Micciche may be traveling on the East Coast, but his beloved massive chainsaw is never far from his mind.
***
Sen. David Wilson went full MAGA at the Trump International Hotel in D.C.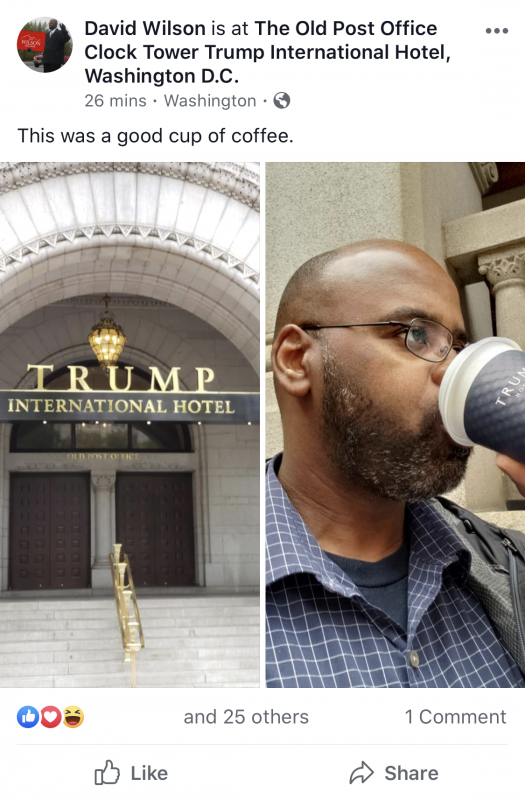 ***
As we move into election season, this play on "the five love languages," posted by Rep. Ivy Spohnholz is hilarious and spot on. For the record, the Stalker's love language is receiving gifts. As in, "I got you a hot tip and a screen cap to go with it." I don't even want to know what John Henry's love language is.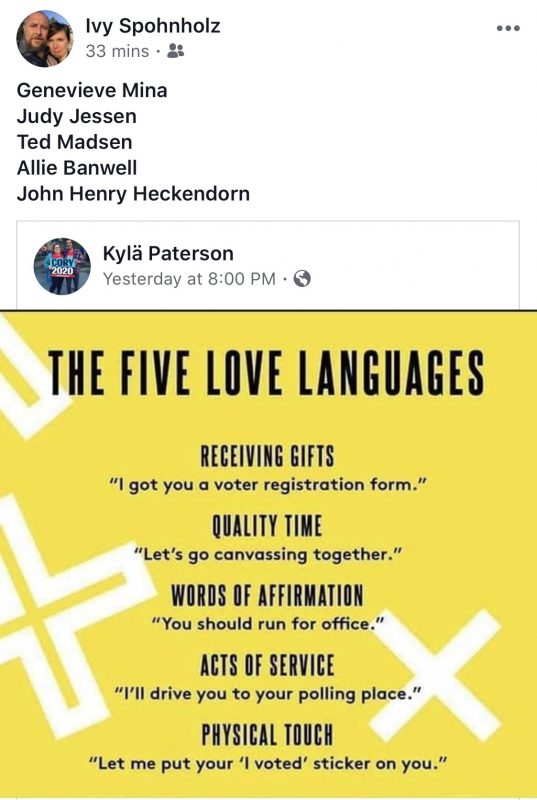 ***
Rep. DeLena Johnson came upon an "unexploded ordinance" on a walk in Palmer. DeLena has every reason to be worried. An unexploded ordnance is just another term for a story the Alaska Landmine hasn't covered yet. ??? Thanks for the shout out, Sarah!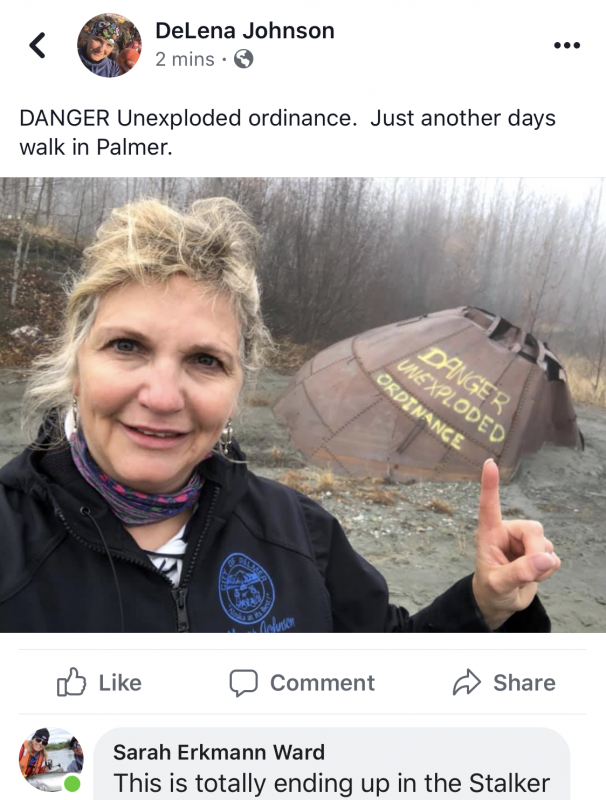 ***
Great tactic, Rep. Hannan. Too bad Nordstrom closed. That would be an easy way to get a 1:1 with a certain well-heeled commish during the work day! ?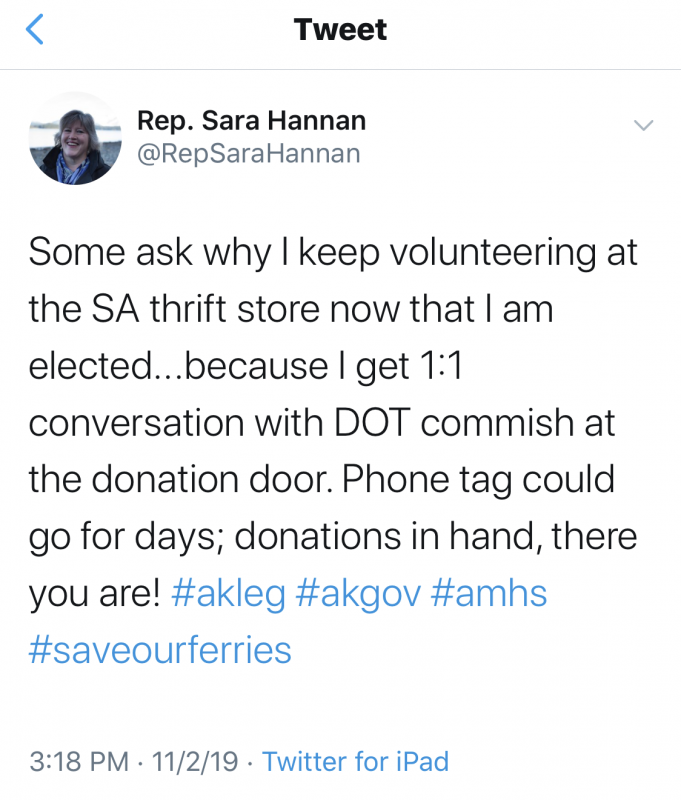 ***
I didn't know "Q" was still a thing. Thanks for the reminder, Rep. Sullivan-Leonard. Stay the course! ?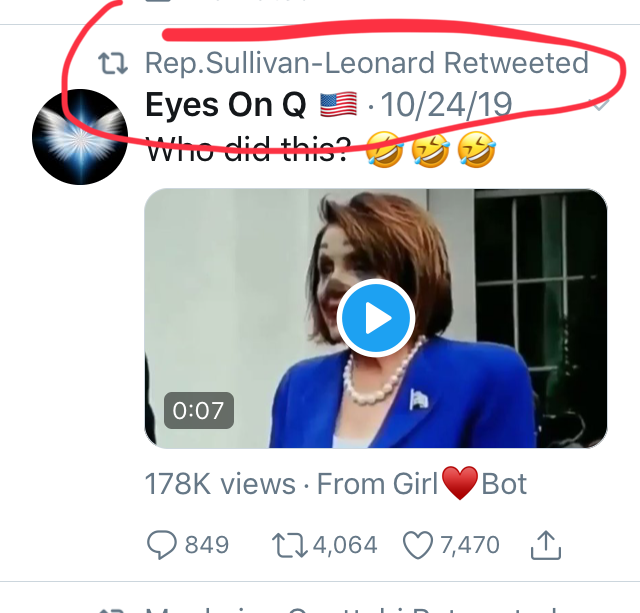 ***
As a very tired mom of two under three, who've both been waking up before 6:00AM all week, Rep. Harriet Drummond is my hero. It's time to end Daylight Saving Time!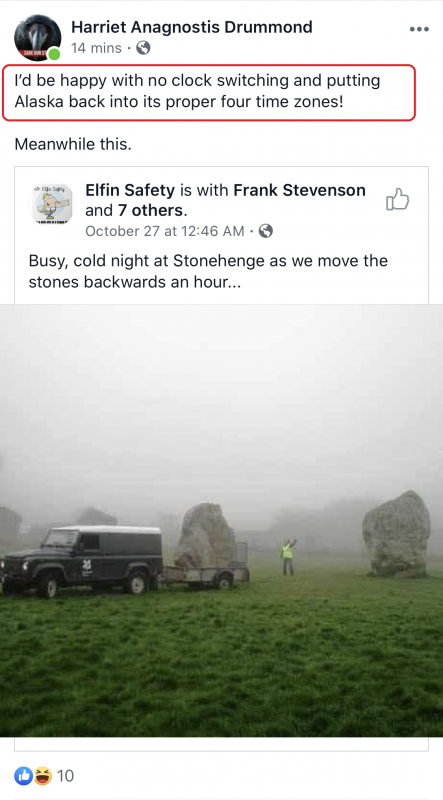 ***
Shout out to whoever signed the Stalker up for the Alaska Watchman e-newsletter. At first I was skeptical. And then I read this week's email. That first sentence tho… Who's going to tell them? ???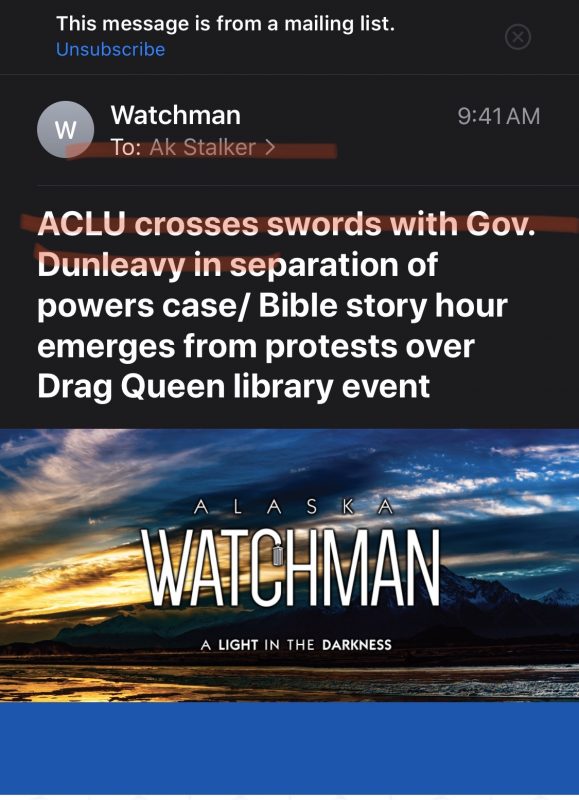 ***
Yikes! Did former Rep. Les Gara post photos of him violating AS 05.45.100(c)(1)? LOL!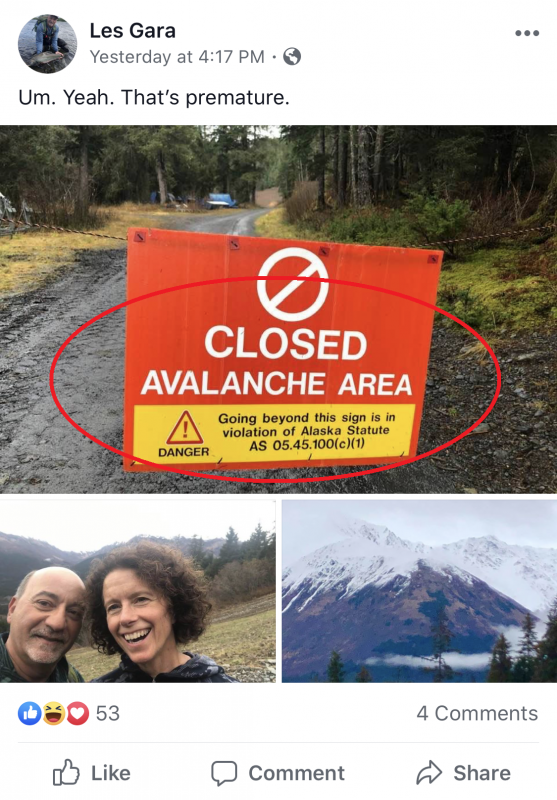 ***
I'm going to have to take a closer look at Anchorage Assemblymember Forrest Dunbar's mayoral campaign. Seems like it may be a bit authoritarian.

***
Folks have too much time on their hands are still writing their Assemblymembers about Anchorage's plastic bag ban. Perhaps Assemblymember Constant should send Mr. "Bagin Less" and Mr. Waters one of his new Constant for Assembly reusable bags I've been hearing about.

***
Also overdue? A Facebook post since this update. ?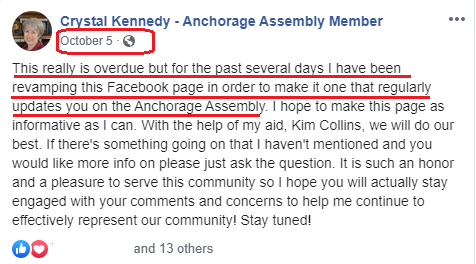 ***
Dad joke of the week: Lt. Gov. Kevin Meyer to Rep. Laddie Shaw: "There's the seal. Gotta keep my eye on the seal!"
***
Spotted at the Anchorage Assembly meeting: Assemblymember John Weddleton handing out leftover Halloween candy.
***
Spotted at Steam Dot Midtown:
Deputy Commissioner for the Department of Administration and Anchorage School Board Member Dave Donley meeting with former Anchorage Assemblymember Dan Coffey.
***
Overheard in Anchorage: "Woke white people are the new church lady."
***
Overheard in Anchorage: "Sen. Revak's next campaign slogan should be Revak: he's a little bit normal."
***
Overheard via a non politico: "How did David Bowie get appointed to the Alaska State Senate?" ?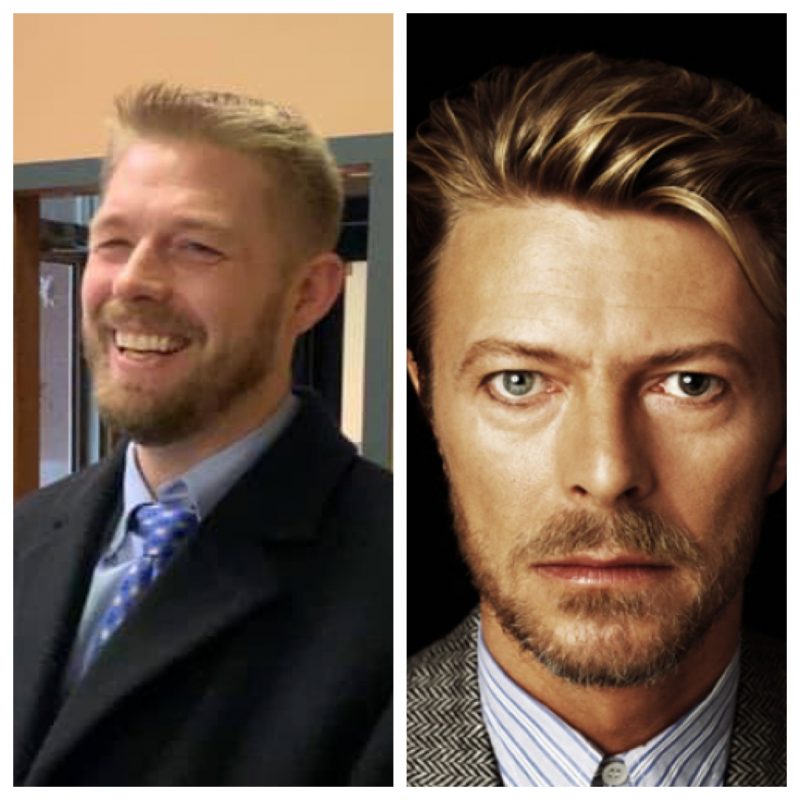 ***
The Alaska Stalker was born and raised in Alaska, and lives in South Anchorage with her husband, daughter, and son. She is not Jeff Landfield.