Welcome to this week's edition of the Alaska Stalker, a lighthearted round up of the best and worst of Alaska's social media landscape.
***
If you enjoy the Alaska Stalker, please consider supporting working moms like me by sending in hot tips, overheards, and spotted ins. You can reach me at akstalker@alaskalandmine.com. As always, thanks for reading.
***
After weeks of anticipation, Southcentral was finally blanketed under several inches of snow. Rep. Ivy Spohnholz posted the required "It's snowing!!!" observation as soon as flakes started to fall.

***
It must be an east side thing because Rep. Geran Tarr also made a point to post about Anchorage's new winter look.

***
And candidate for House D27 (also east side), Liz Snyder, posted this adorable photo of her dog frolicking in the white stuff.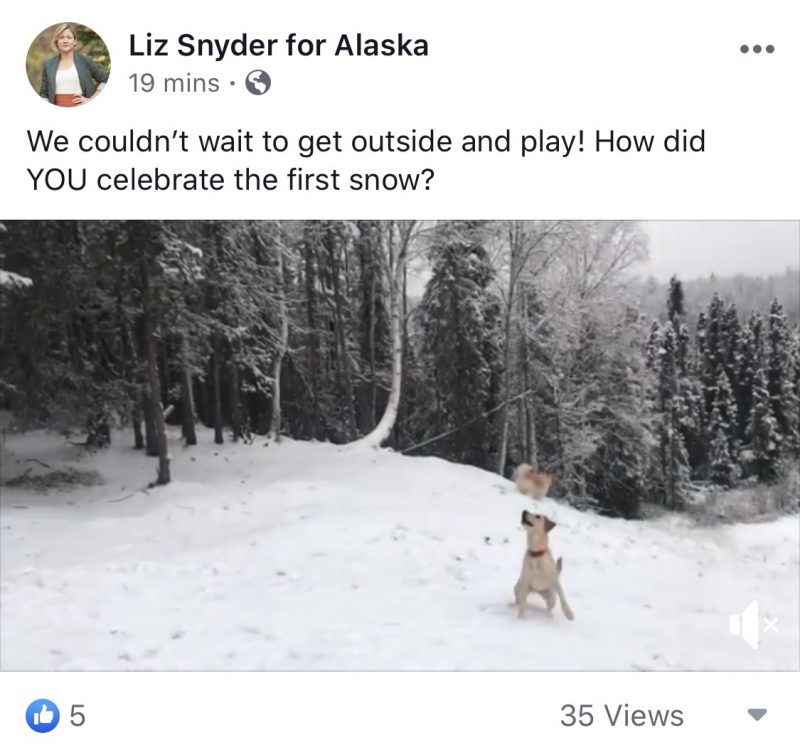 ***
Then it all melted and we're back to where we started: green grass and 45 degrees in Alaska in November. ? Time to repost a photo of your yard, former Sen. Berta Gardner. Climate change indeed.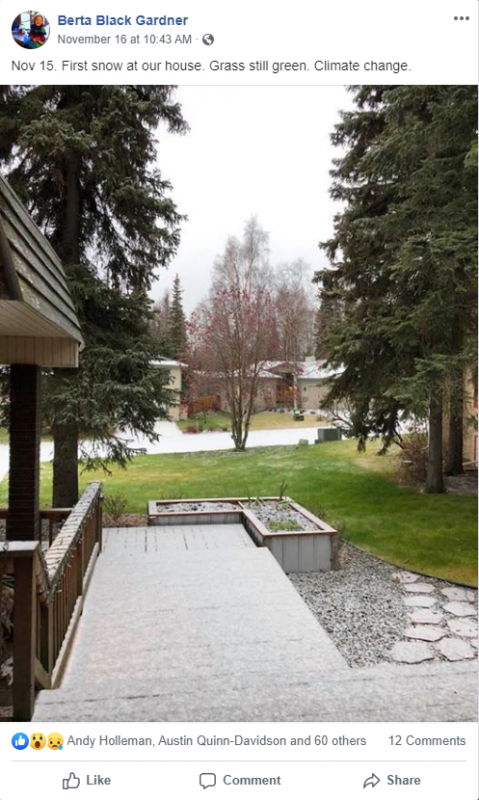 ***
Honestly, the worst part of this new normal is having to go through break up multiple times a year.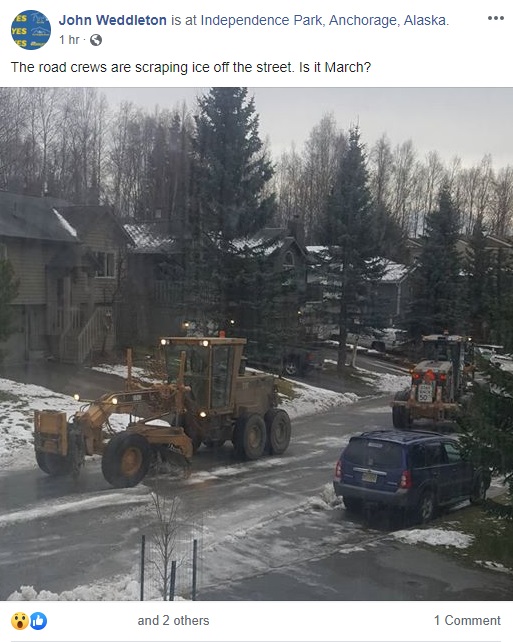 ***
If you need a pick me up, check out this adorable video of Sen. Dan Sullivan feeding Pilot the stellar sea lion. (Sound on and watch til the end!)
Pilot, one of the colossal stellar sealions being cared for at the Alaska SeaLife Center, was gracious enough to show off his vocal range (and personality) during my recent visit to Seward. I'm sure the fish in my hand had nothing to do with his greeting. Listen to that bark!

Posted by Senator Dan Sullivan on Wednesday, November 20, 2019
***
Former Gov. Sarah Palin is a grandma again! Willow Palin and her husband welcomed twins, Banks and Blaise, into the world this week. Good to see Todd and Sarah back together, even if it's "just for the gram."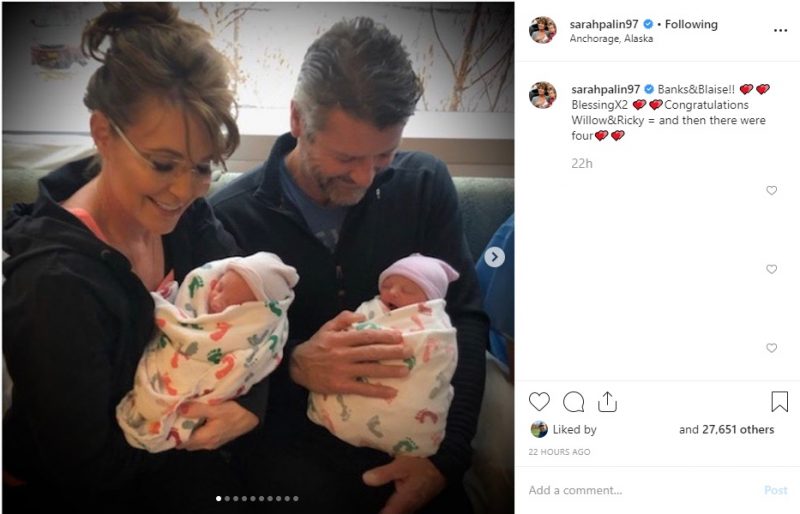 ***
This screen cap of a text poll about Gov. Mike Dunleavy, the legislature, the Alaska Education Policy Initiative, and other issues was sent to my inbox. Check out those answers! This person isn't political at all, but felt compelled to show support for the Governor and no one else. Something to think about for those of us inside the bubble.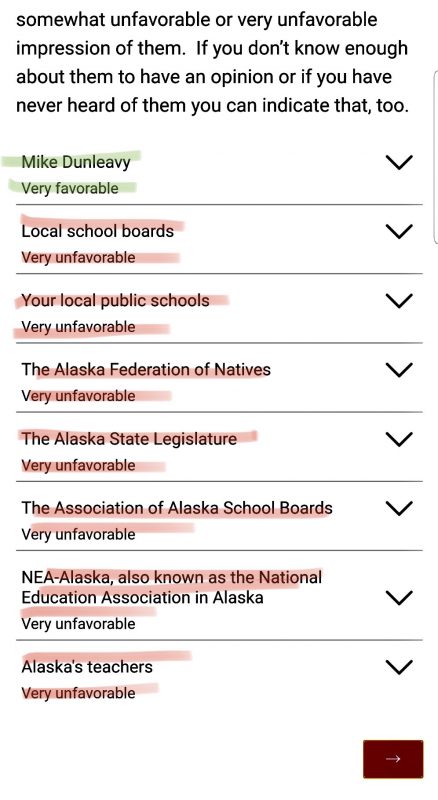 ***
In case you missed it, Gov. Dunleavy made an appearance on the Washington Examiner's Examining Politics Podcast in late October.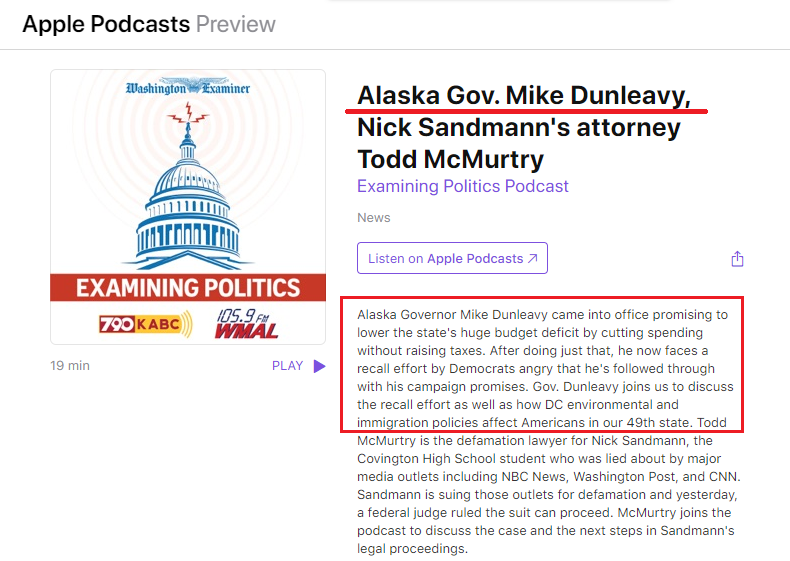 ***
After a four month hiatus, Sen. John Coghill returned to Facebook with a #highlevel cover photo update boasting Alaska's full congressional delegation.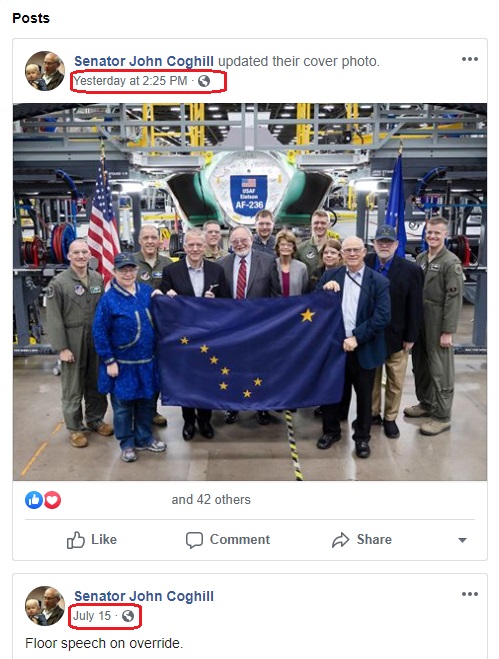 ***
Rep. Harriet Drummond also changed her cover photo, letting us know once and for all where she stands. As if signing the recall petition twice wasn't enough. ?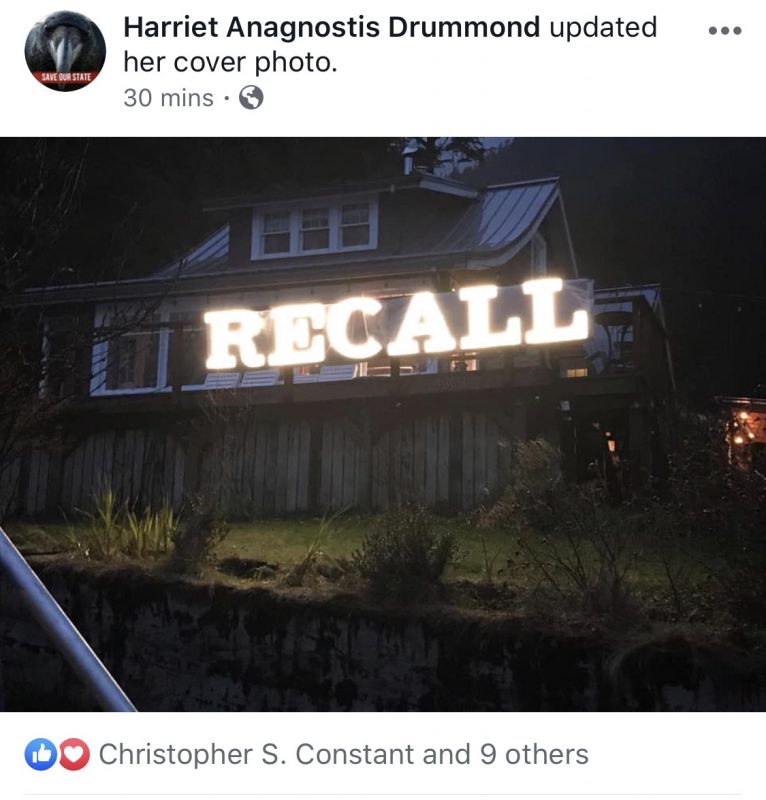 ***
I think Sen. Jesse Kiehl is confused. You're supposed to lay the hammer down, not hang it on the wall.

***
TIL Rep. Geran Tarr is a knowledgeable bird enthusiast. Geran, can you educate me on the airspeed velocity of an unladen swallow?

***
I can't get enough of Sen. Elvi Gray-Jackson dropping by the Facebook page of inspirational quote enthusiast, Rep. Sharon Jackson, to show some love. Fingers crossed for a photo next session of Elvi and Sharon together in their matching blue kuspuks!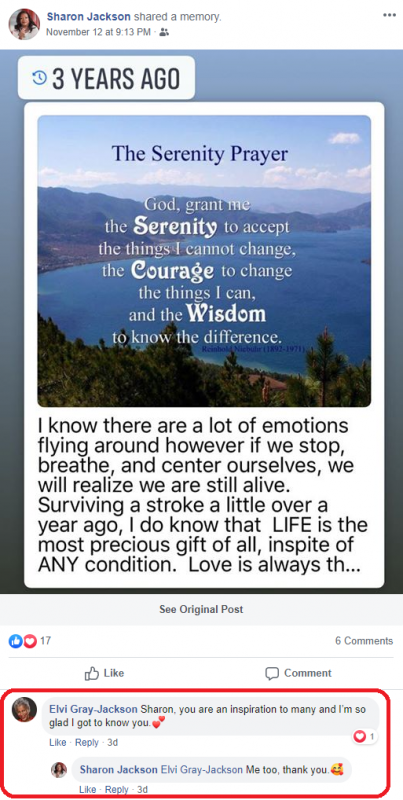 ***
Speaking of matchy-matchy, I had to do a double take — Anchorage Mayor Ethan Berkowitz and Assemblymember John Weddleton are #twinning. ?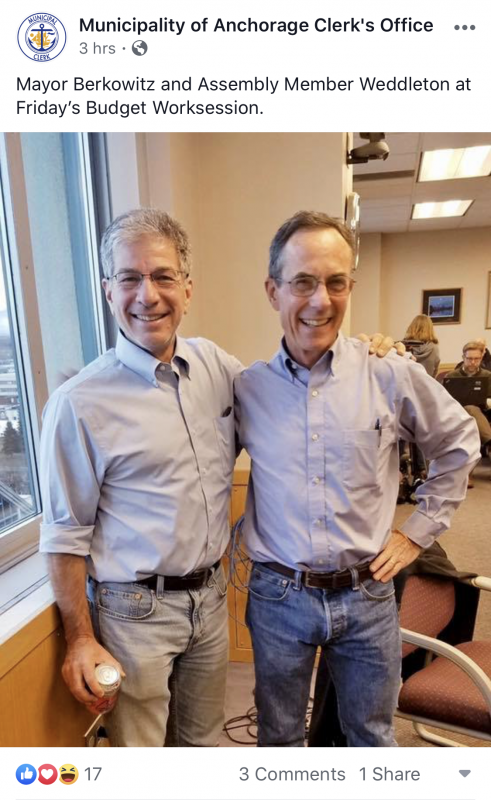 ***
I knew the Anchorage Assembly's meeting schedule was rigorous, but this does seem a bit extreme. ???
Just got an Outlook meeting invite from a non-profit for 12:00 PM on Christmas Day. Even as a Jew I feel like that's ambitious on the sender's part…

— Forrest Dunbar (@ForrestDunbarAK) November 15, 2019
***
Assemblymember Christopher Constant has found a way to make the StairMaster even more torturous: read hundreds of pages of policy while climbing. I sure hope those "buns of steel" translate into some steel pilings for the Port someday. ?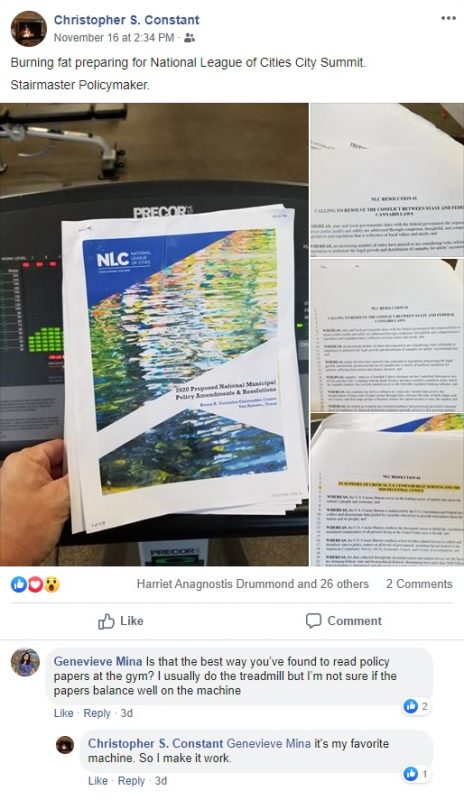 ***
The Anchorage Assembly gets a lot of mail from angry constituents. Some of it is kinda funny: like the folks who are mailing assemblymembers actual plastic bags in opposition of the plastic bag ban. Sometimes, the emails are downright awful. Take a look at this one, sent to the assembly opposing a resolution honoring Transgender Day of Remembrance. While I don't think Chris should have doxxed the guy (I blacked out his email) I don't have a problem with as many people as possible reading what Mr. Wood wrote. Absolutely disgusting.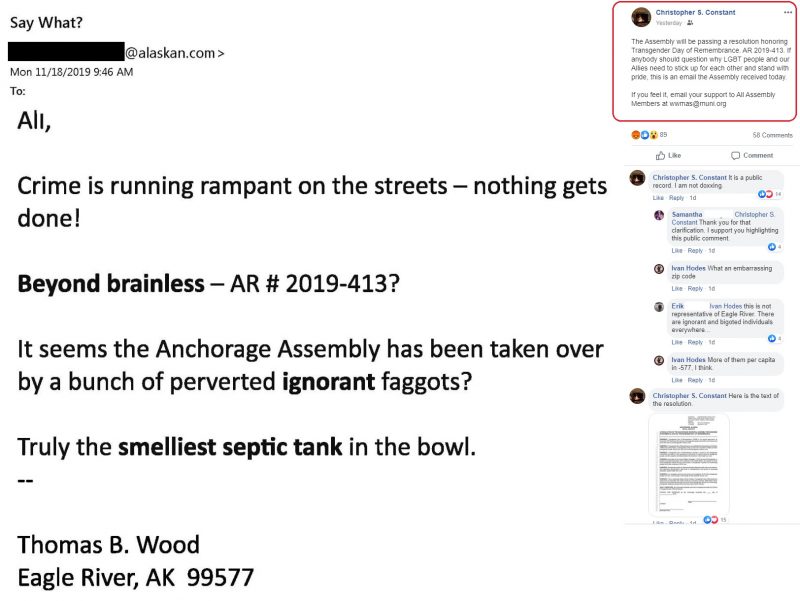 ***
Let's end it on a high note. If this photo doesn't make you smile, you need to reexamine your life. Looks like Assemblymember Meg Zaletel is a cool mom — kicksleds are quickly becoming the hot new trend in town. Fingers crossed we get more snow soon. ❄️❄️❄️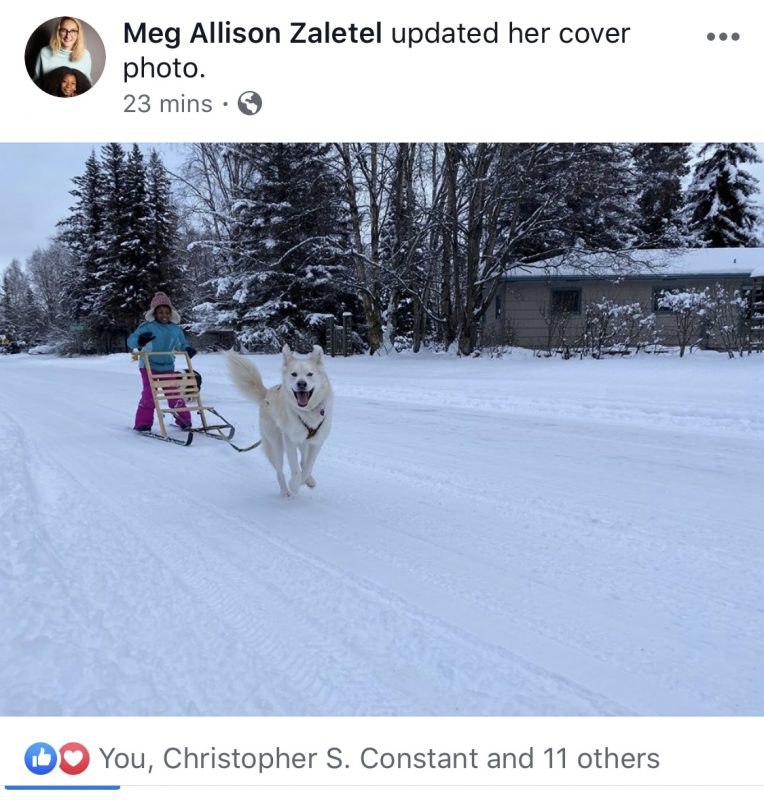 ***
Stalker Scoop: S
en. Cathy Giessel won the grand prize raffle of two round trip Alaska Airlines tickets at the annual Resource Development Council Conference. 
***
Overheard: "I feel like Bruce Tangeman should drive for Uber in Juneau while his wife's working during session. He could really get a pulse of the people."
***
Spotted at Alaska Municipal League: Sen. Josh Revak and Rep. Laddie Shaw chatting away at the One Alaska Booth. #stillfriends
***
Spotted in the "hot date" edition:
Spotted at Spenard Roadhouse: Austin Baird and his wife Iuliia.
***
Rep. Ivy Spohnholz and her husband Troy spotted at Spenard Roadhouse on a Friday, and Pangea on a Saturday!
***
Also spotted at Pangea: former Gov. Bill Walker and family.
***
Local politico Judy Jessen and her boyfriend, Jed, on a different kind of hot date at the Anchorage Assembly's budget meeting. LOL!
***
The Alaska Stalker was born and raised in Alaska, and lives in South Anchorage with her husband, daughter, and son. She is not Jeff Landfield.