Welcome to this week's edition of The Alaska Stalker, a lighthearted round up of the best and worst of Alaska's social media landscape. Have you sent us a hot tip yet? Email us at akstalker@alaskalandmine.com and, as always, thanks for reading.
---
The day after Election Day, for good or bad, we were all Les Gara. They don't say Alaskans consume the most ice cream per capita for nothing. For those of you still in mourning over the election results, may I also recommend Chocolate Therapy and Keep Caramel and Cookie On. You also might not want to read this week's column. Lots of saltiness ahead.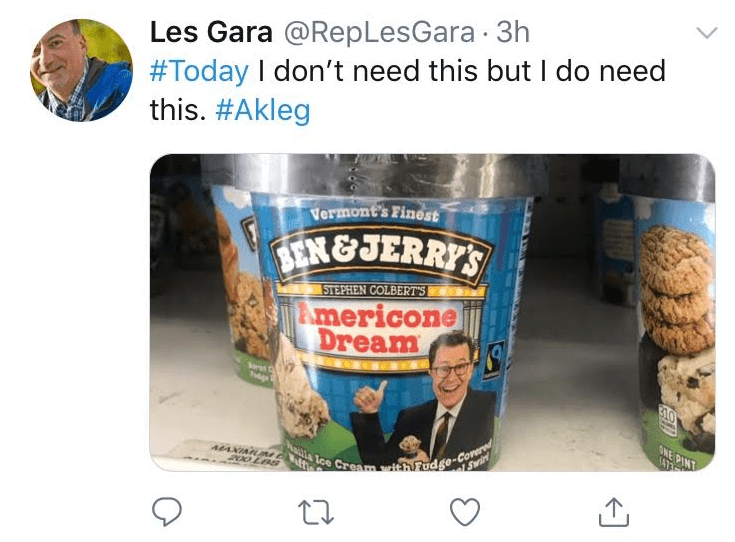 ---
Who else is shocked, SHOCKED that Congressman Don Young, Dean of the House and Representative for all of Alaska, won reelection again in yet another landslide against opponent Alyse Galvin? I mean, what about all those polls that one Ivan Moore poll?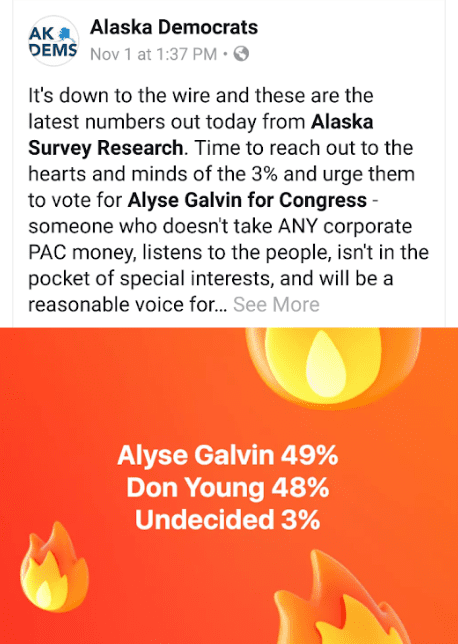 ---
Who's stupid, Shannyn? The folks who believed an Ivan Moore poll? Or all the people in these photos, like Congressman Young, his wife Anne, Palmer Assemblymember Sabrena Combs, ADN Reporter Tom Hewitt, Representative-elect Josh Revak and his supporters, Kelly Merrick's supporters, Landmine Editor-in-Chief Jeff Landfield, and the dozens of Don Young supporters who came out to Election Central to support their candidates? We'll wait.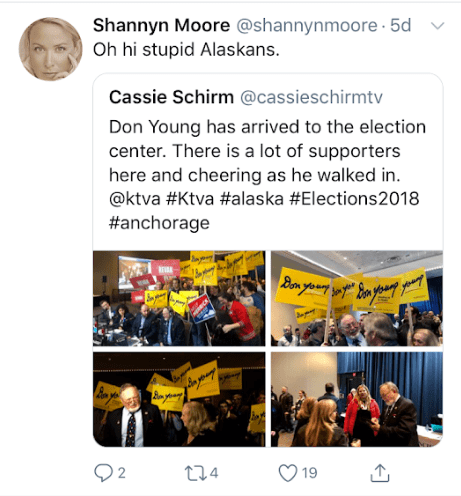 ---
Unlike Shannyn, at least Anchorage politico Kati Ward is specific when she's calling people stupid.

---
Hopkins gets it. ?

---
My only lingering question regarding the Young/Galvin race is: is it too soon to start wearing my yellow blazer in public again? I don't want to be insensitive.
---
Even those on the winning side are getting in on the saltiness. Stand for Salmon made the mistake of keeping their ads up past election day. I made the mistake of reading the comments. Yes on 1 was massively outspent and lost big. Still, a million dollars should at least buy you a social media manager who knows the election ended last Tuesday…

---
Meanwhile Stand for Alaska must have been pretty confident going into election day. Check out this risky sponsorship for the annual RDC Conference. I wonder if they would have switched it to a pink slip toast if Stand for Salmon won??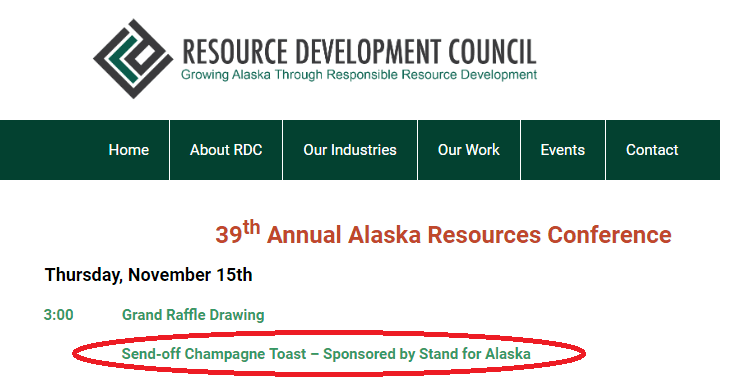 ---
Also confident going into election night, Assemblywoman Amy Demboski had this custom printed t-shirt made up for the occasion.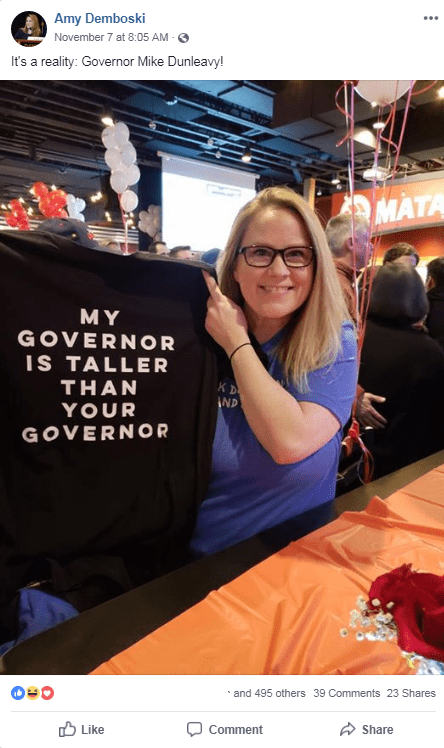 Unfortunately, it might be #fakenews.

---
Governor elect Dunleavy announced his transition team last week. Congratulations to Sarah Erkmann Ward for her role as Transition Communications Director. Can someone please let Ms. Abbott know that Facebook has a handy tool called an edit button for when you try to compliment someone but then accidentally end up writing they suck? Lynn Gattis even tried to give her a helpful hint. ?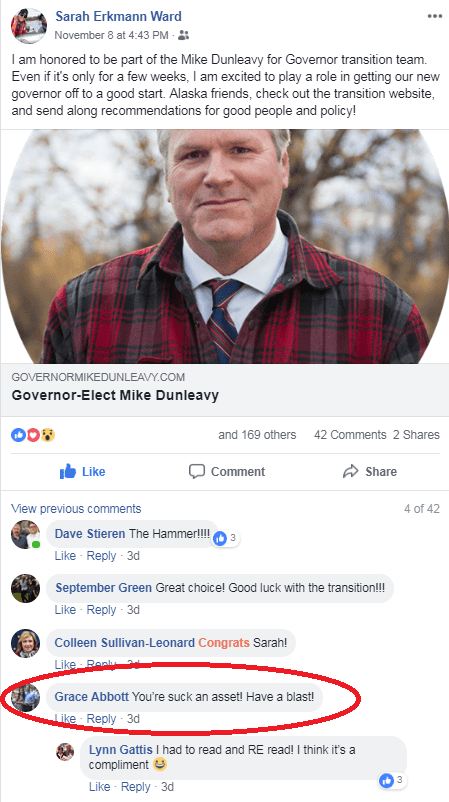 ---
Some folks are less than thrilled about the new administration. For some, the Dunleavy era is the Handmaiden's Tale of the North.

---
For others, Tuckerman Babcock is literally Darth Vader. For the record, Carrie, it's called "The Imperial March."

---
While he's not known for his restraint, we were pretty surprised to see conservative radio talk show host, Dave Stieren, not re-tweet the one Tweet to troll them all the day after the election. Maybe he just forgot about it.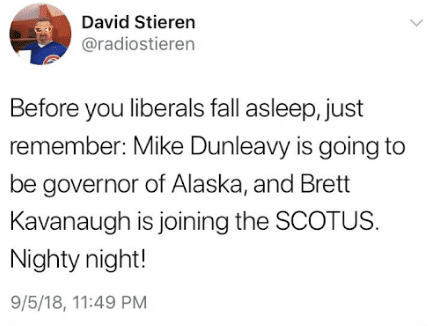 ---
It's not all bad for Governor Elect Dunleavy – he has some surprising fans! Or maybe the Dunleavy IE "like bots" got a little too excited on Instagram.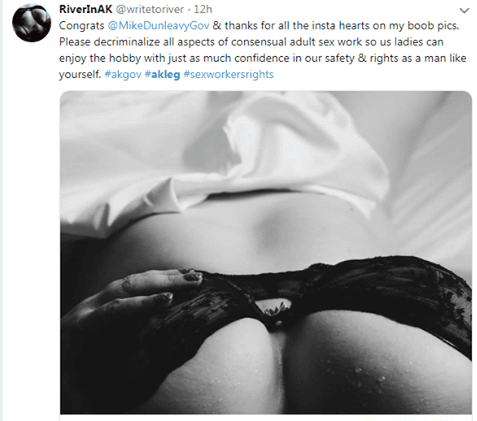 ---
Good to see some newly elected officials are already getting to work! Hope we can see some bi-partisan support for Representative elect Grier Hopkins' promised resolution. ❄️❄️❄️

---
The most Valley thing? Nah, that would be electing him to Senate in a couple years. Like Eagle River did this year. Speaking of, congratulations to Senator-elect Lora Reinbold. I'm sure everyone is very excited to work with you!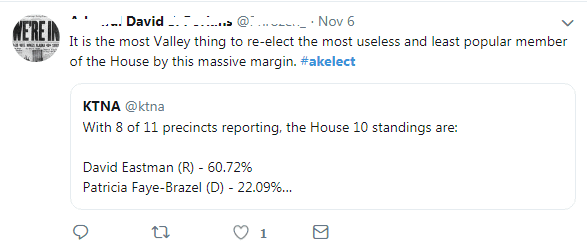 ---
If only we had #leadershipnow but back then. Who do I need to talk to to set up this high level Ralph Samuels/Will Muldoon meeting?

---
It was refreshing to see what some candidates decided to take away from their races, especially those that ended in defeat.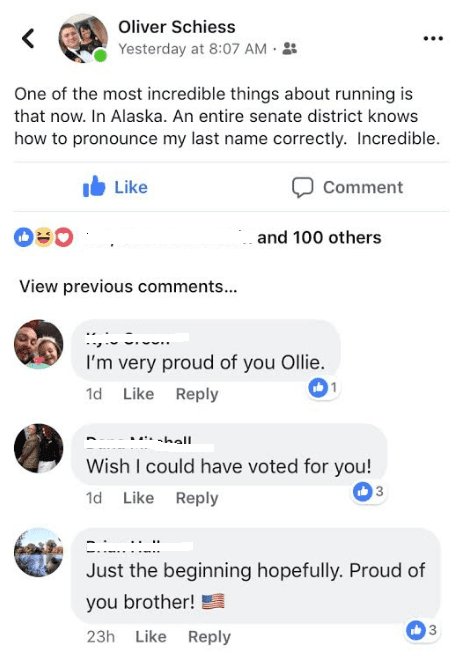 ---
Sadly, not everyone who wanted to will be returning to Juneau. Jason's a great guy who worked hard and ran a positive campaign – even after the votes were counted. As a former constituent, I thank him for his service to the Sand Lake community. As someone who pays attention, I know this isn't the last we've heard of him. He'll continue to do great things for his neighborhood, city, and state. Just watch. ?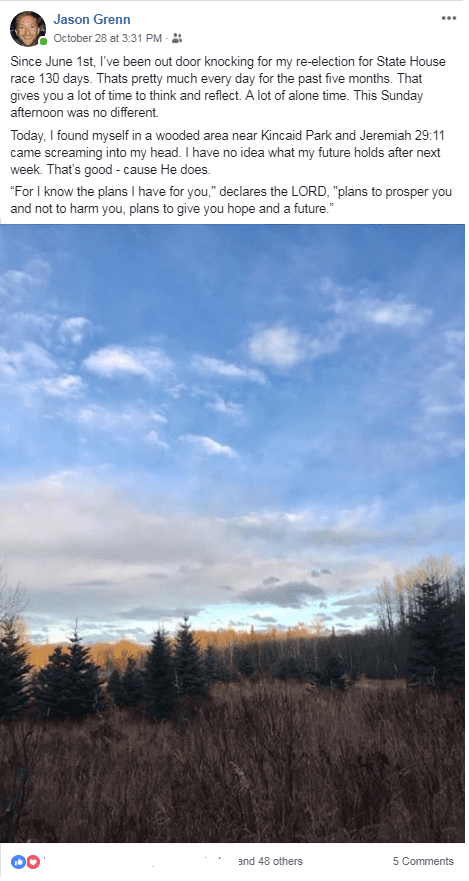 ---
However… Not everyone was such a statesman regarding the District 22 race.
???Warning – Stalker rant ahead!???
I find it very interesting that in 2016 if a young, nice, hardworking political newbie runs against an incumbent and wins by 186 votes, it warrants a snazzy spread on Politico dot com. If you recall, Independent and nicest guy around, Jason Grenn received 3561 votes to incumbent Liz Vazquez's 3375 votes. Dustin Darden, who ran as an Alaska Independence Party candidate in that election, received 730 votes, or about 10%.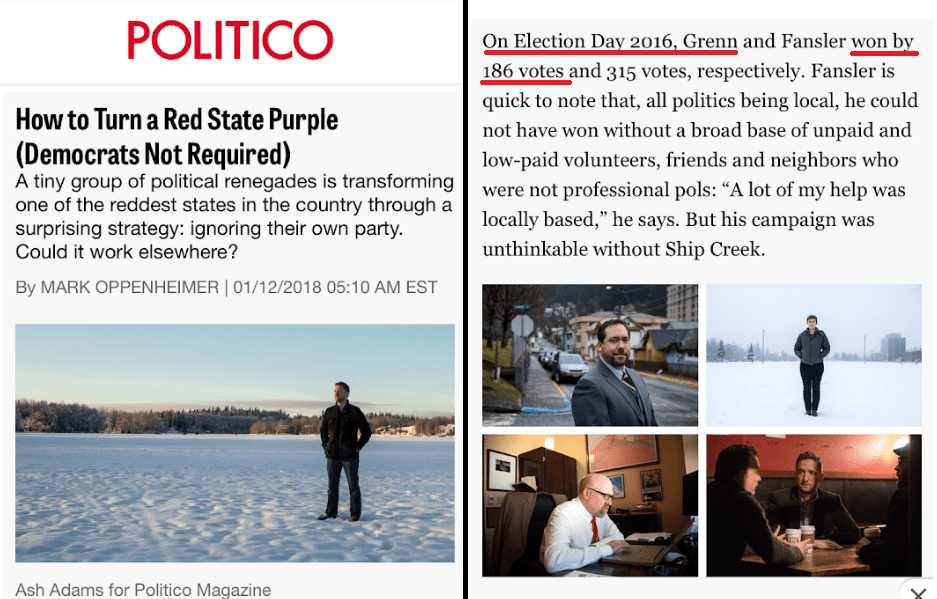 But in 2018, if a young, nice, hardworking political newbie runs against an incumbent and wins by over 400 votes (that's the unofficial numbers we have so far) then she "didn't really win" because Dustin Darden was a spoiler. And how many votes did Darden get this time around? 807. While it's about 75 more votes than he got in 2016, it is still right about that 10% mark, albeit a little over. Amazing how that works.
2016 Election Results

2018 Election Results

---
We're no political expert (and yes, I understand turnout was slightly lower in a non-Presidential year) but it seems to me that people underestimated Sara Rasmussen in the primary, where she beat former Representative Liz Vazquez handily. Then they underestimated her again in the general, where she beat Representative Jason Grenn handily. Representative-elect Rasmussen won her race fair and square, on her own, and no one can take that away from her. Congratulations Sara! Alarmingly, Dustin Darden has somehow convinced ~10% of people in Sand Lake to consistently vote for him every two years. He was a spoiler in both elections! Let's see what our mansplaining experts had to say about this race, and Dustin in particular. Our advice to them is stop underestimating Sara. Rather misogynistic. Don't ya think?
---
First, let's check in on a former Darden fan, Assemblymember Forrest Dunbar. But this Tweet was in 2016 when Darden got about the same number of votes as 2018 but for some reason wasn't deemed a spoiler in that election. ¯\_(ツ)_/¯

---
And now for the 2018 commentary compilation. So far 10 people have "liked" the F*** Dustin Darden comment on Anchorage Assemblymember Christopher Constant's Facebook rant, which Chris then agreed with IN WRITING. Does he ever learn?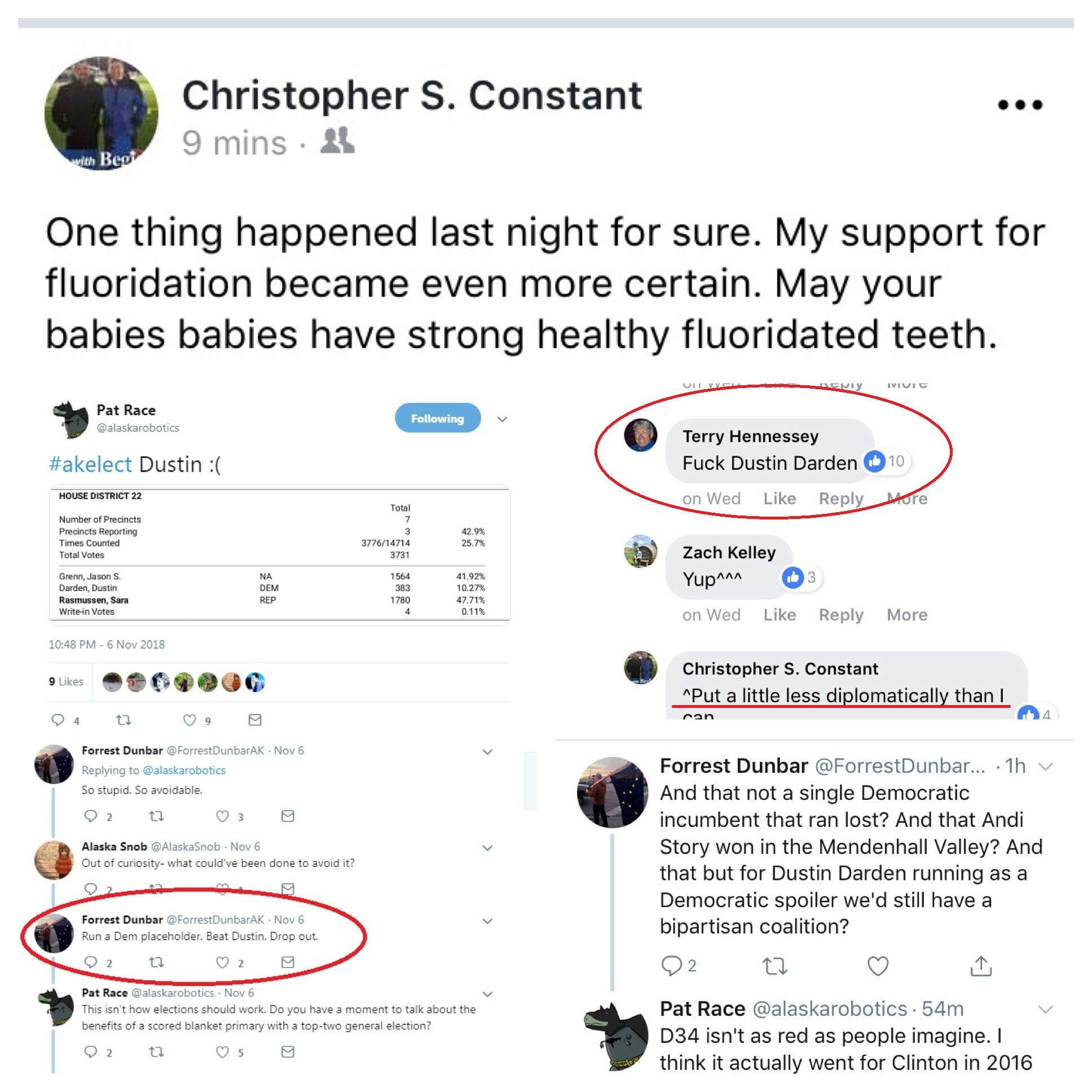 ---
It gets worse…

---
I'm sure, after all that, this was just a coincidence.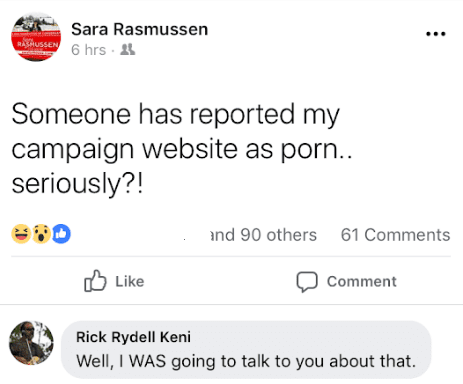 ---
Speaking of Rick Rydell, somesenator went to great lengths to avoid hearing Rick play in his band on election night. Yes, that's Senator Bert Stedman wearing size "get off my lawn" ear plugs to block out the sound at the Anchorage Alehouse Republican Election Watch Party. ?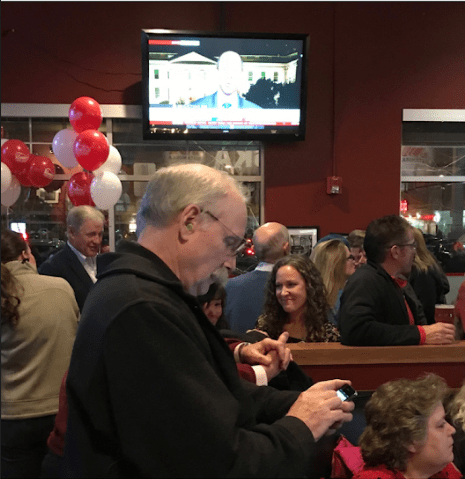 ---
While we are very aware of the concept of "if I fits, I sits" we can't help but hope Lucy Claman finds a more comfortable place to rest her head post election. Then again, maybe Lucy's right: what could be more comforting than the smell of victory?
 
---
Wait a second. Lucy Claman? WHAT HAPPENED TO LACEY CLAMAN?!! ? We need an explanation immediately. Are they different dogs? Did Lacey get a name change? We deserve the truth!  #Laceygate

---
And now for another edition of "Deep Tweets by Representative DeLena Johnson"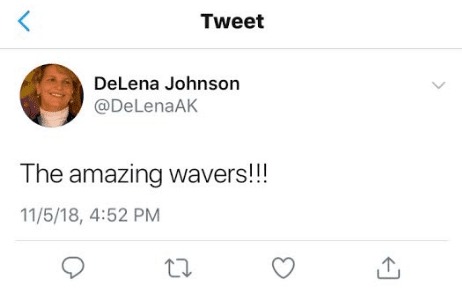 NOOOOO! Has Deep Tweets come to an end? Say it isn't so. We also like informal DeLena. Can't you do both, Representative?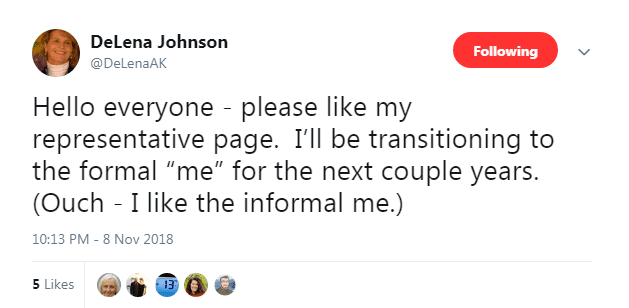 ---
Fan mail:
Thanks for watching the Landmine Facebook live stream of the press conference you were supposed to be at, Representative Eastman!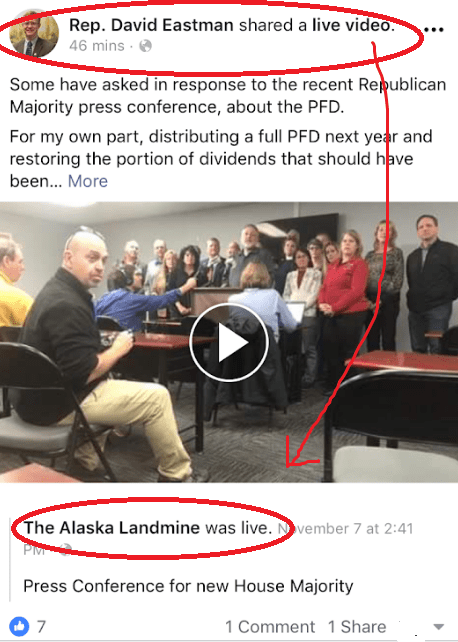 ---
Spotted unattended in the lobby of the Signature Building. Seems legit. Fun fact about the Legislative Ethics Office – they share a wall with Strategies 360.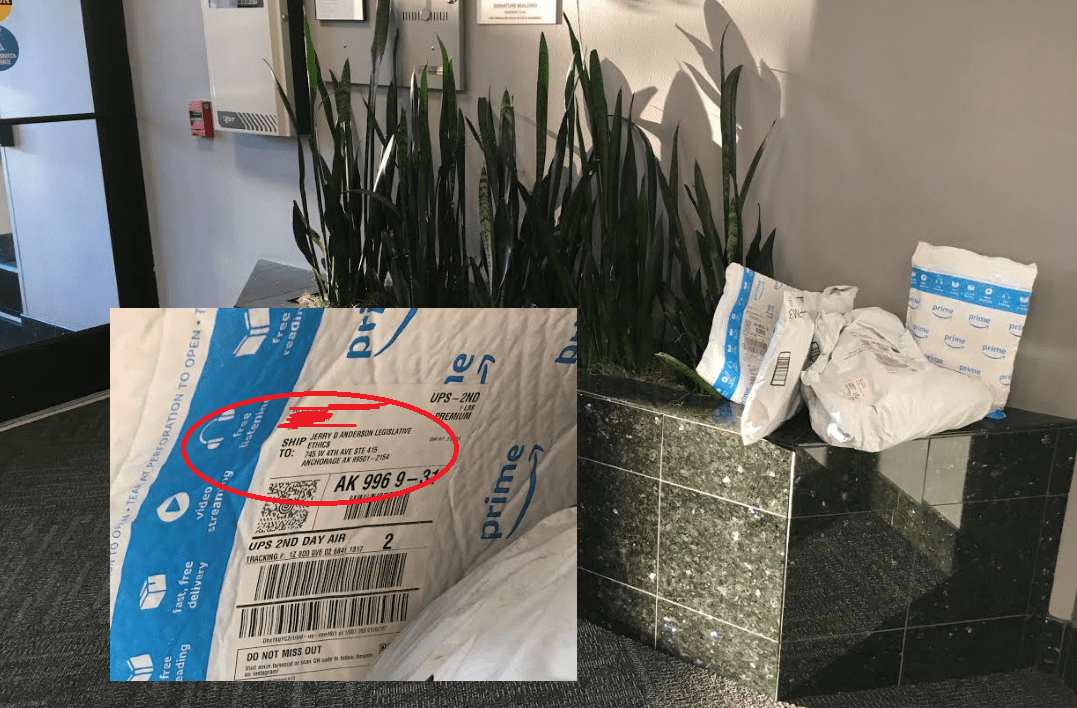 ---
Attention media: Thanks for playing along! But you're supposed to send me your overheards and spotted ins, not use them yourselves! Maybe someone needs to start a special AK Stalker hashtag on Twitter.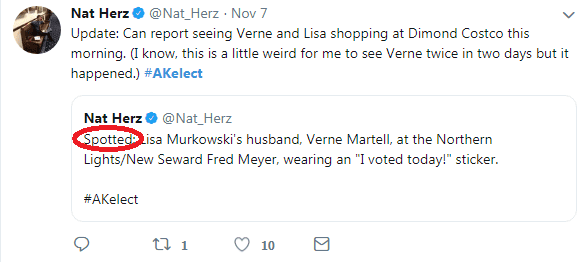 ---
Overheard at an undisclosed location: Representative Elect Laddie Shaw telling Representative David Eastman he would take him out back and kick his ass if he did not shape up and get on board with the rest of the majority.
---
Spotted/overheard at Election Central at the Egan Center, brought to you by the Alaska Landmine and Anchorage Daily News:
Lt. Governor-elect Kevin Meyer there until the very end. Like, seriously, the very end. I think he was happy to finally be out of running mate jail.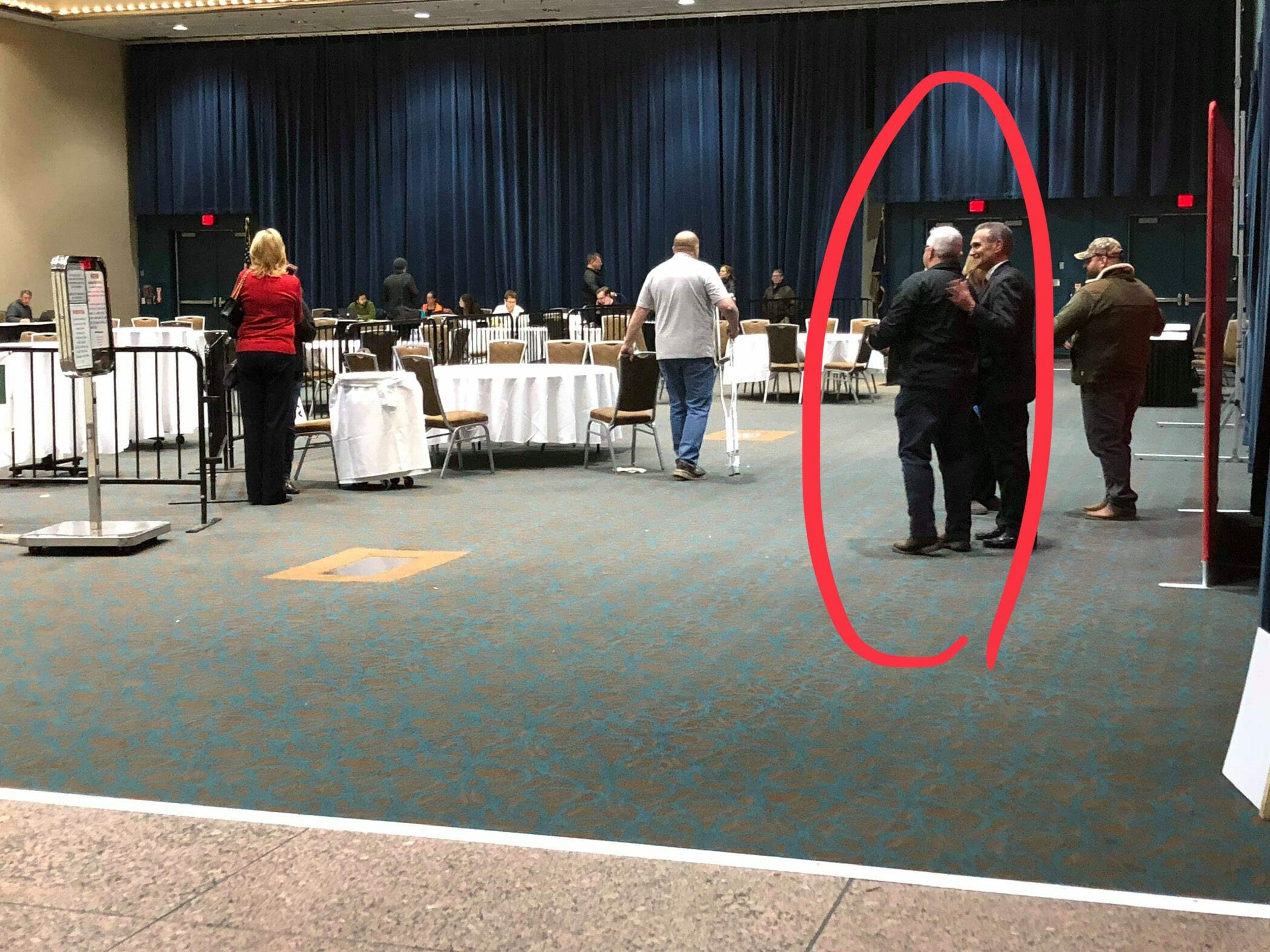 ---
Elementary school age girl correcting her mother's pronunciation of Representative-elect and Karaoke King Josh Revak. It's REE-vak not Rev-ACK.
A beaming Sara Rasmussen after finding out she would win her election in District 22. She didn't stay long: mom's gotta pump, and baby's gotta eat. #MomRepLyfe
---
Staffer to a very high level elected official (Not Don Young) during our Re-Bath giveaway announcement: "A f***ing toilet?"
---
Don Young: What is this?
Landmine Staff: It's our Election Central giveaway. Want to enter to win a toilet Congressman Young? You could take it home to Ft. Yukon!
Don Young: I don't have running water because it would just freeze. I'll pass.
---
And, apparently the Stalker has a lot of high level bad ass lady lawyer fans. Thanks for reading! I am impressed with your sleuthing skills. Especially the one that found me out via Hildegram! XOXO
---
Spotted at Anchorage Chamber's Make it Monday: "OMG! There's this guy sitting next to my table that looks exactly like Mayor Ethan Berkowitz but with a beard. He's even wearing an identical Carhartt vest!"
A couple days later….
"OMG! I called it! It WAS Mayor Berkowitz, just sporting his winter look and glasses!"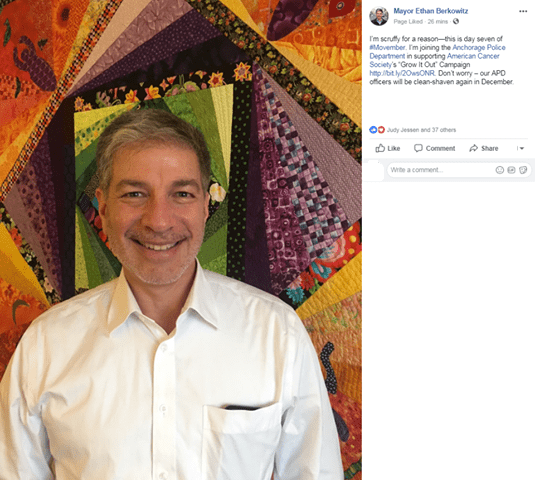 ---
Spotted on a plane headed to Hawaii: Representative-elect Laddie Shaw giving up his seat so a family that was split up could sit together. He moved a row or two away. Our source said, "I would have taken a pic but, you know, he's a SEAL!" Wise decision.
Spotted on the same plane: Former Congressional candidate, Alyse Galvin. Did she trade in her yellow blazer for a yellow polka dot bikini?
---
Spotted in South Anchorage post Election Day, a very dedicated Lance Pruitt supporter. Perhaps they were out looking for some IRL goodwill for the Majority. 'Cause we all know they're going to need it. That District 1 race tho…

---
And, while we still don't know why the former Lt. Governor of the State of Alaska, Byron Mallott, resigned just days before the election, his official Twitter has been updated to reflect his new title. Totally normal.

---
That will do it for us this week folks. Don't forget to send your favorite social media and online goofs, gaffs, memes, dust-ups, "Overheard in Alaska," "Spotted in Alaska," or whatever else you got to akstalker@alaskalandmine.com Our DMs are always open. Remember: pics or it didn't happen!
---
The Alaska Stalker was born and raised in Alaska, and lives in South Anchorage with her husband, daughter, and baby on the way. She is not Jeff Landfield.