Welcome to this week's edition of The Alaska Stalker. To my readers new and old: the Alaska Stalker is a lighthearted round up of the best and worst of Alaska's social media landscape.
If you enjoy the Alaska Stalker, please consider supporting working moms like me by sending in hot tips, overheards, and spotted ins. You can reach me at [email protected] As always, thanks for reading.
---
Happy belated birthday to Governor Michael J. Dunleavy!
At first glance I thought "what a teeny tiny cake" but then I remembered: the cake's not small – big Mike's just standing tall.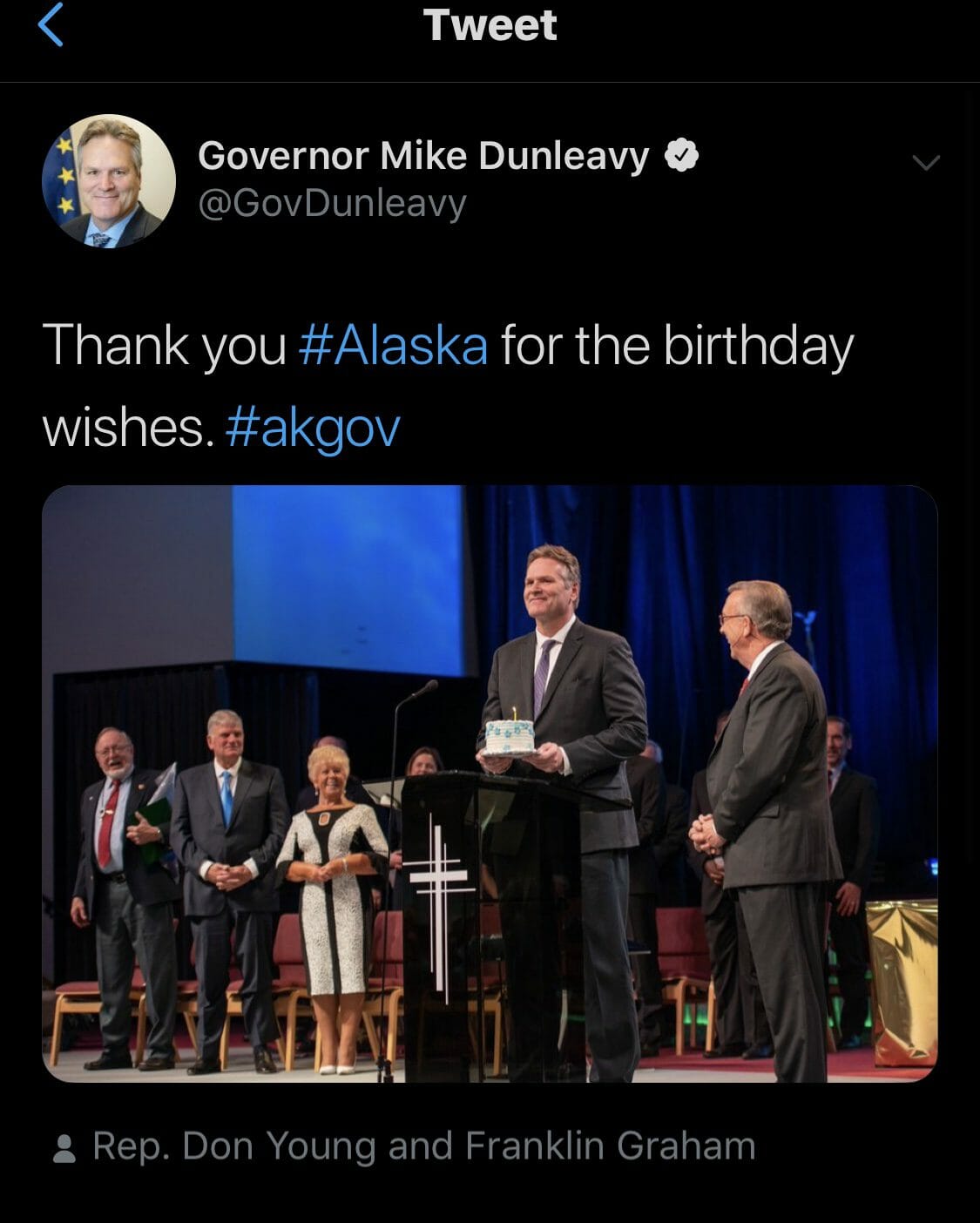 ---
The tiny cake photo made me remember one of the best images from the 2018 election. Ahhh. Simpler times.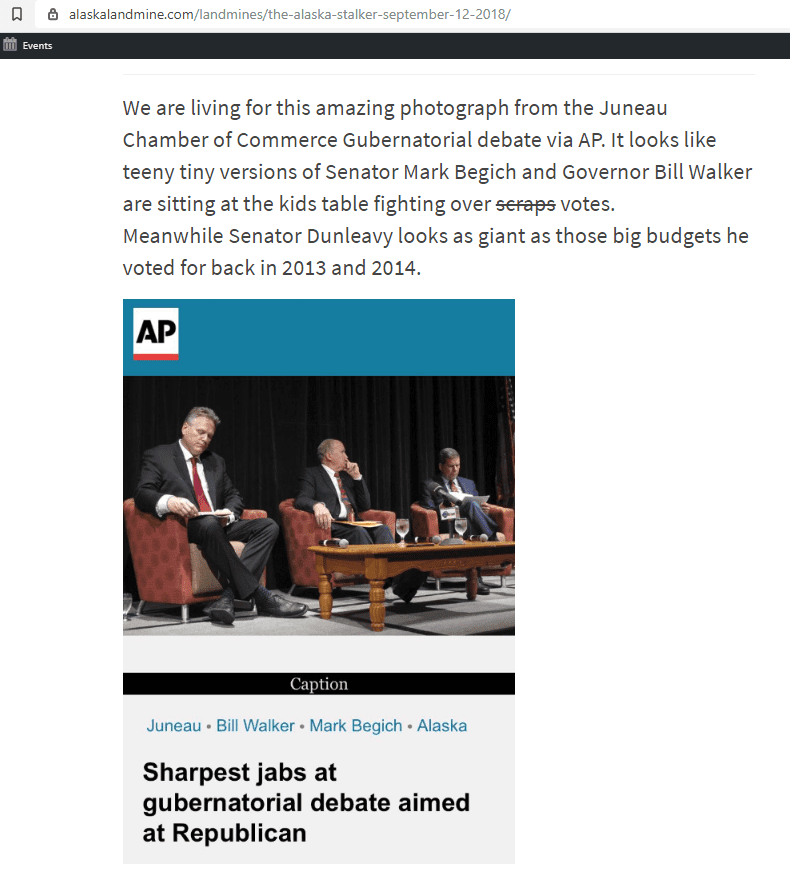 ---
First the Governor had "Alaska" wish him happy birthday on Twitter. Sure. Then he recognizes himself ??? and the Lt. Governor during Public Service Recognition Week with a banner, complete with headshots, hanging in the State Office Building in Juneau.
Stalker pro tip: the word "from" would have helped clarify things. Sounds like they have a communication problem. ?

---
I was somehow not aware of Senator Scott Kawasaki's amazing Instagram feed until just this week. You guys – it's like unlimited Stalker content. The next three posts are all Kawasaki, and they're all amazing.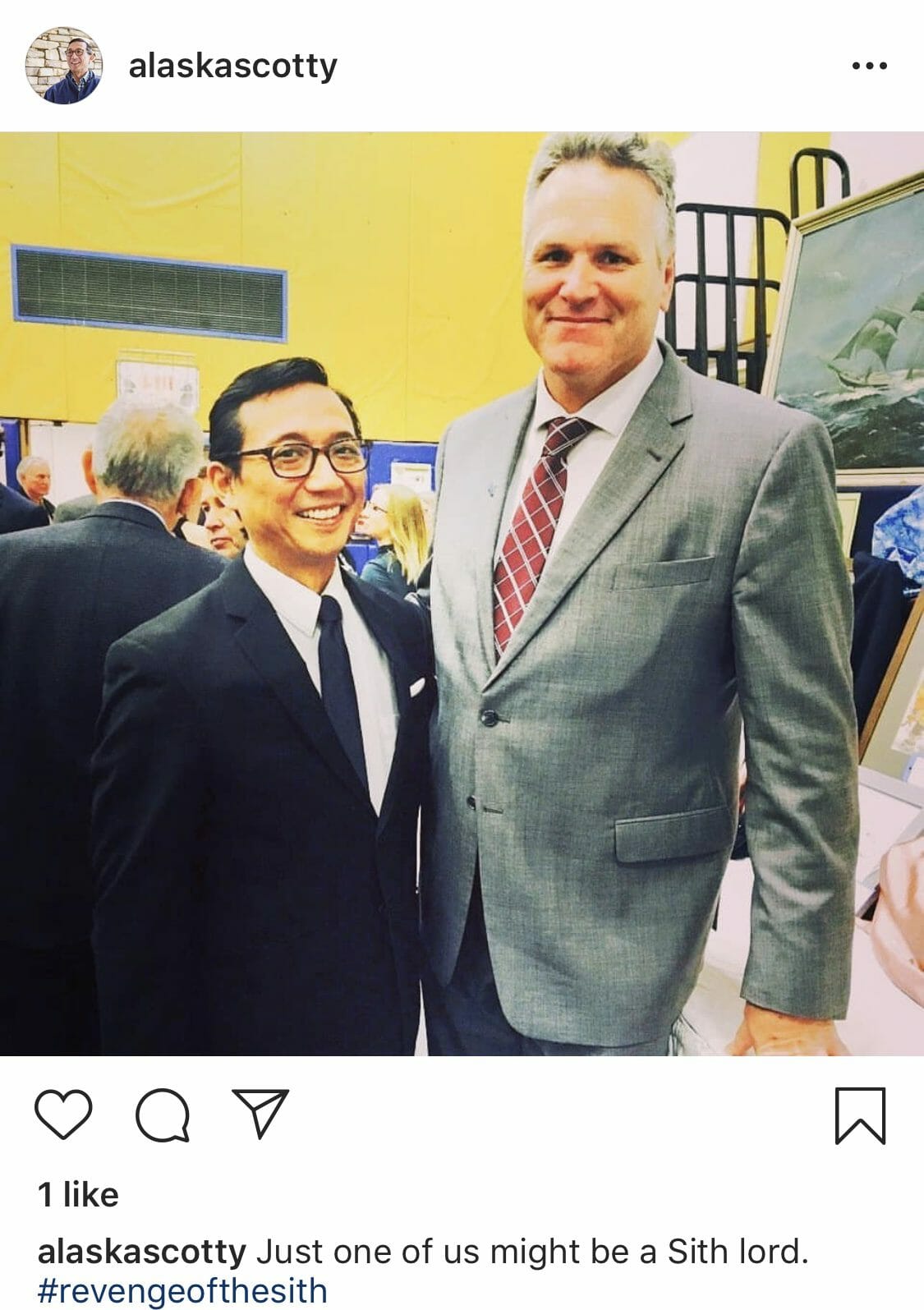 ---
OKKK. What is this supposed to be? 'Cause that's definitely not a storm trooper. Who even has a snow trooper mask? They were in the movies for like 5 minutes.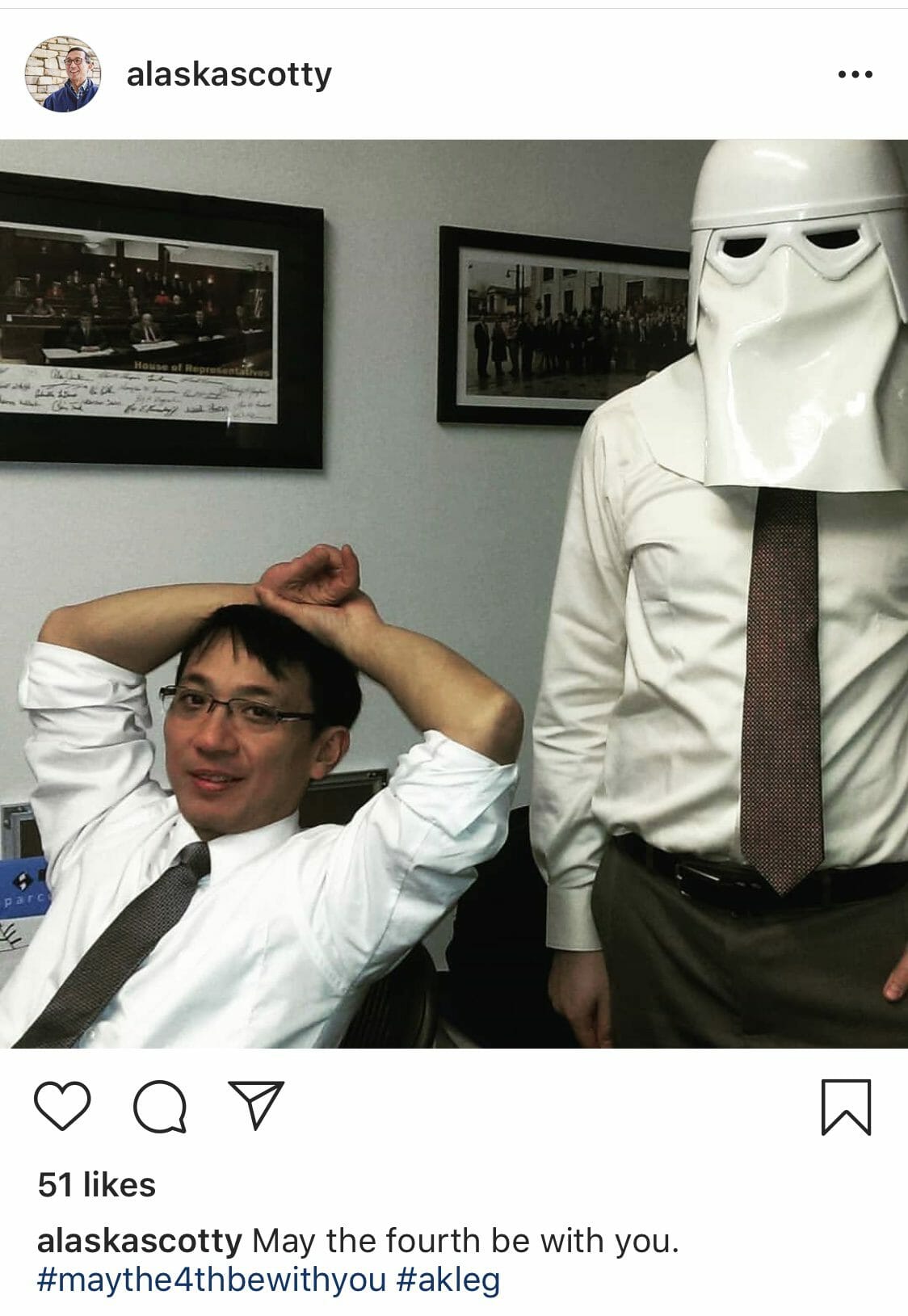 ---
---
Scott said it, not us. ??‍♀️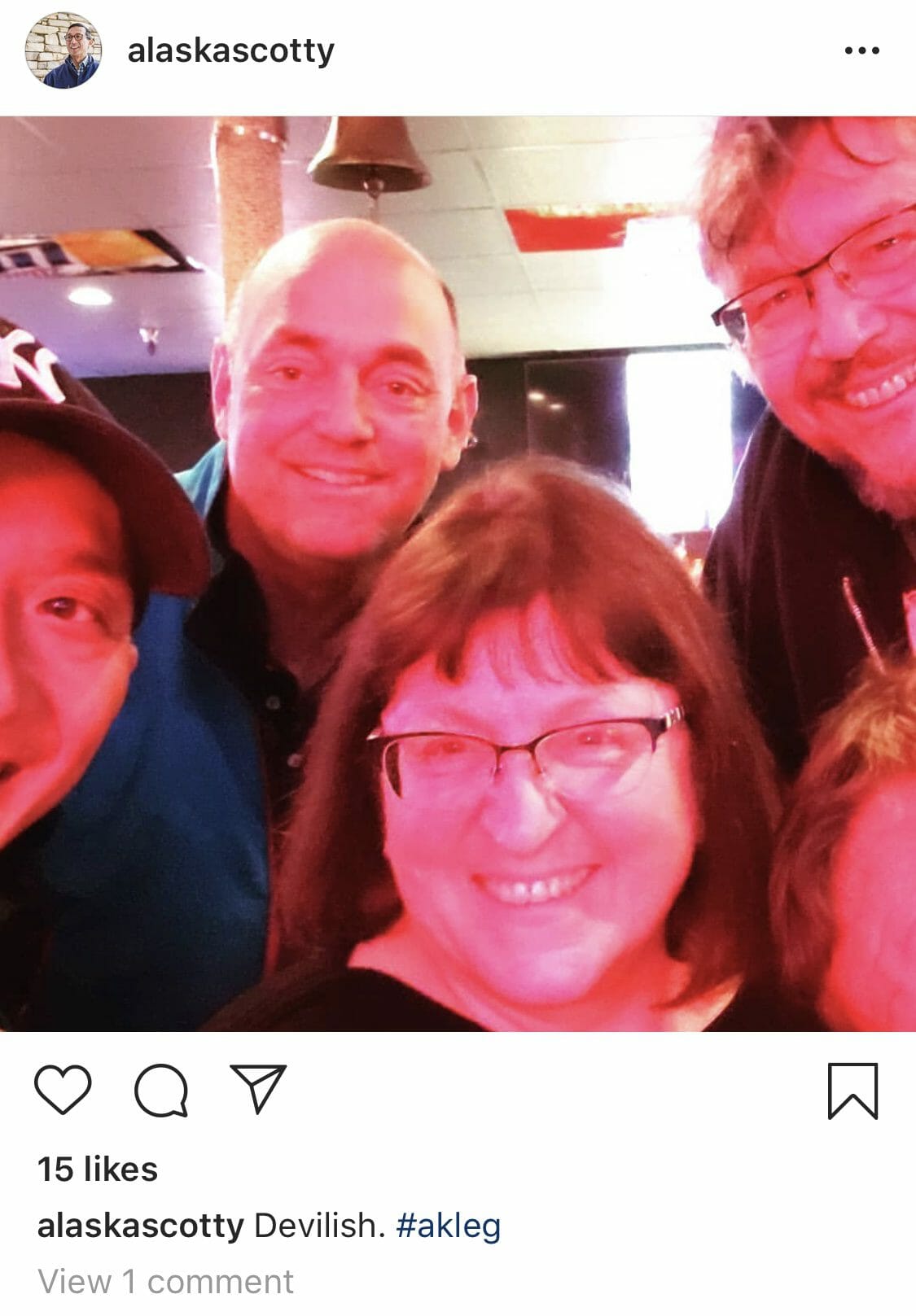 ---
Poor Senator Hoffman. There's one every year. Hat tip to @thc1972 for the idea of "retiring" bill numbers. ??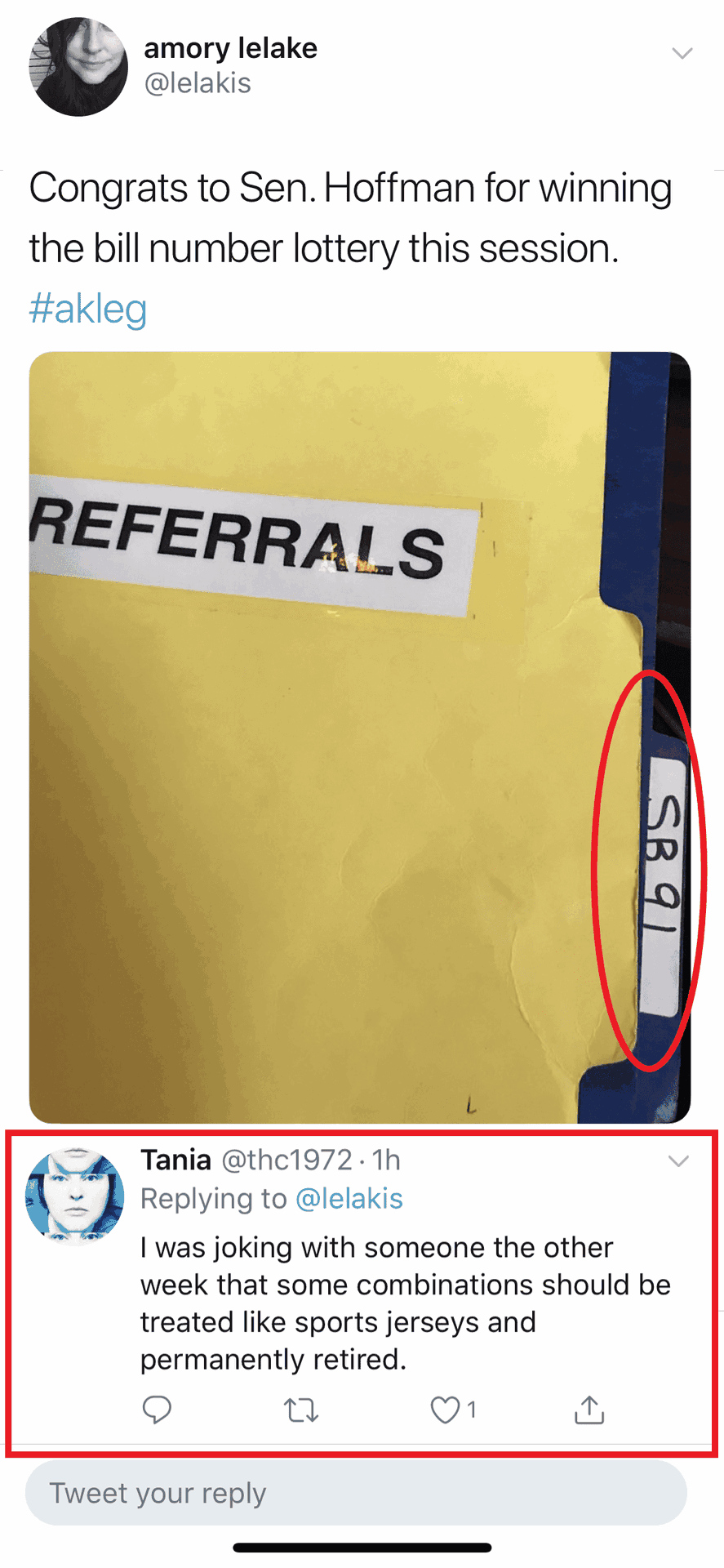 ---
So much for those "family values," Senator Reinbold.

---
Representative Gabrielle LeDoux recently posted about open field rep positions for the Census.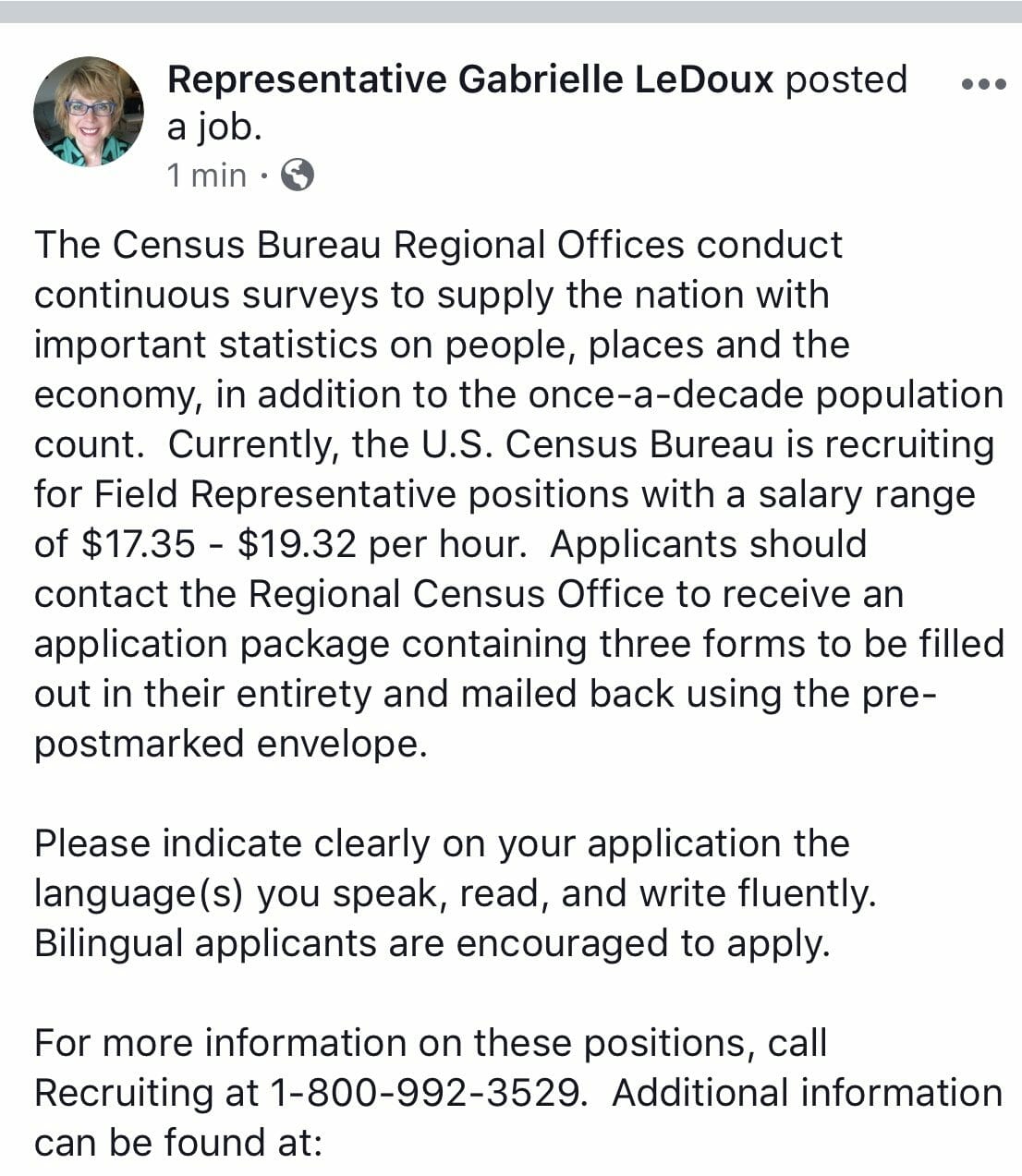 Here is exclusive footage sent to the Stalker of Gabby conducting her own census back in August 2018.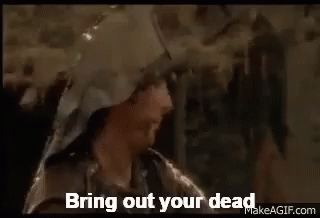 ---
Speaking of Monty Python, Spamalot the musical is in Anchorage through this Sunday. I took a night off from overheards, spotted ins, and tending to children (that includes Jeff!) to go see it. It's worth a few laughs. But the best part was the 14-year-old boy in front of me guffawing loudly and frequently at every fart joke. Kudos to the mom that brought him. You can get your tickets here.
---
Ah yes, South Dakota's famous "Washington Monument" in all her glory. ?

---
Mr. Nees isn't wrong. And he even spelled paisley correctly. A rare double victory for him. Way to go, Mr. Nees! ???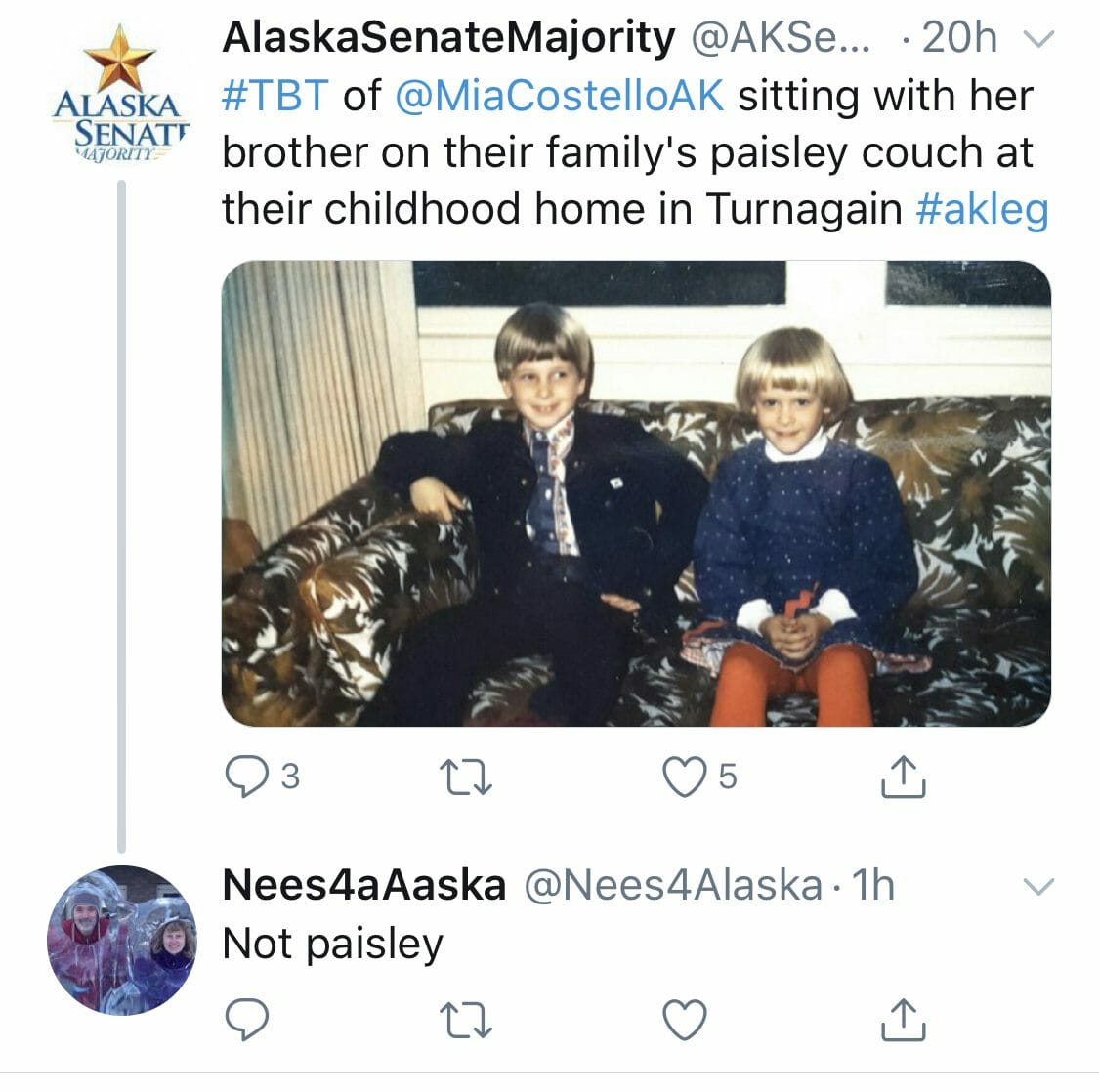 ---
Time for another Juneau fashion update! Alaska Budget Director, Donna Arudin, was spotted at the Juneau Airport sporting a zebra (not paisley) print trench coat, baseball hat, and sunglasses. Hey, if people were constantly yelling at us in public we'd probably wear a disguise, too.

---
But animal print??? Oh Donna. Remember when, back in February, Alaska Twitter voted Ms. Arduin most like Cruelle de Vil? Is the zebra jacket an epic self own or is she finally embracing her inner Disney villain?

---
---
We are absolutely loving Zara Fields' look. She makes Juneau chic look effortless, and is clearly not taking any fashion tips from her dad. <— You're going to want to click that link. Trust me. Bravo Zara! Those boots tho. ????

---
And then we have former Representative Justin Parrish slaying leewks scaring small children while testifying in Juneau. His shirt says "REGISTER. SHOW UP. VOTE." but we're just glad he remembered to wear one. Representative Sara Ramussen's face captures precisely how I feel about his whole look.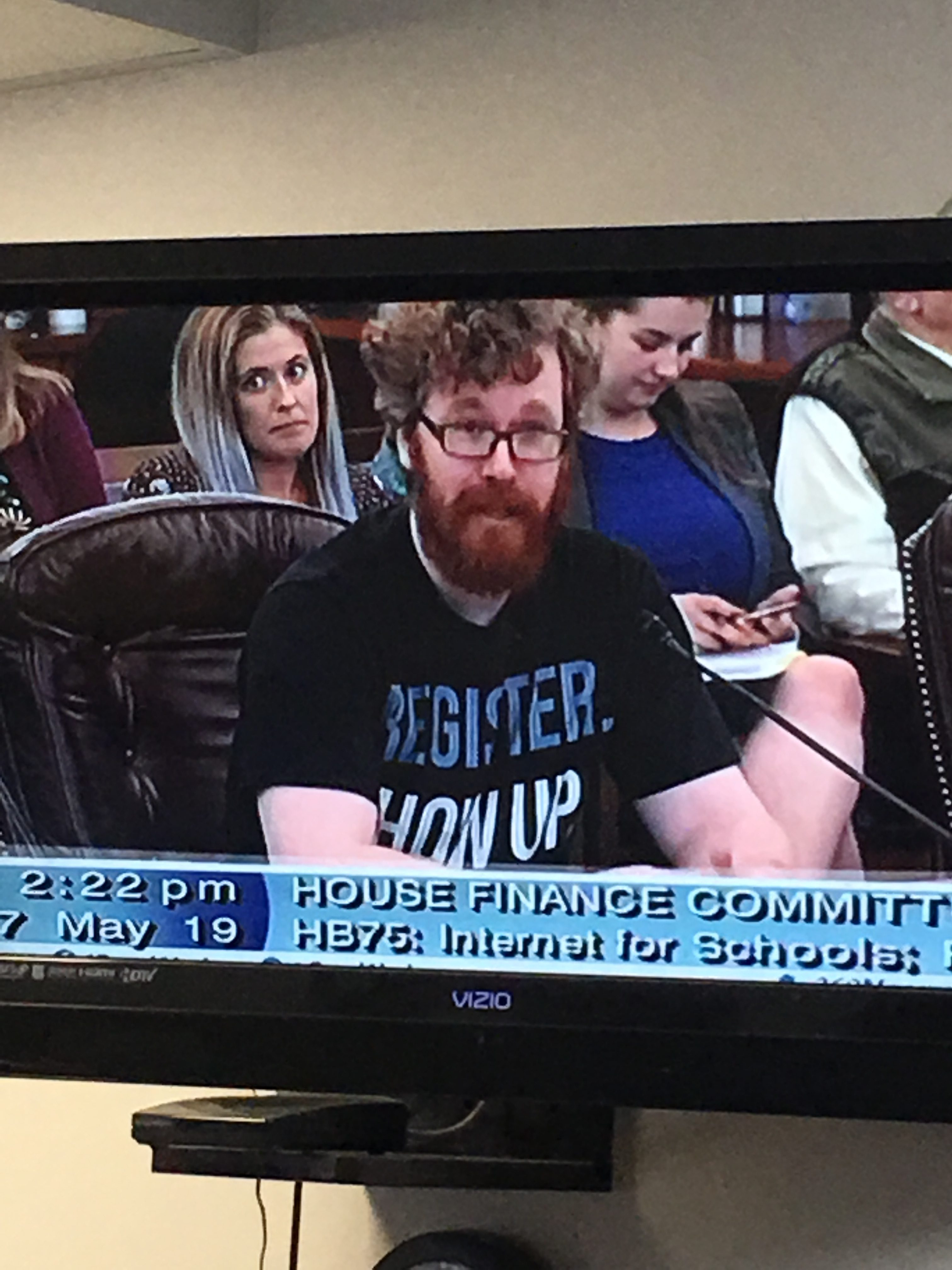 ---
Former Representative Les Gara recently changed his Rep Facebook page name to "Les Gara Discussion…" This rename, complete with an ellipsis, couldn't be more on brand for Les. We like it.

---
Speaking of Les, here he is in Juneau with his chosen replacement, Representative Zack Fields, and some of Zack's staff.
Grace (pictured far right) right before this photo was taken: "I really like you Les."

A closer look. It's okay Grace, your secret is safe with us. LOL

---
A good angle for Anchorage mom bloggers: how to safely change your baby's diaper in a sea of needles, blood, and heroin. #bigwildlife #iusedtoloveanchorage

---
Speaking of local moms, congratulations to Jasmin Smith for the amazing idea Baby Vend. Good luck on Shark Tank – we will be sure to tune in. We also love Assemblymember Constant's cameo in this photo. $10 he doesn't know what half the stuff in the baby vending machine even is. Can you imagine his reaction to a NoseFrida or Windi?! ????

---
Apparently it's Municipal Clerks Week. That's a thing? We can't wait to see more "fun facts" about Anchorage Municipal Clerk Barbara Jones. #porkchoponastick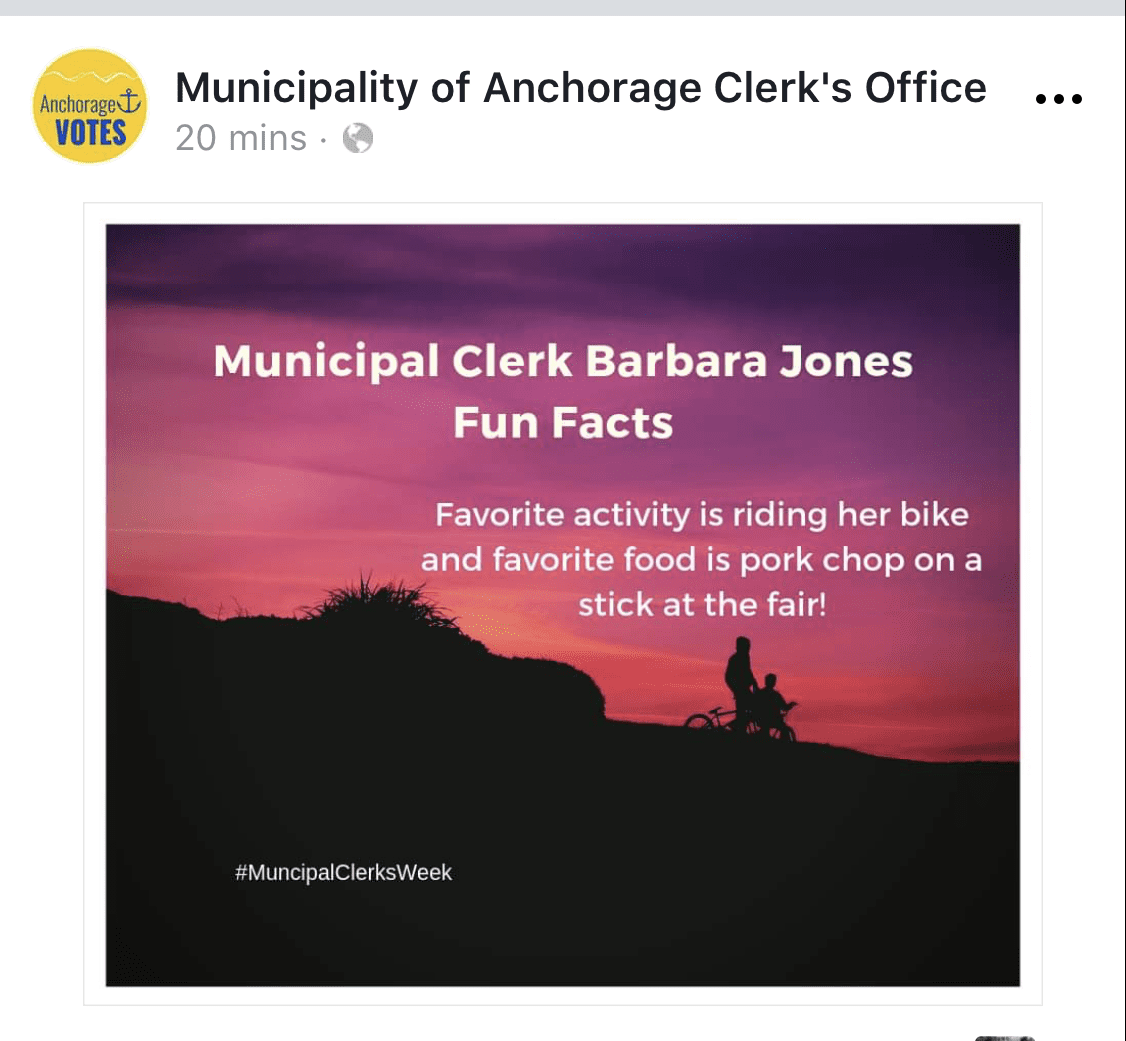 In addition to Public Service Recognition Week and Municipal Clerks Week, it's also Arson Awareness Week.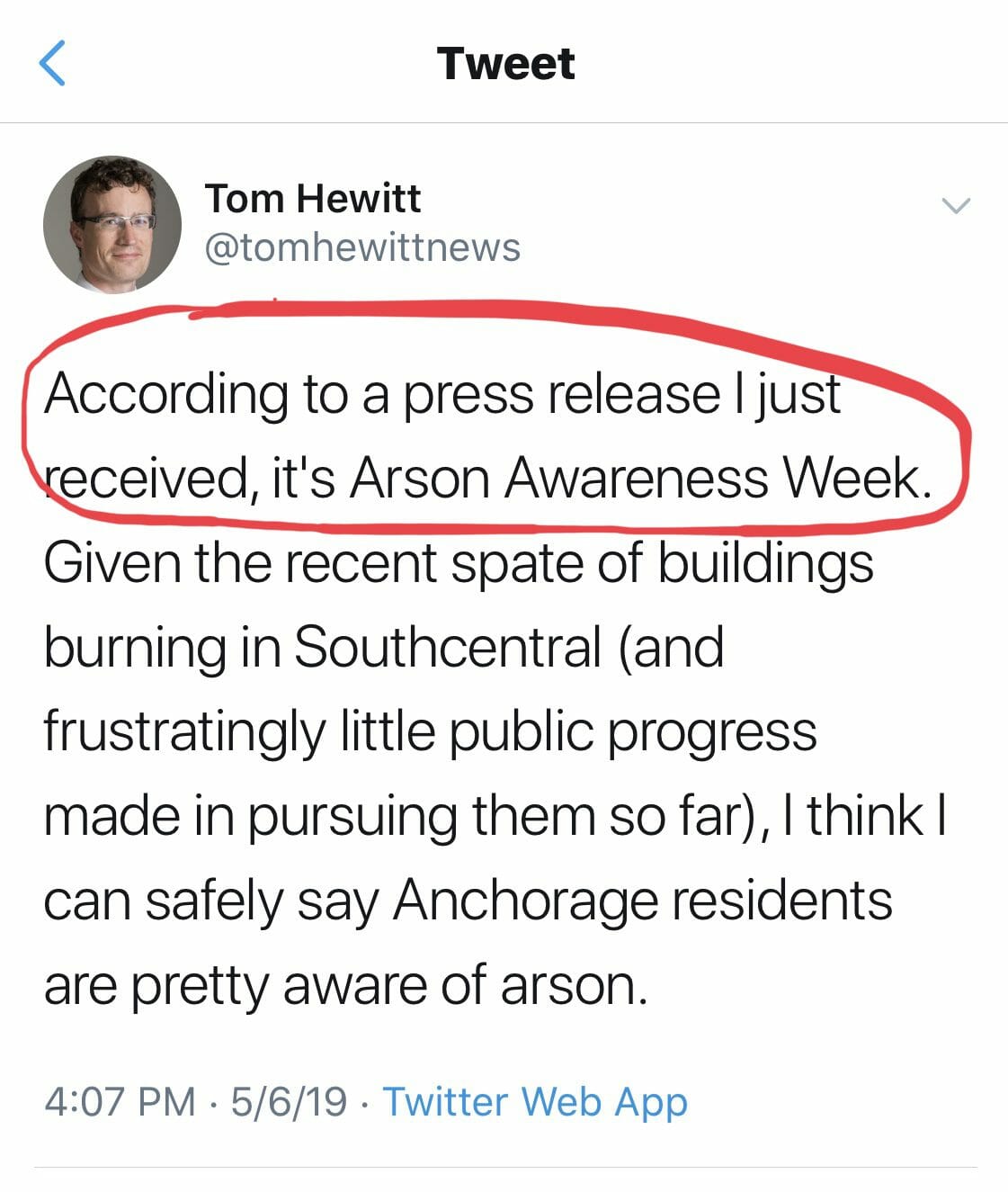 We find it VERY INSENSITIVE of Assemblymember Felix Rivera to use the charged term "burning" during Arson Awareness Week. I hope he issues an official apology immediately.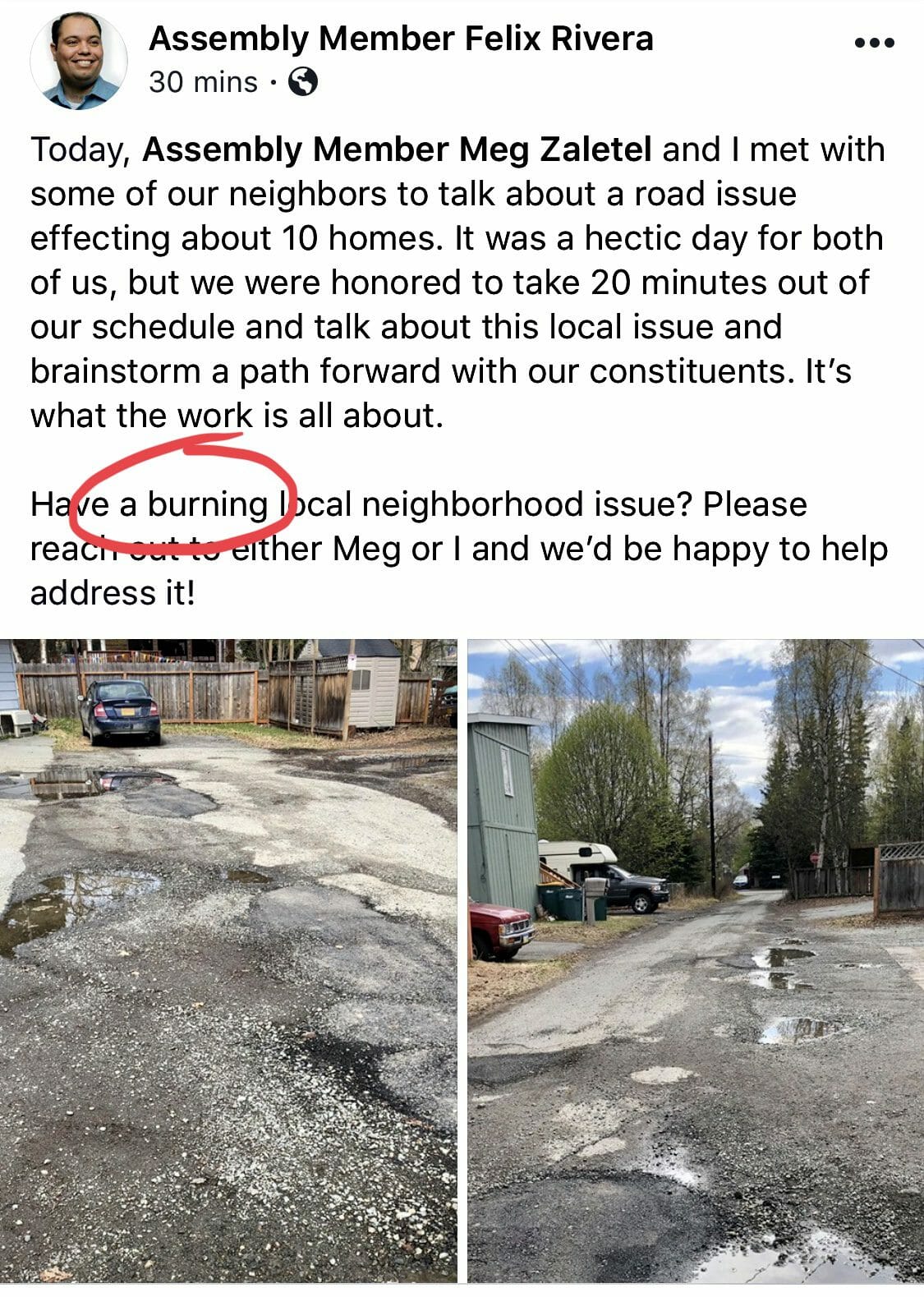 ---
Hi Meg! Maybe you could include an apostrophe. And an "e." ?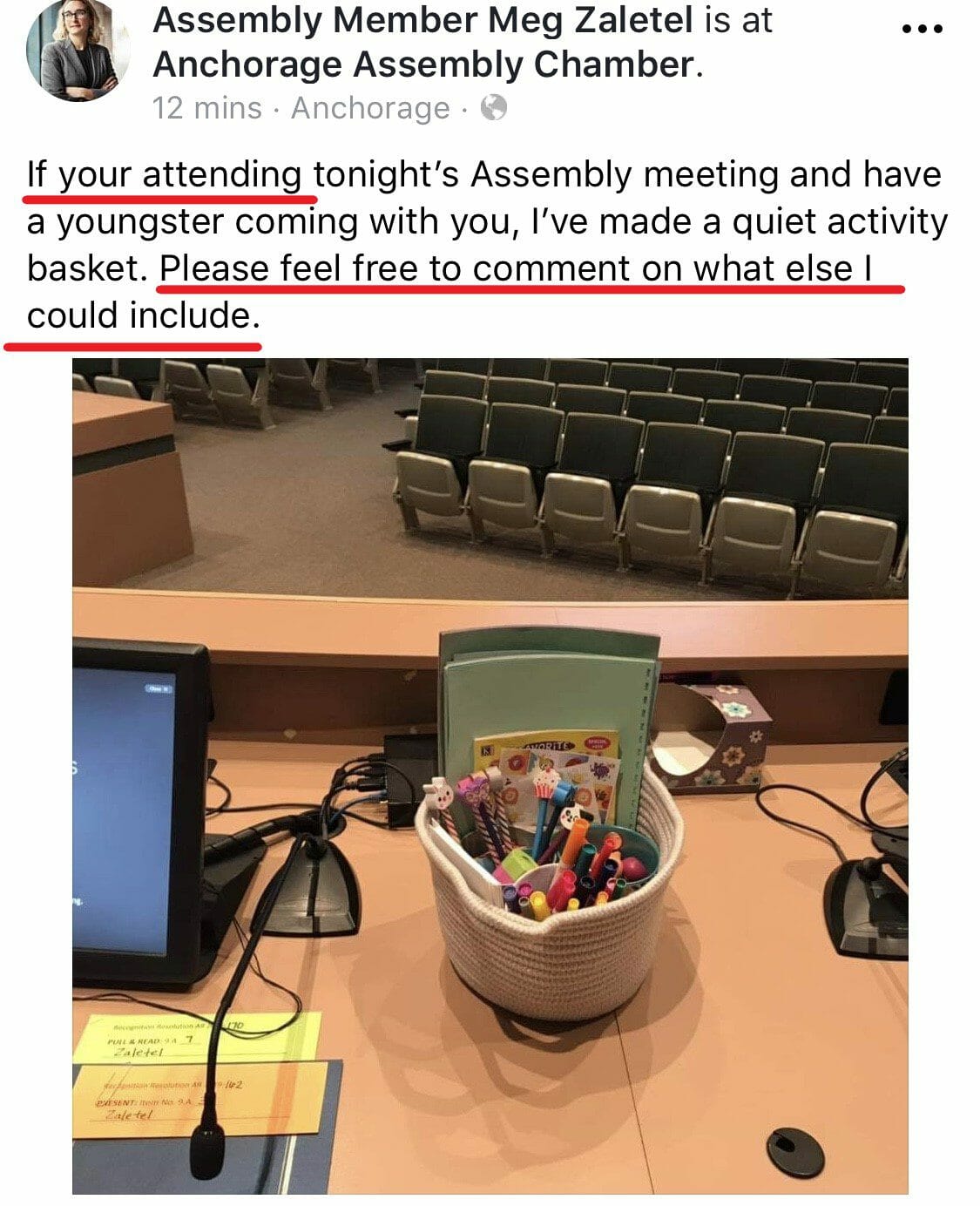 ---
Wow! Assemblymember Zaletel is quickly becoming my new fav! ? So, drop my kids off at 5 and pick up around 7? Are cookies and juice included or do I need to pack them a snack? Tuesday night is the new date night in Anchorage!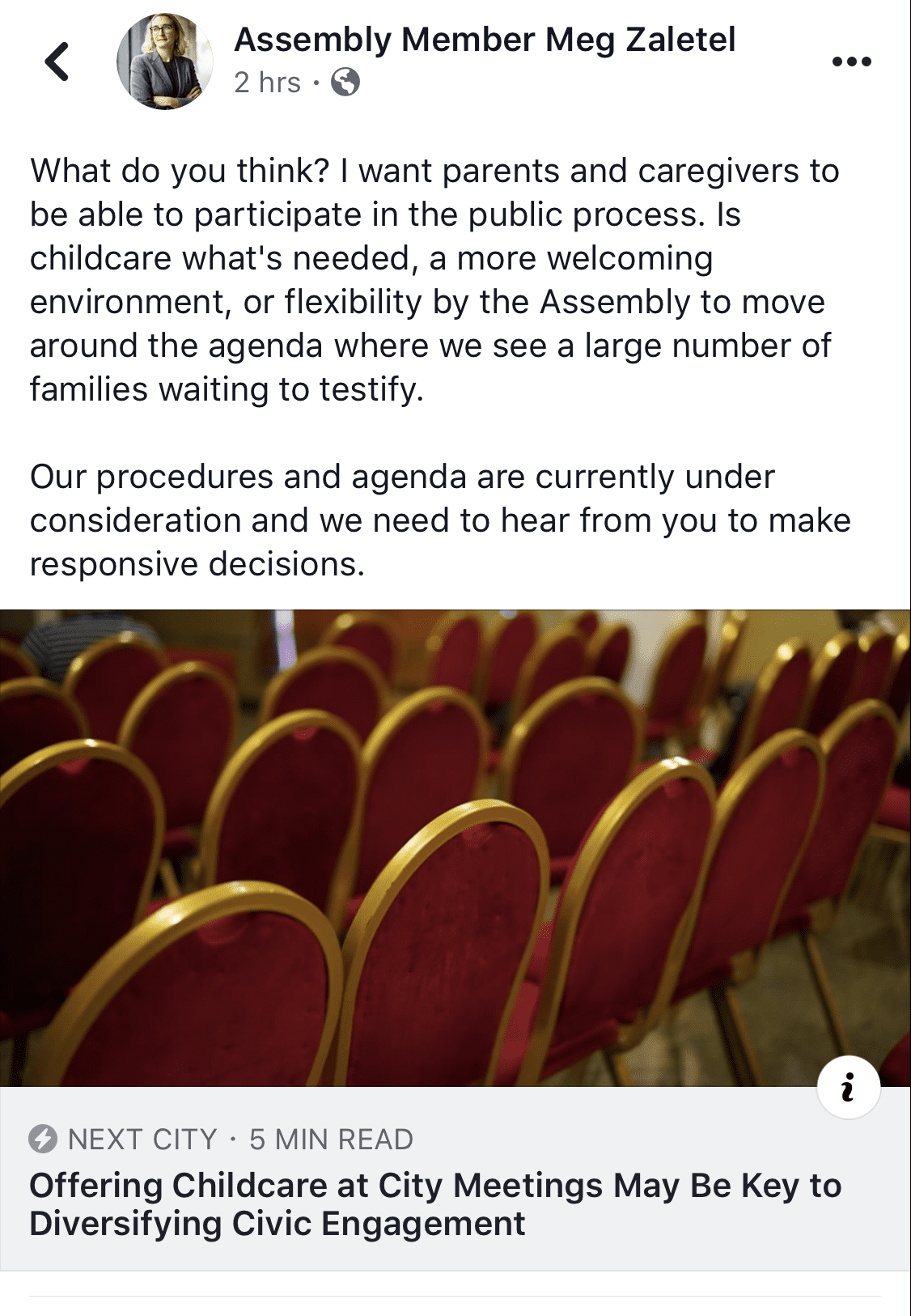 ---
---

---
Fan Mail:
We don't know who told him but, as usual, Dave was right.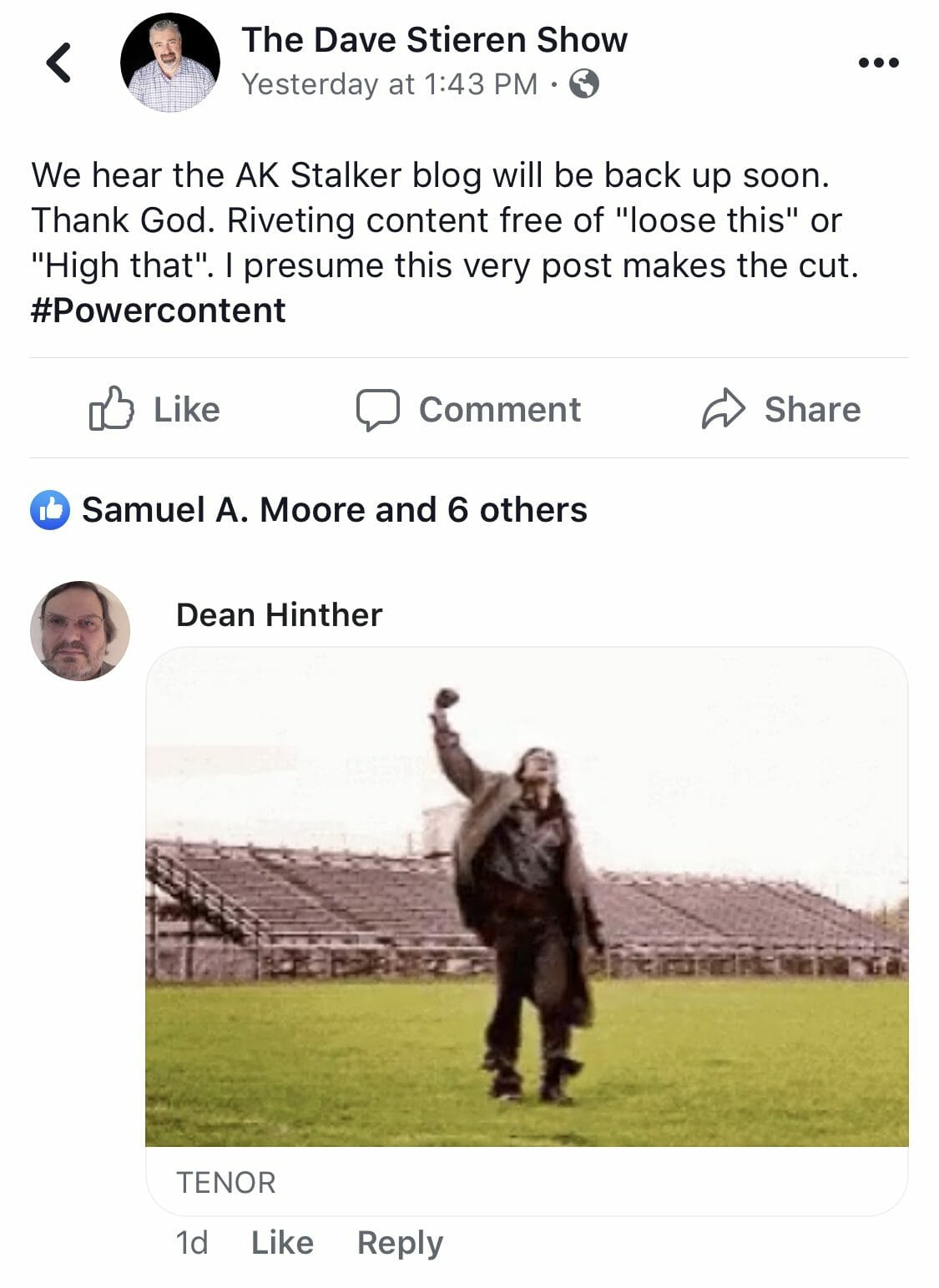 ---
Hot tip: Ross Bieling is moving out of Alaska. Bye Felicia!
---
Overheard: "I hate it when people in Juneau say they're "Chief of Staff" and there's only one or two of them on staff. You need like a minimum of five staffers to say that and not sound dumb."
---
Spotted on an Alaska Airlines flight from Anchorage to Juneau:
Former Representative Eric Croft, Tregg Taylor, and Angela Rodell in coach. Lobbyist Jeff Logan in first class, natch.
Spotted at The Hangar in Juneau: House Republican Press Secretary Zack Freeman, Jim Minnery, and lobbyist Mike Pauley.
---
Spotted on the streets of Anchorage:
Sick burn. ???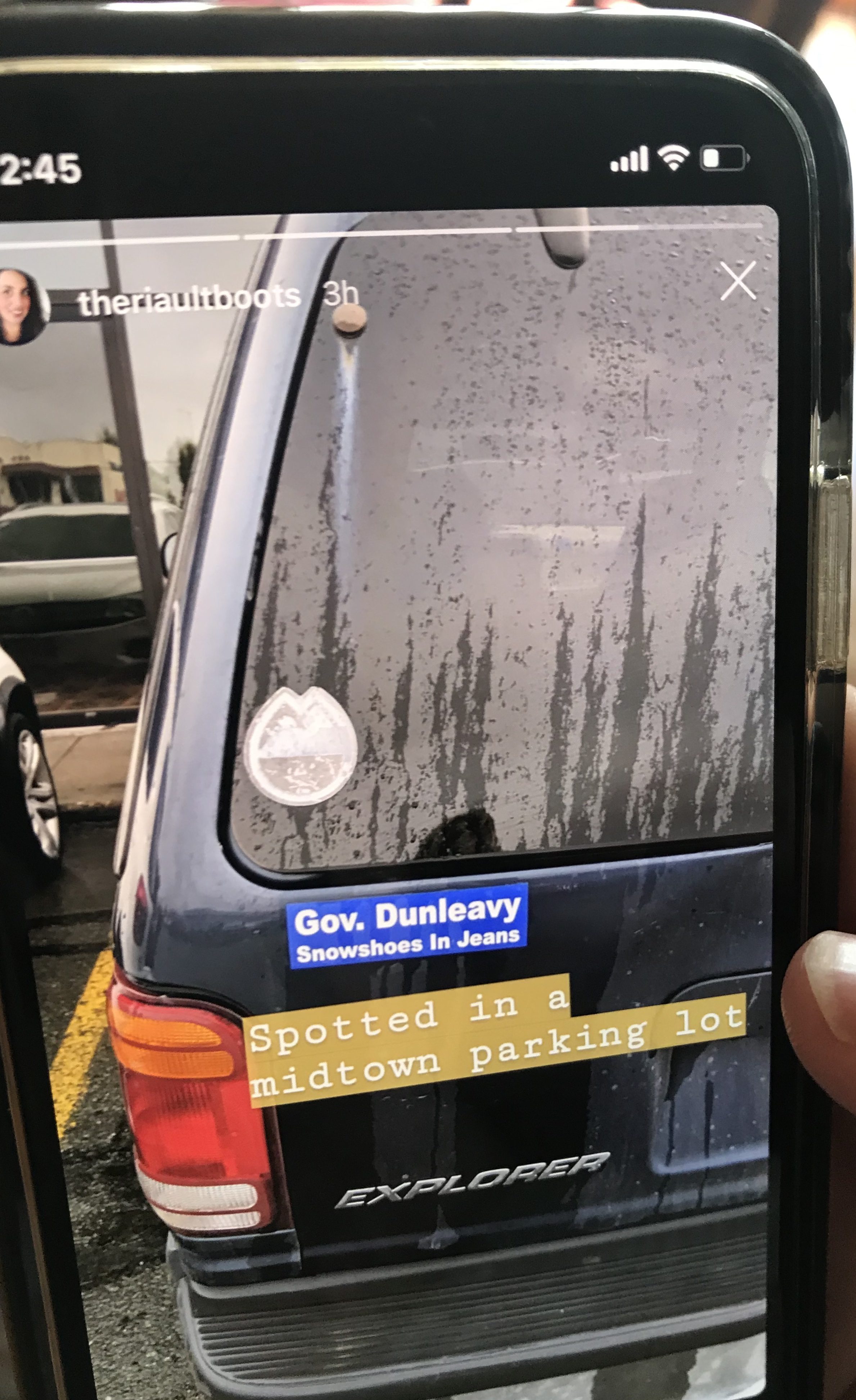 ---
Where are people getting these bumper stickers? I really need to up my game.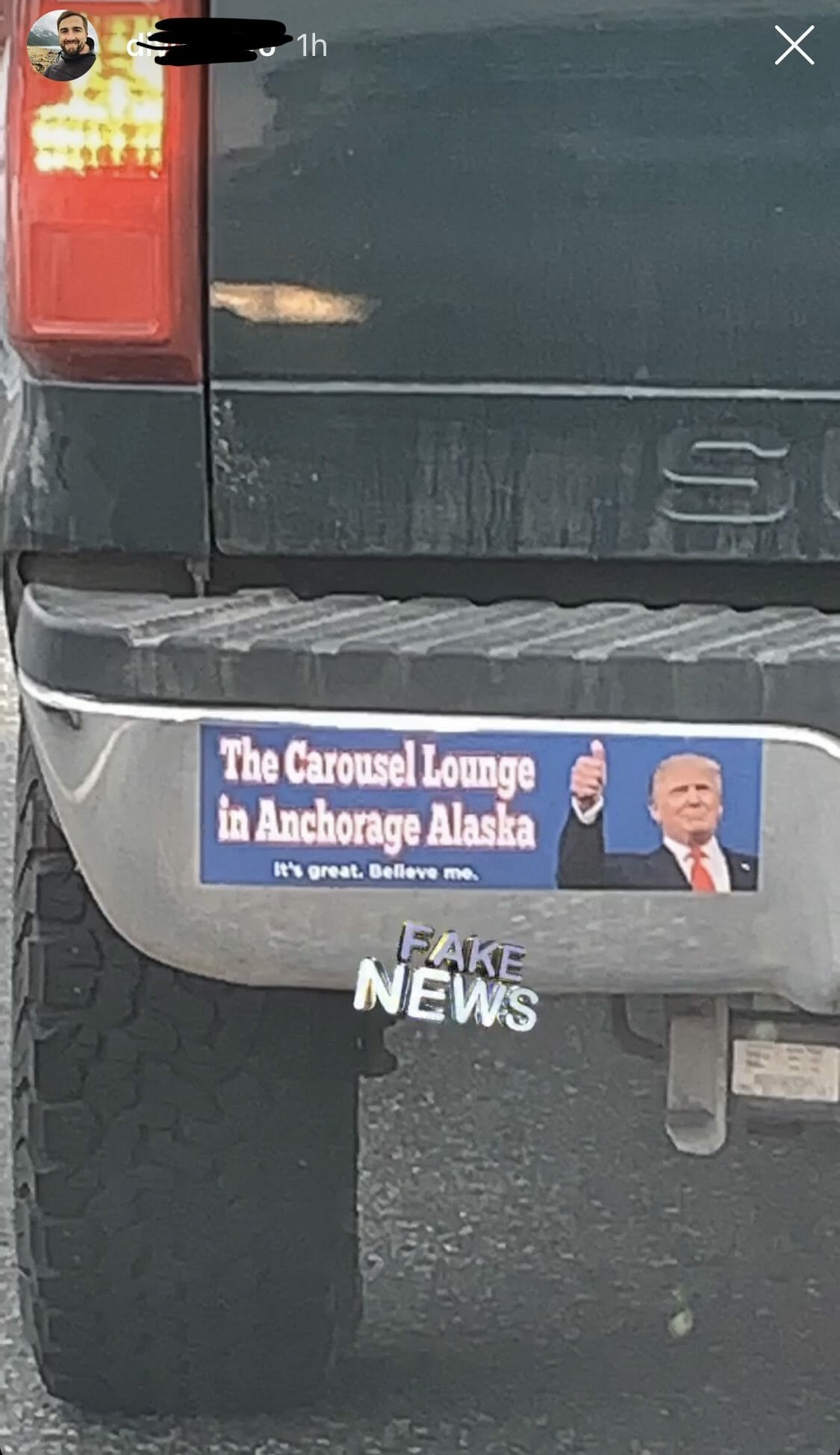 ---
The Alaska Stalker was born and raised in Alaska, and lives in South Anchorage with her husband, daughter, and son. She is not Jeff Landfield.