Welcome to this week's edition of the Alaska Stalker, a lighthearted round up of the best and worst of Alaska's social media landscape.
***
If you enjoy the Alaska Stalker, please consider supporting working moms like me by sending in hot tips, overheards, and spotted ins. You can reach me at akstalker@alaskalandmine.com. As always, thanks for reading.
***
Sen. Lisa Murkowski took to Instagram to show off her new mask. Alaska themed, natch.
***
We all know Lisa has an over-the-top proclivity for all things Alaska. Hopefully she has enough themed masks and doesn't try to sneak a couple from longtime staffer Angelina Burney's new stash. Cute masks, Misty. I especially love the Alaska cities fabric!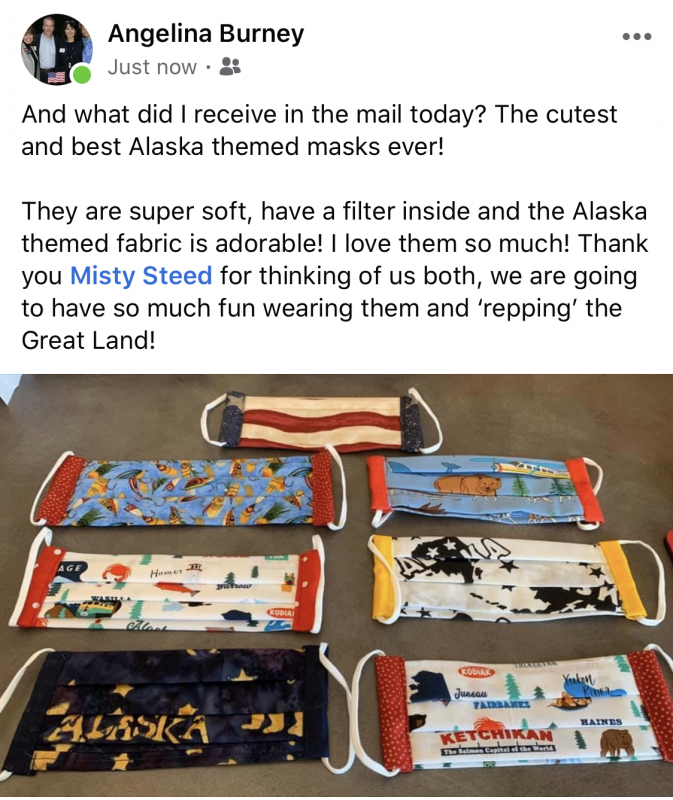 ***
I am sad to report Sen. Dan Sullivan has shaved his amazing quarantine beard. I thought you weren't a quitter, Dan. Let's all enjoy one last video of his masterpiece. 🧔
***
I know Tiger King is kinda over, but one loyal reader sent in a photo that has the Landmine shook. Have U.S. Senate candidate, Dr. Al Gross, and Tiger King's Rick Kirkham ever been seen together in the same room? Someone needs to ask Al his thoughts on Joe Exotic's pardon ASAP. If you don't see the resemblance right away, have a couple beers, tilt your head and squint. It's there.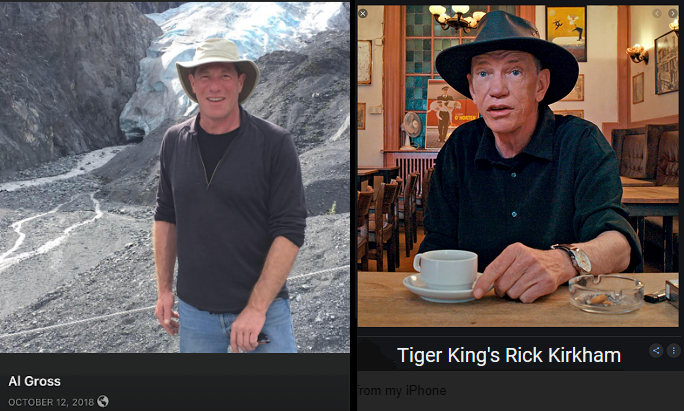 ***
They're baaaack! No, I don't mean the legislature. That would be too easy. I mean Alaska's state bird. Sen. Scott Kawasaki proudly posed with his latest trophy.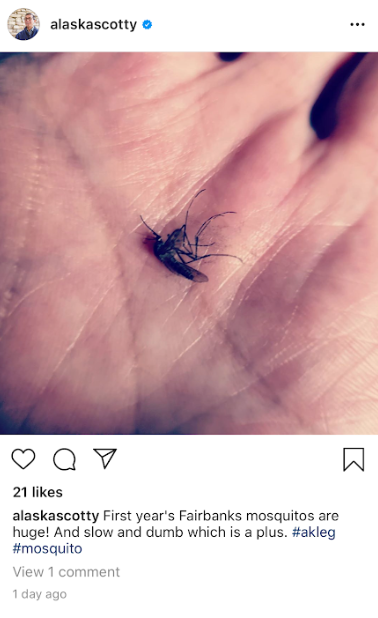 ***
While no one can replace Deep Tweets with DeLena, Rep. Steve Thompson is sure giving her a run for her money. Check out Steve's current Facebook musings on mosquitoes and Corona. I hope the Valley contingent doesn't follow Steve on Facebook. Rep. David Eastman might resort to borrowing Sen. David Wilson's beekeeping regalia just to be on the safe side.

***
And Sen. Lora Reinbold? Well, after reading this latest post of hers I'd wager she'd likely show up to the next committee meeting stark naked. You know, to own the libs AND Corona carrying mosquitoes. 🤣🤣🤣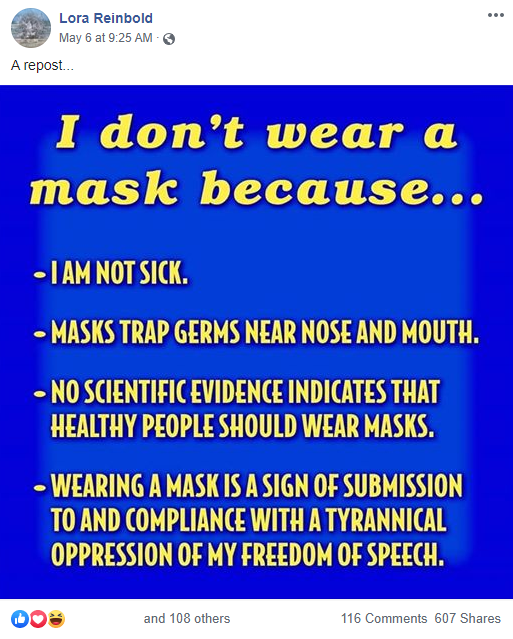 ***
Quarantine is bringing out the pioneer spirit in all of us, and some of our legislators are veering into crunchy mommy blog territory. I am loving it. Rep. Ben Carpenter is now a bonafied beekeeper. I mean, this makes sense for a peony farmer. You could say it was …. meant to bee! 🐝🐝🐝

It's our first year keeping bees. Lots to learn & good family fun!

Posted by Ben Carpenter on Monday, May 4, 2020
***
Rep Harriet Drummond has been busy making beautiful handmade masks for friends and colleagues. Rep. Geran Tarr sported a Harriet original while recording a Facebook Live from Vic Fischer's 96th birthday party. Happy birthday, Vic!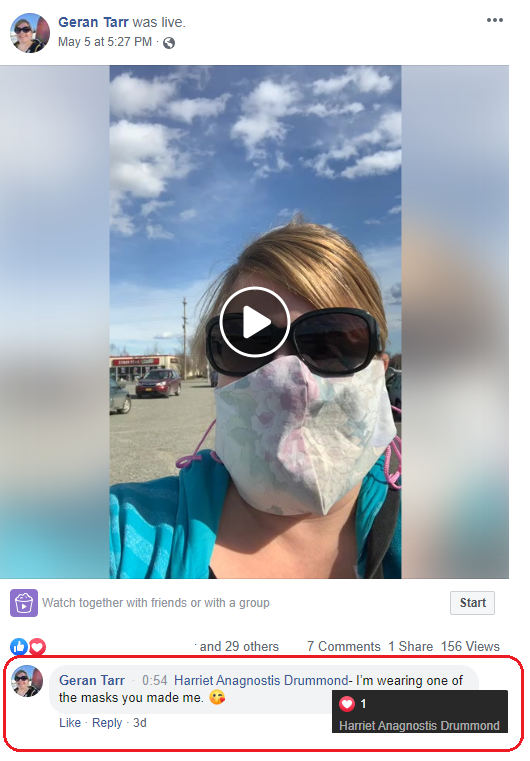 ***
Meanwhile, Sen. Josh Revak tried his hand at tapping birch trees. I can't wait to try some District M Senator's Choice Syrup someday!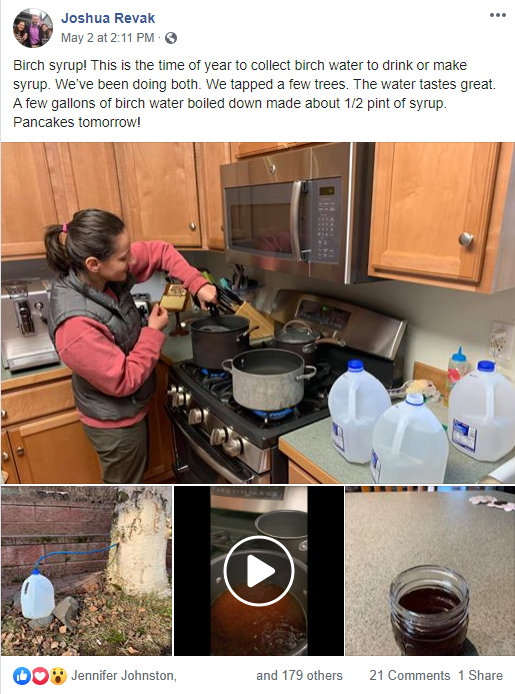 ***
Liz is going to fit right in. 💁
***
Rep. Sara Hannan is all of us: spending quarantine watching Alaska tik tok videos. Here's my current fav.
***
I'm not sure who Rep. Jennifer Johnston was more excited to see this week: a mama bear and cub playing in the yard, or perennial candidate Ross Bieling filing to run against her AGAIN, making her primary a much safer three-way.

***
Rep. Sara Rasmussen has been finding new and fun ways to put herself out there these days. First she participated in the Alaska Landmine's #AKquarantine video contest (click here and go to 6:00 if you missed it) and then I saw her on KTUU's "Parenting Though a Pandemic" special. There were some great tips for parents navigating things during this strange time. But, as one saucy tipster emailed me, "Not sure how I feel about watching a special on parenting through a pandemic reported by someone who (lovingly*) sent their kids to live with their grandparents since March." Ouch!
*I added the lovingly part!

It was a lot of fun participating in the Channel 2 special on "Parenting Through a Pandemic" and one of the things I talked about was our biggest guilt. Remember fellow parents to give yourselves grace! Thank you to the crew at KTUU for putting this together!

Posted by Representative Sara Rasmussen on Thursday, May 7, 2020
***
I told you she would be entertaining! Yes, that's Anchorage Assemblymember Jamie Allard aggressively commenting on the Mayor Berkowitz's Facebook Live. P.S. Did he get a haircut? 👀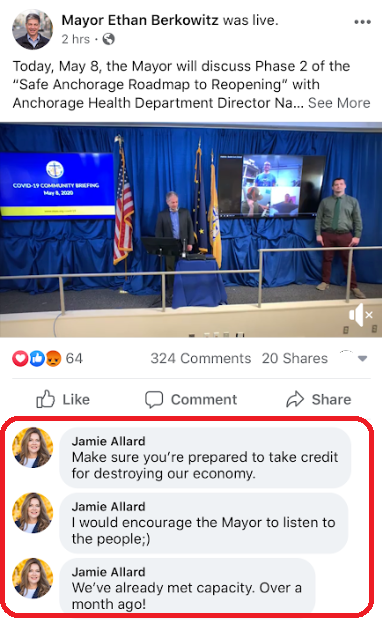 ***
If Assemblymember Austin Quinn-Davidson posts a photo of Cleo, chances are it's going in the Stalker. Look at her windblown fur! 😍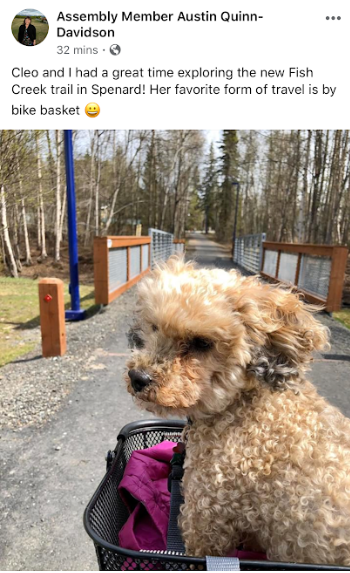 ***
OMG, is Anchorage Assemblymember Christopher Constant okay? First he low key defends Orange Man Bad.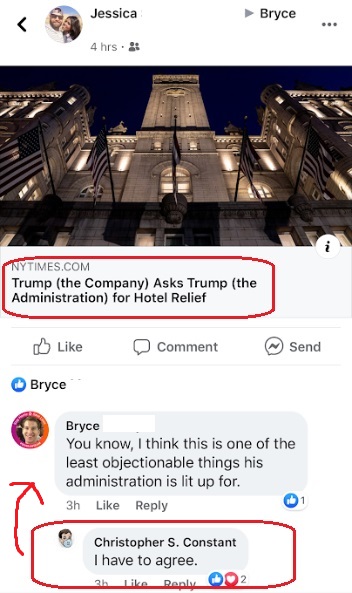 And then Chris sides with… Gov. Michael J. Dunleavy??? I'm triggered. 😵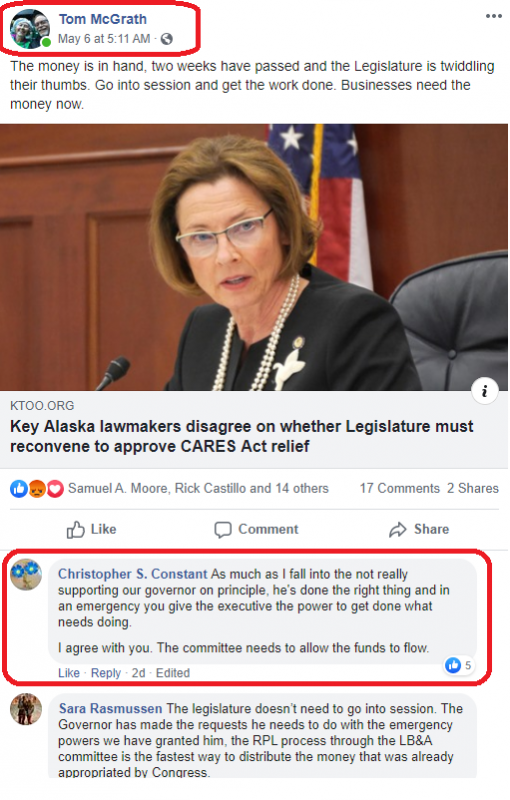 ***
Anchorage Assemblymember and mayoral candidate, Forrest Dunbar, is the featured poster child for one of my favorite spring time traditions: the Anchorage Chamber's city wide cleanup. Only one bag of trash tho? IMO, they should have gone with Andy Jensen, Geran Tarr, or even Calvin Schrage.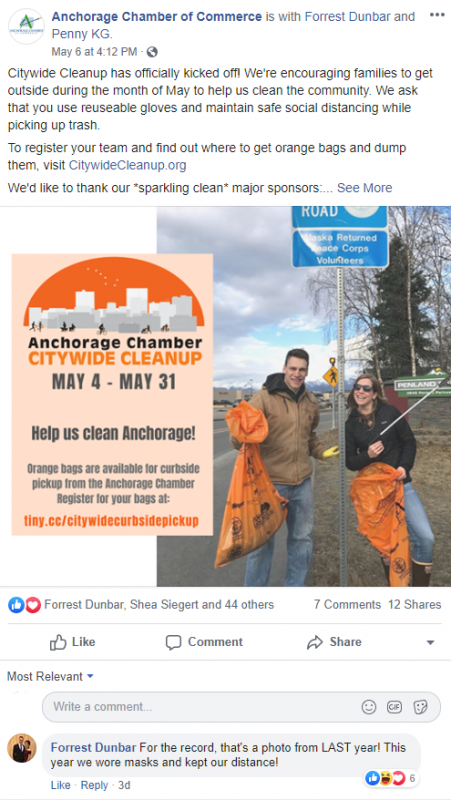 ***
Another mayoral candidate, former Rep. Eric Croft, seems to have the quarantine dad jokes down and is resorting to Zoom gags. LOL!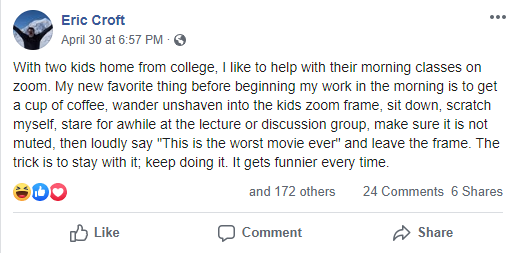 ***
Happy birthday to Lt. Governor Kevin Meyer. Enjoy this amazing personal message from former Rep. Charisse Millett. OMG! HEAVY KEVY! 🤣🤣🤣
***
I was pleased to have a more normal level of tips, overheards, and spicy commentary land in my inbox this week. Thank you! Don't forget to send whatever you've got to akstalker@alaskalandmine.com. Or, you know, text 764-JEFF and he'll get it to me.
***
Overheard via email: "I was enjoying getting to know my Assemblymember (Suzanne LaFrance) on social media. During the election she posted a couple times a week. Now, it's radio silence again. Oh well, guess I'll have to wait three more years to see what she's up to."
***
Overheard via Facebook messenger: "Has Lora posted about Plandemic yet?"
Spoiler: Yup. She did.
***
Overheard at a bar in the Valley:
"This sure feels like more than 25% occupancy to me."
"YUP."
***
The Alaska Stalker was born and raised in Alaska. She is slowly emerging from South Anchorage with her husband, daughter, son, and baby on the way. She is not Jeff Landfield.