Welcome to this week's edition of the Alaska Stalker, a lighthearted round up of the best and worst of Alaska's social media landscape.
***
If you enjoy the Alaska Stalker, please consider supporting working moms like me by sending in hot tips, overheards, and spotted ins. You can reach me at akstalker@alaskalandmine.com. As always, thanks for reading.
***
The filing deadline for the Alaska State Legislature has come and gone, and there's more cornstarched  candidates than a Tom Bodett novel. It's already shaping up to be a banner election season. The Alaska Stalker has sussed out the first campaign scandal of 2020. It appears candidate for HD 34, Ed King, has stolen President Obama's infamous tan suit.
***
We report, you decide.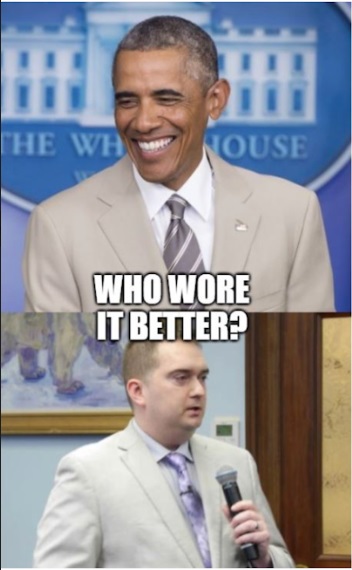 ***
Candidate for HD 7, Rob Yundt entered the race earlier this week, making it yet another three-way primary. If you're not familiar with Rob, he's from the valley, owns his own business, and is SUPER JACKED.

***
The ink was still wet on Rob's letter of declaration when he decided it would be a great idea to weigh in on this meme. I can't believe this is even real. Shortest campaign ever?

***
Someone must have given Rob a heads up because two days later he finally "read the news" and decided he was no longer "totally fine" with murder. Or something.

***
And there it is… Goodbye, Rob! At least Christopher Kurka got a new campaign slogan out of it. Chris Kurka: David Eastman 2.0!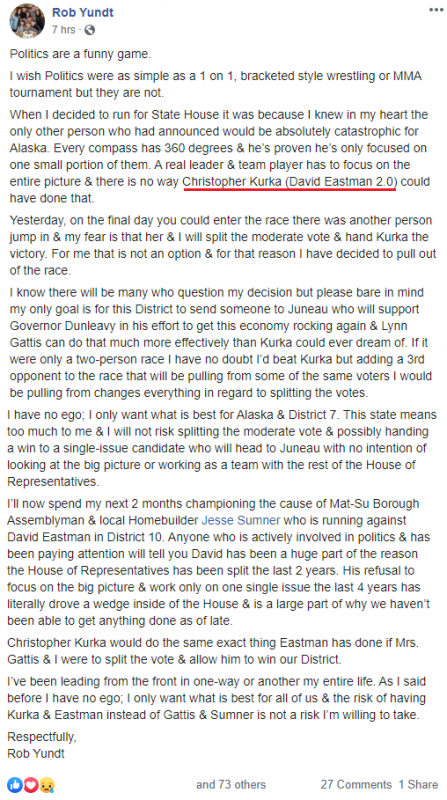 ***
Meanwhile Lynn Gattis is out there like… 😎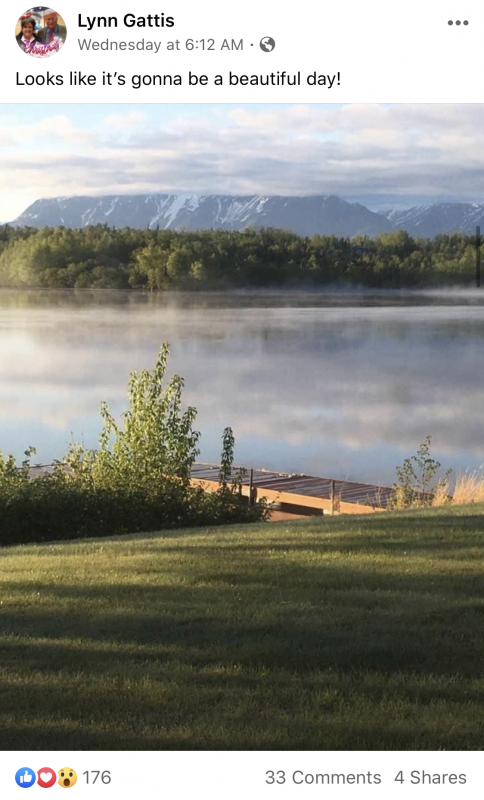 ***
And don't even get me started on candidate for Senate District L, Stephen Duplantis.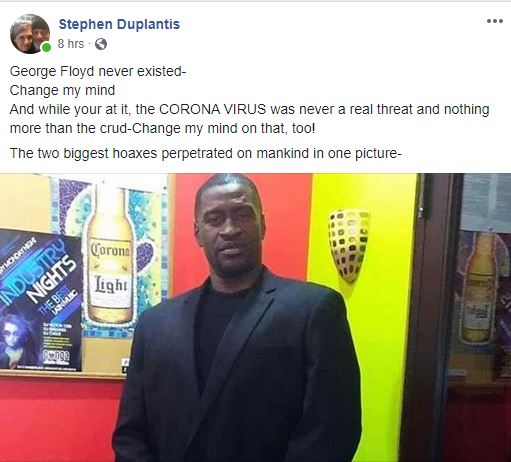 ***
Roger Holland is challenging Sen. President Cathy Giessel in District N. That's my district! I don't know much about Roger. But, I am seven months pregnant; complimentary Krispy Kreme doughnuts every Sunday at 9AM sounds like the perfect way to get to know the guy. 🍩🤰🍩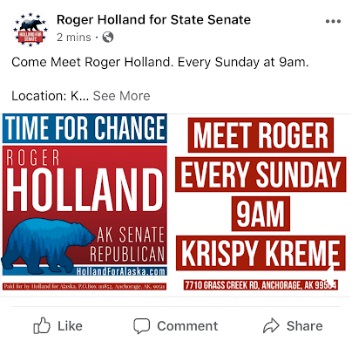 ***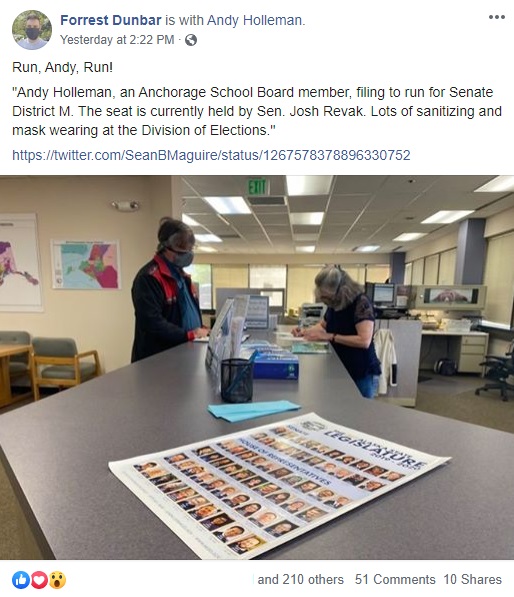 ***
To help prevent the spread of COVID-19, candidate for HD 25, Janice Park, recommends purchasing a personal sail boat ASAP. It's science!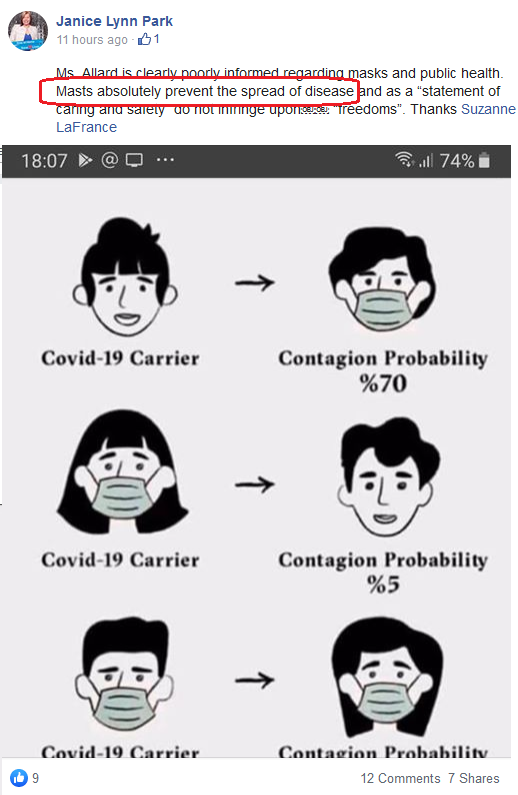 ***
Check out candidate for House District 28, Ross Bieling's latest maritime themed inspirational quote. Wait, is he supporting Jennifer?! I live for candidates bad cropping techniques. Click here if you care to see Ross' actual point. At least he has a mast.

***
I almost went into early labor when I saw Ross Bieling had withdrawn as a candidate. What's a Stalker to do without one of her best sources of material? Luckily he registered as a non-partisan signature candidate and will still be in the general! Thank you, Ross.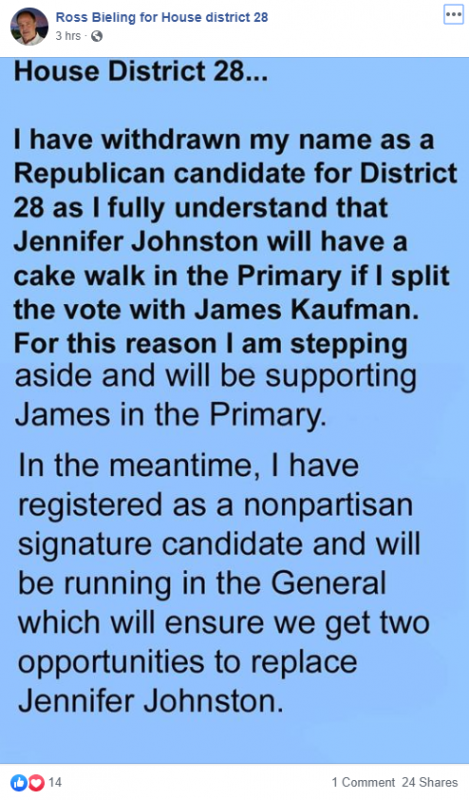 ***
I'm disappointed to see candidate for House District 30, Ron Gillham, didn't take my brilliant sign advice from 2018. I do like his quintessential Alaska uniform: Beard, bolo tie, cowboy hat, and requisite vest. I hope he took the opportunity quarantine provided to grow a PFD Protector Ponytail.

***
Equally disappointing is candidate for Senate District P, John Cox's slogan change. I'm a "check the box for Cox" kinda gal. John, it's not too late to bring it back!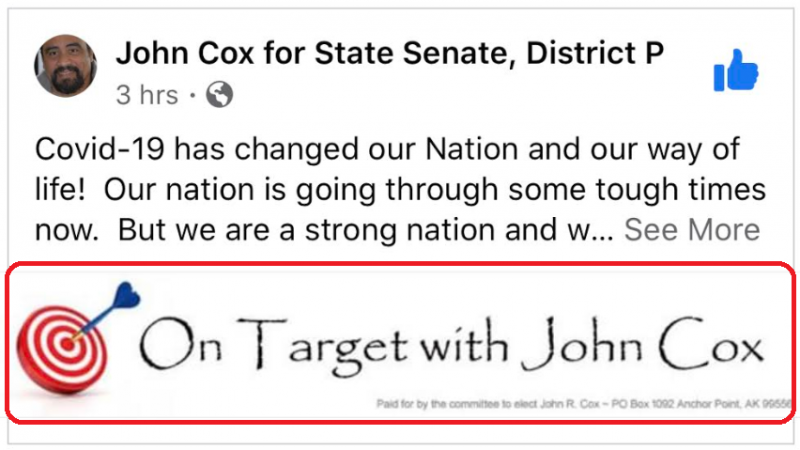 ***
Up in Fairbanks, candidate for Senate District B, Marna Sanford, (or as I like to call her, the Jeff Landfield of the North) posed at the Division of Elections with a plunger to illustrate "taking the plunge" and running for higher office. Or maybe it's a reference to all the 💩 in Juneau.  Either way, it's about to go down!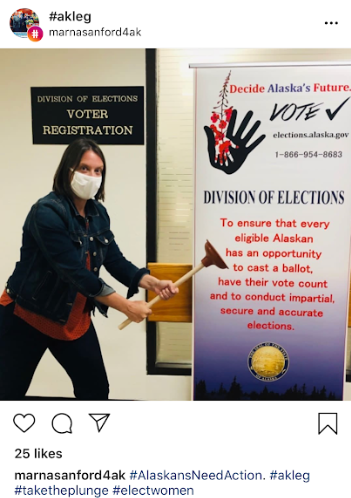 ***
Rep. Ben Carpenter made it official and will be running again. 👌 Ben's bestie, Sen. Mike Shower claims Ben is "as solid as they get." 🤔 You sure about that, Mike?

***
There can only be one ROCK SOLID member in the Alaska Legislature. Pretty sure I know who it is.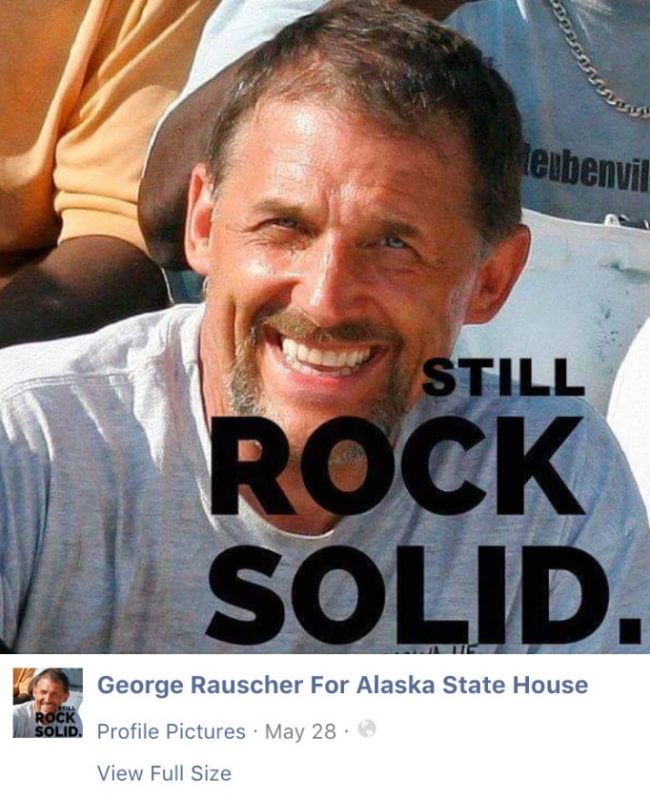 ***
I am counting my blessings I am not Rep. Sarah Vance right now. 😳

***
While it goes against our business model, I wanted to issue a friendly Stalker reminder to everyone — elected officials and non-elected officials alike — think before you post on social media.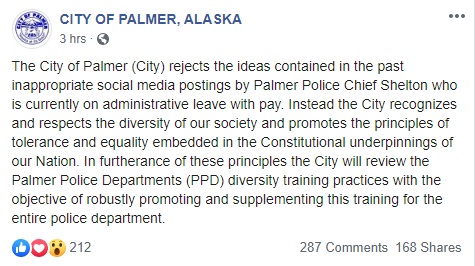 ***
Palmer Police Chief Shelton has learned this lesson the hard way. In politics, there will always be someone willing to scroll back to 2013 and beyond to dig up dirt. Don't forget to send that dirt to akstalker@alaskalandmine.com! If you haven't seen some of the Chief's posts yet, here they are.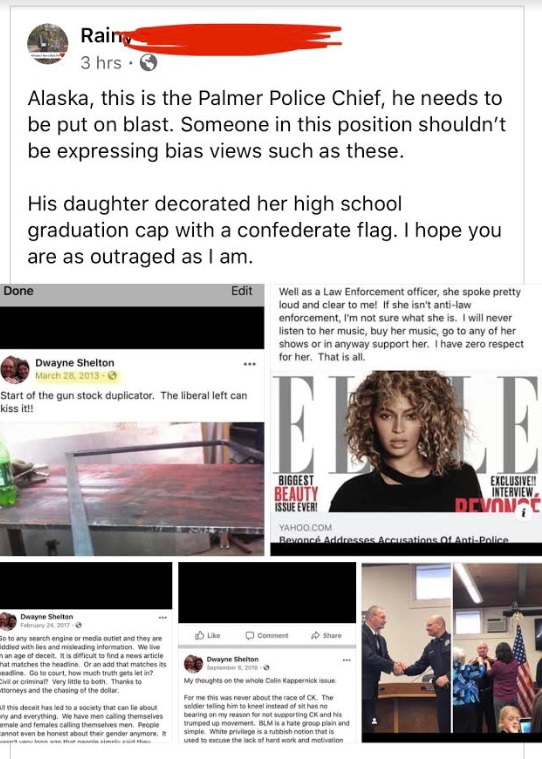 ***
Candidate for Anchorage Mayor, Bill Evans, gets it. Bye, Bill. 😭😭😭 Even though it's the smart move, I secretly hope his hiatus is as short lived as Mayor Dans.

***
While session may be over, I'm happy to report important legislative business is still being conducted, and Peter Fleetwood, age 13, will receive his Alaska flag. 💛💙  I just want to know how Peter decided to email this… interesting grouping of legislators. Maybe he saw Ben's name in the news recently and went from there.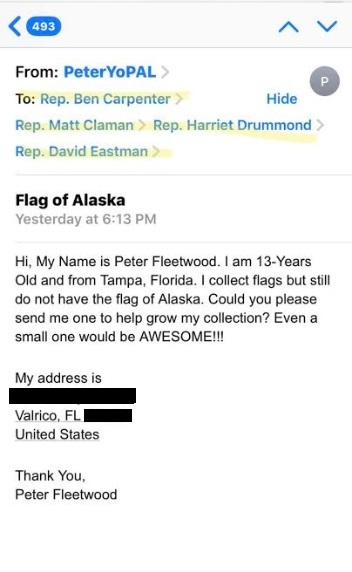 ***
There was a lot of great content this week, but this has to be my favorite. The anti-vote-by-mail folks have found a new king. Try to poke holes in @wildernesespl4's argument. I dare you.

***
Just a small change in headline… Did someone make a call?

***
I am eagerly awaiting Rev. Matt Schultz's post publicly shaming Sen. Lisa Murkowski for placing people's lives in danger by repeatedly breaking the mandated 14-day travel quarantine and documenting it on Instagram. Shame!

***
The theme of this month's COVID-19 report to the legislature is, "I don't know what to do with my hands."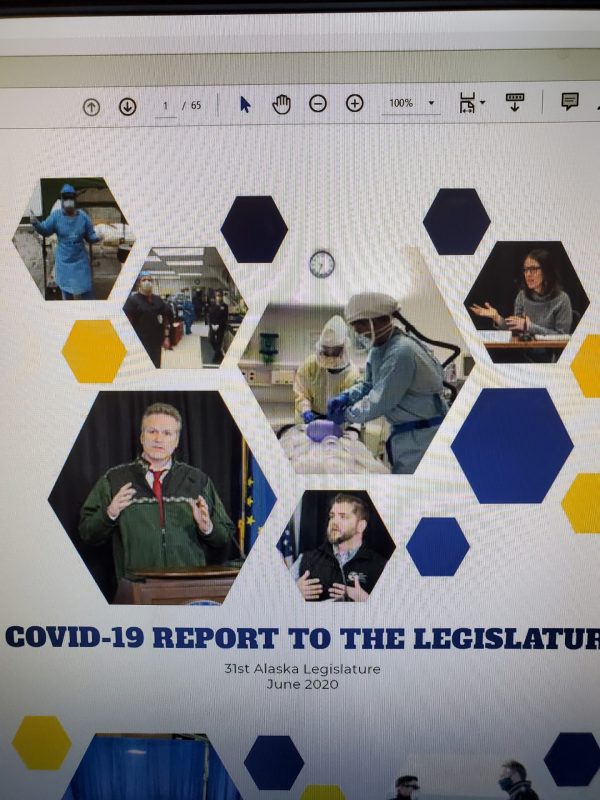 ***
OMG! If you're a loyal Stalker reader then you know how much this means to me! #numberonefan

***
Spotted on the trails: "former Navy SEAL bad ass" Rep. Laddie Shaw!

***
Spotted in the comment section on Facebook:

***
Overheard:
"If anyone gets a photo of Rep. Zack Fields anywhere without a mask on, it would be worth more than a photo of Christopher Constant using a plastic bag."
***
Overheard: "And I thought dating was tough before COVID-19. People I match with asking, are you anti-mask? is now a thing."
***
The Alaska Stalker was born and raised in Alaska. She is slowly emerging from South Anchorage with her husband, daughter, son, and baby on the way. She is not Jeff Landfield.