Welcome to this week's edition of the Alaska Stalker, a lighthearted round up of the best and worst of Alaska's social media landscape and political gossip.
If you enjoy the Alaska Stalker, please consider supporting working moms like me by sending in hot tips, overheards, and spotted ins. You can reach me at akstalker@alaskalandmine.com. As always, thanks for reading.
---
There were many touching tributes over Memorial Day honoring those who sacrificed their lives to protect our freedoms. If you were offline over the weekend I suggest you take the time to look back through some of our elected officials' posts. Congressman Young spent his weekend walking the beaches of Normandy. The House minority finally posted a video worth watching. And elected officials attended events in Fairbanks, Anchorage, Juneau, and more.
Let's get to it…
---
This is CNN. ?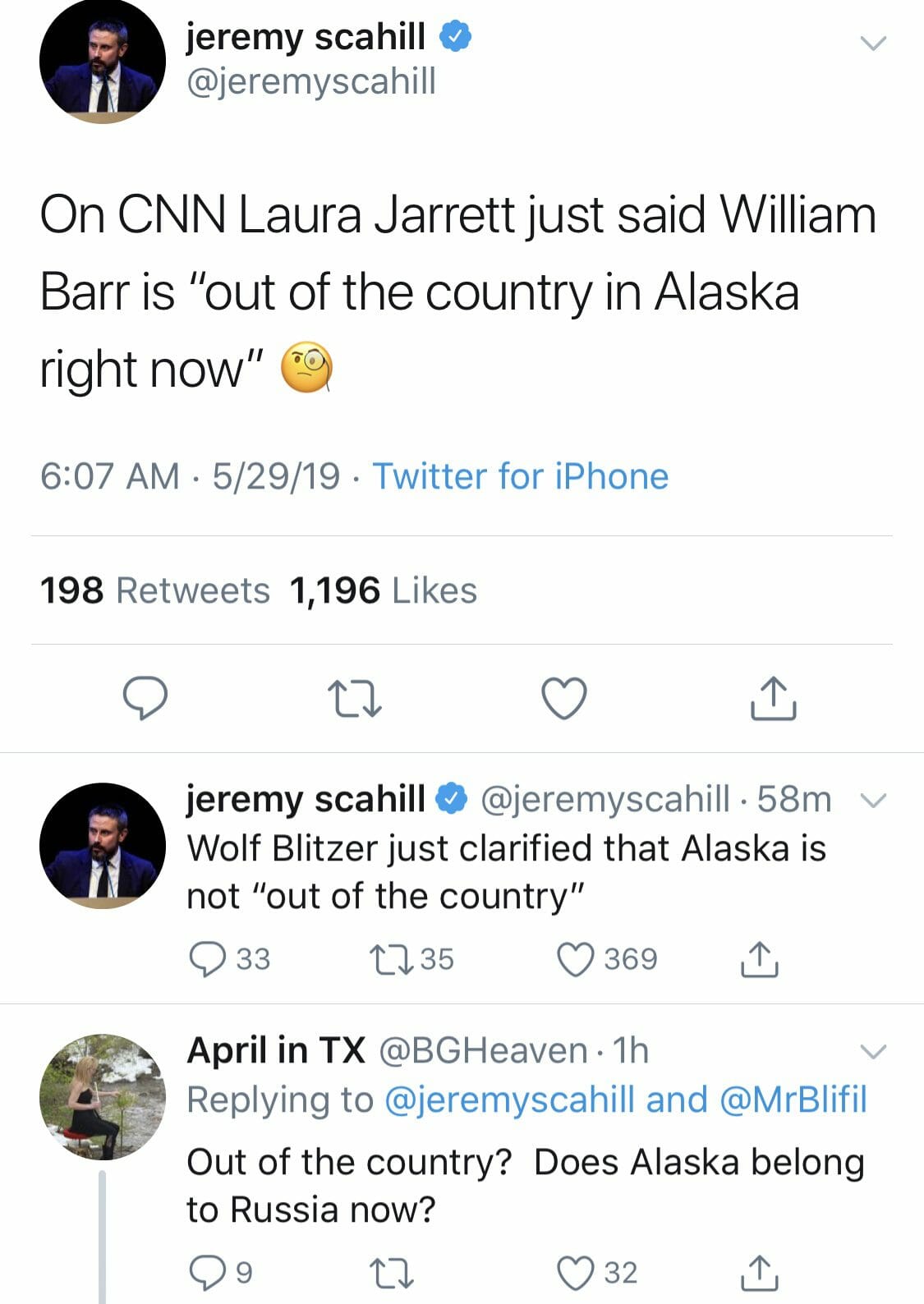 ---
Over at Faux News they listed Bristol's ex-baby daddy, Levi, as her son. Governor MamaGrizzly Palin was NOT having it. Wait a Gosh darn second, when did Sarah Palin start hating on Fox News?!

---
With the recent SCOTUS ruling on yet another Alaska case, debate ensued on Twitter whether or not Chief Justice John Roberts has attended Arctic Man.
Throughout this case, what has struck me is how spot-on Chief Justice Roberts' descriptions of Arctic Man are. I choose to believe he's been here and experienced it in person. https://t.co/ayJFdD5VC5

— Tom Hewitt (@tomhewittnews) May 28, 2019
---
If you need a refresher, this is an actual quote from Chief Justice Roberts describing Arctic Man 100% accurately.

---
Maybe Brett told him about it. ? ?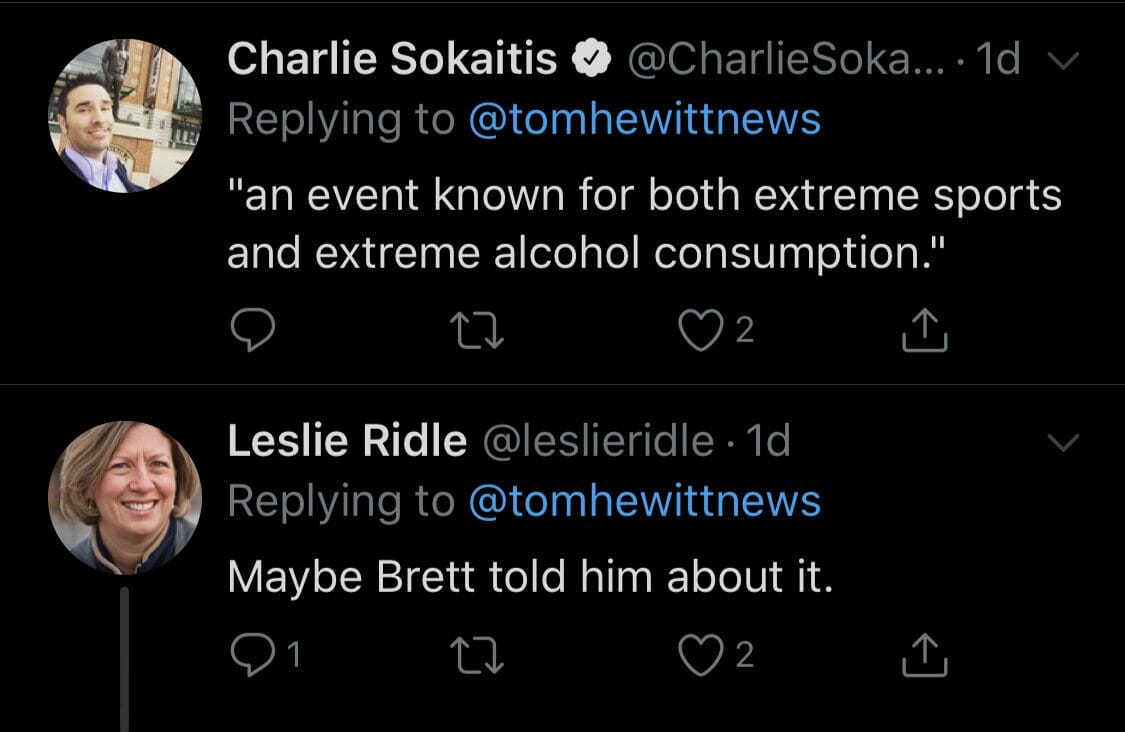 ---
Someone even suggested Roberts' words be turned into a marketing strategy.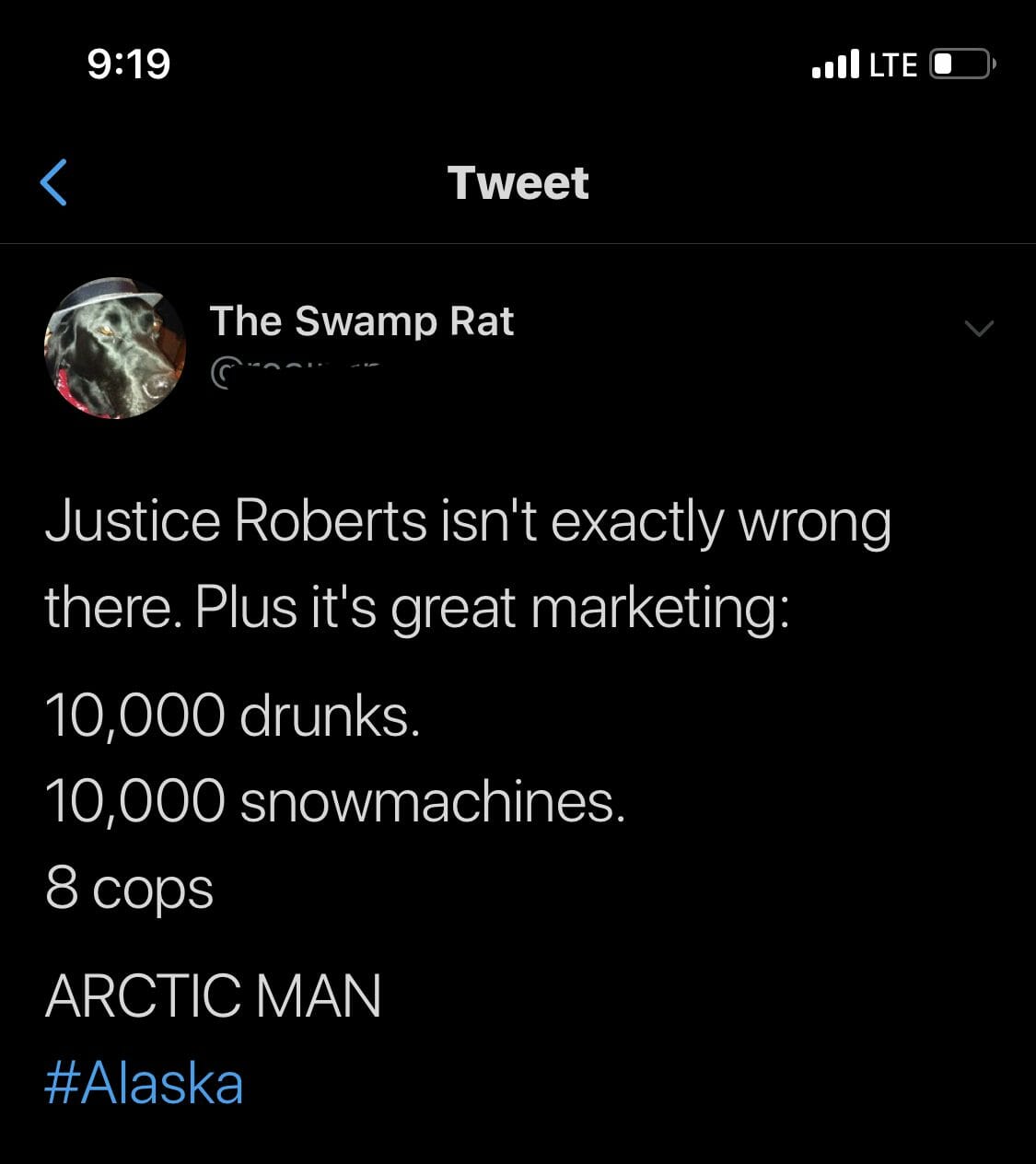 ---
Keeping the national theme going, Attorney General William Barr was spotted at Mat-Su Brewery last night. ?⚖️?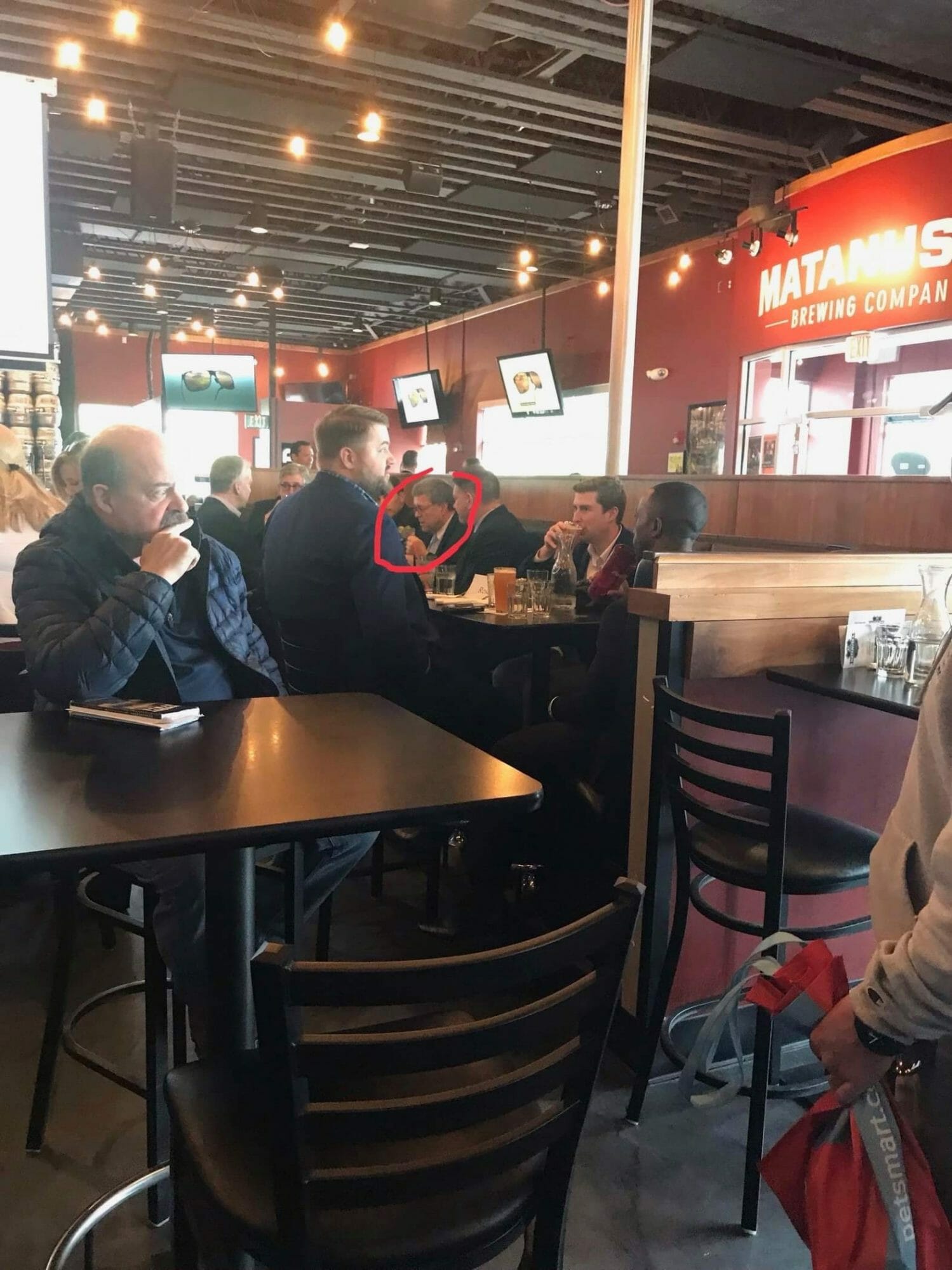 ---
Senator Dan Sullivan continues to own any future challengers by issuing what I am fairly confident is Alaska's first ever crab senatorial pardon. Sheldon is one lucky crustacean. We hope Sheldon gets to kick it with his homies, turkeys Peas and Carrots and Larry the lobster, in pardon paradise. ???
---
Ladies and gentleman, may I present to you the Dean of the House, Congressman Don Young. Don seems to really be phoning it in these days. Or maybe he was exercising great restraint.


---
As many of you know, Assemblymember Christopher Constant's President, Donald J. Trump, made a quick stop in Anchorage this week. Chris, did you spend the entire time he was here with your phone pointed skyward? I wish I had that kind of time. Also, pretty sure the depression won't lift until we get our first 70 degree day in southcentral.

---
When they go low we… Tweet about the President being mauled by a bear? Yikes. I hope no one reported her. Wait a minute… Did she mean this kind of bear? He's not angry. Just misunderstood.

---
While President Trump was hanging out with "look at that man, he's all man" Governor Michael J. Dunleavy, Senator Sullivan was meeting with the First Daughter, Ivanka Trump discussing paid family leave. Is it fair to say she's all woman? Just look at her. ?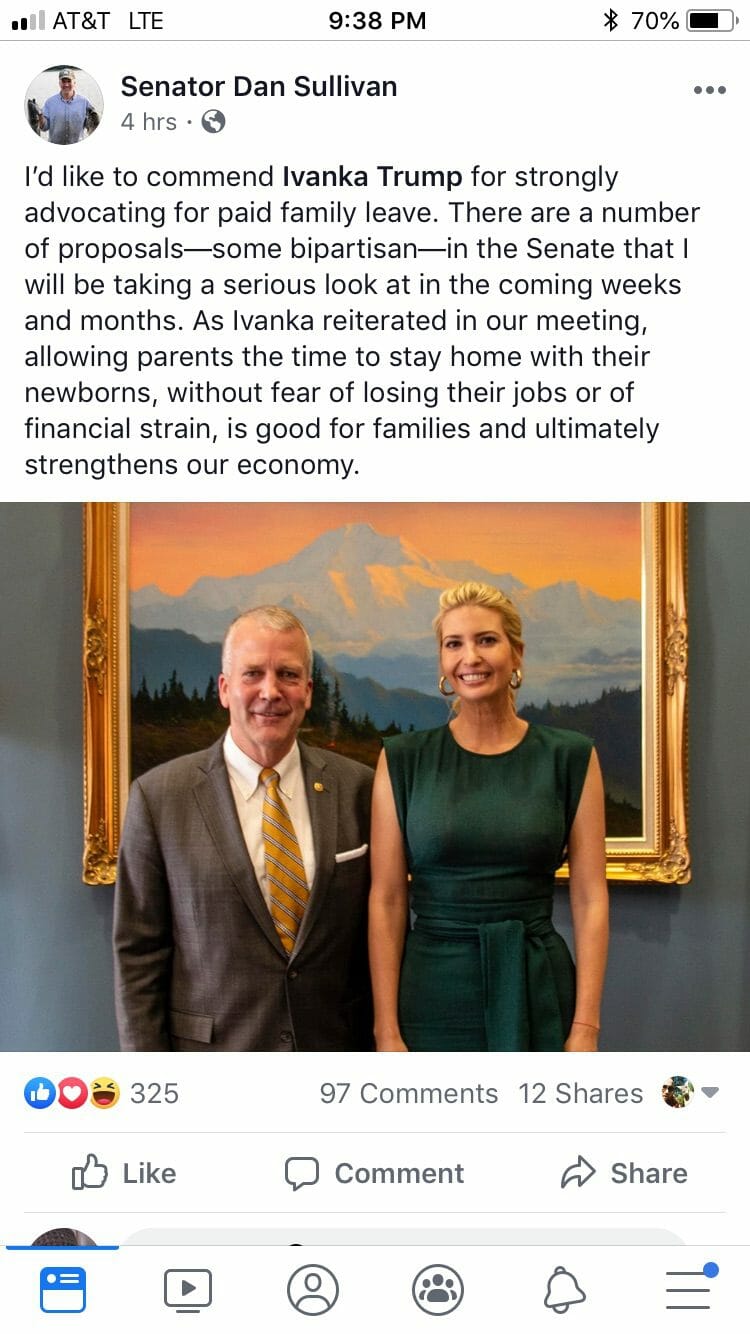 ---
Maybe there
is

a disturbance in the force because check this out! Either someone didn't clear it with the boss, or that is some next level trolling.

---
Or maybe it's because when the bossman considers Game of Thrones super villain Ramsey Bolton a personal hero you just do what you're told without asking any questions.

---
Uh oh Joelle! More union drama? Someone like you should know former Red Book Magazine Love, Sex, and Relationships contributor and Senator, Natasha von Imhof, spells her name with a little v and one f. Sheesh. Did y'all click that link? Here it is again, just in case. Rudi's forearms tho. ?️?️?️

---
Looks like the non-southeast House members flew into Juneau together Monday night ready to roll up their sleeves and take care of business.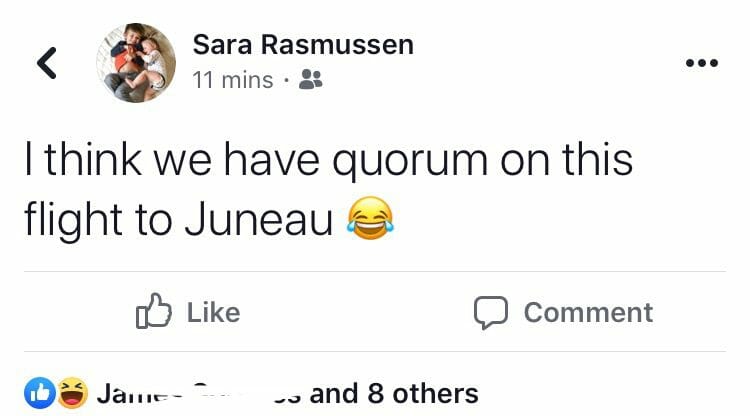 ---
Oh wait, never mind… ✌️✈️?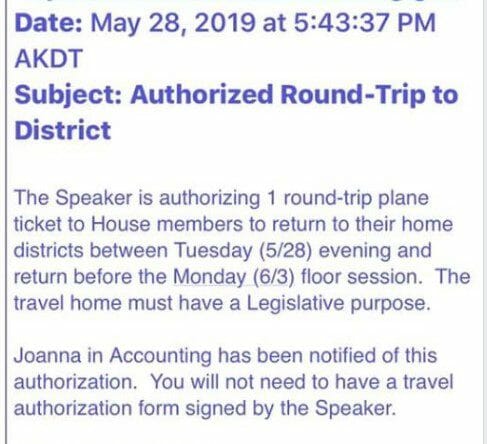 ---
Meanwhile over in the Senate: ??This sh*t is bananas, B-A-N-A-N-A-S!??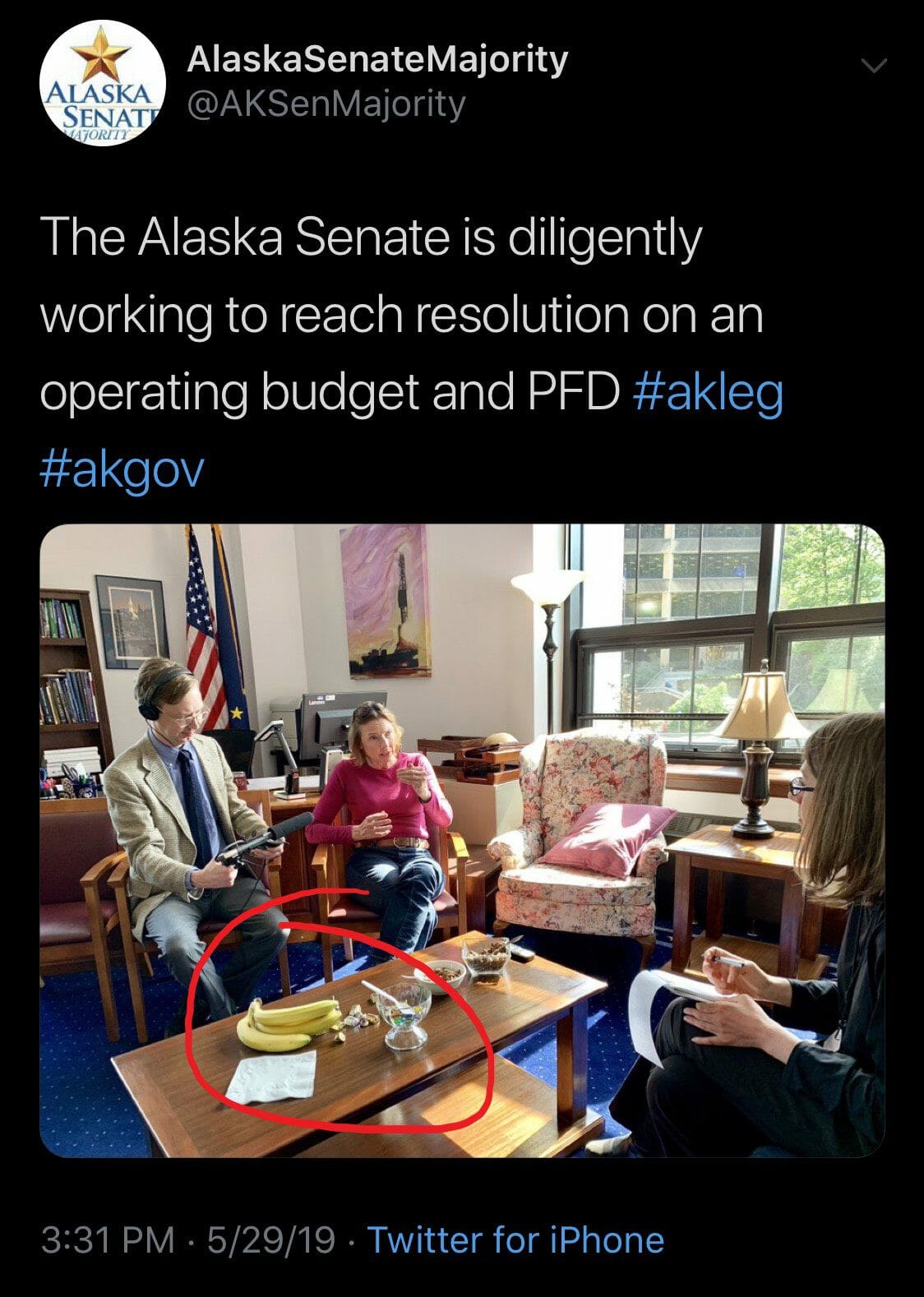 ---
What do you say, Donna. Isn't it about time to make it official?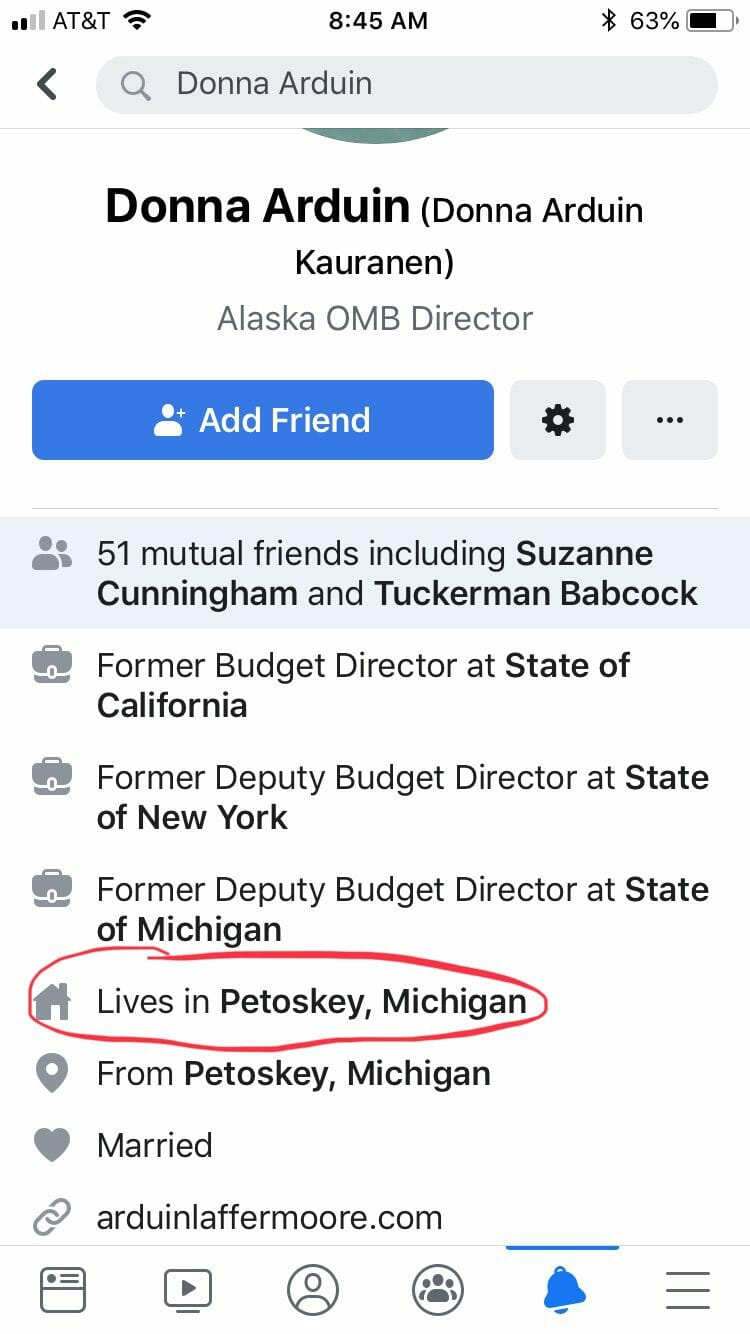 ---
What if I told you Tuckerman Babcock shared an Alaska Landmine link on his Facebook page. Thanks for the support, Tuckerman!

---
Tuckerman wasn't the only politico to finally share some high quality Landmine content. We know you all read – thanks for finally letting the world know! If you haven't seen it yet, check out this video, produced by Cale Green, of an incredible poem written by Matt Larkin.
You might know Matt Larkin as a politco and pollster with Dittman Research. But did you know he's also a poet? Check out this video, produced by Cale Green, of an incredible poem, What if I told you, Matt wrote about Alaska. How lucky we all are to live in Alaska!

Posted by The Alaska Landmine on Thursday, May 23, 2019
---
Speaking of Tuckerman, Stalker fav Ross Bieling might be leaving Alaska, but he has one more parting gift to us all. Cringe level ?

---
Daaaang Mead, where was this hot fire (or should I say blue steel) during your last campaign?!
---

---
On the left: actual footage of Cuddy Park in Midtown Anchorage. SAD! Seriously, this ad is the greatest. Our geese are VERY aggressive. That poor traumatized child tho.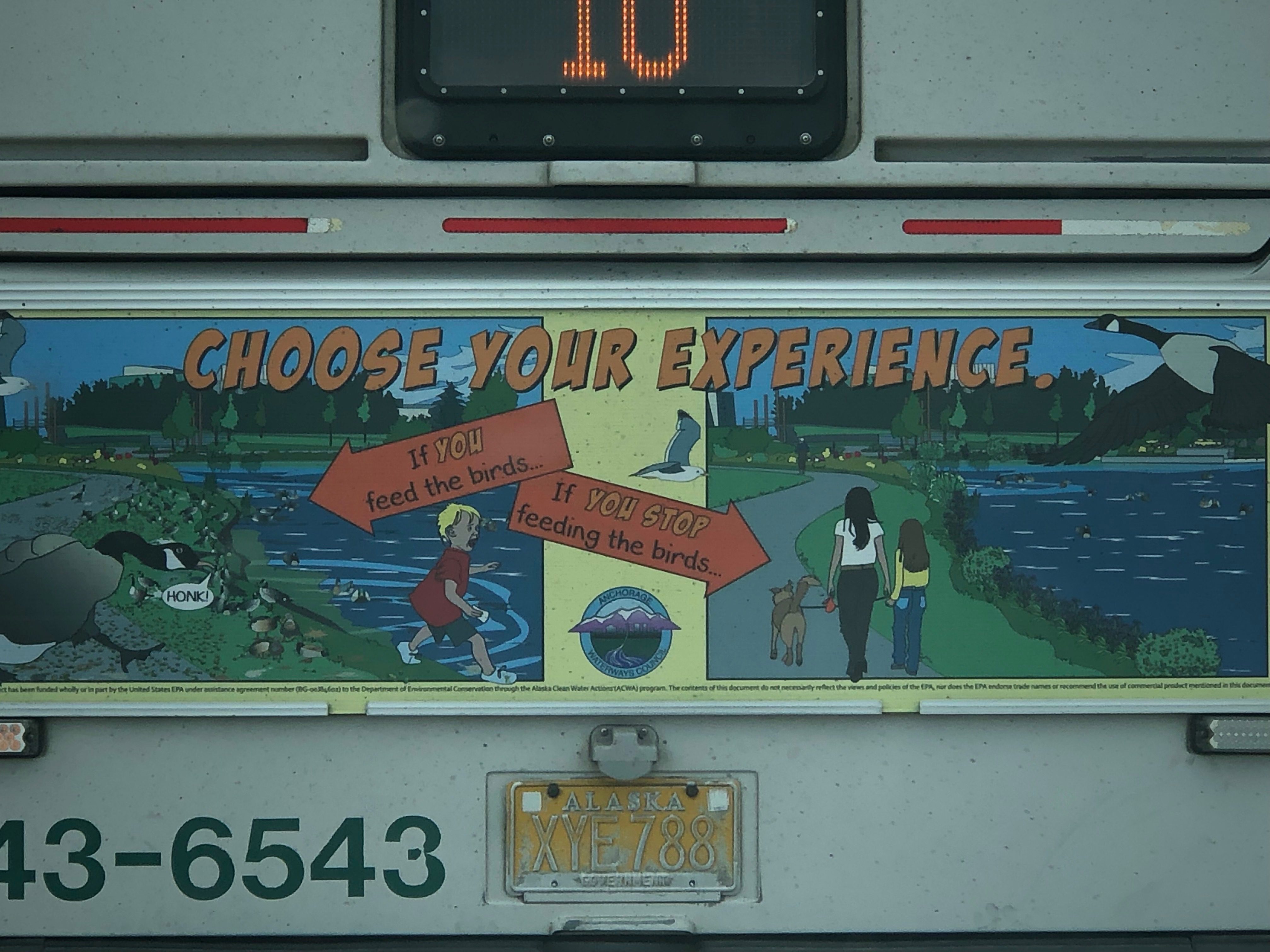 ---
Thanks for reading, Zack!
: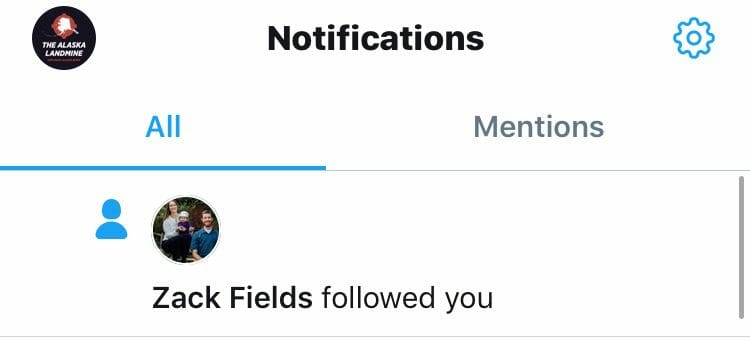 ---
Paging Number 5, your tags are expired. ??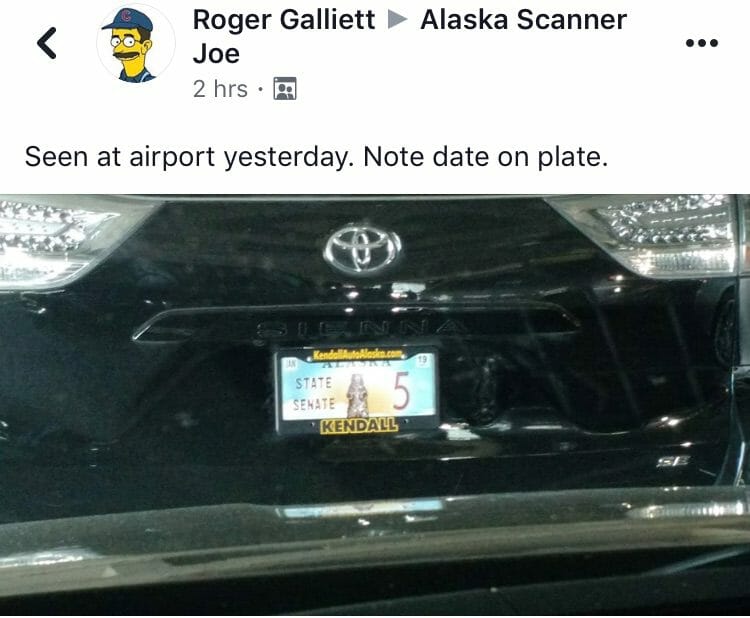 ---
Spotted on Alaska Airlines flight 73, in first class: Governor Michael J. Dunleavy.
---
Spotted outside Robert Gottstein's house: ❤️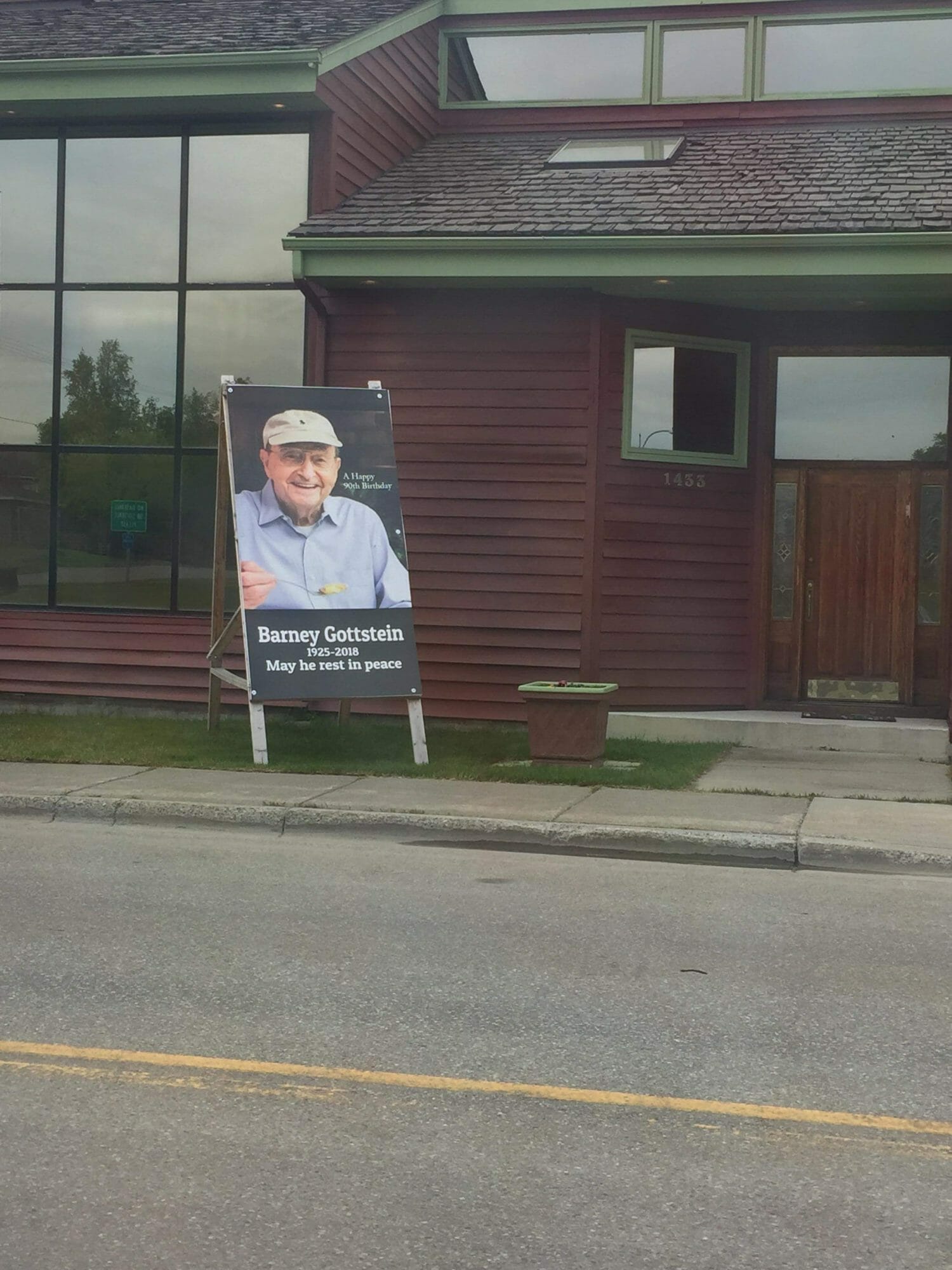 ---
Overheard in Juneau: "Tinder is terrifying in Juneau. Do you have to have a nose ring/lip ring to live here? I mean, I'm told the opposite is that every male profile is holding a dead animal."
---
Overheard at Dark Horse: "My daughter just got a great job in Australia working at the Koala Chlamydia Hospital*."
*The Koala Chlamydia Hospital is real, and semi-related to the whole John Oliver/Russell Crowe's jockstrap/Blockbuster thing that apparently was the greatest thing to ever happen to Assemblymember Forrest Dunbar. TLDR: google it.
---
The Alaska Stalker was born and raised in Alaska, and lives in South Anchorage with her husband, daughter, and son. She is not Jeff Landfield.
---