Welcome to this edition of the Alaska Stalker, a lighthearted round up of the best and worst of Alaska's social media landscape.
***
If you enjoy the Alaska Stalker, please consider supporting working moms like me by sending in hot tips, overheards, and spotted ins. You can reach me at akstalker@alaskalandmine.com. As always, thanks for reading.
***
Summer is finally here, the pandemic seems to be waning, and our legislators are here for it. Live music is back!
***
Softball is back! Warm Stalker congratulations to MVP, Sen. Peter Micciche!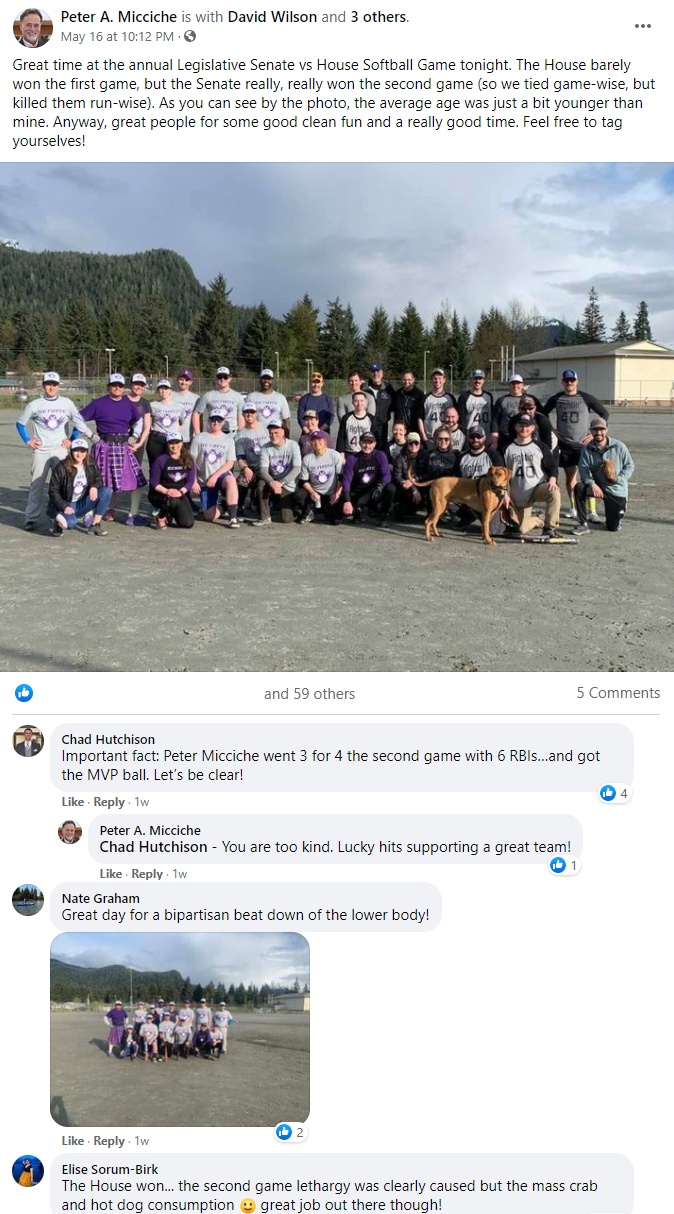 ***
Rep. Hopkins is enjoying what I promise him are the best days of his life!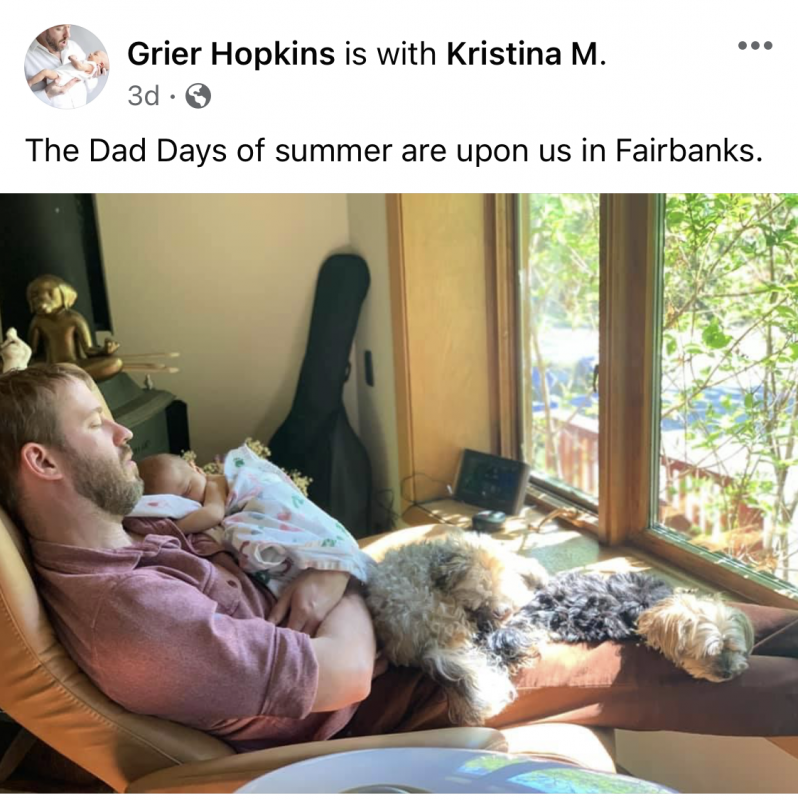 ***
And Rep. Patkotak is… *squints* Wow. That's a lot of white stuff. Let's just say they do summer a little different up in Barrow. 🥶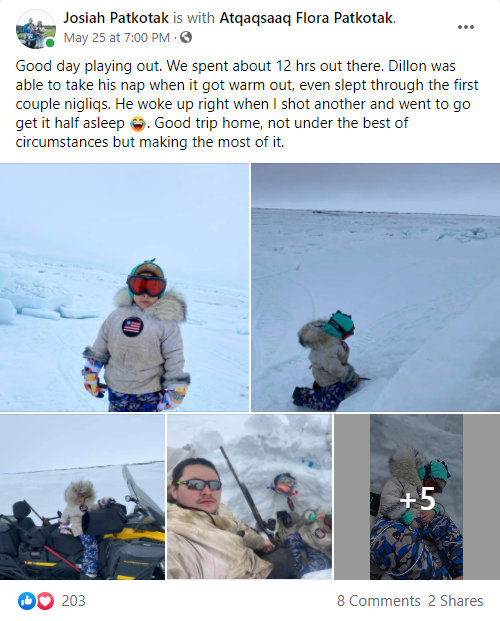 ***
Back in Juneau, not much seems to be getting done. Wait a second… Didn't Sen. Kawasaki recently get in trouble for saying, "

I didn't have a way to polish this
turd" in committee? BOLD choice of words, Senator. 💩
I tried my best to polish that Turd-ucken. In the end I just couldn't support the budget w/so little public or even legislative discussion. #akleg https://t.co/B6HlaO114k

— Scott Kawasaki (@alaskascott) May 20, 2021
***
I mean, technically, you're ten days past the constitutional end of session and a budget still hasn't been passed. Tick tock. ⌛ But, good job on being early to something, once. 🤷😂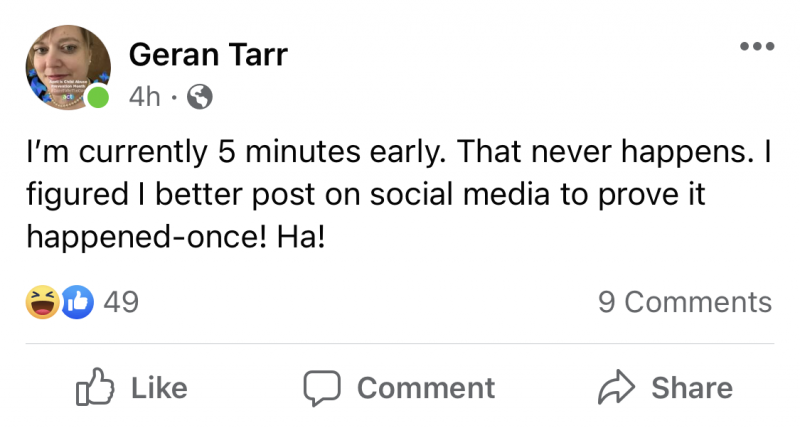 ***
They can't pass a budget or figure out what to do with the PFD, but they can throw a bitchin' annual bi-partisan brunch with Lora's signature dish of Jerry's double smoked country ham. Lots of pork! Not going to lie, I could really go for one of Sen. Jesse Kiehl's cinnamon rolls right now.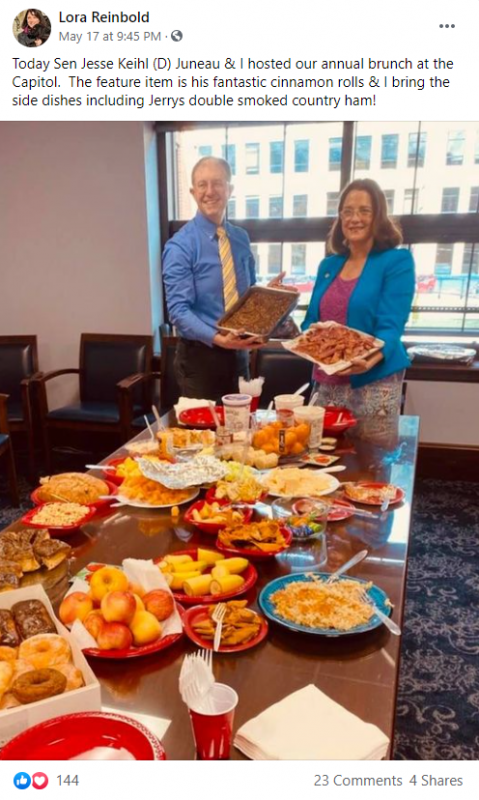 ***
Queen of vaugebooking, Rep. Sara Rasmussen, has some important news to share with ya'll. No, she's not preggo, not running for governor or taking on Mia or Lisa, and she's still calling herself a caucus of one. What could it be?

***
It's a new puppy! Ekkkkk! 🥰🐾 Sara, please tell me you're going to name it "Sweatpants" or "Beer Pong?" Pong for short, natch. Just think about it. The Landmine would be more than happy to host an official naming poll on Twitter.

***
Spare a kind word and send some good vibes to Rep. Mike Cronk who lost this good boy just this week. RIP, Ranger. 🐾🌈🙏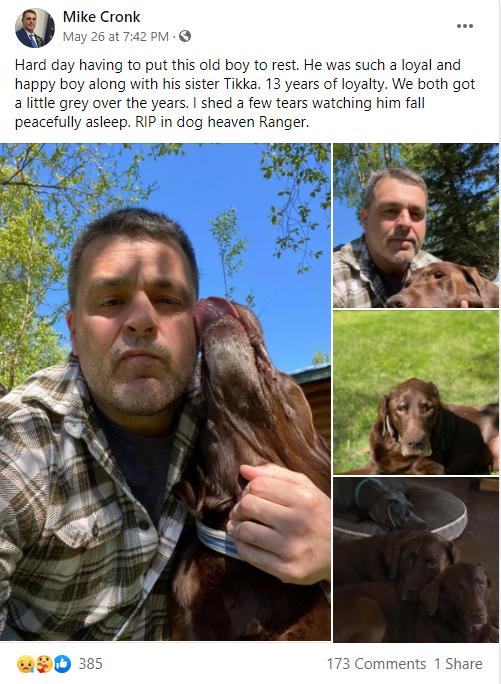 ***
And then you have Colonel Micciche. He's straight up bad to the bone. I am pawsitive dogs are not allowed in the Capitol. On second thought, look at that face. Let's cut this good boy some slack. I mean, is it even considered breaking the rules if he doesn't relieve himself on a coworker near the elevators or if he doesn't sit in on a contentious confirmation hearing? P.S. Why does Rep. McKay always have to make it weird. 🥴

***
I guess making it weird is a McCaucus thing. Why is Rep. McCabe calling his wife sweaty on her birthday? Ewwwwwww. 🙃😉

***
And now, may I present the #akleg #ancass crossover event you didn't know you needed in your life!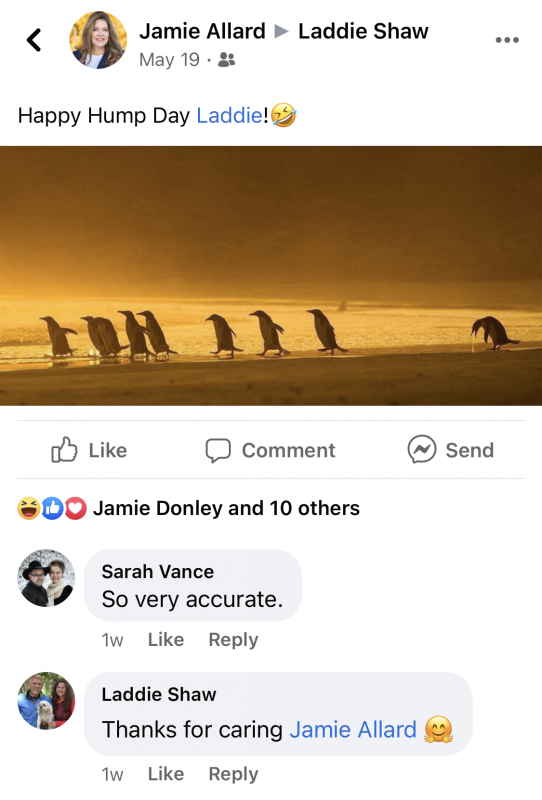 ***
I encourage everyone to read the comments in Anchorage Mayor-elect Dave Bronson's recent post asking for ideas and suggestions. It's a helpful roadmap for what things are going to be like between the Anchorage Assembly and mayor's office for the next few years. Hint: 🗑️🔥🔥 I don't have many ideas for the Bronson administration, but if they're looking for easy cuts I'd humbly suggest removing those creepy yellow and blue dots that are at the beginning of every single social media post. And, please, no more fun fact Fridays.
***
***
OMG YA'LL, Ron reposted it again, just yesterday! 🤦 He seems to really enjoy folks bringing up his unauthorized pesticide distribution and misuse of a pesticide conviction while simultaneously falsely claiming he fed homeless people bleach and calling him a domestic terrorist, sadist, and absolute f@&king psychopath. One person even virtually hexed him! How did that recent op-ed go again? Oh yeah, "We must bring civility, fact-based and informed opinions back to these public discussions." Great start, everyone!  🤡🤡🤡

***
Forrest lost a close race. I'm sure the defeat was especially difficult as Forrest was considered by many to be the left's golden boy – the best of their best. His loss, on the heels of Biden winning Anchorage, was a surprise to many. That being said, I'm trying to figure out the point of this post-election "woe is me muh signs post." Signs don't win or lose elections. And we don't need our leaders (he's still an Assemblymember) playing the victim. There's enough of that between Chris and Jamie every week. It's exhausting. I mean, am I living in the Twilight Zone or does anyone else remember when people drew actual dicks on the image of Amy Demboski's face that was featured on her signs when she ran for mayor? I guess by Forrest's logic we can assume those vandals were all Berkowitz supporters. Does that mean the left started the sign wars?
Here is a portion of the large signs that were vandalized during the campaign. We collected 61 of them here; a number of others were stolen completely, or had their frames broken instead. Many thousands of dollars in direct costs and staff/volunteer time. #ANCVotes pic.twitter.com/PhyOkgD98n

— Forrest Dunbar (@ForrestDunbarAK) May 22, 2021
***
I know it feels good when your side wins. But my goodness, Assemblymember Allard. There's such thing as a sore winner.

***
No need to rub salt in their wounds. Instead, try salting the rim of your margarita and toasting to evil victory like a regular Republican.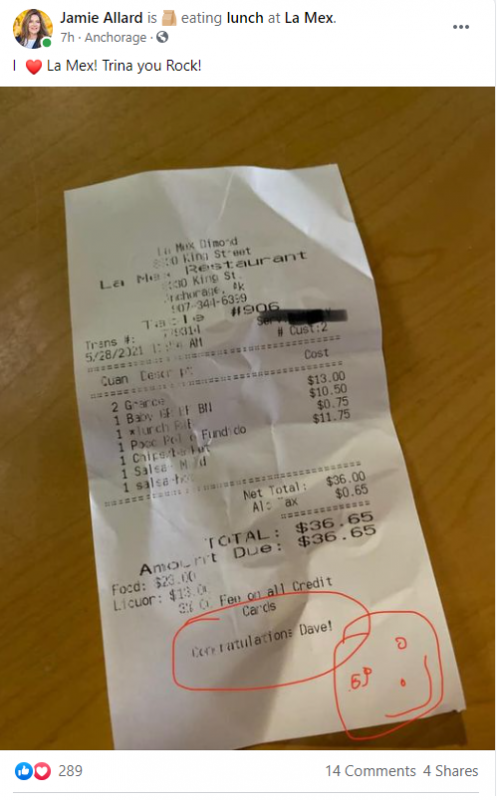 ***
Speaking of Jamie, did she get a haircut? She looks different. 😉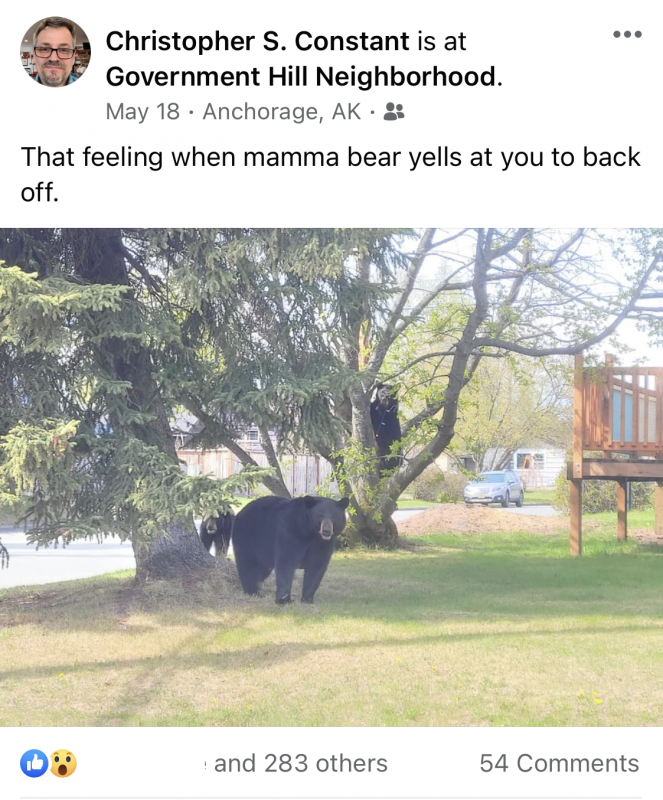 ***
Glad to see Assemblymember Felix Rivera "test his might" at Mortal Kombat. After dealing movie theaters a "fatality" for the past year, it's lucky the Assembly didn't "FINISH THEM!" If you haven't enjoyed a movie in theaters since last year, I recommend you "get over here" ASAP!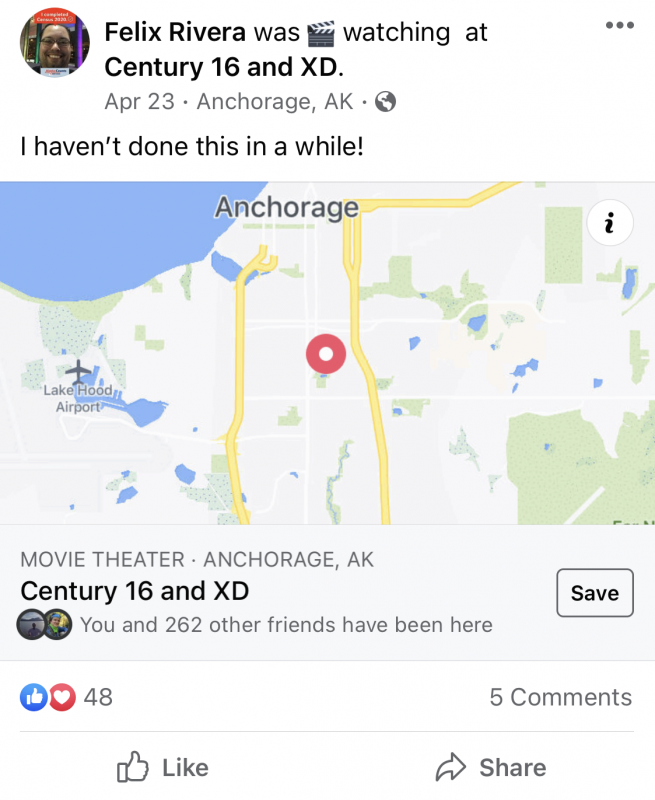 ***
Time to wine things down. Let's end it on a full bodied note. Next time you're at a restaurant and need to re-cork your bottle of wine, be sure to toast to former legislators Ralph Samuels, Jay Ramras, and Lyda Green. Grape minds think alike! No wineing about this law. Sip sip, hooray! 🍷🍷🍷

***
Sent via Stalkermail: "Lora keeps complaining about being stuck in Juneau and not being able to attend events that require masks. I took a quick scan of "What's Happening This Week in Juneau, Alaska" and, I wonder if she's referring to the local Drag Show?"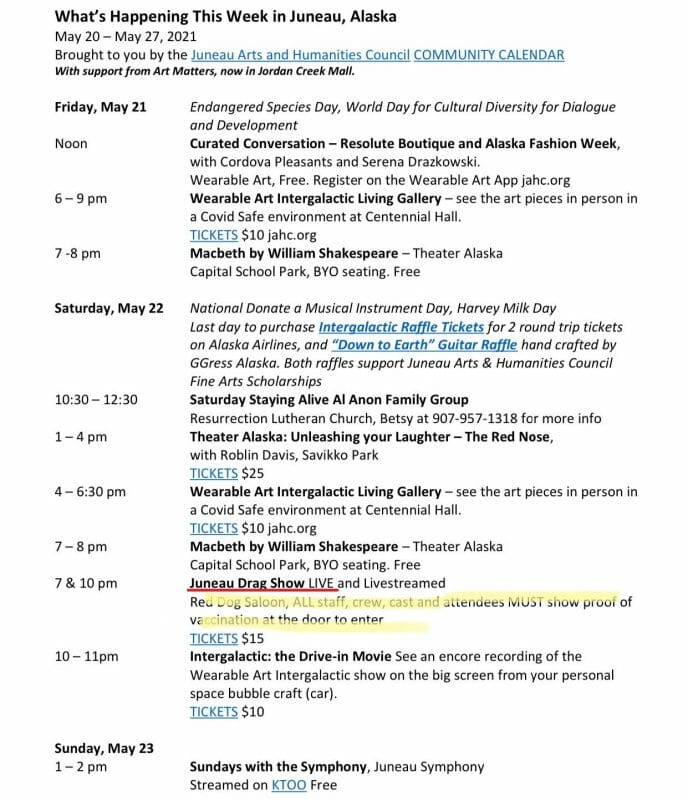 ***
Sent via Stalkermail: "Look at my frequently visited websites. What is wrong with me?!"
Context: (That second one is the Leg daily COVID form. Thanks for reading! Your (high level) identity is safe with me. 🤐)

***
Spotted at the rodeo in Palmer: U.S. Senate candidate, Kelly Tshibaka wearing a cowboy hat, bedazzled jeans, and WHITE boots. Yeehaw!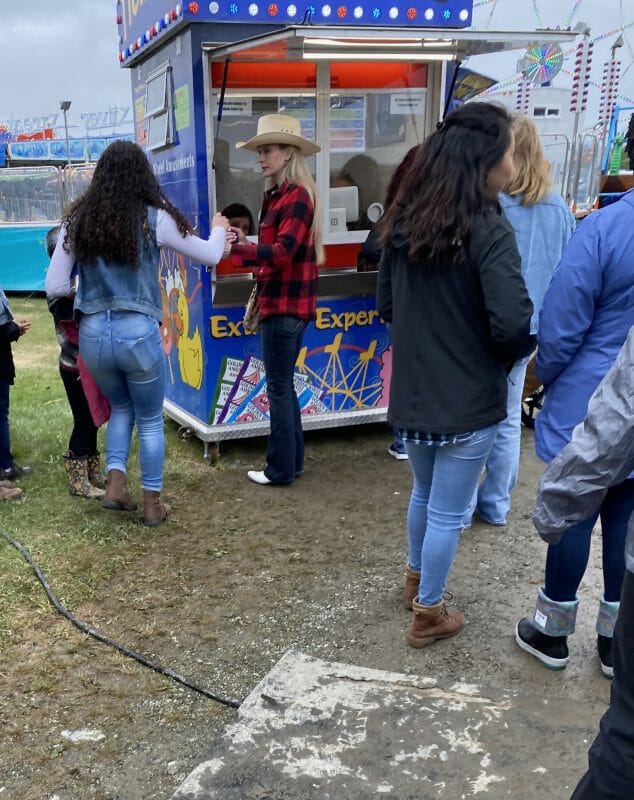 ***
Spotted getting real comfy on Alaska Airlines: Rep. David Eastman!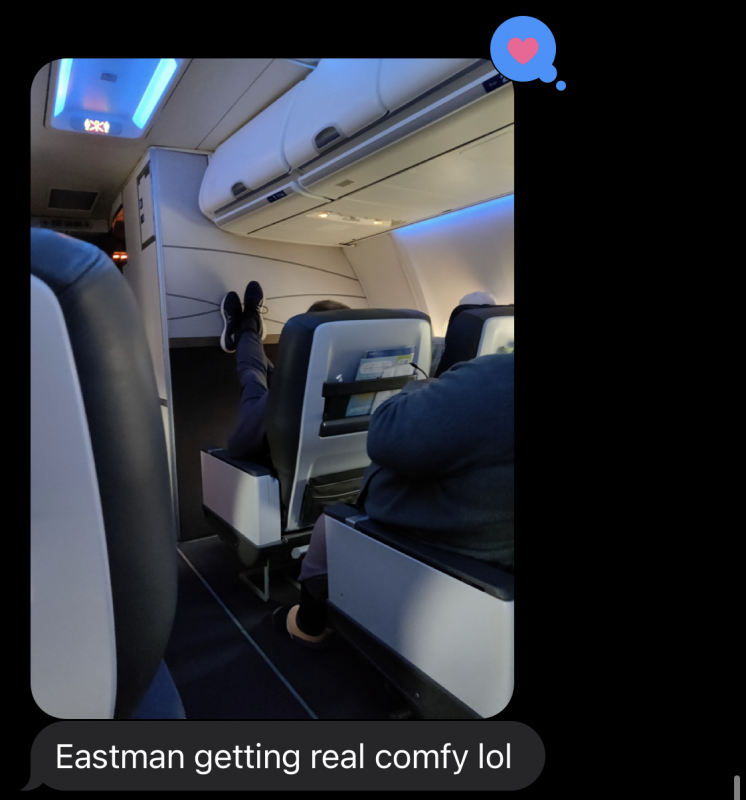 \
***
Spotted on Sen. Murkowski's Instagram: More Comic Sans!

***
Overheard in Anchorage: "I was prepared for Bronson to announce like the Darden brothers as his transition team. Larry Baker and Craig Campbell are pretty boring."
***
Overheard in Anchorage:
Person one: "I dunno, man. It would make me a lot more comfortable if Bronson appointed some moderate or even liberal folks in his administration. I think that would be a great start to help heal the divide in Anchorage."
Person two: "LOL. No. Why are you asking Dave Bronson to do something Forrest would have never considered?"
***
Overheard in Juneau: "Sen. Reinbold saying that instead of falling asleep to water sounds she's going to just record Sen. Bert Stedman."
***
The Alaska Stalker was born and raised in Alaska. She lives bear free in South Anchorage with her husband and three kids four and under. She is not Jeff Landfield.