Welcome to this edition of the Alaska Stalker, a lighthearted round up of the best and worst of Alaska's social media landscape.
***
Is it just me, or has the last couple of weeks been exhausting? The end of session drama on top of the final redistricting maps was A LOT to take in.  Add an absolute barrage of last minute filings and folks announcing they're not running again — I can hardly keep up. June 1st is in just four days. Hold on to your hats, folks!
Special Stalker reminder: with all the new faces running for office this election season, if you see something Stalker worthy please don't forget to send it my way. I don't see everything, and with so much turnover I'm going to need a little help from my readers. Send in hot tips, screencaps, overheards, and spotted ins to akstalker@alaskalandmine.com. As always, thanks for reading!
***
There's no doubt Rep. Mike Cronk isn't the only legislator taking time for some serious post session rest and relaxation.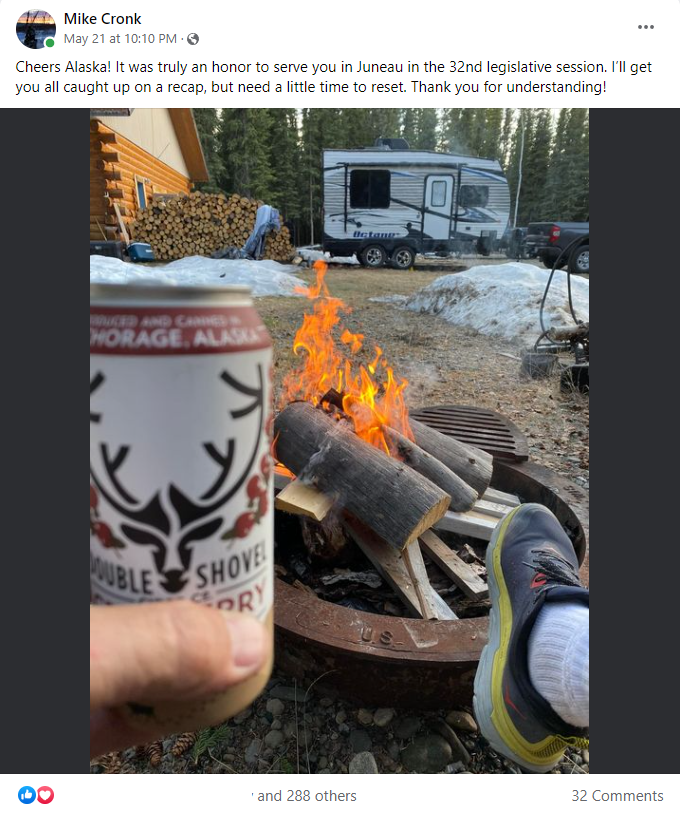 ***
I do love a good airport family homecoming.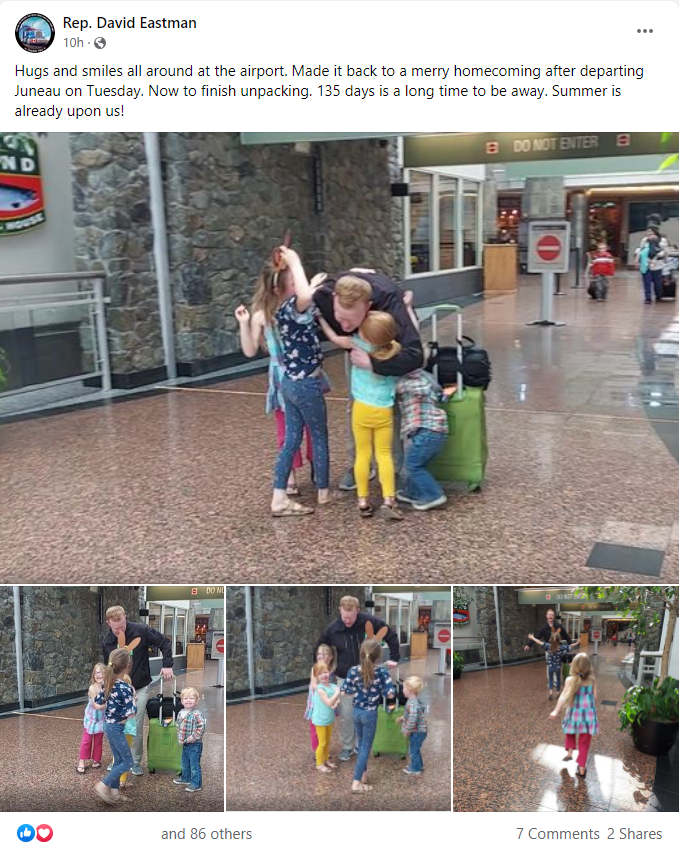 ***
I remember the beginning of session when these babies were still leeeettle squishes. Rep. Andi Story is lucky indeed.

***
Hard to believe half these faces might not be here next year. 😮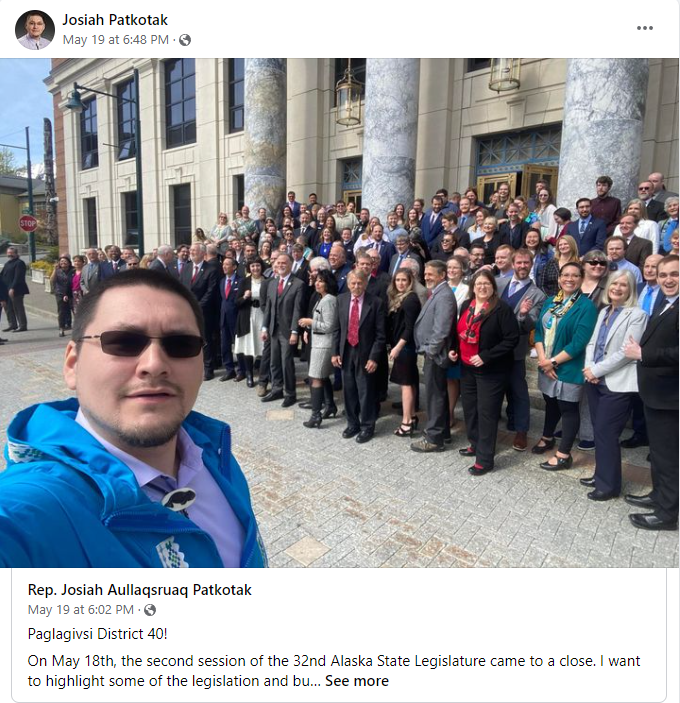 ***
Cheers to those who have been here before, and those to come.

***
Being an elected official isn't easy. I don't say it enough – thank you to everyone who has served. Also, I hope Rep. Spohnholz got her pic.

***
Speaking of Ivy, I can't believe I missed this blatant foreshadowing of her decision not to seek re-election.

***
I am broken up over some of the folks who have decided not to run again. Rep. Sara Rasmussen's motivational quotes, the absolute gift of Sen. Lora Reinbold, and gem after gem posted by Sen. Peter Micciche… (I mean, just look at him, publicly sharing ice cream with his dog 🤢) What's a Stalker to do without them?!

***
Like I mentioned on the Alaska Stalker Facebook page, when God closes a door He always opens a window. 🙌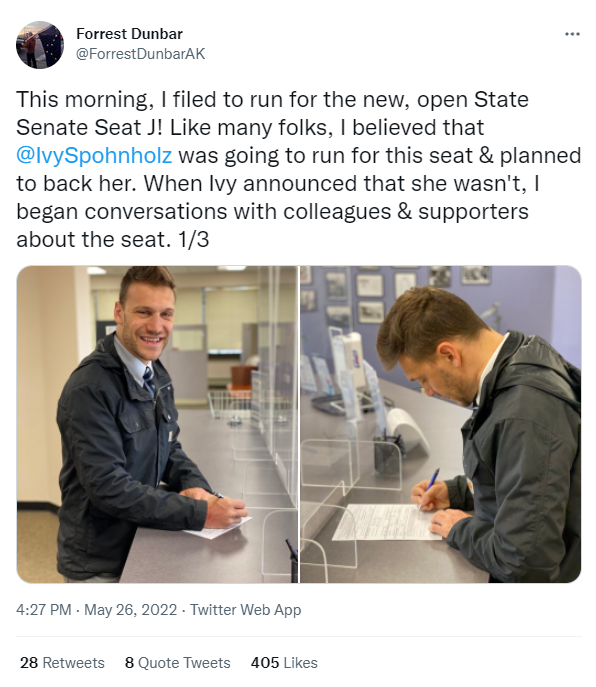 ***
New year, new run for higher office. I have to say, I am digging senate candidate Dunbar's newest, more dignified Carhartt jacket. 💅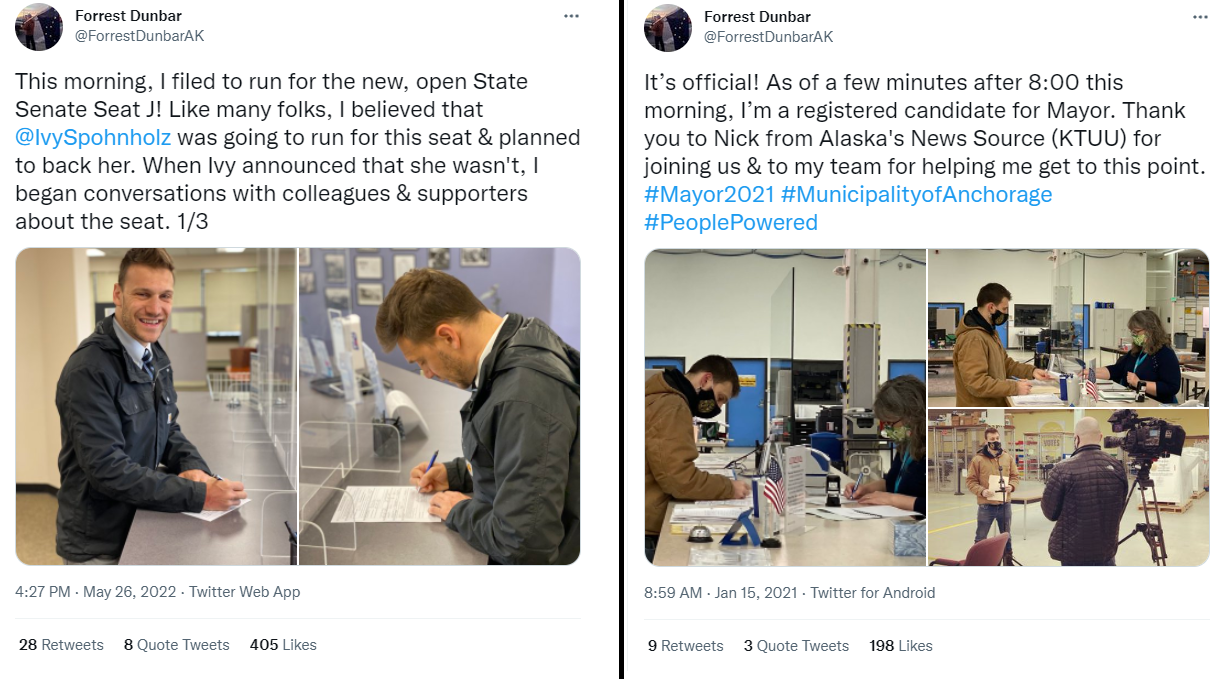 ***
While I am going to miss so many current legislators next year, I am thrilled with several new prospects. But, let's be honest, it's all about Alyse. That shirt!!!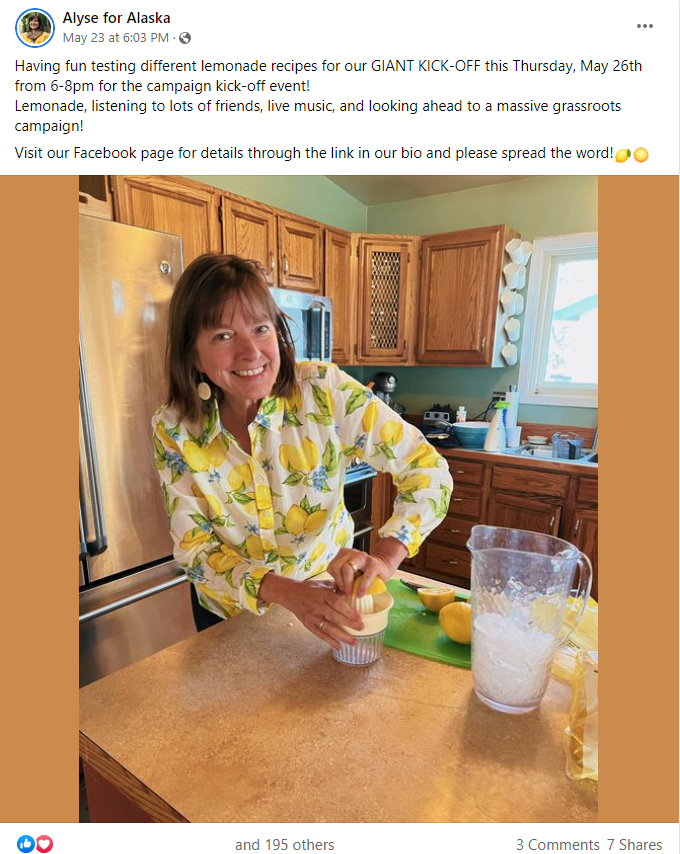 ***
Lyn Franks is also a Stalker fav. 😳😂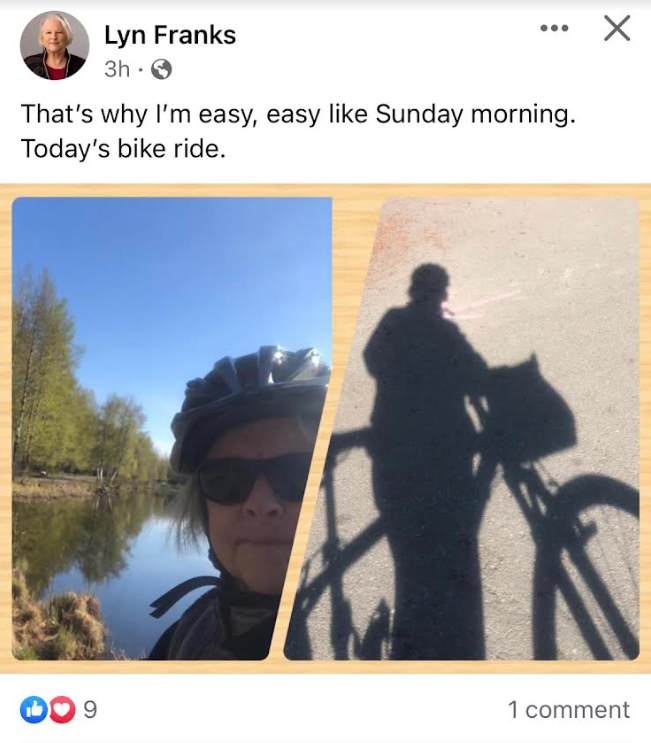 ***
Former staffer – and there are a several others running, too – Genevieve Mina filed for State House in East Anchorage. Siya has a fantastic Twitter account and I'm looking forward to the campaign. Two words: health care. ✊
sup #akleg Twitter! it's time to reintroduce myself (and take off the luchador mask)

my name is Genevieve Mina, I'm a proud daughter of immigrants and a lifelong Alaskan and I just filed to run for open seat for State House District 19! [1/3] pic.twitter.com/RR60uMADrg

— Genevieve Mina (she/her/siya) (@spifffy) May 28, 2022
***
Can someone please check in with Rep. Prax and make sure Barbara sees this meme? IT IS VERY IMPORTANT!!! 😂😂😂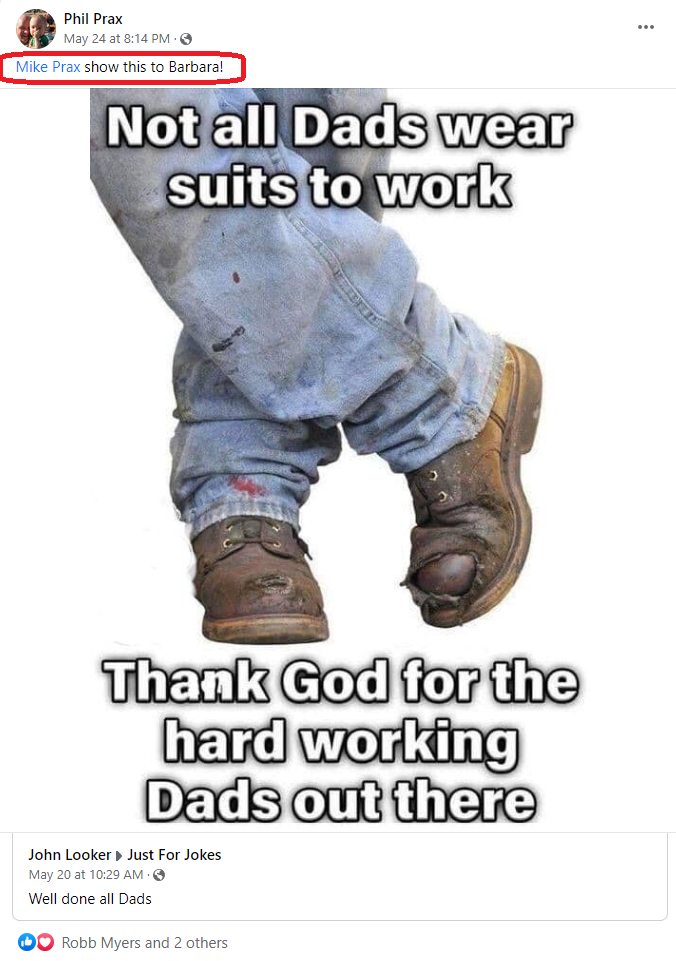 ***
The big news of the week was supposed to be that Dunleavy finally found someone announced his running mate. Former Corrections Commissioner Nancy Dahlstrom is officially on the ticket. I don't have a lot to say except Nancy, girl, you TALL. REALLY TALL.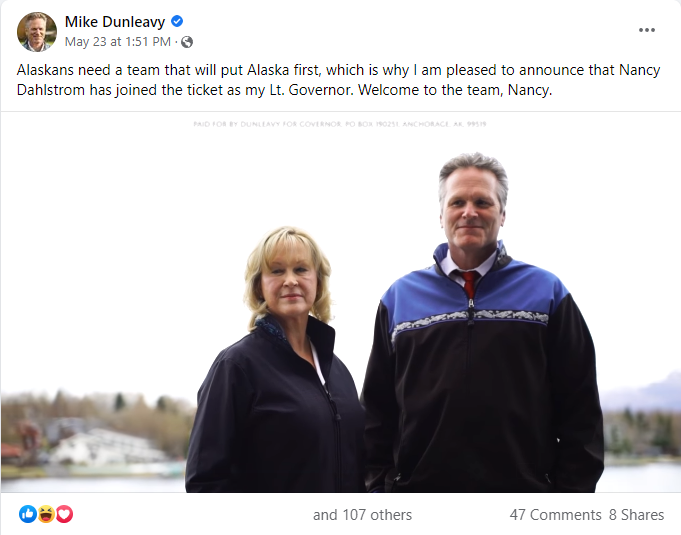 ***
Meanwhile candidate Christopher Kurka's over here reminding folks to follow his campaign on Gab. 😬 Chris, please, just end this now.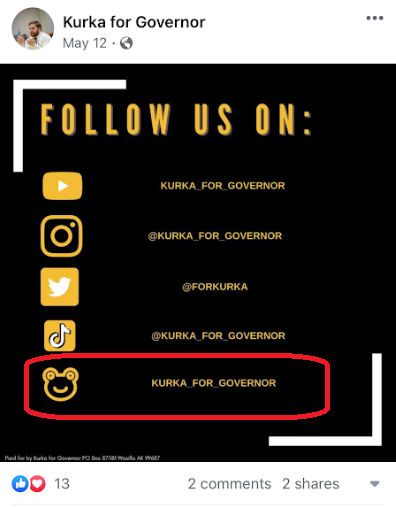 ***
🚨🚨🚨 Despite terrible fake RUMORS please let the Alaska Stalker set the record straight: "AMMO-CAN COFFEE SUPPORTS AND ENDORSES CHRISTOPHER KURKA FOR GOVERNOR OF ALASKA and PAUL HUEPER FOR LT. GOVERNOR of ALASKA."

***
I grabbed this screen cap the other day thinking I could go back and get a better one. Alas, Sen. Shower's comment has disappeared. Did Shower delete his comment? Or did the Walker campaign suppress it? Walker has been getting a bit block happy these days, so I can only assume it's the latter. 60 comments on that post, yet I can only see 10. Seems kinda shady to post a photo and op-ed of someone in a negative context and then block their reply.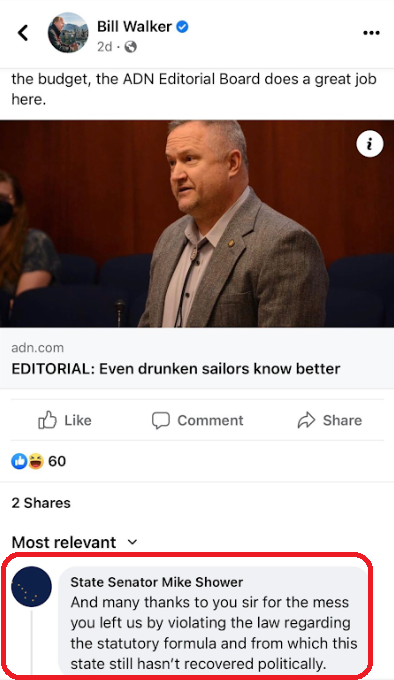 ***
At least gubernatorial candidate Charlie Pierce has the decency to respond to mean comments "privately."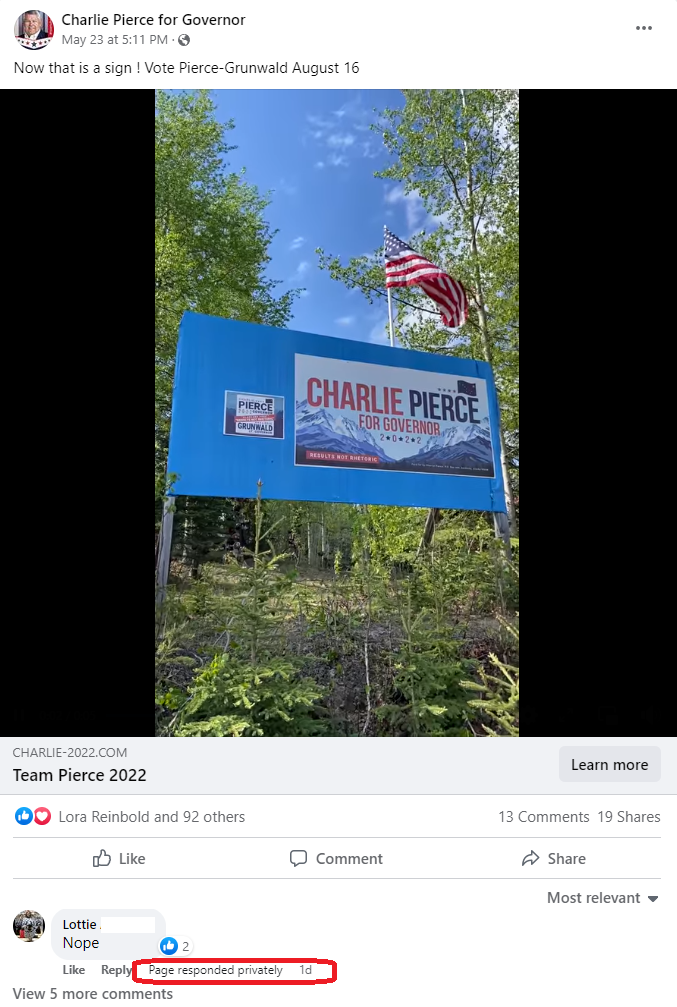 ***
This week's gubernatorial candidate social media winner is, surprisingly, Les Gara! While I'm still waiting for photos of the four moose moment, I'm glad to hear Les gave the moose the right of way like any good Alaskan should. Can't wait for his next social media screw up tho… 🔥🔥🔥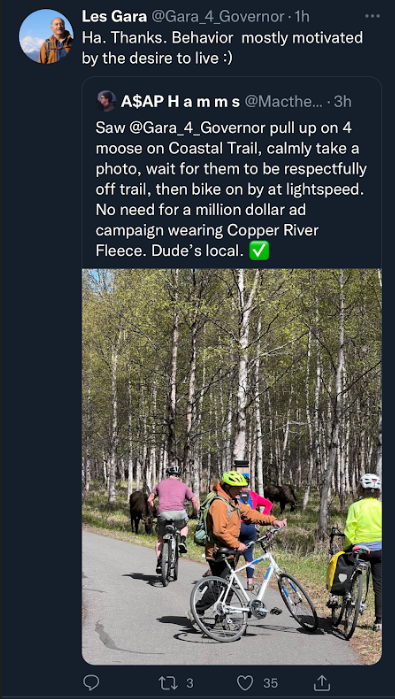 ***
Oh, that's right, we have a special election for our sole U.S. House seat in less than two weeks. 🤯
Candidate Chris Constant is ready to represent all Alaskans. All Alaskans like rando Alaskan Forrest "votes lock step with me on the Assembly" Dunbar. LOL!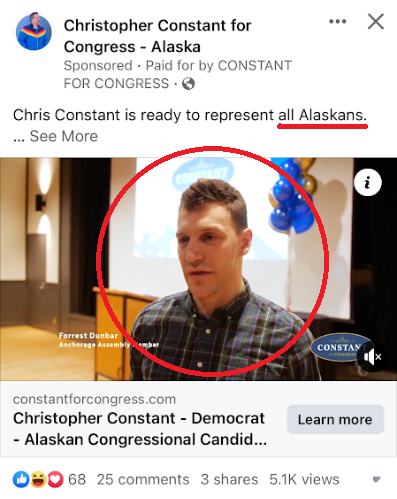 ***
Like many of you, I also don't understand exactly who Andrew Halcro is targeting with his campaign ads. But using Winnie the Pooh in a campaign ad the moment he goes public domain is 100% fiscally conservative. 😎

***
Congressional candidate Jeff Lowenfels missed out on some high level earned media not replying to local celeb Libby "David Sedaris knows her by name" Bakalar.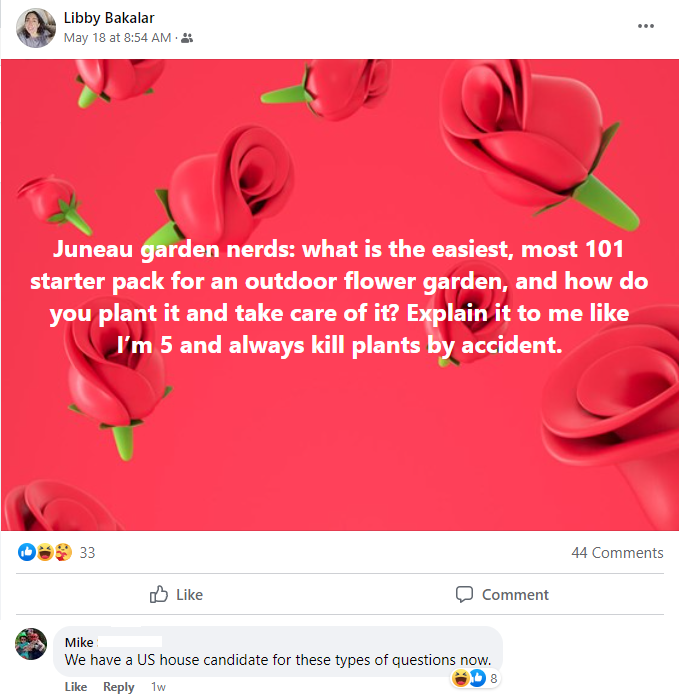 ***
I used to get emails from plain old Josh Revak. I now get emails from Purple Heart Recipient Josh Revak. His campaign must be going great!

***
My favorite mailer this week is from the Tara Sweeny PAC, T.A.R.A. (True Alaska Representation Alliance. Really.) "Dan Sullivan said something nice about me in 2018" is almost as cringe as Al Gross' radio ad where he touts that his dad was former Governor Jay Hammond's attorney general. NO ONE CARES!!!

***
With everything going on it's hard for me to remember to look at Sarah Palin's Insta stories every day. That's where the gold is. I was happy Sarah shared this post from the only Palin I've ever voted for: Bristol Palin (on Dancing with the Stars, natch). She was robbed of that Mirror Ball. 💃

***
How is the first ever open primary mail in election going? Fine. Totally fine. DO NOT LOOK AT THIS DANGEROUS DISINFORMATION being shared by Elstun Lauesen and liked by an elected official. Zuckerburg needs to shut this down ASAP.

***
I have no words. This poster has enough of those crammed on it for everyone.

***
Who is this Roland Reagan character? 🧐

***
No, Laddie, say it ain't so! And on Memorial Day weekend.
          
***
South Anchorage House candidate Jennifer Sonne is at it again!
South Anchorage "Independent" candidate Jennifer Sonne tweeting about vandalizing the private property of a business that supported conservative Mayor Dave Bronson, who she refers to as "daddy." She's ready to reach across the aisle! #akleg pic.twitter.com/UdTQ8s8hmz

— The Alaska Landmine (@alaskalandmine) May 27, 2022
***
After the Landmine posted her "Daddy Bronson" tweet, someone must have sent it to the McKenna Brothers. The rest is history. When Bob Lester posts your Ls, you're going viral. That comment from Rep. Rasmussen tho…

***
As expected, many folks on Twitter came to Sonne's defense. Why are you so obsessed with her? It's just a joke! It's social media, who cares? Good points. Except they all cared immensely when it was Judy Eledge's social media and she was running for… checks notes… the lowly office of Anchorage School Board. Judy's posts were even covered by Alaska Public Media, ADN and KTUU. For the record: both the Landmine and Alaska Stalker posted about Judy Eledge's Facebook posts. Because it was newsworthy! As for Jennifer Sonne's posts about vandalism of private and municipal property, saying she's a closet Marxist, writing how not hearing any white man's opinion is a "way of life" and many, many more controversial tweets has been met with 🦗🦗🦗. Why is that? 🤔

***
It gets better worse. Many of the people calling Landmine editor-in-chief Jeff Landfield sexist and misogynistic for calling out Sonne were… sexist and misogynistic to Rep. Sara Rasmussen when she commented on the Sonna debacle. Next time they call Jeff something remember, it's probably just projection.

***
Warning, this next one is truly vile.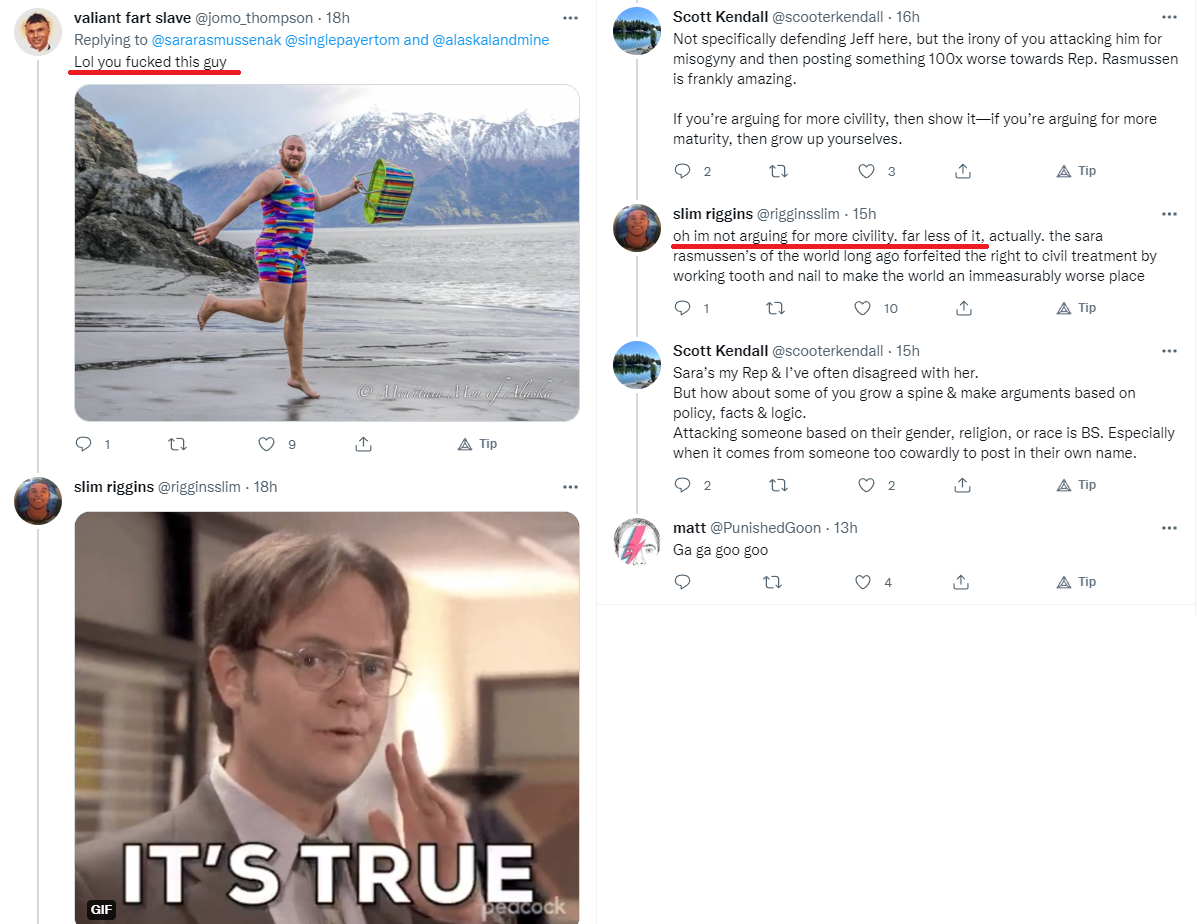 ***
As for Jennifer Sonne, she seems completely fine as an IINO (Independent in name only) going door-to-door trying to win over conservative constituents who voted for "Daddy" Dave Bronson while simultaneously mocking them and threatening to slash their tires in private. Interesting strategy. Can't wait to see what she tweets next!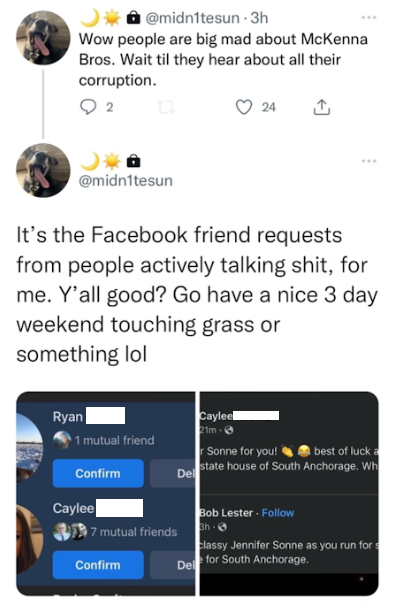 ***
Spotted while manning my kid's lemonade stand: Americans for Prosperity lit dropping for Nick Begich. No, I didn't ask them about Roland.
***
Spotted at Fast Eddie's in Tok:
Reps. Wool, Cronk, Josephson, Ed Flanigan, Cindy Spanyers, and Mayor Charlie Pierce. Three different tables but all friendly salutations.
***
The Alaska Stalker was born and raised in Alaska. She lives bear free in South Anchorage with her husband and three kids five and under. She is not Jeff Landfield.