Welcome to this week's edition of the Alaska Stalker, a lighthearted round up of the best and worst of Alaska's social media landscape.
***
If you enjoy the Alaska Stalker, please consider supporting working moms like me by sending in hot tips, overheards, and spotted ins. You can reach me at akstalker@alaskalandmine.com. As always, thanks for reading.
***
Rep. Mel Gillis is an absolute legend. Did you see he posted a 3D photo of himself in the Capitol, wearing a mask with a hole cut out for his cigar, and talking about CARES Act funding. Yes, the bear and the deer have masks, too. Yes, this is from his official Representative page. There are so many layers to this post – the symbolism, the themes, the motif – the Mat-Su School Board should add it to their English department curriculum ASAP.
***
In case you were wondering what everyone was wearing, the Stalker is here for all your legislative mask needs. Instead of Kuspuk Friday, it was Mask Monday! Lance donned a Misty special, David sported a gas mask, Colleen channeled the ghost of Donna, Tiffany brought it with a matching head-to-toe ensemble, Sara acted her age, I expected better from Scott, Mia kept it simple, Bill was out of this world, and John chose a timeless little black number.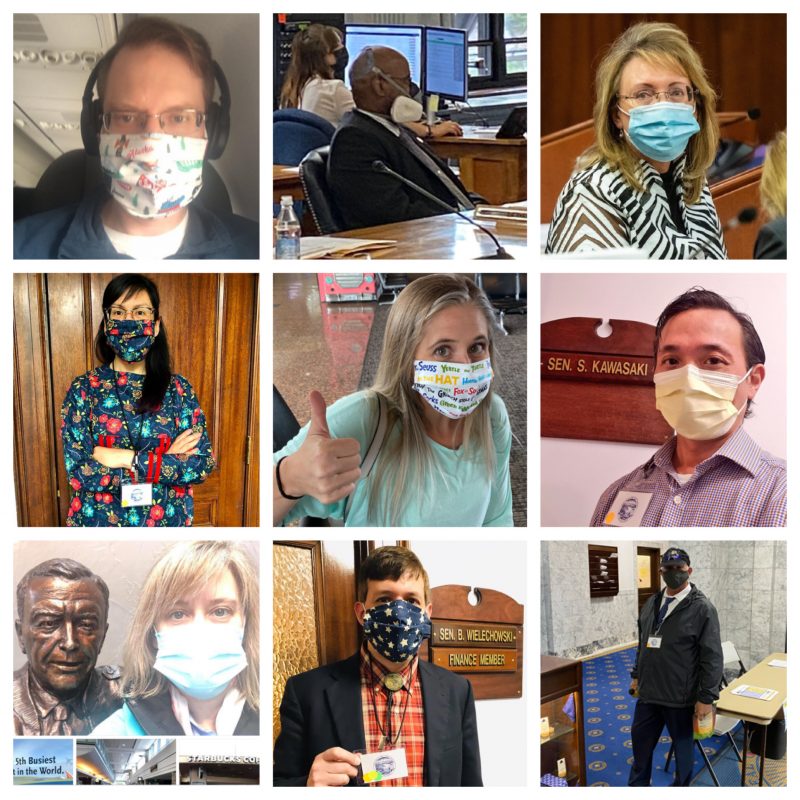 ***
Let's back up a bit. The legislature convened in Juneau on Monday, May 18th after a surprise extended recess due to COVID-19. As usual, most of the legislature had to fly in. Sen. Peter Micciche's Spotify played an ominous song to start out the week.
***
Reps. Sara Rasmussen and Kelly Merrick posted a masked selfie with Uncle Ted's statue before going through airport security. Mask on…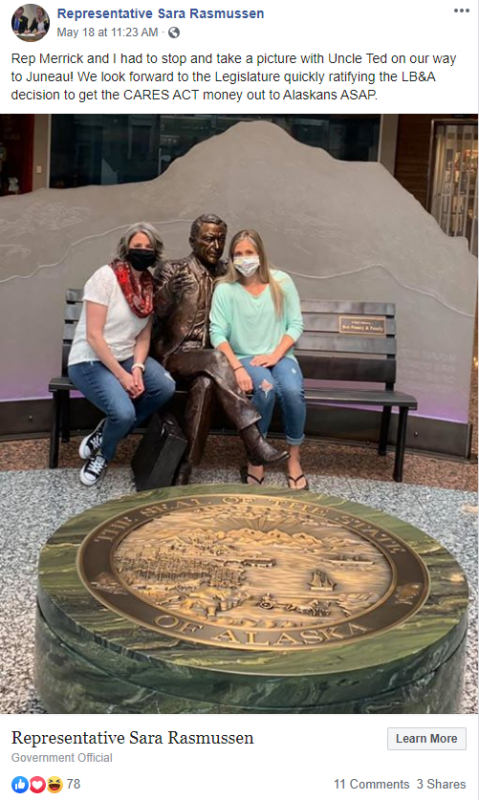 ***
Mask off! But seriously, what are the rules? If you look closely you can see a pretty even split of mask-oners and mask-offers. And two McDonalds-friers. 🍟🍟
***
From what I could gather, if you're on the floor you need a mask. 👍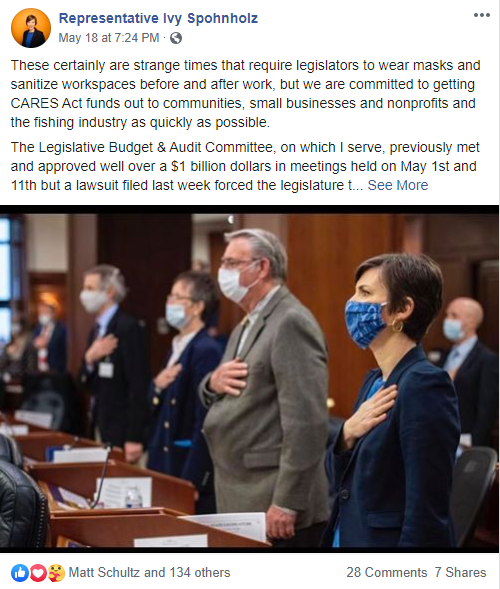 ***
But if you're in committee… 🤷
***
If you're talking to reporters you don't need a mask. 🧐

***
But if you're on a bike ride, please don't forget them! 🤔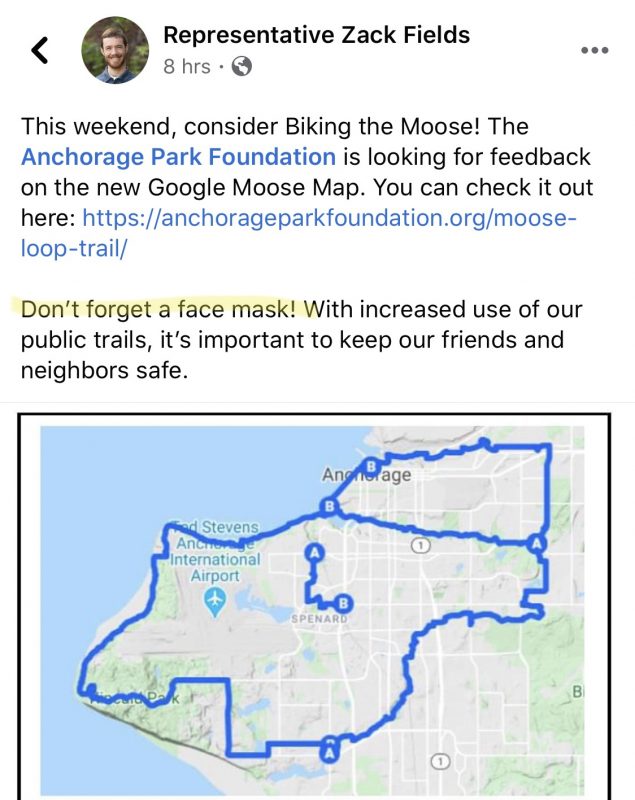 ***
I don't know what's right or wrong, all I know is I'm a bit confused. Good thing they adjourned this week. When Sen. Lora Reinbold starts to have a point (the first sentence at least) it's probably time to pack it up and go home.

***
While I haven't been able to confirm, sources tell the Stalker that Lora is planning on following in the footsteps of Sen. Tom Begich, former Rep. Dan Saddler, Rep. Adam Wool, and the other great musical politicians before her with plans to release her debut single. Here's a sneak peek of the lyrics:
🎵🎶 They put their masks on

They take their masks off

They put their masks on

Then they wave them all about

They do the hoaxy-pokey and they never wash them out

Is this about health or clout?🎶🎵
***
Enough about masks, let's talk about Rep. Steve Thompson! Steve got busted "liking" a far-right meme that was posted on the Fairbanks Alaska Facebook page. He claimed he was hacked! LOL! Steve, it's much more believable to say your finger slipped and you must have accidentally liked it. If you have a phone-stealing toddler around to blame, that's even better.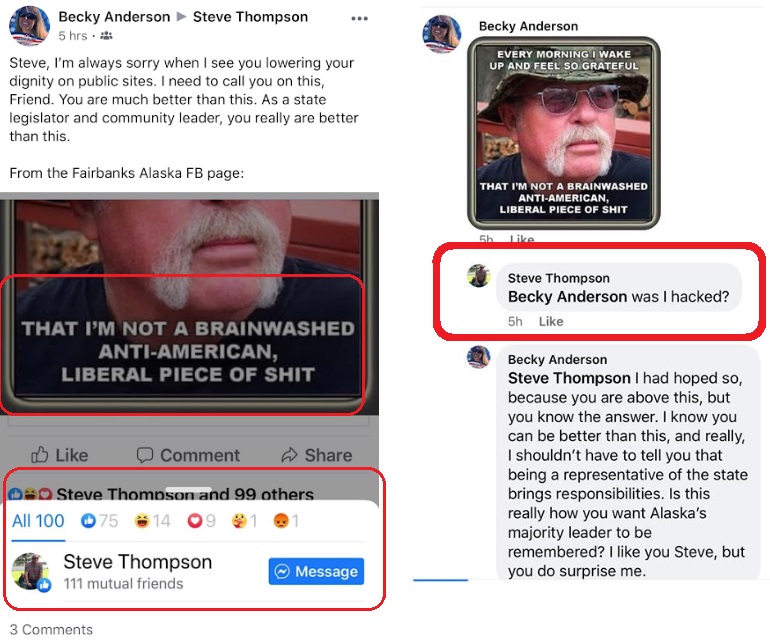 ***
Of course when you're posting stuff like how aspirin, taken hot, cures COVID-19, that excuse might not cut it. 😳 Steve, you okay?

***
Very clever Rep. Hannan.
🐟                                🐟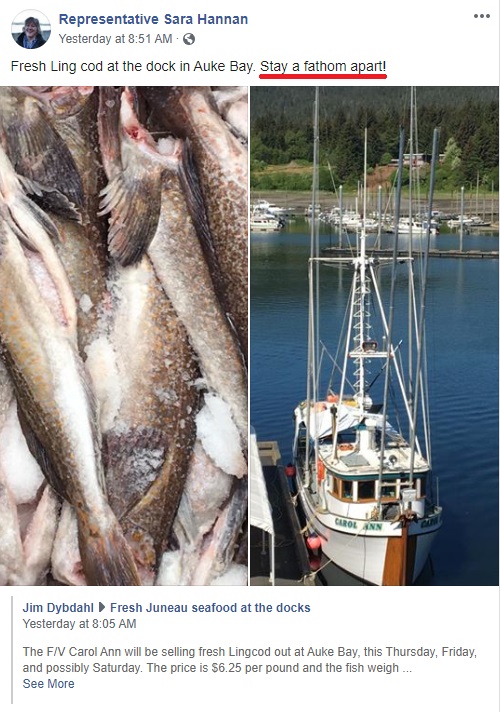 ***
Don't miss this amazing video of the legislative process the circle of life. While we'll never know how it ended, I give the edge to the moose. Can I just say, Rep. Geran Tarr has had the best social media lately. Keep it up, Geran!
***
Sharing is caring! Sen. Shelley Hughes made sure Sen. Peter Micciche was aware of this amoosing video from District O. If you have anything the Stalker should know about, don't forget to share those hot tips to akstalker@alaskalandmine.com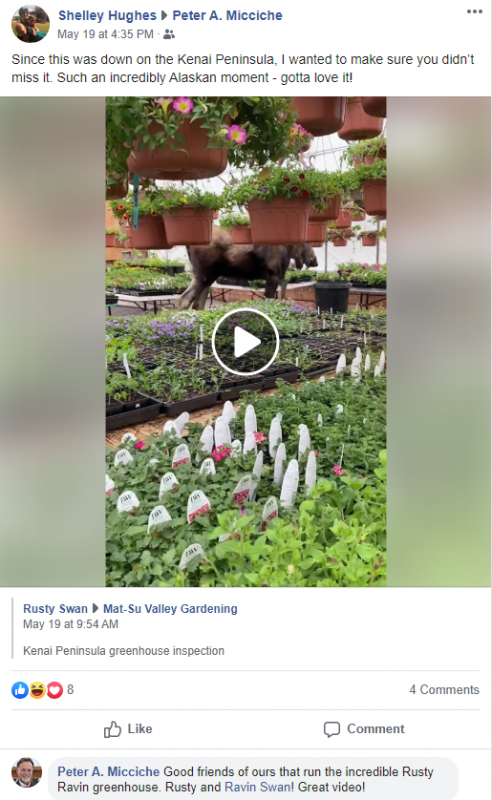 ***
Thanks a lot, Colleen.

***
Rep. Pruitt, do YOU have questions about unemployment? That June 1st deadline is right around the corner…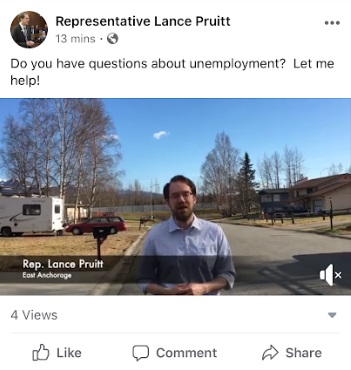 ***
Since he's off Facebook, I imagine Mayor Dan has about 20 extra hours in his day. Dan, if you're looking for something to keep you busy, here's a great opportunity!
***
🚨🚨🚨 BREAKING: The Stalker has discovered the first homemade candidate endorsement mask!!! 🚨🚨🚨
Of course it's former Commissioner Leslie Ridle and a Biden for President mask. So on brand. Happy birthday, Leslie! Glad you got to celebrate with friends, and in style. Please tell me candidate masks are about to become a thing.
***
Campaign season is here and phones are starting to blow up with surveys, event reminders, and campaign texts. I got my first text survey of the season just yesterday. Thank you to the loyal Stalker reader that sent in this gem. Flawless. #relationshipgoals ❤️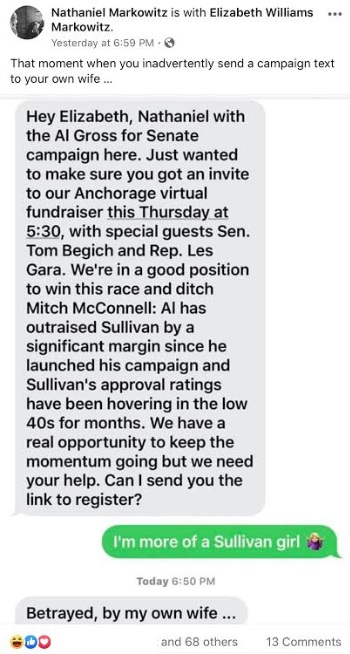 ***
Candidate for House District 22, Stephen Trimble, brought out the big guns and posted a family photo shoot to his campaign page. What a beautiful looking family. *squints* Wait a minute… DO THEY HAVE BARE FEET IN THE MIDDLE OF THE STREET?!!! DURING A PANDEMIC?! Stephen. No. 🦶🤢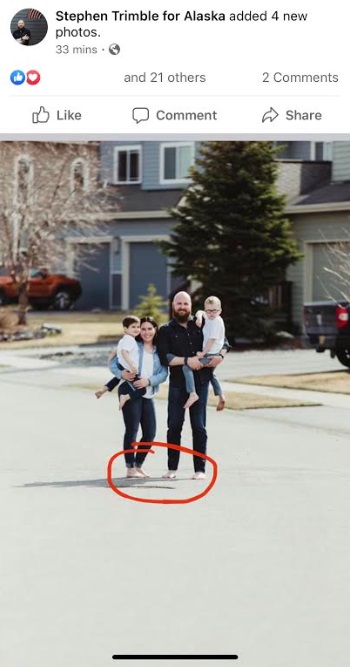 ***
Well-behaved women seldom make history. That goes double for Palmer City Councilwoman Sabrena Combs. 💁‍♀️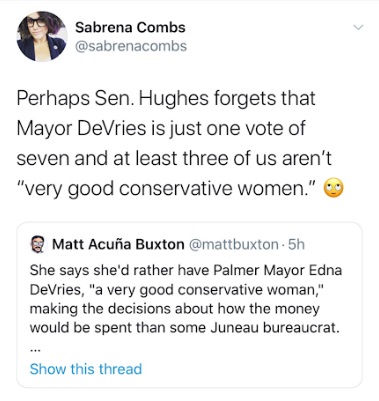 ***
I have been enjoying AJOC editor Andrew Jensen's one-sided Facebook fight with Anchorage Mayor Ethan Berkowitz. Andy, sign up for the drive-in comedy stand-up show at Koots already. This is straight 🔥🔥🔥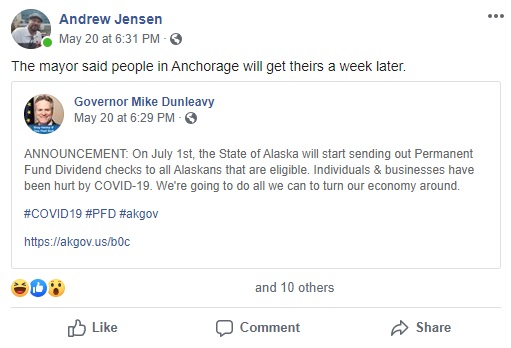 \
***
Who did this? Anchorage Assemblymember Christopher Constant must have made someone very angry. I haven't seen anything this terrible since someone signed up the entire Landmine staff for Alaska Watchman emails. Thoughts and prayers to Chris during this difficult time.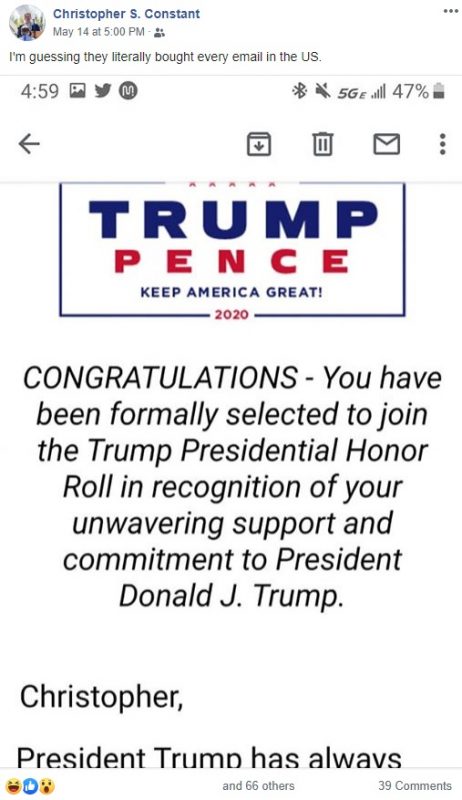 ***
I've only followed Assemblymember Jamie Allard's social media for a few months, and every week is better than the last! I'm going to have to start watching Assembly meetings again, aren't I? 🍿🍿🍿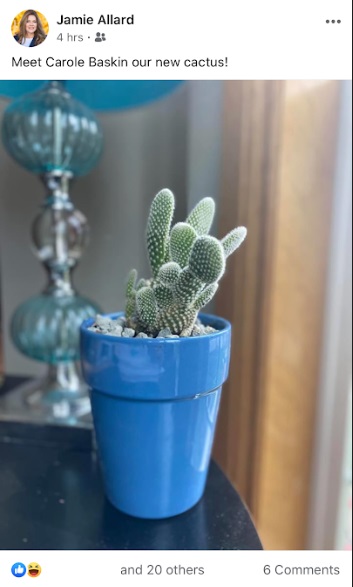 ***
Happy birthday from Alaska to D.C. to 1 of 100, Sen. Lisa Murkowski! Hope you made a birthday wish! 🎂🎈🎉
***
Oh. She's back in Alaska already? I know you're not supposed to tell anyone what you wished for, but it's pretty clear Lisa asked for an exemption to the required two-week travel quarantine. What a gift!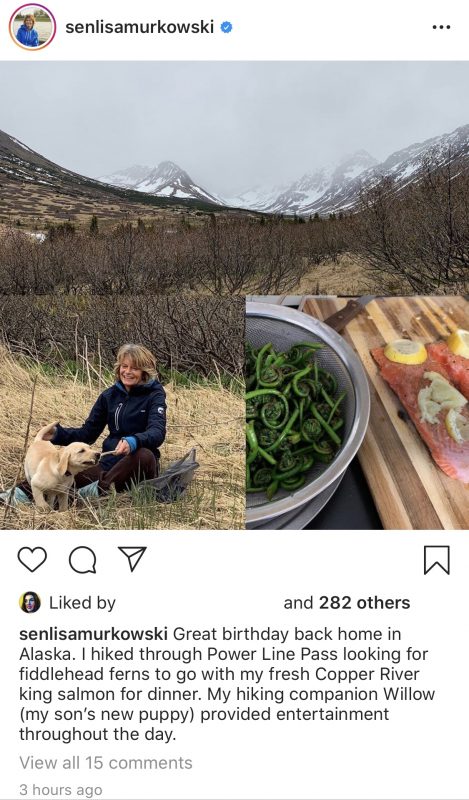 ***
Thank you to everyone who sent in overheards this week. I would say things are picking up, but out of 8 texts/emails 100% of them were about Lora Reinbold. 🤦 We picked the top two.
***
Overheard: You know how Eastman is "NEastman" for all his solo no votes? Reinbold is now known as "Neinbold."
***
Overheard: "So Reinbold is going off the rails and all I want to do is ask her these questions:
-Senator, if you believe the bill is unconstitutional, why would you try to amend it?
-If you believed the bill was unconstitutional, and your amendments had passed, would you vote for it even though you believe it was still unconstitutional? Your amendments would not have changed the basis of your claim of unconstitutionality!"
***
Spotted dropping off informational wellness pamphlets to local business: the Church of Scientology!
***
Spotted on the 1pm flight from Juneau to Anchorage on Thursday: Senators Giessel, Hughes, and Reinbold. Also spotted: John Binkley, Ben Stevens, and Pat Pitney. Giessel in first class along with John Binkley.
***
The Alaska Stalker was born and raised in Alaska. She is slowly emerging from South Anchorage with her husband, daughter, son, and baby on the way. She is not Jeff Landfield.