Welcome to this edition of the Alaska Stalker, a lighthearted round up of the best and worst of Alaska's social media landscape.
***
If you enjoy the Alaska Stalker, please consider supporting working moms like me by sending in hot tips, overheards, and spotted ins. You can reach me at akstalker@alaskalandmine.com. As always, thanks for reading.
***
It's finally May! The days are longer, the air is warmer, and for unlucky folks like me, seasonal allergies are here. 🤧 While the race for Anchorage mayor is winding down, the two upcoming special sessions are sure to create lots of drama for the Alaska Stalker. Don't forget to send in those tips!
***
It's nice to know we can count on Sen. David Wilson. If there's a holiday, (even a fun made up one like May the 4th) he's gonna post a weird meme about it on Facebook.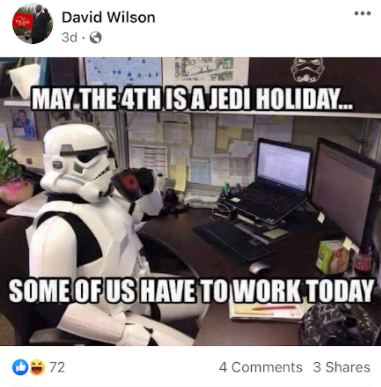 ***
Candidate for U.S. Senate, Kelly "Chewie" Tshibaka, also posted an homage to Star Wars on May the 4th. I consulted the Alaska Landmine's resident Star Wars expert. It appears Kelly is holding the staff of Rey, a "good guy," while her children attack her. I'm not sure the ethics behind making your kids Sith Lords for a photo op 😱😱😱 but hey – orange ya glad to see the family having a good time with politics?!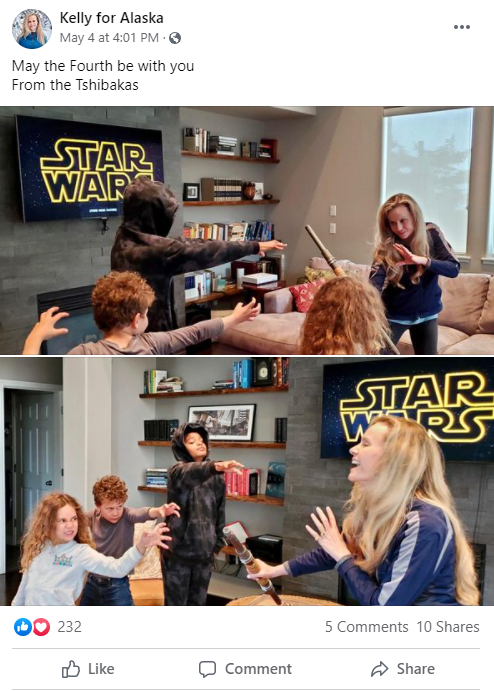 ***
And now for the very best news of all: welcome to the world, Isidora! That birth date is just the coolest; the themed birthday party ideas are endless. Congratulations Rep. Grier Hopkins and Kristina! Parenting is the greatest adventure.💕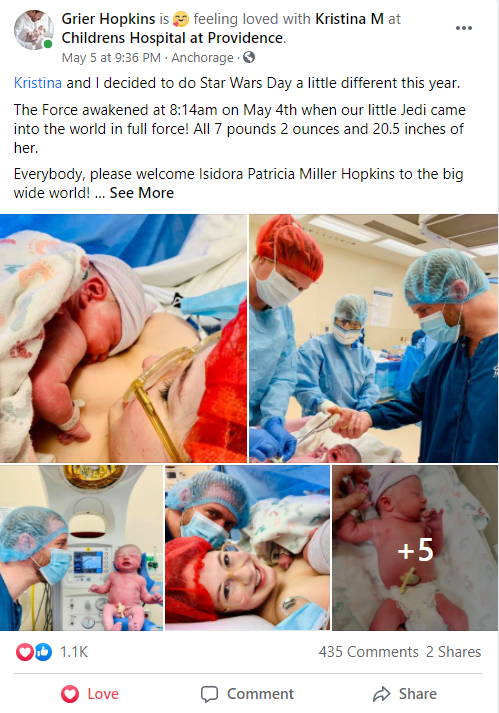 ***
A lot happened in Juneau during the past two weeks. First, the internet went down and people had to read actual BOOKS to pass the time. I have to admit, I felt a pang of jealousy when I saw Sen. Scott Kawasaki's choice of reading. What I wouldn't give to experience the genius of the Dark Tower for the first time! Scott, let me know if you need to borrow the rest of the series.
***
And then there's Rep. Kevin McCabe quoting another Stalker literary fav. You know, progressive political activist Anne Lamott. 🤣🤣🤣 Kevin, I have some of her works, too. Happy to loan you a copy anytime.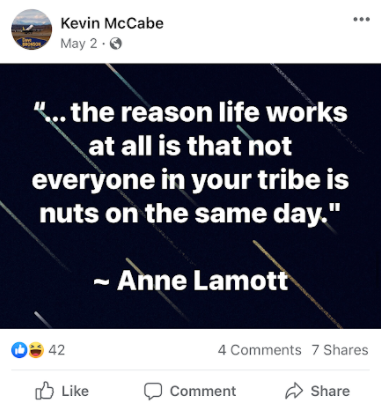 ***
Not sure why Rep. Matt Claman thought it was a good idea to post a video of himself, alone, at a playground. More than one Stalker tipster found it "a little creepy." 😬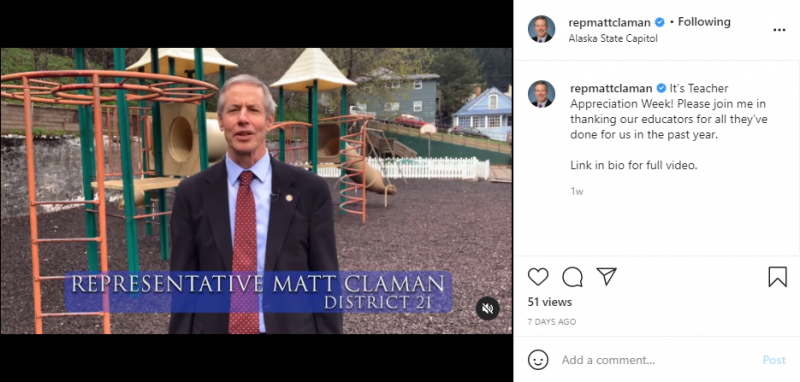 ***
Let's take a moment to pay our respects to Spec Kaufman. Good dog, Spec. Take care, Rep. Kaufman. It's so difficult to lose a furry family member. 🐶🐾🌈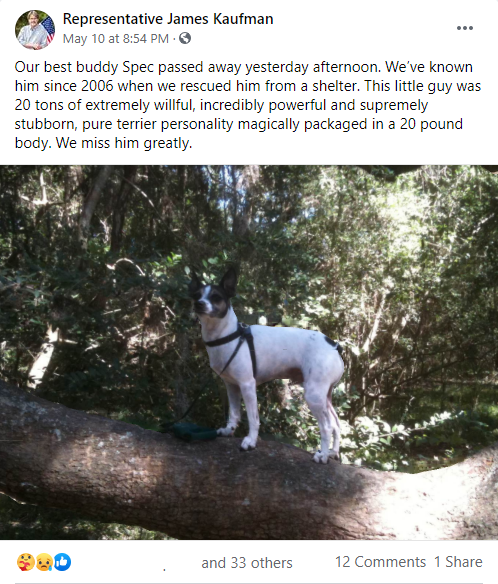 ***
And then the mask mandate was revoked in the Capitol. I swear I heard Sen. Reinbold scream with joy all the way in Anchorage.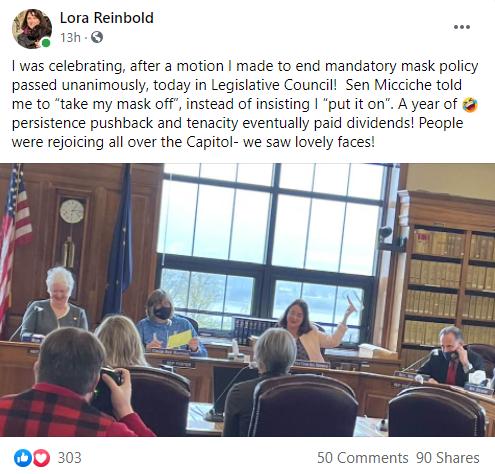 ***
Some most legislators are *VERY EXCITED* the masks are gone. There was even a mask burning event outside the Capitol. Of course Rep. Sara Rasmussen was there. She's never one to miss a party.

***
Not everyone is burning their masks. Looks like Rep. Geran Tarr is staying masked up for the foreseeable future.

***
While some believe legislative staffer Darwin Petersen had the biggest mask reveal, we beg to differ.
The biggest mask reveal today by far was the epic goatee Darwin Petersen is sporting. He looks like he should be teaching a class on eco feminism at Berkeley ???? #akleg pic.twitter.com/FXY4ca57mM

— The Alaska Landmine (@alaskalandmine) May 15, 2021
***
Check out what another legislative staffer, Shareen Crosby, has been hiding this whole time! Looking good, Shareen!

***
Not sure how I feel about Gov. Dunleavy rating his own press conferences. 5/5? Really, Governor? I mean, I watched it. I give it a 3.5/5 max. 🙃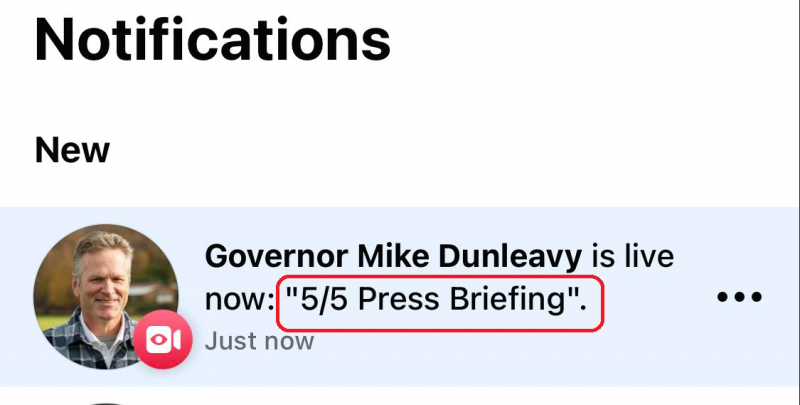 ***
In case you haven't heard the news, Anchorage Assemblymember Forrest Dunbar has low-key conceded the race for Anchorage mayor to Dave Bronson.

***
I guess not even a cutesie tradition and, by my count, at least five $10.00 milkshakes (seriously, a medium milkshake at Lucky Wishbone is now $10.00!!!! 💸💸💸) could save the Dunbar campaign from defeat.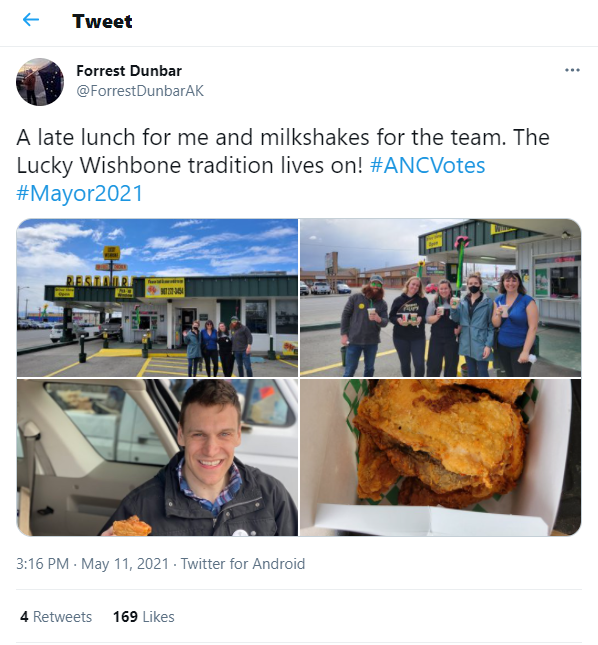 ***
Now might be a good time for our bi-annual reminder that Twitter isn't real life. This is (probably) Anchorage's next mayor. 38 Twitter followers and his last tweet was, "Mayor Ethan Berkowitz has resigned." Amazing, isn't it?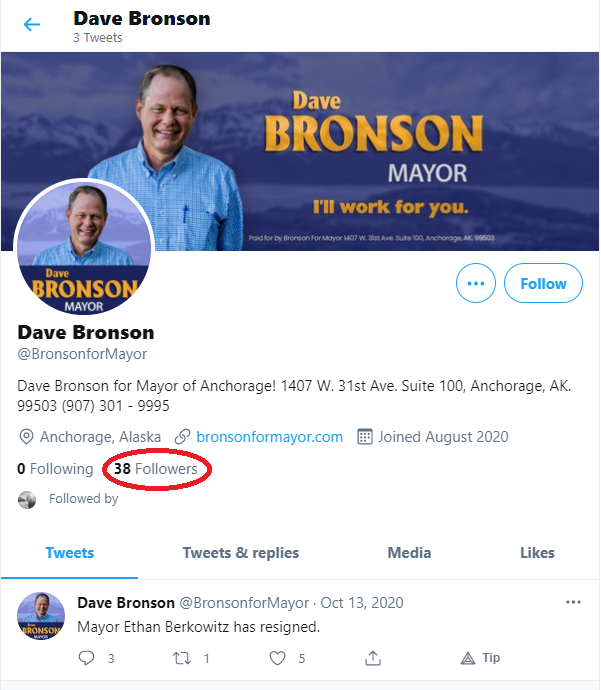 ***
Now that the race for mayor is over and Anchorage's mask mandate has been lifted, we can all go back to arguing over important things. Like Anchorage's PLASTIC BAG BAN!!!!!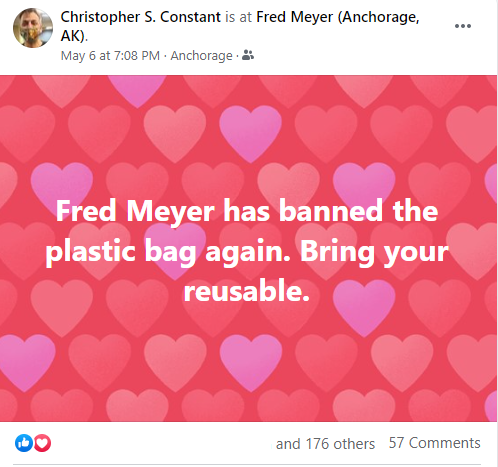 ***
I mean, has anyone even seen Assemblymember John Weddleton and Spiderman at the same time? 🤔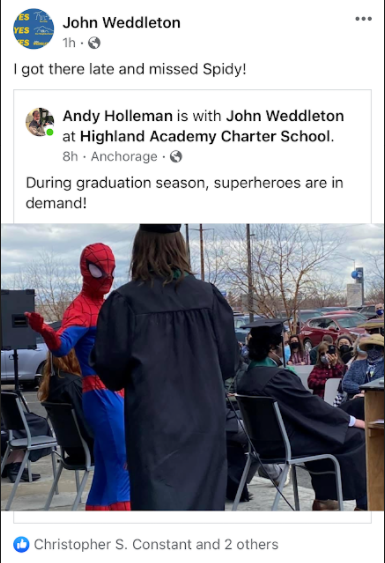 ***
For some, this week has been one of the best in over a year. Others are having trouble with several big changes. That's politics, ya'll. Either way, let's end it on a fun note. If you missed Sen. Shelley Hughes' face melting off on her recent Facebook Live, here ya go. You're welcome. 😳😂😂
***
***
Overheard in the Capitol during Kristie Babcock's confirmation: "This is like a Babcock family roast!"
***
Overheard on the Senate floor after the masks came off: "Sen. Shower said, "Who are all these people?" To which Rep. Hannan replied, "Some of you need to shave." To which Sen. Bishop responded, "Some of you need lipstick." Lots of laughter on that. Have these people learned nothing from #sweatpantsgate?!
***
Okay, fine. If we're allowed to make fun of how people look again, check this out. Sent via Stalkermail: Josh is keeping it TIGHT.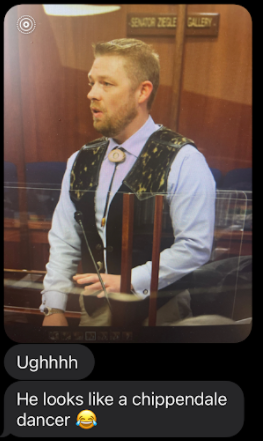 ***
Overheard on the Kenai:
Bro 1: "Bros watching Gavel today are getting worn out saying NIIIICE every time they vote to amend HB69."
Bro 2: "Oh I know. How about the upcoming amendment 69 to house bill 69 "
***
Overheard in Anchorage: "I cannot believe I feel bad for Forrest fu#&iing Dunbar."
***
Overheard in Anchorage: "I get the giggles every time I think about Forrest losing. But then I remember who won."
***
Spotted at Pel'Menis: Sen. Donny Olson and his wife Willow picking up a little din din.
***
Spotted: Twitter activist Will Muldoon getting kicked out of the Narrows for trying to fight Rep. Neal Foster because he was upset at the lack of bills Neal had passed.
***
The Alaska Stalker was born and raised in Alaska. She lives bear free in South Anchorage with her husband and three kids four and under. She is not Jeff Landfield.