Welcome to this edition of the Alaska Stalker, a lighthearted round up of the best and worst of Alaska's social media landscape.
***
If you enjoy the Alaska Stalker, please consider supporting working moms like me by sending in hot tips, overheards, and spotted ins. You can reach me at akstalker@alaskalandmine.com. As always, thanks for reading.
***
While there's been a flurry of activity surrounding international news, it's been fairly slow in the world of local politics. No one's really stepped in it. Campaigns are playing nice for now. I guess you could say things in Juneau are heating up… But they certainly don't look very appetizing. 😳🤢 Don't forget to eat your vegetables, Rep. Rasmussen!

***
Perhaps Sen. Myers can give Sara some home hotel cooking tips.

***
I wish I could eat fried chicken, rolls, mac and cheese and whatever that pink stuff is and still look like this. Sara, that dress is 🔥🔥🔥.

***
It takes a special type of person to out-Don-Young Congressman Don Young. Congrats, Sen. Revak. On the outfit and the award.

***
Can you guess the Independent lawmakers by just the tops of their heads? Hint: Democrat Rep. Andy Josephson is on the far left. Scroll to the end for the answer. 👨‍🦲👨‍🦲👨‍🦲👨‍🦲

***
Too soon, Laddie. Too soon! 😱 Get well soon, JKT.

***
Speaking of flying, I'm sure Sen. Kawasaki loved Rep. Wool's mansplain helpful advice on Scott's preferred method of declining his Alaska Airlines upgrades. I'm team Scott.

***
Did anyone else catch Sen. Roger Holland's Facebook Live this weekend? Stalker gold! It begins with him apologizing for technical difficulties, then transitions right into a backwards cell phone number. He even printed it out on scrap paper! Roger then talked about how he didn't get his first dividend and how he learned about the senior property tax exemption. Sounds like just the kind of guy we want in charge!

***
What in tarnation… James, you okay bro?

***
A warm Stalker thank you to whoever found this gem. Frank is a legend. I would like to also extend my respect to Rep. Chris Tuck's mother.

***

New profile pic, who dis? Seriously, who is this? Kinda blurry…

***
Now THIS is how you do a profile picture update. Yes, it's real!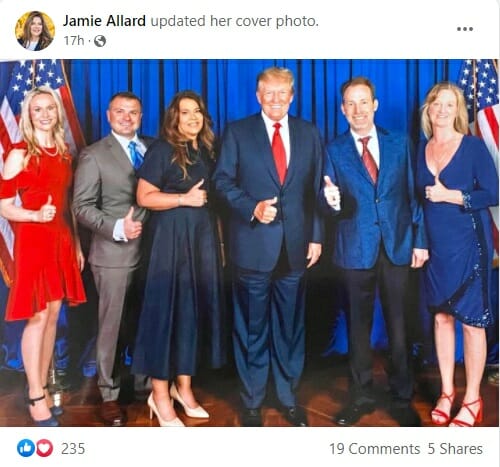 ***
If you ever wanted to see Anchorage mayor Dave Bronson and Assembly member Forrest Dunbar hang out together in their socks, with Assembly member Chris Constant dangling from the equipment while pumping his fist (also in socks) then I have the video for you. As a mom of young children, I am beyond excited to see another indoor play option in town.

***
One of my favorite vandalized signs in Anchorage. <3
***
***
Of course this happened to Forrest Dunbar during election season. #hero

***
OMG! John's been having a rough one.
    
***
Oh look, it appears Assembly member Meg found some time to relax from the campaign trail and, dare I say, actually enjoy something. Good for you, Meg! #trailgate

***
Sen. Lisa Murkowski was also able to carve out some time to enjoy the snow sculptures, outhouses races, and other sights of Fur Rondy. Wait a gosh darn minute… IS THAT HER POSING WITH DUSTIN DARDEN?!!!! I am ☠️. Remember folks, Dustin's literally running against her. Does he have his arm around her? Please tell me they didn't know who he was. Someone's gonna be in trouble……

***
I'm disappointed the Ries social media team didn't go with "we couldn't be more amoosed." Come on!
 
***
If I were Sharon I would have ditched the $2.22 ask and focused on $222.22. Hell, with the new APOC rules, now she can go for $22,222!!!

***
How did I just find out about this? I am transfixed. My birthday is next week. Just saying… 🤣

***
With the way the Alaska Legislature has been channeling Sarah Palin, we might have to order matching Drill, Baby, Drill jackets for the House majority.

***
Overheard in South Anchorage: You know how Assembly member Weddleton always starts campaigning on Courage Cir? Maybe his opponent Randy Sulte should finish up his campaign on Victor Rd.
***
Sent to the Stalker "Vandalism is never okay, but whoever thought up the whole Kelly e-Lessens concept is a genius."

***
Sent to the Stalker: We try to keep the low-blows even around here.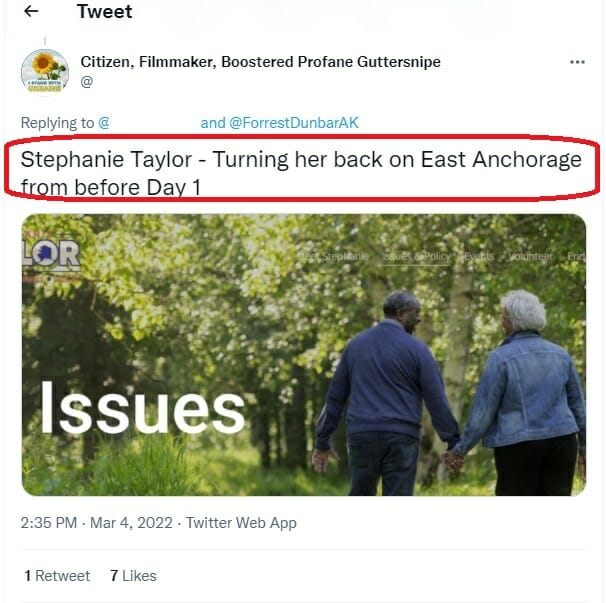 ***
Overheard in the Capitol: "Did you see in House Finance that Corrections noted a case of gonorrhea that cost like $33,700 to treat? Pretty sure I'm not the only one in the room that thought "yeah, that 100% belongs in the Stalker."
***
Overheard in Anchorage: "So don't tell anyone but I kind of want Tuckerman to win just for my shear amusement."
***
Spotted on an early morning flight to Juneau last week: "Bernadette Wilson in bright red stilettos. Full hair and makeup, which I expect from her. But for a 7:45 a.m. flight? Wowza! Rep. Harriet Drummond was on board, too."
***
Overheard in Anchorage: "Is Amanda Price going to come back to run Edie's campaign?"
***
Spotted at the Hilcorp Iditarod VIP event at 49th State Brewing: A who's who of oil and gas, business leaders, Commissioners Brune and Sande, Reps Tuck, Shaw, Nelson, former Rep. Gillis, and last but not least Sen. Lisa Murkowski!
***
Spotted at Carrs Huffman: no comment.


***
Spotted at the Capitol: The Odyssey Odyssey – a Honda Odyssey painted with the story of Homer's Odyssey. Much easier on the eyes.

***
And now for the answer to "guess the legislators"

***
The Alaska Stalker was born and raised in Alaska. She lives in South Anchorage with her husband and three kids five and under. She is not Jeff Landfield.