Welcome to this edition of the Alaska Stalker, a lighthearted round up of the best and worst of Alaska's social media landscape.
***
If you enjoy the Alaska Stalker, please consider supporting working moms like me by sending in hot tips, overheards, and spotted ins. You can reach me at akstalker@alaskalandmine.com. As always, thanks for reading.
***
Tie-riffic! California born Sen. Forrest Dunbar has finally run out of sophomoric neckwear content! 🎉
This will be my last tie content for a bit, I promise. Ordered this a few weeks ago, and it just arrived. But do yourself a favor and listen to this song, if nothing else. First person to name it gets 500 points. pic.twitter.com/9aRR1Mm4NE

— Forrest Dunbar (@ForrestDunbarAK) March 3, 2023
***
This is how it's done. Nerdy, yet statesmanly. Rep. Josephson knows how to adult.

***
WHAT IN TARNATION?! This is like Starship Troopers meets Agatha Trunchbull vibes. I kinda like it.

***
My tipster is correct: I love that Rep. Galvin keeps a secret yellow blazer (and matching earrings) in her office, ready at any moment for a quick change before a big meeting. Girl is always on brand when the cameras are rolling. 💛💅

***
While I'm thrilled Sen. Hughes removed the underscores from Telling_it_Like_it_is (only took her four plus years!) is it really a Telling_it_Like_it_is Facebook Live without Buddy? 😥

***
Rep. Genevieve Mina in in Anchorage this weekend and providing us with A+++ legislative content right here. Neighborhood moose, donation drops, her and Sen. Dunbar skating in shoes while singing "Get on Your Feet" (seriously, watch it) and even a snuggle break with Rocky.
***
We talk a lot about politicians in this column, but not enough about the unsung heroes: political spouses. Sen. Donny Olson's wife, Willow, has a popular Twitter account. I've followed her for years. Her coverage of last fall's storm in Western Alaska was heartbreaking and informative. Her posts are popular and get dozens of likes and comments. Not this one. Wonder why? 🤔🙃

***
Anyone that can make a woman fall in love with him via a PowerPoint is a legend. Ben Kellie, husband of Jennie Armstrong, is funny, too. Apparently Jennie has been stepping out on Ben Kellie with Ben Armstrong, and it may come to fisticuffs. 🤣

***
I have to give a shout out to this former leggie spouse. Elstun ran a highly competitive and at times negative campaign for his wife, former Rep. Harriet Drummond, against Rep. Zack Fields. It takes a very special person to attack an opponent tirelessly on social media for months, lose, only to shower them with compliments and publicly wonder why Zack isn't responding to messages. Never change, Elstun.

***
What happens when your partner gets sucked into Alaska Twitter and things get nasty? What's said on the internet can have real world implications when it comes to relationships with colleagues and constituents. Rep. Calvin Shrage's wife, Heather Schrage, was heavily scrutinized this week when she tweeted — then quickly deleted — this jab at Rep. Laddie Shaw.

***
My apologies for the poor quality screen shot. Luckily, several people sent me different versions.

***
At first I thought, did I miss something big on Gavel? Did Laddie and Calvin have a disagreement and Heather took to Twitter to vent? But then I realized it was a pattern. Just the other day Heather called Rep. Allard a bitch.

***
Don't worry: the hatred towards conservatives isn't limited towards her husband's colleagues. It includes former legislators, too!

***
Add Kelly Tshibaka to her list. Yes, Heather Schrage actually wrote that Kelly Tshibaka brought a sex toy in the form of an inflatable life-size doll George Washington with her to Ketchikan.

***
Don't forget Bell's Nursery. If you didn't know, they sometimes hold campaign events for conservative candidates after business hours. Heather won't be shopping there anymore.

***
Constituents in District 12 have a right to know their representative's wife seems to hate conservatives, enjoys disparaging them, and actively does not shop at their businesses. Heather's twitter account is now protected. I can only assume her behavior will continue – it will just be in secret from now on. It also calls into question Calvin's independent credentials and harms other independent officials and candidates.

***
Voters, particularly in conservative districts, keep seeing independent, non-partisan and undeclared candidates popping up. Some, like your Jason Grenn variety, seem actually moderate. But many, like Alyse Galvin and Jennifer Sonne are very progressive and perceived as hiding behind an independent façade to win votes in conservative leaning races. People are already asking me if Anchorage Assembly candidate Zac Johnson is a real independent or just another liberal in disguise. After seeing the Schrage family's big reveal, I don't know what to tell folks. Are they all fake?!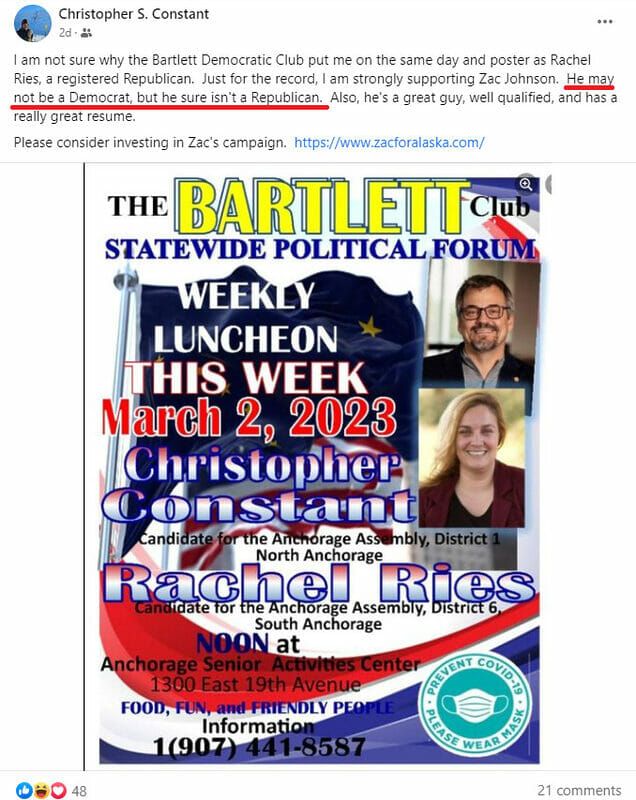 ***
Over in West Anchorage, there's none of this independent nonsense. The West Anchorage Assembly race is a clear battle between two basic ideologies: cats (Brawley) vs. dogs (Flynn). Glad I don't live over there. I don't know how I'd pick – just look at those faces!!! 🐾😻🐶

***
In Midtown, Felix is leaning on air. Hey Barry – can you photoshop something clever in here real quick for me? 😉

***
Looks like Felix's competition, Travis Szanto, is hitting him in his weak spot – the door-to-door game. Haven't seen any picks of Felix out yet. How serendipitous that Travis is campaigning on Travis Lane.

***
I am a big fan of the tried but true candidate door-to-door footwear post. George, how are those soles holding up?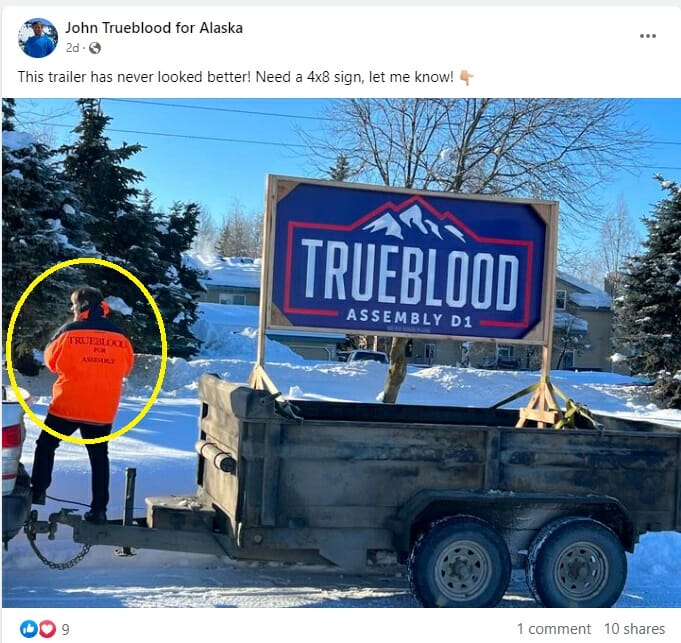 ***
Inject this type of homegrown candidate into my veins. I'm glad California born Forrest Dunbar's seat will finally be replaced with an East Anchorage lifer. It's about time!

***
Wow! I didn't know Paxson Woelber was Assembly member Dan Volland's father?! Anchorage is such a small town. 😂
 
***
Spotted on Twitter: Former candidate Kelly Tshibaka debuting a completely new look. I almost didn't recognize her!

***
Spotted rocking out at a Bruce Springsteen concert in Seattle:
Mark Begich!

***
Overheard in the Capitol:
A legislator asking for a step stool because the urinals are too tall in the first floor legislative potty.
Actual debate over what height the step stool should be. "6-8 inches," one staffer said.
Another staffer went into the bathroom to investigate and said the floor was "notably sticky and wet." Undoubtedly the event that prompted the need for a step stool in the first place.
Don't believe me? I have the best tipsters.

***
Spotted in Juneau: Rep. Stapp obsessed with his Karaoke score from last week's Stalker. He want back to the Alaskan and upped his solid 7 to a respectable 8.2 based on the consensus of several people. Stapp's staffer went next and hit a 9.3, bringing the house down. But it wasn't enough to top the Karaoke Queen herself, Rep. Genevieve Mina with a 9.5!!!
***
Overheard: A certain Democratic senator complaining about the legislative moose pins being "gendered." It was then pointed out that the forget-me-not pins are technically transgendered. So, cancel those too. And the Big Dipper should also be removed because that's a euphemism for someone having…. urinal proximity issues.
***
Spotted in Resources: Sen. Claman is trying! He only fell asleep three times this week.
***
Spotted at minute 1:25 in Senate Resources on Wednesday: Sen. Kaufman trying to speak for the first time in committee. His voice failed to function. He started squeaking and coughing – making a huge scene. A staff leaned over and said, "I guess the Cough Man lives up to his name."
***
Spotted yelling at each other in the hall: Reps. Rauscher and McCabe. I hope neither of their wives take to Twitter to call the other one a douche!
***
Overheard in Downtown: "Mary talks like Joe Manchin, but votes like Bernie Sanders."
***
The Alaska Stalker was born and raised in Alaska. She lives in South Anchorage with her husband and three young children. She is not Jeff Landfield.