Welcome to this edition of the Alaska Stalker, a lighthearted round up of the best and worst of Alaska's social media landscape.
***
If you enjoy the Alaska Stalker, please consider supporting working moms like me by sending in hot tips, overheards, and spotted ins. You can reach me at akstalker@alaskalandmine.com. As always, thanks for reading.
***
St. Patrick's Day was earlier this week and several of our favorite politicos got into the St. Paddy's Day spirit. I have to give it to Rep. Laddie Shaw for rocking the orange tie for the occasion. I sincerely hope no one tried to pinch him. ☘️👊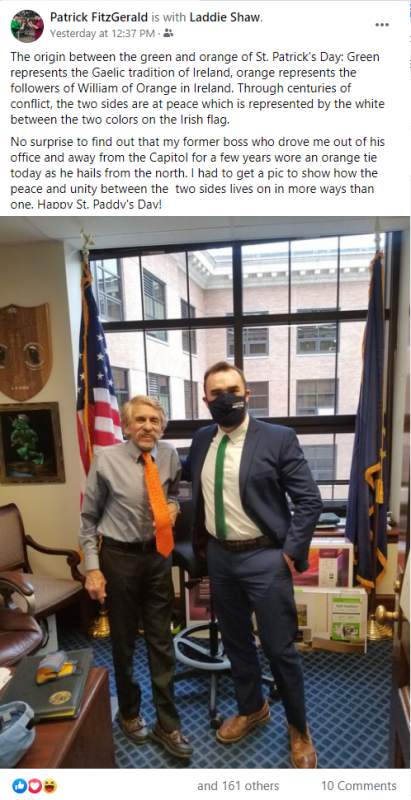 ***
Former Gov. Bill Walker elected to wear the more traditional green and partook in my second favorite St. Patrick's Day activity – eating cookies.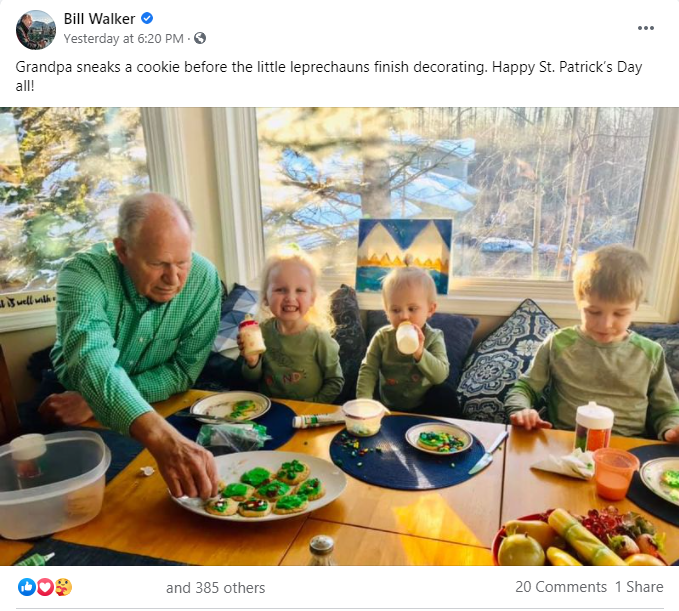 ***
Over in Sen. Natasha von Imhof's office, they all got matching shirts. OMG do you think she sent one to Bryan Schroder?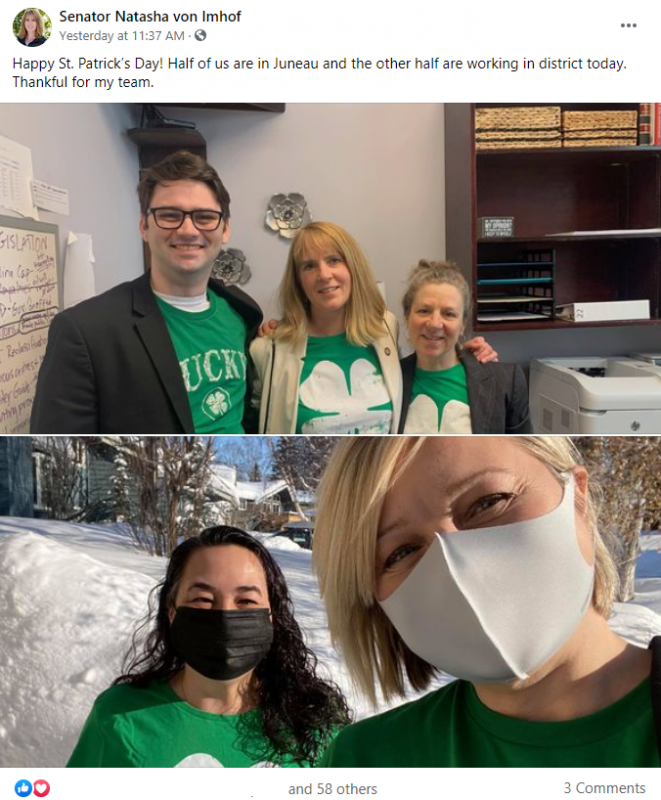 ***
Sen. von Imhof has been very busy lately. YASSSS!!!

***
Spotted lurking in the Capitol Building: a living legend. I mean, besides James Brooks, who wears something like that, including a full fake beard, TO WORK?!?! 🍀🔥💅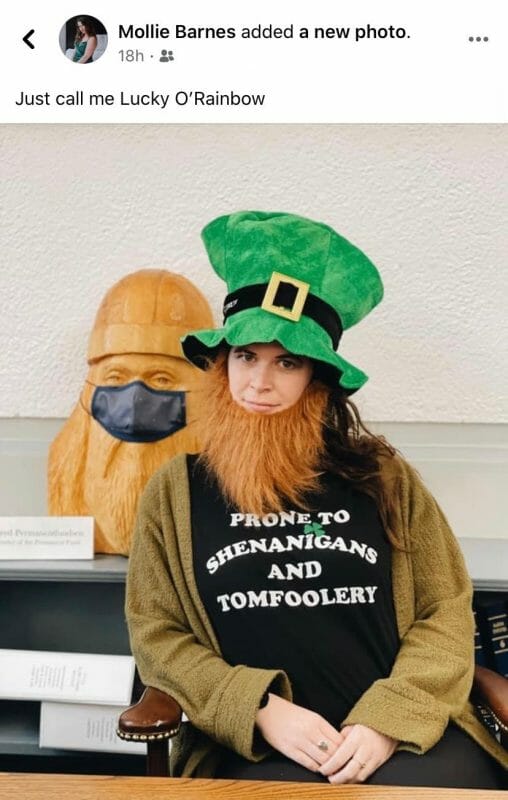 ***
As always James, you do great work. 💚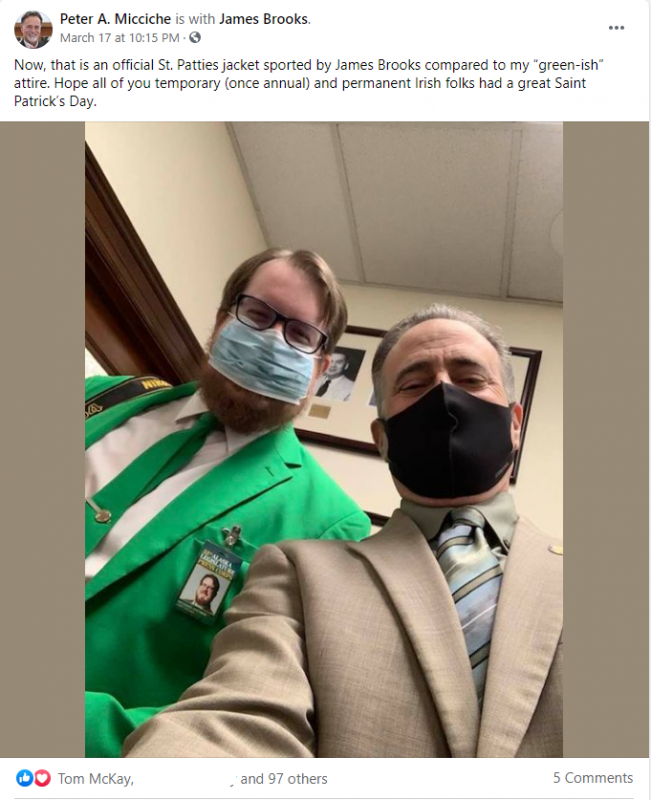 ***
I wouldn't have pegged Jason for a greenie, but I suppose it's only fitting that our Commissioner of Environmental Conservation has an obsession with precious metals. 💰✨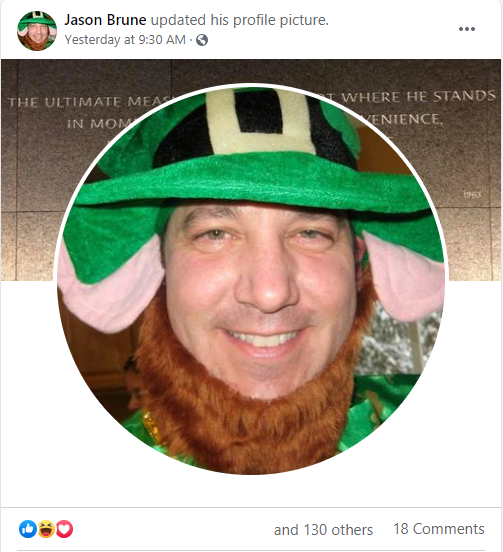 ***
Anchorage School Board candidates also had some fun with the holiday. First we had Dora "change my sign colors for one day" Wilson. BOLD!

***
And then there was Pat Higgins. What in tarnation?!!!
***
While I'm partial to Bob Pennies, Hickel's Nickels is heads above the rest.

***
As you may recall, Sen. Lora Reinbold made a big to do about receiving several bouquets of flowers from "Patriots across the state." Just look at all those! Not gonna lie, I'm a little peanut butter and jealous. If any patriots would like to send me flowers, please reach out to Jeff for my address. FWIW, I never wear a mask when I'm writing my column. 😱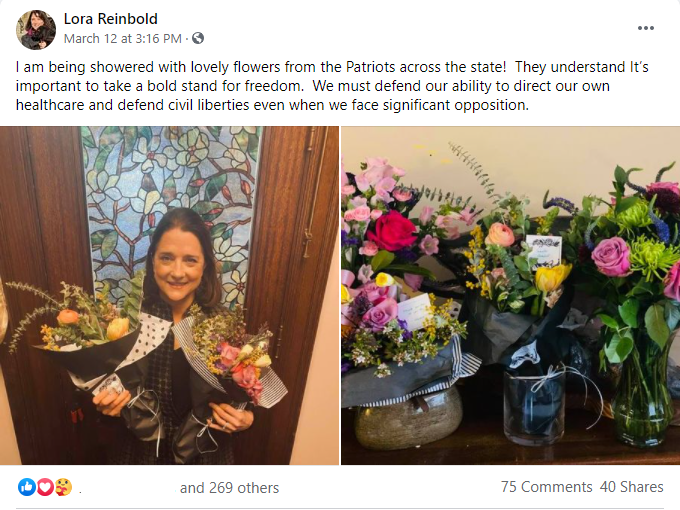 ***
Unlike Amory, Lora getting flowers is pretty low on my list of things to complain about regarding Sen. Reinbold.  ¯\_(ツ)_/¯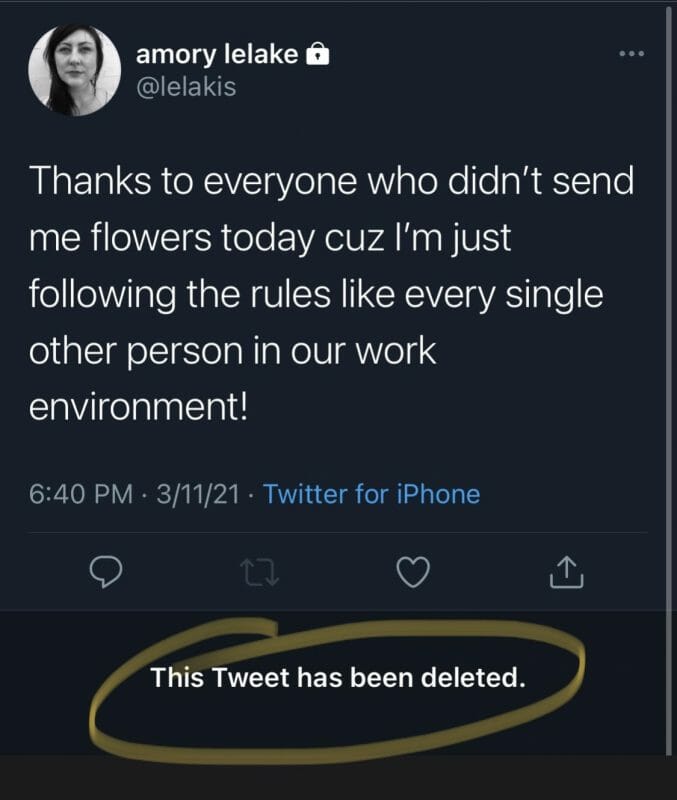 ***
Rep. Sara Hanna's Twitter feed is morphing into a half-husband-venting/half-husband-appreciation account and I am here for it!
***
I might need to make an official Stalker poll – whose husband killed it more: Rep. Hannan's with the perfectly prepared king salmon or Rep. Dr. Liz Snyder's husband with the weekly office doughnut delivery?
🐟 vs. 🍩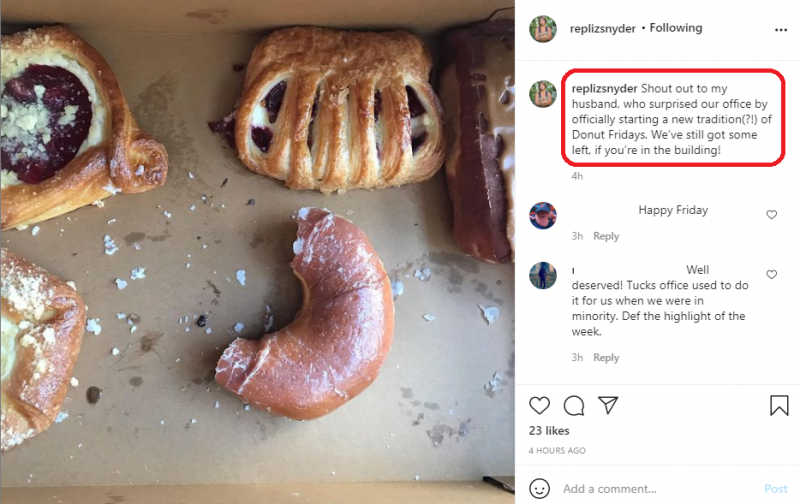 ***
Glad to see Rep. Mike Cronk is getting his taste back! Mike, a Stalker has to know, how long do you cook your moose for in the instant pot? Quick release or manual? Any secret Cronk spices?

***
Yikes! Is Rep. Tom McKay pulling a Bob Lynn/Max Gruenberg in his committee meetings? 😴 Tom. It's your first year in office. You might want to give it at least a decade before you start taking naps like the greats.
***
While most Anchorage Assemblymembers have been silent about it on social media, Assemblymember Chris Constant continues to loudly speak out against the recall effort of Assembly chair Felix Rivera. Here's his latest. 🙃😉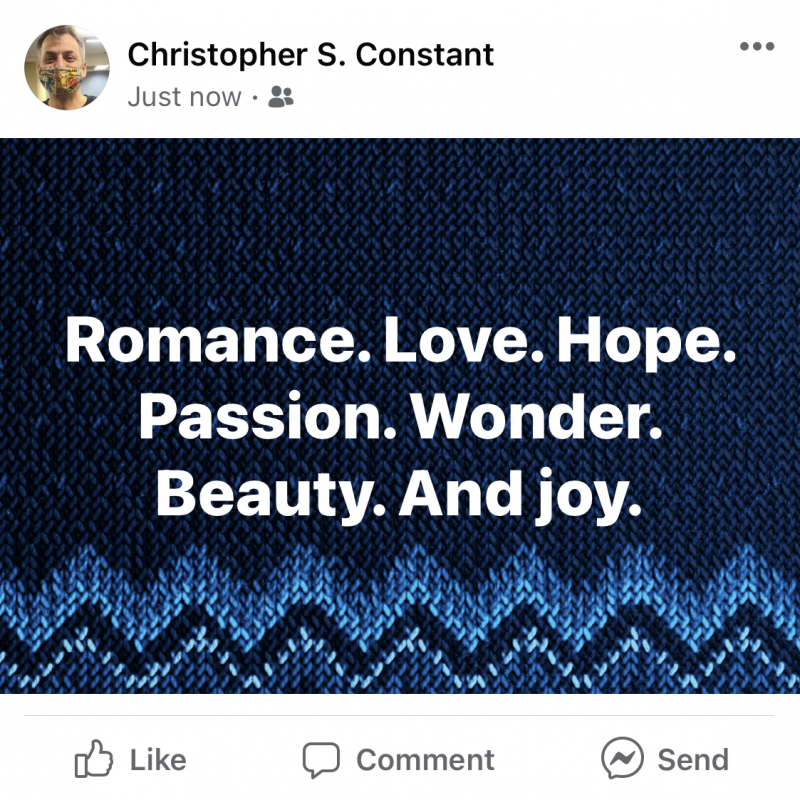 ***
North Carolina is nice and all. But, if you're conducting official Anchorage business from four times zones away, everyone knows the Marshall Islands is where it's at.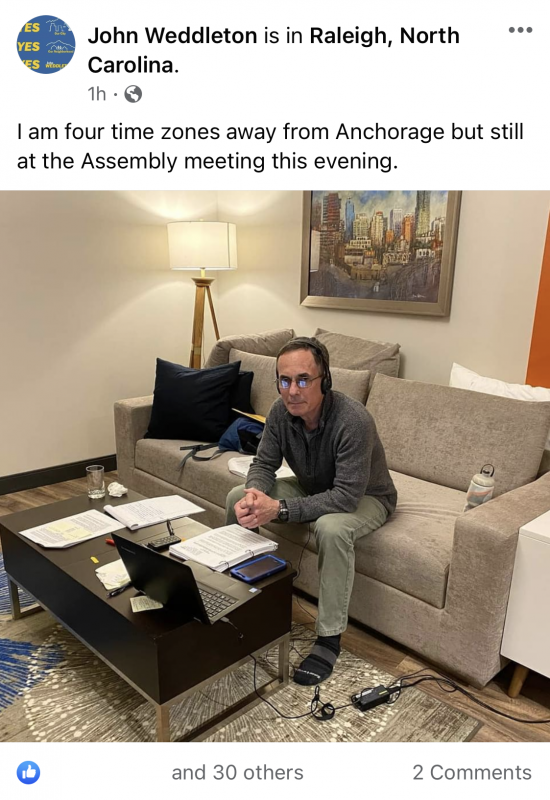 ***
Speaking of Pat Higgins, the St. Paddy's Day mystery is solved! The creature wearing a fancy leprechaun hat is a ferret named Farrah. Also, how vindicated must Pat feel right now? Calling in to meetings isn't just the norm, it's ENCOURAGED. 😎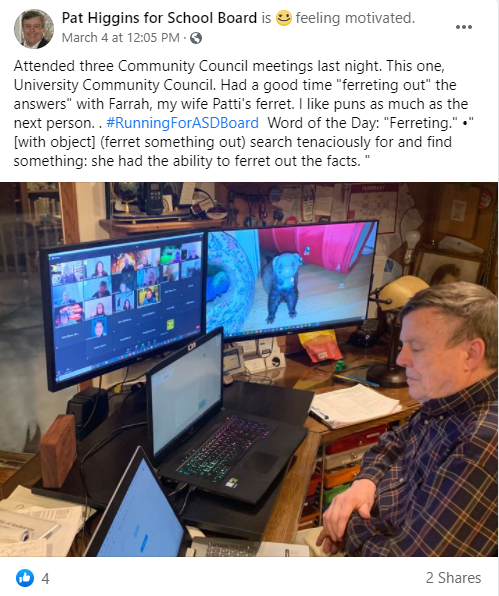 ***
Are things back to normal out there? I don't get out enough to even know if bus signs are a good investment this political cycle. I mean, some would argue they were never a good investment.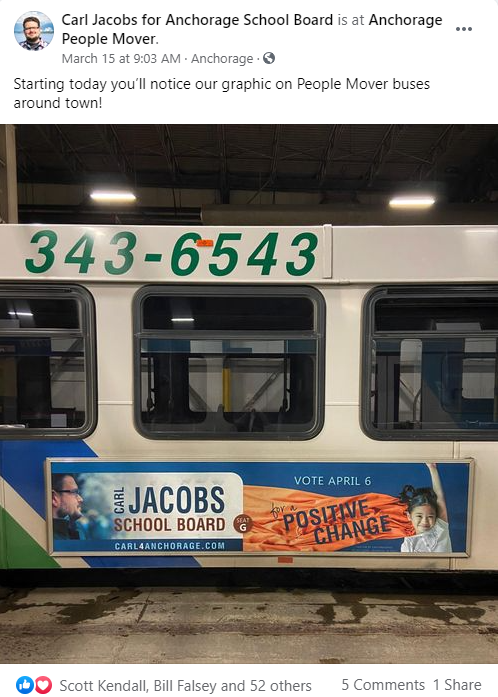 ***
Ya'll know I love a school board candidate with a good schoolhouse reference. Leave it to Judy Eledge to go a little beyond my comfort level with a *refreshes page to make sure this is real* corporal punishment themed fundraiser. 😳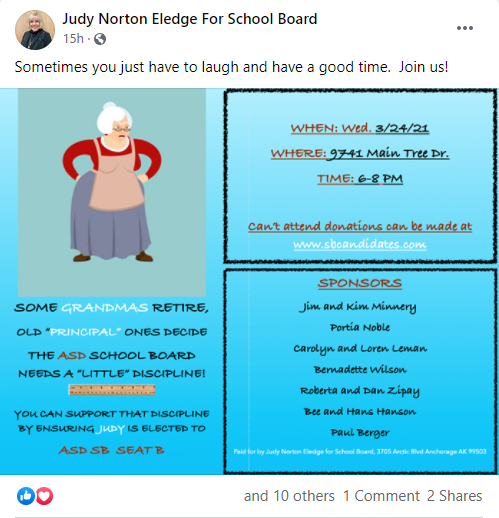 ***
While he can't actually do anything about it policywise, as a mom of three little ones, Daylight Savings time is pretty much my CORE political issue. This tweet has done more to sway my vote than any walk-and-talk Facebook video or lit drop. Yes, Forrest, yes! End it now!
Happy Pi Day! End Daylight Savings.

— Forrest Dunbar (@ForrestDunbarAK) March 14, 2021
***
Okay, I might have spoken too soon. PUPPYYYYY! 😍😍😍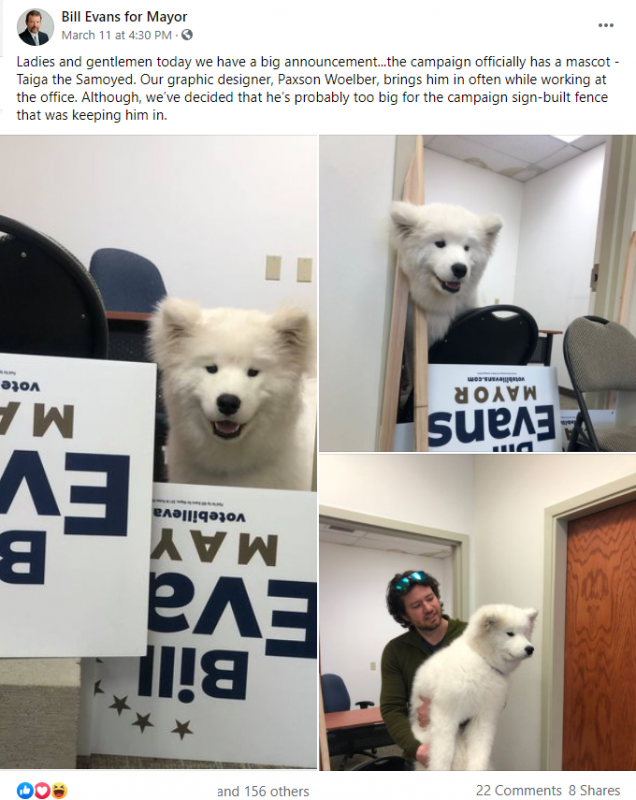 ***
Ya think?!! 🤡🤡🤡 The legislative lounge should start using these ASAP. (I kid, I kid!)
       
***
Overheard at an Anchorage toddler play date: "I just can't relate to Dunbar compared to the other candidates. He's never been married, doesn't have any kids. He can't even tie his shoes for an interview photo. Do we even know if his cat is still alive?"
Photo for reference: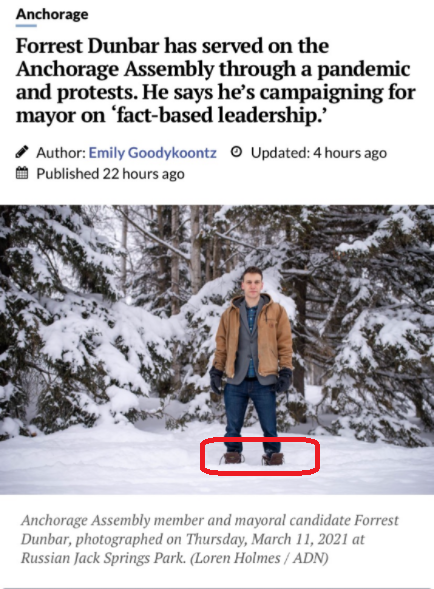 ***
Overheard in Juneau: "Is that Kaufman on the Senate floor? Oh no, it's just that page with the mullet."
***
Overheard in Anchorage: "Did you see that Rep. Patkotak's financial disclosures listed he had crypto? I wonder what coins he has?"
"I just hope anyone making decisions on how to run our government doesn't own any Dogecoin."
***
Overheard in Juneau: "All the people I used to hate in the legislature I really miss."
***
Spotted on an Alaska Airlines flight Anchorage to Juneau: Lt. Gov. Kevin Meyer. FIRST CLASS! According to our tipster it was all they could do not to AirDrop him a selfie.

***
The Alaska Stalker was born and raised in Alaska. She lives bear free in South Anchorage with her husband, daughter, son, newborn, and Covid-19 antibodies. She is not Jeff Landfield.