Welcome to this week's edition of the Alaska Stalker, a lighthearted roundup of the best and worst of Alaska's social media landscape and political gossip.
If you enjoy the Alaska Stalker, please consider supporting working moms like me by sending in hot tips, overheards, and spotted ins. You can reach me at [email protected] As always, thanks for reading.
---
If you live in Anchorage this is probably what your news feed has looked like for the past 24 hours…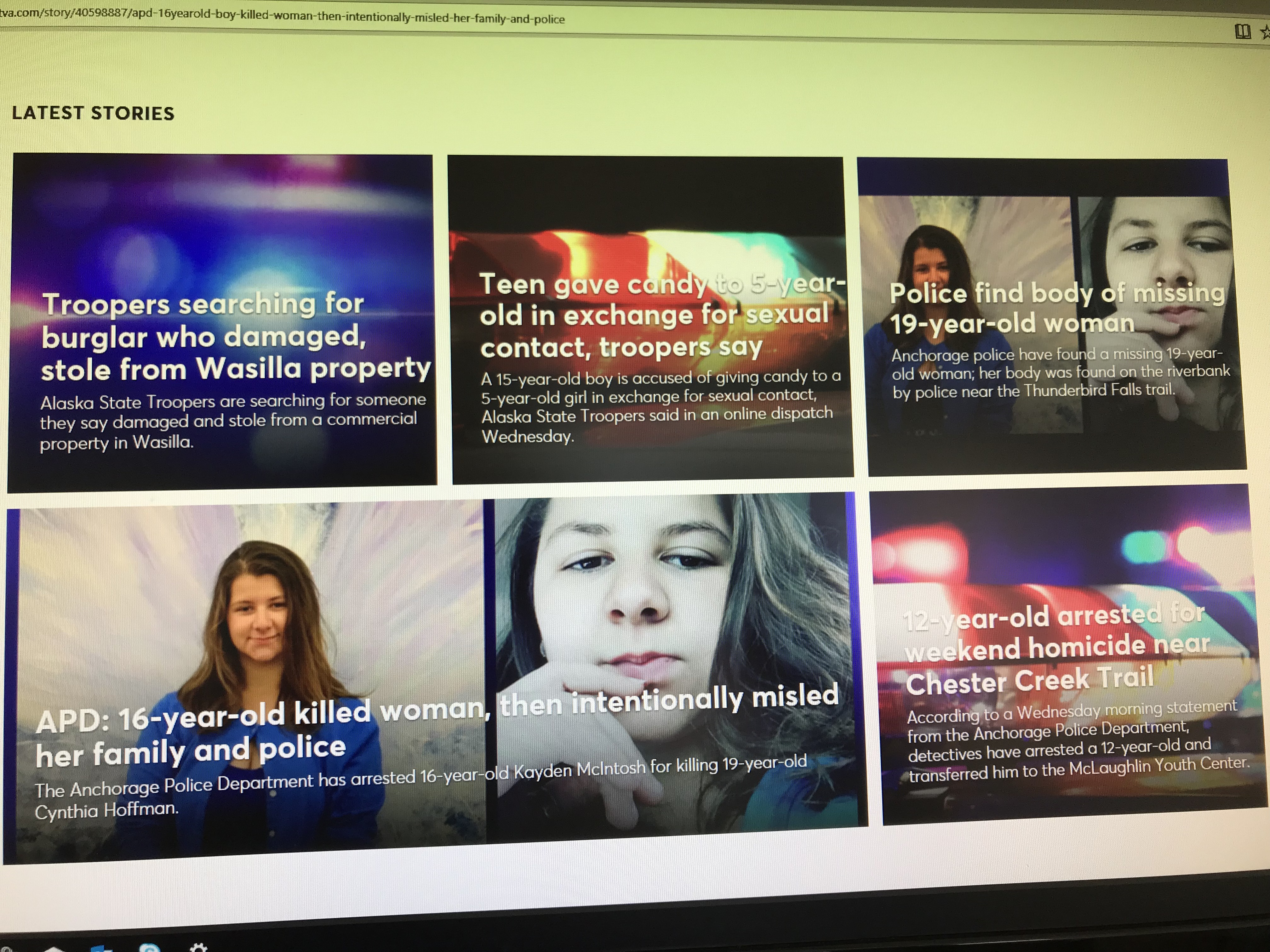 ---
But don't worry! According to Anchorage Mayor Ethan Berkowitz, it's all #fakenews.

---
And, even if there are problems, who are we to complain about it?

---
We have to give it to one of the Anchorage Assembly's newest members, Meg Zaletel. At least she's trying. Pro tip, Meg: porta potties in this current climate are a terrible no good very bad idea. ???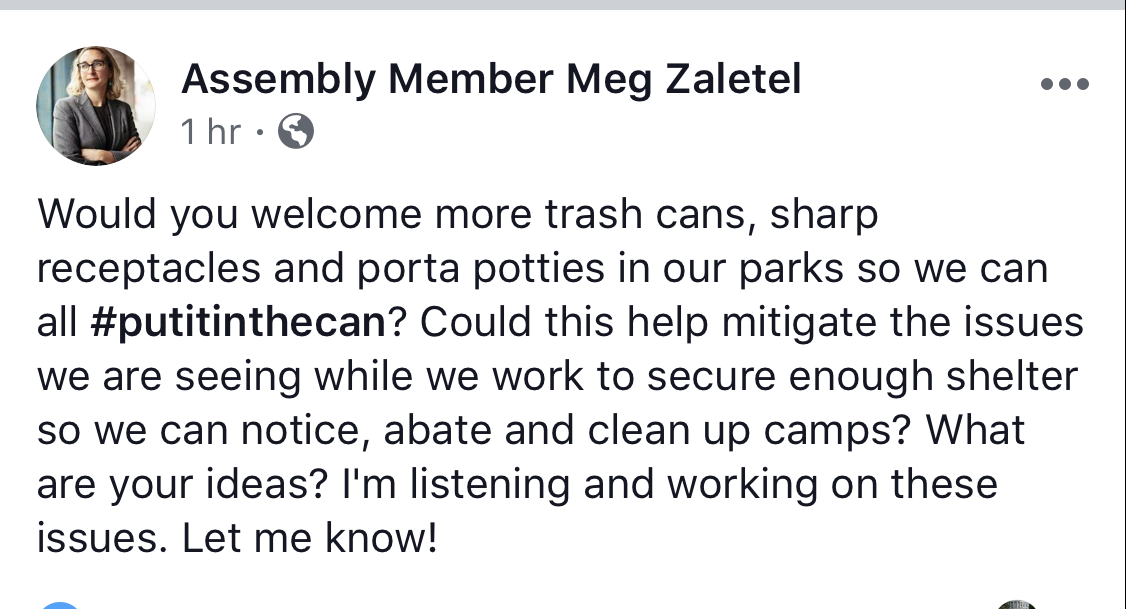 ---
---
So, as to not spoil things for the rest of the state, we're going to just pretend that Anchorage is fine. Everything is fine! There is some good news — summer has finally arrived in Southcentral! The temps (and crime) are rising, folks (and reptiles) are spending more time outdoors, and Laddie Shaw is still the GOAT. Let's get to it.
---
Spotted living his best life: Chomper the turtle on the front lawn at the Anchorage Museum.

---
---
Check out these two legends: Assemblymember John Weddleton and Representative Laddie Shaw winning first in their age group at the Government Peak race. My assemblymember runs faster than yours! Still waiting to hear if Representative Laddie Shaw paraglided home from the finish line.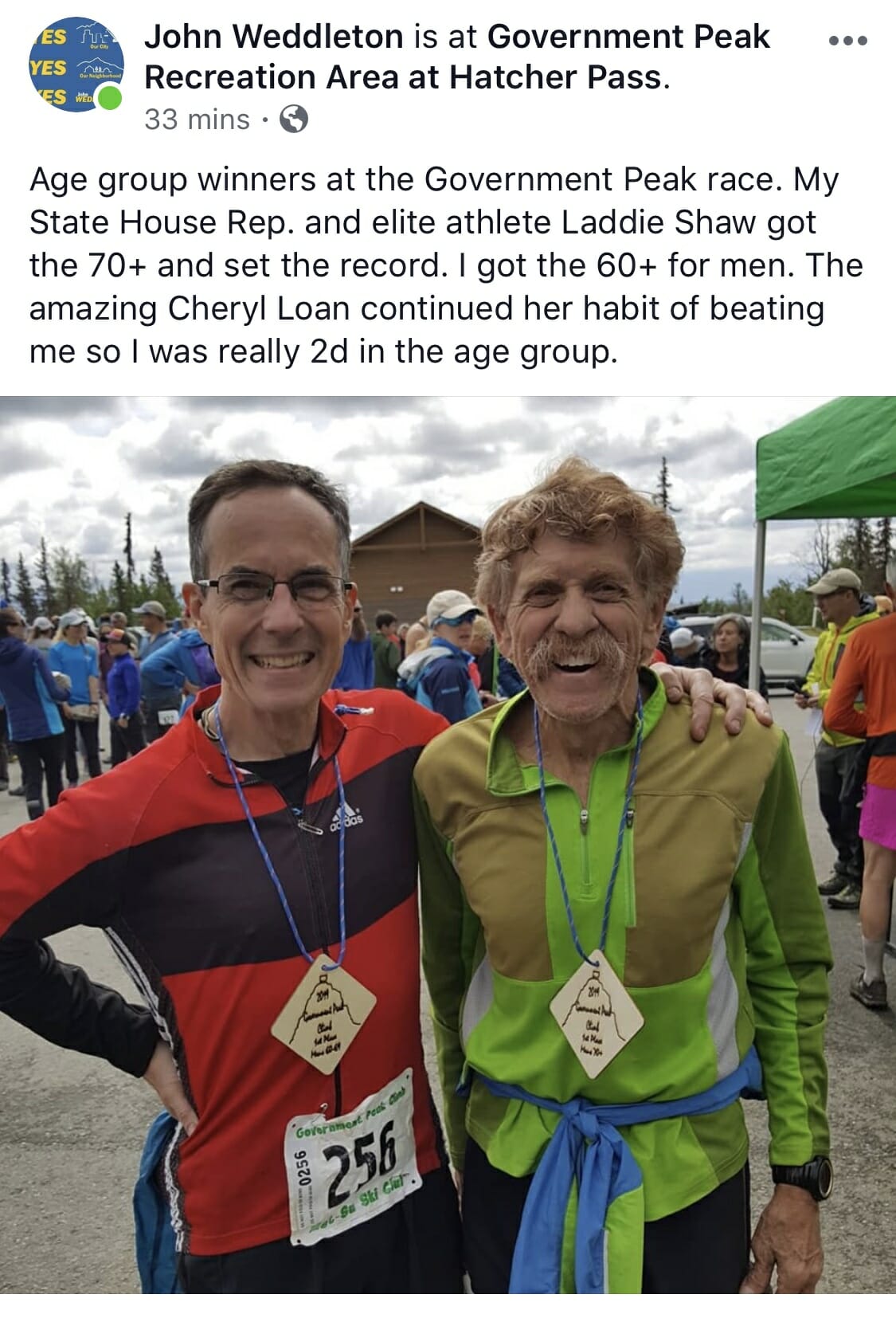 ---
Less than two hours until your flight, Senator?! With record numbers of tourists visiting Alaska this year, someone needs to let Senator "Last Minute Murkowski" know TSA highly recommends all passengers arrive at the airport
at least

two hours before their flights.

---
---
If Lisa would have left on time she could have visited the infamous bronze Ted Stevens statute. *Squints* Wait a second… I didn't know Uncle Ted was anti-Pebble. Are anti-Pebble stickers the new milkshake?

---
---
Senator Dan Sullivan was channeling Uncle Ted this week in DC. GET OFF OUR LAWN!

Came for the hearing, stayed for a scuffle about Alaska's right to build roads.

Posted by Senator Dan Sullivan on Wednesday, June 5, 2019
---
---
Summer also means rhubarb! Wait… is rhubarb some sort of Lefty code word? Nat, Joelle, if you still need any rhubarb, I can help!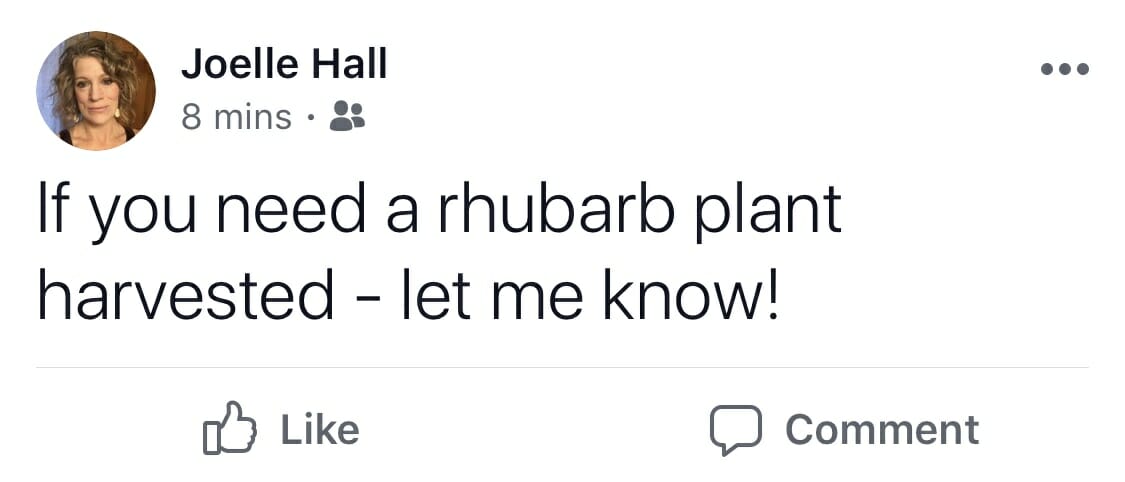 If Governor Dunleavy slashes the University's budget next year does that mean we will only get 4 pages of rhubarb recipes instead of 8? Unacceptable.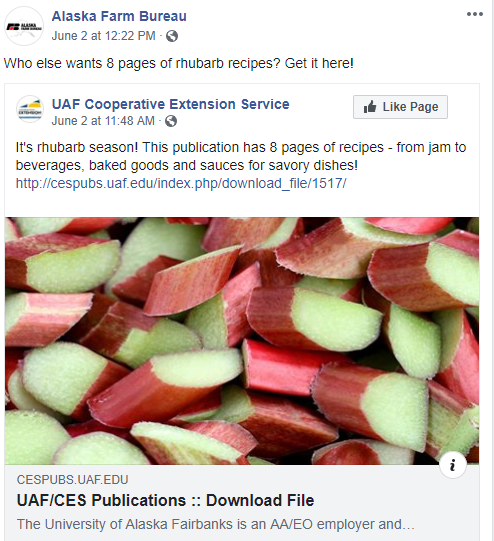 ---
Speaking of recipes, we didn't know Senator Scott Kawasaki was such a dedicated foodie!

---
On second thought, Scott, maybe you should leave the Alaska foodie title to Julia O'Malley. OMG. I'm going to have nightmares.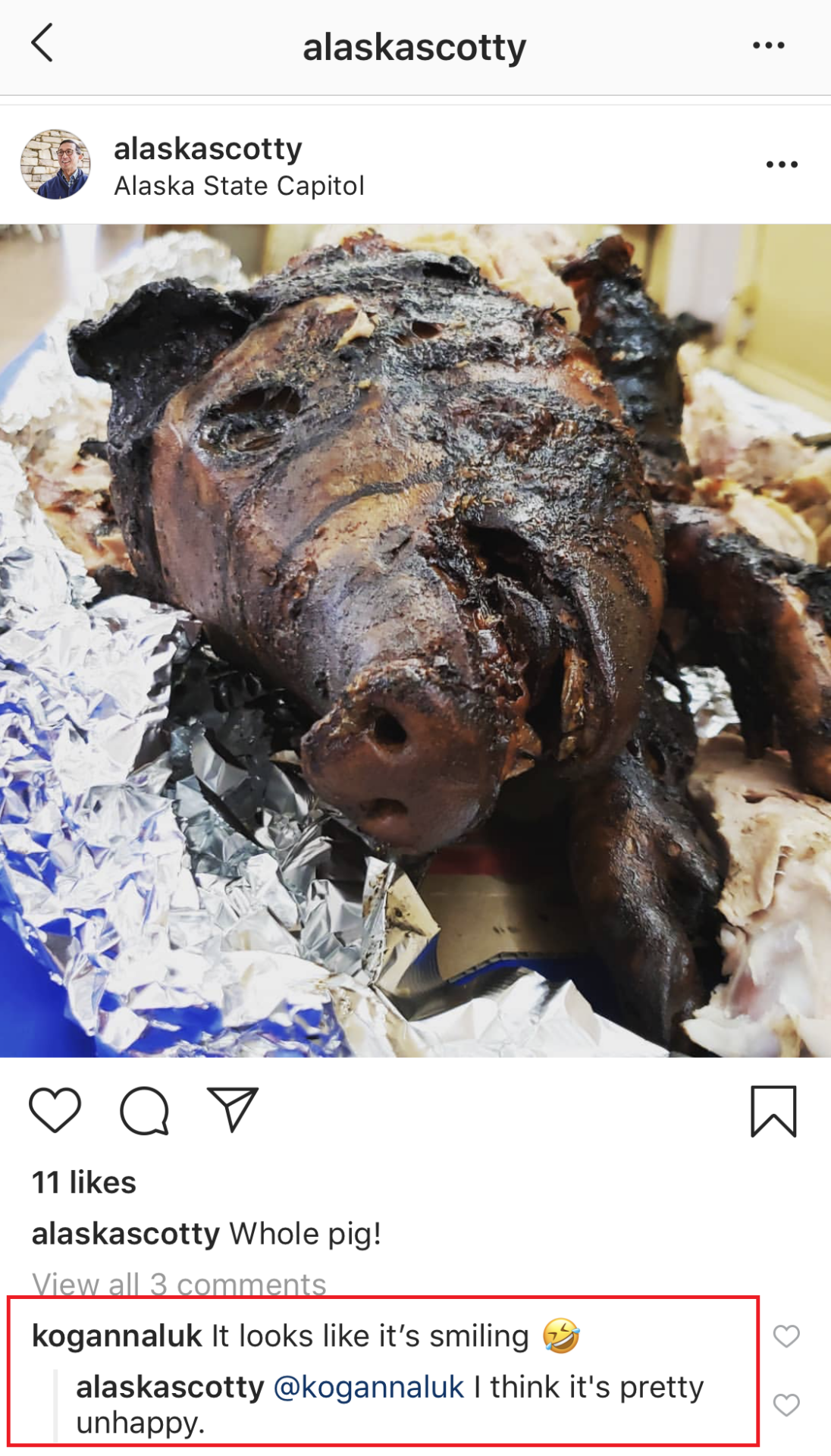 ---
June is also Pride Month. A warm Stalker congratulations to former Anchoragite and amazing creator, Betty Turbo, for this great card available to send to a friend via Facebook.

We usually leave the spotted ins until the end, but we did spot a "LGBT for Trump" shirt at Carrs Huffman this week. Happy Pride, y'all!
---
---
#WerkPerks
Toddler Stalker can't wait for this show. Glad to hear it's so good!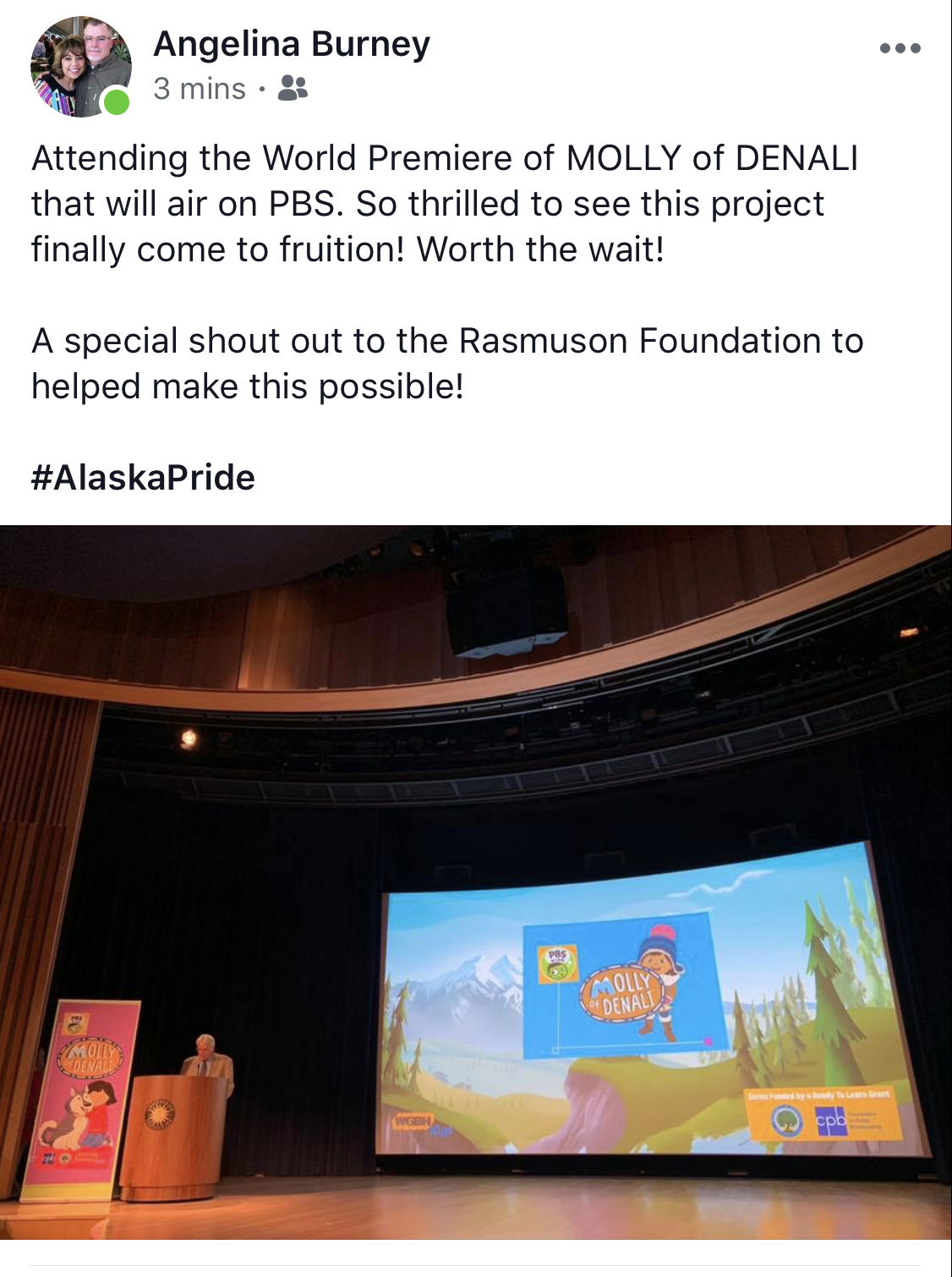 While the staffer's away the boss will play. Look at Senator Murkowski's aggressive Risk game. Obviously she's going for the Northern European strategy. I mean, everyone knows the only way to win is to fortify Australia and wait until the game, or your friendships, end — whichever comes first.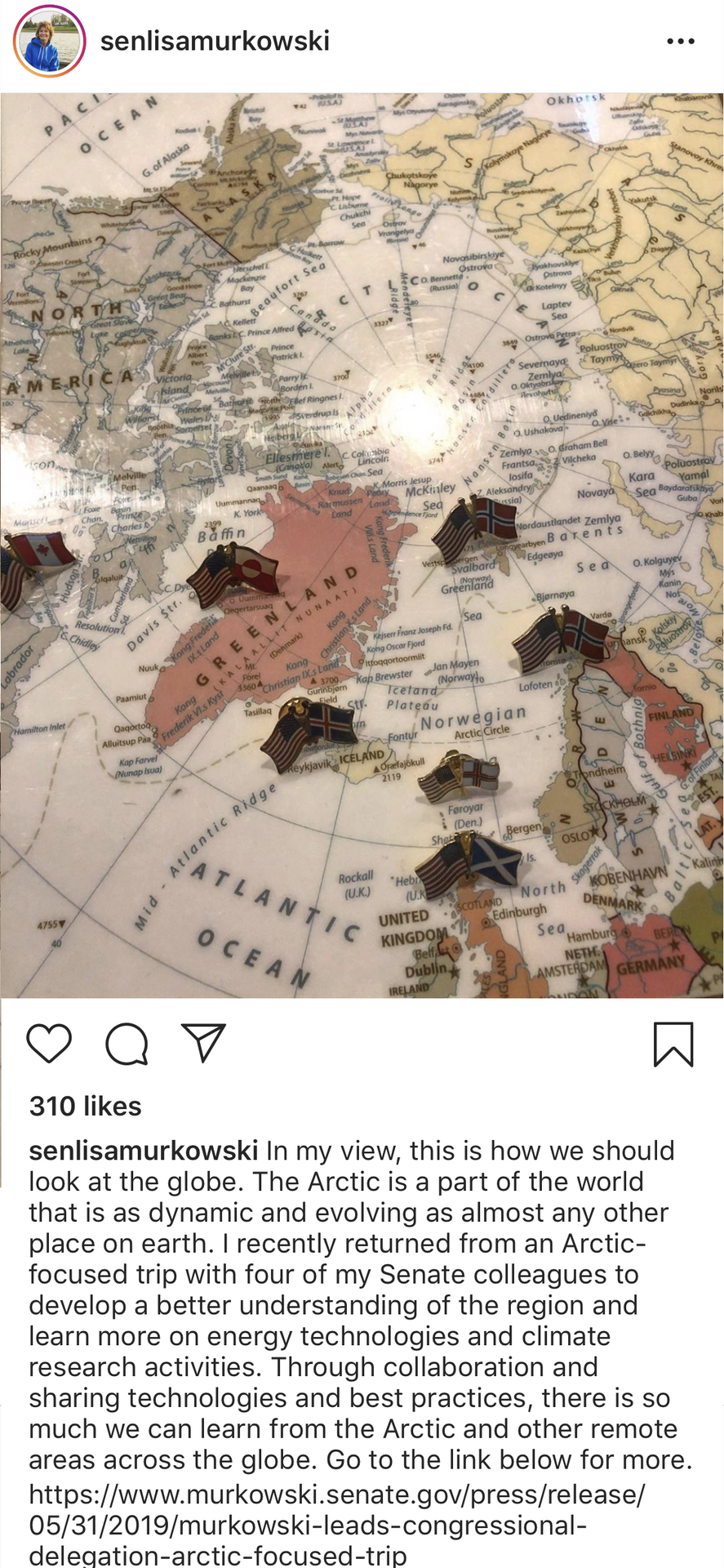 ---
---
Let's do a brief check-in with the Legislature. Senator Natasha von Imhof doesn't post much on social media. So, when she does, I pay attention. She buried the lede. I highly recommend reading it in its entirety. Here's the TLDR: "The current administration's proposed budget recognized the cost of everything, but the value of nothing.  As the legislature evaluated the various budget components, it decided to keep some programs because Alaskans consider them very valuable… With warmest regards, Senator Natasha von Imhof." Dang. ???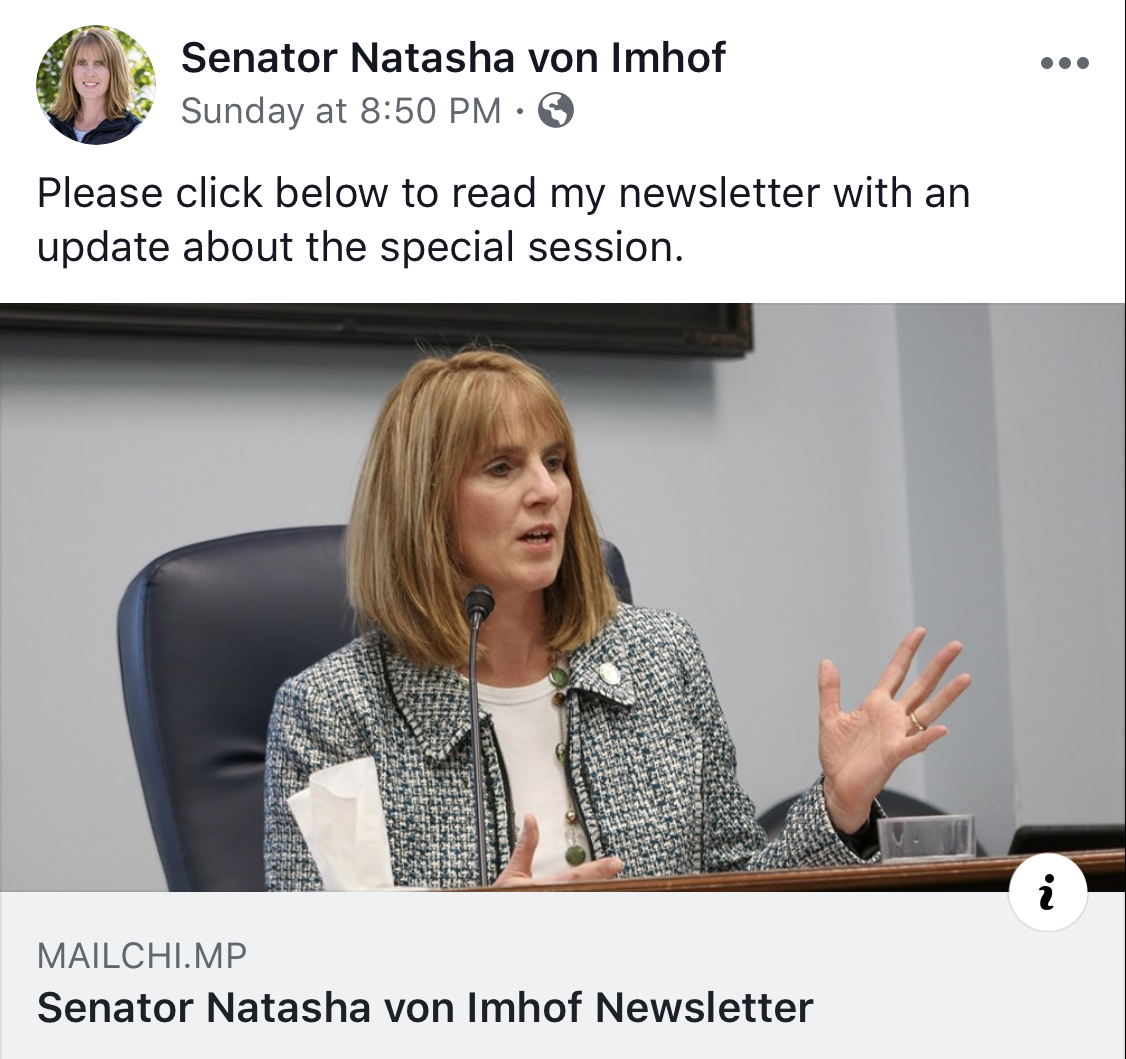 ---
Looks like Natasha's COS, Shareen, got to see two stars born for the price of one. OMG you guys, did Shareen fly the private Rasmuson jet to Vegas?!

---
Who is handling Representative Zack Fields' social media? They are killing it. They are somehow making Zack Fields likable and moderate. Well done. Can they expand their talents to his wardrobe?

---
A warning for those in the Interior. Spread by "hairs?" Whewwww! Senator John Coghill and Representative Adam Wool are safe.

@FedEx wisely didn't respond. H/t to James Brooks for this very good Tweet.

---
Spotted at AOGA: Elizabeth "Hardball" LOL! We can't stop laughing!!!

---
AOGA President/CEO Kara Moriarty even apologized. So funny!

---
---
And then there was this. From what we can tell, Reporter Casey Grove saw a new small business' slogan and decided to doxx the owner and share their almost 30-year-old criminal record on Twitter. You should read the comments. "Good reporting." "Brilliant!" I hope they were kidding. Stalker fav Liz Ruskin even liked the post. This isn't journalism. It's wrong.
Hey Casey: you're not the only armchair detective that can use Court View. I thought I was just going to find a couple of speeding tickets. That assault charge in 2000 tho… Hey pot, kettle calling. ?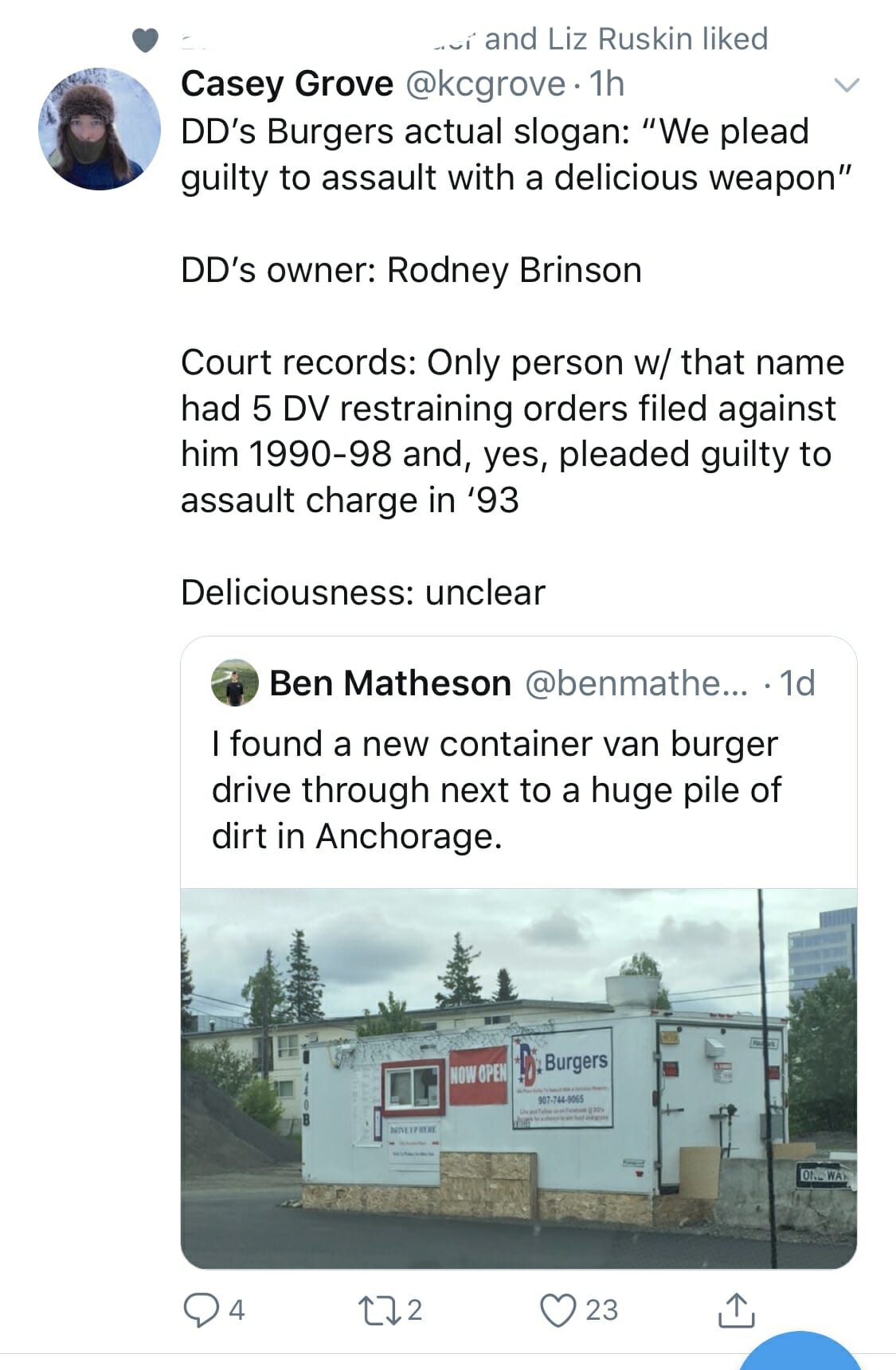 ---
Since everything is *TOTALLY FINE* in Anchorage, don't forget the important things, like applying for a Local Food Mini-Grant.
---

---
Maybe "jaded urban farmer" and wife of Assemblymember Austin Quinn-Davidson, Stephanie Quinn-Davidson, can apply to get her mojo back.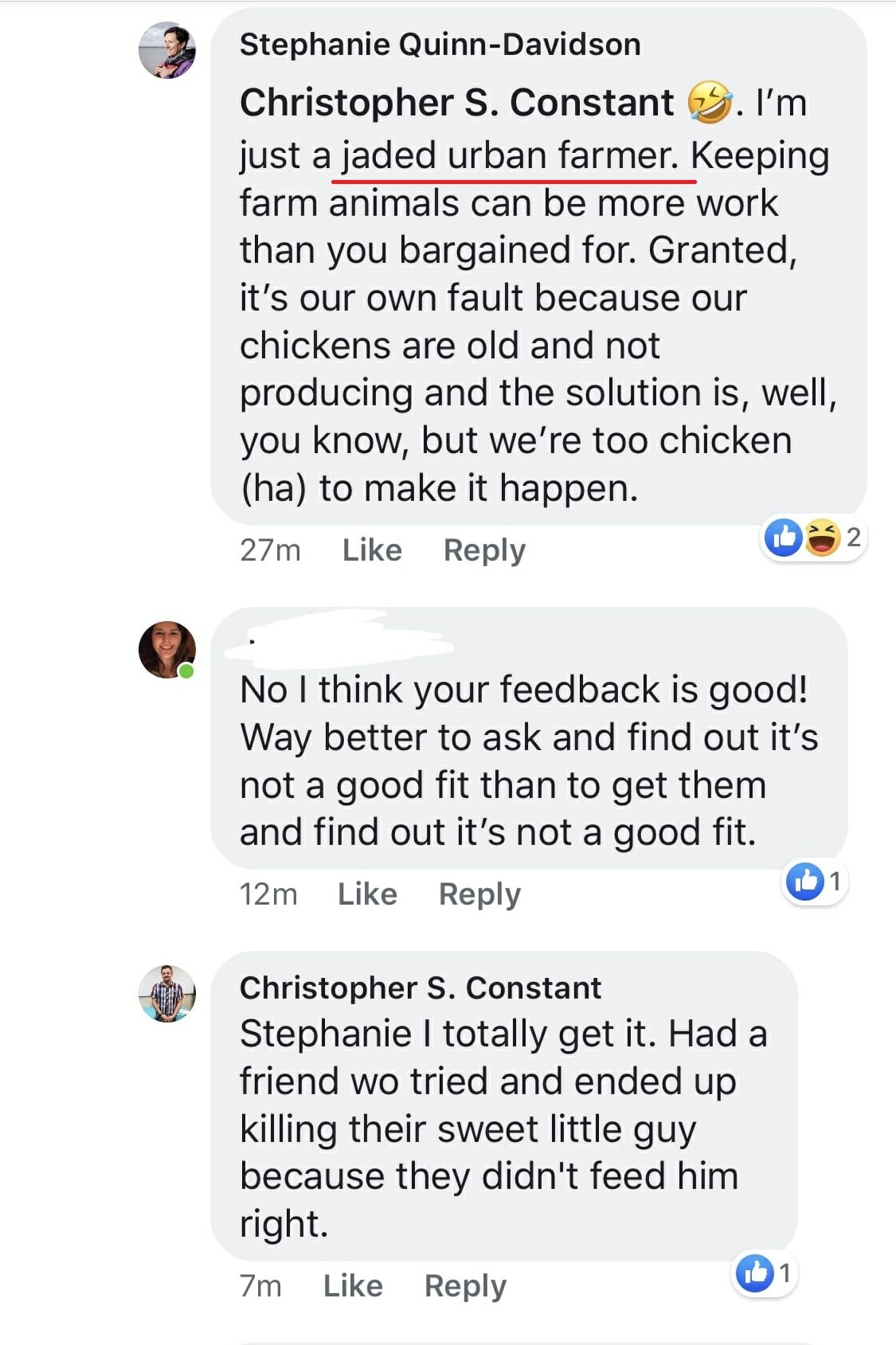 ---
Fan Mail: Great catch! LOL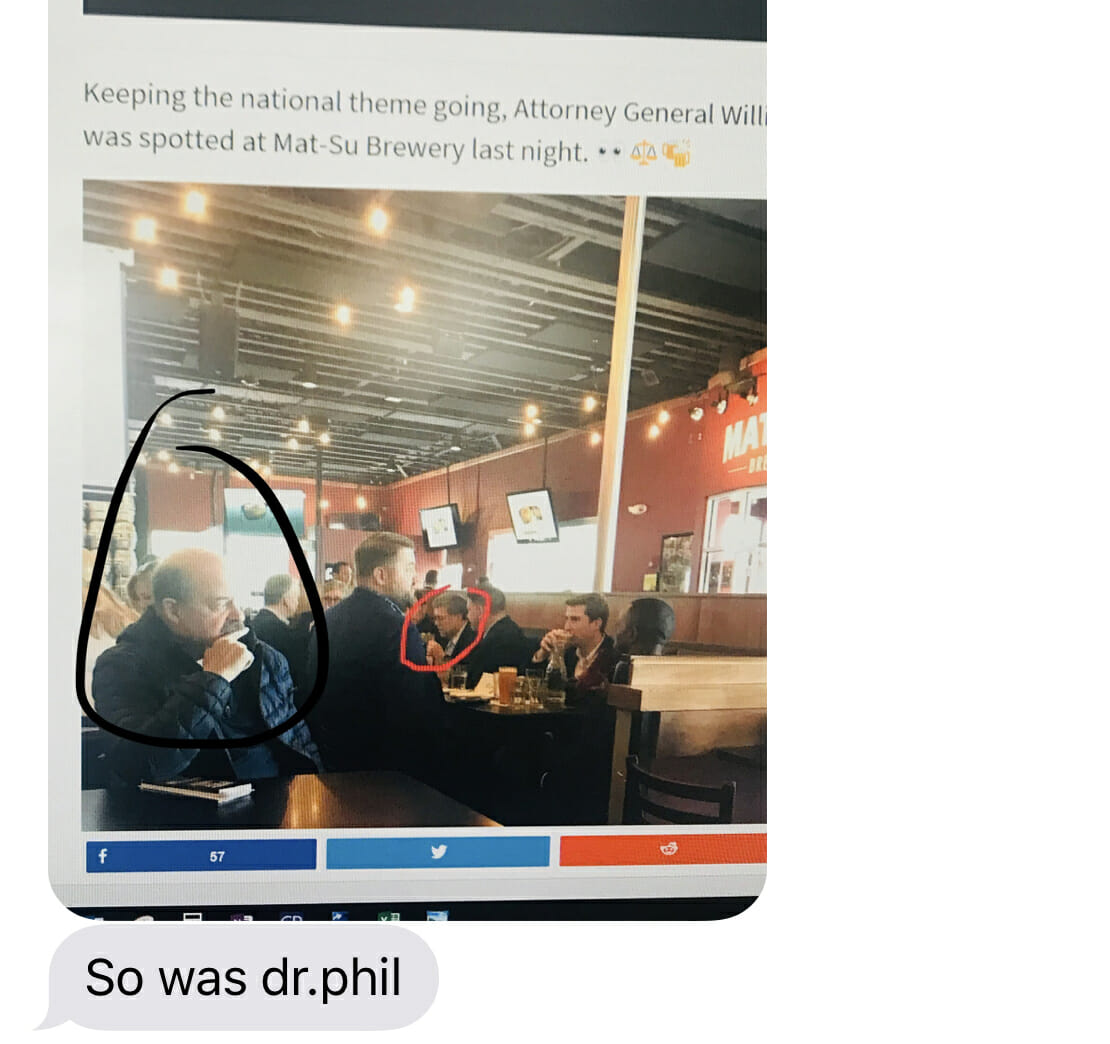 Secret's out. Hey there Mayor Constant! (JK. Everyone knows our next Mayor's gonna be Eric Croft.)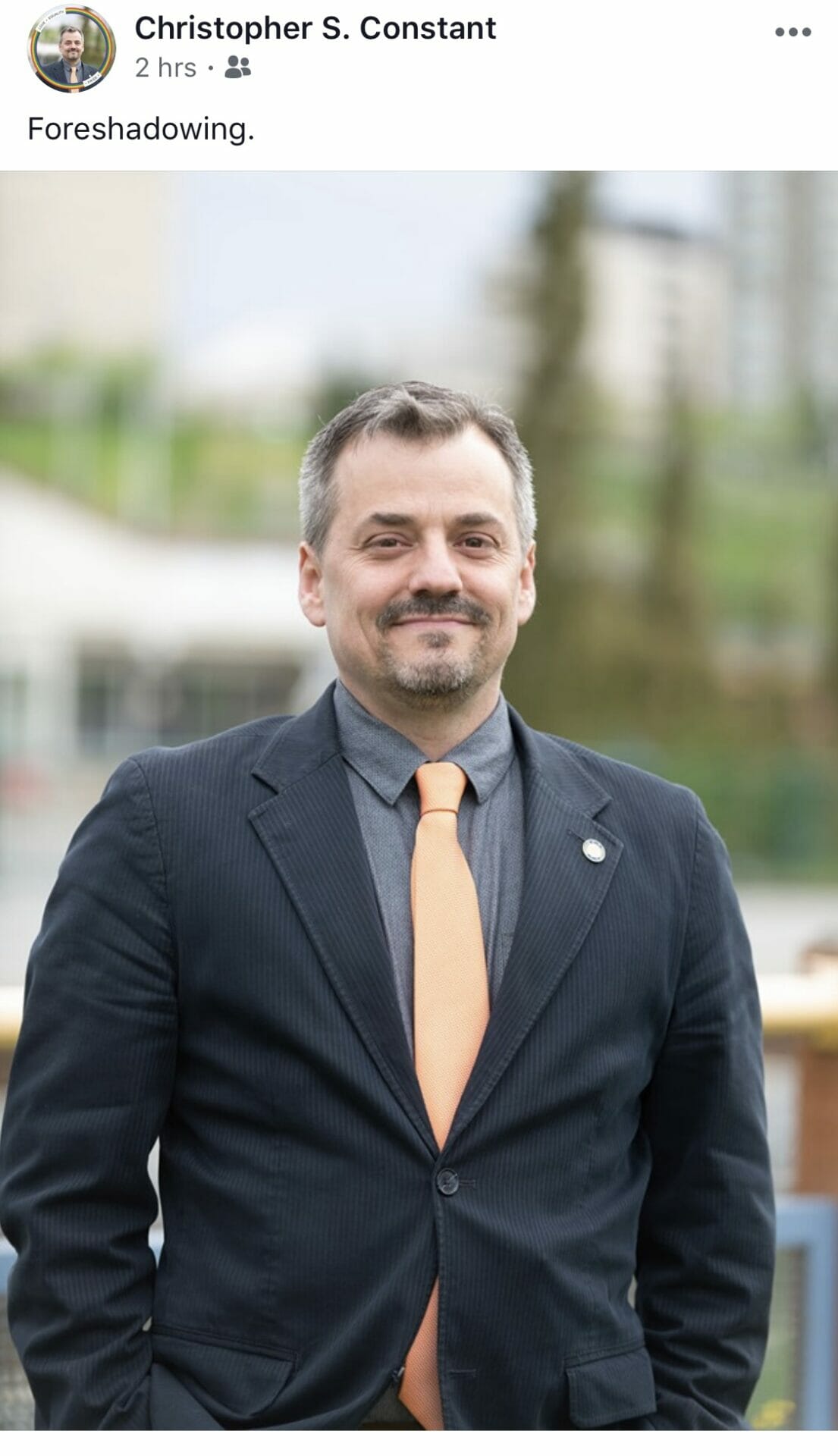 ---
We'll leave you with this. Stay tuned for some big news, folks!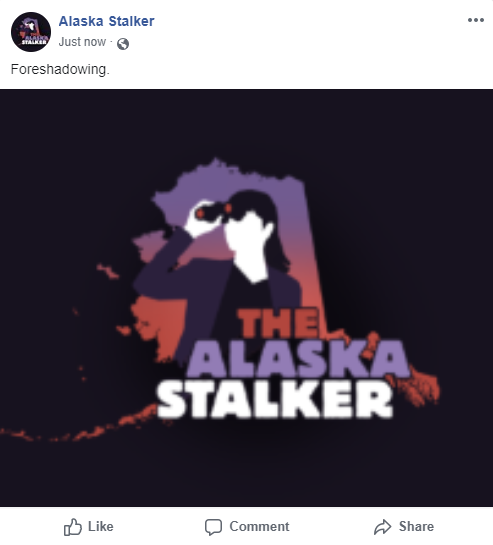 ---
Spotted at Fred Meyer midtown: A spry 95-year-old Vic Fischer browsing the aisles.
---
---
Spotted at Costco on Dimond: Alaska political legend,
Theresa Obermeyer!
---
---
Spotted at Chair 5: Don Smith making duck noises at a two-year-old who then got scared and grabbed on to her mom.
---
---
Spotted at Steam Dot: Ben Stevens meeting with "Some guy. He Looked important."
---
---
Spotted at Hilltop: Representative Jennifer Johnston walking the trail systems with all her dogs.
---
---
Overheard at AOGA: Vince Beltrami telling Senator Cathy Giessel she was "doing a great job." ?
---
Overheard in Anchorage: Is Zack Fields a Republican now, or is he playing the long game like Kelly?
---
---
Overheard in Anchorage: If Jeff Landfield can't find a job is he going to live in Chugach State Park?
---
---
Overheard in Anchorage: "I got student loan debt. I can make more in Alaska in my 30's than damn near anywhere else. Can't find a hot wife though, so it's a trade off."
---
---
Overheard on the airwaves: Judy Eledge on the Dan Fagan Show promoting the Anchorage Republican Women's Club 100th Anniversary of Women's Right to Vote Celebration: "Susan B. Anthony will be coming back from the dead to march with us." Yikes! Someone needs to call John Francis, Alaska Ghost Hunter!?
---
---
The Alaska Stalker was born and raised in Alaska, and lives in South Anchorage with her husband, daughter, and son. She is not Jeff Landfield.