Welcome to this special edition of the Alaska Stalker, a lighthearted round up of the best and worst of Alaska's social media landscape.
***
The June 1st candidate filing deadline has passed. There are A LOT of new faces. Many old friends. Several last minute surprises. And, how many former staffers are running? 6? 7? I've lost count. I received so many screen shots and tips this week I thought it would be best to put together a quick column to introduce everyone to the new cast of characters.
Thank you to everyone who sent in tips. If you have a screen shot or something to share, FB message the Alaska Stalker, slide into my Twitter DMs or email me at akstalker@alaskalandmine.com. As always, thanks for reading!
***
Day one of being Facebook friends with Doug Massie and OMG. Absolute legend. 😻😻😻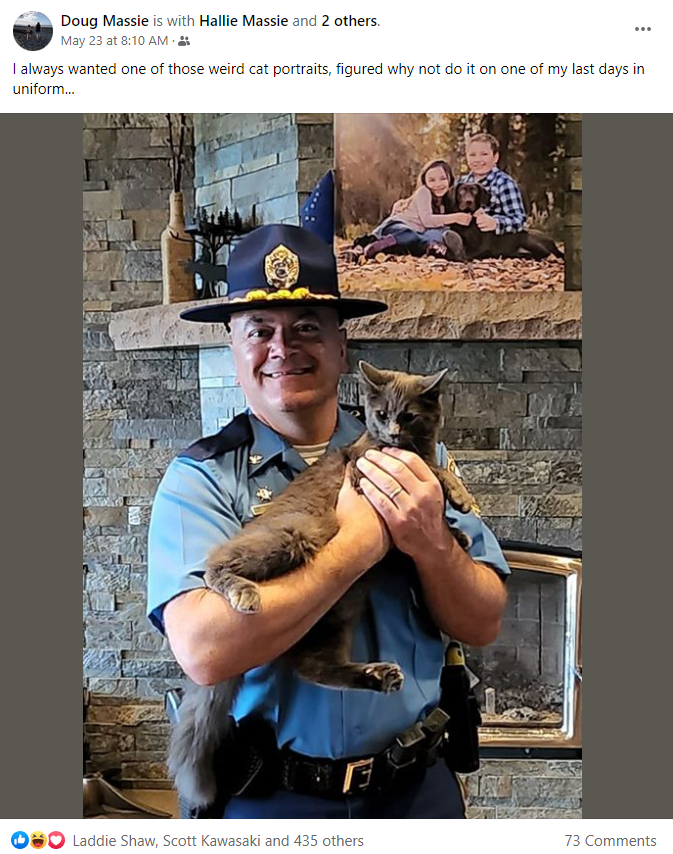 ***
Massie has already got his first campaign ad up. His logo is pretty good, too.
***
Former legislative aide Drew Cason also has a high energy ad up. Can't wait to see his campaign logo.
***
There's something I find fascinating about local campaign signs and logos. Not sure if Louie Flora will make my top 10, but he's certainly chosen a color that sets him apart: forest green. Oh Lordy, aren't there already enough Forrests in this election?

***
Donna Mears went with the predicable white and blue with a gold star motif. Not bad, but definitely not memorable.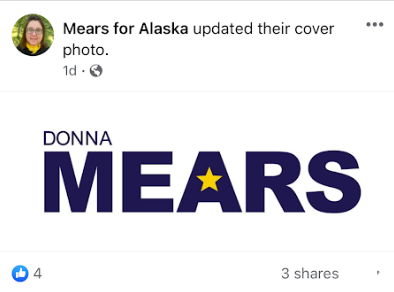 ***
Newcomer Caroline Storm in District 10 went full Hunger Games mode this election cycle. May the ranked choice odds be ever in her favor!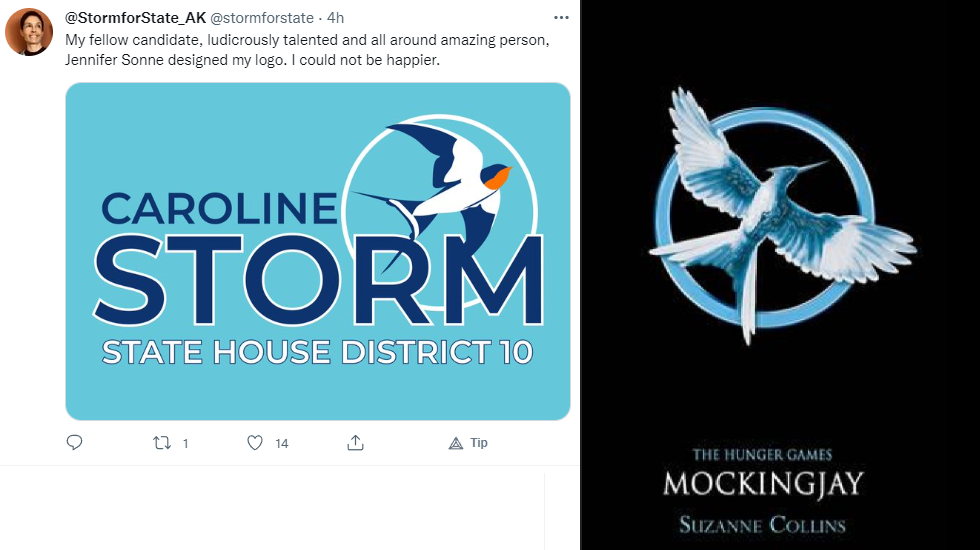 ***
Nate DeMars updated his profile pic just in time for election season. How to dress like an Alaska politician 101:
✅ Beard
✅ Bolo tie
✅ Alaska pin
✅ American flag pin
Nate understood the assignment.

***
Fire Grier?! Ouch. That is so perfect it hurts. Please, no one tell Karen Perry.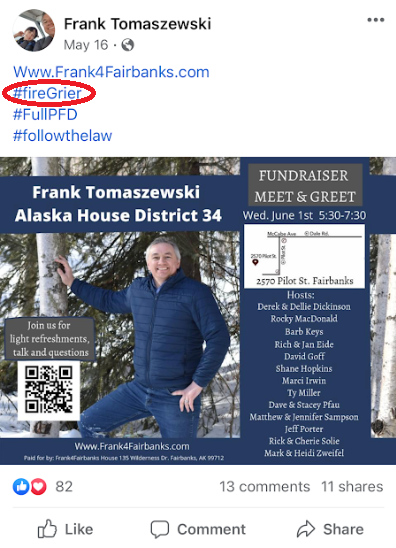 ***
Fairbanks candidate Kelly Nash seems overly preoccupied with Anchorage. I guess she's been courting the coveted Dustin Darden endorsement hard. Is there a tin foil hat emoji? I have a feeling we'll be hearing a lot about Kelly this election cycle.

***
Former Rep. Wool staffer Ashley Carrick waxed poetic about the end of the 32nd Legislature. What a difference a week makes! I've been trying to come up with a slogan that can match her former boss' epic "vote Wool no bull."
Vote Ashley, not rashly?
Vote Carrick, not generic?
Vote for Carrick, she's not Kelly Merrick?
I know, it still needs some work… 🤷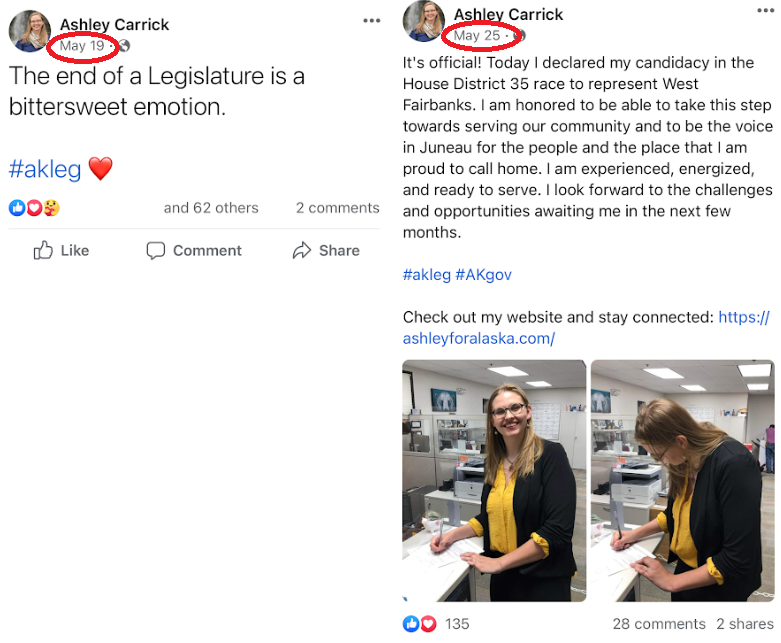 ***
Now for some familiar faces… Alyse is back on the ballot and back on the scooter! She's like a cool version of Liz Vazquez. And with the price of gas these days, why not?

***
Jay "Forrest" McDonald is also back in the ring. With a new name, a new pilot's license, a viral You Tube video (almost 400k views!), a flock of chickens, and now two rescue squirrels, it seems he's been spending way less time trolling people on the internet and more time living life and doing cool stuff. 👍

***
Style icon Cliff Groh is keeping it tight, especially in Government Hill. We hear it's nothing but Groh signs over there. It's his double breasted campaign buttons for me.

***
I hope Lyn's hammie and quads aren't walking and knocking on JBER. That would be a no no.

***
In Eagle River it's a former Rep. show down. I have missed Dan Saddler's songs and happy-go-lucky attitude. Even his anti-Biden comment is low-key nice.

***
Sharon Jackson's going to give Dan a run (on the right) for his money. AGRESSIVE profile pic update. And her official campaign page, too. 🔫🔫🔫

***
Jennie Armstrong looks like a lot of fun. Definitely a cool mom. But, can I get a fact check for this Tweet? 🧐 I know of more than one.

***
Either way, having your kiddo dress up as a tiger during your "I filed" photo op is AWESOME. Called it. Total cool mom. 🐯🧡 For the record, I would never comment about Jennie's well-known husband. Or her amazing boots. Are those snake skin? 🔥

***
Candidate Forrest Wolfe seems to have deleted or deactivated his social media. 🤔👀 Hope to see him back online soon!
***
Well blimey and blow me down, Libertarian candidate Mikel Insalaco pledges to protect the people's booty from scallywags, plunderers and landlubbers. Shiver me timbers! 🏴‍☠️
 
***
Alaska Independence Party candidate Tim Huit is now running as an Independent. Huit says it better reflects his values. If you want to learn more about Huit's values, I highly suggest checking out his Court View records. Yikes! 😱

***
There ya go, folks. Perennial candidate David Nees finally found "the one." Thank you Rep. McKay for making this happen. #hero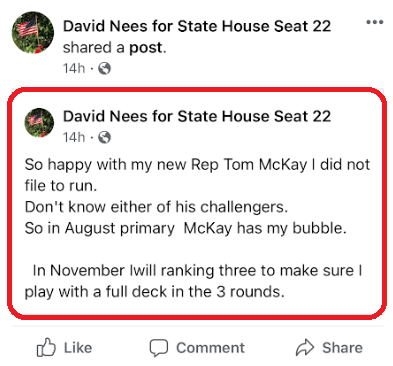 ***
Now THAT's a jacket. IYKYK.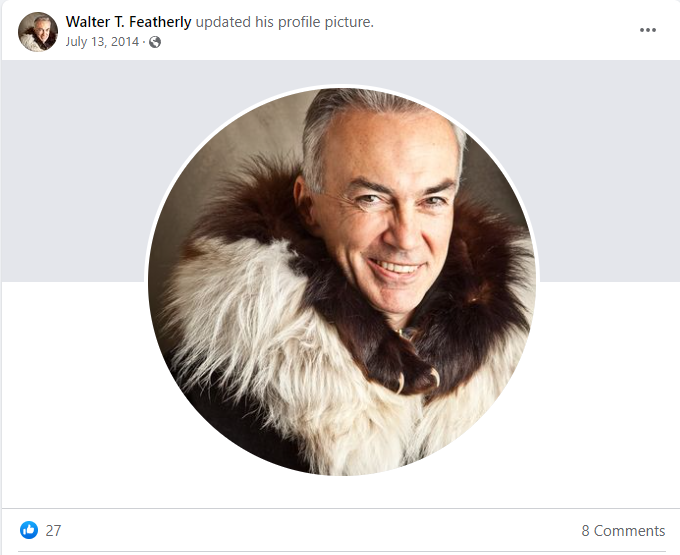 ***
Just days after the filing deadline and candidates are already strategizing and talking about consolidating. Who's going to drop out – Tuck or Josephson??? 😨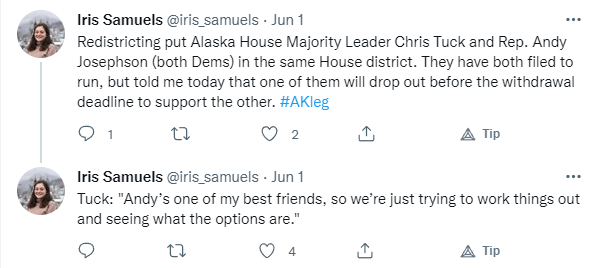 ***
Jennifer Sonne became one of the first candidates to announce she's dropping out. I wonder who called her. She's still trying to blame anyone but herself for her… interesting campaign choices. After she announced her withdrawal, Sonne briefly changed her official *CAMPAIGN* Twitter account to @jenn_says_fucku and her name to Jenn says FU JL. AKA Jeff Landfield. Her bio? hey JL can go F himself. Seriously. I'm not making this up. #unhinged

***
If you haven't already seen it, don't miss the Alaska Landmine discuss Alaska's 40 upcoming Alaska House races with panelists Sen. Bill Wielechowski (D – Anchorage) and political consultant Matt Shuckerow.
***
Spotted at Arctic Roadrunner on a sunny afternoon: Sen. Elvi Gray-Jackson.
***
Spotted going door-to-door in South Anchorage, with a sunhat on for full sun protection: Former Sen. Cathy Giessel.
***
Spotted making a three-year-old's day: Rep. James Kaufman replacing my kiddo's broken "official Rep. Kaufman" swag tape measure for a new, non-broken one.
***
The Alaska Stalker was born and raised in Alaska. She lives bear free in South Anchorage with her husband and three kids five and under. She is not Jeff Landfield.