Welcome to this week's edition of the Alaska Stalker, a lighthearted round up of the best and worst of Alaska's social media landscape.
***
Note: for those of you who may not know, I'm expecting my third child in four years later this summer. While I've been trying my best to keep up with the Stalker's usual weekly schedule, from now on things may be a bit more… fluid. A big thank you to Jeff and the Landmine crew for being so supportive. It's funny, my last two supervisors have been men with no kids. Both of them were nothing but understanding, supportive, and excited for me during my pregnancies and maternity leave. I wish this was the experience of all working moms – whether it's full time, part time, or writing a weekly column. I'm forever grateful to them both for letting me put my family and health first. Now, let's get to it!
***
It's official: Alaska has it's first confirmed case of branded campaign masks. The honor goes to candidate for House District 25, Janice Park. Who will be next?

***
If you prefer your COVID-19 info to come with an upbeat weather update, tune in to Rep. DeLena Johnson's Facebook page.

***
OMG! I wonder how long Lt. Gov. Kevin Meyer has been sending emails with former Lt. Gov. Mead Treadwell's face on them? 🤣🤣🤣 I will be checking weekly until he updates this. Hey Kevin, here's a couple options for you to choose from.

***
Speaking of updated profile pics, can someone please tell candidate for House District 7, Lynn Gattis, that it miiiight be time for a refresh.

***
Rep. Geran Tarr participated in a Workers' First caravan calling for racial and economic justice. You can check out her Facebook Live below. It appears Geran is driving while Facebook Live-ing. Not sure if that's putting other drivers and pedestrians first. Or, you know, legal. 😬
***
The Anchorage Press might want to think about adding some quotes or the word op-ed in front of future Facebook post captions. They basically called Rep. Zack Fields a big anti-union racist. The creepy photo doesn't help either. On second thought, just to be certain, maybe we should ask the Alaska Young Democrats.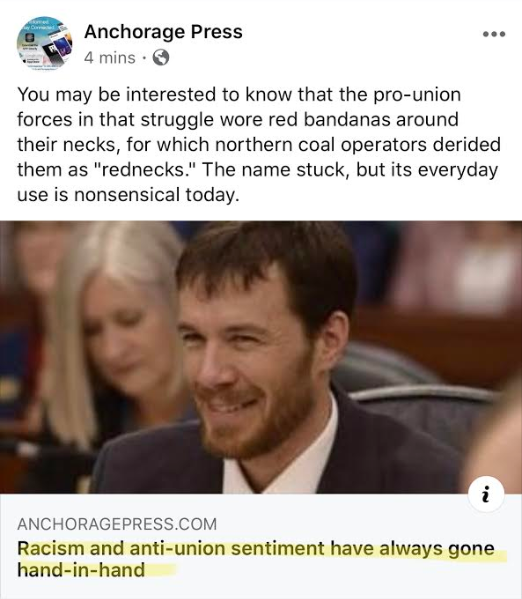 ***
Every week I think, "Okay, this is the week I'm going to give poor Rep. Gabrielle LeDoux a break from the lock her up stuff." But then she goes and does something like this. Picking up trash on the side of the road wearing gray on gray? Gabby, no! 🤦 Nice Sen. Bill Wielechowski cameo tho.

***
Bill, I want to believe! 🛢️📈🤑

***
I am loving Sen. Mia Costello's recent re-commitment to her social media pages. Hiking pics, sunglasses selfies, and, my personal favorite, all the cat pics. Hello Atlantis and Monster, nice to meet you! 😻😻😻

***
As summer begins, legislators are starting to roll out their reelection campaigns. Some are dusting off last cycle's ads to reuse. *Squints* Others are going to have to start from scratch.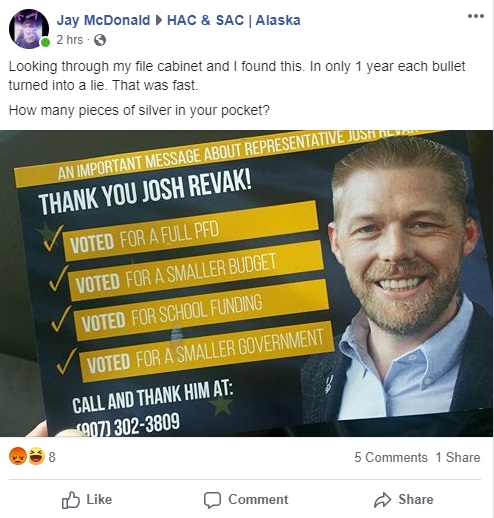 ***
Smart move, Josh. Ignore the PFD and put the family — and the family dog — front and center. Can I just say, find yourself someone that looks at you the way Sen. Josh Revak's dog looks at him. Warden is such a sweetheart.
 
***
Rep. Sara Rasmussen launched her reelection campaign with this high energy video featuring her son, Grayson. The kid is a natural. Reading the comments, Rep. Laddie Shaw gave it a 100 on a scale of 1-10 and Lynn Gattis loves it. But, most importantly, Sara got something every millennial who grew up in Anchorage longs for: praise from the one and only Kitty Fox. 💗 #jealous

***
Candidate for the crowded Senate District M Republican primary, Harold Borbridge, is in the clear lead for creepiest ad so far. *Sound on* if you want to hear a computer voice poorly narrate a political ad about Cathy "Gee-Ceil," Josh "Revv-Ick," and WAS. THERE. A. DEAL. That pan out tho.
***
Rep. Jennifer Johnston seems to be taking her reelection very seriously.

***
Her opponent, Candidate "4" House District 28, James Kaufman, is rising to the challenge to combat South Anchorage's perpetual political sign vandalism issues. I've also seen a couple Kaufman signs paired with Trump flags on our side of town. Might be an interesting race…

***
Is this guy for real?

***
Down on the Kenai, the race for House District 30 is shaping up to be one of the most exciting of the year. Rep. Gary Knopp is getting aggressive with his sign waving. He even showed up to a "Fire Knopp" sign waving event with his own "Gary Knopp for State House" signs. According to some, the signs were similar enough no one noticed the pro-Gary contingent!

***
Rep. Knopp clapped back by holding his own sign waving party, complaining that the "Fire Knopp" folks "don't even go here."

***
Gary has faced a lot of backlash from Republicans who are mad that he organized with Democrats in the House. Gary claims he's as Republican as ever. Because nothing says Republican quite like 20 Democrats sign waving for you.
***
Meanwhile soon-to-be former Rep. Colleen Sullivan-Leonard is out there living her best life. Now that's the face of someone who won't be campaigning this summer. Cheers, Colleen! 🍻

***
Journalism 101: If you don't like the results of your web poll, edit the question midway through the poll. If you still don't like the results, take the poll down and change it to one about the Into the Wild Bus.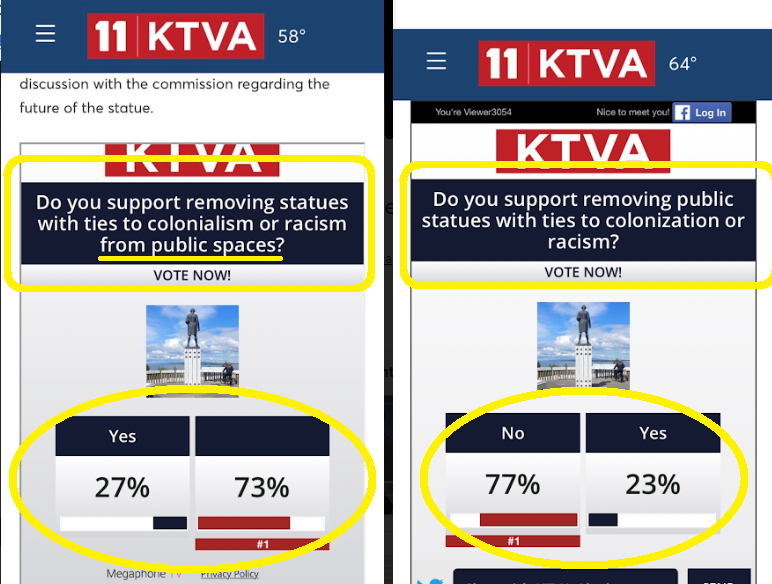 ***
Oh no! What will Mike Porcaro and Crash have to talk about now?

***
Wow! Alaska AFL–CIO's Director of Operations, Joelle Hall's bleeding heart is much bigger than mine. Joelle, what's your secret?

***
Speaking of the AFL-CIO, somepresident needs to stop by Cooper Landing Brewing for their free "pay it forward" beer. (Lower left corner!)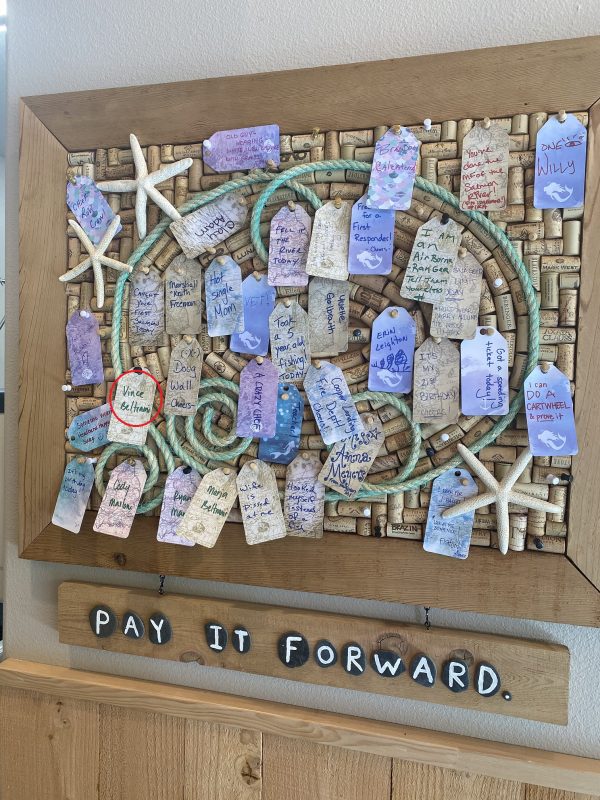 ***
You're welcome.

***
Stalker Scoop: Rep. Kelly Merrick has a TikTok! I AM SO HERE FOR THIS!
***
Stalker Scoop:  Word is Gabby is having trouble finding folks to work on her campaign. Can anyone lend a hand?
***
Spotted at the Alaska Zoo: Rep. Sara Rasmussen and newly minted child star, son Grayson.
***
Overheard on the Dan Fagan Show: Candidate for House District 28, James Kaufman, talking about moving to Alaska to work in the oil industry and falling in love with the state. He made it sound like he moved up here during the oil boom days.
Dan (throwing him what he thought was a real soft ball): When did you move up here?
Kaufman: "Oh, 2011."
LOL! Jennifer has Birkenstocks older than that!
***
Overheard in Midtown Anchorage: "Dan and Lisa combined are my kind of Republican."
***
Overheard in East Anchorage: Bill's biggest fans are middle age married women. I guess that's why he dresses the way he does."
***
Overheard:
"Do you know where they put the Into the Wild Bus?"
Probably the same place Bernadette hid that Palm Tree."
***
Geran Tarr? Never heard of her. Her name sounds like it's from Game of Thrones.
***
The Alaska Stalker was born and raised in Alaska. She is slowly emerging from South Anchorage with her husband, daughter, son, and baby on the way. She is not Jeff Landfield.