Welcome to this week's edition of the Alaska Stalker, a lighthearted roundup of the best and worst of Alaska's social media landscape and political gossip.
If you enjoy the Alaska Stalker, please consider supporting working moms like me by sending in hot tips, overheards, and spotted ins. You can reach me at akstalker@alaskalandmine.com.  As always, thanks for reading.
??? Breaking: The President of the United States of America used the word "loose" today. ???
This is proof either we are living in a simulation, or The Donald reads The Landmine. Not sure which. Watch it below @ 1:07.
---
In honor of Father's Day, Senator Lisa Murkowski did a sweet post about her dad, former Governor Frank Murkowski. Not sure "nurturing" is the first word I'd use to describe Frank the Bank.
---
Sure, salmon are great, but who's that adorable Golden next to Senator Sullivan? Dan, I didn't know you had a dog. Does he (or she) have a name? I hope to see that lovable face again in your next campaign commercial. ??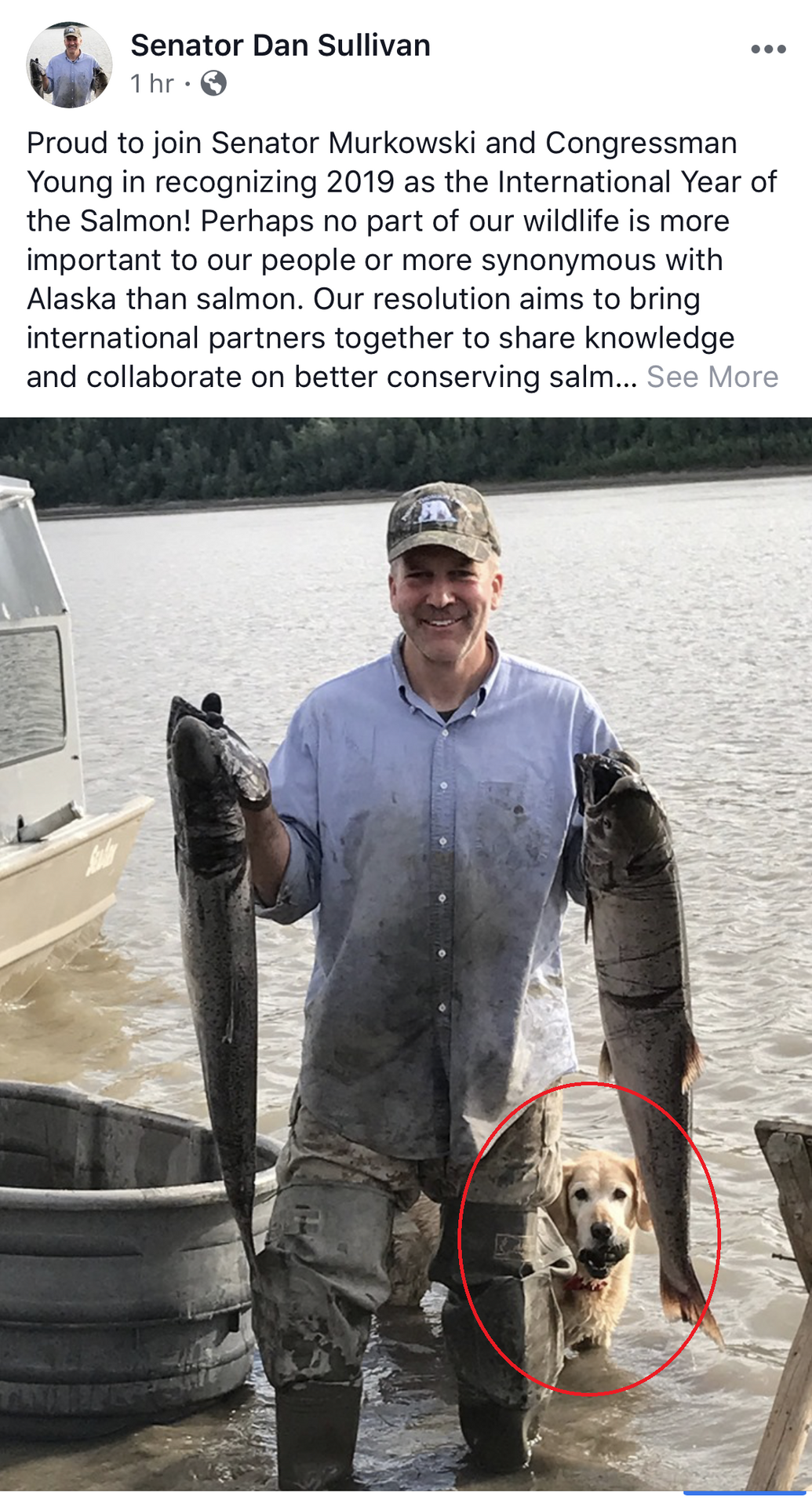 ---
Former congressional candidate, Carol Hafner, has abandon her dreams of representing Alaska and has since moved on to Wyoming. Carol got a respectable horrifying 15% in the 2018 Alaska Democratic primary despite never having set foot in our State.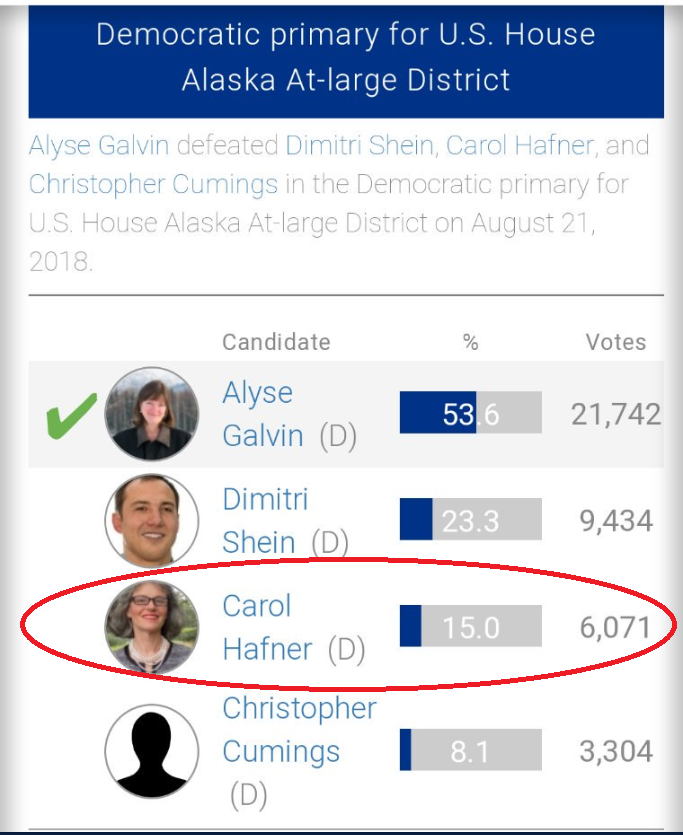 ---
There's only one small problem… Her website still says she's running in Alaska!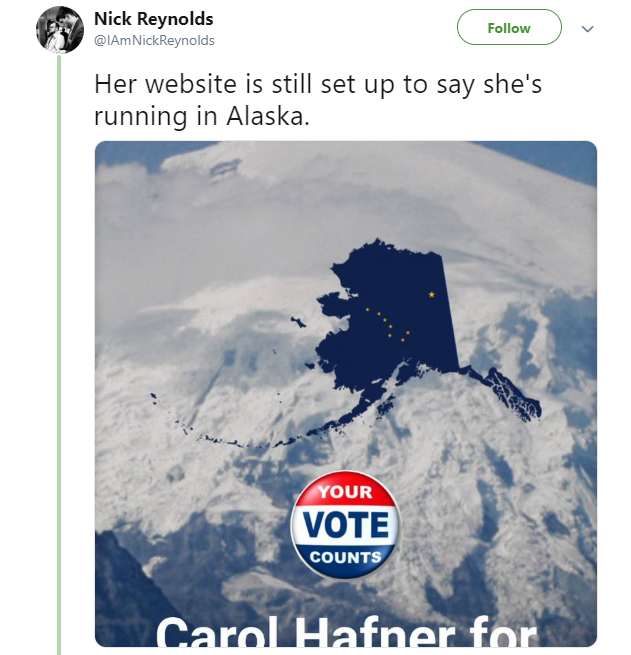 ---
Dang, those folks in Ketchikan know how to PAR-TAYYY. ??? Hands folded neatly on their laps and everything.

Maybe next time they need to invite State Director for Americans for Prosperity, Ryan "party animal" McKee. Here's some video he took at the Trump 2020 Watch Party at Trump International in DC. Very high level, Ryan!
---
Commissioner of the Department of Environmental Conservation, Jason Brune, wished golfers in the US Open at Pebble good luck in a very clever and Alaskan way.

---
Speaking of Pebble, check out these posts from some pro-Pebble folks on the stock website "Stocktwits." Not sure why they're paying Suzanne to do something she's probably already doing for free, but okay.

---
It doesn't seem like the Pebble Mine folks are sending their best and brightest these days. I mean, Bill Nye isn't even a scientist. ?
---

---
This week Governor Dunleavy held a press conference about the upcoming special session at Wasilla Middle School. The Wasilla Middle School's motto is "A Step Into the Future." We're torn. This could be prophetic! But many seem to think we're about to take a big step back. Either way, the legislature's about to step in something. That mascot tho….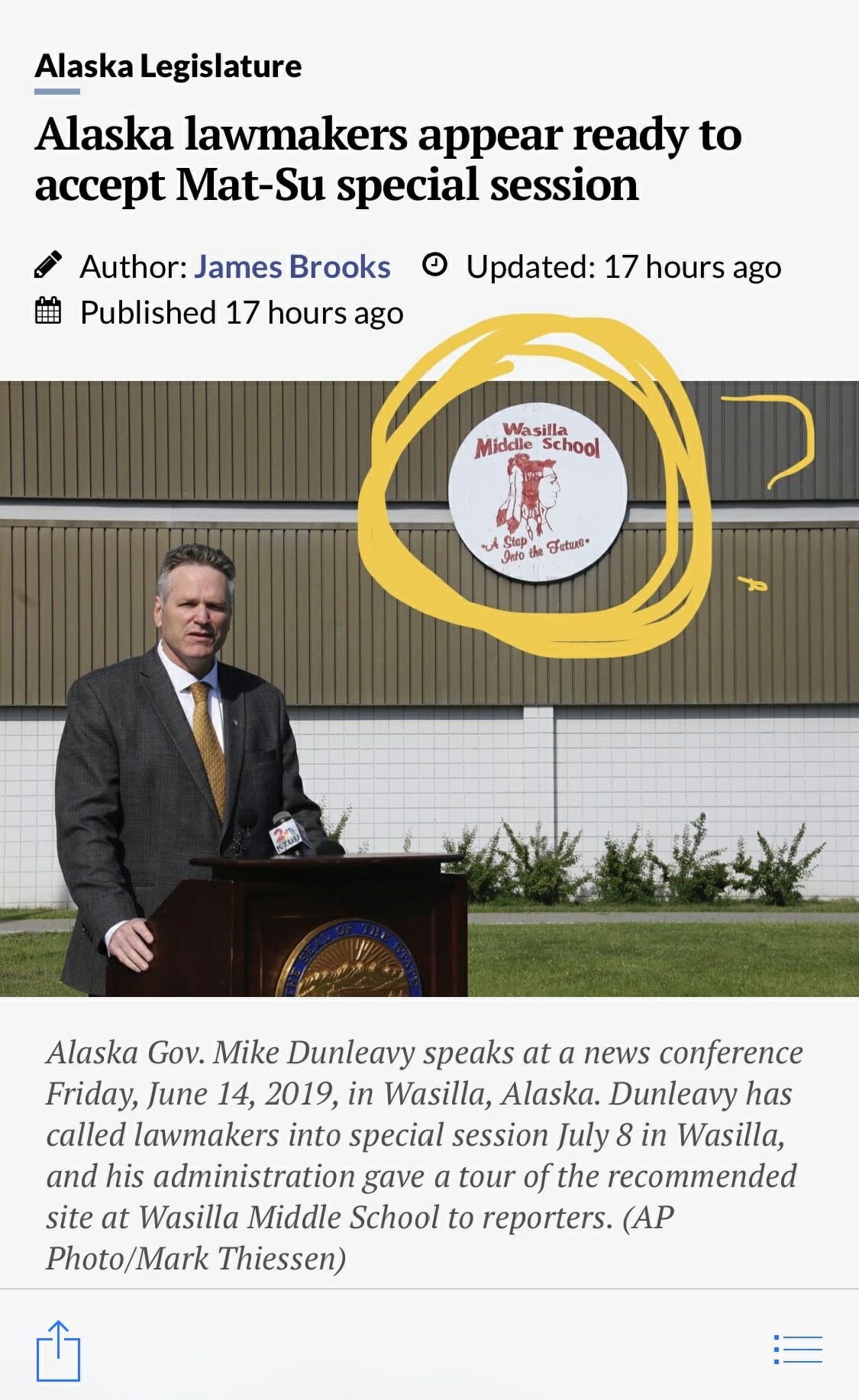 ---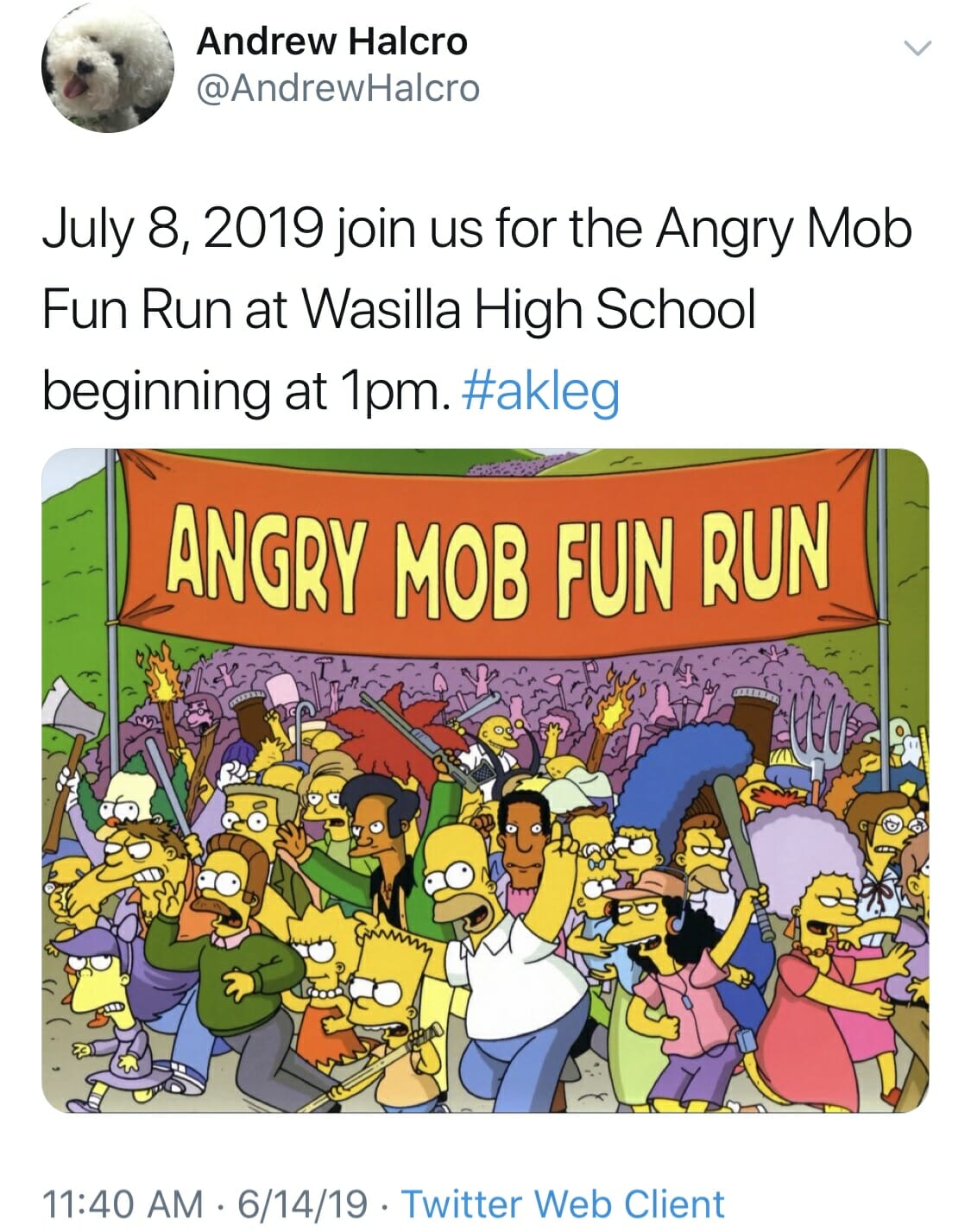 ---
This is my favorite photo from the press conference. You could say Governor Dunleavy is all about that forced perspective. #loyaltypledge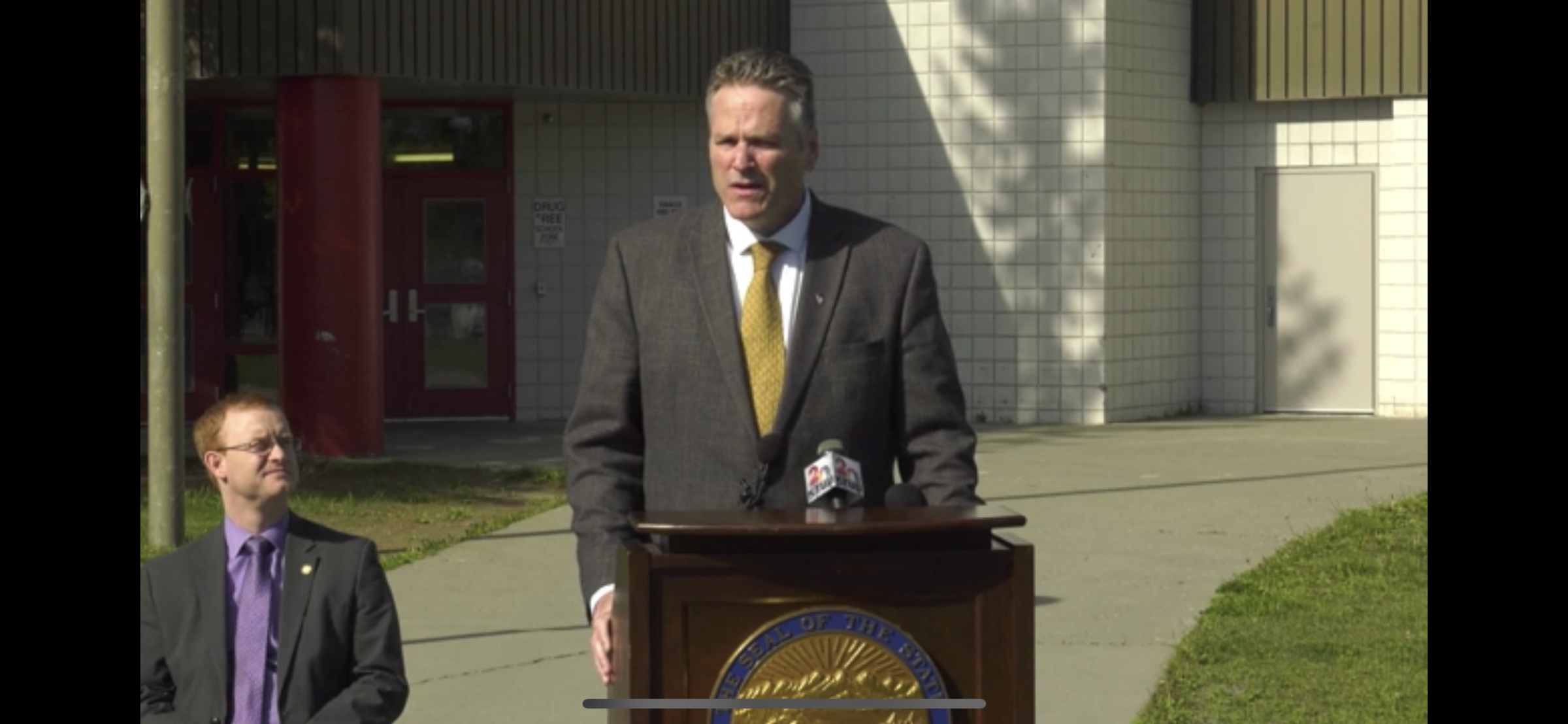 ---
Speaking of Representative David Eastman, he spoke after the Governor. David said, Wasilla beats out Juneau to hold the next special session because, and I quote, "Juneau has fewer fast food options." Okay, who's going to tell Representative Eastman that fast food kills even more than porn.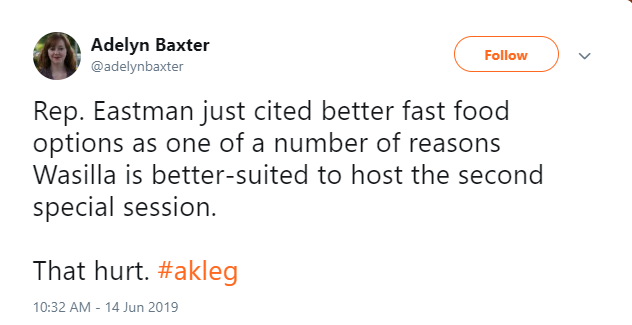 ---
You can imagine how well that went over on Alaska Twitter. KTOO's Ryan Cunningham generously came to David's defense. ?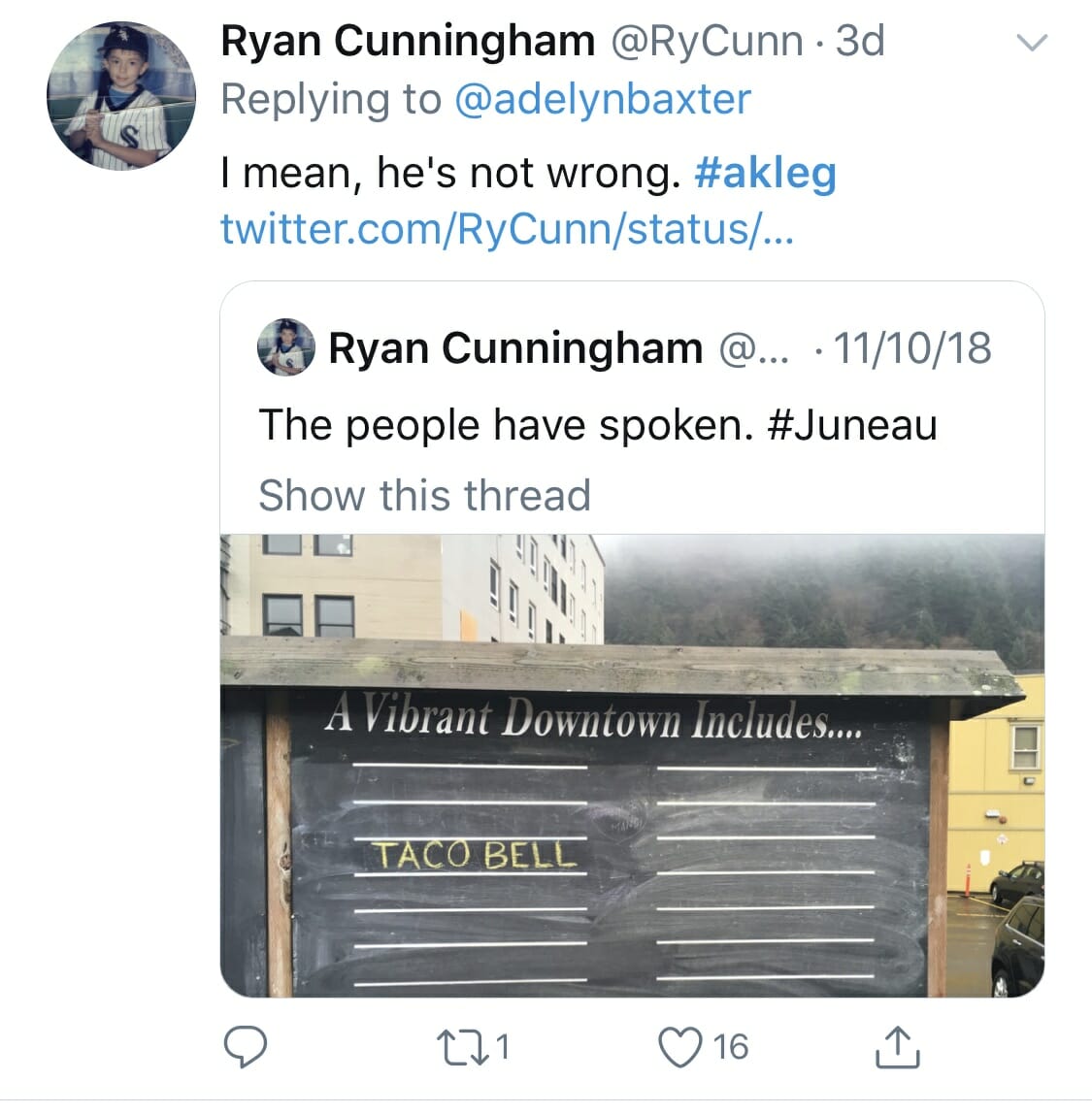 Look what appeared in my Twitter feed moments after concluding my exhaustive research for this bit. The algorithm's working overtime.

A shout out to Senator Shelley Hughes for consistently doing one of the best jobs communicating on social media to her constituents and other Alaskans. Her engagement is always high, and lots of people tune into her Facebook Lives. Recently Shelley posted an article about the three PFD trains:
1. The Libertarian Express (that Hammond extension tho)
2. The Liberal Line
3. The Tax Bypass
Honestly, we're still upset the Jerry Mackie Plan left the station in the 90s. We were on-board. ??? #MackieBucks

---
Speaking of trains, have you seen the Alaska Railroad's new whimsical ad series?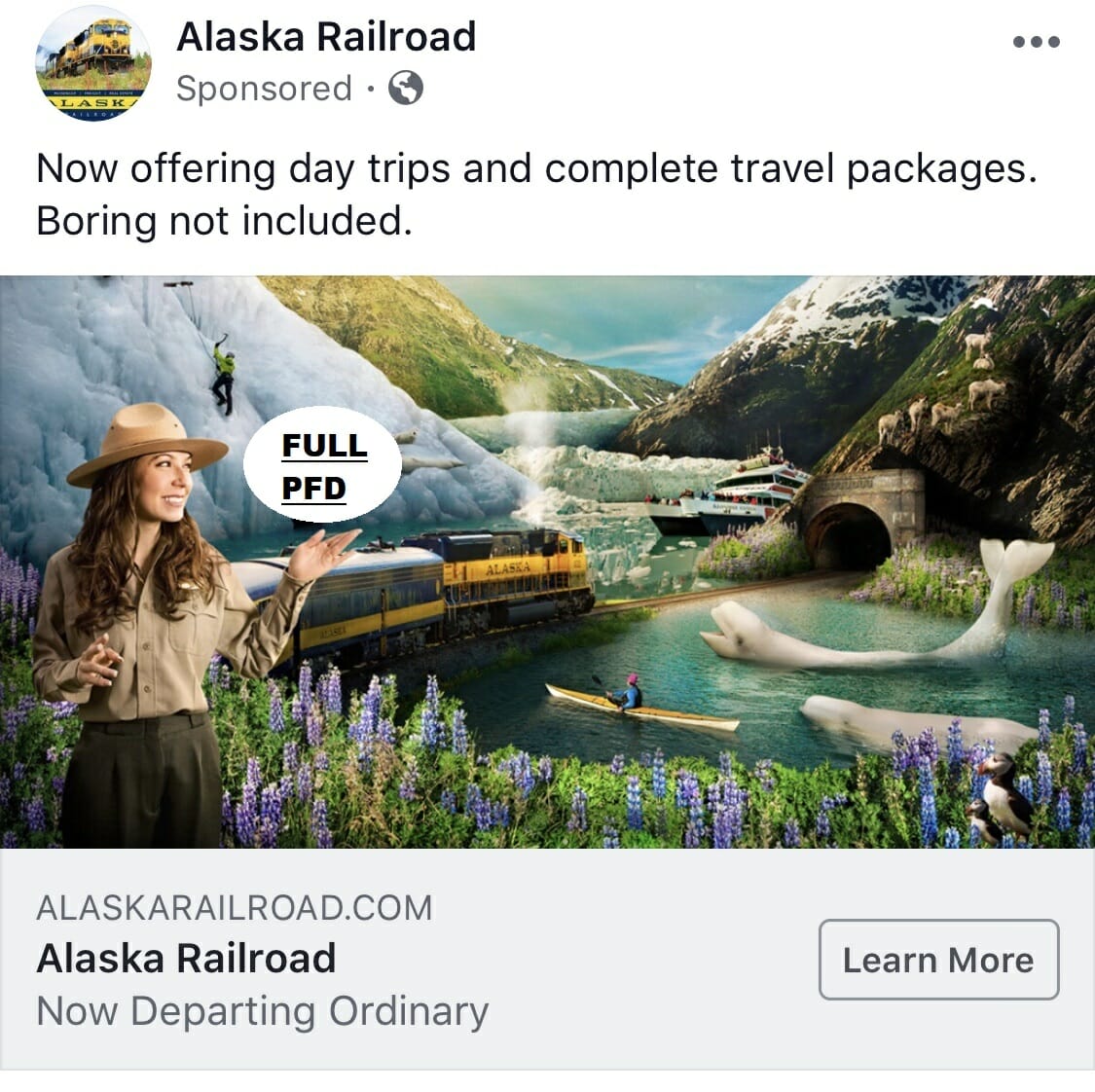 ---
Last week we gave kudos to Senator Mike Shower for his well attended Facebook Live. Only thing is he ripped off his #timetotalk graphic from Time to Change, a Mental Health Awareness campaign from the UK. Mike, is it time for an apology?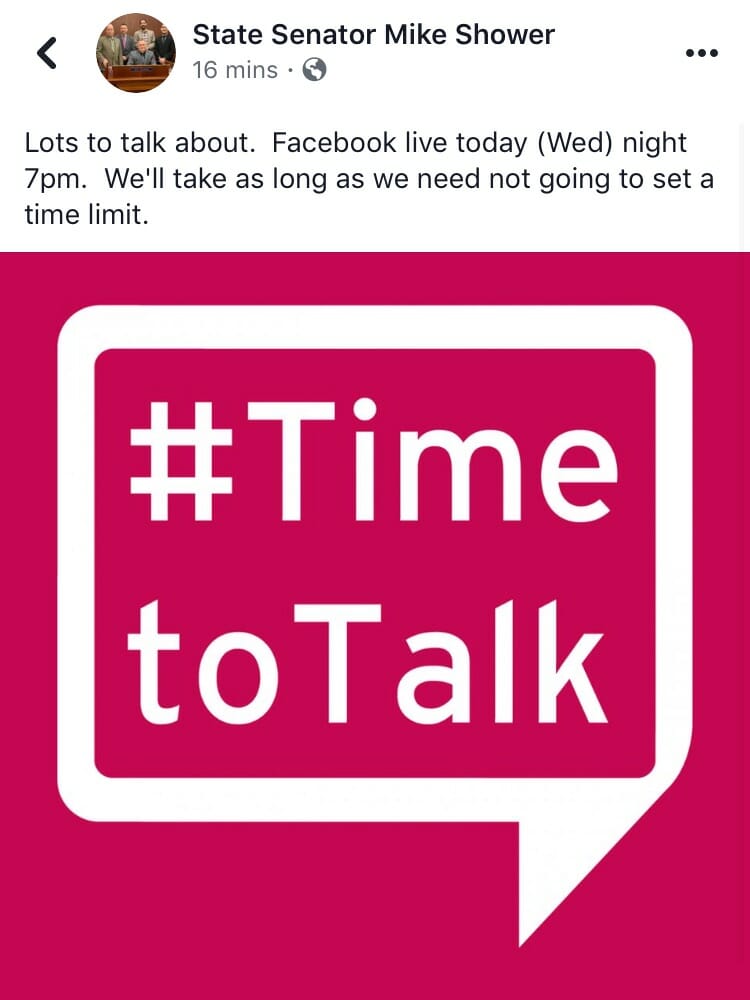 ---
---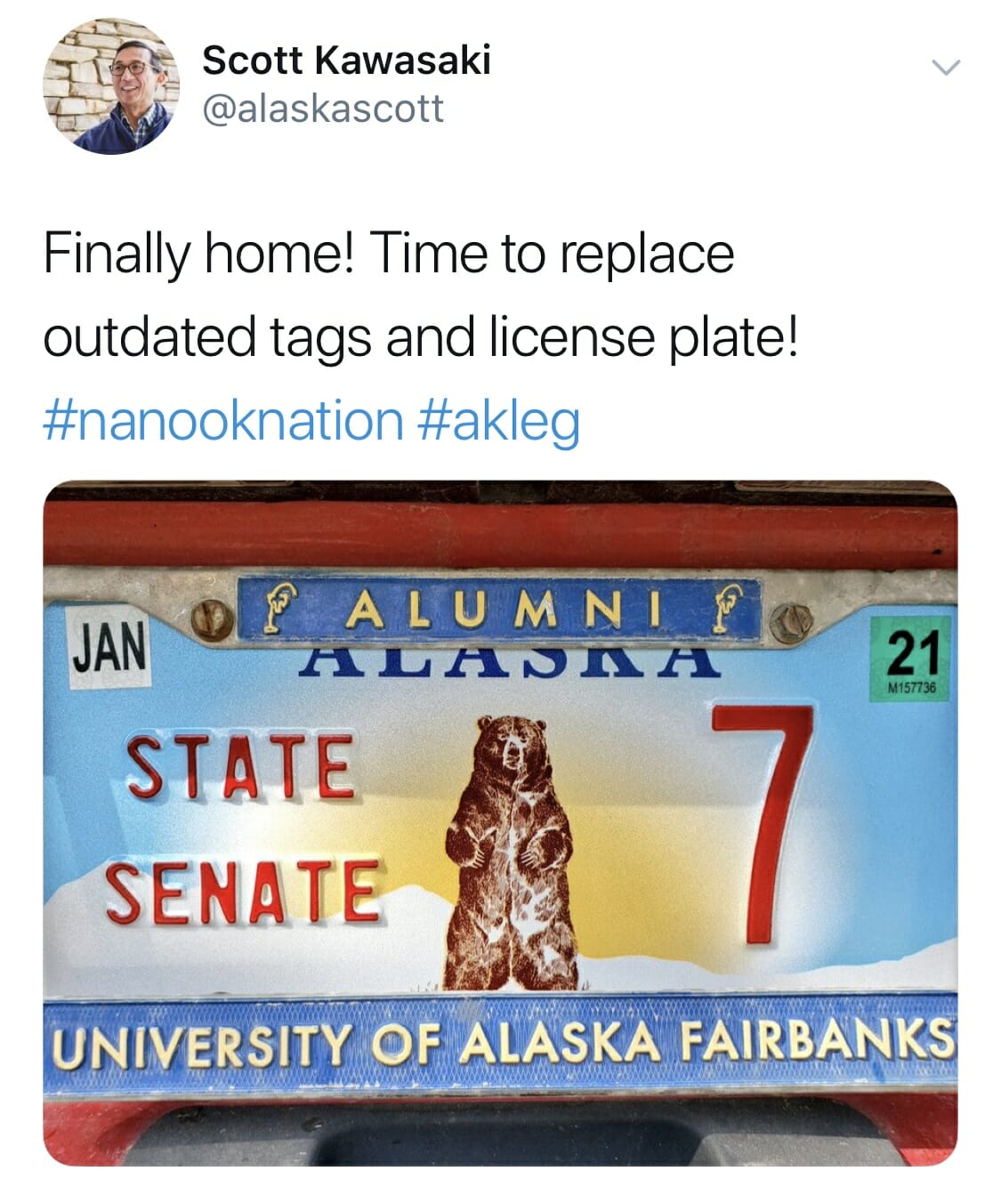 ---
Meanwhile in Wasilla, Senator David Wilson found some buried treasure while doing home improvements. Now THAT'S a spork. Hey David, it might come in quite handy while dining on fast food at the Wasilla Middle School cafeteria.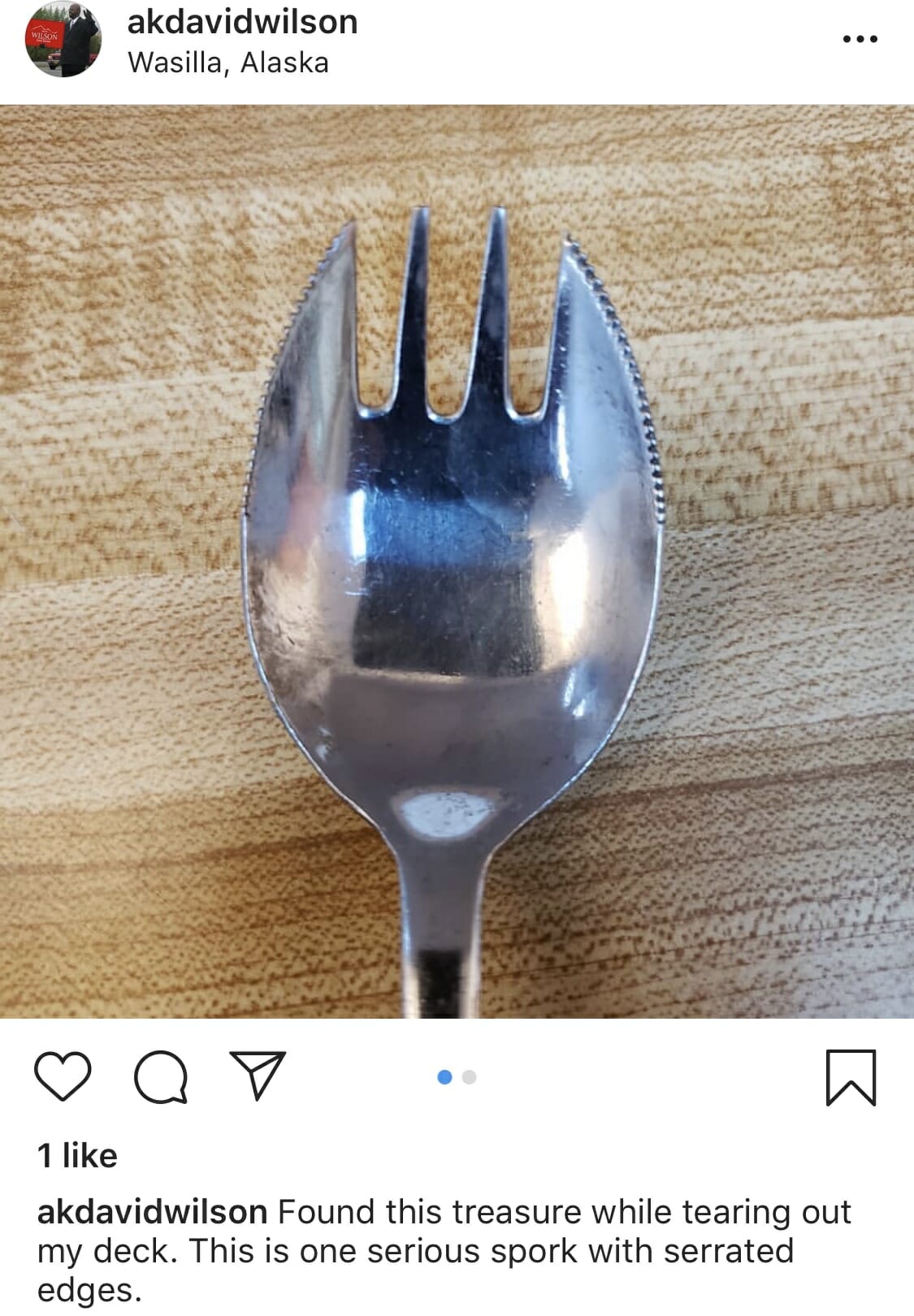 ---
---
Senator Bill Wielechowski, along with Representatives Lance Pruitt and Ivy Spohnholz, came together to serve over 1000 hot dogs and hamburgers at this year's Spirit of Muldoon Picnic. They look thrilled to be together…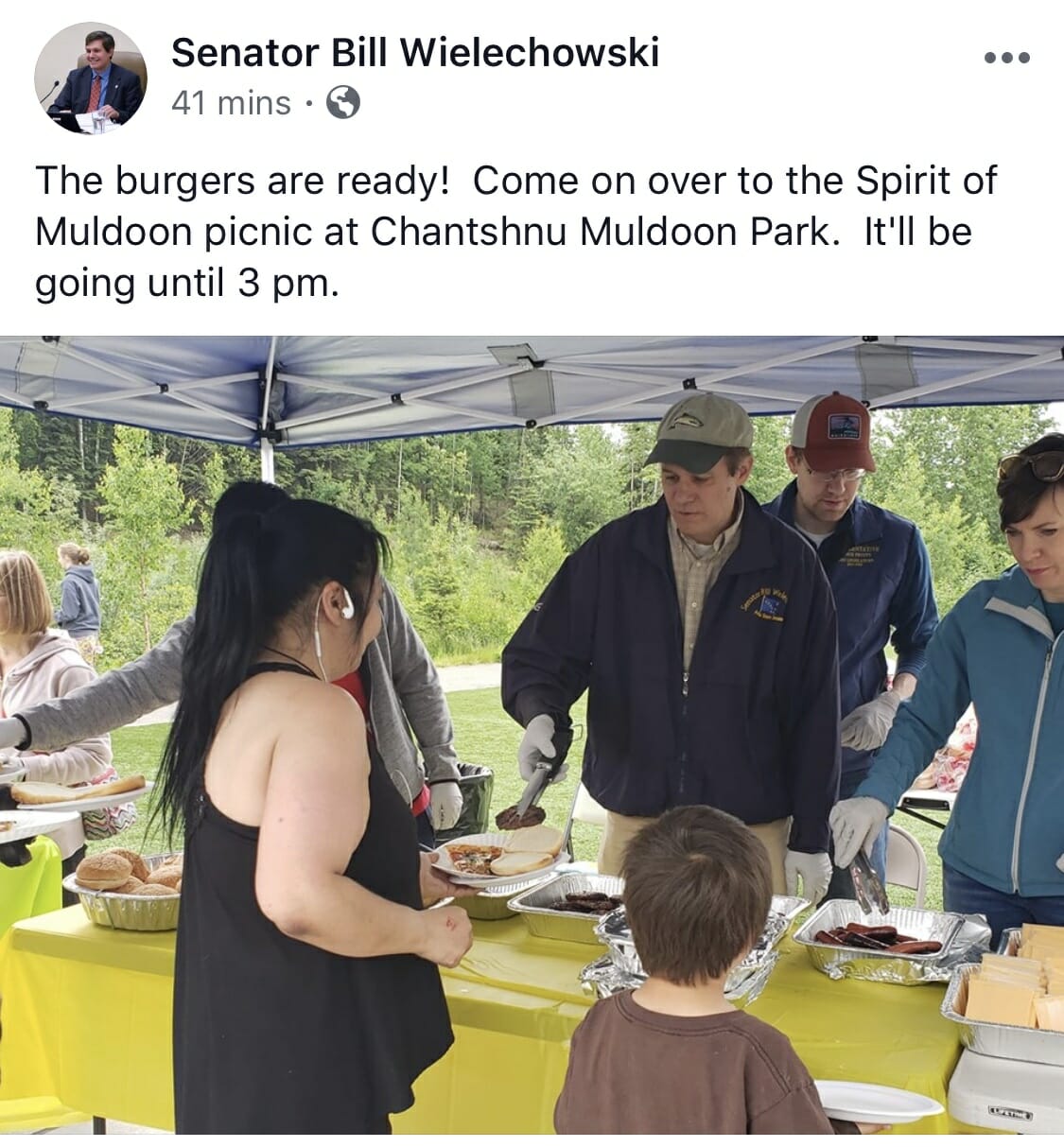 ---
Ivy even helped pick up trash at Russian Jack Springs Park, along with helpful pup Klaus. Hopefully this was *after* she served all that food. ?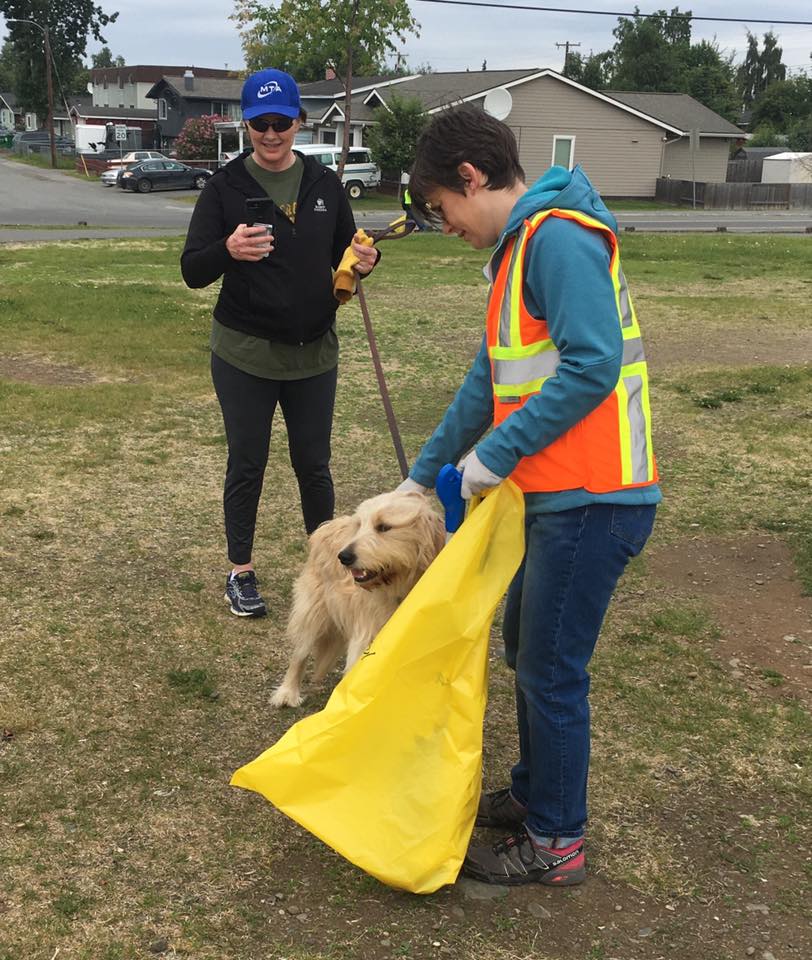 ---
Something looks different about Representative Josh Revak. Is it his hair?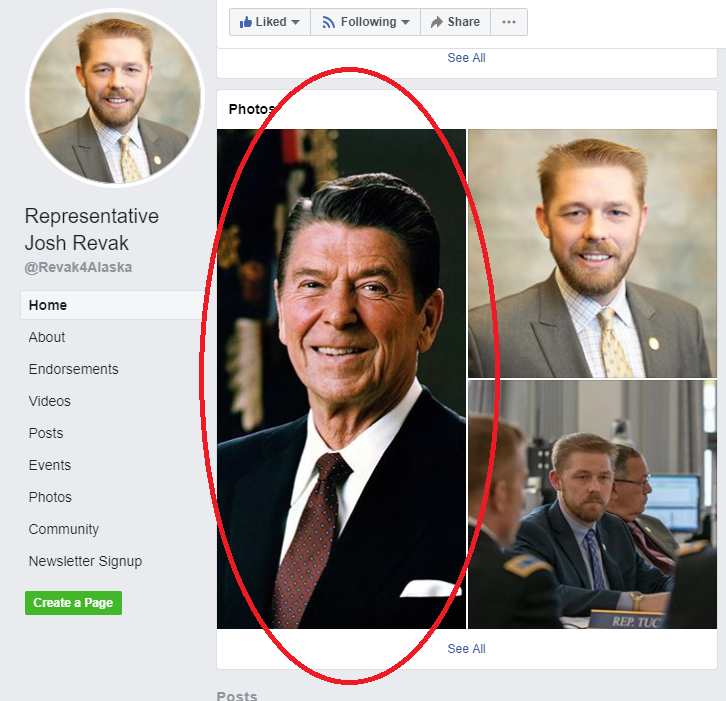 ---
I may have stumbled upon Ron Gillham's campaign slogan for 2020. ???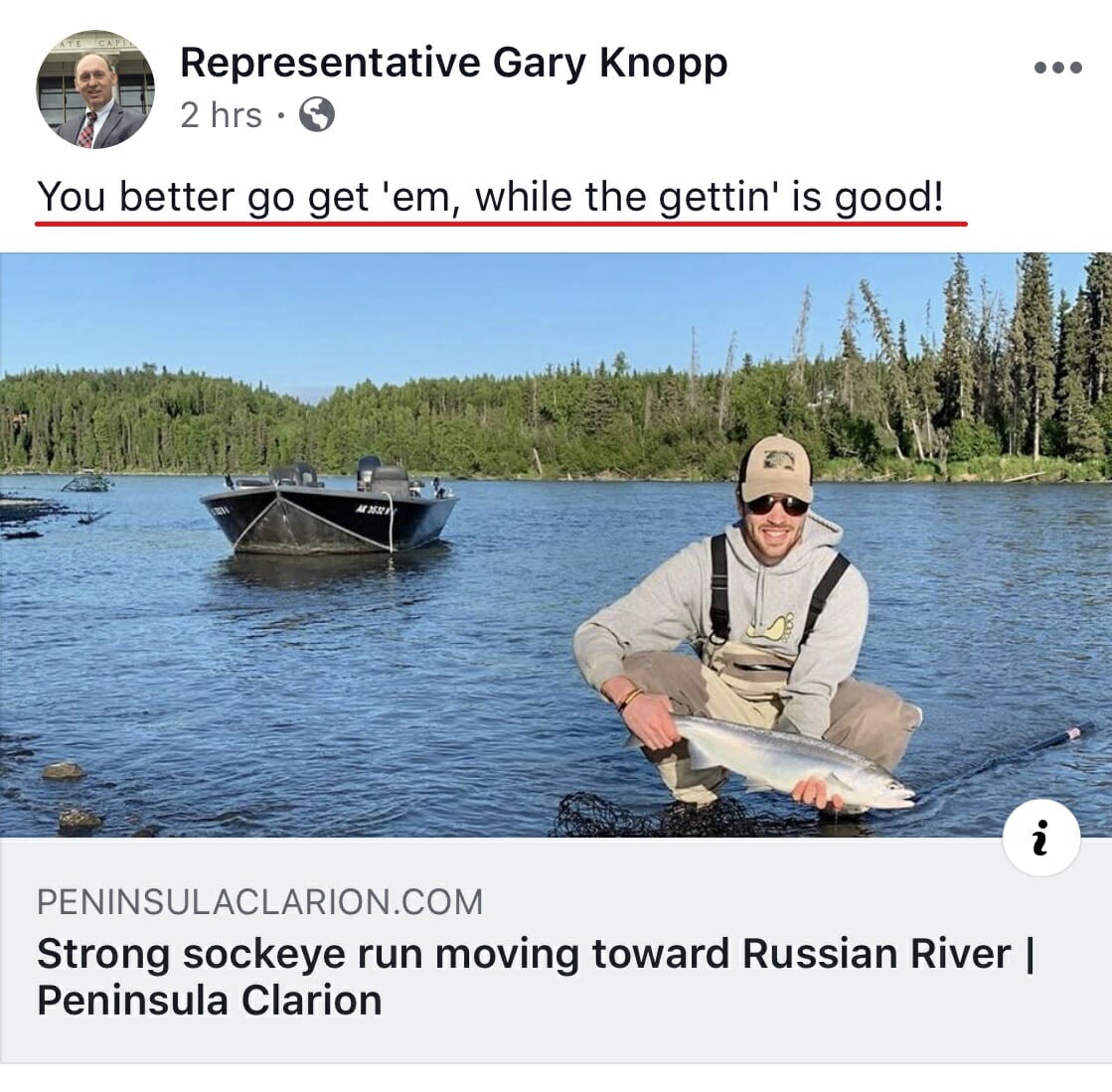 ---
Some legislators take appropriate sized chunks of PFDs for their government, and then there's Harriet… (We couldn't resist!)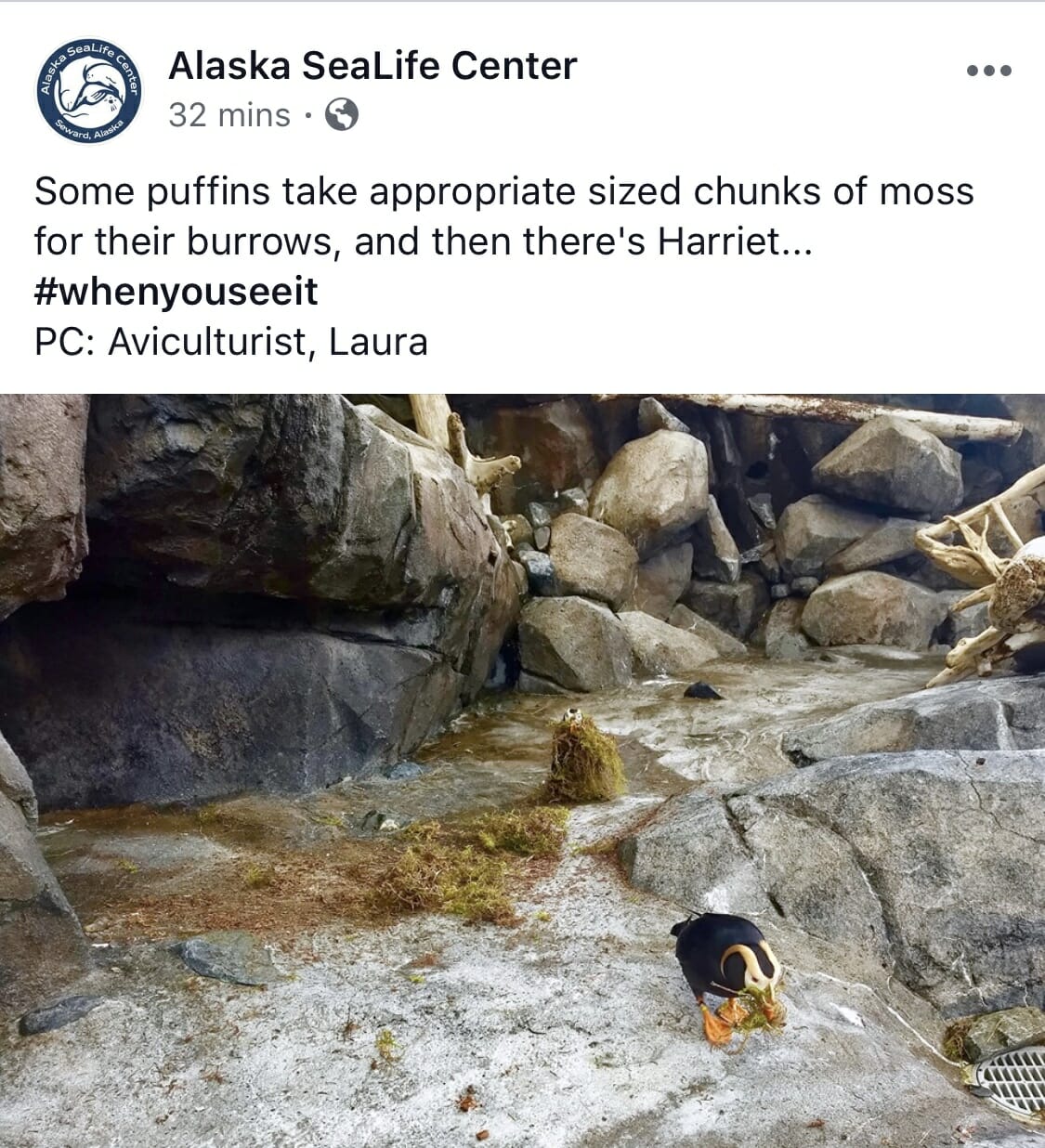 ---
---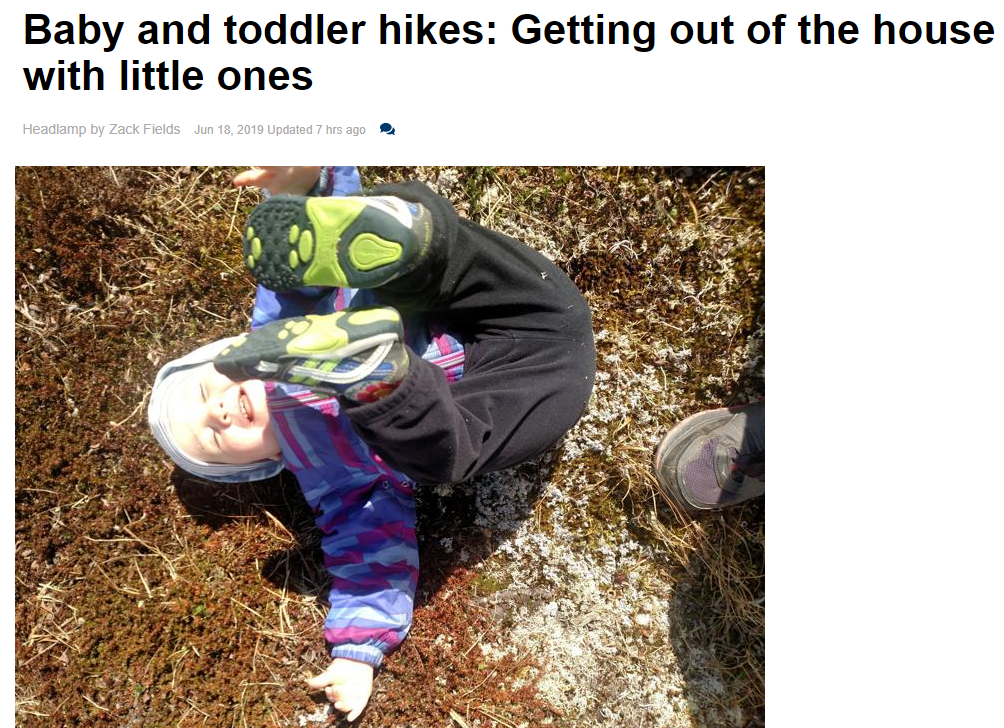 ---
The people's mayor!

---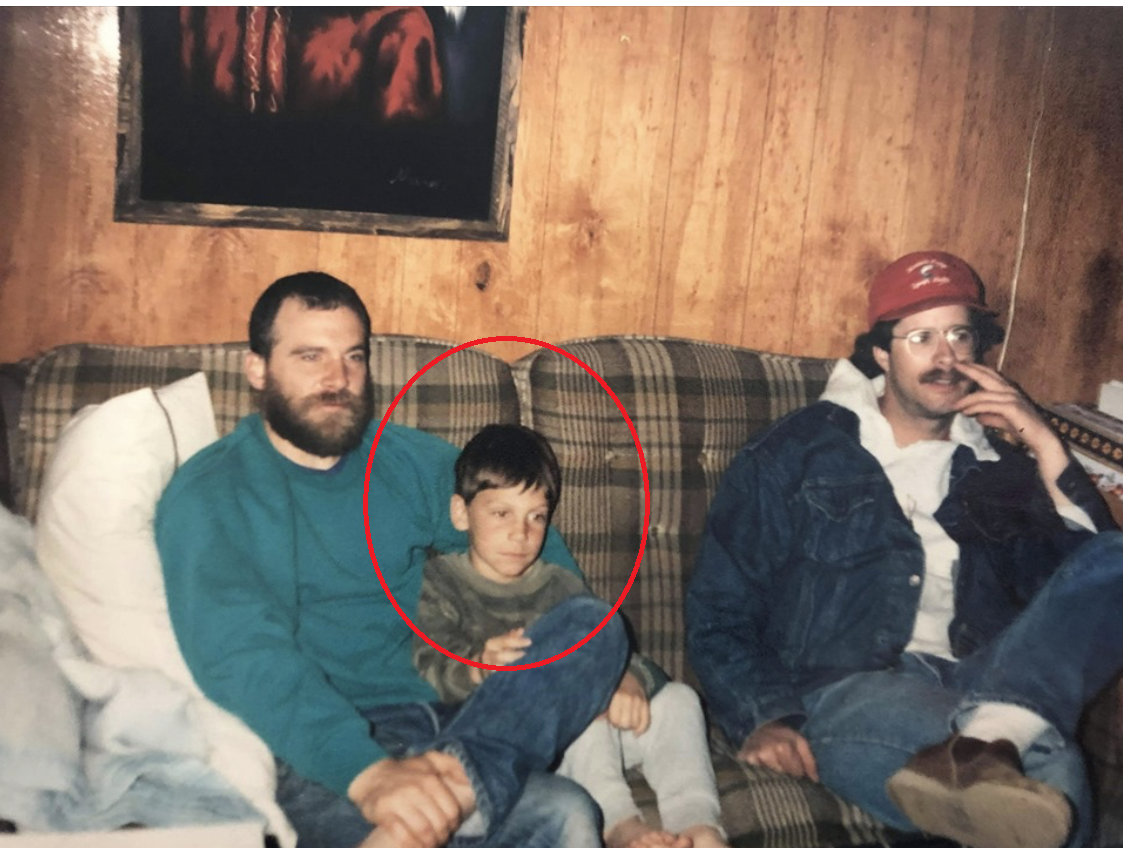 ---
Take a look at official Anchorage Assembly Minstrel Pete Peterson on the guitar (and on your side). He's pretty good!
---
---
Last time I checked the Anchorage Assembly has 11 members. Is Assemblymember Fred Dyson okay? Did he Eaglexit?!

---
Check out Rev. Matt Schultz's 8 stanza (with audience participation) dice blessing before Anchorage Assemblymember John Weddleton's roll-playing day at Boscos. He went all out. ????

---
Ahhhh the Anchorage Parks & Rec L St. flower bed — a sure sign it's summer in Anchorage. Our guess for this year's design? What could represent our parks better than a hypodermic needle… ???

---
---
$15K a month is the new $15.00 an hour. #letthemeatcake #tonedeaf

---
---
Wait, there's a cat in the fridge?! Not sure that's such a good use of the Kenai dip, Annie. Someone call animal control ASAP!

---
---
Andy Holleman: a cross between Dr. Drew and Jeff Lowenfels. Jeff and Sabrena, you need to have Andy on Landmine Love.

---
Started at the bottom now we here.

OMG what is the Morning Edition Mystery? Did KTUU hire Jeff Landfield?!  We will definitely be tuning in tomorrow morning for a #highenergy update.
---
---
Spotted at Sub Zero: Representative Adam Wool and Ken Alper
---
Spotted at Burger Fi: Stalker Fav, Assemblymember Austin Quinn-Davidson, sporting a new purple cast
---
Spotted at the Moose Pass Summer Solstice Festival: Representative Andy Josephson
---
---
Spotted at Toddler Soccer in South Anchorage: Laddie, that you?

---
Spotted at Costco: Otter pops for adults. Will it live up to the hype? Stay tuned.

---
No overheards hit my inbox this week. Funny, because I'm sure seeing that phrase pop up a lot on social media these days. ? Amy, my email is AKstalker@alaskalandmine.com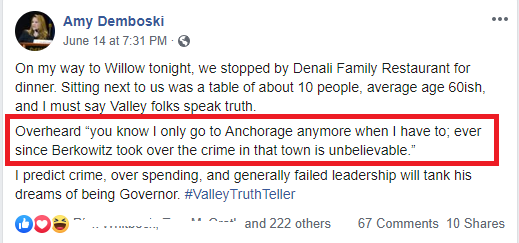 ---
The Alaska Stalker was born and raised in Alaska, and lives in South Anchorage with her husband, daughter, and son. She is not Jeff Landfield.